United States: Trans people at risk of violence as state laws stoke bias
"These killings are symptomatic of a wider pattern of physical & sexual assaults, verbal harassment, and intimidation of transgender people"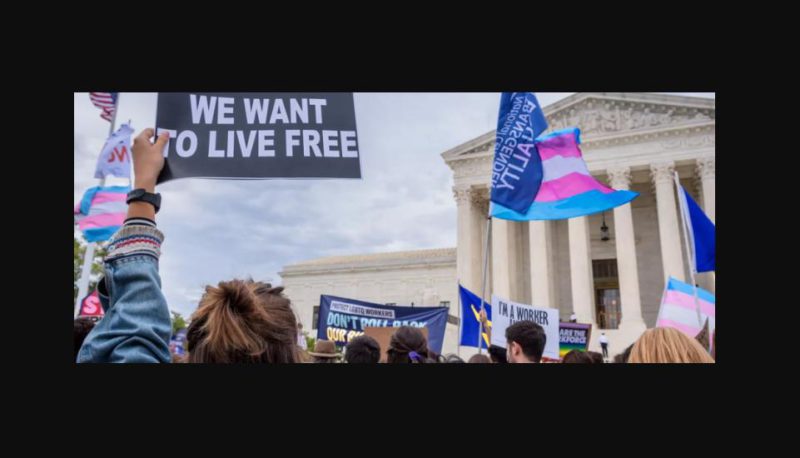 NEW YORK – Transgender people are at significant risk of violence and harassment in the United States, Human Rights Watch said in a report released Thursday.
The 65-page report, "'I Just Try to Make It Home Safe': Violence and the Human Rights of Transgender People in the United States," documents how persistent marginalization puts transgender people, particularly Black transgender women, at heightened risk of violence at the hands of strangers, partners, family members, and law enforcement.
"Every year, advocates document dozens of cases of fatal violence against transgender people," said Ryan Thoreson, an LGBT rights researcher at Human Rights Watch. "And these killings are symptomatic of a wider pattern of physical and sexual assaults, verbal harassment, and intimidation of transgender people that demands urgent attention."
Human Rights Watch interviewed more than 60 transgender people, service providers, and advocates, in addition to reviewing available data on anti-transgender discrimination and violence in the United States. Interviews were conducted primarily in Florida, Ohio, and Texas, where dozens of cases of fatal violence against transgender people have been documented in recent years.
A review of cases of fatal violence recorded from 2016 to 2021 illustrates how anti-transgender violence is intersectional, with risk shaped by race, gender, class, and other factors. During this period, at least 88 percent of the transgender people killed in Florida, 91 percent in Ohio, and 90 percent in Texas were people of color. A disproportionate number are Black transgender women, who are particularly affected by fatal violence.
While the administration of President Joe Biden has taken steps to address anti-transgender discrimination, transgender people continue to face widespread hostility in many parts of the United States. In 2021, lawmakers introduced a record number of anti-transgender bills in state legislatures, seeking to restrict transgender people's access to health care, bathrooms, and sports and recreation. People interviewed said that such actions make them worry even more about their safety in public spaces.
Only 21 states expressly prohibit gender identity discrimination in employment, housing, and public accommodations under state law, leaving transgender people in many parts of the country particularly vulnerable to mistreatment.
Because of family rejection and discrimination in education and employment, many transgender people have limited employment options and work in informal economies like sex work. When this work is criminalized, sex workers are at particular risk of being assaulted or killed by clients and report being reluctant to seek assistance from law enforcement for fear of being harassed or prosecuted.
Data suggests that transgender people face high rates of poverty and housing insecurity, limiting their ability to leave situations where they are exposed to violence. The barriers that transgender people face in obtaining gender-affirming health care and identification documents can also heighten their risk of violence by increasing the likelihood that others perceive them as transgender and target them for harassment in public spaces, Human Rights Watch found.
While some interviewees described physical and sexual assaults by strangers in public settings, others described violence at the hands of intimate partners, family members, or law enforcement personnel.
When transgender people did experience violence, whether in public or private, many felt they did not have access to services designed to protect people from harm. Discrimination by homeless shelter staff and residents, domestic violence service providers, and law enforcement personnel left some without alternative options or basic resources to keep themselves safe.
Under international human rights law, governments have an obligation to respond to foreseeable threats to life and bodily integrity, and to address patterns of violence targeting marginalized groups. Lawmakers at the federal, state, and local levels should work to address socioeconomic conditions that put transgender people at risk of violence and provide funding and support to ensure that all survivors of violence are able to access the resources they need.
"Simply condemning violence after it happens is too little, too late," Thoreson said. "If lawmakers are serious about stopping anti-transgender violence, they need to address the poverty and discrimination that put so many transgender people in harm's way."
"'I Just Try to Make It Home Safe': Violence and the Human Rights of Transgender People in the United States," is available at:
https://www.hrw.org/node/380386
For more Human Rights Watch reporting on LGBT rights, please visit:
https://www.hrw.org/topic/lgbt-rights
For more Human Rights Watch reporting on the United States, please visit:
https://www.hrw.org/united-states
Ohio LGBTQ+ organization does 'the little things' for the entire community
Though Have a Gay Day has its roots in LGBTQ+ activism, Knote makes it clear that his organization is for everyone — queer or not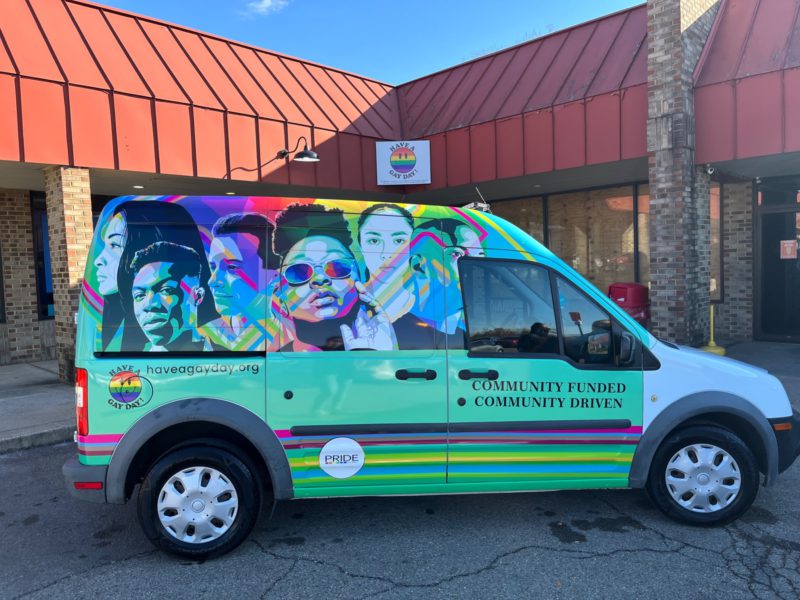 DAYTON, Oh. — On September 18, 2011, a 14-year-old bisexual boy from Buffalo, New York, committed suicide — sparking grief and outrage across the United States. His name was Jamey Rodemeyer, and just months before his tragic death, he participated in the "It Gets Better" social media campaign, started by journalist Dan Savage and his partner Terry Miller to combat suicide among LGBTQ+ youth.
In his video for the campaign, he shared that people would call him gay slurs in the hallways of his school and "constantly send him hate." But he assured viewers that "it does get better."
Jamey's parents supported him, and he was seeing a social worker and a therapist. But the constant bullying didn't stop.
"No one in my school cares about preventing suicide, while you're the ones calling me [gay slur] and tearing me down," he wrote on September 8, according to the Washington Post.
"I always say how bullied I am, but no one listens … What do I have to do so people will listen to me?" he said the next day.
Jamey's story was covered by major news outlets across the country, touching the hearts and changing the lives of many.
In an interview with Time, Jamey's mother, Tracy Rodemeyer, said, "We got so many messages from people who [told us they] were [considering suicide], and they heard Jamey's story and reached out to us, and they said, 'He saved my life.' I mean, hundreds of people."
Yet, Michael Knote, founder of Have a Gay Day, noticed "no one had really created a memorial page" for Jamey. So, he took matters into his own hands and started one himself.
It didn't stop there as Knote would later travel to Buffalo and raise $17,000 for the American Foundation for Suicide Prevention. And that was only the beginning.
What was once a memorial page on Facebook is now a rapidly expanding, award-winning nonprofit called Have a Gay Day in Dayton, Ohio.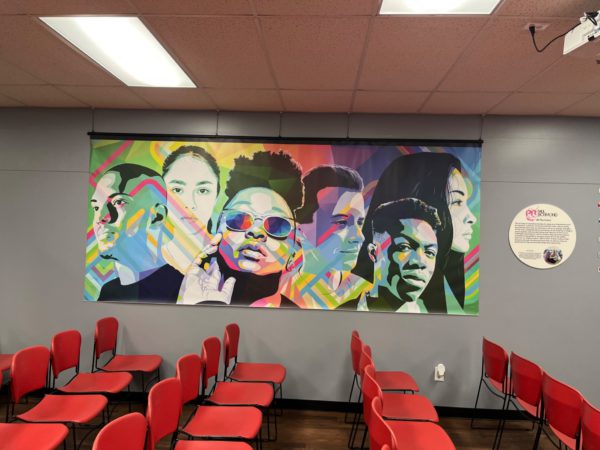 Knote started the organization because he felt like there were "a lot of organizations that were just trying to cash out on bullying and suicide." Instead, he wanted to create "an escape — a place where people could just kind of be themselves and be free from people trying to make a profit off of them, or stroke drama for likes, or share really emotionally charged kind of stories."
Describing exactly what Have a Gay Day does is difficult because of the sheer amount of services it provides. "We've done everything from going to clean up tornadoes to doing advocacy work for individuals that are in need," Knote said. "I don't know, for a little organization, we just were kind of pushing forward and really trying to fill that void."
One of those voids, especially in Dayton, is food and other resources. Census data shows 30.6% of people in the city live in poverty, and according to Feeding America, almost 20% of Dayton is food insecure.
The pressing need shifted the organization's main focus to providing free food and other resources to all of Dayton, and the surrounding Montgomery County, not just the LGBTQ+ community. And it's not just any food bank — they deliver to people who can't get to them in person.
"We will deliver anywhere in the county to anyone that's in need," Knote said. "And we also have a pet food pantry and a little pantry that's outside where people can get food. We give away heaters. We give away laundry tokens — when we have them available. We give away personal care items. We are just looking to fill the needs."
On Friday, Knote and the organization's volunteers unveiled a new community van — provided in part by the Hall Hunger Initiative, PFLAG Dayton, LexisNexis Pride and a host of community supporters and sponsorships — that they can use to deliver food instead of their own vehicles.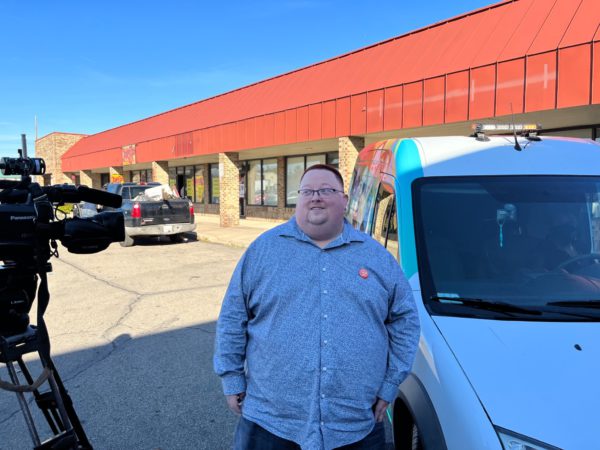 "Make sure to get pictures of the volunteers, it's not all about me," Knote continuously told the media at the event.
In his interview with the Blade, Knote also praised the organization's volunteers, saying, "The volunteers are amazing. They make everything possible at Have a Gay Day. It's just beautiful. It's diverse, it's glorious."
Have a Gay Day is entirely volunteer-run — even Knote himself is one. He is employed full-time at FedEx to "pay the bills," running the organization in his time away from work. "Eventually, I want to work for Have a Gay Day," he said. "But I don't want to be the first employee."
But for now, Knote wants to use the money the organization takes in to continue to expand, so they can keep serving the community. In addition to the van, the organization also plans to move into the space next to them. To him, more space means more opportunities to help those in need.
It's hard for Knote to believe that Have a Gay Day has become what it has become. "We started with Rainbow Takeovers in the middle of the night, we would randomly post for like an hour to rainbows, and we wouldn't tell anyone when it was happening," he recalled.
Rainbow Takeovers turned into marching for marriage equality. Before same-sex marriage was legal in Ohio, the group took couples to neighboring Indiana to get married — something Knote called "the little things."
As they grew, the organization needed a home. So, they moved into a 150 square foot space in the KeyBank tower, a 27-floor building in Dayton's downtown. "We were there for almost two years, but the people that were leasing it out said that they couldn't sell the space because of our rainbow trees," Knote said.
They continued to move up as they grew– to suburban Dayton in Moraine, Ohio, settling in a storefront suite in a strip mall a few miles north of downtown. "When we came to this location, we were told by the community that we shouldn't be here because it was dangerous," Knote said. "But this is where the need was."
"We go into a lot of spaces that many would consider us a brave organization," he said, noting Have a Gay Day's involvement in religious events.
In particular, Knote remembers an anti-bullying event hosted by religious groups — and sponsored in part by Chick-fil-A, which came under fire again this summer for having ties to a group fighting against the Equality Act. "It was very faith based, very faith based," he said.
But that's not what Knote took away from the event. "The fact is: Have a Gay Day, an LGBT organization, showed up to a Chick-fil-A sponsored event with a roomful of religious individuals, and spoke in front of them," he said. "And that's beautiful."
Looking ahead, Knote wants to make sure the organization never limits itself. "We don't want to be a focus organization," he said.
"We want to be like a fully diverse organization that just maneuvers through the community, creating resources where we can and filling in the voids for anyone that's in need to create a better community for everyone," he said.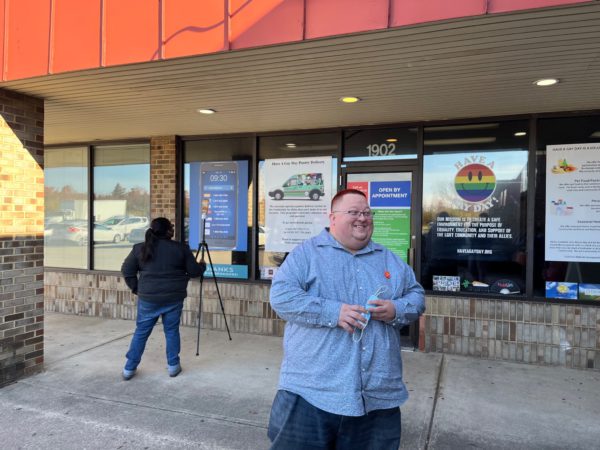 Though Have a Gay Day has its roots in LGBTQ+ activism, Knote makes it clear that his organization is for everyone — queer or not.
"How many LGBT people are you specifically serving?" is a question often posed to Knote.
"For us, we do not keep track of those numbers," he said. "We don't ask people how they identify. The biggest reason is we're actually trading allyship. It's a beautiful thing to imagine or to think about the different individuals that are coming in — I don't care if they're supportive or not. The thing is, we're offering genuine kindness in a non judgmental way. And because we're allowing individuals of all ages to grow and to prosper in a place where we change the whole scope of what the community expects from an LGBT organization."
Knote can only imagine how the "little things" Have a Gay Day does for the community now could change the life of an LGBTQ+ person in the future.
"Maybe a person will come out someday, and their family, who may not have been supportive, will maybe think about Have a Gay Day and reserve that same sort of kindness for their child, parents, spouse or whoever that is."
"The work that's tied into all of that — the sort of fun, happy, random times — is pushing to make a difference for not only just the queer community now, but the queer community in the future."
New website to help students take action against bullying launches
Study after study has shown that bullying & harassment in schools has long-lasting & dangerous repercussions for mental health of students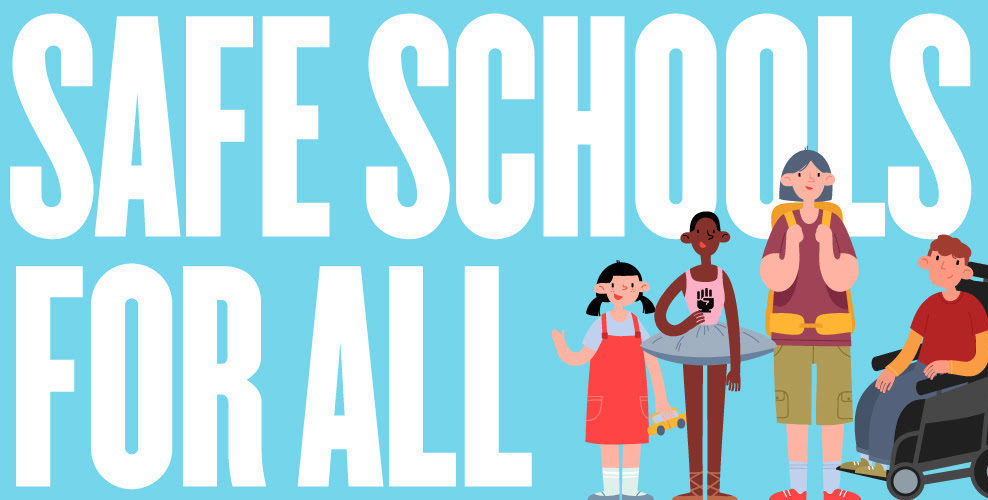 WASHINGTON — As schools and school districts across the country face hostile protests of LGBTQI+ inclusive education, students who are experiencing discrimination, bullying and harassment based on their sexual orientation, gender identity or gender expression now have a new resource to help defend their rights.
"Safe Schools for All" is a unique resource to help make schools safe and inclusive of all students and is rooted in guidance from the Civil Rights Division of the U.S. Department of Justice and the Office of Civil Rights of the U.S. Department of Education. 
GLBTQ Legal Advocates & Defenders (GLAD), GLSEN, the National Center for Lesbian Rights (NCLR), and PFLAG National, four of the nation's leading LGBTQI+ organizations, collaborated to create SafeSchoolsForAll.org for students, parents, and supporters to take action against bullying, harassment and discrimination.
According to GLSEN's 2019 National School Climate Survey, 86% of LGBTQ students experienced harassment or assault based on their sexual orientation, gender expression and gender identity. Of that majority, 57% of students did not report the incident to school staff because of doubt that effective intervention would occur or fear the situation would only worsen once reported.
"Bullying has overwhelmingly negative effects on a student's educational outcome and mental health," said Melanie Willingham-Jaggers, Interim Executive Director of GLSEN. "We know that bullying leads to lower GPAs, increased absences, and higher levels of depression, so it is imperative to show support and create safe and inclusive school environments. With positive support and resources like 'Safe Schools for All' available, our goal is for all LGBTQI+ students to have a thriving educational experience while feeling safe sharing their identity without judgement or harassment."
In states and school districts across the country, LGBTQI+ students have witnessed their rights come under attack. From legislation to prohibit transgender athletes from participating in school sports to protests to ban LGBTQI+ affirming books, student clubs, plays, and displays from schools and libraries, the attack on protections for LGBTQI+ students has been relentless since the 2020 election. This has translated in many instances to anti-LGBTQI+ bullying and harassment on K-12 school campuses, from Illinois to Oregon to Tennessee, and beyond.
"When adults act badly by bullying school board officials and staff, kids take note and continue the behavior in the classroom. This is a trend PFLAG families across the country have been working to end," said Brian K. Bond, Executive Director of PFLAG National. "Until LGBTQI+ people are fully protected from discrimination by federal law, resources like 'Safe Schools for All' are necessary and useful tools to protect our LGBTQI+ loved ones." 
Earlier this year, the Office of Civil Rights issued a public notice clarifying that LGBTQI+ students are protected under Title IX from discrimination at school based on their sexual orientation and gender identity. "Safe Schools for All" outlines Title IX protections and steps to take, including filing a complaint with the Office of Civil Rights, when students experience anti-LGBTQI+ bullying, harassment or discrimination. Students, families and administrators can also turn to the site to find a host of resources to help improve their school climate and support LGBTQI+ students.
"Schools have a responsibility to investigate claims of sex discrimination, including sexual harassment, made by students who face hostility because of their perceived or actual sexual orientation, gender identity, or transgender status," said Jennifer Levi, Transgender Rights Project Director of GLAD. "It's the law. It's also an essential step in improving school climate for all students. We hope that 'Safe Schools for All' will be an accessible tool for both families and administrators in protecting the health, safety, and well-being of all students." 
Steps students can take when they experience bullying, harassment, or discrimination:
Notify a teacher or school leader. File a formal complaint with the school, school district, college, or university.
Document the incident. Write down the details about what happened, where and when the incident happened, who was involved, and the names of any witnesses.
Ask for support. Seek support from your school to accommodate for language and disability accessibility needs including translating or interpreting information. Counseling and other mental health support can be helpful for a student who has been harassed or bullied. 
Consider filing a complaint with the Office for Civil Rights at the U.S. Department of Education.
"Study after study has shown that bullying and harassment in schools has long-lasting and dangerous repercussions for the mental health and well-being of students – particularly LGBTQI+ youth," said Imani Rupert-Gordon, Executive Director of NCLR. "By working with our partners to create the 'Safe Schools for All' resource website, it is our hope that we can work with administrators, teachers, staff, students and their families to create learning environments that are free of harassment and discrimination, and promote the personal safety of every student in every school in the United States."
Latino Equality Alliance elects new advisory board and president
For more than 10 years, LEA has advocated for equity, safety, and wellness for the LatinX LGBTQ+ community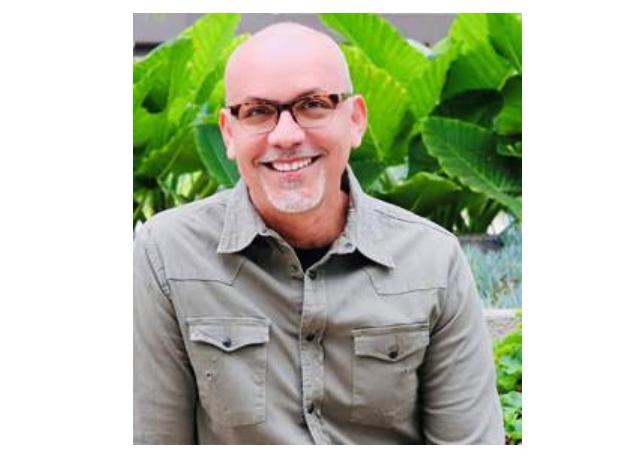 LOS ANGELES – The Latino Equality Alliance (LEA), a leading LatinX LGBTQ+ social justice and advocacy nonprofit organization based in LA, recently announced the election of its 2021-2023 executive advisory board.
The new executive board, serving a two-year term, is comprised of a diverse group of LatinX leaders in Southern California deriving from various industry sectors. Leading the organization's executive board as Board Chair is Marco Antonio Gonzalez, a seasoned international corporate communications executive; Vice Chair Stephen Chavez, CEO of Chavez PR; and Secretary Liliana T. Perez, cultural affairs director for the Los Angeles Chargers. Also serving on the board are Jaime Gallardo, holistic therapist, and LEA co-founder Ari Gutierrez Arambula, director of Government Advertising, Daily Journal Corporation.
"I am truly honored to have the opportunity to serve as chair for LEA's Advisory Board. This is an organization that is very dear and near to my heart and I look forward to continuing moving forward, along with my fellow board members, the advocacy and social justice work we do on behalf of our LatinX LGBTQ youth and their families. I am privileged to serve this great organization and am committed to continue fomenting its mission and advancing its work in our community," said Gonzalez.
Gonzalez says his top goal as chair will be to increase board size and help with fundraising. He brings more than 15 years of experience in the nonprofit sector, which dates back to his earlier work as Director of Communications for United Way of Greater Los Angeles.
Most recently, he was the architect behind the Unidos Contigo community relations initiative for Estrella Media, where he established community partnerships with Feeding America, The Power of One Foundation and Saint Anthony's Community Clinics. Unidos Contigo addresses COVID-19 vaccine awareness and education, and food insecurity among the Latino community. 
As part of his personal philanthropy work, he has also raised over $10,000 for AIDS LifeCycle (2018 and 2019) as a rider and as a volunteer, riding his bike from San Francisco to Los Angeles in an effort to end AIDS.
"Marco's bicultural background and bilingual prowess will definitely be an added value that will continue to enhance and promote LEA's ongoing efforts and work among the Spanish-speaking community we serve in the Greater Los Angeles area. We are enthusiastic about his new board leadership role and are ready to work very closely with him and the rest of the Board," said Eddie Martinez, LEA's executive director.
For more than 10 years, LEA, a project of Community Partners, has advocated for equity, safety, and wellness for the LatinX Lesbian, Gay, Bisexual, Transgender, Queer + community.
Current projects LEA is undertaking include:
Anti-Bullying School Climate Public Education Initiative – Latino Equality Alliance offers a series of audience-appropriate workshops to students, parents and school administrators in area high schools with a goal to develop a safe school climate for LGBTQ youth.
Southeast Los Angeles Civic Engagement Project – A strategic regional initiative that will develop young leaders and change public policies through education and engagement in the communities of Huntington Park, Bell, Cudahy, Maywood, Walnut Park, South Gate, Commerce, Bell Gardens and Lynwood.
Community Health Worker Outreach Initiative- In partnership withThe Wellness Center, LEA has mobilized in the fight against the COVID-19 pandemic. The mission is to provide crucial outreach, COVID-19 prevention education and navigation services to local residents and businesses around LA County.
As a nonprofit organization with a strong focus on family acceptance, LGBT equality, and immigration reform, LEA engages LatinX LGBT community leaders and organizations in direct action organizing to address issues of bullying, homophobia, xenophobia, family separation, violence against youth, homelessness, high health risk behaviors and HIV/AIDS.
The mission of Latino Equality Alliance (LEA) is to advocate for equity, safety, and wellness for the LatinX Lesbian, Gay, Bisexual, Transgender, Queer + community. LEA is located at Mi Centro LGBTQ Community Center in Boyle Heights. For more information on the services and programs of Latino Equality Alliance and/or to donate please visit http://www.latinoequalityalliance.org/
Editor's Note: LEA hosts a number of fundraising events each year to raise money for LGBTQ+ scholarships, such as the annual Purple Lily Awards Gala and the upcoming in-person Calavera Festival on Saturday, Oct. 23. For more information about the Day of the Dead event, please visit bit.ly/Calavera.