J.K. Rowling condemns trans activists protesting outside her home
Rowling claimed the protestors were "doxxing" her to "intimidate" her out of "out of speaking up for women's sex-based rights"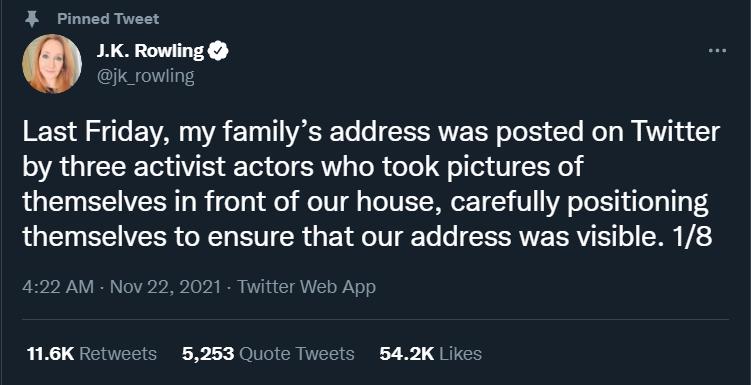 EDINBURGH, SCOTLAND — J.K. Rowling took to Twitter Monday to condemn three trans activists who protested in front of her home, accusing them of deliberately leaking her address.
The "Harry Potter" author named comedian Holly Stars, actor Georgia Frost and drag performer Richard Energy in her Twitter thread that said they "carefully position[ed] themselves to ensure that our address was visible."
The activists, protesting past Rowling tweets that many have called transphobic, held signs that read "Trans liberation now," "Don't be a cissy" and "Trans rights are human rights," according to Pink News.
Rowling claimed the protestors were "doxxing" her to "intimidate" her out of "out of speaking up for women's sex-based rights." She added: "They should have reflected on the fact that I've now received so many death threats I could paper the house with them, and I haven't stopped speaking out."
She also named several writers who have made anti-LGBTQ+ comments in the past, saying they "have been subject to campaigns of intimidation which range from being hounded on social media, the targeting of their employers, all the way up to doxing and direct threats of violence, including rape."
"None of these women are protected in the way I am," she said. "They and their families have been put into a state of fear and distress for no other reason than that they refuse to uncritically accept that the socio-political concept of gender identity should replace that of sex."
In the wake of her Monday tweets, the three activists have all either deleted their Twitter accounts or made them private.
In her widely condemned 2020 tweets, Rowling belittled trans people, saying, "'People who menstruate.' I'm sure there used to be a word for those people. Someone help me out. Wumben? Wimpund? Woomud?"
In response to the backlash, Rowling tweeted, "If sex isn't real, there's no same-sex attraction. If sex isn't real, the lived reality of women globally is erased. I know and love trans people, but erasing the concept of sex removes the ability of many to meaningfully discuss their lives. It isn't hate to speak the truth. The idea that women like me, who've been empathetic to trans people for decades, feeling kinship because they're vulnerable in the same way as women—i.e., to male violence—'hate' trans people because they think sex is real and has lived consequences—is a nonsense."
"I respect every trans person's right to live any way that feels authentic and comfortable to them," she continued. "I'd march with you if you were discriminated against on the basis of being trans. At the same time, my life has been shaped by being female. I do not believe it's hateful to say so."
Yet, many people, including trans rights experts, disagreed.
"There's just no evidence that me being me is causing problems for any of the other women I've met," tweeted Paris Lees, a trans journalist. "If there are ever any problems between women and trans women they should be dealt with sensitively and sensibly on a case by case basis. Please, for the love of God, leave us alone."
UK Black Pride marks 18 years of empowerment
Phyll Opoku-Gyimah founded event in 2005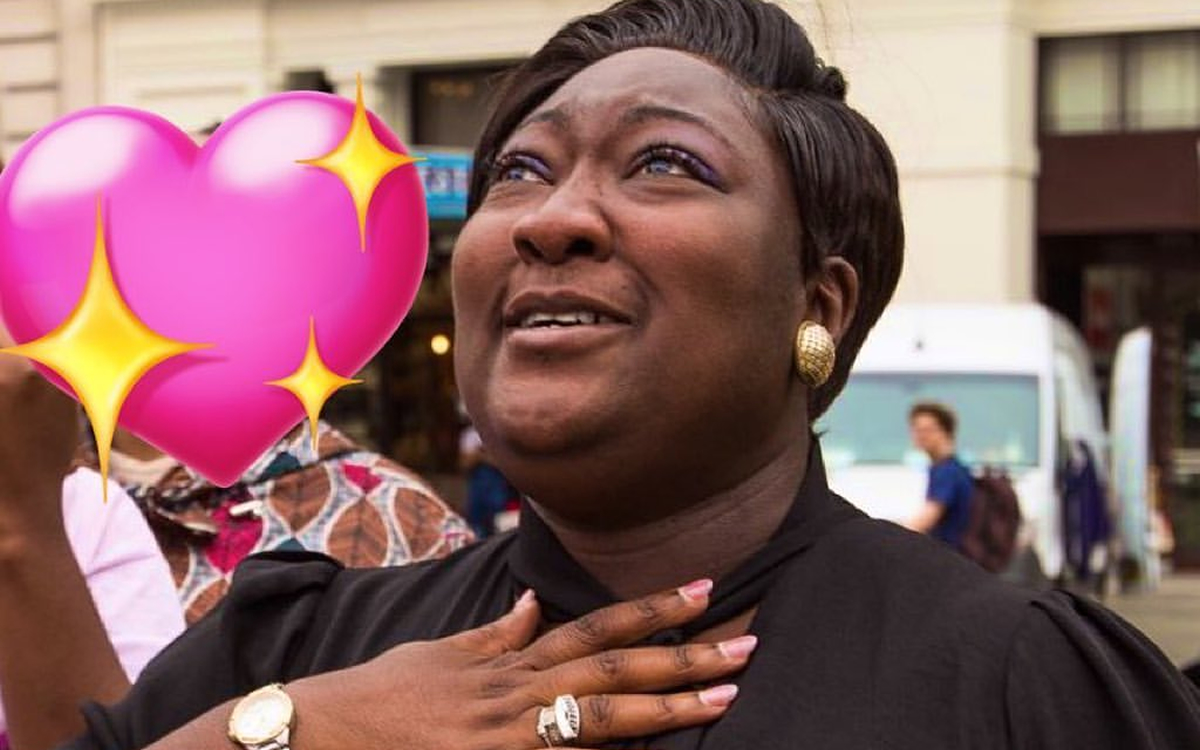 By Elvis Kachi | LONDON — In a world where diversity and inclusivity are increasingly valued, UK Black Pride stands as a beacon of empowerment and celebration. As it prepares to mark its 18th anniversary on Saturday, the event continues to shine a spotlight on the experiences, struggles and triumphs of LGBTQ individuals from Black, Asian, and other minority ethnic backgrounds. With each passing year, UK Black Pride grows stronger, amplifying its message of unity, acceptance, and change.
Founded by Phyll Opoku-Gyimah, affectionately known as Lady Phyll, in 2005, the event emerged from the necessity to create a space that speaks directly to the intersection of race and LGBTQ identity. Traditional Pride events, while important, often fall short in fully addressing the unique challenges faced by individuals who belong to both marginalized communities. Recognizing this gap, UK Black Pride was born with the intention to provide a platform for underrepresented voices.
The essence of UK Black Pride lies in its commitment to fostering unity within diverse communities.
"UK Black Pride's Community Stage is where thought-provoking discussions intertwine with the performances of emerging musicians and talented spoken word artists," UK Black Pride says in a statement. "This event celebrates the kaleidoscope of identities that exist within the LGBTQ+ spectrum, highlighting the beauty of difference while erasing the lines that have historically divided us. Attendees find solace in connecting with people who share their experiences, building a support network that extends beyond the event itself."
Over the years, UK Black Pride has not only created a safe space but also played a crucial role in amplifying the visibility of LGBTQ individuals of color, and this year's no different. Visibility is key to breaking down stereotypes, dispelling misconceptions, and creating a world that values and respects all identities. This year, programs that prioritize health, such as breast cancer and Best for My Chest Campaign, refugees, finding and building connections, faith, sexuality, and even poems, would go in full swing. The anniversary, which NYX Professional Makeup has sponsored, would serve as a reminder of the progress made, and the battles yet to be fought.
Only recently, it was reported that two queer people were stabbed outside a south London nightclub. This is testament of the rife homophobia that continues to trump the country. It is also this premise upon which UK Black Pride is built. The 18th anniversary therefore becomes a testament to the resilience of both the event itself, and the communities it represents. Against the backdrop of ongoing struggles for equality and justice, this celebration offers a moment of joy and triumph. It stands as a symbol of the strength found in unity and the determination to overcome challenges. To this vain, music genres like Afrobeats and Amapiano will be played from leading DJs like DJ Biggy C, Scarlett K, DIBS, etc.
As UK Black Pride enters its 18th year, its impact continues to extend beyond the event itself. The visibility it creates, the conversations it sparks, and the connections it forges all contribute to a broader cultural shift.
"With each passing year, the event moves us closer to a world where everyone's identity is embraced, and discrimination is a thing of the past. This event, born out of necessity, continues to stand tall as a beacon of empowerment, amplifying the voices of LGBTQ individuals from minority ethnic backgrounds. As we honor this milestone, let us also recognize that the journey towards equality and acceptance is ongoing. UK Black Pride reminds us that the struggle is real, but so is the strength that comes from unity and love."
*******************************************************************************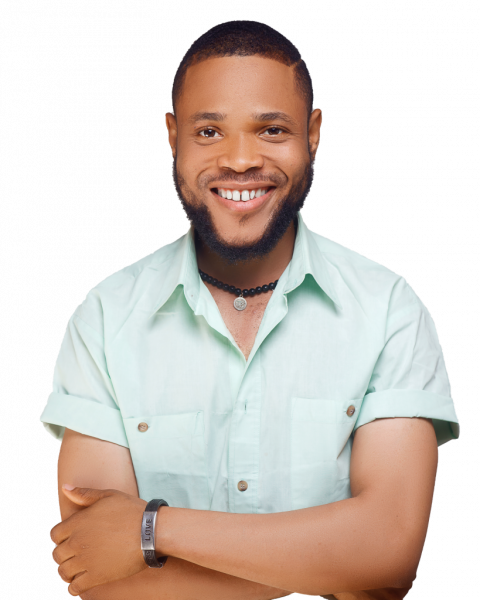 Elvis Kachi is a Nigerian freelance journalist and a Fashion & Culture Editor who covers business, everything art, fashion, and Lifestyle.