Parks After Dark returns with a captivating Winter Wonderland
"Now more than ever, L.A. County families need park spaces to heal from the trauma brought on by COVID-19"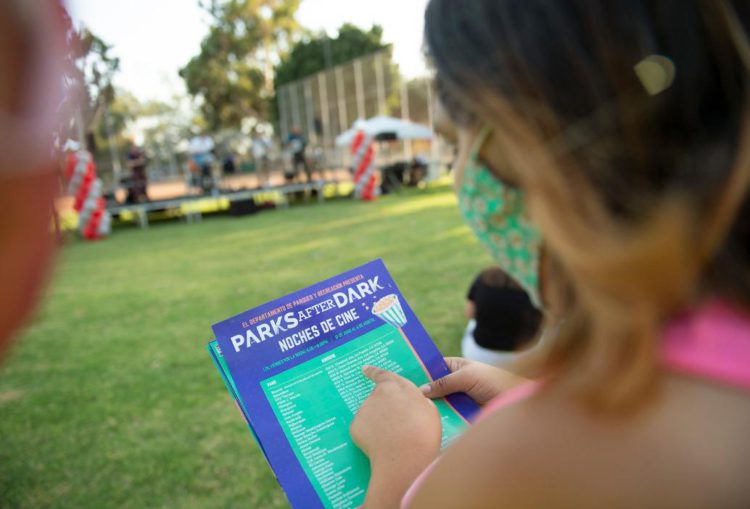 LOS ANGELES – It's Park Time L.A. County! Parks After Dark returns with a captivating Winter Wonderland experience that will bring holiday cheer and 40 tons of snow to 33 L.A. County Parks in the month of December.
Prepare for a frosty good time, complete with sled rides, entertainment and free activities for the entire family! Plan to arrive early to take part in a toy giveaway for ages 0-17, while supplies last.
Parks After Dark, an award-winning program designed to bring communities together by filling park spaces with family centered activities, will transform local parks into wintry paradises, complete with sled hills, snow play areas, holiday crafts, filled stockings for every child (while supplies last), hot cocoa stations, food giveaways and, most importantly, a visit from Santa Claus! All for free!
The L.A. County Parks Winter Wonderland is possible thanks to the generosity of the L.A.
County Board of Supervisors – First District Supervisor and Board Chair Hilda L. Solis, Second District Supervisor Holly J. Mitchell, Third District Supervisor Sheila Kuehl, Fourth District Supervisor Janice Hahn and Fifth District Supervisor Kathryn Barger – L.A. County Parks and Recreation Executive Board, Los Angeles Department of Social Services, L.A. County Probation Department, and the Los Angeles Regional Food Banks. L.A. County Parks would also like to thank Mattel, Inc. for its generous contribution of over 10,000 toys and games, ensuring a most festive Winter Wonderland holiday stocking giveaway.
"Now more than ever, L.A. County families need park spaces to heal from the trauma brought on by COVID-19," L.A. County Parks Executive Director Norma Edith García-González said. "This free event eliminates barriers to recreational opportunities and introduces families to enriching experiences that promote mental and physical health through fun and games."
Parks After Dark, launched in 2010, has proven to be a successful prevention and intervention program that provides multiple benefits to vulnerable communities, decreasing violence and crime, and increasing social cohesion and community well-being. In 2018, Parks After Dark was recognized by the National Recreation and Park Association, which presented L.A. County Parks and Recreation with is Best in Innovation award.

For more information on Parks After Dark Winter Wonderland, visit https://parks.lacounty.gov/PAD.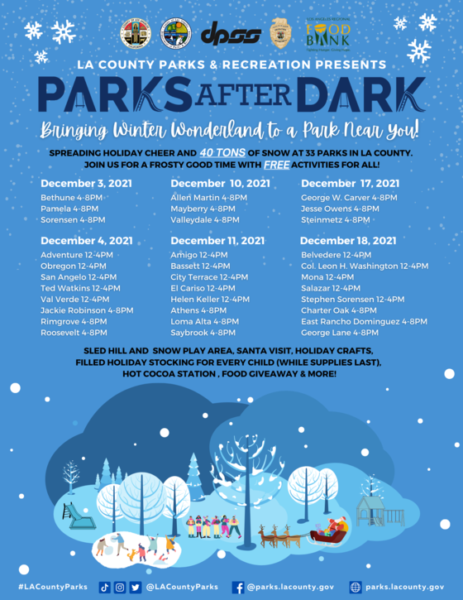 Missing woman in WeHo, public's help sought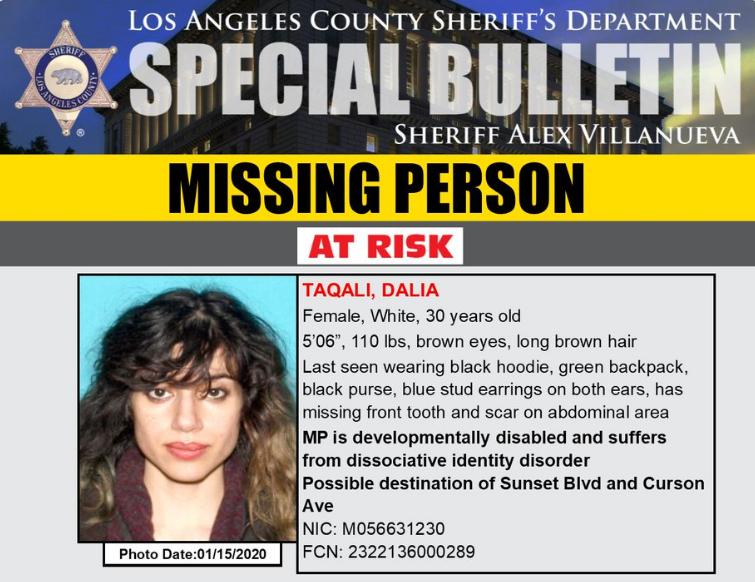 WEST HOLLYWOOD – The Los Angeles County Sheriff's Department is asking for resident's assistance in locating thirty-year-old Dalia Taqali who disappeared from West Hollywood Sunday night.
Taqali was last seen around 5 p.m. in the 1100 block of North Genesee Avenue, according to a news release from the Los Angeles County Sheriff's Department. Taqali is developmentally disabled and suffers from dissociative identity disorder, the Sheriff's Department stated.
Taqali's family is concerned for her well-being and is asking for help finding her.
Investigators said she may be headed near the area of Sunset Boulevard and North Curson Avenue in Hollywood.
Taqali stands 5 feet, 6 inches tall and weighs about 110 pounds with long brown hair and brown eyes.
She was last seen wearing a black hoodie, green backpack, black purse and blue stud earrings on both ears.
Authorities also said Taqali has a scar on her abdominal area and is missing a front tooth.
Anyone with information on her whereabouts is asked to call the Sheriff's Department at 323-890-5500. Those who prefer to remain anonymous can contact Crime Stoppers at 800-222-8477.
#LASD is Asking for the Public's Help Locating Missing Person Dalia Taqali, Los Angeles. Anyone with information is encouraged to contact the Los Angeles County Sheriff's Department's Missing Persons Unit at (323) 890-5500. pic.twitter.com/Uqw9yuG9Ro

— LA County Sheriffs (@LASDHQ) December 27, 2021
California Highway Patrol highlights new 2022 traffic safety laws
The laws take effect January 1, 2022, unless otherwise noted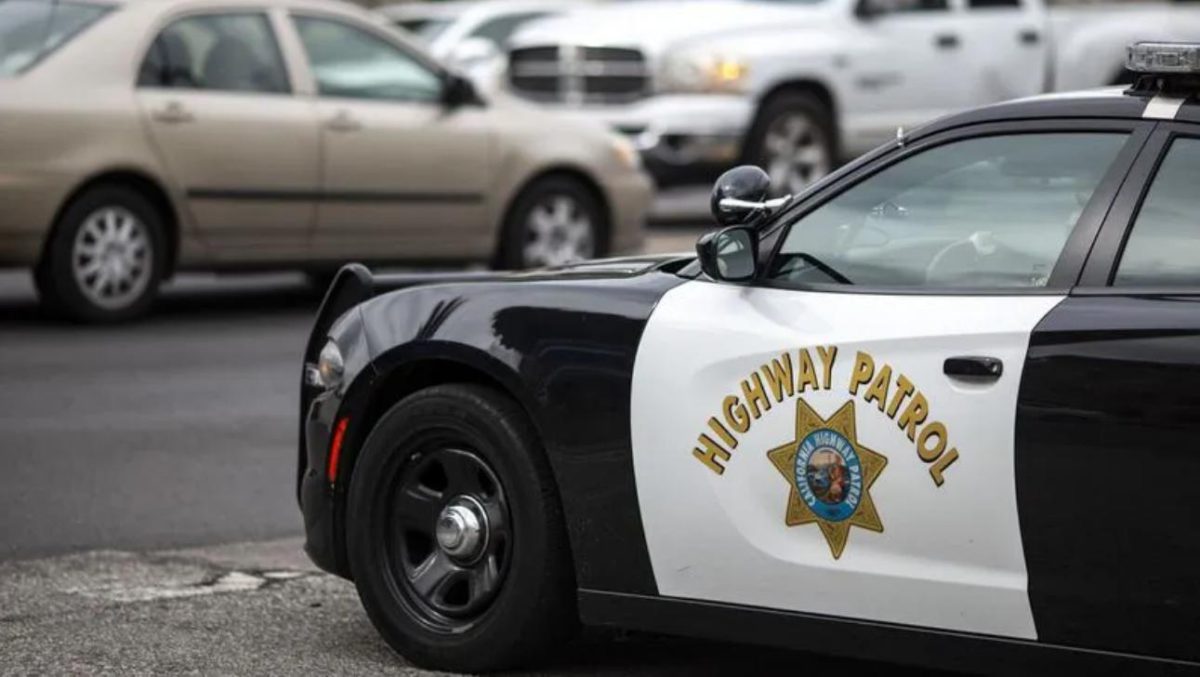 ​SACRAMENTO – As we head into the new year, the California Highway Patrol (CHP) is educating the public on traffic safety laws that were passed during this year's legislative season and signed by Governor Gavin Newsom.  The laws take effect January 1, 2022, unless otherwise noted.

Sideshow Definition and Penalties (Assembly Bill (AB) 3, Fong):  This new law strengthens penalties for those convicted of exhibition of speed if the violation occurred as part of a sideshow.

Beginning July 1, 2025, a court will be permitted to suspend a person's driver's license between 90 days and six months if the person is convicted of exhibition of speed and if the violation occurred as part of a "sideshow."  Section 23109(c) of the California Vehicle Code (CVC) (exhibition of speed) will define sideshow as an event in which two or more persons block or impede traffic on a highway for the purpose of performing motor vehicle stunts, motor vehicle speed contests, motor vehicle exhibitions of speed, or reckless driving for spectators.

The courts will be required to consider a defendant's medical, personal, or family hardship that requires a person to have a driver's license before determining whether to suspend a person's driver's license.  

Equestrian Safety Gear (AB 974, L. Rivas):  Requires a person under the age of 18 to wear a properly fitted and fastened helmet when riding an equestrian animal, such as a horse, mule, or donkey on a paved highway.  This bill also requires all riders or their equines to wear reflective gear or a lamp when riding after sundown.  

A person riding an equestrian animal in a parade or festival, or crossing a paved highway from an unpaved highway, is exempt from all helmet, lighting, or reflective gear requirements.

Tribal Emergency Vehicles (AB 798, Ramos):  This bill provides that any vehicle owned or operated by a federally recognized Indian tribe is considered an authorized emergency vehicle as defined by Section 165 CVC when responding to an emergency, fire, ambulance, or lifesaving calls.
Class C Drivers Allowed to Tow Trailer (Senate Bill 287, Grove): Effective January 1, 2027, drivers with a class C driver's license may operate a vehicle towing a trailer between 10,001 pounds and 15,000 pounds gross vehicle weight rating, or gross vehicle weight with a fifth-wheel and kingpin or bed mounted gooseneck connection, provided that the trailer is used exclusively for recreational purposes for the transportation of property, living space, or both.

The driver will be required to pass a specialized written examination demonstrating the knowledge of the CVC and other safety aspects relating to the towing of recreational vehicles on the highway and possess an endorsement on their class C driver's license.

Currently, this exemption is in place for drivers towing a fifth-wheel travel trailer provided the driver passes a specialized written exam and obtains a recreational trailer endorsement.


As a reminder, the following law took effect on July 1, 2021:

License Points for Distracted Driving (AB 47, Daly; 2019): Using a handheld cell phone while driving is currently punishable by a fine. As of July 1, 2021, violating the hands-free law for a second time within 36 months of a prior conviction for the same offense will result in a point being added to a driver's record. This applies to the violations of talking or texting while driving (except for hands-free use) and to any use of these devices while driving by a person under 18 years of age.

The mission of the CHP is to provide the highest level of Safety, Service, and Security.
Dogs, Cats & their Humans are invited to low-cost vaccination clinics
Pop-Up Clinics will Take Place on Saturday, December 18 and Saturday, January 8 from 9 a.m. to 11 a.m. & will provide discounted vaccinations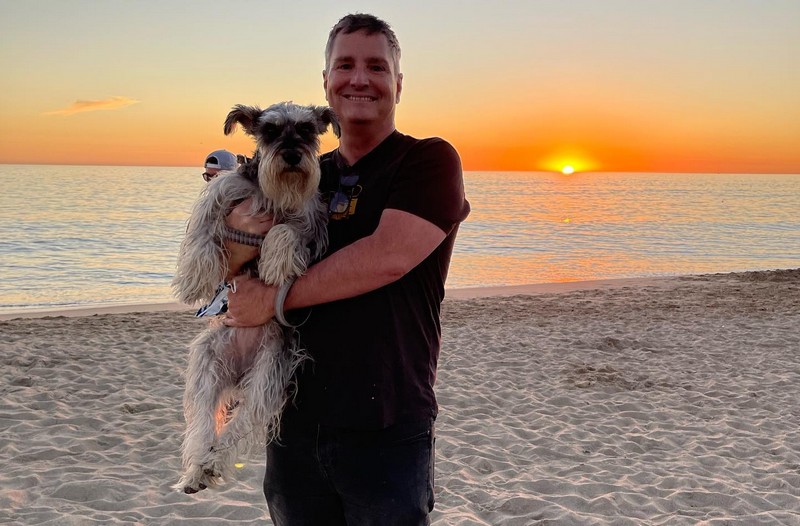 WEST HOLLYWOOD – Two Low-Cost Vaccination Clinics will take place at the West Hollywood Community Center at Plummer Park, located at 7377 Santa Monica Boulevard, in the outdoor patio area. The clinics are pop-ups offered by Low-Cost Pet Vaccines of Southern California.
The first clinic will take place on Saturday, December 18, 2021 from 9 a.m. to 11 a.m.; the second clinic will take place on Saturday, January 8, 2022 from 9 a.m. to 11 a.m. It is requested that attendees wear masks in accordance with recommendations for COVID-19 health and safety.
Pop-Up Clinics will take place on Saturday, December 18 and Saturday, January 8 from 9 a.m. to 11 a.m. and will provide Discounted Vaccinations, Microchips, and De-Worming
All dogs must be on a leash or in a carrier; all cats must be in carriers. Participants are advised to bring medical records for dogs and cats, if such documents are in possession. Cash and checks, as well as Venmo and Zelle payments will be accepted. Credit cards will NOT be accepted.
Services offered will include:
$15 Rabies vaccinations for cats and dogs
$20 Canine Coronavirus for dogs
$28 DAP-Parvovirus + Lepto4 (8-in-1)/Moquillo for dogs
$15 DA2P-Parvo for dogs
$15 Bordetella for dogs
$40 Dog Flu Bivalent/Influenza for dogs
$30 Rattlesnake Vaccine for dogs
$45 Lyme Disease for dogs
$25 Leptospirosis for dogs (Leptospirosis will be offered as a first dose on December 18 and requires a second dose on January 8)
$20 FVRCP (3-in-1) for cats
$30 Feline Leukemia for cats
$30 Tapeworm Injection for dogs and cats
$40 Microchip for dogs and cats
$20 Broad Spectrum De-Wormer
For more information about Low-Cost Pet Vaccines of Southern California, please visit www.lowcostpetvaccines.com.
For additional information, please contact Dan Mick, the City of West Hollywood's Code Compliance Supervisor, at (323) 848-6882 or at [email protected].
For people who are Deaf or hard of hearing, please call TTY (323) 848-6496.