Words never fail in MacIvor double bill by Open Fist Theatre
The playwright offers a contemplation of life and death, experience & memory, honesty & deceit, that make up human existence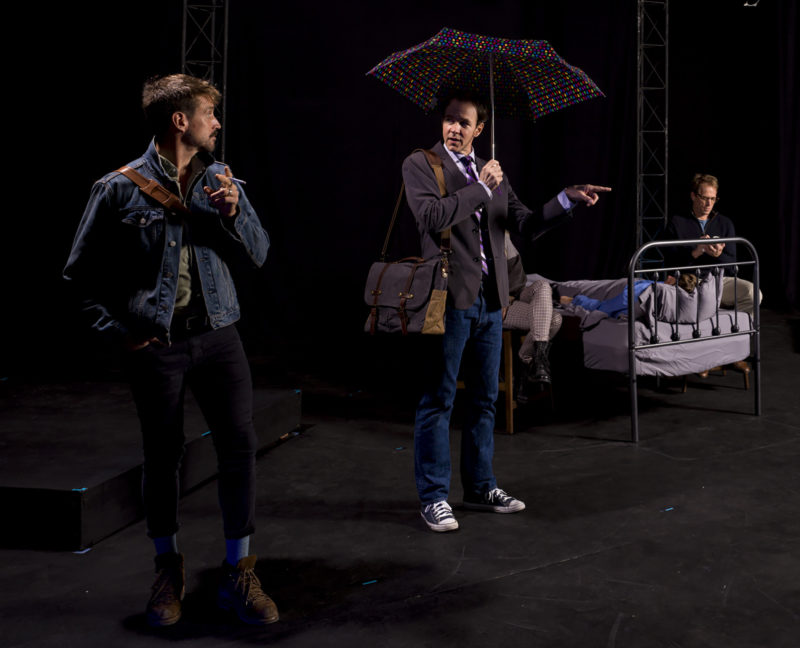 LOS ANGELES – There has long been debate among theatrical scholars about whether going to a play has been traditionally considered an auditory or a visual experience.
The argument goes that, before the advent of modern technology which enabled cinema and other forms of filmed entertainment, the theatre was a place where sound was the primary vehicle by which an audience's imagination could be transported out of the here and now, and that visual elements such as costumes, props, or mechanical stagecraft were secondary factors meant to reinforce and enhance the effect; for evidence of this, many point to Shakespeare, who in "Hamlet" had his lead character say "we'll hear a play" (a phrase which was subsequently long-used preferentially by many theatre-goers in his homeland) and whose works are still renowned five-and-a-half centuries later for their masterful use of language to accomplish… well, pretty much everything required, from setting the scene and telling the story to exploring the deepest nooks and crannies of the human psyche.
Though the whole question might seem a bit pedantic in today's world, it certainly touches on a major difference between the way we experience live theatre and the way we experience a film or television show, one which hinges on the main route these related-but-separate art forms take – through the ears or through the eyes – in transmitting information to the human brain. And if you want a good example of what a difference that difference makes, you couldn't find a much better illustration than the plays of Candadian wordsmith Daniel MacIvor – two of which are currently being performed by the Open Fist Theatre Company at Atwater Village Theatre.
MacIvor, who is known also as a filmmaker and actor, garnered acclaim in the 1980s and 1990s for a series of plays, crafted in a minimalist style and reliant on an intricately constructed tapestry of words to convey situation, narrative, and intent. Standard conceits of theatrical storytelling, such as a linear flow or the assumption of a fourth wall, are often jettisoned in these works, which invite comparisons to absurdists like Beckett and Pinter and challenge audiences to connect the dots as they go in order to decipher meaning. 
Two of these pieces, both directed with a confident hand by Open Fist's associate artistic director Amanda Weir, are paired by Open Fist into a brisk and engrossing double bill which leans hard into the award-winning playwright's unique, meta-theatrical approach to maximum advantage.
The shorter of the two works, "Never Swim Alone," is the more directly abstract. Taking place on stage that is bare save for a lifeguard stand and two chairs, it presents a ruthless competition of one-upmanship between two men, Frank and Bill (Bryan Bertone and Dylan Maddalena), who demonstrate an escalating series of scenarios under the watchful eye of "The Referee" (Emma Bruno) – a young woman with a secret connection to the boys these men used to be. Slyly witty and unexpectedly suspenseful, it examines the competitive machismo hidden beneath the slick and stylish suits of these two "Type A" businessmen with a dark and scathing sense of humor, as it slowly draws a connection between their never-ending battle for supremacy and the deep trauma of a shared childhood experience.
Originally produced in 1991, the roughly 30-minute exercise taps into the rich vein of toxic masculinity in order to make its points about the deep-seated fears and insecurities that drive so much of what our culture has long accepted as "typical" male behavior, with the two men vying for "points" against each other – awarded, of course, by the female referee, who holds absolute and irrefutable power in the game despite the clear lack of regard with which each of the participants reveals themselves to hold women in general.
It's unapologetically clever and disarmingly comedic, reveling in its theatricality and its tactics as it explores the men's rivalry and breaks each confrontation down into the all-too-familiar clichés in which they are mired. The elegant simplicity of its construction, which distills a far-reaching and deep-rooted phenomenon into clear and concise shapshots of social dysfunction, feels as effective today as it surely did over two decades ago.
From a 2021 perspective, however, the subject matter no longer seems as fresh. In the last few years (especially since the "Me Too" movement), the topic of bad male behavior has been rehearsed so frequently, and in so many different and brilliant ways, that many audiences may find themselves getting ahead of the play's revelations before they fully land, and the conceit which ties the whole thing together – which we'll not reveal here – may ultimately strike some viewers as too pat an explanation for what makes these men (and presumably, somehow by extension, all of them) tick.
Nevertheless, MacIvor's wordplay never fails to be crisp and exciting as it trips from the talented tongues of the players (especially the charismatic Bertone and the sublimely expressive Maddalena, who take on the lion's share of the work), and those who enjoy watching skillful actors engaged in an exercise of their craft are bound to find the pleasures of doing so more than enough to make up for the familiarity of the themes being explored.
More satisfying from a narrative standpoint, and more engaging on an emotional level, is "The Soldier Dreams," which MacIvor – who is gay – wrote in 1998 as a response to the AIDS crisis. Again, the setting is sparse, suggesting an empty nightclub with a single bed, occupied by an ailing man, facing upstage in the center.
The man is David (David Shofner), who is in the process of dying as his lover Richard (Conor Lane) and dysfunctional family spar with each other over his comatose form, each clinging to their own perceived special relationship with him and examining their memories to find an answer to the lingering mysteries about his life. Meanwhile, David himself is revisiting a secret memory, from years before, involving a one-night stand with a German student (Schuyler Mastain) that may or may not have led to something more important to him than any of the people standing around his soon-to-be deathbed.
Here, the same linguistic tricks used by MacIvor to form the intellectual exercise of "Swim" are employed to illuminate the web of human relationships at the center of a bittersweet story; as a result, they strike us with deeper resonance and more urgency than in the other piece.
Through the myriad pathways of language, the playwright offers a contemplation of life and death, experience and memory, honesty and deceit, and a host of other dualities that make up human existence. There's sharp humor and cutting observation along the way, along with a fair amount of painful and hard-to-watch bitterness, but it's all tempered with compassion and the three-dimensional layers revealed by each character as we go, and in the end, we are left in a place of hope – or, at least, of acceptance. And making it all come together, a talented cast succeeds in the essential task of breathing life into MacIvor's words, with Shofner, Lane, and Mastain as standouts among a solid and capable ensemble.
The two complementary plays continue their run at Atwater Village Theatre through December 12. Check the Open Fist website for performance dates and times.
Oscar-winner Tarell McCraney, new Geffen Artistic Director
The Moonlight co-screenwriter says he wants the theatre to be artist-centered, while attracting top-name talent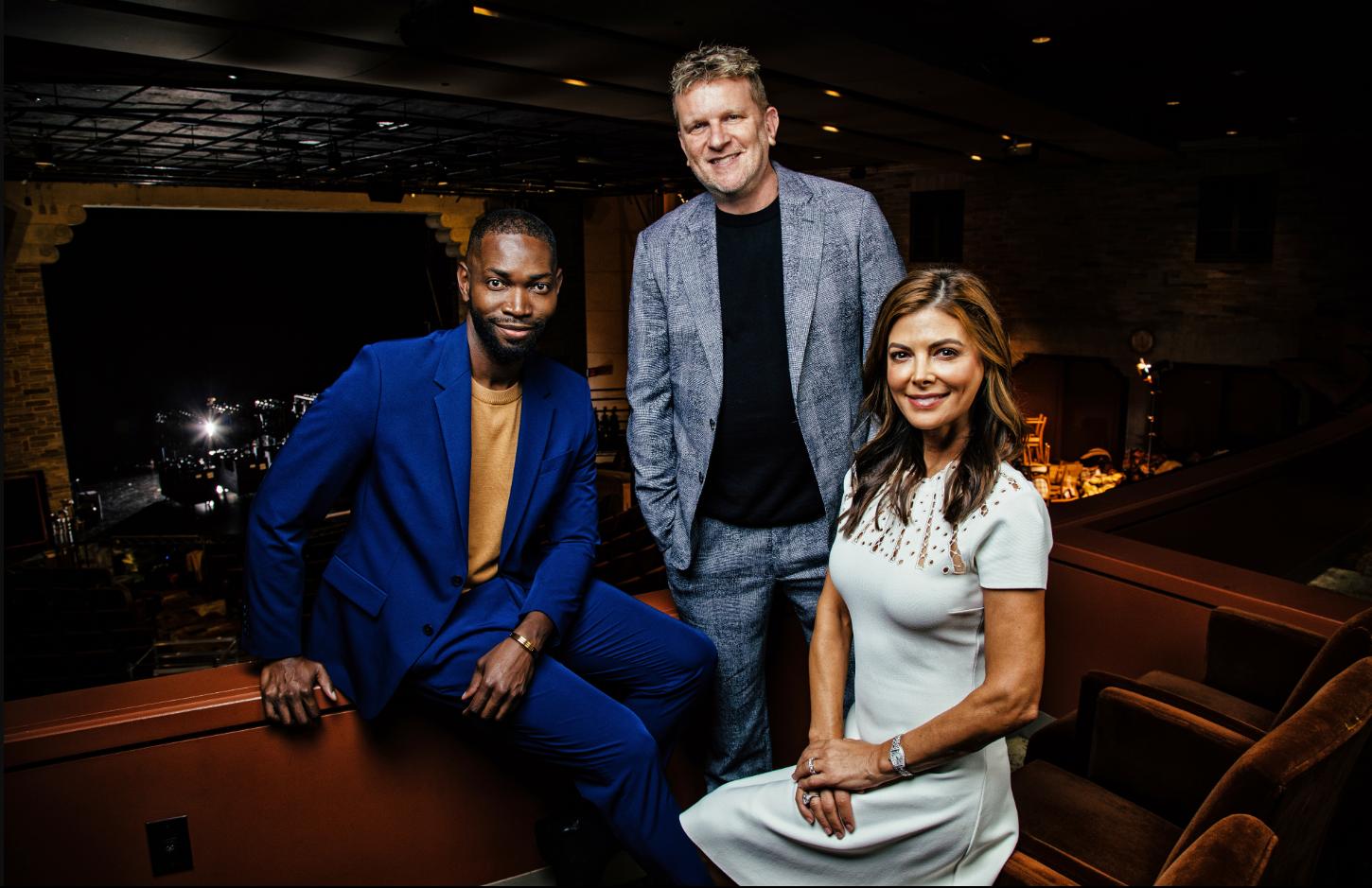 By Rob Salerno | LOS ANGELES – Tarell Alvin McCraney has lofty plans for the Geffen Playhouse, which announced him as its new Artistic Director last week. 
The openly queer playwright who won an Oscar for co-writing the 2016 film Moonlight based on his own earlier play, In Moonlight Black Boys Look Blue, says he wants the theatre to be a place that centers artists' voices while building on the theatre's location in Los Angeles to attract big name talent. But he also wants the theatre to draw in more young audiences from neighboring UCLA and he promises to continue commissioning work by LGBTQ creators.
With a career that has included being a member of Chicago's famed Steppenwolf Theatre, playwright-in-residence at the Royal Shakespeare Company, serving as Chair of playwrighting at the Yale School of Drama, and a Tony Award nomination for his Broadway debut Choir Boy (which was produced at the Geffen in 2014), the 43-year-old playwright has the deep connections across the national theatre scene as well as in Hollywood that just might help him pull this vision off.
The Los Angeles Blade sat down with McCraney to talk about how he sees the Geffen Playhouse fitting into the LA art scene, and why live performance remains so relevant to today's audiences.
Blade: Why are you making the transition from playwrighting to artistic directing? What made you want to run a theatre?
McCraney: That kind of vision-setting is something that I've always done. I certainly will admit that doing it at a major theatre was not on my bucket list. But then something started to happen. A lot of the ways that we were creating theatre began to be corporatized and we started to think in corporate ways and business models. For art making, that can get convoluted. The moment we get into very strict rules about theatre and how it should get created, we get into trouble. We leave no room for expression. And that has been happening in part because leadership hasn't been by artists.
And now I have a whole heap of friends and colleagues who are artists running theatres, saying we need to work in collaboration with each other, in order to make sure that the artists of the future are nourished and told that their voice is necessary. All of our companies, even in TV and film, are run by the imagination of the artists, and to put that at the center is really investing in our future.
What is your vision for the Geffen?
The Geffen already does something pretty amazing. It is that fulcrum in the entertainment industry. There are a lot of film and tv folks who make up our audience and the artists who are on our stage. That feels like we have a role to play in the ecosystem of the great many theatre artists who come out to LA to pursue film and television and also still deeply want the roots of live performance to be honored, and the skills that come with that to be sharpened.
We also have about 30-40,000 audience members across the street who may not have been inside of our playhouse or experienced their first live performance, and we'd love to make sure that that is part of their education. I'm talking about UCLA. We want to make sure that we invite them in to experience what it is to have a live performance affect you and change you and make you think and anger you and call you into action. We also know that a good percentage of those folks are the artists of tomorrow. We want to make sure that they know that they have a space.
How is Los Angeles different from the places where you've made theatre in the past?
It's the center of the TV and film industry in our country specifically. And yes, there are certainly theatre actors who work in film and television in New York and Chicago.
In LA the majority of folks who are in our audience and on our stages work in the film and television industry in some way, shape or form. What that gives us as a playhouse is a place where we can say, hey, theatre is important to you. It's the first thing you did in your life. It's the first experience you had in dramatic storytelling. It's the bad theatre games that led you to this moment playing this role on Wandavision. Now you want to get back on stage and you want to remind yourself what it means to be in Hamlet and why that story is important, in film and television, but also in live performance. What does that do? What part of your humanity is invigorated by doing it in front of people night to night?
Because we have so many people in our community who come from that tradition and background, it makes no sense to me to bifurcate that but to integrate it.
You obviously bring a certain star power to the theatre. Do you think that's important for Los Angeles audiences?
Name recognition is important for sure. Someone could take that negatively. I hear, "Oh, I like the way that person tells a story. I've followed them for a long time."
I'd love to make sure that there are a cadre of artists that folks can say, "Oh yeah, they're at the Geffen pretty often. I love to see them there," or, "I saw their first play there, and it's really interesting to see what they do next. I'm coming back for that." I think it's important to audiences everywhere. We like to train up with people. You've seen that actor before that you're like "he was in that thing!" You like to watch that versatility.
Samuel L. [Jackson] was in The Piano Lesson. One, I love The Piano Lesson. Two, I love Samuel L. And I was like, I have to see this, because this is one of my favorite people telling stories and in a way that I rarely get to see him do it.
I understand the guilt, because people can feel consumerist, but it really is an age-old tradition. You want to see that person tell the stories. It is exciting to say I've seen that actor on so many things, but I'd love to see them live.
Does the Geffen need to find new audiences?
So does every industry. Even in streaming, we know we gotta grow their audiences. What I don't think we should be doing is chasing after the audiences who've said they're not going to sit in the theatre anymore. I think there are people who've gone through a very rough time the last three years, who've said, "Y'know what? One of my biggest things is going to be being outside, or travelling, or moving to that place that I didn't think I could."
What we have to do is reinvest in the 60% of audiences that have come back and said, even during that limited capacity, "The thing I wanted to get to most was this engagement here in the live theatre. It's important to me, it's a part of the tapestry of my life, so I'm here."
Why is theatre relevant in 2023?
It's the difference between [being there and] hearing, "Oh, you had to be there…"
I tell this story all the time about Peter Brook's Hamlet in Chicago [in 2001] with Adrian Lester. It's the first Shakespeare production I've seen at Chicago Shakespeare Theater. I'm seeing this fly zipping around, and Adrian Lester, who is delivering the most eloquent Shakespeare I've ever seen, at some point in the middle of it, I think he's doing one of his great speeches, he [catches the fly in his hands, shows it to the audience and wipes it off], and continues going on as if nothing happened. I think it was during "To be or not to be." Talk about timing. You just had to be there.
I remember my best friend Glenn Davis, the artistic director of Steppenwolf, and my friend André Holland who was in Moonlight, we all saw that production, that performance, and we're all still saying, "You had to be there," this performance 20 years ago, to see this fly driving Adrian Lester wild. I know that's still relevant to folks.
We have a show right now at the Geffen called Every Brilliant Thing, and it's really interesting to see folks who are jostled by how interactive it is, and how much the audience talks to the performer. And those who really lean into it, who are like, "Yeah, this is why I come. I can't just lean back and eat Cheetos, while you divorce someone or run for president. I have to be here right with you as you work out this very complicated thing in your life."
What can queer audiences expect from the Geffen under your tenure?
Thankfully, the artistic leadership before did a pretty good job of forging ahead with queer stories in our space. I can speak to Choir Boy when we did it all those years ago. But since then, there's been multiple plays and paradigm-breaking ways in which we engage our queer stories particularly. I'm speaking of The Inheritance, when we had that block party with community partners.
One of the things I'm challenging us to do is to make sure that when we do invite audiences – queer, black, brown, Asian – into our space, that they do know that we keep something on hand for them. That it's not just that in June we have this 'out' play, but that we have something year-round that… may not be specifically about a topic, but it'll have enough that it'll encourage, delight and engage everyone.
We can't have a play in February for Black History Month and then be like, "Oh, we got our Black audience in, but now what?" We have to make sure that audiences feel like we program with you in mind. The play may not be about your particular home, but it is engaging the world you live in and wanna live in.
Do you think we'll see more commissioned queer works, or productions of queer-themed plays?
For sure, on our roster of people to commission there are same-sex loving folks, there are people who are transgender. We are absolutely leaning into that.
Are we going to see new Tarell Alvin McCraney plays at the Geffen?
That's an easy Yes. Selfishly, that's why I took the job. Directors always take these jobs and go, "I'm gonna direct the thing I never got to direct." There's a bunch of things I want to write for the theatre and I just need the time and space to do it. Maybe I've hoodwinked the Geffen into letting me do that. I'm very excited about it.
What are you excited to write about?
I definitely want to write about marriage and my weird feelings around it. If you just look at the things I've been writing about for twenty years, they're all the same: queer people, finding love, finding a voice. That's not going to change. Just different avenues.
I'm excited to see that as a 43-year-old man who keeps going, "Should I get married? Is marriage for me? Isn't the point of being queer not to get married? Aren't we revolutionary? Is it a tool of the state or whatever, or is it really a romantic thing that I'm missing out on?" I want to grapple with those things. and I think the intimacy of our spaces is the place to do it.
As soon as I can get the time to write it.
(This interview has been edited for length and clarity.)
******************************************************************************************
Rob Salerno is a writer and journalist based in Los Angeles, California, and Toronto, Canada.