Anti-LGBTQ hate group asks Supreme Court to reverse 11th Circuit ruling
"No one is trying to suppress anyone's right to believe in their own faith- They're making it look like we're attacking religious freedom"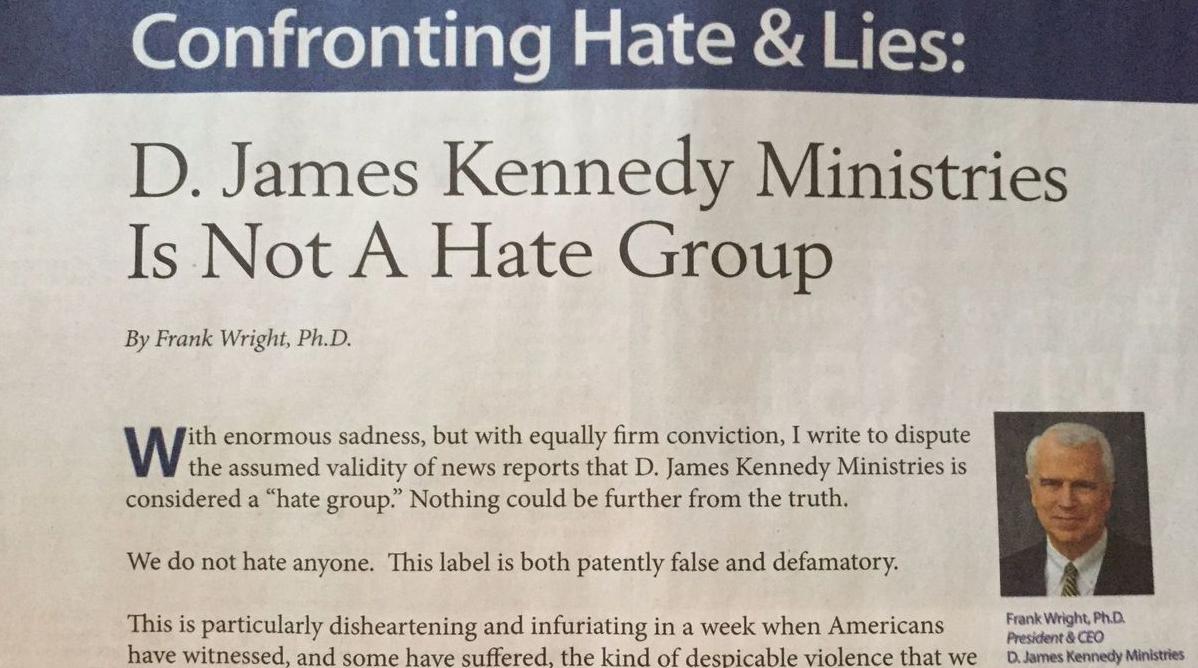 WASHINGTON – The D. James Kennedy Ministries (DJKM), the Coral Ridge, Florida based anti-LGBTQ+ Christian group petitioned the U.S. Supreme Court to overturn a ruling by a lower Federal court that dismissed DJKM's defamation lawsuit against the Southern Poverty Law Center (SPLC).
DJKM, which has been defined as an extremist hate group on by the Southern Poverty Law Center for lies and propaganda smearing LGBTQ+ people on its hate-watch map and list, filed a brief with the High Court on November 24.
In its appeal brief, DJKM, represented by the National Center for Law and Liberty (NCLL), asks the Court to reconsider its 1964 decision in New York Times v. Sullivan, a ruling which created a high bar for "public figures" to win defamation suits.
The 11th Circuit Court of Appeals rejected DJKM's defamation suit based on the Times v. Sullivan standard.
Sullivan requires "public figures" to demonstrate "actual malice" on the part of defendants in defamation suits.
In so doing, bringing a civil suit that seeks damages for defamation brought by a person in the public eye becomes an almost impossible task, depriving that individual of the opportunity to defend their reputation, the legal brief claims.
"That gives reputational terrorists like the SPLC carte blanche to attack and destroy its ideological enemies," said Dr. Frank Wright, President and CEO of DJKM.
"We are asking the Court to give us and similarly situated ministries and individuals the ability to bring a claim for reputational harm that is currently denied under Sullivan."
Founded by D. James Kennedy who spent nearly 50 years at Coral Ridge Presbyterian, which the group was originally called. Kennedy was known nationally for the "Coral Ridge Hour," which was one of the highest rated syndicated religious programs on broadcast TV — and for his opposition to same-sex marriage, abortion, pornography, fetal stem cell research and the teaching of evolution. Kennedy died in September 2007 at age 76.
In a 2017 interview with the Sun-Sentinel in Fort Lauderdale as the news broke that DJKM had sued the SPLC, the ministries' arguments against SPLC in the suit aren't as simple as it portrays, Fort Lauderdale Commissioner Dean Trantalis told the paper.
Before he became the city's first openly gay commissioner, he was a community activist who tangled with Kennedy and his organization over its stand on LGBT issues.
Trantalis said the Kennedy Ministries isn't being persecuted for its religious views. "No one is trying to suppress anyone's right to believe in their own faith," he said. "This is a continuation of an effort to make Christian as much of America as possible. … They're just rebranding their message and making it look like we're attacking their religious freedom."
"Let's not forget the legacy of D. James Kennedy," Trantalis said, recalling the environment in the late 1990s and early 2000s. He said Kennedy stood with people opposed to LGBT rights "and supported everything that they said to denigrate the LGBT community at that time." Trantalis pointed to his support for "reparative therapy in which he strongly advocated trying to 'pray away the gay,' and to force young kids into trying to deny their sexual orientation."
"They may not want to bring up those episodes of the past. They perhaps remember him in a different way. But this community will never forget the legacy that he leaves behind," he said.
Labeling the SPLC as a "watchdog/Left-wing advocacy group" the suit alleges that the SPLC classified DJKM as a "hate group" for teaching the traditional, Biblical position on marriage and sexuality.
The lawsuit also claims that because of SPLC's false and defamatory label, DJKM has suffered reputational injury and financial harm from both increased security expenses and decreased donations.
High Court to hear case of school prayer but not anti-LGBTQ web designer
The Justices added five new cases including the case of a fired former Bremerton, Washington assistant high school football coach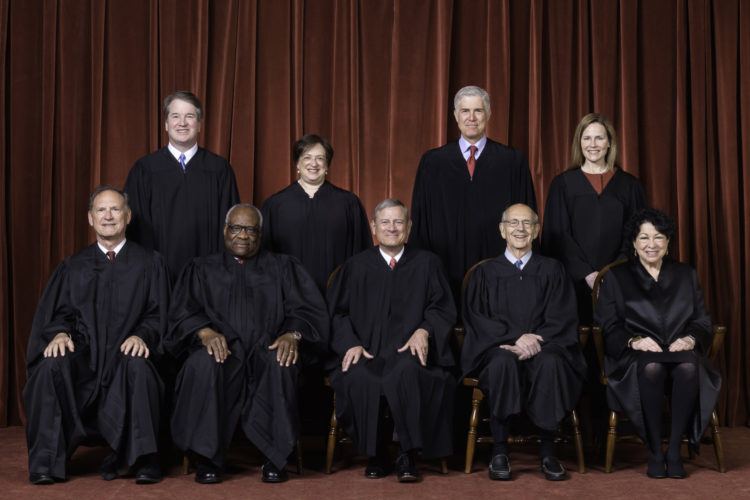 WASHINGTON – After their private conference on Friday, the Justices of the U.S. Supreme Court added five new cases to this term including the case of a former Bremerton, Washington assistant high school football coach removed for refusing to halt his practice of praying at mid-field after games.
The court however declined to hear the case of a website designer who refused to create custom sites for same-sex weddings.
SCOTUSblog senior reporter Amy Howe reported "the case of the football coach involves Joseph Kennedy, a practicing Christian whose religious beliefs require him to "give thanks through prayer, at the end of each game." When he began his job as an assistant coach at Bremerton High School, a public school in Washington state, he initially prayed alone after games, but over time some of his players – and eventually a majority of the team – joined him. One parent complained that his son, a player on the team, felt like he had to join in the prayer, even though he was an atheist, or face a loss of playing time."
Bremerton School District officials had attempted to accommodate Kennedy after warning him to stop the prayers as District officials clarified that they did not want to violate the Constitution's establishment clause, which prohibits the government from favoring one religion over another.
The district offered Kennedy the ability to pray after the crowd had left the stadium or in a private space both options that he refused. Kennedy had retained counsel and the legal team indicated that they would pursue father legal action.
According to media accounts he then prayed publicly with his players at two more games after which he was placed on administrative leave. After a review which included a recommendation by the head football coach that he be terminated, Kennedy was let go and then filed a federal lawsuit alleging that Bremerton School District had violated his First Amendment rights and federal civil rights laws.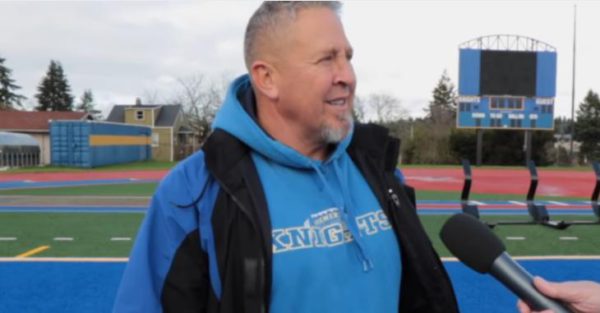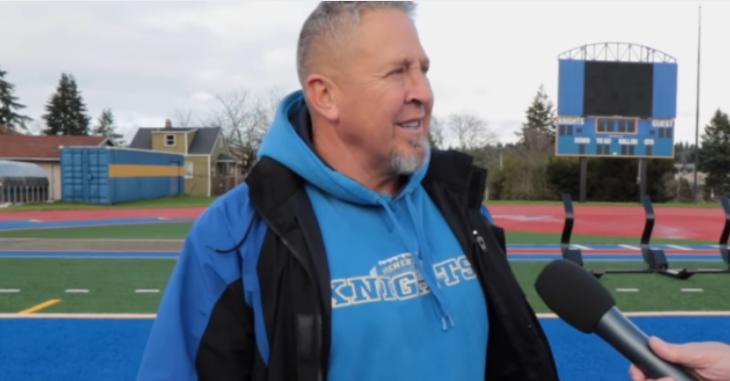 "Kennedy came to the Supreme Court in 2018 seeking to get his job back while litigation continued. The court turned him down, but Justice Samuel Alito penned a statement regarding that denial that was joined by Justices Clarence Thomas, Neil Gorsuch, and Brett Kavanaugh. Alito wrote that Kennedy's free-speech claim raised important issues, and he suggested the case may warrant review in the future," SCOTUSblog reported.
Ultimately, the U.S. District Court rejected Kennedy's argument ruling against him and the case was then heard by a 3 judge panel of the U.S. Court of Appeals for the 9th Circuit, which upheld that decision. The 9th Circuit turned down a petition for an En banc (full) review by the entire 9th Circuit.
Kennedy returned to the Supreme Court in September 2021, telling the justices that the 9th Circuit's ruling used "imagined Establishment Clause concerns to inflict real Free Exercise Clause damage," he argued adding; "The religious expression of hundreds of thousands of teachers in the Ninth Circuit is now on the verge of extinction," he contended. Moreover, Kennedy added, the ruling's "chilling effects elsewhere around the country are palpable, as the Ninth Circuit essentially held" Kennedy's "efforts to publicize the denial of his constitutional rights against him."
The school district countered that whether Kennedy has the right to a "brief, quiet prayer by himself while at school" "is entirely beside the point" – particularly when, the district insisted, "every word of that description is wrong." The dispute before the court, it stressed, is "about a school district's authority to protect students when its employee does not work with it to find a reasonable accommodation." A ruling for Kennedy, the school district warned, would require the Supreme Court "to overturn decades of settled law under both the Free Speech and Establishment Clauses," SCOTUSblog reported.
The Justices declined to take up a case on appeal from the U.S. Court of Appeals for the 10th Circuit, 303 Creative LLC v. Elenis, brought by The Alliance Defending Freedom, (ADF)- listed by the Southern Poverty Law Center as an anti-LGBTQ extremist hate group.
The case stemmed from a Lakewood, Colorado based web designer, who sued to challenge Colorado's anti-discrimination law. ADF filed its appeal last Fall asking the U.S. Supreme Court to review that ruling.
Lorie Smith, claimed in court filings that the Colorado law violated Smith's freedom of speech and freedom of religious expression, citing that it would force her to design wedding websites for same-sex couples which violated her 'Christian' beliefs.
In its 2-1 ruling, the 10th Circuit panel said Colorado had a compelling interest in protecting the "dignity interests" of members of marginalized groups through its law.
In a statement issued by ADF, the Arizona based firm claimed; "The 10th Circuit issued an unprecedented decision in the case, 303 Creative v. Elenis, holding that Colorado's Anti-Discrimination Act both forced Lorie "to create websites—and thus, speech—that [she] would otherwise refuse," and also created a "substantial risk" of removing "certain ideas or viewpoints from the public dialogue," including Lorie's beliefs about marriage."
ADF added; "The lawsuit contends that Colorado Revised Statute § 24-34-601(2)(a) violates the First Amendment's Free Speech and Free Exercise clauses. The state law is the same one the commission twice used against Masterpiece Cakeshop cake artist Jack Phillips, who is currently being harassed by an activist attorney in a third lawsuit that also attempts to use Colorado's law against him. After a trial resulted in a decision against Phillips, ADF attorneys representing him and his shop have appealed that case to the Colorado Court of Appeals."
Colorado Solicitor General Eric Olson questioned whether Smith should even be allowed to challenge the law since she had not started offering wedding websites yet, the Associated Press reported.
But if she did, Olson said, her argument would mean she would refuse to create a website for a hypothetical same-sex couple named Alex and Taylor but agree to make the same one for an opposite-sex couple with the same names. He said that would be discrimination under the Colorado Anti-Discrimination Act, which prohibits discrimination on the basis of sexual orientation.
Judge Mark Beck Briscoe wrote in the majority opinion (303 Creative, et al. v. Elenis, et al.) that "we must also consider the grave harms caused when public accommodations discriminate on the basis of race, religion, sex, or sexual orientation. Combatting such discrimination is, like individual autonomy, `essential' to our democratic ideals."
In his dissent, Chief Judge Timothy Tymkovich wrote that "this case illustrates exactly why we have a First Amendment. Properly applied, the Constitution protects Ms. Smith from the government telling her what to say or do.
Anti-LGBTQ legal group appeals ruling against anti-LGBTQ photographer
ADF's attorneys in their appeal argued the New York state laws go against the First and Fourteenth Amendments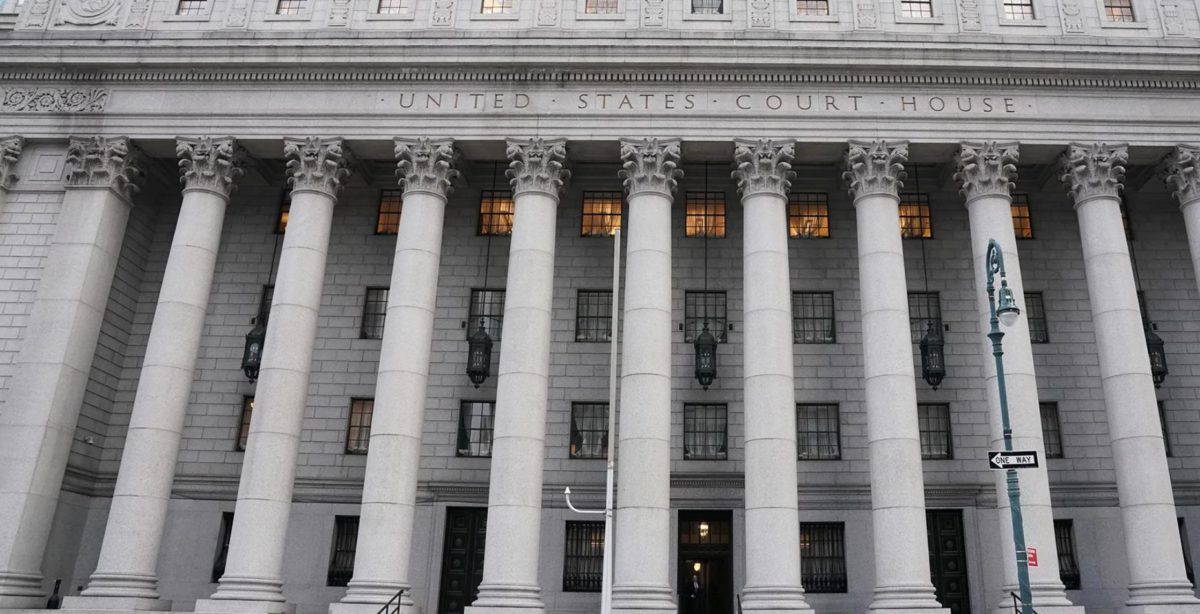 NEW YORK – The Alliance Defending Freedom (ADF), filed an appeal Wednesday with the United States Circuit Court of Appeals for the Second Circuit asking the court to overturn a lower Federal court ruling that dismissed a suit brought by a New York photographer asking to gain an exemption from state law regarding same-sex marriages.
Emilee Carpenter, an Elmira-based wedding photographer had filed a lawsuit Federal lawsuit claiming that New York's anti-discrimination laws violated her right to refuse photographing same-sex marriages.
She was represented by ADF which is listed by the Southern Poverty Law Center as a hate group because it has supported the idea that being LGBTQ+ should be a crime in the U.S. and abroad and believes that is OK to put LGBTQ+ people in prison for engaging in consensual sex. It has also supported laws that required the forced sterilization of transgender Europeans.
ADF has spread lies about the LGBTQ+ community. It has, for example, linked being LGBTQ+ to pedophilia and claimed that a "homosexual agenda" will destroy society.
U.S. District Judge Frank P. Geraci Jr. ruled that Emilee Carpenter's suit "would relegate [same-sex couples] to an inferior market than that enjoyed by the public at large," under New York State statutes. He then dismissed the case.
ADF's attorneys in their appeal with the 2nd Circuit Court of Appeals, argued the New York state laws go against the First and Fourteenth Amendments, restricting their client's rights to freedom of speech and the free exercise of religion.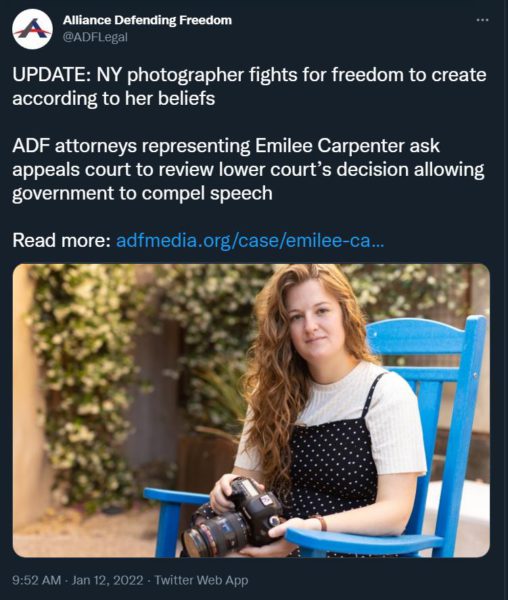 Feds must evaluate Trans prisoner for gender-affirming care, judge rules
"Denied basic medical care to treat her gender dysphoria & housed in men's prisons where she experienced severe physical and sexual violence"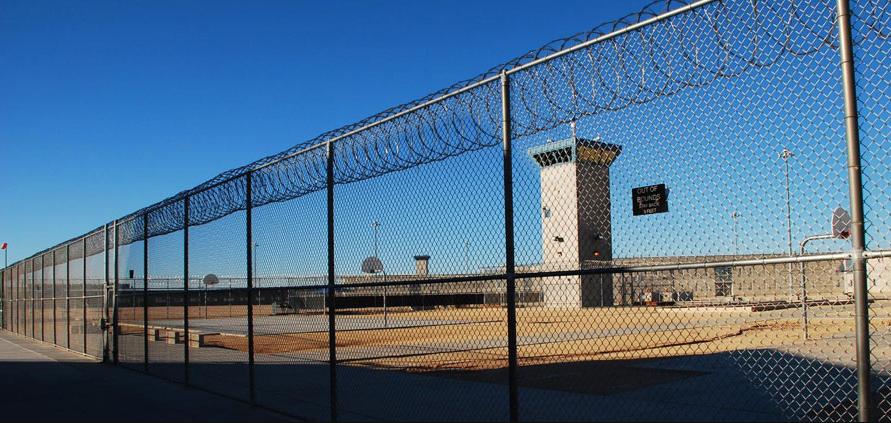 CHICAGO – A federal judge in Illinois ruled that the U.S. Federal Bureau of Prisons (BOP) must evaluate a trans woman incarcerated in Texas for gender-affirming surgery – a first of its kind ruling that could improve the treatment of trans prisoners across the country. 
In the ruling issued on Dec. 27 in the U.S. District Court for the Southern District of Illinois, Chief Judge Nancy Rosenstengel ruled that the Transgender Executive Council (TEC) within the BOP must evaluate a request from Cristina Nichole Iglesias – a 47-year-old trans woman who has been in custody for more than 27 years – for gender-affirming care by Jan. 24.
If the TEC recommends Iglesias for gender-affirming care, the BOP's medical director must assess Iglesias within 30 days and report to the court about progress on locating a surgeon.
If the TEC decides not to recommend Iglesias for surgery, they must provide a detailed explanation to the court.
"For years, Cristina has suffered greatly from the denial of appropriate healthcare and the constant threats to her life while in BOP detention," said John Knight, LGBTQ Project director at the American Civil Liberties Union (ACLU) of Illinois. "Cristina has fought for years to get the treatment the Constitution requires. The court's order removes the unnecessary hurdles and delays BOP has repeatedly constructed to prevent her from getting the care that she urgently needs."
Iglesias has been seeking gender-affirming care since at least January 2016.
According to the ACLU of Illinois, the BOP has known Iglesias is a trans woman since she first arrived in prison in 1994. Yet, she was "denied basic medical care to treat her gender dysphoria and was housed in men's prisons for more than two decades, where she experienced severe physical and sexual violence."
The ruling adds that BOP staff has "failed to protect her."
In her ruling, Rosenstengel writes: "Iglesias has been on suicide watch multiple times while in BOP custody and has attempted self-harm. Iglesias has and will continue to endure mental and physical harms because of the BOP's mistreatment of her gender dysphoria."
Previously, the lawsuit resulted in Iglesias being transferred to a federal prison that aligns with her gender. According to the ACLU of Illinois, she is one of the few transgender prisoners ever moved to the correct prison.
The court also found that the BOP's unwritten criteria for delaying Iglesias' transfer to a female facility and its denial of gender-affirming care were "forbidden post hoc justification[s] created in response to litigation."
In an email to the Los Angeles Blade, the BOP declined to comment on the specifics of the ruling. However, a spokesperson did say, "The BOP's team of subject-matter-experts provide a wide range of gender-affirming accommodations based on comprehensive and individualized assessments. These accommodations can include gender affirming surgical referral when deemed appropriate."
"We hope that the order directing BOP to move forward will result in medically necessary and long overdue healthcare for Cristina—and, in time, for the many other transgender people in BOP's custody who have also been denied surgery and other much-needed gender-affirming care," Knight said.
According to the ACLU of Illinois, there are currently 1,200 transgender prisoners in federal custody. To date, no prisoner has ever received gender-affirming surgery from the BOP.