Supreme Court justices appear to lean towards overturn of Roe v. Wade
If the justices overturn Roe and Casey, the Guttmacher Institute estimates that 26 states will implement complete bans on abortion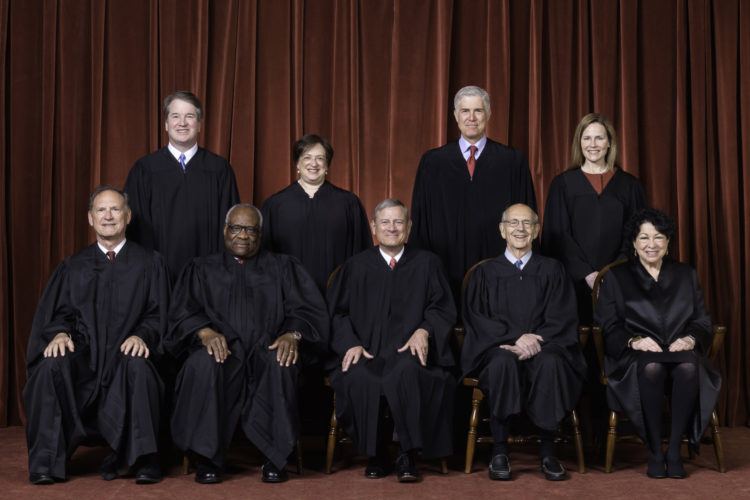 WASHINGTON – The justices of the U.S. Supreme Court heard oral arguments Wednesday, in Dobbs v. Jackson Women's Health Organization, a case involving a Mississippi law that bans nearly all abortions after 15 weeks of pregnancy.
Mississippi Solicitor General Scott Stewart began by arguing the court's abortion rulings have "poisoned the law."
"Roe vs. Wade and Planned Parenthood versus Casey haunt our country," Stewart said. "They have no basis in the Constitution. They have no home in our history or traditions. They've damaged the democratic process. They poison the law. They've choked off compromise. For 50 years they've kept this court at the center of a political battle that it can never resolve and 50 years on, they stand alone. Nowhere else does this court recognize a right to end a human life."
According to observers in the courtroom, most of the six conservative justices appeared to agree. "The Constitution is neither pro-life nor pro-choice on abortion," Justice Brett M. Kavanaugh said.
NBC News Chief Justice Correspondent Pete Williams noted; "It's pretty clear that Miss. law is going to survive and that the standard that the Supreme Court has used for 50 years to decide when states are violating its rules on banning abortion, of viability, banning it before the fetus is viable, is dead."
.@PeteWilliamsNBC: "It's pretty clear that Miss. law is going to survive and that the standard that the Supreme Court has used for 50 years to decide when states are violating its rules on banning abortion, of viability, banning it before the fetus is viable, is dead." #AMRstaff

— Andrea Mitchell (@mitchellreports) December 1, 2021
Mississippi's Gestational Age Act, passed in 2018 but has been blocked by two lower federal courts, allows abortion after 15 weeks "only in medical emergencies or for severe fetal abnormality" and has no exception for rape or incest. If doctors perform abortions outside the parameters of the law, they will have their medical licenses suspended or revoked and may be subject to additional penalties and fines.
Jackson Women's Health Organization, the only licensed abortion provider in the state, went immediately to federal court to challenge the law, arguing that it is unconstitutional under the Supreme Court's previous rulings including Roe v. Wade, which was decided in 1973.
Solicitor General Elizabeth Prelogar urged the justices to uphold precedent and avoid a ruling that would disproportionally harm women who have come to depend upon the decision, CNN reported.
"For a half century, this Court has correctly recognized that the Constitution protects a woman's fundamental right to decide whether to end a pregnancy before viability," she argued. "That guarantee, that the state cannot force a woman to carry a pregnancy to term and give birth, has engendered substantial individual and societal reliance. The real-world effects of overruling Roe and Casey would be severe and swift," Prelogar told the justices.
She added: "The court has never revoked a right that is so fundamental to so many Americans and so central to their ability to participate fully and equally in society."
A U.S. District Court had blocked the Mississippi law, holding that it is in direct violation of Roe v. Wade, the precedent legalizing abortion nationwide prior to viability, which can occur at around 23-24 weeks of pregnancy.
A panel of judges on the 5th US Circuit Court of Appeals agreed ruling that "unbroken line dating to Roe v. Wade, the Supreme Court's abortion cases have established (and affirmed and re-affirmed) a woman's right to choose an abortion before viability."
The Circuit Court said states may "regulate abortion procedures prior to viability" so long as they do not ban abortion. "The law at issue is a ban," the court stated.
In an analysis published by SCOTUS blog, Amy Howe noted;
If the justices overturn Roe and Casey, the Guttmacher Institute estimates that 26 states (including Mississippi) will implement complete bans on abortion. Although the stakes in the case are thus obviously high, Mississippi takes pains to assure the justices that overruling Roe and Casey would not have ripple effects beyond abortion rights. It distinguishes abortion from other constitutionalized privacy interests, such as interracial marriage and same-sex marriage, saying that those interests – unlike abortion – do not involve the "purposeful termination of a potential life."
But a "friend of the court" brief supporting the state argues that the effects would be much more expansive than Mississippi suggests. The brief filed by Texas Right to Life (whose counsel of record, Jonathan Mitchell, was the architect of Texas' six-week abortion ban) tells the justices that the court's decision in Loving v. Virginia, establishing the right to interracial marriage, would survive if Roe were overruled because the Civil Rights Act of 1866 "provides all the authority needed" to strike down a state law banning interracial marriage. However, the group adds, the court's decisions in Lawrence v. Texas, striking down a Texas law prohibiting gay sex, and Obergefell v. Hodges, holding that the Constitution guarantees a right to same-sex marriage, would necessarily fall because they are "as lawless as Roe."
In a statement to the Blade after the arguments had concluded, Shannon Minter, the Legal Director for the National Center for Lesbian Rights (NCLR) warned;
"Today's arguments should be a wakeup call for LGBTQ people. We must face the reality of a Supreme Court packed by one of the most reactionary presidents of our time, and we must get serious about passing a federal law that protects basic rights and liberties for our community. If you care about LGBTQ equality, it is essential as never before to do everything within your power to elect fair-minded local, state, and federal officials and to engage in real dialogue with those who do not yet fully understand or support LGBTQ people. We do not have the luxury of disengagement or passivity. If you are not actively involved in supporting a federal civil rights law for LGBTQ people, you are part of the problem."
Newsom on federal court allowing domestic violence abusers guns
"These three zealots are hellbent on a deranged vision of guns for all, leaving government powerless to protect its people"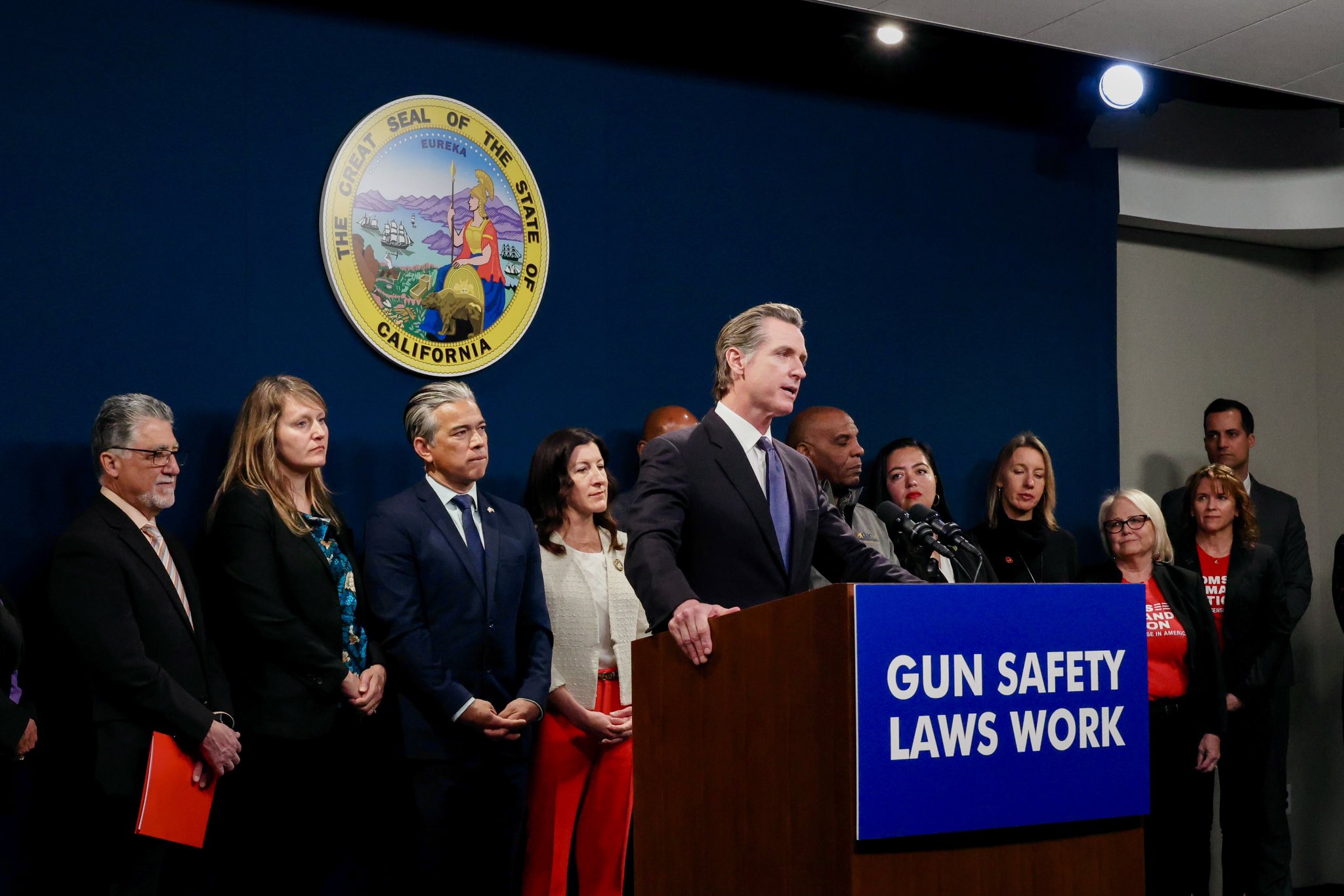 NEW ORLEANS – On Thursday, a three judge panel from the Fifth U.S. Circuit Court of Appeals, ruled that the federal law prohibiting individuals from "possessing a firearm while under a domestic violence restraining order" is unconstitutional.
Judge Cory Wilson, a Trump appointee, writing in the majority opinion in United States v. Rahimi, stated the federal law targeting those believed to pose a domestic violence threat could not stand under the Bruen test, a significant U.S. Supreme Court June 23, 2022 decision which requires that gun laws have a historical analogy to the firearm regulations in place at the time of the Constitution's framing and the Second Amendment.
CNN reported that the 5th Circuit panel was not persuaded by the historical parallels put forward by the US Justice Department, which was defending the conviction of a person who possessed a firearm while under a domestic violence restraining order that had been imposed after he was accused of assaulting his ex-girlfriend. The Justice Department argued that the domestic violence law was analogous to 17th-and 18th century regulations that disarmed "dangerous" persons.
Ian Millhiser a lawyer and constitutional expert reporting for Vox noted:
The immediate impact of this decision is that Zackey Rahimi, who "was subject to an agreed civil protective order entered February 5, 2020, by a Texas state court after Rahimi's alleged assault of his ex-girlfriend," may not be convicted of violating the federal ban on gun possession by domestic abusers.
More broadly, because the decision was handed down by the U.S. Court of Appeals for the Fifth Circuit, which presides over federal lawsuits in Louisiana, Mississippi, and Texas, this federal law can no longer be enforced in those three states.
In Sacramento, California Governor Gavin Newsom issued a statement after the judicial panel struck down the federal law:
"Now, a federal appeals court has ruled domestic abusers have the right to carry firearms. Where is the line? Who's next?
"Judge Cory Wilson, Judge James Ho, and Judge Edith Jones.
"These three zealots are hellbent on a deranged vision of guns for all, leaving government powerless to protect its people. This is what the ultra-conservative majority of the U.S. Supreme Court wants. It's happening, and it's happening right now.
"Wake up, America – this assault on our safety will only accelerate. This is serious – and it's coming to California. We are probably only weeks away from another activist judge, Judge Roger Benitez, striking down California's bans on assault weapons and large capacity magazines. California will continue to fight against these extremist judges to protect our residents' right to be free from gun violence."