Tennessee 7th grader kills himself after anti-LGBTQ+ bullying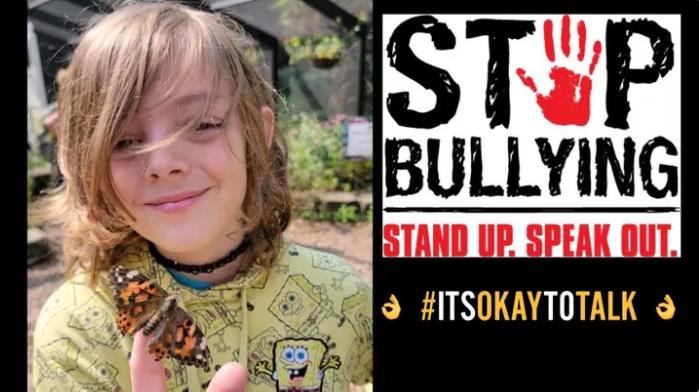 SHELBYVILLE, Tn. – A 12-year-old boy took his own life after enduring apparent months of what his family and others labeled ugly vitriolic anti-LGBTQ bullying and abuse.
Eli Fritchley, a seventh-grader at Cascades Middle school located in Wartrace in Bedford County, was found on Sunday night, November 28th, 2021, by his mother who walked into her son's bedroom and discovered his lifeless body.
In an emotional interview with Nashville ABC news affiliate WKRN 2's reporter Stephanie Langston, Fritchley's parents described him "as a peaceful soul who wasn't afraid to be himself."
"He didn't care, or at least we thought he didn't care, and that's what's really difficult for us because we thought he didn't care," his parents said as they teared up.
Eli painted his nails, loved the color pink and wore the same SpongeBob sweatshirt nearly every day.
"I think probably because he was in the same clothes every single day that they used that as a weapon," his mom Debbey explained, saying he loved doing the laundry and cleaning his clothes every day.
His parents told Langston that their son was not accepted by his peer group at the school.
"He was told because he didn't necessarily have a religion and that he said he was gay that he was going to go to Hell. They told him that quite often," said Debbey.
His parents heard his cries but didn't realize the extent of the pain that the youth was experiencing adding that their son never blamed anyone.
"It was really abusive. I don't think it was ever physical. I think it was just words, but words hurt. They really hurt," said his father Steve.
"This has just blindsided us. This is something we would have never, ever expected," his mother added. "That's been really hard. That image was terrible until we got to hold him yesterday. Now that image is gone, because the only thing we could think of yesterday when we were kissing and loving on him was how angelic he looked. He absolutely looked angelic. He's just an angel," she cried adding, "We all failed him. We all failed him. It's as simple as that."
The parents told Langston that they are determined to stop bullying adding that they hope raising awareness will ensure that other kids or their parents goes through the heartache they are experiencing.
"I honestly think education, education, education for everyone where bullying is concerned because it is a problem, not just in Bedford County. It's a problem everywhere," they said.
According to WKRN 2, "the Fritchleys were regulars at Penalties Sports Bar & Grill in Shelbyville. The owners of the restaurant, Rob and Shondelle Lewis, say they are like family and they are heartbroken over the loss of Eli. In an effort to help, they created a Gofundme as the Fritchleys are looking to start a foundation to bring awareness and help educate people about bullying and suicide awareness."
"I hope and pray, this unfortunate event we are going to make something of it. We've got to. We are going to come up with some sort of antibullying program through this Gofundme page where I pray to God this will not happen again," said Rob."
The Trevor Project's 2021 National Survey on LGBTQ Youth Mental Health examined depression and suicide risk among LGBTQ youth from rural areas and small towns compared to urban and suburban areas.
The Key Finding was that nearly half of LGBTQ youth in rural areas and small towns reported that their community was somewhat or very unaccepting of LGBTQ people compared to just over a quarter of those in urban and suburban areas. The data also shows that LGBTQ youth living in rural areas and small towns had slightly greater odds of depression and attempting suicide.
If you or someone you know are feeling distressed, call the National Suicide Hotline at 1-800-273-8255. If you are an LGBTQ+ youth and need help, you can reach out to The Trevor Project at 1-866-488-7386 or text 678678 to talk to someone 24/7.
********************
Bedford County parents grieve son bullied before suicide
GOP State lawmakers to hospital: Stop gender-affirming surgeries
The clinic is the only healthcare provider in Tennessee offering clinical care programs for transgender & gender-expansive children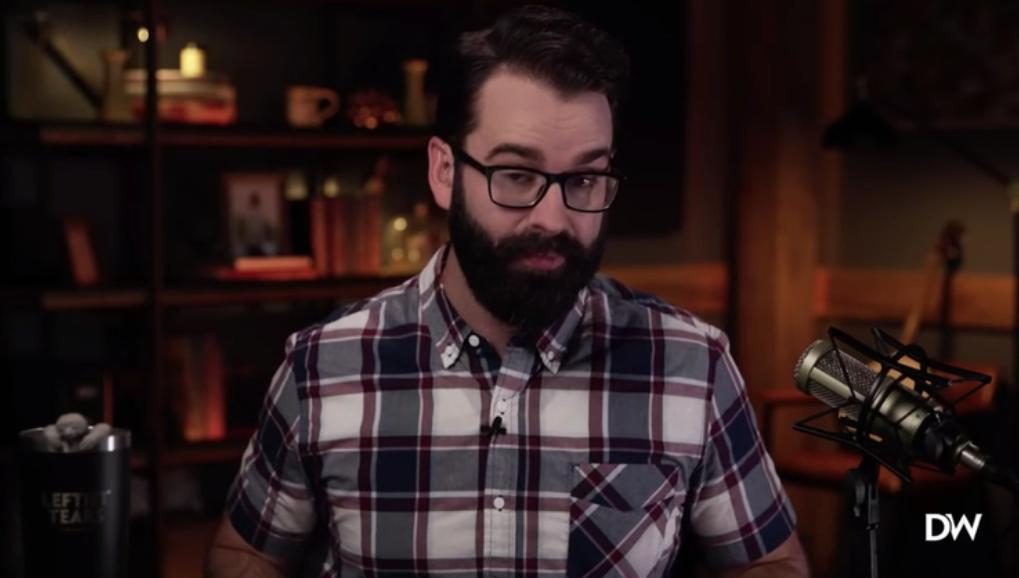 NASHVILLE – A group of Republican state lawmakers in Tennessee sent a letter to Vanderbilt University Medical Center's Pediatric Transgender Clinic demanding gender-affirming surgeries cease.
The letter came a few days after Republican Governor Bill Lee called for an investigation into the clinic at the Monroe Carell Jr. Children's Hospital at Vanderbilt in a statement after reporting by transphobic far-right pundit Matt Walsh on his Daily Wire show.
"The 'pediatric transgender clinic' at Vanderbilt University Medical Center raises serious moral, ethical and legal concerns," Governor Lee said in his statement. "We should not allow permanent, life-altering decisions that hurt children or policies that suppress religious liberties, all for the purpose of financial gain. We have to protect Tennessee children, and this warrants a thorough investigation."
State Rep. Jason Zachary and more than 60 of his Republican colleagues sent a letter to addressed to the chair of the hospital's board of directors calling on Vanderbilt to halt the Clinic's trans youth healthcare regarding gender affirming treatments.
This is a time in which elected leaders must boldly lead and speak on behalf of the people.
I've been joined by my esteemed @tnhousegop colleagues in formally requesting that Vanderbilt Medical halt all gender transition surgeries on minors.
1/ pic.twitter.com/FgiRdLHEM4

— Rep. Jason Zachary (@JasonZacharyTN) September 28, 2022
Zachary also noted the letter also requested that all conscientious and religious objections be honored.
Walsh and the far-right extremist anti-LGBTQ Twitter account Libs of TikTok, run by Brooklyn-based Chaya Raichik have previously grabbed headlines for spreading what Trans advocates and LGBTQ+ activists call anti-LGBTQ hate speech.
Raichik who has been suspended from Facebook and also Twitter for inflammatory lies and propaganda about Trans youth healthcare, pledged to redouble her attacks on hospitals providing trans people with health care, she wrote in a rant on her Substack in which she called gender-affirming care "mutilating the body." 
Libs of TikTok has reportedly been suspended multiple times on multiple platforms, including Instagram, Facebook, and Twitter. Raichik's last Twitter suspension came for accusing LGBTQ people of "grooming" children, which Twitter confirmed violates its policies against hateful conduct.
In line with the earlier attacks on Boston's Children's Hospital and Washington D.C.'s Children's with misinformation and misleading characterizations of the trans youth health care provided by those facilities, in a lengthy thread Twitter the Daily Wire's Walsh attacked Vanderbilt's clinic.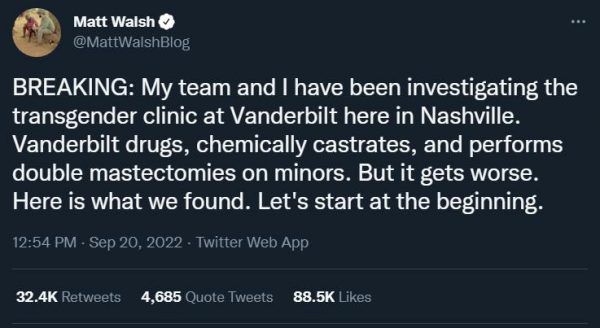 Vanderbilt opened its trans clinic in 2018. During a lecture the same year, Dr. Shayne Taylor explained how she convinced Nashville to get into the gender transition game. She emphasized that it's a "big money maker," especially because the surgeries require a lot of "follow ups" Walsh tweeted adding:
Vanderbilt was apparently concerned that not all of its staff would be on board. Dr. Ellen Clayton warned that "conscientious objections" are "problematic." Anyone who decides not to be involved in transition surgeries due to "religious beliefs" will face "consequences"
In case the objectors hadn't gotten the memo, Vanderbilt unveiled a program called "Trans Buddies." The "buddies" are trans activists from the community who attend appointments with trans patients, monitoring the doctors to guard against "unsafe" behavior such as misgendering, Walsh continued.
Vanderbilt makes their Trans Buddies available to children, too. They make lots of "services" available to children, including chemical castration. Though at some point in the last month they removed explicit admission of this fact from their site. Here's the archived screenshot:

But they must have forgot to delete a video from Vanderbilt Psychiatry's Youtube channel back in 2020 which admits explicitly that they will give and have given irreversible hormone drugs to children as young as 13, Walsh wrote in the thread.
After they have drugged and sterilized the kids, Vanderbilt — as explained in this video presentation by plastic surgeon Julien Winocour and Physician's Assistant Shalyn Vanderbloemen — will happily perform double mastectomies on adolescent girls.
So, let's review. Vanderbilt got into the gender transition game admittedly in large part because it is very financially profitable. They then threatened any staff members who objected, and enlisted a gang of trans activists to act as surveillance in order to force compliance.
They now castrate, sterilize, and mutilate minors as well as adults, while apparently taking steps to hide this activity from the public view. This is what "health care" has become in modern America, Walsh finished.
Vanderbilt responded to Walsh in a statement:
"(VUMC) is now the subject of social media posts and a video that misrepresent facts about the care the Medical Center provides to transgender patients," said the university. "VUMC began its Transgender Health Clinic because transgender individuals are a high-risk population for mental and physical health issues and have been consistently underserved by the U.S. health system."
Walsh also shared a video that featured Vanderbilt University law and genomics professor Ellen Clayton, who discouraged physicians from religious objections to transgender surgeries.
"Saying that you're not going to do something because of your … religious beliefs is not without consequences, and it should not be without consequences," she said in the undated clip. "I just want to put that out there. If you don't want to do this kind of work, don't work at Vanderbilt."
The University in its statement disputed that assertion by Clayton:
"Our policies allow employees to decline to participate in care they find morally objectionable, and do not permit discrimination against employees who choose to do so. This includes employees whose personal or religious beliefs do not support gender-affirming care for transgender persons," Vanderbilt wrote.
The Tennessee Equality Project notes that the clinic is the only healthcare provider in the state offering clinical care programs for transgender and gender-expansive children and adolescents.