Newsom issues 2021 California Social Innovation Impact Report
The report covers the collaborative, multi-sector approach to addressing the most persistent challenges, including the COVID-19 pandemic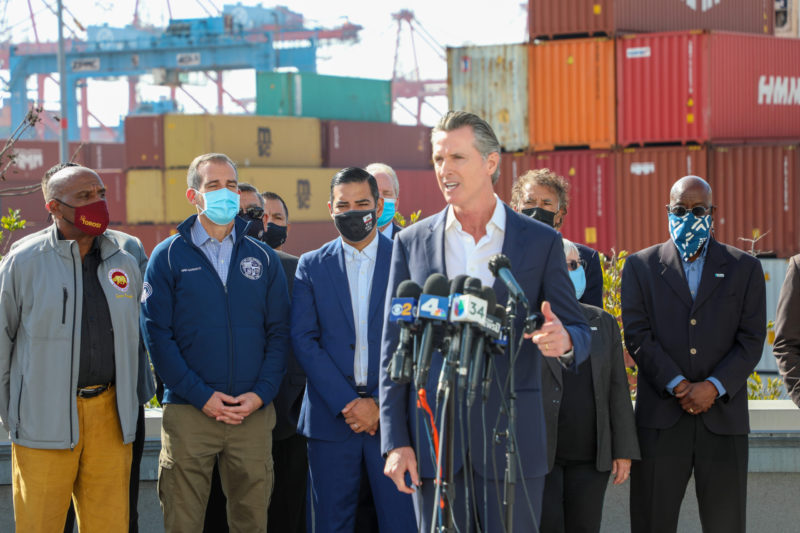 SACRAMENTO – Governor Gavin Newsom released the 2021 second annual Social Innovation Impact Report on Monday. The report covers California's collaborative, multi-sector approach to addressing the state's most persistent challenges, including the COVID-19 pandemic.
California has spearheaded 44 public-private partnerships totaling more than $4 billion in corporate and philanthropic contributions and engaging more than 1,600 community-based organizations. In 2021, public-private partnerships invested $138 million in communities across the state.
"Public-private partnerships are central to our innovative approach," said Newsom. "This report demonstrates the tangible results of our spirit of collaboration and innovation – results that have inspired other states, and even our federal partners, to emulate our approach. While we have been tested in the last few years – by fires, by disease, even at times, by each other – this spirit will keep us moving toward the California For All that we aspire to build."
A copy of the report can be found here.
Key points from the report;
COVID-19 Vaccine Equity and Outreach
When the COVID-19 vaccine began rolling out in early 2021, Governor Newsom launched an all-hands-on-deck approach to vaccinate our most vulnerable communities. Recognizing the key role that trusted messengers play at the local level, the state formed partnerships with California Community Foundation, Public Health Institute's (PHI) Together Toward Health (TTH) initiative and Sierra Health Foundation's Vaccine Equity Campaign to provide direct appointment assistance, at-home vaccinations and transportation services, and targeted community outreach. To date, these partnerships have funded and mobilized over 700 community-based organizations across the state to reach 14 million Californians, and have contributed to California's standing, consistently, throughout this year as having among the lowest COVID-19 transmission rates in the country.
Housing for Individuals Experiencing Homelessness
California's homelessness crisis has been decades in the making, affecting communities throughout the state – rural and urban, inland and coastal. The Governor's commitment to addressing homelessless took on a new urgency amid the COVID-19 pandemic, with the virus posing particular danger to our unsheltered neighbors. Building on a first-in-the-nation program to temporarily house Californians experiencing homelessness, Governor Newsom announced Homekey, an innovative program that housed over 8,000 individuals by converting hotel rooms, motels, vacant apartments, and other buildings to permanent housing. In 2021 the Governor announced an unprecedented expansion of Homekey by investing $2.75 billion to purchase and rehabilitate housing, including hotels, motels, vacant apartment buildings, and other buildings, and convert them into interim or permanent, long-term housing. With support from philanthropy, the state has partnered with Enterprise Community Partners on these efforts to provide communities across California with the technical and capacity assistance needed to successfully apply, develop, and manage projects on behalf of residents and impacted communities.
Dignity for Migrants, Refugees, and Asylum Seekers
When there was an urgent humanitarian need at the border, Governor Newsom launched the California Dignity For Families Fund to support migrants and asylum seekers, including unaccompanied children. A partnership with Grantmakers Concerned with Immigrants and Refugees (GCIR), the fund supports the integration of new arrivals and their families into California communities, with a particular focus on unaccompanied children after they are placed with families or a sponsor. Months later, in the aftermath of rapid humanitarian evacuations from Afghanistan, this partnership – along with another partnership with the state and Airbnb – supported the arrival of thousands of Afghan families.
Climate Resilience and Disaster Relief
With an unprecedented $15 billion investment in the 2021-22 state budget to bolster our climate resilience policies – including $3.9 billion investment to hit fast forward on the state's Zero-Emission Vehicle goals and $3.7 billion over three years to build resilience against the state's multi-faceted climate risks, including extreme heat, rising sea levels, and environmental justice priorities – Governor Newsom is acting boldly to combat climate change. Still, California has more work to do to ensure that communities who are most vulnerable to climate change are resilient to the effects of rising temperatures. Governor Newsom is developing several public-private partnerships, many of which will be formally announced in 2022, including the High Road Training Fund, Community Economic Resilience Fund, Drought Recovery and Resilience Fund, and Wildfire Relief.
2021 Philanthropic Funding by Issue Area:
COVID-19 — $71.9 million
Housing and Homelessness — $26.3 million
Immigrants and Refugees — $34 million
Jobs and the Economy — $900,000
Early Childhood Learning and Care — $4.3 million
Social Benefits Outreach — $600,000
2021 Impact by the Numbers:
14 million Californians educated about COVID-19 safety and vaccines – including 1.4 million Californians assisted with COVID-19 vaccine appointments
1.6 million personal protective equipment items, including masks, hand sanitizer, and gloves, provided
430,000 low-income Californians reached to help connect them with critical benefits including cash assistance, food, and healthcare
68,000 Californians provided with workforce development training
700+ community-based organizations supported with COVID-19 vaccine outreach and education
1000 Afghans arriving in California housed
86 tiny homes purchased for veterans
Out candidate for California's 41st Congressional seat; Dems best hope
First-time candidate is aiming to unseat an Republican incumbent who has represented the region in the House for the last three decades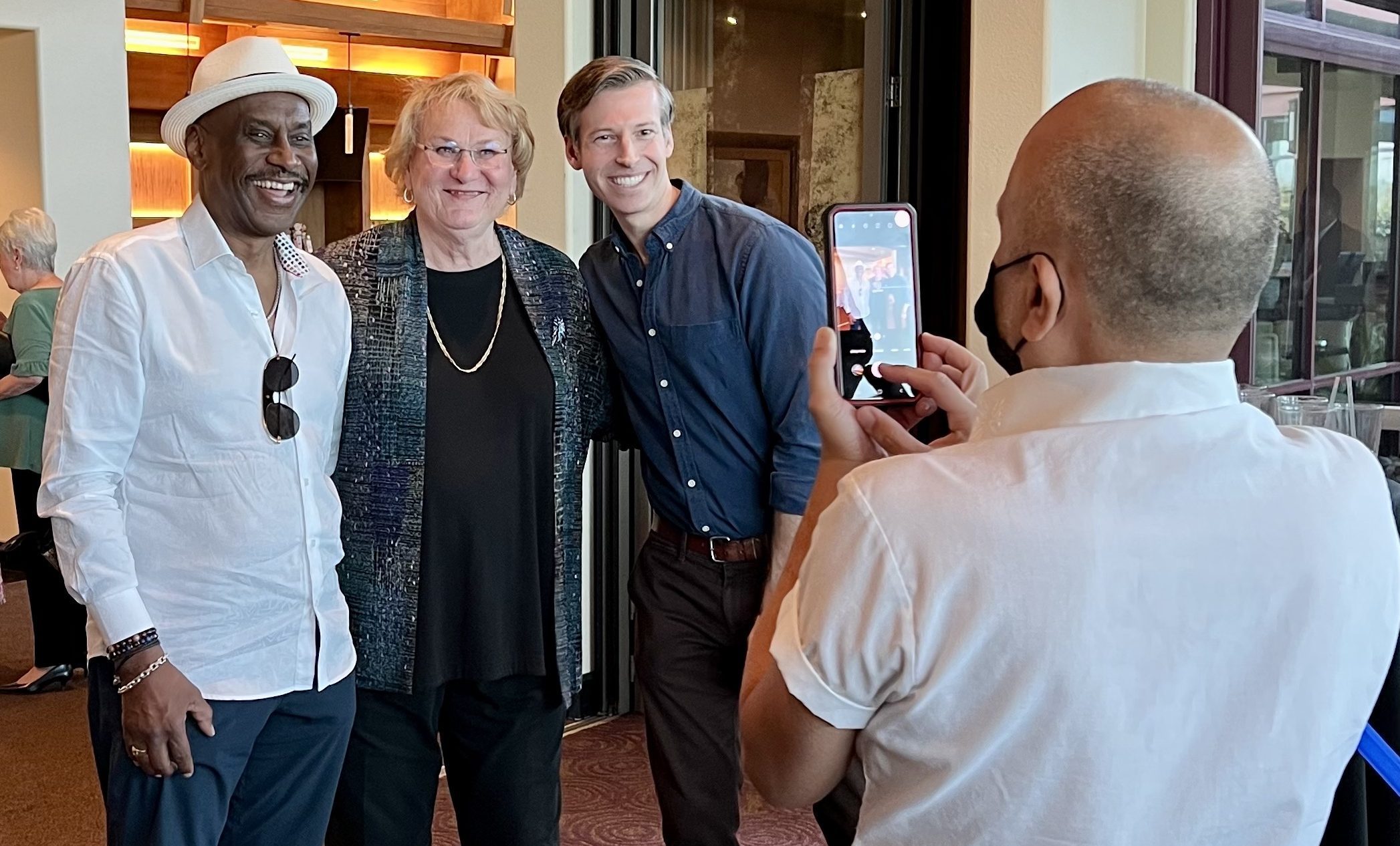 PALM SPRINGS – Approaching a midterm election season widely expected to favor Republicans to make gains in the Congress, national Democrats are attempting to preserve their narrow majorities on Capitol Hill.
Nestled in the Coachella Valley, they see California's newly drawn 41st Congressional District and progressive Democratic candidate Will Rollins as one of their best shots at doing so.
Rollins, a first-time candidate for elected federal office, is aiming to unseat Republican incumbent Ken Calvert, who has represented the region in the U.S. House of Representatives for the last three decades.
A former federal prosecutor who focused on counterterrorism and counterintelligence cases in Southern California, Rollins has crafted a campaign platform centered around ousting government corruption and partisan rhetoric he sees as the roots of both harmful and destabilizing conspiracy theories, as well as supporting his opponent Calvert's tenure in office.
"I think they really appreciate the contrast of somebody who has worked in law enforcement, has gone after corruption, who's going to take it to somebody who is really about keeping himself in power and enriching himself more than serving the rest of us," Rollins said.
That contrast, along with the heightened competitiveness of the race following 2020 Census redistricting, has driven the Democratic National Campaign Committee to place CA-41 on its Red to Blue program to provide Rollins with additional support to flip the seat.
While what he sees as Calvert's affinity for corruption as harmful to constituents, Rollins is seeking to highlight such a reason for voters to consider a shift.
"I think people understand that that corruption affects their daily lives," Rollins said. "Because if you are willing to put the interests of the gun lobby and the interests of the oil and gas lobby ahead of your own voters because that's who lines your pockets, then you're not going to deliver for communities."
Following former President Trump's defeat to Joe Biden in the 2020 election, Calvert voted to reject election college votes from multiple states when Congress met to certify Biden's election on Jan. 6, 2021.
Having helped to prosecute members of the insurgent rioters who breached the U.S. Capitol on Jan. 6, Rollins has also sought to combat conspiracy theories surrounding the 2020 election and Trump's "Big Lie" that the election was stolen, that he feels Calvert has promoted and that foreign adversaries could use to their advantage.
"We, as Americans, all have a responsibility to reject those efforts and to think about how we can strengthen our defenses and our democracy in the 21st century," Rollins said.
But issues of corruption are not the only points of divergence between the two candidates.
Calvert had previously maintained support in what was a reliably conservative Republican district prior to redistricting in part by opposing LGBTQ rights. His record has included voting for legislation such as the 1996 Defense of Marriage Act (DOMA) that defined marriage as between one man and one woman at a federal level.
Calvert also voted against the Fiscal Year 2011 National Defense Authorization Act (NDAA) which included an amendment that would repeal the military's "don't ask, don't tell" policy for gays and lesbians serving in the military. The NDAA ultimately passed the House in a 229 to 186 vote.
In contrast, Rollins has been open about his identity as a gay man and has campaigned alongside his partner.
Having experienced a national atmosphere currently rife with federal and state legislative animus toward the greater American LGBTQ community, Rollins feels his identity has helped him to see what can be possible.
"I think the experience gives me and has given me the optimism to know that the country can change and that your family can change and that your friends can change all for the better," Rollins said. "And seeing that progress gives me hope for our country's future."
Over the course of the campaign, he has criticized Calvert for his past voting history, including Calvert's vote against the 2009 Matthew Shepard and James Byrd Jr. Hate Crimes Prevention Act that added crimes committed because of a person's sexual orientation, gender identity and disability expanding federal statutes.
"These kinds of votes are so inconsistent with what southern Californians want that I think folks have been excited to see somebody who's able to beat Ken Calvert," Rollins said.
As the political geography of Calvert's district has been altered, the congressman has voted in ways that suggest a move toward more moderate stances. Just last month, Calvert was one of 47 House Republicans to vote in favor of the Respect for Marriage Act that would repeal the federal DOMA he once supported and codify same-sex marriage into federal law.
Calvert told the Los Angeles Times in a mid-July interview that his views on matters such as the Supreme Court's 2015 decision Obergefell v. Hodges, which established the right to same-sex marriage, have evolved.
"It wasn't always my position," Calvert told the Times. "It's a different country than it was 30 years ago."
Calvert went on to assert his stance that he has harbored no negative feelings toward members of the community.
"I've never had any animosity to the gay community," Calvert told the Times. "I come out of the restaurant business, for goodness' sake. A lot of people who worked with me were gay."
The balancing of the playing field regarding LGBTQ+ issues, in part responsible for Calvert's evolving views or not, is something that Rollins sees as an opportunity.
"Having Democrats outnumber Republicans for the first time ever against Calvert since he was first elected in '92 has been a huge opportunity for the party and, I think, part of the reason that I've been able to set so many fundraising records against this guy, too."
The prospect of a Rollins success in flipping the seat has already garnered the former prosecutor financial and campaign support from prominent players in progressive California politics including former U.S. Sen. Barbara Boxer (D) and outgoing San Francisco Democratic U.S. Rep. Jackie Speier.
According to campaign finance filings, this support gained Rollins almost $1.5 million by the end of June, with nearly $480,000 from the LGBTQ Victory Fund Equality PAC which has endorsed his candidacy.
"As anti-LGBTQ bills flood legislatures across the country, voters will have the opportunity to elect someone who has made it his life's work to increase equity in his community and fight for justice and accountability," Victory Fund President and CEO Annise Parker said in a statement. "As a federal prosecutor, Will tackled tough cases and won, including helping prosecute multiple insurrectionists who attacked the U.S. Capitol on January 6th. This grit is exactly what we need in Congress at a time of heightened attacks on democracy, LGBTQ rights and reproductive freedom."
Even with increased fundraising, including having been the first challenger to outraise Calvert in a quarterly campaign finance disclosure filing, Rollins still faces a well-resourced incumbent with donations of hundreds of thousands of dollars from national conservative PACs aimed at restoring Republican control of the U.S. House in November.
Approaching the Fall midterm elections, Rollins remains stalwart in his belief that his staunch departure from 30 years of Calvert and his track record will encourage voters of California's 41st District to believe in him.
"The election's really not, in November, about Democrat versus Republican," Rollins said. "In a lot of ways, it's about integrity versus corruption, and I think that that message has really resonated with people especially because of my own background."
Californians will be able to sue those responsible for illegal guns
Modeled on Texas' abortion law upheld by SCOTUS, California will allow individuals to sue for damages those spreading illegal guns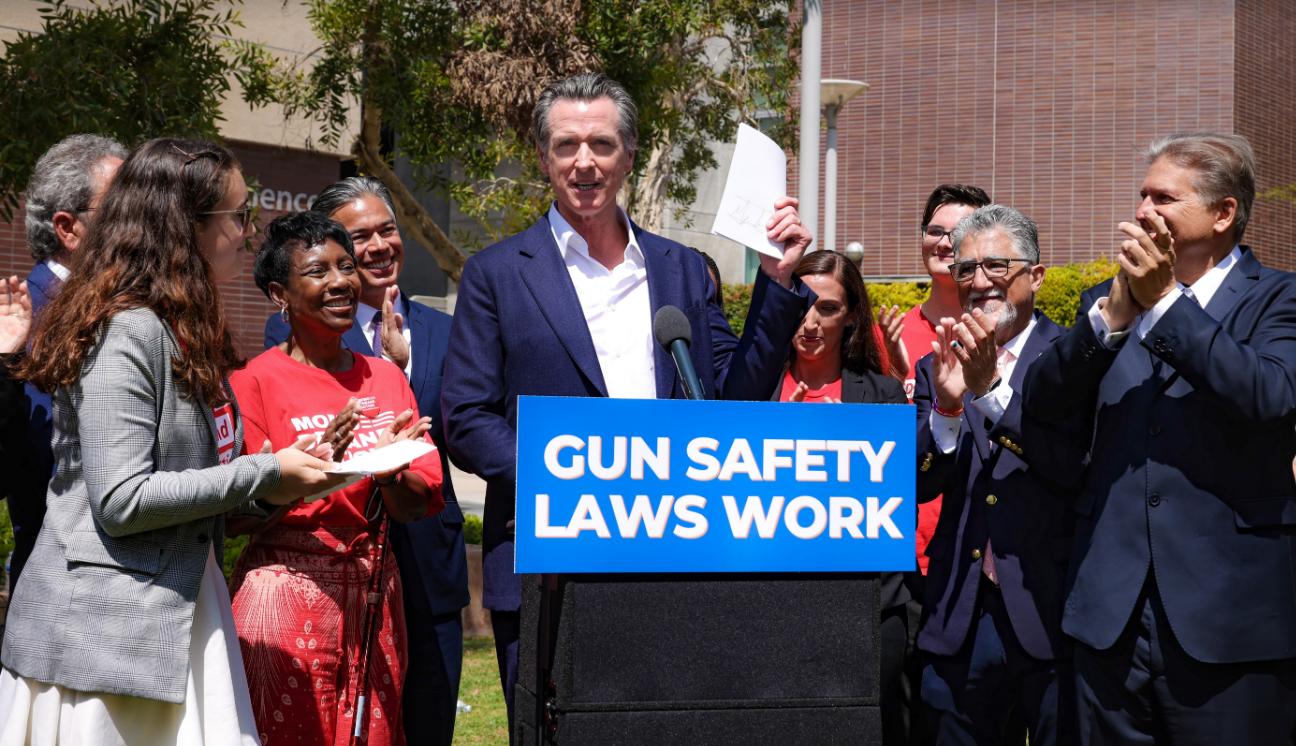 SANTA MONICA – At Santa Monica College, the site of a mass shooting that claimed the lives of six people including the gunman in 2013, Governor Gavin Newsom on Friday signed the nation's first legislation allowing individuals to sue those spreading illegal guns as California continues to ramp up its gun safety protections.
SB 1327, authored by Senator Bob Hertzberg (D-San Fernando Valley), allows Californians to sue those making, selling, transporting or distributing illegal assault weapons and ghost guns – guns made at home to avoid tracing – for damages of at least $10,000 per weapon involved. The same damages are also available against gun dealers who illegally sell firearms to those under 21 years of age. The legislation is modeled after Texas' wrongheaded anti-abortion bill, SB 8, which places $10,000 bounties on doctors, providers and others involved in providing life-saving abortion care.
After the U.S. Supreme Court declined to block the Texas law last fall, Governor Newsom called on the California legislature to pass a similar bill to add a new tool to California's gun safety toolkit.
"Our message to the criminals spreading illegal weapons in California is simple: you have no safe harbor here in the Golden State. While the Supreme Court rolls back reasonable gun safety measures, California continues adding new ways to protect the lives of our kids. California will use every tool at its disposal to save lives, especially in the face of an increasingly extreme Supreme Court," said Governor Newsom.
The Governor spoke at Santa Monica College, the site of a mass shooting that took the lives of six people in 2013, including the gunman. The 2013 shooting involved an unserialized AR-15 type semi-automatic rifle built by the shooter using legally purchased components, a ghost gun that would be subject to lawsuit once SB 1327 is law.
"For the sake of our children, this is a common sense step toward ensuring California streets, schools and communities continue to be among the safest in the nation," Senator Hertzberg said after the Governor signed SB 1327 into law.
"Today is a momentous day for California," said Mia Tretta, a gun violence survivor and volunteer with Students Demand Action. "SB 1327 will make it easier for victims of ghost gun violence, like me, to help enforce our gun laws. It will save lives by attacking the illegal ghost gun industry."
"While some politicians put up roadblocks or say nothing can be done, here in California we are once again proving we can take on the gun lobby and protect our communities," said Attorney General Rob Bonta. "With these new laws, California is protecting life, safety, and freedom. We have the strongest gun safety laws in the nation, and one of the lowest firearm mortality rates. This is not a coincidence. More guns do not make us safer — laws like these do. Period. I am committed to enforcing our commonsense gun safety laws, and keeping weapons of war off our streets and out of the hands of dangerous individuals."
"The continued need to adopt sensible solutions to our nation's tragic history of gun violence is dire and necessary," said Senator Anthony Portantino. "That includes SB 1327 – which I am proud to jointly author with Senator Hertzberg. I am grateful to Governor Newsom for his partnership on this important bill that will keep our communities safe and improve public safety for all Californians. If Texas can outrageously use this type of law to attack a woman's reproductive freedom, we can do the same thing in California to hold gun dealers accountable for their actions."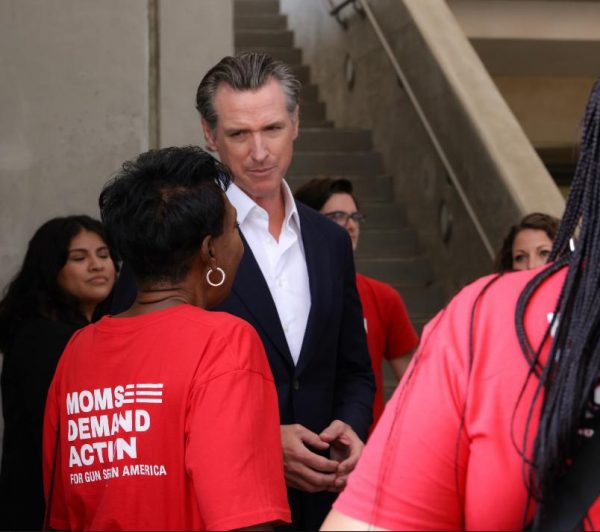 "Untraceable ghost guns purchased without background checks have fueled gun violence throughout California and the nation and for far too long," said Shannon Watts, founder of Moms Demand Action and California resident. "Thanks to leadership by gun sense lawmakers and relentless advocacy from our grassroots army, California continues to lead the nation in taking life saving action to combat ghost guns."
California's gun safety policies save lives and provide a national model for other states to follow. According to the Giffords Law Center, in 2021, California was ranked as the top state in the nation for gun safety. As California strengthened its gun laws, the state saw a 37 percent lower gun death rate than the national average. Meanwhile, other states such as Florida and Texas, with lax gun regulations, saw double-digit increases in the rate of gun deaths. As a result of the actions taken by California, the state has cut its gun death rate in half and Californians are 25 percent less likely to die in a mass shooting compared to people in other states.
Last month, Governor Newsom announced a record $156 million in gun violence prevention grants provided as part of the California Violence Intervention and Prevention Grant Program (CalVIP). The funding will support 79 cities and nonprofit organizations that are implementing anti-violence programs suited to the unique needs of their local communities.
A recent study from the Violence Prevention Research Program at the University of California, Davis found that California's red flag law was used to stop 58 threatened mass shootings.
Newsom signs new laws to protect Californians from gun violence
Laws to improve school safety, restrict gun possession by people convicted of child/elder abuse, & better regulate the sale of firearms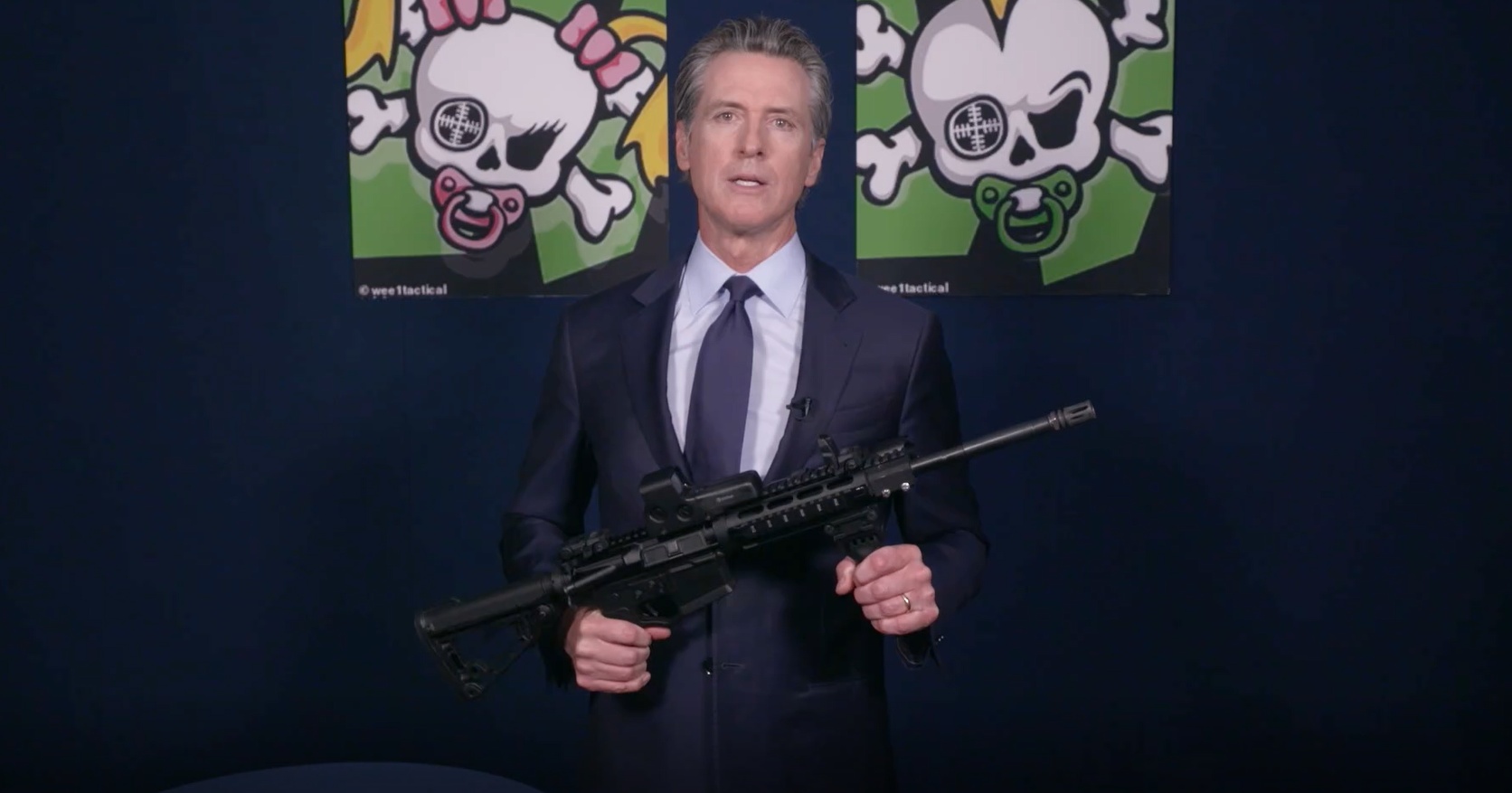 SACRAMENTO – Moving to bolster California's nation-leading gun safety laws, Governor Gavin Newsom announced that he has signed additional legislation to protect Californians, including measures to improve school campus safety, restrict gun possession by people convicted of child abuse or elder abuse, and better regulate the sale of firearms.

Governor Newsom recently signed AB 1594, which allows the state, local governments and Californians to sue irresponsible gunmakers for the harm caused by their products, as well as AB 2571, which prohibits marketing of firearms to minors, and AB 1621 to further restrict ghost guns. The Governor has also sponsored SB 1327, private right of action legislation to limit the spread of assault weapons and ghost guns.

"California has the toughest gun safety laws in the nation, but none of us can afford to be complacent in tackling the gun violence crisis ravaging our country," said Governor Newsom. "These new measures will help keep children safe at school, keep guns out of the hands of dangerous people and responsibly regulate the sale of firearms in our communities. California will continue to lead on lifesaving polices that provide a model for action by other states and the nation."

A full list of today's bills is below:
AB 228 by Assemblymember Freddie Rodriguez (D-Chino) – Requires the Department of Justice, beginning January 1, 2024, to conduct inspections of dealers at least every three years, except for a dealer whose place of business is located in a jurisdiction that has adopted an inspection program.
AB 311 by Assemblymember Christopher Ward (D-San Diego) – Prohibits the sale of firearm precursor parts on the property of the 22nd District Agricultural Association, the Del Mar Fairgrounds.
AB 1769 by Assemblymember Steve Bennett (D-Ventura) – Prohibits the sale of any firearm, firearm precursor part, or ammunition on the property of the 31st District Agricultural Association, the Ventura County Fair and Event Center.
AB 1842 by Assemblymember Freddie Rodriguez (D-Chino) – Prohibits licensed firearms dealers from charging more than 5 percent of the purchase price of the firearm as a restocking or other return-related fee when the purchase of the firearm is canceled by the buyer within 10 days of the application, with an exception for special order firearms.
AB 2156 by Assemblymember Buffy Wicks (D-Oakland) – Expands the prohibitions on the manufacture of firearms without a state license including reducing the number of guns a person may manufacture without a license and prohibiting the use of a three-dimensional printer to manufacture any firearm without a license.
AB 2239 by Assemblymember Brian Maienschein (D-San Diego) – Creates a 10-year prohibition on the possession of firearms for individuals convicted of child abuse or elder abuse.
SB 906 by Senator Anthony Portantino (D-La Cañada Flintridge) – Requires local educational agencies to annually provide information to parents about California's child access prevention laws and laws relating to the safe storage of firearms; requires school officials to report to law enforcement any threat or perceived threat of a homicidal act; and requires law enforcement or the school police to conduct an investigation and threat assessment, including a review of the Department of Justice's firearm registry and a search of the school and/or student's property by law enforcement or school police, if certain conditions are met.
SB 915 by Senator Dave Min (D-Costa Mesa) – Prohibits the sale of firearms, firearm precursor parts and ammunition on state property, as specified.
According to the Giffords Law Center, in 2021, California was ranked as the top state in the nation for gun safety. As California strengthened its gun laws, the state saw a 37 percent lower gun death rate than the national average. Meanwhile, other states such as Florida and Texas, with lax gun regulations, saw double-digit increases in the rate of gun deaths. As a result of the actions taken by California, the state has cut its gun death rate in half and Californians are 25 percent less likely to die in a mass shooting compared to people in other states.

Last month, Governor Newsom announced a record $156 million in gun violence prevention grants provided as part of the California Violence Intervention and Prevention Grant Program (CalVIP). The funding will support 79 cities and nonprofit organizations that are implementing anti-violence programs suited to the unique needs of their communities.

More information on California's nation-leading gun safety policies can be found here.