Out Long Beach Mayor Robert Garcia announces run for the U.S. House
The primary election will be held June 7, 2022 and the two top finishers will advance to the general election Nov. 8, 2022
LONG BEACH – In a tweet early Friday morning, Long Beach Mayor Robert Garcia announced that he would be running for the congressional seat currently held by Representative Alan Lowenthal (D-CA47), who announced yesterday he was retiring from Congress.
Hey everyone, I'm running for Congress.

My mom brought me to this country when I was 5. She risked everything so that I could succeed. Every single kid deserves the same shot that this country has given me.

Join us at https://t.co/PUa51FJ5gT pic.twitter.com/fd8vZPvl9o

— Robert Garcia (@RobertGarcia) December 17, 2021
Garcia celebrated his 44th birthday on December 2 and is an openly gay Latino originally from Peru. First elected to the city council in April 2009 to much fanfare as the council's youngest, first Latino male, and first gay person of color. He became Long Beach's first gay mayor in 2014 with 52.1% of the vote.
If he is elected to fill the seat in the U.S. House, Garcia would be the first openly LGBTQ+ immigrant and the second openly LGBTQ+ Latino elected to Congress — and the first LGBTQ+ Latino elected to Congress from California. Currently, Congressional LGBTQ+ Equality Caucus Chair and U.S. Rep. David Cicilline, (D-RI), is the only out LGBTQ former mayor ever elected to the U.S. Congress. U.S. Rep. Ritchie Torres, (D-NY), is the only out LGBTQ Latinx person ever elected to the body.
The mayor won the immediate endorsement of Equality California, the nation's largest statewide LGBTQ+ civil rights organization;
"Mayor Garcia has shown throughout his nearly 13 years in elected office that he has the skill, tenacity and compassion to improve the lives of LGBTQ+ people and the diverse communities to which we belong," said Equality California Executive Director Tony Hoang. "From creating one of the country's most comprehensive responses to the COVID-19 pandemic to establishing transgender-inclusive healthcare coverage in the City of Long Beach, he has been there for our LGBTQ+ community and for all Californians. We need a leader like him in Congress, and we're prepared to do everything in our power to ensure he is elected in 2022."
As he enters the race, the California Citizens Redistricting Commission is still finalizing district lines, the Commission's nearly final congressional lines would make the district majority Latino and include Long Beach, Signal Hill, Lakewood, Bellflower, Downey, Bell Gardens, Bell, Maywood and Huntington Park.
The Washington D.C.-based LGBTQ Victory Fund, the only national organization dedicated to electing LGBTQ leaders to public office, also endorsed Mayor Garcia as he announced his run;
"Big city mayors make excellent members of Congress because of the scope of their knowledge and experience and their focus on practical governing over excuses and scapegoating," said Mayor Annise Parker, President & CEO of LGBTQ Victory Fund. "Mayor Garcia went to Long Beach to get things done – and he has – including making the city a national role model for its response to the pandemic and vaccine distribution strategy. His competence is only matched by the heart he brings to governing – using his experiences as an LGBTQ immigrant who lost parents to COVID to inform his policymaking and governing. Mayor Garcia is the type of leader Washington, DC desperately needs and voters are ready to send him there."
Garcia has deep ties to the Democratic Party's leadership. In the 2020 campaign race he was a prominent surrogate for Vice President Kamala Harris' presidential campaign, later becoming a strong supporter of President Joe Biden. During the course of the ongoing coronavirus pandemic the mayor has acted in concert with California Governor Gavin Newsom's measures including masking mandates and the push to get Californians vaccinated.
The affects of the pandemic painfully impacted Garcia directly when in summer of 2020, he lost his mother, Gaby O'Donnell, and stepfather, Greg O'Donnell, to COVID. His mother was a medical assistant who immigrated from Peru when the mayor was five years old.
In an interview with journalist Karen Ocamb during the height of the pandemic, Garica when asked if any measures being taken to address the vulnerable and sizable LGBTQ population in Long Beach, responded saying;
"I had some communication with our center as well as some LGBTQ leaders in the community about this," Garcia said. "I think everyone is working together, making sure that people have the resources they need. I also talked to the leaders of our hospitals. They're aware that Long Beach has a higher HIV-positive rate than other parts of the state, in large part because of our LGBTQ population and that's similar in other places in the state that have larger populations. That's something that we take very seriously.
"We're trying to get folks resources and my advice to someone who is LGBTQ is the same as it would be to anyone — which is: if you can please stay home and if you need help call a doctor, call your doctor, get ahold of our health department and we'll try to help," Garcia added.
As the Redistricting Commission finishes its work, one potential political primary rival, California State Sen. Lena Gonzalez (D-Long Beach) endorsed the mayor and dropped out of contention even as other Latina state lawmakers had publicly pushed her to run for the seat.
Despite the mayor's ties to the current Democratic Party leadership, the mayor was once a Republican. In another interview with Ocamb, Garcia noted;
"My whole family registered as Republicans when we became citizens. We did so because we loved Ronald Reagan. At the time he had signed the amnesty bill. So, we didn't know much about politics, but we loved the president because he'd signed this bill, giving us an opportunity to become U.S. citizens.
"Today, it's ironic that it was a Republican president that signed the most comprehensive path to citizenship that we've had this last generation. And a president who's idolized by the Republican Party also did more for immigrants than any other president recently. I think the Republican Party needs to take a page out of the Ronald Reagan playbook and work with Democrats on a comprehensive immigration program that will create citizenship for the millions of folks that are here," he said.
The mayor's previous political affiliation with the GOP brought a pointed response from Monterey County Supervisor, former State Assemblymember, and the former mayor of the city of Watsonville in Santa Cruz County, Luis Alejo.
What about this history, Mayor??? Many of us fought & organize against Prop. 187 as young people, while some supported it & joined the GOP after it passed. Just saying…https://t.co/P5dEYGUkf0 pic.twitter.com/LV87d0xeHD

— Luis Alejo⚖️ (@SupervisorAlejo) December 17, 2021
In response to Garcia's tweet announcing his candidacy Friday, in a reply Alejo tweeted an article from the Orange County Register dated May 29, 2014 profiling the race for Long Beach mayor which read in part:
"Garcia was a member of the Republican Party during a period that is still regularly attacked by Democrats. He joined the GOP shortly after voters approved Proposition 187, a 1994 ballot measure championed by then-Gov. Pete Wilson. The law created a screening system to deny certain services, including health care and education, to illegal immigrants and was eventually declared unconstitutional by a federal court," The Register reported.
"A November 2000 article in The Daily Bruin, the student newspaper at UCLA, reported that Garcia, then a Cal State Long Beach student, was the California youth coalition coordinator for the Bush campaign, a position he received after walking into Republican offices and writing to the campaign's national headquarters. On Wednesday, when questioned about the information in the article, Garcia backtracked later Wednesday and said he was offered a two-month volunteer position with the Bush campaign but he didn't do much for them.
He stayed in the party as it championed other causes that he said he now opposes. There were the repeated anti-same-sex marriage efforts, the repeated anti-abortion efforts, and repeated voter identification efforts. He also founded the Long Beach Young Republicans and worked on Republican Frank Colonna's campaign for mayor."
Despite that early political track record, a source tells the Blade Friday that Garcia is an absolute champion of progress politics, committed especially to issues that are related to the LGBTQ+ community. "There will be detractors always but I think that Robert has shown that he is committed- plus he was young he evolved and will well represent the interests of both his major constituencies, [LGBTQ+ and Latino communities]" the source said.
The primary election will be held June 7, 2022 and the two top finishers will advance to the general election Nov. 8, 2022.
Garcia, who won re-elected as mayor in 2018 with nearly 80 percent of the vote, holds a doctorate degree in education from California State University Long Beach, a M.A. from the University of Southern California, and a bachelor's degree also from CSU-Long Beach. He lives in Long Beach with his husband, Matthew Mendez Garcia, who teaches political science at CSU-Long Beach.
Antonio Villaraigosa Leadership Award to San Diego's Mayor Gloria
The award is presented to a mayor who has exhibited an outstanding commitment to bringing diverse communities together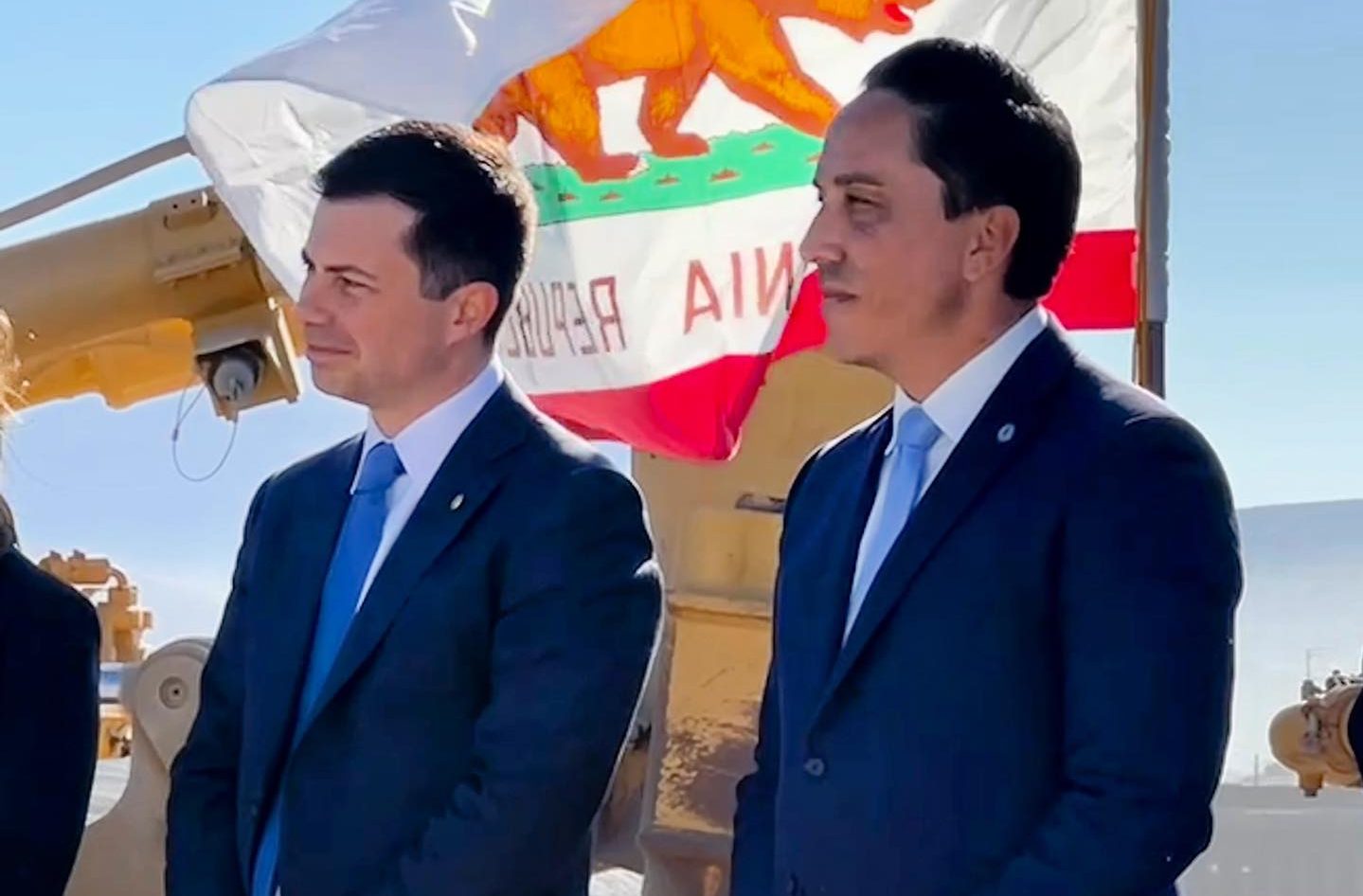 WASHINGTON — On January 18th Mayor Todd Gloria of San Diego will be presented with the Antonio Villaraigosa Leadership Award at the 37th Tribute to Mayors Signature Event. 
The Tribute to Mayors is an annual event put on by the Latino Leaders Network, which was founded by former Clinton administration Assistant to the President and Director of Intergovernmental Affairs at the White House, Mickey Ibarra, as a unique platform for prominent Latino leaders to share their personal stories of overcoming obstacles to achieve success. 
The Antonio Villaraigosa Leadership Award is presented to a mayor from a city with a significant Latino population who has exhibited an outstanding commitment to bringing diverse communities together.
Antonio Ramón Villaraigosa served as the 41st Mayor of Los Angeles from 2005 to 2013. Before becoming mayor, he was a member of the California State Assembly (1994–2000), where he served as the Democratic Majority Leader (1996–98), and the Speaker of the California State Assembly (1998–2000).
Gloria began his career at San Diego County's Health and Human Services Agency. He then went on to serve as District Director for United States Congresswoman Susan A. Davis. In 2008, Gloria was elected to the San Diego City Council. In 2016, he ran and was elected to the California State Assembly to represent the 78th Assembly District.
While serving in the Assembly Gloria went on to become the Assistant Majority Whip and eventually Majority Whip. Then in 2020 he was elected Mayor of San Diego, making history across a spectrum of significant firsts as in addition to being the first openly gay person to lead the city, Gloria, "the son of a hotel maid and a gardener"  became the first person of color to occupy the Mayor's chair. He is a third-generation San Diegan of Filipino, Native American, Puerto Rican, and Dutch descent.
In a coronavirus pandemic affected zoom-style virtual inauguration ceremony, presided over by the President pro Tempore of the California State Senate Toni Gayle Atkins, Gloria was sworn in as the 37th mayor of the City of San Diego on Thursday, December 10, 2020 before the San Diego City Council.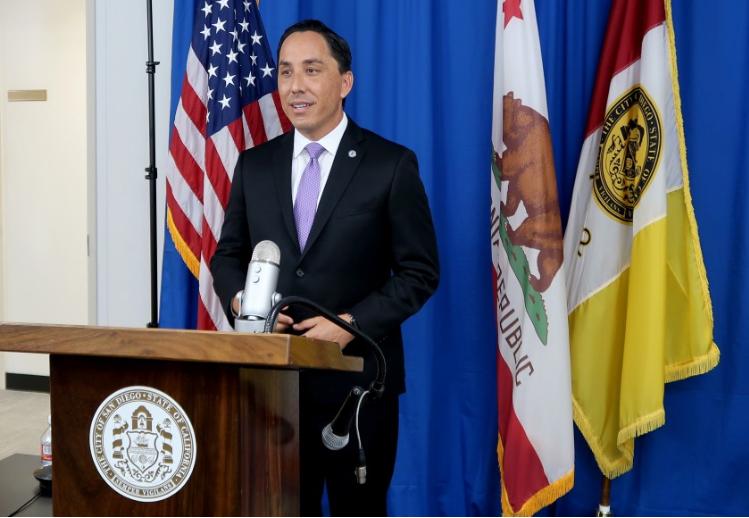 "Getting an award in Mayor Villaraigosa's name is really meaningful to me," Gloria told the Blade. "I was the nerdy kid who would watch C-SPAN and read the newspaper when I was young. I was very aware of Mayor Villaraigosa and his service leading his city that is just a few hundred miles north from where I grew up here in San Diego. There is a saying that if you haven't seen it you can't be it. The fact that I had this charismatic and energetic leader of a city not too far away meant that I could identify with him. He and others like him created that opportunity for me to see what I was interested in trying to become in terms of a public servant, and so it feels in someway poetic to receive this award."
Receiving an award that celebrates diversity and inclusion is particularly poignant for the Mayor, as he feels that while San Diego has an incredibly diverse population, inclusion in its political sphere is only just starting to turn a corner for the better. 
"I hold a sanction to being the first person of color elected mayor of my city," said Gloria. "I was elected in 2020 I think that's somewhat remarkable when you consider that San Diego is a very diverse city we are a border city we literally lie on the US Mexican border. We are on the pacific rim, and yet no one has broken this barrier until I was given the opportunity to do so just two years ago."
Much as he was inspired by LA's Mayor Villaraigosa in his youth, Gloria hopes that that he can serve as an inspiration to the next generation of diverse leaders. 
"People like myself who are given this opportunity have to stay strong. you have to remember you are not there on your own behalf. You are there on behalf of a whole community. Some may look up to me the way I looked up to Mayor Villaraigosa if I am able to show people what a person of color can do leading the 8th largest city in the country. It is a challenge, but it is also an opportunity. My friend and mentor, Vice President Harris, always says that you may be the first to do some thing, but you should not be the last. That is my goal."
"I love San Diego," said Gloria. "I was born and raised here. I am a third generation San Diegan. I love this town, and I was taught that it was my responsibility to leave it better than I found it, and so I've chosen to spend my entire career serving this community in the county of San Diego, as congressional aide as a council member, as a state legislator, and, now, as a mayor."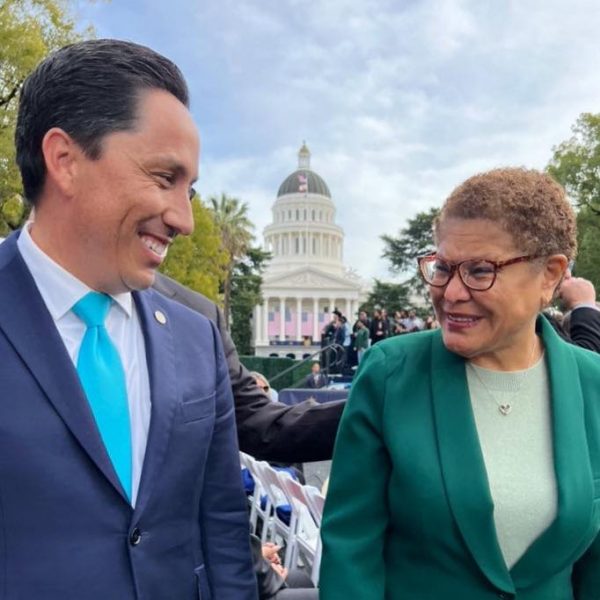 The lesson of leaving something behind better than you found it comes from the teachings of Gloria's parents he tells the Blade.
"My parents were blue-collar folks," recalled the Mayor. "When I was growing up, my mom was a hotel maid and my dad was a landscaper. These two hard-working, modest people didn't have generational wealth or the financial ease to help us. They just had good humble values that they tried to instill in me and my brother."
Gloria recounted a story from his childhood where his parents' moral compass inadvertently lead him to his political career.
"Growing up, we often didn't have a car. We had to borrow other people's cars. Obviously, we didn't have enough money, and I can remember vividly having to wash those cars and fill them with gas and having to get the buckets and sponges and soap and water. That all has expense attached to it, and so I said, 'If we are borrowing cars because we don't have money, then why are we spending money on washing them and filling the tanks up with gas?' The answer that my parents gave us was, 'This is what we have to do. We are borrowing these cars and we can't return them dirty or with an empty tank.' This left an impression on me. I don't think my parents intended it this way, but it really was this admonition to get into public service.'
"Some people have to wake up every day and punch a time clock. I just have to wake up and make the city a better place. I think that's a wonderful mission and I feel grateful for this opportunity. That is why I do this work."