FDA approves injectable PrEP to reduce the risk of sexual HIV infection
Manufactured as Apretude, it will be available to at-risk adults & adolescents who weigh at least 77 pounds & have tested negative for HIV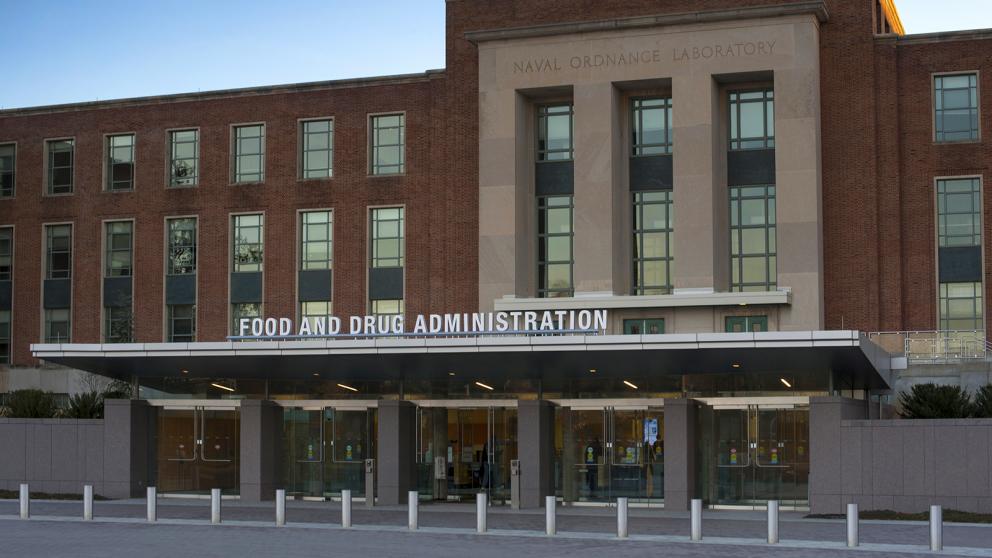 SILVER SPRING, Md. – The U.S. Food and Drug Administration announced Monday that the agency had approved the first injectable treatment for pre-exposure prophylaxis (PrEP) to reduce the risk of sexually acquired HIV.
Manufactured under the name Apretude, it will be available to at-risk adults and adolescents who weigh at least 77 pounds and have tested negative for HIV immediately beforehand the agency said in a press release.
By granting its approval, the FDA opens up the option for patients to receive the injectable drug instead of a daily HIV prevention oral medication, such as Truvada.
"Today's approval adds an important tool in the effort to end the HIV epidemic by providing the first option to prevent HIV that does not involve taking a daily pill," said Debra Birnkrant, M.D., director of the Division of Antivirals in the FDA's Center for Drug Evaluation and Research. "This injection, given every two months, will be critical to addressing the HIV epidemic in the U.S., including helping high-risk individuals and certain groups where adherence to daily medication has been a major challenge or not a realistic option."
According to the U.S. Centers for Disease Control and Prevention, notable gains have been made in increasing PrEP use for HIV prevention in the U.S. and preliminary data show that in 2020, about 25% of the 1.2 million people for whom PrEP is recommended were prescribed it, compared to only about 3% in 2015.
However, there remains significant room for improvement. PrEP requires high levels of adherence to be effective and certain high-risk individuals and groups, such as young men who have sex with men, are less likely to adhere to daily medication.
Other interpersonal factors, such as substance use disorders, depression, poverty and efforts to conceal medication also can impact adherence. It is hoped that the availability of a long-acting injectable PrEP option will increase PrEP uptake and adherence in these groups.
The safety and efficacy of Apretude to reduce the risk of acquiring HIV were evaluated in two randomized, double-blind trials that compared Apretude to Truvada, a once daily oral medication for HIV PrEP.
Trial 1 included HIV-uninfected men and transgender women who have sex with men and have high-risk behavior for HIV infection. Trial 2 included uninfected cisgender women at risk of acquiring HIV.
Participants who took Apretude started the trial with cabotegravir (oral, 30 mg tablet) and a placebo daily for up to five weeks, followed by Apretude 600mg injection at months one and two, then every two months thereafter and a daily placebo tablet.
Participants who took Truvada started the trial taking oral Truvada and placebo daily for up to five weeks, followed by oral Truvada daily and placebo intramuscular injection at months one and two and every two months thereafter.
In Trial 2, 3,224 cisgender women received either Apretude or Truvada. The trial measured the rate of HIV infections in participants who took oral cabotegravir and injections of Apretude compared to those who took Truvada orally.
The trial showed participants who took Apretude had 90% less risk of getting infected with HIV when compared to participants who took Truvada.
Apretude includes a boxed warning to not use the drug unless a negative HIV test is confirmed. It must only be prescribed to individuals confirmed to be HIV-negative immediately prior to starting the drug and before each injection to reduce the risk of developing drug resistance.
Drug-resistant HIV variants have been identified in people with undiagnosed HIV when they use Apretude for HIV PrEeP. Individuals who become infected with HIV while receiving Apretude for PrEP must transition to a complete HIV treatment regimen.
The drug labeling also includes warnings and precautions regarding hypersensitivity reactions, hepatotoxicity (liver damage) and depressive disorders
U.S. Department of Education investigating BYU LGBTQ+ discipline policy
"They've wronged marginalized communities at BYU and they need to be held accountable for it" ~ former gay student at BYU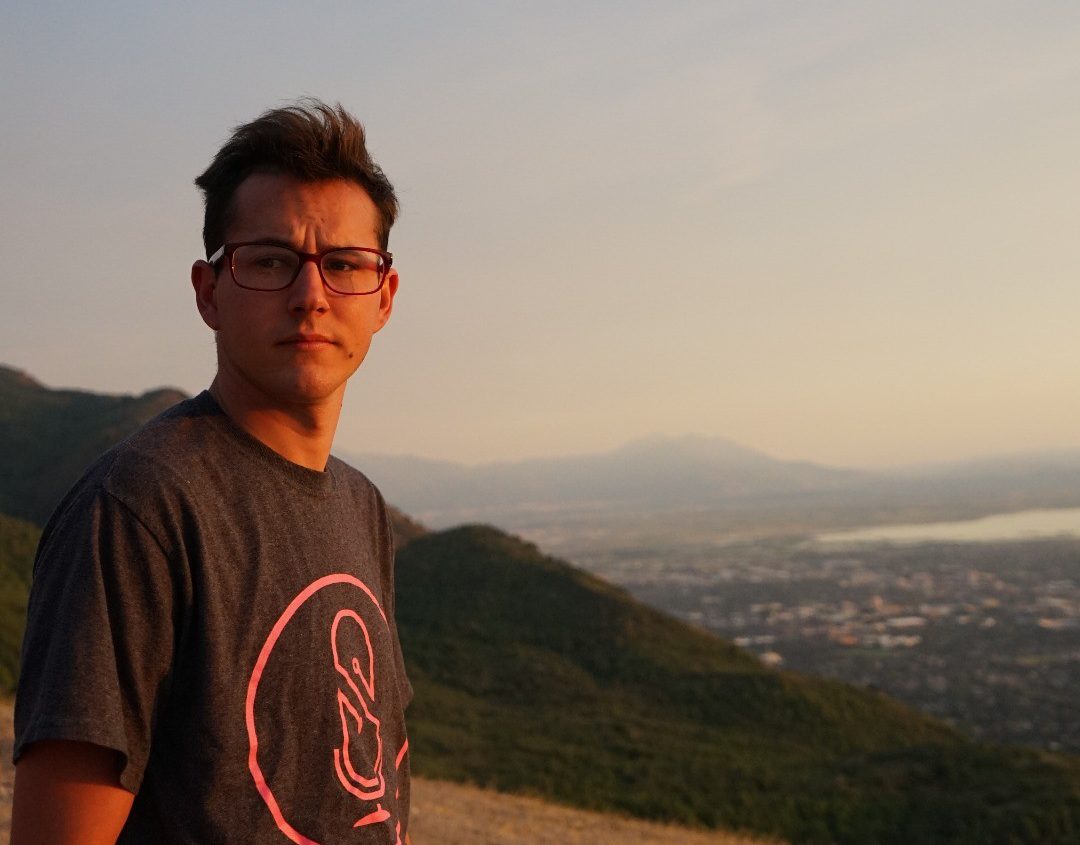 PROVO, Ut. – The U.S. Department of Education has opened an investigation into policies at Brigham Young University (BYU) that discipline LGBTQ students, aiming to determine whether or not the private religious school, owned by the Church of Jesus Christ of Latter-day Saints (LDS), is violating their civil rights.
The Education Department is investigating a complaint that came after BYU removed rules banning "homosexual activity" from its honor code in 2020, only to clarify weeks later that same-sex partnerships were still prohibited.
The probe, which opened in October of last year, will focus on Title IX, a law prohibiting universities from discriminating against students and others based on gender.
Last year, President Joe Biden signed an executive order mandating every federal agency, including the Education Department, clarify that civil rights laws protect LGBTQ people from discrimination. However, religious schools have Title IX exemptions, making federal scrutiny rare.
"It's really significant that investigators are stepping in now," Michael Austin, a BYU alumnus and vice president at the University of Evansville, told the Salt Lake Tribune. "It means there's some reason to think the university has gone beyond the religious exemptions it has and is discriminating even beyond those."
The investigation, headed by the Office of Civil Rights within the department, seems to be about whether faith-based exemptions apply even if the behavior is not directly related to education or expressly written in the honor code. BYU also bans alcohol, beards and piercings, among other things.
BYU did not respond to the Blade's request for comment. But a spokesperson told the Associated Press that the school does not anticipate any further action because "BYU is exempt from application of Title IX rules that conflict with the religious tenets" of the LDS.
Though the LDS has softened some of its rules around LGBTQ issues, the church remains opposed to same-sex marriage and sex outside of marriage.
In a November 2021 letter to the Education Department, Kevin Worthen, president of BYU, argued that religious exemptions do apply to the school. The letter adds that all BYU students, faculty, administrators and staff "'voluntarily commit to conduct their lives in accordance with the principles of the gospel of Jesus Christ.'"
The Department of Education responded to the letter, affirming that the university has some religious exemptions, but the department had to investigate if the complaint falls under those exemptions.
An Education Department spokesperson confirmed the investigation to the Blade but declined further comment.
Queer students at BYU celebrated the school's removal of the anti-LGBTQ language in the honor code. Yet, the university announced weeks later that there was "some miscommunication" as to what the changes meant, clarifying that "the principles of the Honor Code remain the same."
Bradley Talbot, a former gay student at BYU, was on campus during the apparent reversal, saying it "instilled a lot of fear and a lot of students."
"There are still a lot of feelings of betrayal and apprehension around it," he told the Blade.
At BYU, students who hold hands or kiss someone of the same sex can face punishment, including expulsion. LGBTQ+ students face harsher discipline than heterosexual couples at the school.
Talbot said he knew of "quite a few people" who lost their degrees and were kicked out during his time at BYU because of the gay dating ban. "People were turned in by roommates. Some people were turned in by their own parents," he added.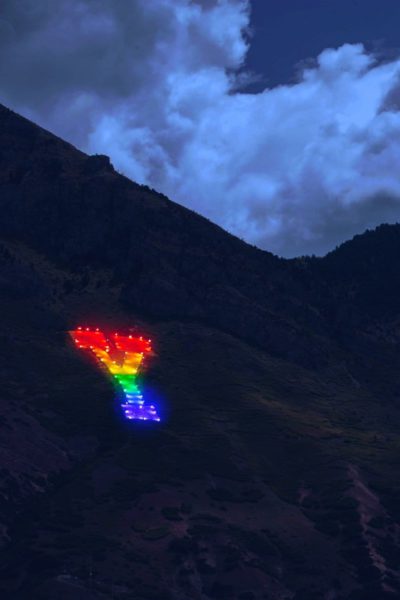 The university's clarification frustrated LGBTQ students, according to Talbot. In response, he organized a demonstration in March of 2021, lighting the "Y" that sits above BYU's campus – one of the school's oldest traditions – in rainbow Pride colors on the one year anniversary of the university's letter sent to students that clarified the LGBTQ dating policy.
"We did it to reclaim that traumatic day and spin in a positive light of support, love and unity to create more visibility and awareness," said Talbot. "And also to take a stand that we weren't going to put up with just being tossed around by BYU. We deserve to be a part of the BYU community and a part of the LGBTQ community."
The school has since updated its policies, banning protests and other demonstrations on Y Mountain, where Talbot staged his demonstration, in December of last year.
"Demonstrations should be consistent with BYU's faith-based mission, intellectual environment and requirements described in the policy," a statement added.
Still, Talbot, who is now graduated, has hope that the Education Department's investigation will "finally change" things at BYU. "This has been something that's been going on for decades," he said. "They've wronged marginalized communities at BYU and they need to be held accountable for it."
Federal Bureau of Prisons revises manual for incarcerated Trans people
"Transgender Offender Manual," improves policies relating to the housing and treatment of transgender people in federal custody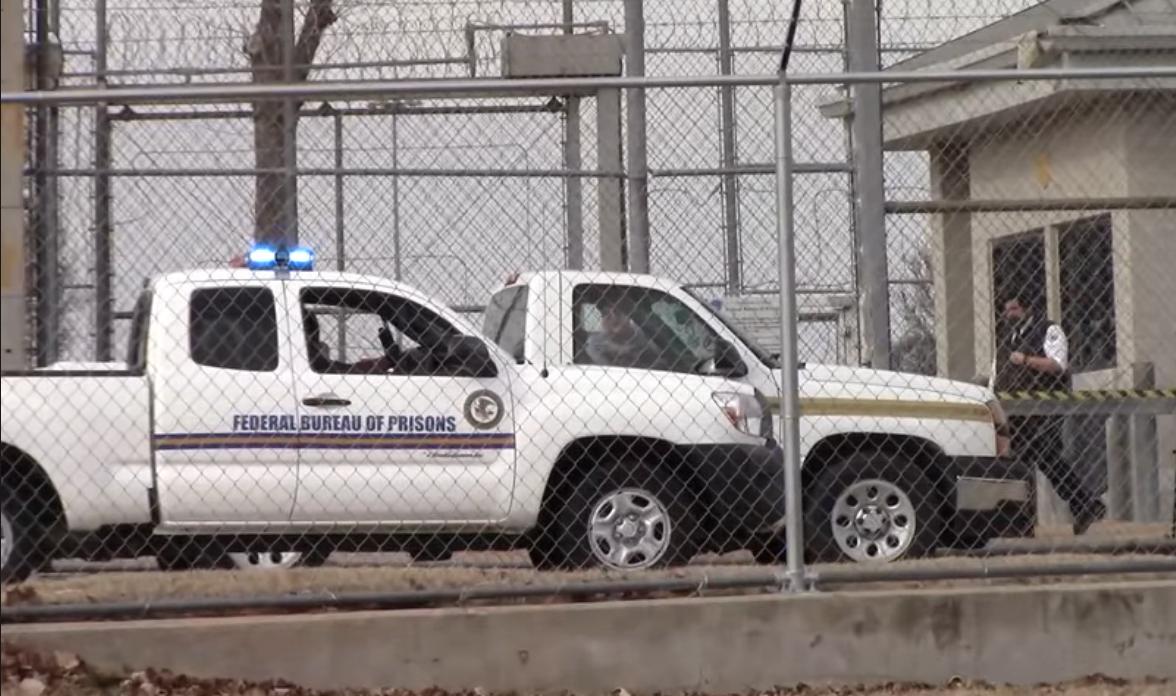 WASHINGTON – The federal Bureau of Prisons issued this week long awaited revisions to the "Transgender Offender Manual," improving policies relating to the housing and treatment of Transgender people in federal custody.
The new Manual rescinds the transphobic language added by the prior administration that weakened protections for incarcerated Trans people– who are already 10 times more likely than the general prison population to be targeted for violence – and undercut compliance with the federal Prison Rape Elimination Act (PREA) and constitutional protections. 
Among other changes, the updated guidance requires that in making housing unit and programming assignments serious consideration must be given to an incarcerated Trans or intersex person's own views with respect to their safety. It explicitly states that deliberately and repeatedly mis-gendering an inmate is not permitted. And it includes a process for an incarcerated person to receive gender-affirming surgery.
In 2018, Lambda Legal and the Southern Poverty Law Center sued the U.S. Department of Justice and the BOP for documents and communications connected to the Trump Administration's harmful and discriminatory changes to the Transgender Offender Manual.
"The federal BOP has issued important new guidelines that will hopefully help keep Transgender people in its custody safe and provide access to life-saving healthcare including gender-affirming surgery," said Richard Saenz, Lambda Legal Senior Attorney and Criminal Justice and Police Misconduct Strategist. "This reaffirms the constitutional rights of incarcerated Transgender people and should be an example for state prisons systems and local jails to do their duty to keep people in their custody safe." 
"We would like to thank the BOP and our partners for working on these changes. And would like to thank Senator Brian Schatz (D-Hawai'i) for his calls to reverse the previous administration's harmful changes to the manual," Saenz added.
Federal Title IX inquiry of anti-LGBTQ bias by Christian university
Its Student Handbook prohibits same-sex romantic/sexual relationships as well as actions deliberately discordant with birth gender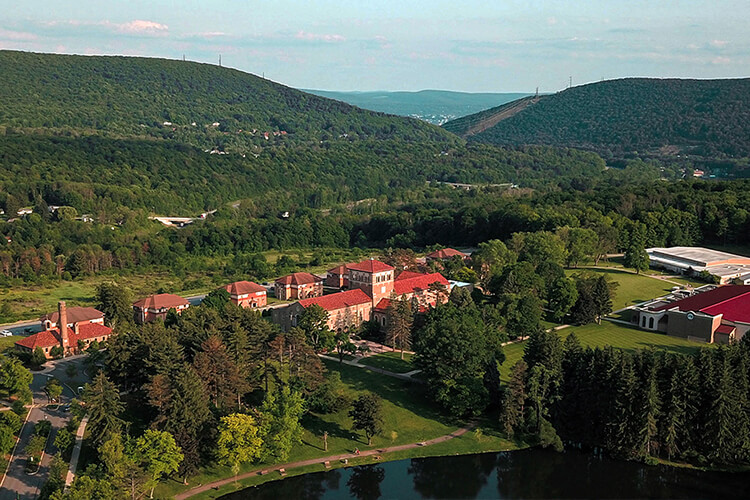 CLARKS SUMMIT, Pa. – The Office for Civil Rights (OCR) of the U.S. Department of Education (DOE) launched a Title IX investigation of Clarks Summit University, a Christian university located in Clarks Summit, Pennsylvania, just outside the city of Scranton.
The Portland, Oregon-based Religious Exemption Accountability Project, (REAP), submitted a complaint last July on behalf of Gary Campbell, an Out gay man and former CSU student. The Office for Civil Rights notified REAP on Tuesday that the agency will initiate a Title IX investigation.
The agency's notification letter said it will investigate an allegation that "The University maintains a policy in its Student Handbook prohibiting students from engaging in same-sex romantic or sexual relationships, as well as from 'cross-dressing or other actions deliberately discordant with birth gender.'"
REAP director, Paul Southwick, stated that "this action potentially affects hundreds of educational institutions and demonstrates that OCR has the power to investigate taxpayer-funded religious schools whose disciplinary or other policies discriminate against LGBTQ+ students."
But Southwick cautioned that: "Unfortunately, once an investigation is opened, these Title IX complaints will likely ultimately be dismissed once the school asserts a religious exemption. That's why our Title IX lawsuit challenging the validity of the religious exemption is so important."
Gary Campbell was expelled from Clarks Summit University (CSU) in 2019 and barred from reapplying with just a few credits left before graduation. His sexual orientation was the stated reason for the school's actions.
Upon learning of the Title IX investigation, Campbell commented, "I am crying, because for a while I thought what happened at Clarks Summit was my fault, that I was the one who messed up by going to this school. Now I have the REAP attorneys believing that I was being discriminated against and standing up for me, when nobody stood up for me during those 11+ years I went to that school."
Campbell further states that "Now the Office for Civil Rights is saying they are diving in deep, that there is value in this investigation. They're saying there are red flags here, and that helps me rid my mind of a lot of self-gaslighting and doubt, brainwashing that I was at fault. This whole process is therapeutic for me."
Campbell is one of approximately 40 plaintiffs in a class action lawsuit filed by REAP against the DOE in March 2021 challenging the constitutionality of the religious exemption to Title IX, a law prohibiting discrimination on the basis of sex by schools receiving Federal financial assistance. REAP has filed Title IX complaints on behalf of most of the plaintiffs.