Federal LGBTQ+ data collection for coronavirus pandemic impact lacking
"Only California has reported data publicly-They're not reporting the data itself…And they're also just asking people who tests positive"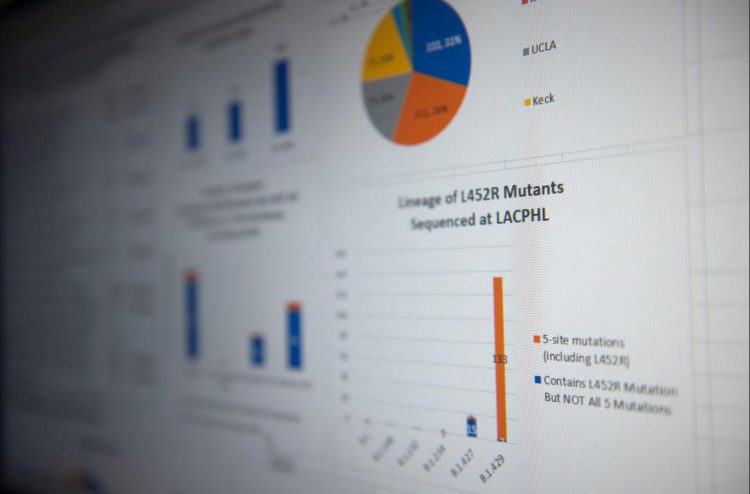 BOSTON – Despite requests since the start of the COVID pandemic for the U.S. government to enhance data collection for patients who are LGBTQ, the Centers for Disease Control & Prevention is still falling short on issuing nationwide guidance to states on the issue, a leading expert health on the issue told the Blade.
With a renewed focus on COVID infections reaching new heights just before the start of the holidays amid the emergence of Omicron, the absence of any LGBTQ data collection — now across both the Trump and Biden administrations — remains a sore point for health experts who say that information could be used for public outreach.
Sean Cahill, director of Health Policy Research at the Boston-based Fenway Institute, said Wednesday major federal entities and hospitals have been collecting data on whether patients identify as LGBTQ for years — such as the National Health & Nutrition Examination Survey, which has been collecting sexual orientation data since the 1990s — but the CDC hasn't duplicated that effort for COVID even though the pandemic has been underway for two years.
"It's not like this is a new idea," Cahill said. "But for some reason, the pandemic hit, and all of a sudden, we realize how little systematic data we were collecting in our health system. And it's a real problem because we're two years into the pandemic almost, and we still don't know how it's affecting this vulnerable population that experiences health disparities in other areas."
The Blade was among the first outlets to report on the lack of efforts by the states to collect data on whether a COVID patient identifies as LGBTQ, reporting in April 2020 on the absence of data even in places with influential LGBTQ communities. The CDC hasn't responded to the Blade's requests for nearly two years on why it doesn't instruct states to collect this data, nor did it respond this week to a request for comment on this article.
Cahill, who has published articles in the American Journal of Public Health on the importance of LGBTQ data collection and reporting in COVID-19 testing, care, and vaccination — said he's been making the case to the CDC to issue guidance to states on whether COVID patients identify as LGBTQ since June 2020.
Among those efforts, he said, were to include two comments he delivered to the Biden COVID-19 Health Equity Task Force in spring 2021, a letter a coalition of groups sent to the Association of State & Territorial Health Officers asking for states to collect and report SOGI in COVID in December 2020 as well as letters to HHS leadership and congressional leadership in spring and summer 2020 asking for them to take steps to encourage or require SOGI data collection in COVID.
Asked what CDC officials had to say in response when he brought this issue to their attention, Cahill said, "They listen, but they don't really tell me anything."
"We've been making that case, and to date, as of December 22, 2021, they have not issued guidance, they have not changed the case report form. I hope that they're in the process of doing that, and maybe we'll be pleasantly surprised in January, and they'll come up with something…I really hope that's true, but right now they're not doing anything to promote SOGI data collection and reporting in surveillance data."
In other issues related to LGBTQ data collection, there has been a history of states resisting federal mandates. The Trump administration, for example, rescinded guidance calling on states to collect information on whether foster youth identified as LGBTQ after complaints from states on the Obama-era process, much to the consternation of LGBTQ advocates who said the data was helpful.
The White House COVID-19 Health Equity Task Force has at least recognized the potential for enhancing LGBTQ data collection efforts. Last month, it published an implementation plan, calling for "an equity-centered approach to data collection, including sufficient funding to collect data for groups that are often left out of data collection (e.g….LGBTQIA+ people)."
The plan also calls for "fund[ing] activities to improve data collection…including tracking COVID-19 related outcomes for people of color and other underserved populations," and specifically calls for the collection of LGBTQ data.
The importance of collecting LGBTQ data, Cahill said, is based on its potential use in public outreach, including efforts to recognize disparities in health population and to create messaging for outreach, including for populations that may be reluctant to take the vaccine.
"If we see a disparity, we can say: Why is that?" Cahill said. "We could do focus groups of the population — try to understand and then what kind of messages would reassure you and make you feel comfortable getting a vaccine, and we could push those messages out through public education campaigns led by state local health departments led by the federal government."
The LGBTQ data, Cahill said, could be broken down further to determine if racial and ethnic disparities exist within the LGBTQ population, or whether LGBTQ people are likely to suffer from the disease in certain regions, such as the South.
"We have data showing that lesbian or bisexual women, and transgender people are less likely to be in preventive regular routine care for their health," Cahill said. "And so if that's true, there's a good chance that they're less likely to know where to get a vaccine, to have a medical professional they trust to talk to about it today."
Among the leaders who are supportive, Cahill said, is Rachel Levine, assistant secretary for health and the first openly transgender person confirmed by the U.S. Senate for a presidential appointment. Cahill said he raised the issue with her along with other officials at the Department of Health & Human Services three times in the last year.
In her previous role as Pennsylvania secretary of health, Levine led the way and made her state the first in the nation to set up an LGBTQ data collection system for COVID patients.
"So she definitely gets it, and I know she's supportive of it, but we really need the CDC to act," Cahill said.
Although the federal government has remained intransigent in taking action, Cahill said the situation has improved among states and counted five states — California, Pennsylvania, Rhode Island, Nevada and Oregon — in addition to D.C. as among those that have elected to collect data on sexual orientation and gender identity of COVID patients.
However, Cahill said even those data collection efforts are falling short because those jurisdictions have merely been public about collecting the data, but haven't reported back anything yet.
"Only California has reported data publicly, and the data that they're reporting is really just the completeness of the data," Cahill said. "They're not reporting the data itself…And they're also just asking people who tests positive. So, if somebody says positive COVID in California, a contact tracer follows up with that individual and asks them a battery of questions, and among the questions that are asked are SOGI questions."
As a result of these efforts, Cahill said, California has data on the LGBTQ status of COVID patients, but the data is overwhelmingly more complete for the gender identity of these patients rather than their sexual orientation. As of May 2021, California reported that they had sexual orientation data for 9.5 percent of individuals who had died from COVID and 16 percent of people who tested positive, but for gender identity, the data were 99.5 percent.
Biden Administration proposes expanded LGBTQ+ student protections
The proposal is certain to be challenged by the right-wing and it is expected to lead to new legal fights over the rights of trans students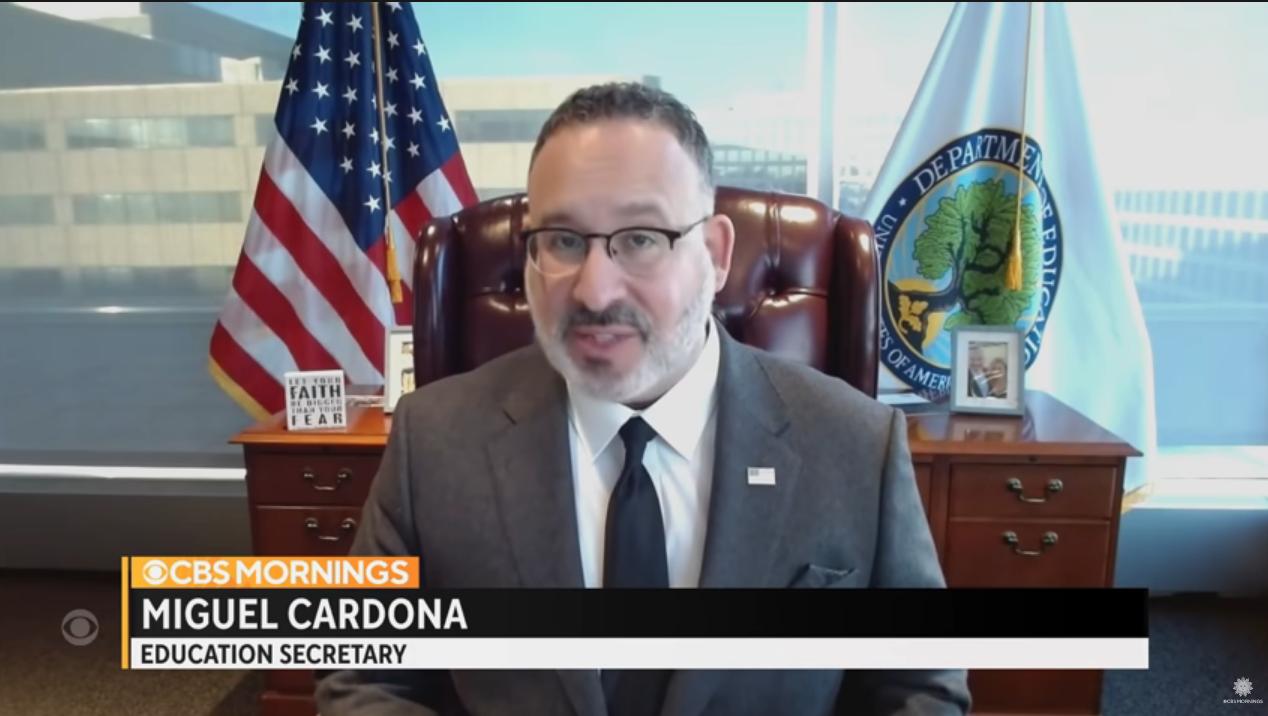 WASHINGTON – The Biden Administration announced that it is proposing overhauling provisions of rules and guidance expanding Title IX protections for LGBTQ students, a dramatic overhaul of campus sexual assault rules, and bolstering rules governing colleges' responsibilities in addressing sexual misconduct.
In making the announcement for the proposed changes on Thursday, U.S. Education Secretary Miguel Cardona said, "As we celebrate the 50th anniversary of this landmark law, our proposed changes will allow us to continue that progress and ensure all our nation's students — no matter where they live, who they are, or whom they love — can learn, grow, and thrive in school."
In the previous Trump Administration, then U.S. Education Secretary Betsy DeVos had issued a controversial new policy in May 2020 that created new rules mandating how schools and universities responded to complaints of sexual misconduct and bolstered the rights of the accused and narrowing the scope of cases colleges are required to investigate.
The Associated Press had reported under the new rules, the definition of sexual harassment is narrowed to include "unwelcome conduct determined by a reasonable person to be so severe, pervasive, and objectively offensive" that it denies a person access to a school's education programs or activity.
The rules received pushback from opponents including the National Women's Law Center. "We refuse to go back to the days when rape and harassment in schools were ignored and swept under the rug," Fatima Goss Graves, the group's president and CEO told the Associated Press. "We won't let DeVos succeed in requiring schools to be complicit in harassment, turning Title IX from a law that protects all students into a law that protects abusers and harassers."
The proposed regulations would:
Clearly protect students and employees from all forms of sex discrimination.
Provide full protection from sex-based harassment.
Protect the right of parents and guardians to support their elementary and secondary school children.
Require schools to take prompt and effective action to end any sex discrimination in their education programs or activities – and to prevent its recurrence and remedy its effects.
Protect students and employees who are pregnant or have pregnancy-related conditions.
Require schools to respond promptly to all complaints of sex discrimination with a fair and reliable process that includes trained, unbiased decisionmakers to evaluate the evidence.
Require schools to provide supportive measures to students and employees affected by conduct that may constitute sex discrimination, including students who have brought complaints or been accused of sex-based harassment.
Protect LGBTQI+ students from discrimination based on sexual orientation, gender identity, and sex characteristics.
Clarify and confirm protection from retaliation for students, employees, and others who exercise their Title IX rights.
Improve the adaptability of the regulations' grievance procedure requirements so that all recipients can implement Title IX's promise of nondiscrimination fully and fairly in their educational environments.
Ensure that schools share their nondiscrimination policies with all students, employees, and other participants in their education programs or activities.
A press release from the Education Secretary's office, spelled out that the proposed regulations will advance Title IX's goal of ensuring that no person experiences sex discrimination, sex-based harassment, or sexual violence in education.
As the Supreme Court wrote in Bostock v. Clayton County, 140 S. Ct. 1731 (2020), it is "impossible to discriminate against a person" on the basis of sexual orientation or gender identity without "discriminating against that individual based on sex."
The regulations will require that all students receive appropriate supports in accessing all aspects of education. They will strengthen protections for LGBTQI+ students who face discrimination based on sexual orientation or gender identity. And they will require that school procedures for complaints of sex discrimination, including sexual violence and other sex-based harassment, are fair to all involved.
The new rules proposal is almost certain to be challenged by the right-wing and it is expected to lead to new legal fights over the rights of trans students in schools and universities, especially in sports.
As we mark #TitleIXAt50 today, here are six #TitleIX changes ED is proposing to ensure federally funded education programs & activities are free from ALL forms of sex discrimination: [🧵⬇️] pic.twitter.com/C9w4QAKEOj

— U.S. Department of Education (@usedgov) June 23, 2022
New Stonewall National Monument Visitor Center set to open in 2024
"The opening of the Stonewall National Monument Visitor Center is a remarkable moment in the history of Stonewall"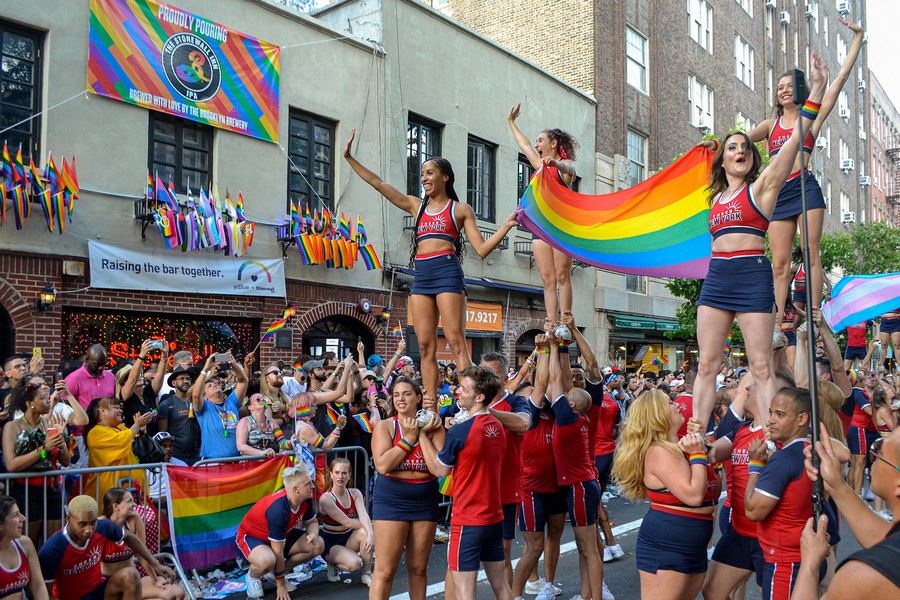 NEW YORK –  Pride Live, a social advocacy and community engagement organization for the LGBTQ+ community, announced plans this week to open the Stonewall National Monument Visitor Center (SNMVC).
When open, this will be the first LGBTQ+ visitor center within the National Park Service (NPS), system of parks and monuments. According to organisers, the center marks a landmark achievement and leap forward in American history. The SNMVC is scheduled to open in the summer of 2024 and will occupy nearly 3,700 square feet at 51 Christopher Street, between Waverly Place and 7th Avenue South in New York City.
Pride Live also noted that with support from Google, the groundbreaking ceremony will be livestreamed at YouTube.com/c/pridelive at 10:30AM ET on June 24.
When the Stonewall Rebellion took place on June 28, 1969, the Stonewall Inn was made up of two locations – 53 Christopher Street, where the current Stonewall Inn bar is located today, and 51 Christopher Street.
Located at 51 Christopher Street, the future home of the SNMVC will reunite the historic Stonewall Inn and commemorate the events of the Stonewall Rebellion in their authentic locations.
"The opening of the Stonewall National Monument Visitor Center is a remarkable moment in the history of Stonewall," said Ann Marie Gothard, President of the Pride Live Board of Directors. "We honor all those who came before us, most especially the queer people fighting for equality at the Stonewall Rebellion. The designation as a National Monument and the opening of this visitor center will memorialize their important legacy in the gay rights movement, and we hope will inspire future generations to continue fighting for LGBTQ+ equality."
In a press release, PrideLive noted: "With a mission to preserve, advance and celebrate the legacy of the Stonewall Rebellion and the Stonewall National Monument, the SNMVC will serve as a beacon for generations to come, providing the unique opportunity to visit the very site where history was made and where the fight for LGBTQ+ equality visibly shifted with new waves of activism. The SNMVC will offer an immersive experience welcoming all people to explore and experience LGBTQ+ history and culture through in-person and virtual tours, lecture series, exhibitions and visual arts displays. In addition, the SNMVC will serve as home base for the dedicated National Park Service Rangers, who are responsible for the preservation of the Stonewall National Monument."
"The designation of Stonewall as a National Monument is an important step in memorializing an invaluable historical landmark that represents courage, hope and triumph for the LGBTQ community," said Secretary of the Interior Deb Haaland. "As President Biden declared in Title VII, 'every person should be treated with respect and dignity and should be able to live without fear,' and the Stonewall National Monument Visitor Center will serve as a place where the LGBTQ community can safely gather to celebrate and commemorate its hard-fought history."
"The new Stonewall National Monument Visitor Center will serve as an important memorial for the Stonewall Uprising, an iconic and pivotal moment in the essential effort to fully realize America's founding ideal that we are all created equal," said U.S. Senator Chuck Schumer. "I'm proud New York will be home to the first LGBTQ+ visitor center within the National Park Service, honoring the LGBTQ+ community and their history. As a proud parent of a LGBTQ+ person, I won't stop fighting against the unprecedented and unjust discrimination the LGBTQ+ community continues to face today."
Founding supporters of the SNMVC include Google – the first corporate partner to sign on, The Kors Le Pere Foundation, JPMorgan Chase & Co., AARP, Target, David Yurman, Amazon, National Football League, Ellen DeGeneres and Portia de Rossi, Lana and Lilly Wachowski, United Therapeutics, New York Yankees and global activist and ally Josephine Skriver, who made the inaugural donation to the campaign.
"It's vital to create safe and inclusive spaces for the LGBTQ community, and we are proud to support the opening of the Stonewall National Monument Visitor Center, a space that will memorialize the legacy of Stonewall," said William Floyd, Senior Director of Public Policy at Google. "This groundbreaking is a significant moment in LGBTQ history, and we are thrilled to share this remarkable occasion with a global audience through our YouTube livestream."
Designated by President Barack Obama on June 24, 2016, the Stonewall National Monument includes the 0.19-acre formerly known as Christopher Park and the surrounding streets including Christopher Street adjacent to the park. The Stonewall National Monument is the first U.S. national monument dedicated to LGBTQ+ rights and history.
The journey in recognizing LGBTQ+ history as American history was aided by entrepreneur, philanthropist and LGBTQ+ activist Tim Gill.
In 2014, the Gill Foundation recognized a glaring omission of historic LGBTQ sites in the nation's official records, and the organization made a grant to the National Park Service to commission a first-of-its-kind LGBTQ Theme Study, published in 2016. A separate advocacy campaign to designate the Stonewall National Monument was spearheaded by the National Parks Conservation Association, which worked with elected officials, NPS, historians and community stakeholders, culminating in 2016.
"The Stonewall National Monument provides the LGBTQ+ community with a physical representation of the struggle for justice and equal treatment under the law and in our society," said Assemblymember Deborah J. Glick. "This place allows for interpretation of the long path that our community has been on and is a way to teach all Americans about who we are. I was proud to be part of the effort to create this monument and am elated to see the groundbreaking of the Stonewall National Monument Visitor Center, which will truly make LGBTQ+ history a part of what draws people to New York City and give weight to our historical record."
"I was proud to champion the effort to designate the first-ever national monument to LGBTQ+ history at the historic site of the Stonewall Uprising in New York City," said Congressman Jerrold Nadler. "The opening of the Stonewall National Monument Visitor Center will allow Americans to learn about these critical events in our history. Now more than ever, it is essential that we recognize the events at Stonewall that launched the modern LGBTQ+ civil rights movement here and worldwide. Since President Obama designated the monument, millions of Americans have had the chance to learn about these historic events. This new visitor center will honor the legacy of the brave members of the LGBTQ+ community who fought for their civil rights and support those who continue the fight for full equality today."
The Stonewall National Monument Visitor Center will be funded by donations from the community and allies. To support this historic effort, please visit www.stonewallvisitorcenter.org or text REBEL to 243725.
For more information, visit www.stonewallvisitorcenter.org
CDC lifts requirement for COVID-19 test for inbound international travelers
"This step is possible because of the progress we've made in our fight against COVID-19," said U.S. Health Secretary Xavier Becerra

ATLANTA – The Centers for Disease Control and Prevention, (CDC) announced Friday evening that it was lifting a pandemic government mandate designed to contain the spread of the coronavirus. The CDC Order requiring persons to show a negative COVID-19 test result or documentation of recovery from COVID-19 before boarding a flight to the U.S. will be rescinded, effective on June 12, 2022 at 12:01AM Eastern.
According to a statement from the agency, the COVID-19 pandemic has now shifted to a new phase, due to the widespread uptake of highly effective COVID-19 vaccines, the availability of effective therapeutics, and the accrual of high rates of vaccine- and infection-induced immunity at the population level in the United States.
"This step is possible because of the progress we've made in our fight against COVID-19," said U.S. Health Secretary Xavier Becerra.
Each of these measures has contributed to lower risk of severe disease and death across the United States. As a result, this requirement which was needed at an earlier stage in the pandemic may be withdrawn. 
CDC continues to recommend that those travelers boarding a flight to the U.S. get tested for current infection with a viral test as close to the time of departure as possible (no more than 3 days) and not travel if they are sick.
Roger Dow, president of the US Travel Association, called lifting the testing rule "another huge step forward for the recovery of inbound air travel and the return of international travel to the United States."
The Associated Press reported that the airlines argued that the rule was put into effect when few Americans were vaccinated — now 71 percent of those 5 and older are fully vaccinated, according to CDC figures. They also complained that people entering the US at land borders are not required to test negative for Covid-19, although they must show proof of vaccination.
While domestic US travel has returned nearly to pre-pandemic levels, international travel — which is very lucrative for the airlines — has continued to lag. In May, US international air travel remained 24 percent below 2019 levels, with declines among both U.S. and foreign citizens, according to trade group Airlines for America.
Many other countries have lifted their testing requirements for fully vaccinated and boosted travelers in a bid to increase tourism.