Tom Daley calls out anti-LGBTQ+ discrimination in Christmas message
"Why are we allowing places that aren't safe for ALL fans and ALL players to host our most prestigious sporting events?"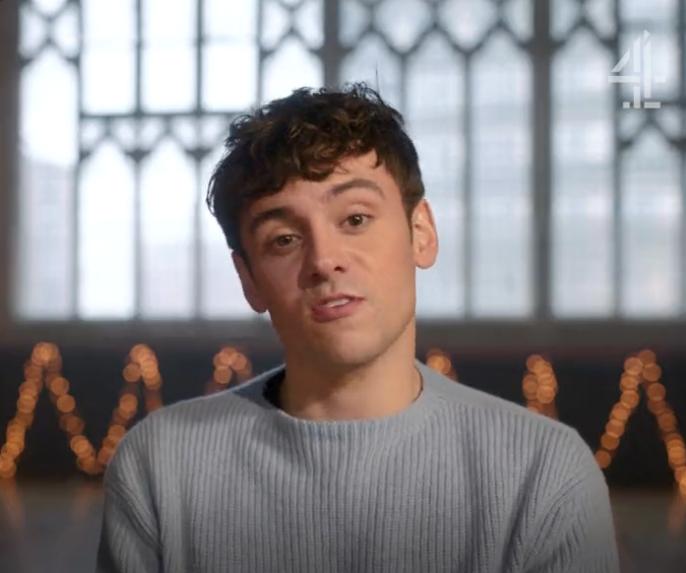 LONDON – Olympic gold medalist Tom Daley took aim at professional sports leagues who continue to hold sporting events in countries that persecute, prosecute, or imprison LGBTQ+ people in a holiday message.
The British champion diver has long publicly expressed his condemnation of those nations and called for changes in the sports community's stance on affirmation and action on behalf of the global LGBTQ+ community.
Appearing in a pre-recorded 'Alternative Christmas Message,' an annual holiday tradition of UK media giant Channel 4, Daley noted; "In 2022 the World Cup is being held in the second most dangerous country for queer people, Qatar. Why are we allowing places that aren't safe for ALL fans and ALL players to host our most prestigious sporting events?" the diver said according to a press release. "Hosting a world cup is an honor. Why are we honoring them? Holding a Formula 1 grand prix is an honor. Why are we honoring Saudi Arabia?"
This Christmas Day, join @TomDaley1994 at 5pm for an alternative Christmas message on Channel 4 🎄🧵❤️ #AltXmas pic.twitter.com/QithPoVZe2

— Channel 4 (@Channel4) December 21, 2021
In addition to Daley, his fellow British sportsman, Mercedes-AMG Petronas Formula One Team's seven time Grand Prix champion driver and longtime LGBTQ+ ally Lewis Hamilton, told the UK daily newspaper The Guardian in an interview three weeks ago that "he is not comfortable competing in Saudi Arabia given its repressive laws regarding the LGBTQ+ community."
Hamilton went on to label those draconian laws as "terrifying" and called on Formula One to do more to address human rights issues in the countries it stages events in.
As if to underscore the urgency and clearly show his support the racer tweeted a picture of himself in his helmet which is adorned with a LGBTQ+ Progress Flag with a Non-binary symbol motif and the phrase 'Equality for all.'
Daley told an audience at the Virgin Atlantic Attitude Awards held at The Roundhouse Theatre in Central London this past October that the Olympic Games should ban those nations. In his speech accepting the 2021 Attitude Magazine Foundation's Virgin Atlantic Attitude Sport Award, the 27-year-old champion diver said: "These past Olympic Games there were more out LGBT athletes than at any of the previous Olympics combined, which is a great step forward," Daley said. "Yet there are still 10 countries that punish being gay with death that were still allowed to compete at the Olympic Games."
"I want to make it my mission before the Paris Olympics in 2024 to make it so that the countries that criminalize and make it punishable by death for LGBT people are not allowed to compete at the Olympic Games," Daley said.
He then pointed out that those same countries shouldn't be able to host Olympic games either- then he called out the upcoming World Cup in Qatar;
"The World Cup coming up in Qatar has extreme rules against LGBT people and women and I think it should not be allowed for a sporting event to host in a country that criminalizes against basic human rights," he said.
In his Channel 4 message, Daley says he is "incredibly lucky" that his sport has supported him to live as an openly gay man, but he acknowledges not everyone in sport has the same backing. Using the platform to raise an issue close to his heart he speaks of homophobia in sport, particularly football.
In October Australian footballer Josh Cavallo became the first and only topflight male player to come out as gay. Tom praises Josh's courage but uses this startling example to question why in the world's most popular sport, with 65,000 professional players, just one top male footballer felt comfortable enough to come out and talk openly about their sexuality.
Daley addresses the need for a culture change in football, adding, 'if I had one Christmas wish it would be that next year that changes. That one impossibly brave Premier League player steps forward and says, 'I am gay'. That person would inspire gay people everywhere, give hope to thousands of teenagers struggling with their sexuality and save the lives of countless young people who don't currently feel like they have a place in this world.".
He summarizes by saying "We can make this country the most accepting, the most inclusive, the most progressive country on Earth. What if in Britain anybody could be anything regardless of where they started? What if we all started from the same place. Now wouldn't that be something to be proud of?"
Channel 4's Director of Programmes, Ian Katz, comments "Tom Daley's Olympic triumph made him one of the faces of 2021 and we are delighted that he is using The Alternative Christmas Message as a platform to speak out and raise an issue close to his heart – and ours. It is shocking and depressing that that our most popular sporting league remains an environment in which no gay player feels able to openly be themselves and we hope Tom's message will make a small contribution to changing that."
Daley with husband Lance Black and their son Robbie in a recent Instagram post:
Carrying a Pride flag- protester interrupts World Cup game
Qatar's laws against gay sex and treatment of LGBTQ people were flashpoints in the first World Cup to be held in the Middle East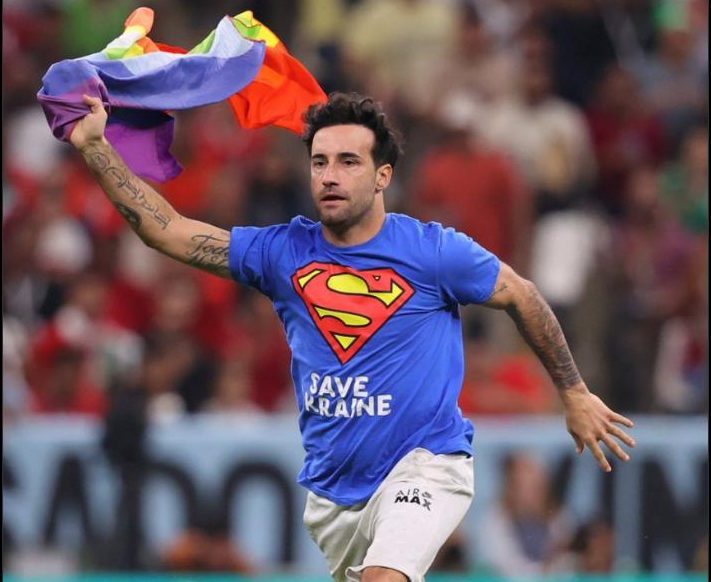 LUSAIL, Qatar – During a World Cup match between Portugal and Uruguay Monday, a lone protester ran across the field waving a LGBTQ+ Pride flag moments after the second half kickoff.
Video and still images show the man wearing a blue T-shirt emblazed with the Superman symbol and the phrase "SAVE UKRAINE" on the front and "RESPECT FOR IRANIAN WOMAN" on the back.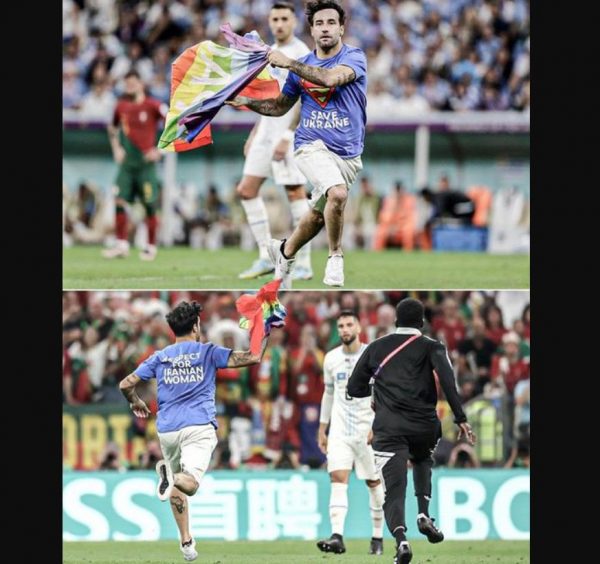 Qatari security personnel chased him down and then frog marched him off the playing field. Israeli Public Radio correspondent Amichai Stein tweeted video clips of the incident:
World Cup: A protester ran into the game holding a rainbow flag – with a 'Save Ukraine' and 'Respect For Iranian Women' shirt – @OrryLavie pic.twitter.com/s6dIcZLkQz

— Amichai Stein (@AmichaiStein1) November 28, 2022
FIFA had no immediate comment on the incident the Associated Press noted reporting that in the first week of the tournament in Qatar, seven European teams lost the battle to wear multi-colored "One Love" armbands during World Cup matches. Fans also complained they weren't allowed to bring items with rainbow colors, a symbol of LGBTQ rights, into the stadiums of the conservative Islamic emirate.
Qatar's laws against gay sex and treatment of LGBTQ people were flashpoints in the run-up to the first World Cup to be held in the Middle East. Qatar has said everyone was welcome, including LGBTQ fans, but that visitors should respect the nation's culture.