Tom Daley: Ban countries with death penalty for LGBTQ+ from Olympics
The Olympian went on to tell those in the audience that he was going to make it his mission to effect change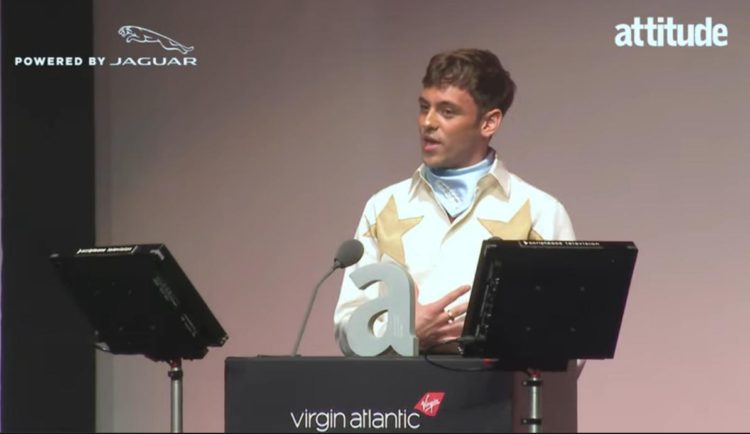 LONDON – In his speech accepting the 2021 Attitude Magazine Foundation's Virgin Atlantic Attitude Sport Award, 27-year-old British Olympic Gold Medalist and champion diver Tom Daley took aim at 10 countries that have death penalties for people who are LGBTQ+.
Daley told the audience at the Virgin Atlantic Attitude Awards held at The Roundhouse Theatre in Central London Thursday evening that the Olympic Games should ban those nations.
"These past Olympic Games there were more out LGBT athletes than at any of the previous Olympics combined, which is a great step forward," Daley said. "Yet there are still 10 countries that punish being gay with death that were still allowed to compete at the Olympic Games."
Reflecting on the fact that the Tokyo Olympics had for the first time ever more LGBTQ+ athletes competing, Daly said, "It's all well and good speaking about those things but I think it's really important to try and create change rather than just highlighting and shining a light on those things."
The Olympian champion diver went on to tell those in the audience at the Jaguar Motorcars co-sponsored event he was going to make it his mission to effect change.
"I want to make it my mission before the Paris Olympics in 2024 to make it so that the countries that criminalize and make it punishable by death for LGBT people are not allowed to compete at the Olympic Games," Daley said.
He then pointed out that those same countries shouldn't be able to host Olympic games either- then he called out the upcoming World Cup in Qatar;
"The World Cup coming up in Qatar has extreme rules against LGBT people and women and I think it should not be allowed for a sporting event to host in a country that criminalizes against basic human rights," he said.
Olympic champion @TomDaley1994 confirms he'll campaign for countries that carry the death penalty for being gay to be barred from all future Games as he accepts the Attitude Sport Award, supported by @jaguaruk.#AttitudeAwards pic.twitter.com/QtSi5UH2gV

— Attitude Magazine (@AttitudeMag) October 7, 2021
Olympic champions @TomDaley1994 and @mattydiver reflect on how LGBTQ representation in sport can help effect real change at the #AttitudeAwards. pic.twitter.com/NeC5qfDzKh

— Attitude Magazine (@AttitudeMag) October 7, 2021
Tom Daley calls for Olympic ban for countries with gay death penalty
Four men arrested for murder of prominent Northern Ireland activist, journalist
Lyra McKee killed while covering 2019 riot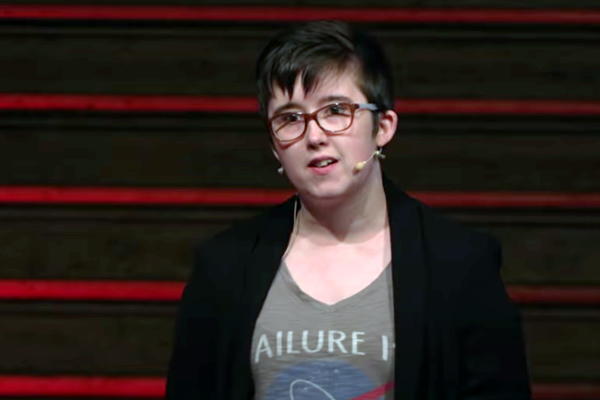 LONDONDERRY, Northern Ireland — Police in Northern Ireland on Wednesday arrested four men in connection with the 2019 murder of Lyra McKee, a prominent journalist and LGBTQ activist.
The BBC reported authorities arrested and charged the four men under an anti-terrorism law.
McKee was shot to death in Creggan, a predominantly Catholic neighborhood in Londonderry, a city that is near the Irish border, on April 18, 2019, while she was covering riots. Then-British Prime Minister Theresa May and then-Irish Prime Minister Leo Varadkar, who is openly gay, are among those who condemned McKee's murder.
The BBC reports the four men are in police custody in Belfast, the Northern Irish capital.
"These arrests are the culmination of a detailed two-year investigation into Lyra's murder and the events which preceded it," said Det. Supt. Jason Murphy of the Police Service of Northern Ireland in a statement. "The local community have supported the Police Service of Northern Ireland throughout the course of this protracted investigation and I wish to thank them for their continued support."
Detectives investigating the murder of journalist Lyra McKee on 18 April 2019 in Derry/Londonderry have arrested 4 men. pic.twitter.com/KiMUf4PQPX

— Police Service NI (@PoliceServiceNI) September 15, 2021
London Pride cancels, Manchester & Brighton also due to COVID protocols
"This goes against everything we want Pride in London to be or that we have been so far. No parade, no protest, means no Pride."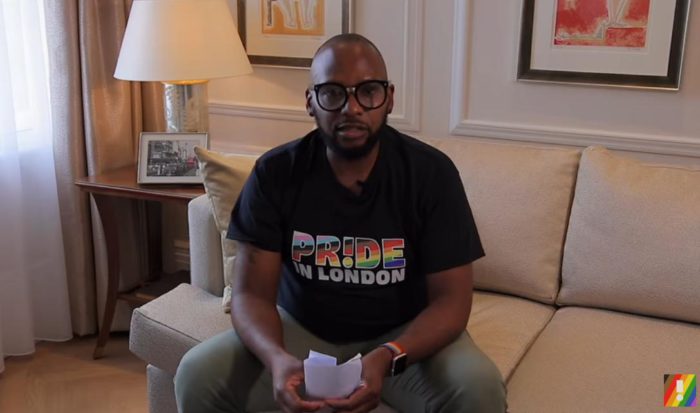 LONDON – Christopher Joell-Deshields, the executive director who leads the Pride team in London, announced Thursday in a YouTube video and on Facebook that the annual the Pride in London event will not go forward this year as a result of the difficulties in navigating the required British Government Covid-19 guidelines and legislation for large-scale events.
"Covid-19 has affected all of us, changing so much about how we live our lives and gather together in our communities. Pride like all other major public events has faced countless challenges with regards to safely holding one of the largest events in the capital. I'm truly saddened to say that Pride in London won't be happening in person this year," Joell-Deshields said.
"Last week was extremely challenging navigating the government's recently updated Covid-19 guidelines and legislation for large-scale public events like ours. It became clear when working through final risk assessments that our event could not provide the level of mitigation expected from the local public health team and the government. It would have meant losing the crucial parade and reducing the event to just two or three stages scattered across central London with limited tickets," he added.
Joell-Deshields continued noting; "This goes against everything we want Pride in London to be or that we have been so far. No parade, no protest, means no Pride. We cannot waiver from that commitment to you, our community. How are we meant to tell some people that they have tickets and others they don't?"
"I know that events like Manchester Pride, Brighton Pride and Notting Hill Carnival have also had to take these tough decisions based on the advice of public health officials. The team and I agree public health and well-being is our top priority. While our 2021 event may not be going ahead, Pride in London volunteers will not stop working to reinforce our engagement with LGBT+ communities to achieve our committed objectives towards diversity & inclusion and the elevation of issues that matter to us all," he said.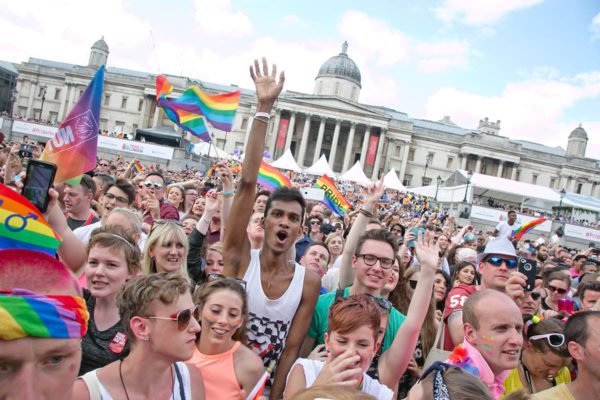 Pride in London, which attracts hundreds of thousands of people each year, was due to take place on 11 September. The London Pride event is in the top five ranked Pride events in terms of attendance in Europe along with Madrid, Berlin, Amsterdam, and Cologne.
Joell-Deshields stressed that "Tomorrow we start planning the return to the streets of London in 2022 with our most inclusive and queerest event yet ready to commemorate the 50th anniversary of the first pride in the UK. As we can continue demanding queer visibility unity and equality, we ask that the UK government declare 2022 as a year of queer."
"Thank you to the volunteers, organisations and agencies who have been working hard for the past 15 months and were also looking forward to marching and sharing their voices unapologetically. You have my deepest respect and our community's love. Please support queer venues, spaces, artists and performers this September. See you all soon and thanks again for your support," he added.
An important update from Pride in London about our 2021 event
Methodists now largest religious group in UK to permit same-sex marriages
"We are committed to creating a Church & society where no-one is made to feel ashamed or 2nd class because of who they are or who they love."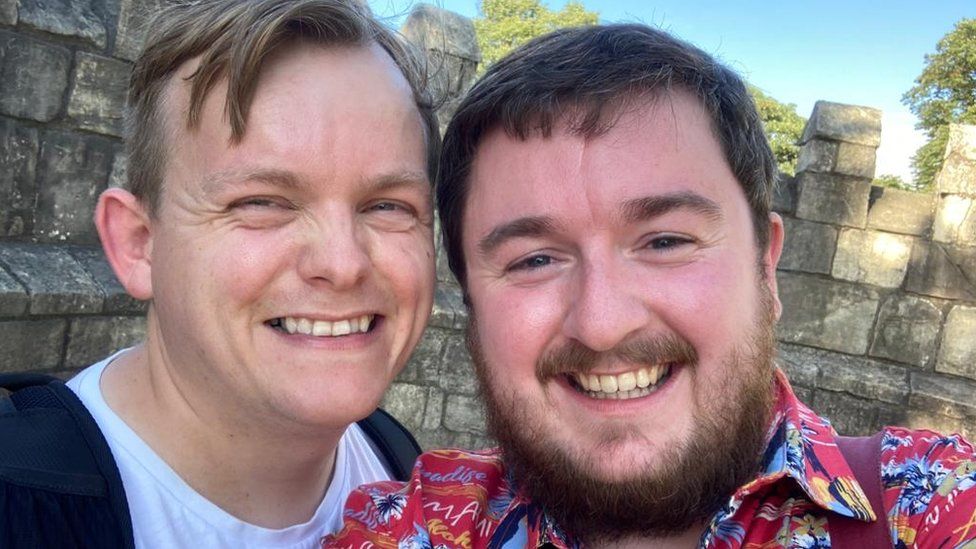 LONDON – At a conference of church leadership Wednesday, the Methodist Church, Britain's fourth largest Christian denomination, held a vote to change the definition of marriage to include same-sex marriage which overwhelmingly passed by 254 in favor with 46 against.
The BBC reported that 'Freedom of conscience' clauses are included to mean ministers will not be forced to conduct such weddings if they oppose the move. Same-sex marriage is not allowed in the Church of England or the Roman Catholic Church.
However it is welcomed in the Scottish Episcopal Church, the United Reformed Church and the Quakers in Britain. According to the BBC, Church officials hope the first same-sex weddings in Methodist chapels will take place in the autumn.
The Rev Sam McBratney, chair of the Dignity and Worth campaign group, which states its mission as "a new group of Methodists committed to the full dignity and worth of every person, whatever their sexuality or gender identity. We are committed to creating a Church and society where no-one is made to feel ashamed or second-class because of who they are or who they love." told the BBC it was a "momentous step on the road to justice" after many years of "painful conversations".
"Some of us have been praying for this day to come for decades, and can hardly believe it is now here," he said. "We are so grateful to our fellow Methodists for taking this courageous step to recognise and affirm the value and worth of LGBTQ+ relationships.
"We reassure those who do not support this move that we want to continue to work and worship with you in the Church we all love."
There were detractors to the decision by the conference to allow same-sex marriage in the UK. Carolyn Lawrence, a former vice-president of the Methodist Conference, warned there was a "significant minority" of Methodists who were "planning on leaving or resigning their membership" as a result of the vote. "Today is a line in the sand for many people and seen as a significant departure from our doctrine," she said.
Jason McMahon, who is training to be a Methodist minister, described it to the BBC as a "very emotional day".
"To be told by the Church that you are worthy, that we accept you, and that you can be married in the eyes of God in the church you call home with friends and family – it means a great deal.
"It has really helped me feel truly at home within a Church that is able to embrace anybody."
He said waiting for same-sex weddings to be permitted had been "painful" but added that he hoped the Methodist Church could now "begin to look outwards".
He is hopeful that he and his partner Ben Riley will be able to marry soon. They've have been together for 12 years but have waited to marry until they could have a church wedding, he told the BBC.