British Queer Instagram group spreads holiday cheer in London
This avoids potentially dangerous/triggering family environments instead building new connections with others who truly understand them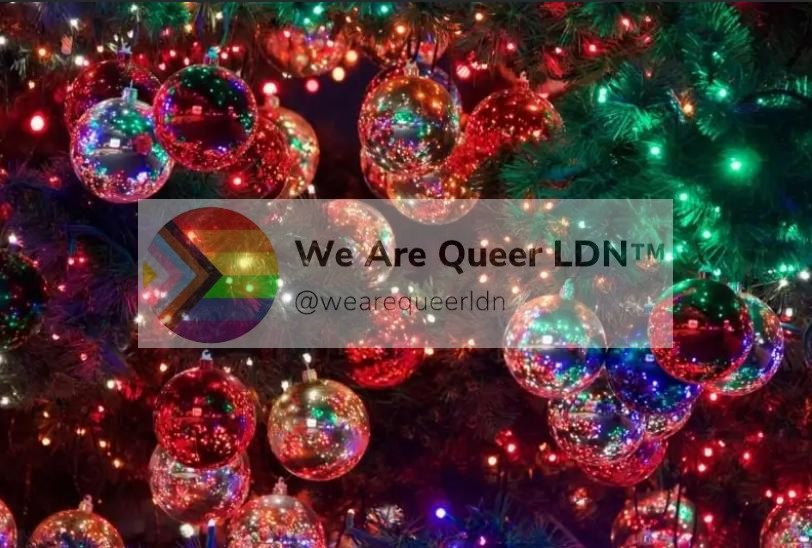 LONDON – Likely one of the most difficult annual rituals for some in the LGBTQ+ community are the celebrations around Christmas Eve and Christmas Day as many queer people do not have family to go home to and as a result it can be very lonely.
Understanding this dilemma, one group of gentle hearted queer people has found a way for others to gather together, albeit virtually as a result of the coronavirus pandemic.
PinkNewsUK reported that the results of a poll it conducted among its readers found that eight in every 10 readers have to hide who they really are during the festive period.

The British LGBTQ+ publication noted that more than 7,500 people responded to its survey, which was self-selecting but gives an insight into how this time of year can impact LGBT+ folk. Readers shared devastating stories about being forced into the closet at the dinner table, being deadnamed, and dealing with probing questions from relatives about when they're going to "settle down".
For LGBTQ+ Londoners there is a group that arranges casual get togethers and buddy-ups for queer women, trans, non-binary and gender non-conforming people – and they're working hard to make sure queer people who don't want to spend the Christmas Day alone and have a support network to fall back on, PinkNewsUK reported.
'We Are Queer London' was established to fill that lonely void in the holidays for for queer women, trans, non-binary and gender non-conforming people in greater London. The group through its social media presence, especially Instagram, arranges casual get togethers and buddy-ups.
Ky Richardson, one of the co-founders of We Are Queer London, told PinkNewsUK that it was "surprising" how fast the initiative took off once they posted about it.
"I myself spend Christmas alone most years, so I was thinking, 'I'd really like to have some companionship,'" Richardson explained. They came up with the idea of setting up a Google Doc that would enable queer people to "buddy up" and find others to spend the festive season with.
"COVID has gotten in the way unfortunately, but people haven't been left high and dry."
"People would say: 'I'm offering to host, it will be me and my mum and we have space for two people.' Someone else would go on and say: 'I'm looking for somewhere to go to for Christmas lunch or a walk on Boxing Day.' [December 26] People would see what's on offer and what people are wanting and then they would connect.
We would just encourage them of course to do their own due diligence, the same way as you would if you met any stranger online, so it was more facilitating them to buddy up rather than organising any specific location," Richardson told the publication.
While the current Omicron variant and the Delta variant remain a critical issue in the UK, the We Are Queer London group is adapting and remaining flexible Richardson indicated.
"It [In-person meets] has slowed down because of the COVID numbers and we have actively, from a place of moral responsibility, stopped encouraging it," Richardson explained. "There's still a group of around 30 people who will make plans last minute on the day between themselves, and that group is typically shift workers who don't know what days they'll have off. We've facilitated the Instagram group so they can be like: 'OK, I'm off today – is anyone around for a walk?'
The pandemic has thrown a roadblock in their way, but the group founders are determined to make sure the initiative keeps growing so queer people can be provided with the spaces they crave and need.
"We're basically looking at ways where we can pool our resources as a community to create more opportunities for togetherness and play, essentially," Richardson said. "It gives us an amazing opportunity to be inclusive about how we create a chosen family."
But for now the primary goal is to make sure there's a safe space, even virtual, to ensure that no one queer person is left alone at Christmas.
British Prime Minister called out for his Pride message: 'You are a disgrace'
Johnson's Tory-led government seemingly has been more indifferent to Britain's LGBTQ+ community- Trans persons in particular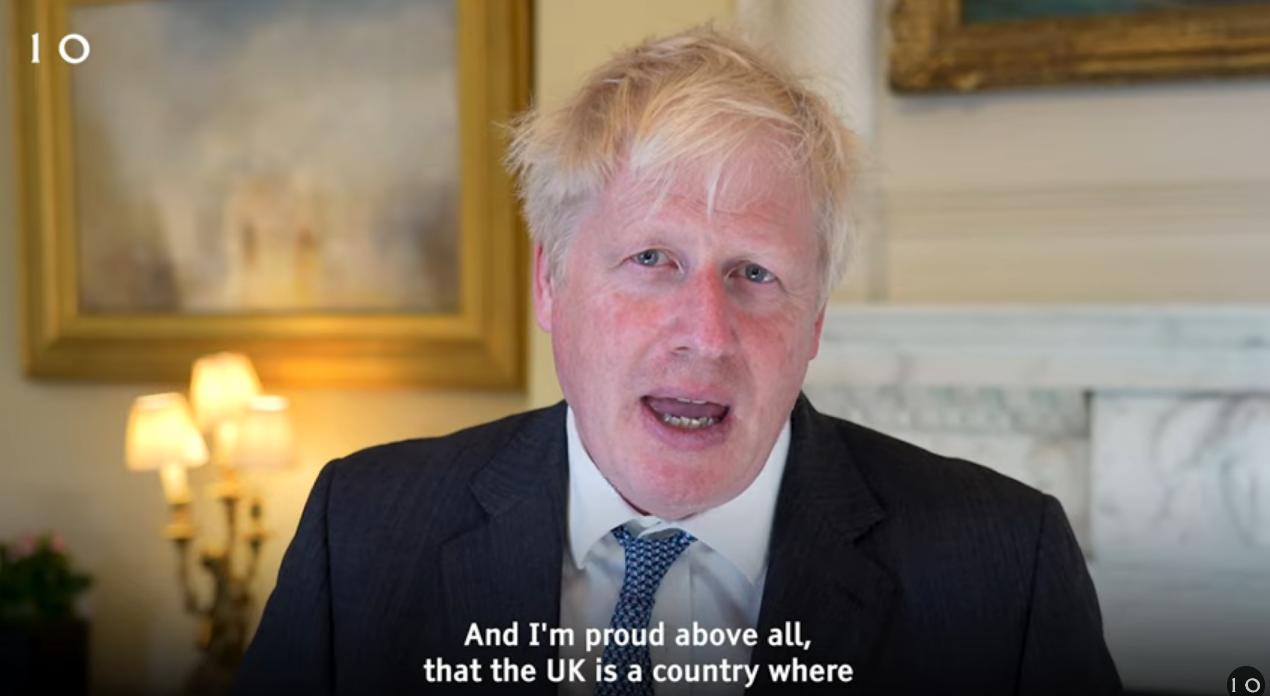 LONDON – UK Prime Minister Boris Johnson released a video message on his official Twitter and YouTube platforms celebrating Pride Month in the UK Tuesday under the social hashtag of Why #Pride Matters.
The Prime Minster said that he was "proud" at how many LGBTQ+ people have sought asylum in the UK from Afghanistan following the Taliban invasion. However, within literal minutes he was promptly criticised and in the Twitter pushback was told by one user: "You're an absolute disgrace." Another chimed in saying his remarks were hollow.
Johnson's Tory-led government seemingly has been more indifferent to Britain's LGBTQ+ community- Trans persons in particular, according to activists and the largest LGBTQ+ advocacy group, Stonewall UK.
Last Spring, in early April, Bloomberg reported more than 80 organizations pulled out of the U.K. government's international LGBTQ conference due to be held in June after Boris Johnson dropped a plan to ban so-called conversion therapy for transgender people.
One of Johnson's top ministers, Liz Truss, was accused of using LGBTQ+ rights to 'rile up her right-wing support base' PinkNewsUK reported.
As minister for women and equalities, Truss scrapped much-needed reform to the Gender Recognition Act (GRA) despite reams of evidence showing there was strong public support for changes that would make accessing legal gender recognition easier for the trans community.
She has also been criticised for her appointments to the Equalities and Human Rights Commission, and her defences of "gender critical" views.
There has also been outcry by LGBTQ+ advocacy groups and activists over the government's willingness to deport LGBTQ+ and other asylum seekers on one-way flights to Rwanda. That decision has been criticised by queer and trans advocates as "hugely concerning" and "potentially life-threatening."
Canadian LGBTQ+ news outlet Xtra reported that Queer and trans asylum seekers in the U.K. already face inhospitable conditions. Sebastian Rocca, founder of charity Micro Rainbow, which provides safe housing to LGBTQ2S+ asylum seekers and refugees in the U.K., tells Xtra in a statement: "One of the most common reasons for the Home Office to refuse asylum to LGBTQI+ people in the U.K. is because they do not believe they are LGBTQI+," adding that the policy has "potentially life-threatening consequences."
The "single young men" framing of the policy means any gay or bisexual men, transmasculine people or transfeminine people—including those seeking asylum in the U.K. for their sexual orientation or gender identity—could potentially be deported to a country with a long history of human rights violations.
In Tuesday's message the prime minister referred specifically to Afghan LGBTQ+ persons fleeing the notoriously intolerant Taliban which regained control of the country after the Biden Administration pulled the remaining armed forces out of the war-torn country last summer after nearly 21 years of conflict.
"LGBT Afghans coming to this country because we're a place that is welcoming and understands that type of intolerance is simply unacceptable in this country," Johnson said.
Why #Pride Matters. pic.twitter.com/XBj8frzPo3

— UK Prime Minister (@10DowningStreet) June 20, 2022
Johnson added: "I'm proud above all that the UK is a country where you can be however you want to be and you can love whomever you choose to love no matter who you are or where you come from or what your background is.
"So it's great to see Afghans coming to this country with that knowledge and seeing our country as a beacon of hope.
"That's why Pride Month matters so much. And I hope you have a great Pride."
Twitter was less than impressed:
Boris Johnson said gay people are 'tank top bum boys' and compared equal marriage to three men marrying a dog.

The Tory government have also deported LGBT+ people to countries where LGBT+ people are criminalised and more Tory MPs voted against same sex marriage than for it. https://t.co/cqgNBjCI87

— George Aylett (@GeorgeAylett) June 21, 2022
Hollow words from a Government who are still content with deporting LGBT+ refugees to Rwanda despite their own report stating that LGBT+ people "regularly" face "arbitrary arrest and detention by state security forces without due process." #ToriesOut https://t.co/0qB0U9irIQ

— Chris Davis 🇺🇦 (@Chris_Davis1998) June 21, 2022
You're an absolute disgrace. https://t.co/pBWcti3UbX

— Richard 🌈🏳️‍🌈 (@RJFirth) June 21, 2022
Why Pride matters | Prime Minister Boris Johnson:
Kevin Spacey formally charged with four counts of sexual assault in U.K.
The 62-year-old actor is due to make an appearance at the Westminster Magistrates' Court at 10:00 (BST) on Thursday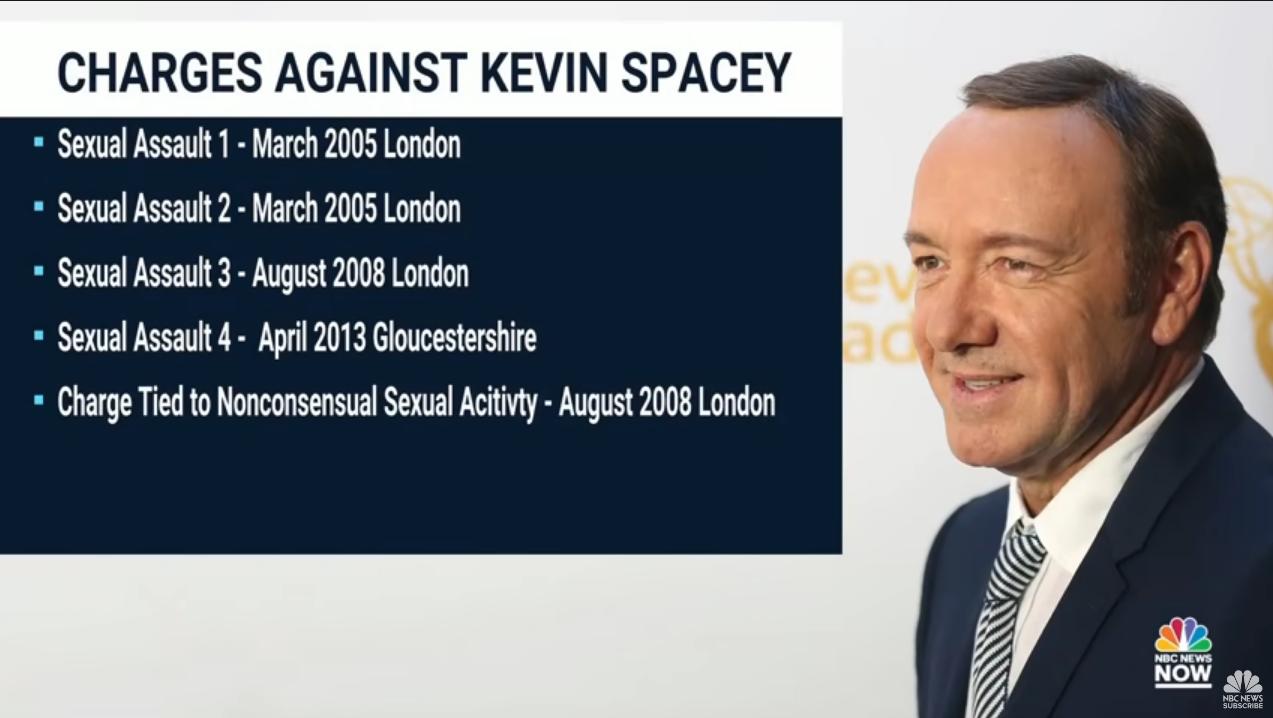 LONDON – The Metropolitan Police of London confirmed that Kevin Spacey was formally charged Monday with four counts of sexual assault against three men and additionally has also been charged with causing a person to engage in penetrative sexual activity without consent.
The 62-year-old actor is due to make an appearance at the Westminster Magistrates' Court at 10:00 (BST) on Thursday. Last month, the Crown Prosecution Service authorized charges against him.
According to the BBC the charges follow a review of evidence gathered by the Metropolitan Police. He has been charged with two counts of sexual assault on a man, now in his 40s, in London in March 2005.
He has also been charged with one count of sexual assault and one count of causing a person to engage in penetrative sexual activity without consent on a man, now in his 30s, in August 2008 in London.
Both incidents taking place when Spacey was the artistic director of The Old Vic theatre in London's West End theatre district between 2004 and 2015.
The fourth charge of sexual assault is on another man, who is also now in his 30s, in April 2013 in Gloucestershire.
The Oscar winning actor has previously stated that he would voluntarily appear before a British Court.
Allegations surfaced against Spacey in November of 2017 when The Old Vic theatre told the BBC that it had received 20 personal testimonies of alleged inappropriate behaviour by Spacey. The actor's behaviour was alleged to have ranged from making people feel uncomfortable to sexually inappropriate behaviour, an investigation by the theatre found.
The BBC reported at the time that no-one alleged rape but three people told the Old Vic they had contacted the police, while 14 of the 20 complainants were told by the investigators that they should consider going to the police.
There were 20 individual allegations and 16 were former staff, all of whom were men.
Lewis Silkin, the external law firm engaged by the theatre to conduct the investigation, said more than half the allegations were said to have taken place inside the Old Vic.
RELATED: British Prosecutors Charge Kevin Spacey With Four Counts of Sexual Assault:
The Mayor of London: Met Police riddled with "overt systemic" homophobia
He believed the new commissioner would also need to "win back the trust and confidence of too many Londoners that has been lost"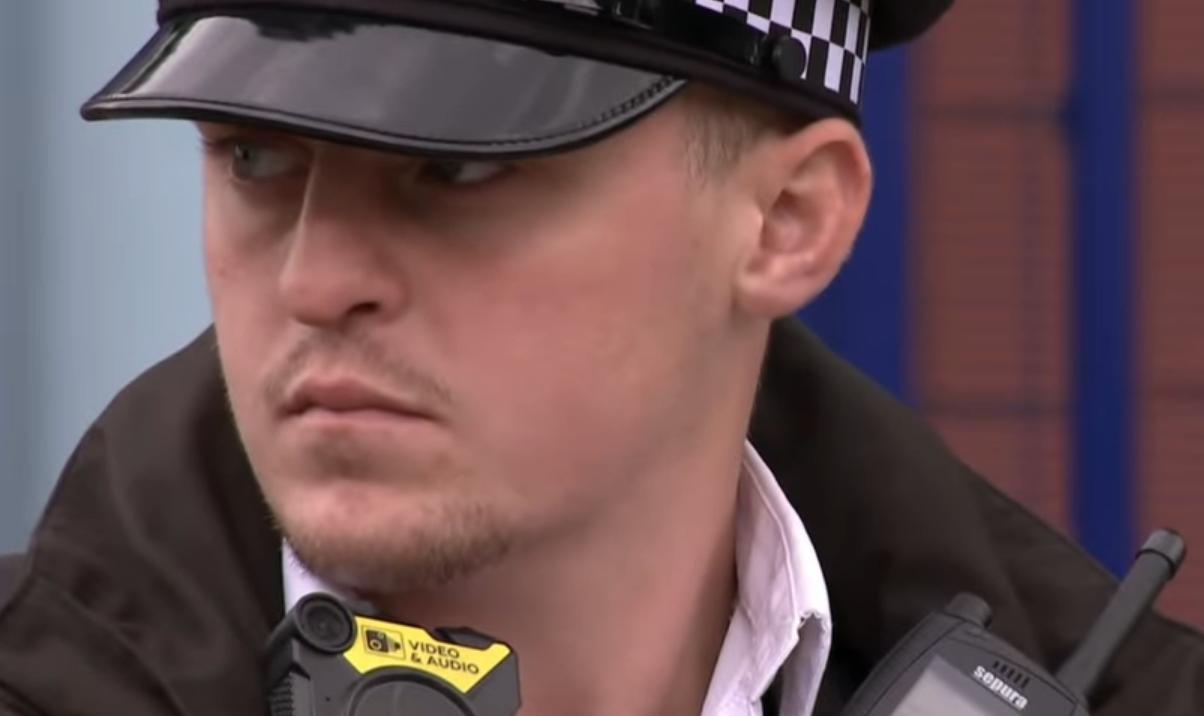 LONDON – Appearing on a Sunday morning talk show on the BBC, London's Mayor Sadiq Khan said that the public was "losing trust and confidence" in the Metropolitan Police force. Khan harshly condemned the current environment which had led to the departure of former Met commissioner Cressida Dick.
PinkNewsUK had reported in April that Dick had stepped down from the post in February after a damning report from England's police watchdog exposed a troubling pattern of homophobia and bullying within the Met.
The report also detailed how homophobic, racist, misogynist and violent comments made by officers were dismissed as "laddish banter."
She said she initially had "no intention" of standing down after the scandal despite the fact she had been placed "on notice" by the mayor of London Sadiq Khan. But Dick changed her mind and admitted in a statement that Khan's scepticism in her ability to lead the force left her "no choice" but to resign early.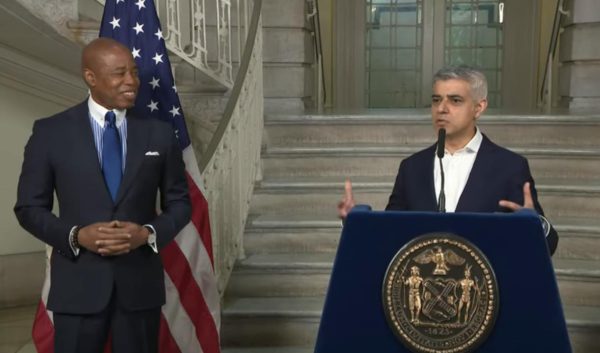 Speaking to the BBC, the Mayor noted:
"It's possible to recognise the dedicated, decent, brave officers we have in the police service but to also say we've got real problems – real problems that have been shown recently in relation to evidence of overt systemic sexism, racism, homophobia, discrimination, misogyny – which need to be addressed."
He added that it was important that the new commissioner – who will be appointed by the UK's Home secretary Priti Patel – takes steps to "address those challenges". He believed the new commissioner would also need to "win back the trust and confidence of too many Londoners that has been lost."
"One of the reasons why I lost confidence in the previous commissioner was my lack of confidence in her plans to address the two big issues – addressing the systemic racism, sexism, homophobia and misogyny, but also the trust and confidence required from our public when you police by consent," Khan said.
Deputy commissioner Sir Stephen House has been temporarily serving as acting commissioner as the recruitment process continues, PinkNewsUK reported.
According to the Guardian, the process has been whittled down to the final two candidates: Mark Rowley, a former head of counter-terrorism, or Nick Ephgrave, currently part of Met's top leadership.