LA County Parks & Recreation awarded $15.5 million in grants
"Many thanks to Governor Newsom for his announcement of funding the County of Los Angeles' Department of Parks & Recreation will receive"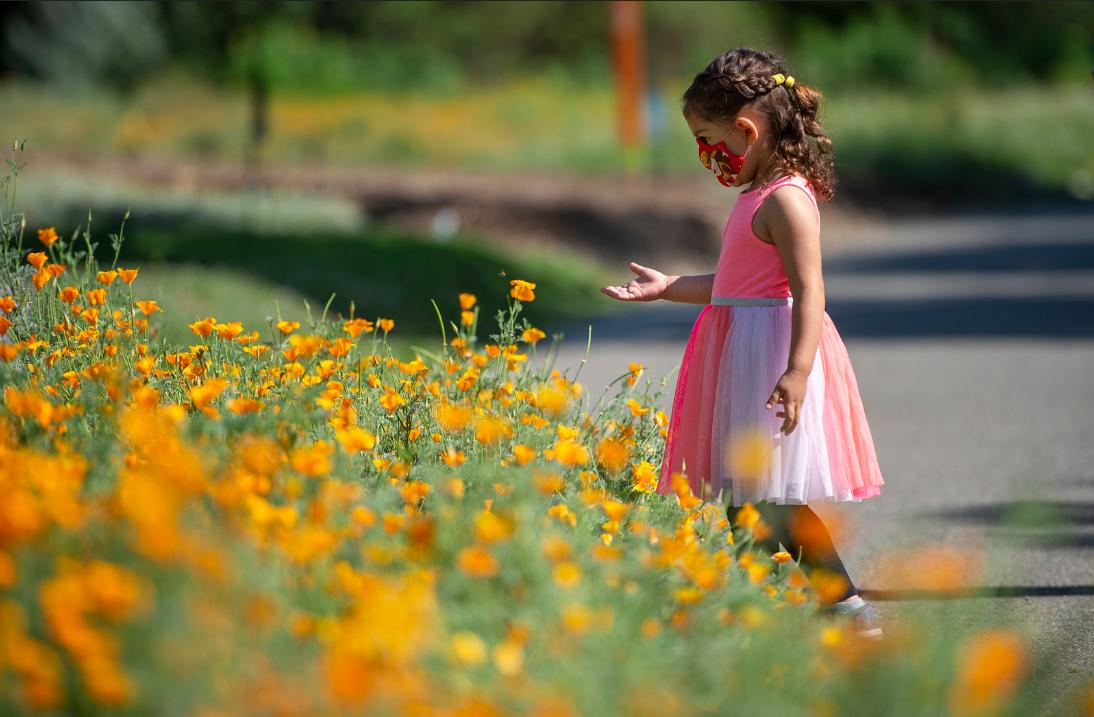 ALHAMBRA, Ca. – On December 8, 2021, the LA County Department of Parks and Recreation's Grants Division was awarded 15.5 million dollars in funding as part of Governor Newsom's "Outdoors for All" Initiative, a project that aims to allocate $548.3 million in grant funding to deliver new parks and revitalize older parks all across California.
Of the 15.5 million, 6.9 million will be assigned to the modernization of Ruben Salazar Park, which will help address public health disparities by providing enhanced spaces for physical activity and ways to foster community connections. The other 8.5 million will be assigned to the creation of the San Gabriel Valley Aquatic Center Park.
"Many thanks to Governor Gavin Newsom for his recent announcement of Statewide Proposition 68 funding that the County of Los Angeles' Department of Parks and Recreation will receive to provide a new park (Aquatic Center) to an area of very high park need, and also transforming Salazar Park, a well-loved and well-used park, serving a densely populated high need community within the First Supervisorial District," said Los Angeles County Supervisor Hilda L. Solis, First District. "The new San Gabriel Valley Aquatics Center will provide families across the region with access to lifesaving aquatics programs. In addition, the improvements planned for Salazar Park in East Los Angeles will help provide critical cultural activities and spaces for recreation that will build community social cohesion and introduce new programming opportunities around physical and mental-well-being to ensure our communities thrive."
In a press release issued by the California Department of Parks and Recreation, "People from all over the world come to visit our state's natural wonders, but too many Californians today lack access to parks and open space in their own neighborhoods," said Governor Gavin Newsom. "This historic investment will revitalize and create new parks in more than 100 local communities, dramatically expanding access to the outdoors across the state and ensuring more Californians from all walks of life can reap the benefits for our hearts, minds and bodies for generations to come."
Salazar Park is over 80 years old — the land was purchased in 1938 and developed into a park by 1940 — yet has undergone only minor updates over the past few years. The community of unincorporated East Los Angeles has very high park need, with only 1.0 park acre per 1,000 residents, so this investment to improve an aging and well-loved facility to meet the demands of the community is essential. The aquatic center will provide learn to swim lessons, drop-in swim, water fitness classes, lap swim and more. The new aquatic facility will feature a playground and picnic shelters.
"We are thrilled to have been awarded over $15 million from Proposition 68 as part of Governor Newsom's Outdoors For All Initiative that will provide significant funding to two critical projects located in our highest need communities as identified by the Los Angeles Countywide Parks & Recreation Needs Assessment," stated County of Los Angeles Department of Parks and Recreation Director, Norma E. García-González. "Los Angeles County Department of Parks and Recreation partnered with Community-Based organization and community members to design these projects that will bring significant recreational programs serving our most vulnerable communities."
********************
About Los Angeles County Department of Parks and Recreation
The Los Angeles County Department of Parks and Recreation manages 183 parks and operates a network of 70,079 acres of parkland, 475 sports amenities such as futsal, basketball, tennis, lawn bowling and multipurpose fields, 42 swimming pools, 15 wildlife sanctuaries, 10 nature centers that serve as a refuge for over 200 animals, 14 lakes – 3 of which are boating and swimming lakes, 5 equestrians centers, more than 210 miles of multi-use trails for hiking, biking, and horseback riding, and the largest municipal golf system in the nation, consisting of 20 golf courses.
The department also maintains four botanical centers: The Los Angeles County Arboretum and Botanic Garden, the South Coast Botanic Garden, Descanso Gardens, and Virginia Robinson Gardens. The department also owns and operates the iconic Hollywood Bowl and John Anson Ford Amphitheatre, which are jointly managed with the Los Angeles Philharmonic Association, providing County residents with valuable entertainment and cultural resources. 
LA Mayor Garcetti volunteers at Project Angel Food's Thanksgiving
For many of the celebrities joining Project Angel Food's Thanksgiving Day volunteers the day was about sharing the experience with family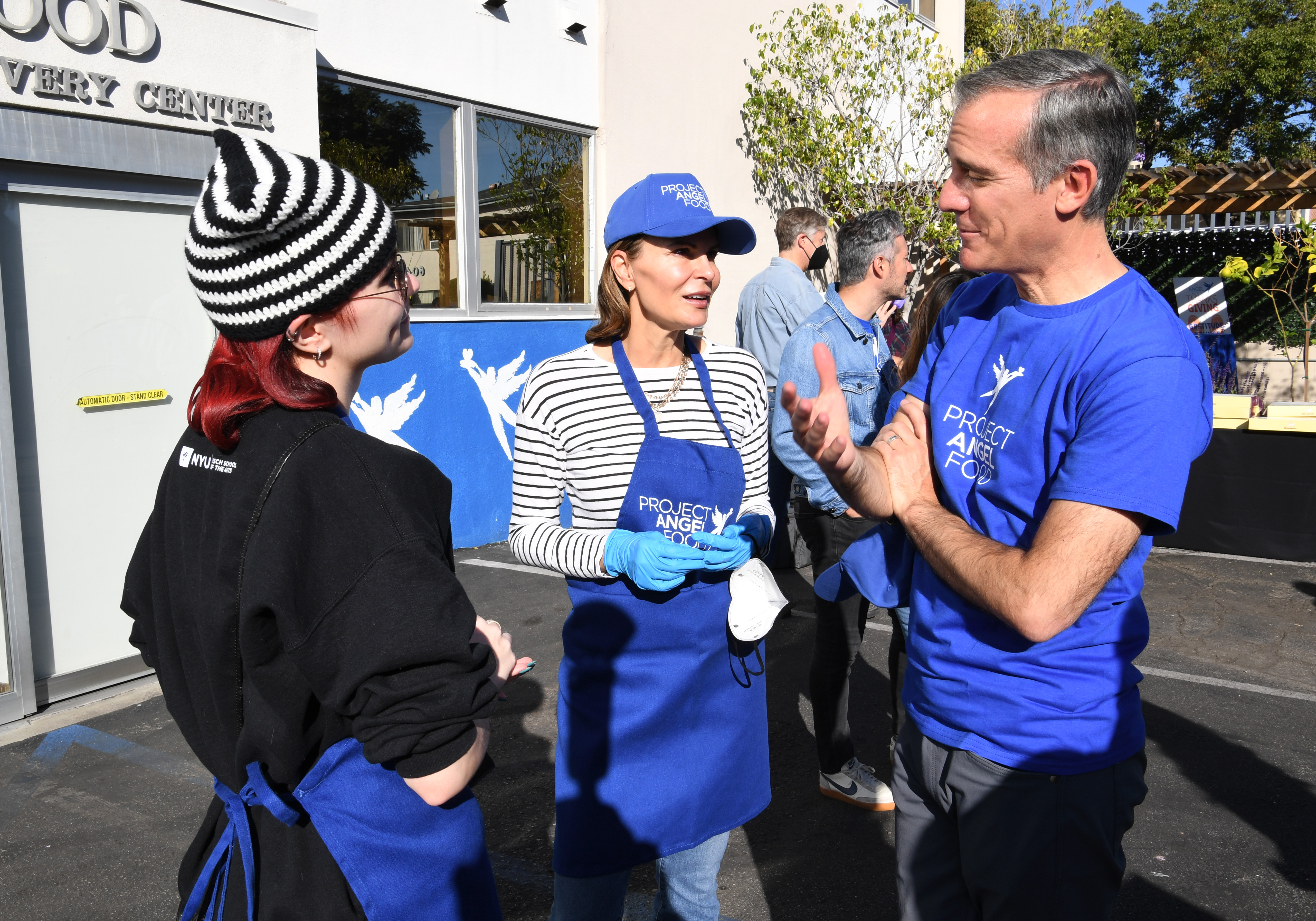 LOS ANGELES – In the early morning hours of Thanksgiving Day, Mayor Eric Garcetti joined Project Angel Food CEO Richard Ayoub, celebrity supporters and 225 volunteers and staff to prepare and deliver 7,400 meals on Thanksgiving Day to seriously ill and housing insecure people throughout 4,700 square miles of L.A. County.
"Mayor Eric Garcetti epitomizes what it is to be part of a community and lift one another through compassion and service. As he rolled up his sleeves and helped plate meals, he brought attention that while this is a day most of us are surrounded by people we love, we need to remember that some people don't have that," Project Angel Food CEO Richard Ayoub said. "He reminded us that no Angeleno should be alone and with a warm smile, a conversation and a meal, our volunteers can change the entire day for our clients, become angels in the City of Angels," Ayoub added.
For many of the celebrities joining Project Angel Food's Thanksgiving Day volunteer pool, the day was about sharing the experience with family. Volunteers included Lisa Rinna and husband Harry Hamlin; "Weird Al" Yankovic with his wife Suzanne and daughter Nina.
Also volunteering was Out actor and singer Cheyenne Jackson and husband Jason Landau with their twins Willow and Ethan. Jackson said the couple brought the children because, "I want to teach my kids to be grateful and thankful for everything that we have, and when you have the capability to give to other people, do it."
He also talked about the death of friend Leslie Jordan, a Project Angel Food supporter who died exactly one month earlier. "He was one of my best friends and it hit me really, really hard like so many people," he said.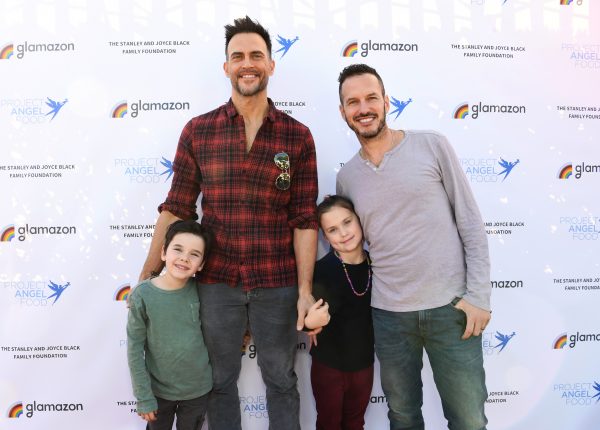 American Idol favorite Ava Maybee with her mother, and Melissa Rivers with son Cooper Endicott, continuing her mother Joan Rivers' legacy of volunteering on Thanksgiving.
Avatar: The Way of Water star Trinity Bliss brought her parents just weeks before the December 16 release of the highly anticipated film. "I'm so honored to work alongside so many people to bring a warm, delicious, tasty meal to people in need."
Of her much-anticipated film, Avatar: Way of Water, Trinity added, "Avatar was amazing, but I think Avatar: The Way of Water is going to be just so much more dramatic and be an experience people are going to need to experience in theaters."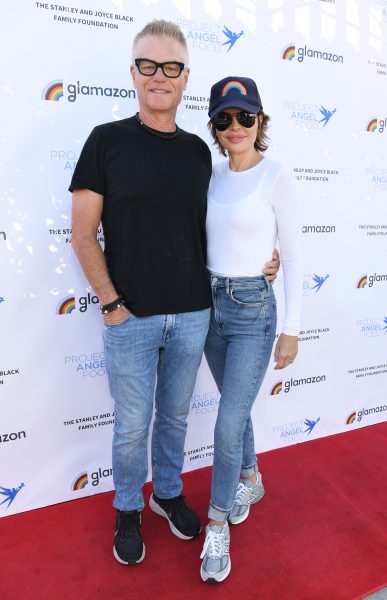 Lisa Rinna reflected on the fact that Project Angel Food is the primary source of food for most of its clients. "It's so important because that is going to be their only meal of the day." her husband Hamlin added, "to have the opportunity to give back is amazing."
Other celebrities included Eileen Davidson (RHOBH, Days of Our Lives), Peter Porte (Days of Our Lives), Juan Pablo Di Pace (DWTS, Fuller House), Olympian Tai Babilonia, Tim Bagley (Gracie & Frankie, Will & Grace), Michael Hitchcock (The Resort, Crazy Ex-Girlfriend), Lawrence Zarian (The Kelly Clarkson Show), Marc Malkin (Variety), James Wallington and Will Jardell (Amazing Race Season 32 winners), Romeo Escobar (Survivor 42 runner-up), and parenting author Donna Tetreault.
The 7,400 meals being delivered on Thanksgiving included 1,600 traditional turkey dinners to critically ill men, women, children and their caregivers, 5,600 Medically Tailored Meals and breakfasts regularly scheduled for Thursday delivery, and another 200 meals were provided to Project Angel Food community partner PATH for residents for two of PATH's Interim Housing and Permanent Supportive Housing sites.
Volunteers provided contactless "drive-by" pick-up of the meals which were then delivered to Project Angel Food clients. Traditional Thanksgiving dinners consisted of roasted turkey, root vegetables, stuffing, gravy, cranberry sauce and a slice of pumpkin cheesecake. Vegetarian meals were also provided.
The meal was sponsored by the Stanley and Joyce Black Family foundation with Glamazon (Amazon's affinity group for the LGBT+ community) sponsoring the volunteer event.
Project Angel Food CEO Richard Ayoub noted that Project Angel Food strives to end food insecurity and improve health outcomes of critically ill men, women and children in Los Angeles with Medically Tailored Meals, delivered with care and compassion.
Over 2,500 clients are fed daily. Project Angel Food delivers 1.3 million meals each year.