Ten top ranked national news stories of 2021
The Capitol insurrection, COVID cancellations, and a new LGBTQ+ ally president topped this year's LGBTQ news stories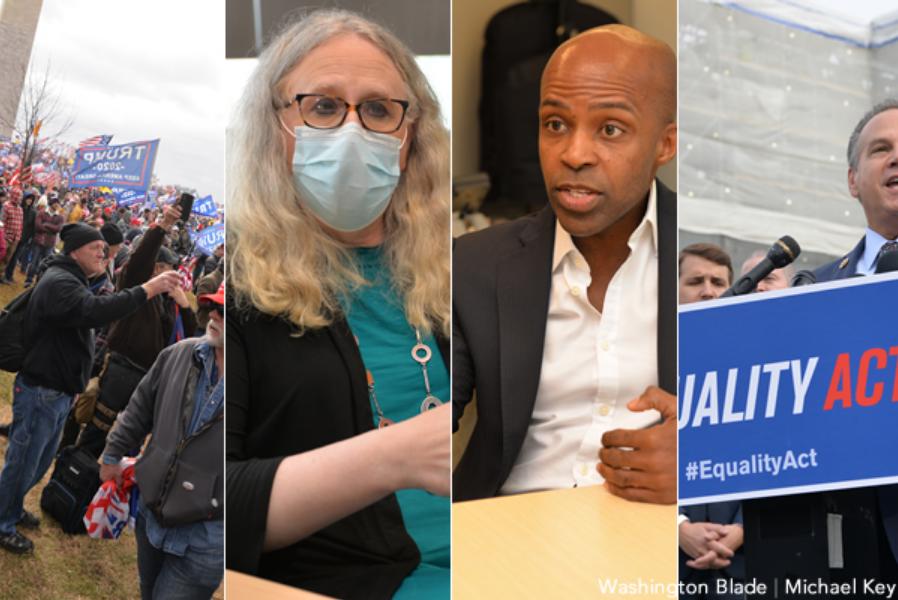 WASHINGTON – The Capitol insurrection, COVID cancellations, and a new president along with the first ever Senate confirmed presidential cabinet post topped this year's LGBTQ news stories.
#10: RNC creates Pride outreach coalition
Republican National Committee chair Ronna McDaniel, in a video announcement at a Log Cabin Republicans dinner honoring Melania Trump and attended by former President Trump, announced the creation of the LGBTQ outreach Pride coalition — much to the consternation of internal critics.
Following calls on her to resign from anti-LGBTQ conservatives like Family Research Council's Tony Perkins, McDaniel defended the coalition by saying it was a continuation of the LGBTQ initiative set up with Trump's 2020 re-election campaign — which had enjoyed success by doubling the LGBTQ vote for the Republican candidate after the previous election.
McDaniel wrote an apology letter for poor communication over the creation of the new initiative, which led Democrats to criticize Republicans over the perceived backtracking on LGBTQ outreach.
#9: Caitlyn Jenner makes waves as gubernatorial candidate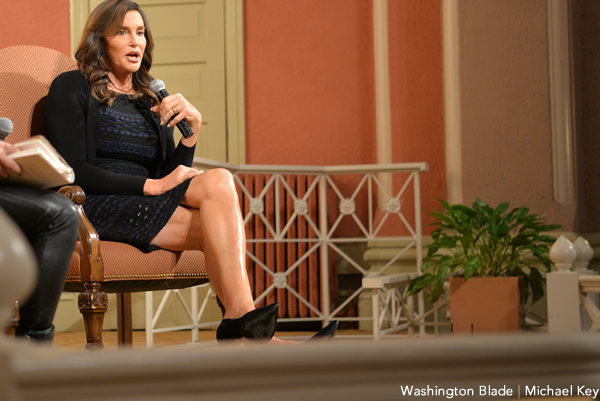 Caitlyn Jenner, in a free-for-all recall election in California seeking to unseat Gov. Gavin Newsom, made waves as a Republican gubernatorial candidate, breaking new ground as a transgender candidate while facing criticism for being out of touch.
Early on in her candidacy, the former Olympic champion said she was against transgender kids in sports, citing a need to protect women in athletics. Jenner later modified her position by saying potential players who had gone through the transition process should "of course" be allowed to compete.
Jenner became an unlikely popular figure in conservative media, appearing on Fox News and Newsmax. At the end of the day, Jenner performed poorly at the polls, taking two percent of the vote as Newsom survived the recall effort.
#8: Supreme Court issues non-ruling in Fulton case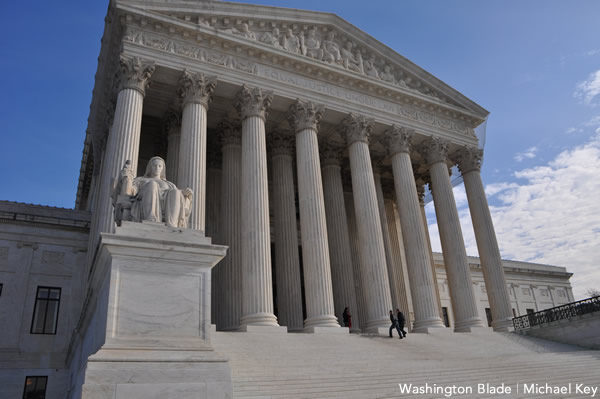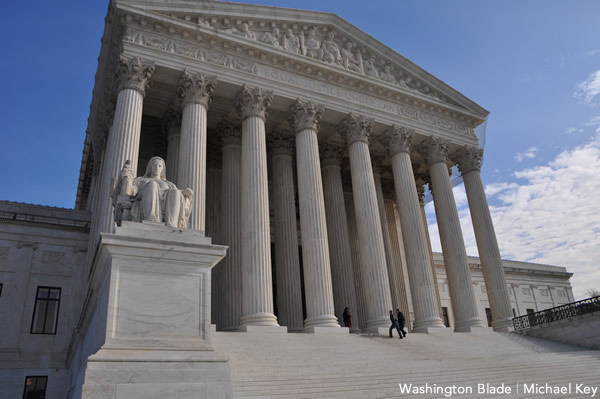 The U.S. Supreme Court, amid fears it would render a decision this year that would enable sweeping discrimination against LGBTQ people, instead handed down a ruling in Fulton v. City of Philadelphia limited to the facts of the case at hand and with no major impact.
In a unanimous ruling, justices issued a decision in favor of Catholic Social Services, which sought a First Amendment ruling to refuse child placement with same-sex couples over a religious exemption, but it was based on the approach of the City of Philadelphia enforcing its contract with the foster care agency.
Both sides claimed a small victory. The American Civil Liberties Union, which had argued before the Supreme Court in the case and sided with the City of Philadelphia, said the ruling "will not affect any foster care programs that do not have the same system for individualized exemptions that were at issue here."
#7: In grim record, at least 46 trans people killed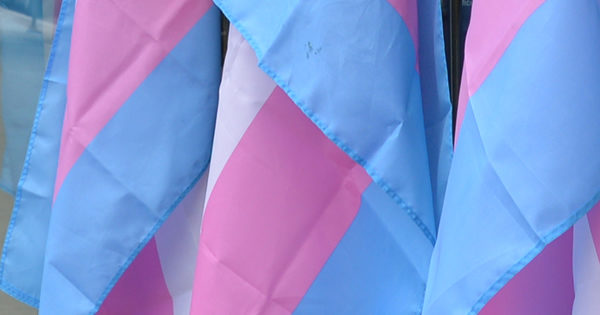 In a grim milestone, at least 46 trans people were killed by the time of the Transgender Day of Remembrance, reaching a new record in the time the deaths have been recorded.
The violence has consistently had a disproportionate impact on transgender women of color. Among the deaths that brought the tally to a new record was Marquiisha "Quii" Lawrence, a 28-year-old Black transgender woman who was shot and killed in her home in Greenville, S.C.
President Biden, who had brought attention to the issue of anti-transgender violence as a presidential candidate, issued a statement recognizing the 46 deaths and was briefed on the issue in the days preceding the Transgender Day of Remembrance.
#6: HRC president fired after being ensnared in Cuomo affair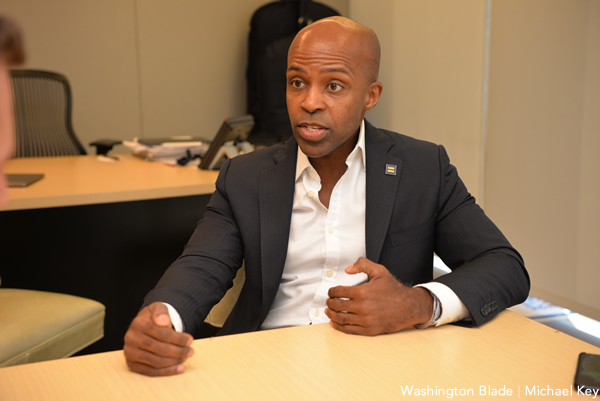 The president of the Human Rights Campaign was terminated from his role this year following a public dispute with the board after being ensnared in the damning report detailing accusations of sexual misconduct against former New York Gov. Andrew Cuomo.
Alphonso David, who had previously served as counselor to Cuomo, was revealed in the report by New York Attorney General Letitia James to have kept a personnel file of one of the female employees alleging sexual misconduct, then having assisted in efforts to leak that file to the media in an attempt to discredit her.
Although the Human Rights Campaign board initially stood by David, the organization later announced an independent review of the matter, which David said he welcomed. David took to Twitter and criticized the board for having privately asked him about resigning, which prompted his termination.
#5: Equality Act all but dead in Congress
Although LGBTQ rights advocates had hoped President Biden would be able to deliver a campaign promise to sign into law a long-sought update to federal civil rights law that would include LGBTQ people, legislation known as the Equality Act is all but dead in Congress.
The U.S. House, acting quickly on Biden's campaign promise to sign the Equality Act into law within the first 100 days of his administration, approved the legislation in February, although it had fewer Republican votes compared to when the chamber last passed the measure.
But the Equality Act, contorted by critics who claim it endangers women's rights and privacy, went no further in Congress. In the Senate, where Sen. Joe Manchin has declined to support the bill and Sen. Susan Collins has withdrawn her support, the legislation never got a vote — either on the floor or in committee. No route appears open for the bill.
#4: Buttigieg, Levine confirmed by Senate in historic firsts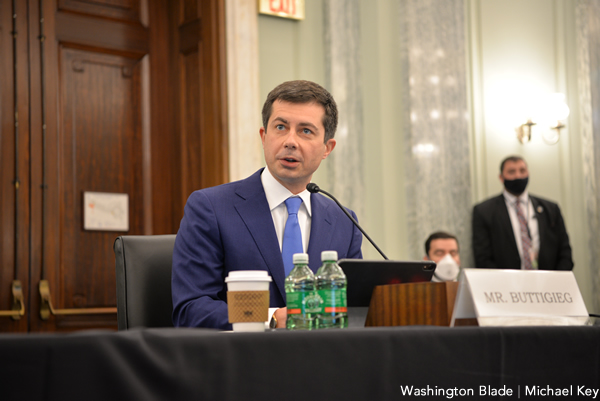 In a pair of historic votes, the U.S. Senate this year confirmed two presidential appointees — Pete Buttigieg and Rachel Levine.
Buttigieg was confirmed as transportation secretary, making him the first openly gay person to win Senate confirmation for a Cabinet-level role, while Levine was confirmed as assistant secretary for health, making her the first openly transgender person to win Senate confirmation for any position.
Although Buttigieg was confirmed with bipartisan support, that quickly faded as the supply chain crisis emerged and Buttigieg faced criticism for his approach to the issue.
For Levine, the road was different. During her confirmation hearing, Sen. Rand Paul (R-Ky.), began his inquiries with the words "genital mutilation," which formed the basis of his rude, invasive questioning. Levine was confirmed by a narrow vote of 52-48.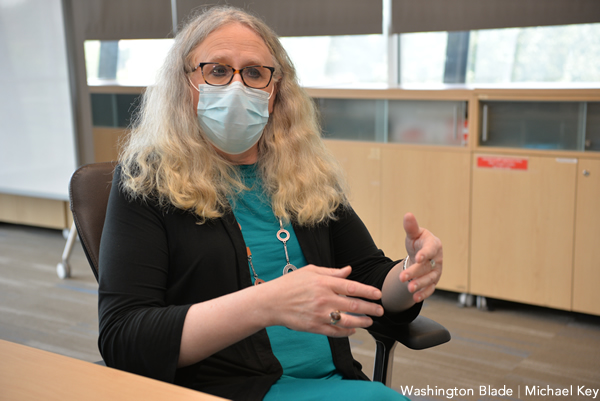 #3: States enact measures against trans kids in sports, health care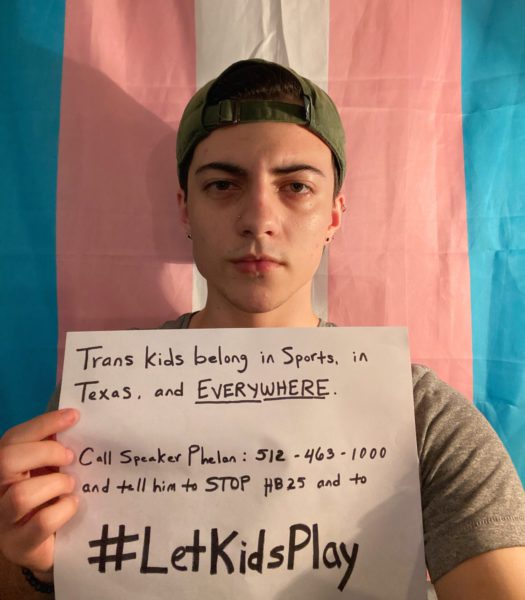 Drawing on anti-trans fears, states defied federal laws against discrimination and enacted measures against transgender kids in sports and access to health care, leading to a wave of litigation in the next battleground for the LGBTQ movement.
Among the most stringent measures was a law in Arkansas, enacted by the legislature overriding a veto of Gov. Asa Hutchinson, instituting criminal penalties for providing transition-related care to youth. Other states, including Florida, Texas, and West Virginia, enacted laws prohibiting transgender girls from participating in school sports consistent with their gender identity.
LGBTQ legal advocates were quick to file litigation against the measure in court, arguing they violate the prohibition on discrimination based on sex in schools under Title IX of the Education Amendments of 1972. Judges have blocked measures from going into effect as litigation moves forward.
#2: Coronavirus continues to rage, nixes LGBTQ events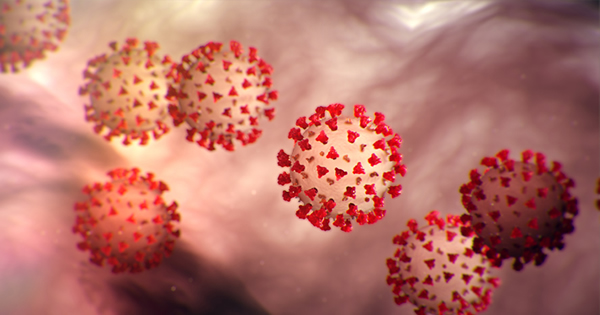 Despite hopes the coronavirus would fade with the emergence of vaccines, the pandemic continues to rage amid breakthrough infections and refusal of a large percentage of Americans to get the shot, leading to additional deaths and cancellation of LGBTQ events.
More than 386,000 deaths due to coronavirus were reported this year, making it deadlier than the previous year in terms of sheer numbers, as hospitalization rates continued to climb to new highs.
Pride celebrations were among the events cancelled as the pandemic continued through the summer. Large cities like Los Angeles and Boston opted not to have not to have events at all, while D.C. had a much scaled-down event in which Vice President Kamala Harris participated.
#1: After insurrection, Biden inaugurated and reverses Trump anti-LGBTQ policies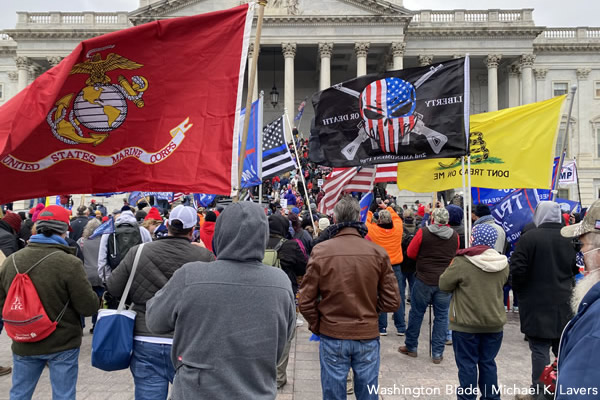 After a bloody insurrection on Jan. 6 at the U.S. Capitol incited by President Trump, Joe Biden brought with him a sense of renewal and a promise of unity after was sworn in as the 46th president of the United States, reversing anti-LGBTQ policies early on during his administration.
Biden on his first day in office signed an executive order requiring federal agencies to implement the U.S. Supreme Court's decision against anti-LGBTQ discrimination in Bostock v. Clayton County to fullest extent possible. Days later, Biden signed an executive order reversing President Trump's ban on transgender people serving in the military, leading to a policy that would enable transgender people for the first time ever to enlist in the armed forces.
In another reversal, Biden issued a White House proclamation to recognize Pride month after Trump failed to issue an official notice for each of his four years in office, with the exception of a solitary tweet in 2019. In the proclamation, Biden urged LGBTQ people to "accept nothing less than full equality."
Anti-LGBTQ extremists banned by PayPal are turning to Donorbox
Donorbox has spent the last few years watering down its rules on hate while refusing to enforce its existing policies


By Mia Gingerich | WASHINGTON – On Tuesday, only hours after anti-LGBTQ troll group Gays Against Groomers revealed it had been banned by PayPal and Venmo for using the services to finance "activities that promote hate, violence, or discriminatory intolerance," the group announced it had become the latest in a long line of bigoted groups to turn to a different platform — Donorbox. 
Donorbox provides a donation platform for nonprofit organizations, earning at least 1.5% from all donations made to the organizations with which it partners. The platform also offers the option to process donations made using its software through PayPal, possibly providing a workaround for hate groups cut off by the fundraising giant.
Along with Gays Against Groomers and the other extremists involved in driving a wave of harassment and threats against schools and children's hospitals, numerous mainstream nonprofits use Donorbox. These include Code for America, the federally funded 988 Suicide & Crisis Lifeline (formerly known as the National Suicide Prevention Lifeline), Children's Defense Fund, and the nonprofit news organization Truthout.
Ironically, the platform that is quickly becoming a haven for a number of notorious anti-LGBTQ figures also continues to be used by some of the largest LGBTQ organizations in Europe, including ILGA-Europe, which is co-funded by the European Union, and Stonewall, the largest LGBTQ rights organization in Europe.
Gays Against Groomers is now using Donorbox to finance its hate
Gays Against Groomers (GAG) claimed PayPal's actions (PayPal also owns Venmo) were an example of "woke homophobia," part of the group's absurd insistence that it is fundamentally incapable of promoting hate against the broader LGBTQ community because of the identity of its members. GAG regularly smears LGBTQ people as "groomers" and targets schools over any support for LGBTQ students, including recently protesting California schools over Pride flag murals and harassing a Florida school board over whether it should observe of LGBT History Month. GAG has also participated in the ongoing harassment of children's hospitals.
After these actions earned the group bans from PayPal and Venmo, the group quickly announced its move to Donorbox, tweeting out a link to a donation page hosted on Donorbox's website. GAG then changed the PayPal link once emblazoned at the top of its website to a link bearing the Donorbox logo. It leads to a donation page with Donorbox's integrated donation form, accompanied by a promise from GAG that donations will help the group to "battle the evil we are up against to end the sexualization, indoctrination and medicalization of children." Below the form is a link to a page on Donorbox's website promoting its services using GAG's name.
Donorbox has become a funding haven for anti-LGBTQ extremists, including those banned by other platforms
In June of this year, anti-trans blogger and failed spider biologist Colin Wright was banned from PayPal. Wright's blog, hosted on Substack, continues to focus nearly entirely on maligning and demeaning trans people, while he uses his social media presence to attack organizations like The Trevor Project, a suicide prevention organization for LGBTQ youth. Wright now uses Donorbox to fund his efforts.
A month later, PayPal similarly froze Moms for Liberty's account. Moms for Liberty is an anti-LGBTQ and CRT-alarmist organization that regularly harasses teachers, pushes for anti-LGBTQ policy in schools, and calls for books by Black and LGBTQ authors to be banned in classrooms. Although the group's account was later reinstated (purportedly following pressure from Florida Gov. Ron DeSantis), the group announced it was pulling all of its funds and leaving the platform. The donation link on its website now leads to a Donorbox donation page.
Donorbox also hosts some of the figures most responsible for instigating and driving harassment against children's hospitals, harassment that now regularly escalates into threats of violence. Chris Rufo is a propagandist who uses misinformation to drive harassment against children's hospitals, while also using misinformation to foment doubt when children's hospitals are targeted with bomb threats. Rufo fundraises using Donorbox.
Chris Elston, a Canadian anti-trans extremist who goes by Billboard Chris on Twitter, has been traveling across Canada and the U.S. harassing hospitals and health care workers who serve and advocate for LGBTQ youth, often posting the results on social media for notoriety. It was his targeting of Boston Children's Hospital that helped to kick off this current spate of harassment. After this harassment led to a bomb threat at the end of August, Elston spread conspiracy theories about the threat being a "false flag." Only days after a suspect appearing to be a far-right Trump devotee was apprehended, Elston returned to Boston Children's Hospital to drive further harassment. GAG joined Elston in harassing the hospital, using its now-defunct PayPal account to help fundraise. Elston relies on Donorbox to help finance his campaign of harassment.
Donorbox has spent the last few years watering down its rules on hate while refusing to enforce its existing policies
Donorbox has a history of courting controversy. In 2018, after the platform removed white nationalist Tommy Robinson for running a fundraiser in support of a British teenager accused of torturing a Syrian refugee, the company then reinstated Robinson's account. Before doing so, it scrubbed language from its terms of service that banned "the promotion of hate, violence, harassment, discrimination, terrorism, or intolerance of any kind, including by race, ethnicity, national origin, religious affiliation, sexual orientation, sex, gender or gender identity, or serious disabilities or diseases."
By August 2019, the company had added back language restricting promotion of violence against the aforementioned groups but removed language barring its users from promoting hate, discrimination, or intolerance. Last year, it moved this policy to a page on "acceptable use" and added a policy against "using dehumanizing rhetoric to refer to another racial group, regardless of whether such characterizations are directly involved in the use of Donorbox services or not."
Donorbox has a history of failing to enforce these terms of service by allowing white nationalists and organizers of the January 6 insurrection to fundraise using its services. In January, Media Matters flagged multiple figures promoting anti-vaccine and QAnon conspiracy theories who were fundraising using Donorbox in violation of the company's ban on users engaged in promoting misinformation. Many of those fundraisers still remain active.
**********************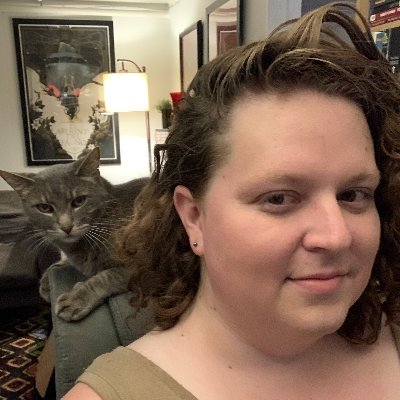 Mia Gingerich is a researcher at Media Matters. She has a bachelor's degree in politics and government from Northern Arizona University and has previously worked in rural organizing and local media.
********************
The preceding article was previously published by Media Matters for America and is republished by permission.
Moms for Liberty hiding behind front groups targeting schools
Moms for Liberty's Book Look & Book Looks are facilitating the book banning process as they gut public school libraries


By Olivia Little | WASHINGTON – As we enter Banned Books Week 2022, a new movement to gut public school libraries is sweeping the nation, with far-right "parental rights" group Moms for Liberty and two pro-censorship organizations — Book Look and Book Looks — at the forefront.
Moms for Liberty's book banning campaign is growing in both size and intensity, with a clear strategy: manufacture moral panic in your community to pressure public schools into removing titles with LGBTQ themes or discussions of racism in American history. With the help of Book Look and Book Looks, it's been increasingly successful.
With over 200 chapters, Moms for Liberty has become the largest driver of the nationwide book banning crusade, which has led to harassment and threats against public school teachers, librarians, and education officials. Moms for Liberty chapters have challenged Martin Luther King Jr. and the March to Washington because of "photographs of political violence" and Ruby Bridges Goes to School because of "racist remarks," among other objections. Moms for Liberty is also a vocally anti-LGBTQ organization and has advocated for trans bathroom bans in public schools.
Now, Media Matters has obtained documentation showing that Moms for Liberty has created "Books/Library Director" chapter positions that would be responsible for surveying and evaluating library book lists and challenging them within local school districts. These positions would allow each individual chapter to have a member organizing the gutting of public school libraries. One chapter has already started a "book review committee" and encouraged parents to go to their child's public school open house and take pictures of books in the library containing "material most of us would not want our kids reading."
Media Matters has also uncovered evidence that Moms for Liberty chapters "have teamed up" with Book Look and Book Looks, which appear to be distinct entities that are crowdsourcing parents' book reviews and using them as justification for literature bans in public schools. And while the two organizations are separate, they use nearly the same book rating system, have overlapping book reviews, and operate in a seemingly identical manner.
Book Look and Book Looks both collect reports to expedite the process of challenging books, helping conservative activists organize campaigns around parents' outrage and demand a book's removal without even reading it. Anonymous volunteers create reports by documenting examples of profane or inappropriate content with their corresponding page number, which are then packaged into "easy to understand book content reviews centered around objectionable content." Books are given a rating on a scale from zero to five, with zero being "appropriate for all audiences" and five being "might be arrested for reading at school board meetings."
The rating system allows heavily biased right-wing reviewers to disguise themselves as objective arbiters. For example, a Book Looks report about Alison Bechdel's Fun Home — an award-winning graphic novel about the author's "journey from childhood to college student to adult in relation to both her identity as a lesbian and her dynamic with her family, particularly her father who is a closeted gay man" — cites the depiction of "alternative sexualities" and "alternative gender ideologies" among other justifications for why it should be removed from school libraries. It was given a four rating: "Not for minors."
In addition to rating books, sharing out-of-context quotes on Facebook of "objectionable" books is another part of the groups' broader strategy that they say "gathers attention" on social media and "gets people engaged with outrage." Individuals are also encouraged to send school boards snippets of the most objectionable books and attend board meetings to "ask publicly about progress," or, "if you have brave volunteers, attempt to read some passages from these books and ask if the board thinks this is OK for minors. Let them stand behind this material and own it if they are not working to get rid of it."
Notably, Book Look's website directs parents to links about the anti-LGBTQ "grooming" smear and articles about Moms for Liberty "fighting against porn" in schools; it also provides users with anti-trans memes to spread on social media. Some of the group's infographics push back against the accusation that Book Look and Moms for Liberty encourage banning books, claiming that they "support the process of challenging and removing books in school libraries" and establishing "book boundaries" — which they argue is distinct from "the banning of books." (It's not.)
There is a clear electoral initiative in this strategy, as the last point on Book Look's plan of action is to "vote them [school board members] out next election if they refuse to work on this issue." Taking over school boards has been a key strategy of Moms for Liberty since its inception, and it's no surprise that the group's efforts are accelerating as the midterms approach.
In addition to overlapping strategies, there is an undeniable connection between Moms for Liberty and these two organizations. Book Look was originally formed as the Moms for Liberty Library Book Committee, and while Book Looks claims to be unaffiliated with Moms for Liberty, Book Riot uncovered that the organization was actually spearheaded by a Moms for Liberty member. Book Looks also uses the same rating system that was shared on the Moms For Liberty Brevard County public Facebook page one month before the group formally began.
Even though the organizations are clearly tied, they have successfully duped reporters. The Washington Post extensively reported on Book Look and Book Looks without mentioning their close affiliation with Moms for Liberty (although the piece did quote the chair of a local Moms for Liberty chapter praising the group's efforts to "prevent children from encountering sexually explicit material"). MIT's Technology Review did the same.
Moms for Liberty has positioned itself at the center of the book banning movement to whitewash American history and push an anti-LGBTQ agenda while placing right-wing propaganda in school libraries instead. And it is using the cover of supposed parent reviews to advance this right-wing campaign, intentionally stoking outrage and encouraging distrust in public schools.
********************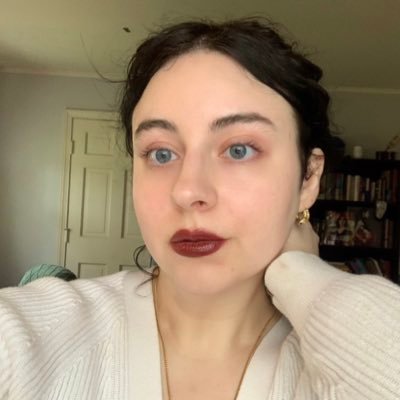 Olivia Little is a researcher at Media Matters. She holds a bachelor's degree in law and public policy from Indiana University. Olivia previously worked as a research associate for Sen. Bernie Sanders' 2020 presidential campaign.
The preceding article was previously published by Media Matters for America and is republished with permission.
Bisexual employees are less likely to be out at work
Cisgender bisexual and gay men often report higher rates of unfair treatment at work compared to lesbian and bisexual women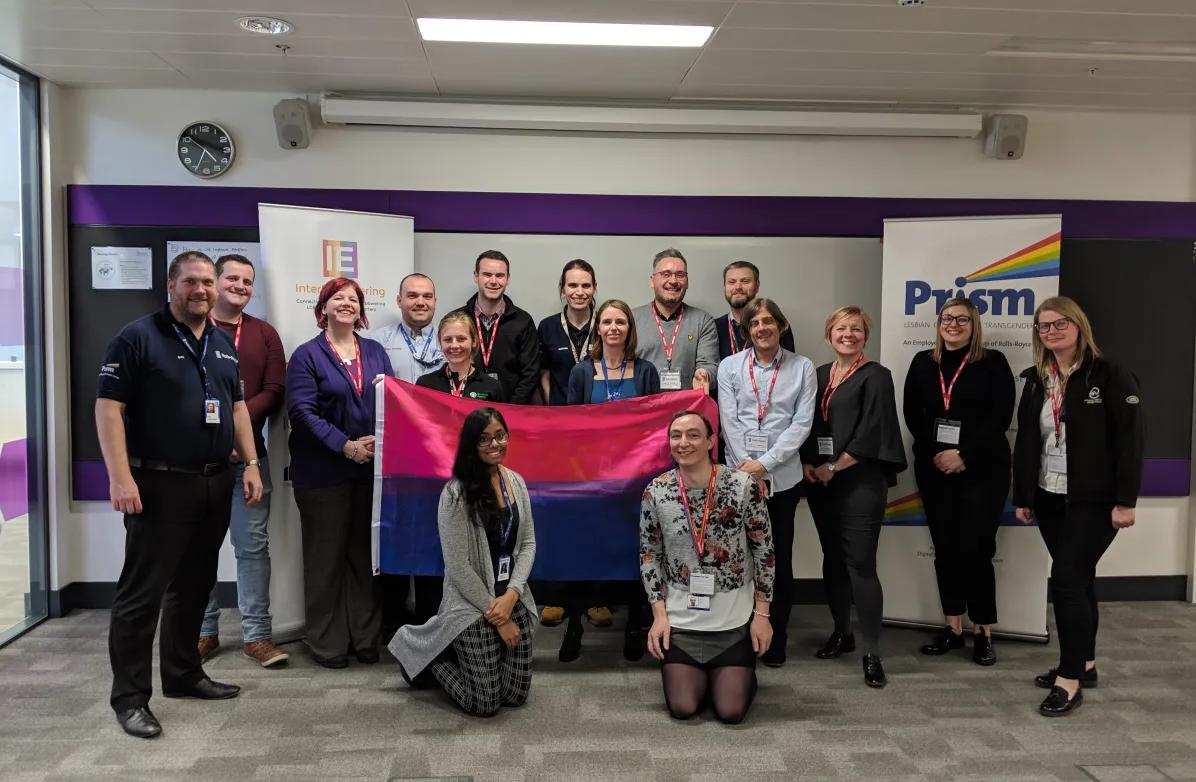 LOS ANGELES – A new study by the Williams Institute at UCLA School shows that cisgender bisexual employees are less likely to be open about their sexual orientation at work than cisgender gay and lesbian employees.
Only about one-third (36%) of cisgender bisexual employees were out to their supervisors, compared to three-quarters (75%) of cisgender gay men and lesbians.
While bisexual employees overall are significantly less likely to report experiencing discrimination and harassment in the workplace than gay and lesbian employees, that difference disappears when looking at the experiences of employees who are open about being LGB at work.
One-quarter (24%) of all cisgender bisexual employees reported experiencing discrimination at work—including being fired or not hired—because of their sexual orientation, compared to 34% of all cisgender gay and lesbian workers. However, when looking at "out" LGB employees, similar proportions of bisexual employees (33%) and gay and lesbian employees (37%) reported experiencing workplace discrimination.
Experiences of discrimination and harassment among out workers differ by gender. Sixty percent of cisgender bisexual men who are out at work experienced verbal, physical, or sexual harassment compared to 38% of out bisexual women and 33% of out lesbians. Out gay men experienced similar levels of harassment as out bisexual men.
Using survey data collected in May 2021 from 935 LGBT adults in the workforce, researchers examined the workplace experiences of cisgender bisexual adults compared to cisgender lesbians and gay men. Workplace experiences of transgender employees were analyzed in a 2021 report.
"The higher rates of concealing their sexual minority identity among bisexual employees may mask the extent to which they experience unfair treatment based on their sexual orientation," said lead author Christy Mallory, Legal Director at the Williams Institute. "It is vital that policymakers, employers, and researchers take a nuanced approach to understanding and addressing sexual orientation and gender identity discrimination in the workplace to meet the unique needs of these communities."
KEY FINDINGS

Concealing LGB Identity
One in five (19%) cisgender bisexual employees reported being out to all of their coworkers, compared to half (50%) of cisgender lesbians and gay men.
Discrimination
Among all cisgender LGB employees, bisexual employees were significantly less likely than gay and lesbian employees to report experiencing discrimination at work including being fired or not hired at some point in their lives (24% v. 34%).
Among only cisgender LGB employees who were out at work, similar proportions reported experiencing discrimination: 33% of bisexual employees and 37% of gay and lesbian employees reported experiencing workplace discrimination.
Out gay and bisexual men were more likely to experience employment discrimination than out lesbians and bisexual women: 46% of out bisexual men and 43% of out gay men reported having been fired or not being hired because of their LGB status. In contrast, about one-quarter of out lesbians (25%) and out bisexual women (27%) reported similar experiences.
Harassment
Among all cisgender LGB employees, 34% of bisexual employees and 42% of gay and lesbian employees reported experiencing at least one type of harassment (verbal, physical, or sexual) in the workplace at some point in their lives.
Among only cisgender LGB employees who were out at work, 60% of out bisexual men reported one form of harassment (verbal, physical, or sexual), compared to 38% of bisexual women and 33% of out lesbians.
Retention
Among only cisgender LGB employees who were out at work, 58% of bisexual men and 50% of gay men said they had left a job because of unfair treatment compared to 35% of lesbians and 29% of bisexual women.