Ten top ranked national news stories of 2021
The Capitol insurrection, COVID cancellations, and a new LGBTQ+ ally president topped this year's LGBTQ news stories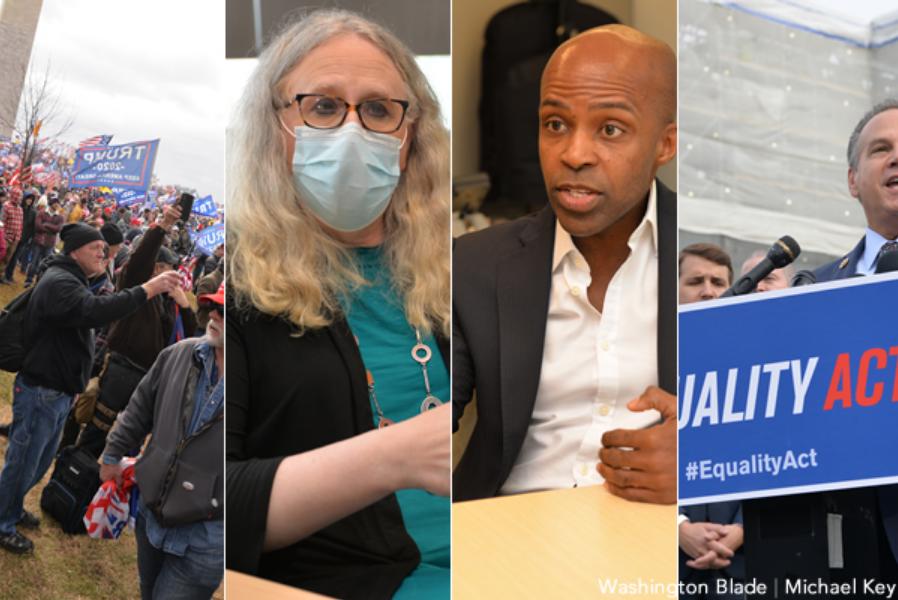 WASHINGTON – The Capitol insurrection, COVID cancellations, and a new president along with the first ever Senate confirmed presidential cabinet post topped this year's LGBTQ news stories.
#10: RNC creates Pride outreach coalition
Republican National Committee chair Ronna McDaniel, in a video announcement at a Log Cabin Republicans dinner honoring Melania Trump and attended by former President Trump, announced the creation of the LGBTQ outreach Pride coalition — much to the consternation of internal critics.
Following calls on her to resign from anti-LGBTQ conservatives like Family Research Council's Tony Perkins, McDaniel defended the coalition by saying it was a continuation of the LGBTQ initiative set up with Trump's 2020 re-election campaign — which had enjoyed success by doubling the LGBTQ vote for the Republican candidate after the previous election.
McDaniel wrote an apology letter for poor communication over the creation of the new initiative, which led Democrats to criticize Republicans over the perceived backtracking on LGBTQ outreach.
#9: Caitlyn Jenner makes waves as gubernatorial candidate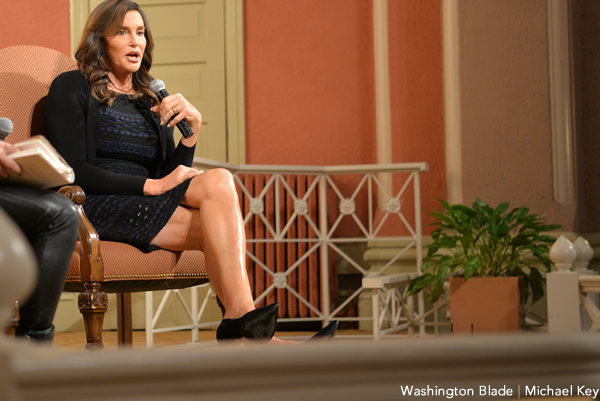 Caitlyn Jenner, in a free-for-all recall election in California seeking to unseat Gov. Gavin Newsom, made waves as a Republican gubernatorial candidate, breaking new ground as a transgender candidate while facing criticism for being out of touch.
Early on in her candidacy, the former Olympic champion said she was against transgender kids in sports, citing a need to protect women in athletics. Jenner later modified her position by saying potential players who had gone through the transition process should "of course" be allowed to compete.
Jenner became an unlikely popular figure in conservative media, appearing on Fox News and Newsmax. At the end of the day, Jenner performed poorly at the polls, taking two percent of the vote as Newsom survived the recall effort.
#8: Supreme Court issues non-ruling in Fulton case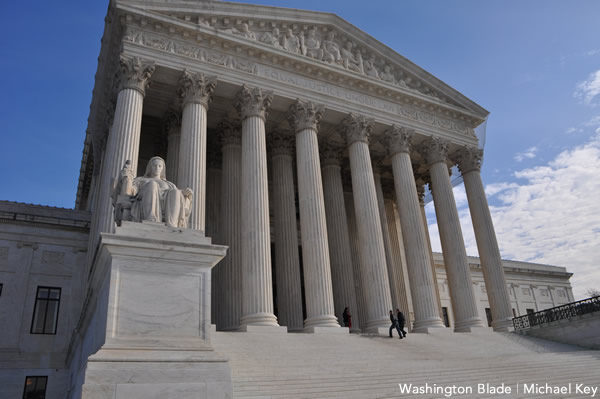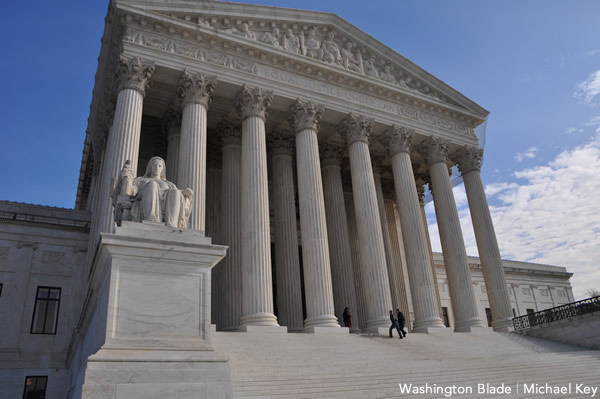 The U.S. Supreme Court, amid fears it would render a decision this year that would enable sweeping discrimination against LGBTQ people, instead handed down a ruling in Fulton v. City of Philadelphia limited to the facts of the case at hand and with no major impact.
In a unanimous ruling, justices issued a decision in favor of Catholic Social Services, which sought a First Amendment ruling to refuse child placement with same-sex couples over a religious exemption, but it was based on the approach of the City of Philadelphia enforcing its contract with the foster care agency.
Both sides claimed a small victory. The American Civil Liberties Union, which had argued before the Supreme Court in the case and sided with the City of Philadelphia, said the ruling "will not affect any foster care programs that do not have the same system for individualized exemptions that were at issue here."
#7: In grim record, at least 46 trans people killed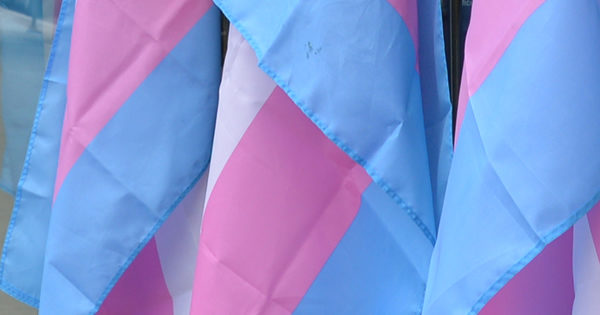 In a grim milestone, at least 46 trans people were killed by the time of the Transgender Day of Remembrance, reaching a new record in the time the deaths have been recorded.
The violence has consistently had a disproportionate impact on transgender women of color. Among the deaths that brought the tally to a new record was Marquiisha "Quii" Lawrence, a 28-year-old Black transgender woman who was shot and killed in her home in Greenville, S.C.
President Biden, who had brought attention to the issue of anti-transgender violence as a presidential candidate, issued a statement recognizing the 46 deaths and was briefed on the issue in the days preceding the Transgender Day of Remembrance.
#6: HRC president fired after being ensnared in Cuomo affair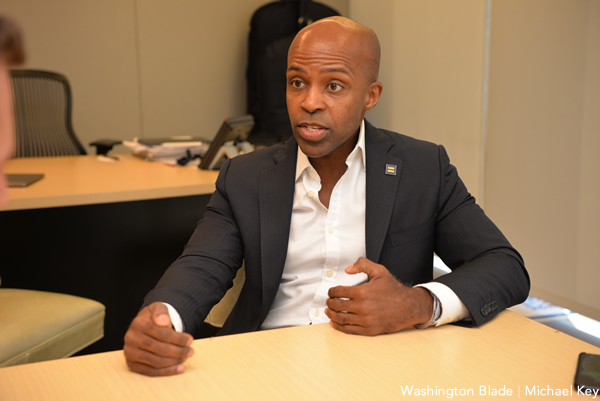 The president of the Human Rights Campaign was terminated from his role this year following a public dispute with the board after being ensnared in the damning report detailing accusations of sexual misconduct against former New York Gov. Andrew Cuomo.
Alphonso David, who had previously served as counselor to Cuomo, was revealed in the report by New York Attorney General Letitia James to have kept a personnel file of one of the female employees alleging sexual misconduct, then having assisted in efforts to leak that file to the media in an attempt to discredit her.
Although the Human Rights Campaign board initially stood by David, the organization later announced an independent review of the matter, which David said he welcomed. David took to Twitter and criticized the board for having privately asked him about resigning, which prompted his termination.
#5: Equality Act all but dead in Congress
Although LGBTQ rights advocates had hoped President Biden would be able to deliver a campaign promise to sign into law a long-sought update to federal civil rights law that would include LGBTQ people, legislation known as the Equality Act is all but dead in Congress.
The U.S. House, acting quickly on Biden's campaign promise to sign the Equality Act into law within the first 100 days of his administration, approved the legislation in February, although it had fewer Republican votes compared to when the chamber last passed the measure.
But the Equality Act, contorted by critics who claim it endangers women's rights and privacy, went no further in Congress. In the Senate, where Sen. Joe Manchin has declined to support the bill and Sen. Susan Collins has withdrawn her support, the legislation never got a vote — either on the floor or in committee. No route appears open for the bill.
#4: Buttigieg, Levine confirmed by Senate in historic firsts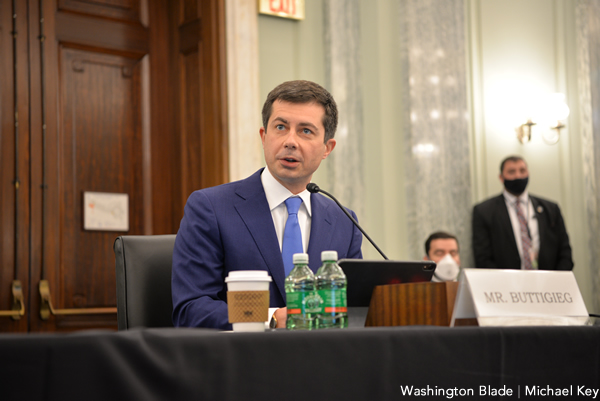 In a pair of historic votes, the U.S. Senate this year confirmed two presidential appointees — Pete Buttigieg and Rachel Levine.
Buttigieg was confirmed as transportation secretary, making him the first openly gay person to win Senate confirmation for a Cabinet-level role, while Levine was confirmed as assistant secretary for health, making her the first openly transgender person to win Senate confirmation for any position.
Although Buttigieg was confirmed with bipartisan support, that quickly faded as the supply chain crisis emerged and Buttigieg faced criticism for his approach to the issue.
For Levine, the road was different. During her confirmation hearing, Sen. Rand Paul (R-Ky.), began his inquiries with the words "genital mutilation," which formed the basis of his rude, invasive questioning. Levine was confirmed by a narrow vote of 52-48.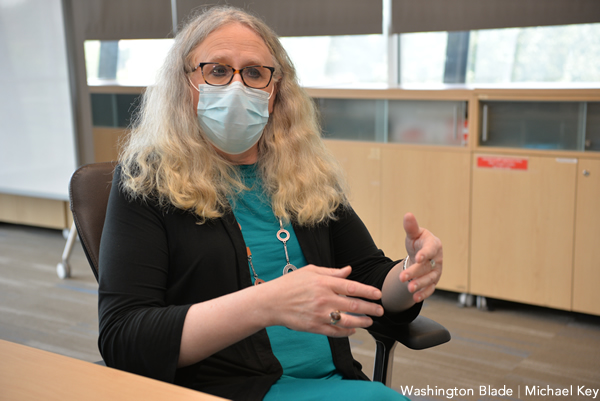 #3: States enact measures against trans kids in sports, health care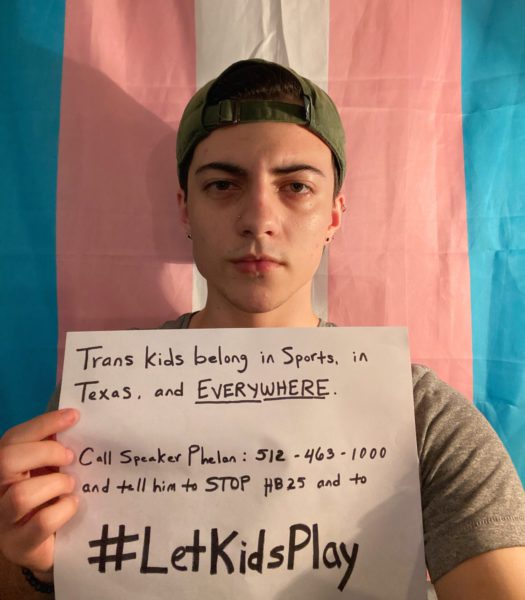 Drawing on anti-trans fears, states defied federal laws against discrimination and enacted measures against transgender kids in sports and access to health care, leading to a wave of litigation in the next battleground for the LGBTQ movement.
Among the most stringent measures was a law in Arkansas, enacted by the legislature overriding a veto of Gov. Asa Hutchinson, instituting criminal penalties for providing transition-related care to youth. Other states, including Florida, Texas, and West Virginia, enacted laws prohibiting transgender girls from participating in school sports consistent with their gender identity.
LGBTQ legal advocates were quick to file litigation against the measure in court, arguing they violate the prohibition on discrimination based on sex in schools under Title IX of the Education Amendments of 1972. Judges have blocked measures from going into effect as litigation moves forward.
#2: Coronavirus continues to rage, nixes LGBTQ events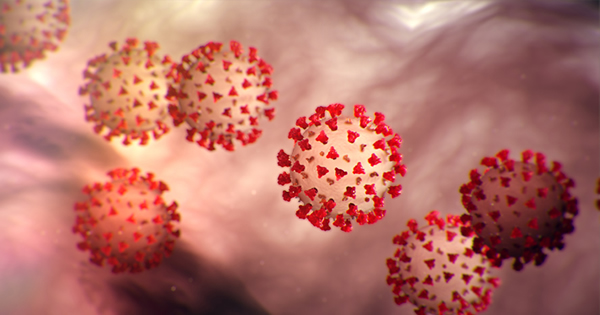 Despite hopes the coronavirus would fade with the emergence of vaccines, the pandemic continues to rage amid breakthrough infections and refusal of a large percentage of Americans to get the shot, leading to additional deaths and cancellation of LGBTQ events.
More than 386,000 deaths due to coronavirus were reported this year, making it deadlier than the previous year in terms of sheer numbers, as hospitalization rates continued to climb to new highs.
Pride celebrations were among the events cancelled as the pandemic continued through the summer. Large cities like Los Angeles and Boston opted not to have not to have events at all, while D.C. had a much scaled-down event in which Vice President Kamala Harris participated.
#1: After insurrection, Biden inaugurated and reverses Trump anti-LGBTQ policies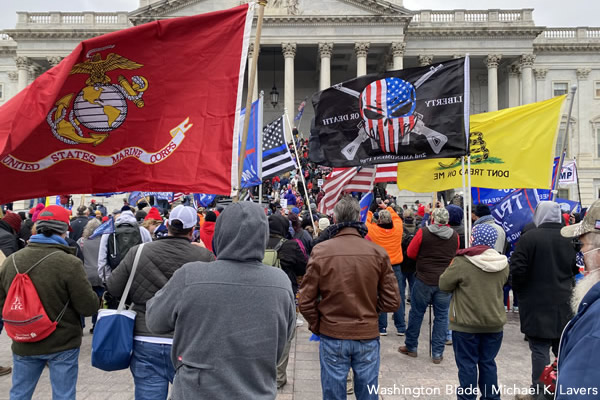 After a bloody insurrection on Jan. 6 at the U.S. Capitol incited by President Trump, Joe Biden brought with him a sense of renewal and a promise of unity after was sworn in as the 46th president of the United States, reversing anti-LGBTQ policies early on during his administration.
Biden on his first day in office signed an executive order requiring federal agencies to implement the U.S. Supreme Court's decision against anti-LGBTQ discrimination in Bostock v. Clayton County to fullest extent possible. Days later, Biden signed an executive order reversing President Trump's ban on transgender people serving in the military, leading to a policy that would enable transgender people for the first time ever to enlist in the armed forces.
In another reversal, Biden issued a White House proclamation to recognize Pride month after Trump failed to issue an official notice for each of his four years in office, with the exception of a solitary tweet in 2019. In the proclamation, Biden urged LGBTQ people to "accept nothing less than full equality."
The 'Public Right to Know Act' is first step in staunching trauma & death
Without fairness and transparency, people — including children — are harmed, traumatized and die as the result of a preventable tragedy
By Karen Ocamb | WEST HOLLYWOOD – Nothing can assuage the pain of losing a child. But for Amy Cooper, who lost her adult son to an OxyContin overdose, doing nothing to prevent her family tragedy from happening to others would be excruciating.
That's why she stood in her pain and testified on behalf of California Senator Connie M. Leyva's 'Public Right to Know Act' (SB 1149) and shared her story in the San Francisco Chronicle. SB 1149, which would prohibit factual information about defective products and dangerous hazards from being kept secret through overly broad court protective orders and settlement agreements, passed out of the state Senate on Monday and now heads to the Assembly.
"It's a step forward towards fulfilling the duty we have of caring for one another and putting a stop to preventable deaths and the ripple of trauma that follows. I believe authentic care for humankind must be stronger than greed," Amy Cooper told Public Justice, a co-sponsor of SB 1149, along with Consumer Reports.
"Secrecy kills," said Rich Barber, whose son was killed by a Remington Arms gun that fired without the trigger being pulled. For years, Remington had been able to hide the trigger defect on their popular Remington Model 700 and a dozen other Remington models by having court records sealed that showed evidence the company had known about the defect for decades but kept selling the bolt-action rifle anyway, resulting in hundreds of people being maimed or killed.
In 2016, Public Justice successfully sued to make public over 118,000 previously-sealed Remington documents. Investigative exposés by 60 Minutes and CNBC based on those documents and others forced Remington into a two-month bankruptcy. Though short-lived, the bankruptcy caused a delay in a wrongful death lawsuit filed by families of nine victims and a teacher who were shot and survived the 2012 Sandy Hook Elementary School shooting with a Remington.
The suit was initially dismissed by a state court based on federal immunity protections for firearms manufacturers under the Protection of Lawful Commerce in Arms Act of 2005. But after the Connecticut Supreme Court ruled that the suit's wrongful marketing claim could proceed under state law, Remington's insurers reached an astounding $73,000,000 settlement on February 15, 2022.
Public Justice connected the dots from unsealing secret court documents to the historic settlement and accountability (Remington is now defunct) reached by the law firm of Public Justice Board Secretary Preston Tisdale, for whom the case was personal. "Today was a great day for Preston and his firm and all the hard work they did over that unspeakable tragedy. But to hold the gun manufacturers responsible and get a settlement is some very small recompense to those families but it sends a broader signal to those manufacturers and the things that they do," said Board President Dan Bryson when the settlement was announced.
As co-sponsor of SB 1149, Public Justice also took the lead in calling out the Chamber of Commerce and Big Pharma when they opposed the Public Right to Know Act using "old, inaccurate myths and distortions," adding some new disinformation. It didn't work.
"In an open society, court records are presumptively open to public inspection. Even in a dispute between private parties, a court's resolution of that dispute is a matter of public interest. This is especially true when a case involves a public danger, such as a defective product or environmental hazard. But courts repeatedly issue overbroad protective orders that keep discovery information secret and protect incriminating documents — and lawyers mutually agree to settlements and stipulated orders that prohibit disclosing the very facts that prompted the case. Though secrecy is sometimes necessary to protect personal information or legitimate trade secrets, it is grossly inappropriate when it clearly keeps information about ongoing dangers from the public, which — in a very real way — can threaten health, safety and even lives," Senator Leyva said in presenting SB 1149 for a Senate floor vote on May 23.
"In the case of Purdue Pharma, the company told outright lies for many years regarding safe dosage levels and the likelihood of addiction from Oxycontin while hiding behind a decade long wall of courthouse secrecy, which ultimately killed hundreds of thousands of people," Leyva said, before citing how "tens of thousands of women were harmed or died" by using Bayer's Essure, a supposedly safe metallic nonsurgical form of birth control. She offered to cite scores of other examples.
SB 1149 passed with 26 'Yes' votes to 10 'No' votes.
"Information about defects and hazards created by companies should never be hidden behind a veil of courthouse secrecy that can endanger the lives and safety of Californians," Leyva said. "The public must have access to this vital information so that they can decide — for themselves — how they can protect themselves and their families from these defective products or toxic hazards. It is unconscionable that any company would ever seek to keep critical information that can lead to injuries or even deaths from the public — and all because of their desire for keep making profits. I thank my Senate colleagues that voted for SB 1149 today, as they are standing on the side of the public by helping to prevent future injuries or deaths."
"For decades, settlement agreements, stipulations for court orders, and standing protective orders have hidden information that the public has the right to know," said Professor Richard Zitrin, who brought the bill to Leyva. "Companies keep this information secret not because of legitimate trade secrets but to avoid accountability for their dangerous and defective products that harm the public. Public access to court records is an inherent part of a transparent and fair court system that ensures justice for all."
Without fairness and transparency, people — including children — are harmed, traumatized and die as the result of a preventable tragedy.
If SB 1149 is approved by the Legislature and signed into law, California would join several other states that have enacted similar anti-secrecy laws, including Florida, Louisiana, Montana, South Carolina, and Washington.
********************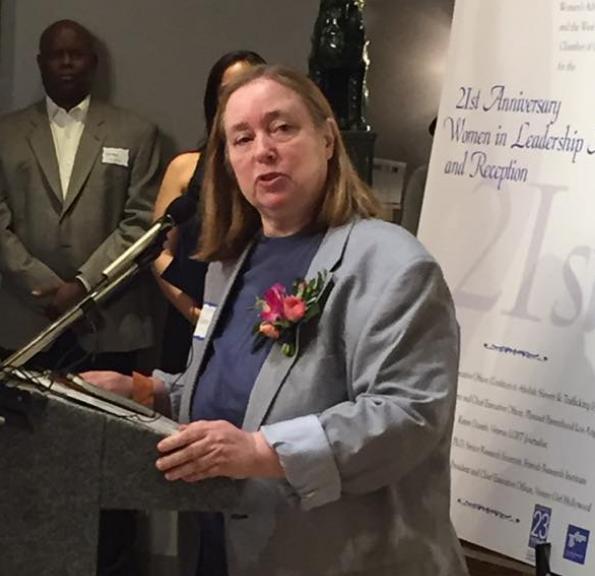 Poll: Parents split on teaching LGBTQ+ subject materials in classrooms
Half of all Americans said they are comfortable learning children are being taught lessons on LGBTQ history at school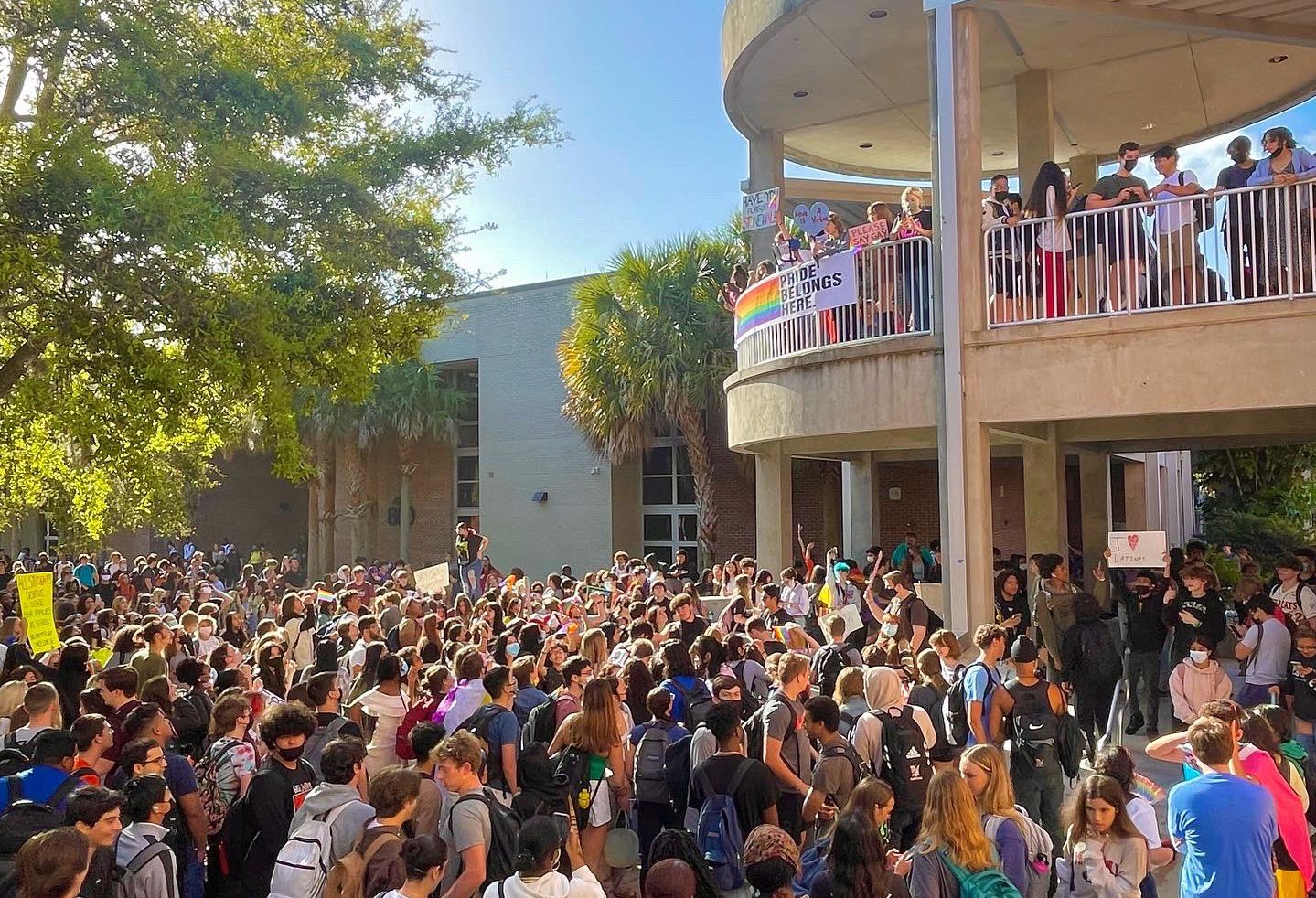 WASHINGTON – A new poll released on Monday by Morning Consult an online survey research technology firm showed that there is a fairly even split among American parents over the teaching or discussion of sexual orientation and gender identity in K-12 classrooms.
The polling revealed that parents who politically identify from both Republican and Democratic parties are become more comfortable with increasing LGBTQ prominence in everyday life. These factors coming as Republican state lawmakers claim 'parental rights' as the justification for a litany of anti-LGBTQ+ legislation in the past three years that they have pushed including multiple 'Don't Say Gay' laws in state houses across the country, the Florida law becoming a lightening rod in political discourse.
Key Findings:
Where Americans stand on LGBTQ in the classroom
American parents or guardians of children 18 years old or younger are essentially split over the teaching or discussion of sexual orientation and gender identity in K-12 classrooms: 41% support it and 44% are opposed. Parents are slightly more likely to support (44%) than oppose (40%) instruction about the LGBTQ civil rights movement.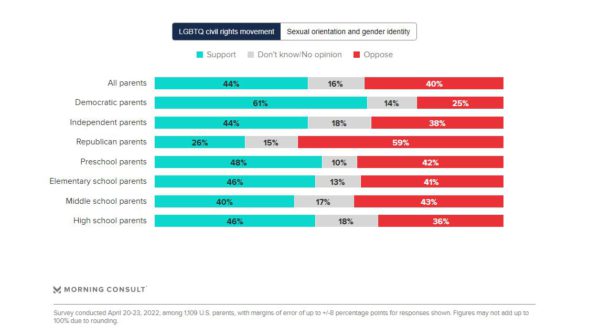 According to Morning Consult, there are only small differences between parents of younger pupils and of high schoolers, but stark partisan divides are evident: Roughly 3 in 5 Democratic parents nationwide support discussion of sexual orientation and gender identity, while nearly as many Republican parents and almost half of independent parents oppose it.
Annise Parker, president and CEO of the pro-LGBTQ Victory Fund, told Morning Consult that schools have often marked the frontlines of the culture wars, and this time, proponents of legislation like Florida's have been especially able to wedge Americans' still-mixed views about rights for transgender people.
"One of the reasons we've made such great progress over the years in terms of how the public perceives people who are gay and lesbian is because of proximity — knowledge of people coming out individually. The transgender issue is still unknown for a lot of folks," she said. "For an issue that it took some education for my own community to come to grips with, we shouldn't be surprised it's much harder for the broader society."
The poll also examined the influences that teachers have over students in discussions of sexual orientation and gender identity noting while most Americans — including 82% of Republican parents — trust teachers to "act in good faith, do their jobs fairly and prepare their students for the world," the GOP's focus on LGBTQ topics in the classroom could capitalize on declining trust in the public education system, especially among Republicans, who are more likely than the broader population to believe classroom instructors have influence on children's values and their sexuality and gender identity.
Republicans are aligned with much of their base in the view that LGBTQ discussion is inappropriate for the educational system. But some have gone even further and accused those who believe teachers should be able to discuss such matters in the classroom of being "groomers," a term used to refer to people who lure children for sexual abuse.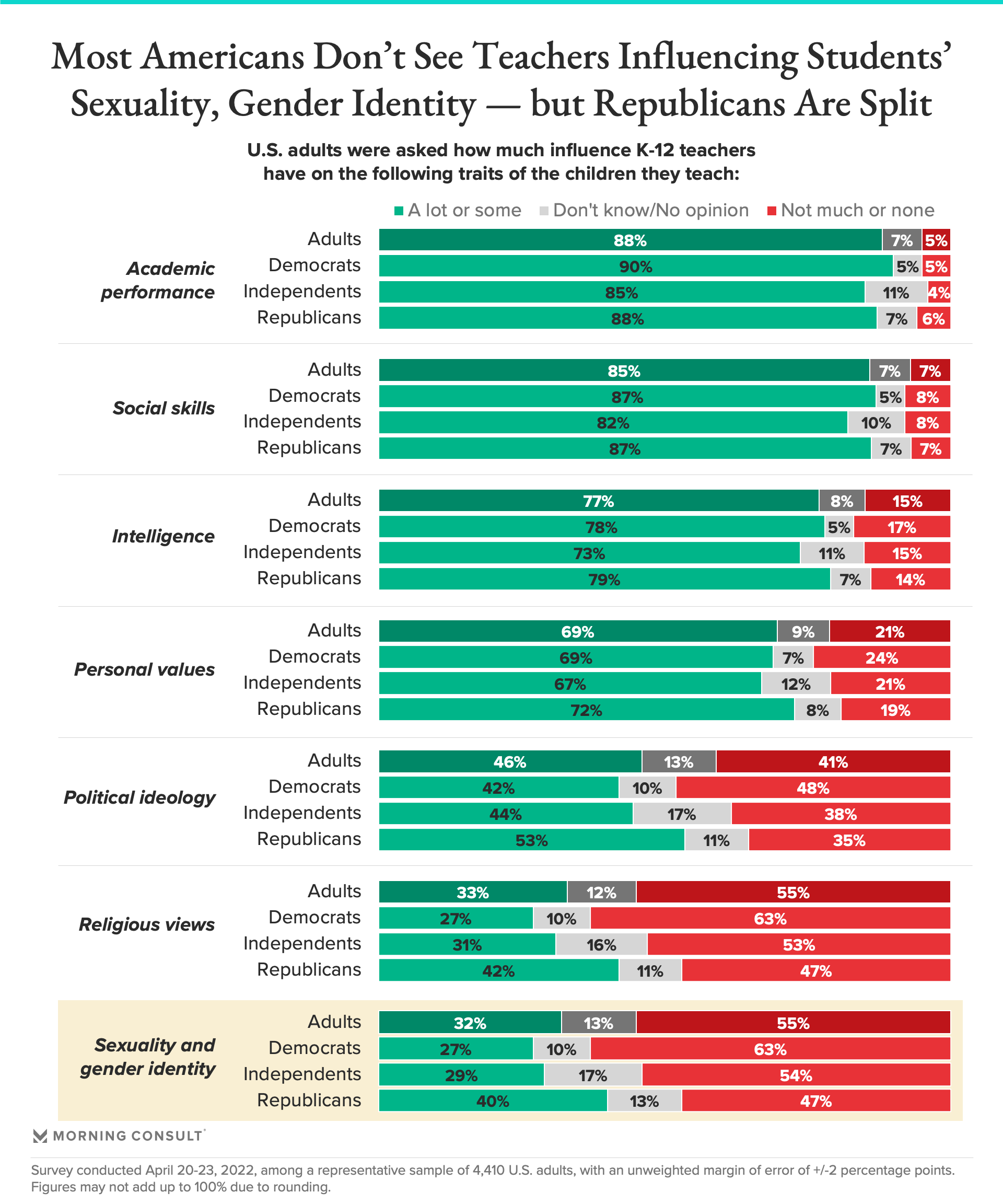 The poll asked about faculty who identify as LGBTQ+: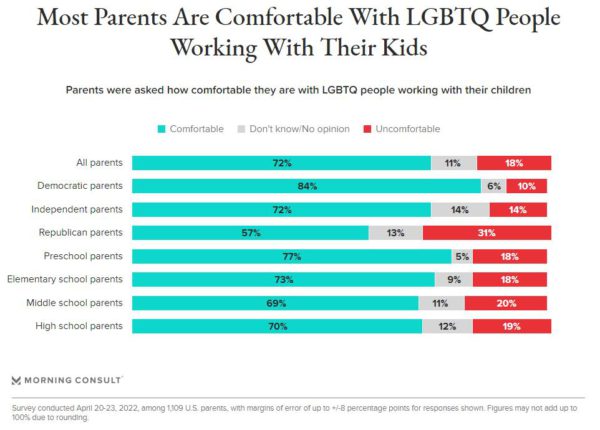 Vast majorities of parents who are Democrats or independents said they are comfortable with LGBTQ people interacting with their kids, while nearly 3 in 5 Republican parents agreed. Roughly 3 in 10 Republican parents said they do not personally know or associate with an LGBTQ person. Those parents were more likely to say they are uncomfortable having an LGBTQ person interact with their children than the roughly two-thirds who do, 44% to 25%.
Americans' increasing comfort with the LGBTQ community
Most Americans, including Republicans generally and the parents among them, have become more comfortable with the LGBTQ community over the past three years, according to Morning Consult surveys.
When it comes to educational instruction, about a third of Republican parents (32%) said they are comfortable with LGBTQ history lessons in their child's classroom, more than twice the share who said so in May 2019, while the share who said they were uncomfortable with it fell, from 77% to 55%.
On the question of teaching LGBTQ+ history to students the split was nearly even: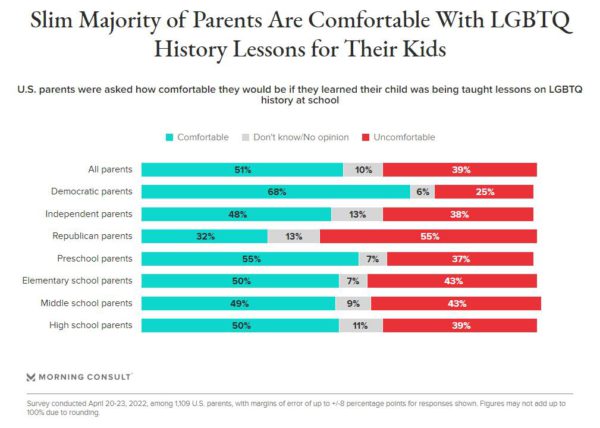 As for the broader population, half of all Americans said they are comfortable learning children are being taught lessons on LGBTQ history at school, compared to roughly 2 in 5 who said it makes them uncomfortable. Both figures were similar to the shares measured in 2019, but comfort has increased with regard to other aspects of queer life, including seeing a child being raised by a same-sex couple, being invited to a same-sex wedding or being represented by a person who is LGBTQ in Congress.
The final question dealt with how Americans are increasingly comfortable with LGBTQ association: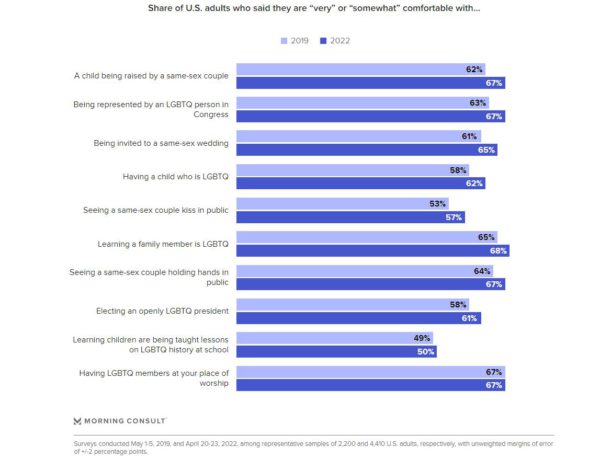 The entire Morning Consult Poll is here: (Link)
Daily Wire's Walsh using a trans man's shirtless photo without permission
The subject of the photo has asked Walsh to remove the picture, which the Daily Wire host tweeted on May 14


By Mia Gingerich | WASHINGTON – Daily Wire host Matt Walsh, who called the white supremacist great replacement conspiracy theory "just a fact," is using an unauthorized photo of a trans man in a trailer promoting his upcoming documentary.
The subject of the photo has asked Walsh to remove the picture, which the Daily Wire host tweeted on May 14. While the unauthorized use could violate Twitter's policy on copyrighted material, the platform refuses to act, maintaining its recent streak of permitting anti-trans content in violation of its own stated policies.
Five days after Walsh tweeted a trailer for his forthcoming documentary "What Is A Woman," Steph Kyriacou quote-tweeted Walsh, saying a photo of his has been used in the documentary without permission and asking for it to be removed. It appears that his photo had been taken from his Instagram profile. This photo is one of several in the trailer depicting transmasculine people following their top surgery. Troublingly, another Twitter user said the trailer for Walsh's documentary also included an unauthorized image of their then-15-year-old son.
This is not the first time that Walsh has come under fire for making and promoting this film without permission from those appearing in it. Earlier this year it was revealed that as part of filming the documentary, he had created a puppet organization to trick trans people into appearing in the film.
After Kyriacou and other users reported Walsh's tweet for copyright violations, Twitter responded by saying it would not take down the tweet, even though Walsh appears to be in violation of Twitter's policies because he's profiting from the use of the images. The film is being released through Daily Wire's website and is exclusive to those who pay for a membership.
Despite Twitter users pointing out the potential violation, the post remains up.
Alejandra Caraballo, a clinical instructor at Harvard Law School's Cyberlaw Clinic, cited Twitter's failure to remove Walsh's trailer as an example in a trend of Twitter failing to enforce its policies on harassment of trans people.
I haven't had a single content policy violation report taken action on in over a month, including extremely hateful and outrageous content. Twitter is acceding to the fascist right wing mob and refusing to protect trans people on this site through moderation of hateful content.

— Alejandra Caraballo 🏳️‍⚧️🇵🇷 (@Esqueer_) May 20, 2022
Across social media, platforms are failing to address anti-trans content, and Twitter is no exception. The platform has recently failed to enforce its own content policy on hate speech in regards to misgendering and other forms of harassment.
This documentary is the latest piece in Walsh's strange obsession with trans people and their identities — earlier this year, he released a children's book comparing gender identity to identifying as a walrus. It is also part of a larger right-wing tactic to manufacture outrage by posing a disingenuous question that seeks a simple answer for a complex question, the absurdity of which became even more transparent when Republicans were posed the same question.
**********************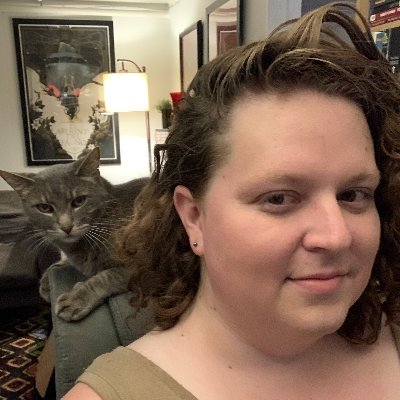 Mia Gingerich is a researcher at Media Matters. She has a bachelor's degree in politics and government from Northern Arizona University and has previously worked in rural organizing and local media.
********************
The preceding article was previously published by Media Matters for America and is republished by permission.