NHRA Driver is fast, talented and Out for inclusion in funny car drag racing
"I look forward to continuing this journey, a journey I know will be filled with many highs and many lows, sometimes all in the same day"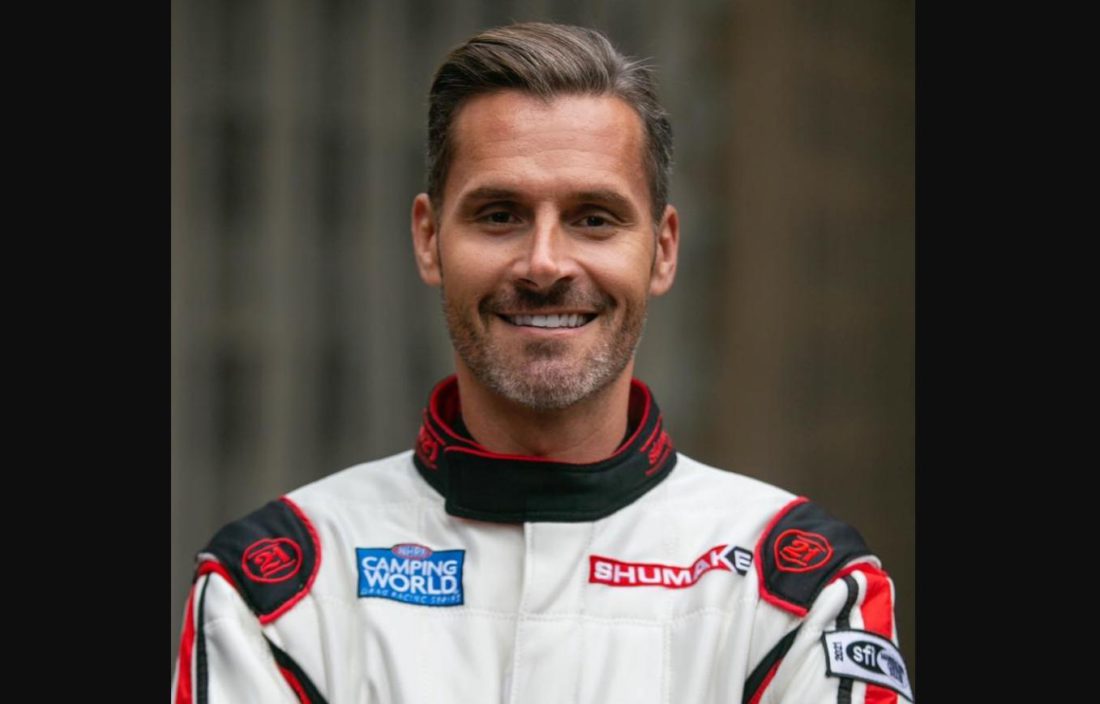 PHOENIX – In a sport noted for its conservative politics and the machismo culture surrounding it, Funny Car drag racing and its accompanying hot-rod racing is not the place a person would expect to find an openly gay competitor.
For 37-year-old Travis Shumake of Phoenix, he has set a goal of becoming the world's first openly LGBTQ Funny Car driver in the National Hot Rod Association. In a recent interview with journalist Steven Hernandez from the Arizona Republic, the Funny Car driver said that "he wants to be a pillar for inclusivity and engage new fans."
"I want to open a door for people to feel accepted who have been around the sport forever, for drivers who are in the sport, or fans in the sport that maybe aren't comfortable talking about their sexuality," he told Hernandez.
Shumake is following in his father's legacy as a NHRA Funny Car driver. The senior Shumake earned national fame in the late 1970s and early 1980s as the driver of Johnny Loper's "Loper's Performance Funny Cars." Sadly though on Nov. 13, 1999 he was killed by a wrong-way, hit-and-run driver while riding his Harley-Davidson motorcycle near his Chandler, Arizona, home.
This past October his son worked towards qualifications in a major step forward in pursuing his dream of becoming a professional NHRA Funny Car driver at the Texas Motorplex, making several passes under the direction of two-time NHRA world champion driver and crew chief Del Worsham.
In a video posted to his Facebook page, Travis Shumake emotionally referred to his father's legacy while chatting about his successful qualifications run.
Shumake also reflected on his Dad's love of the sport telling the Republic's Hernandez:
"I found … a paper my dad wrote in the fifth grade, around 1959-61, about wanting to be Arizona's first famous Funny Car driver," Travis shared. "His passion was racing anything."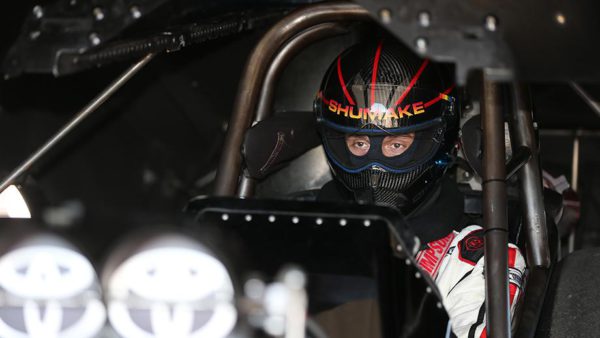 While building on the family legacy and passion for the sport, Shumake is also intent on raising the visibility in a sport where there has been little LGBTQ visibility.
"My hope is to leverage my dad's legacy in the sport, my desire, and my diversity to show that the sport is open and not as conservative as it may appear on the outside," he told Hernandez.
Shumake pointed out to Hernandez that he has the inherent ability to be an advocate and engage with this divisive topic due to a certain level of privilege provided by his father's legacy along with his previous work at the Phoenix-based nonprofit One-n-Ten, which works with disadvantaged or homeless LGBTQ youth.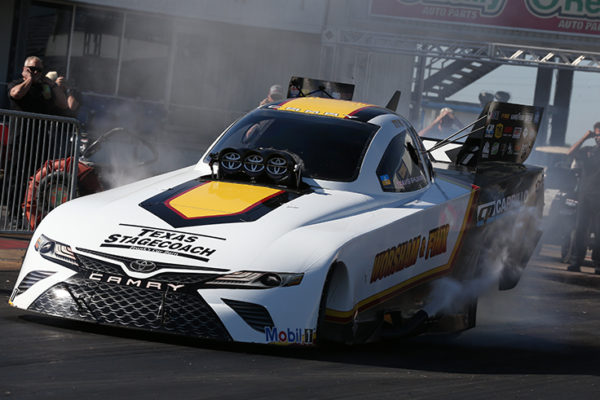 One of the coolest parts for him he said referring to his experiences has been the interactions with his fans at races.
"People will yell my name and I'll be taking photos with people who are gay and are at the races and they're like, 'You know, me and my husband have come to this race every year for the last 30 years. And we're just so excited that you're here. Thank you for doing this.'"
For Shumake he is also focused on his future writing on a Facebook post: "I'm focusing on the positive, I fulfilled a dream, I earned my Funny Car license with both a 3.96-second pass and a 319 mph pass. I still have so much to learn as Monday didn't end as planned. I'm recovering and working to make sure we get the car back together quickly. I look forward to continuing this journey, a journey I know will be filled with many highs and many lows, sometimes all in the same day."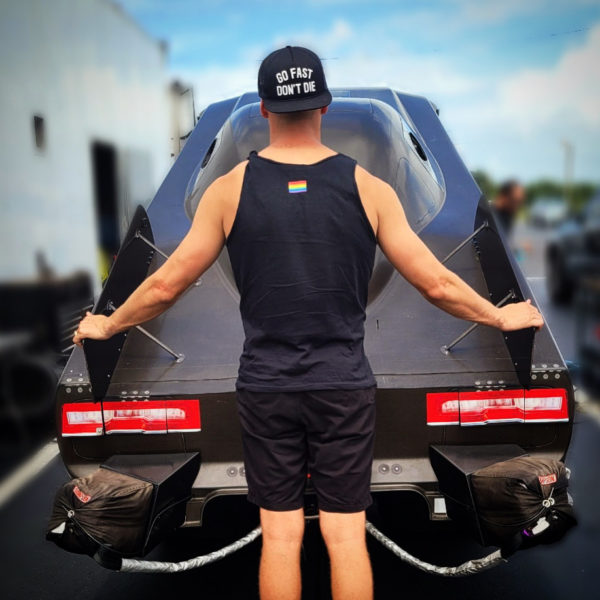 Mavericks' Reggie Bullock, finalist for NBA award for LGBTQ+ advocacy
The NBA announced this week the guard-forward is one of the finalists for its 2022 Kareem Abdul-Jabbar Social Justice Champion Award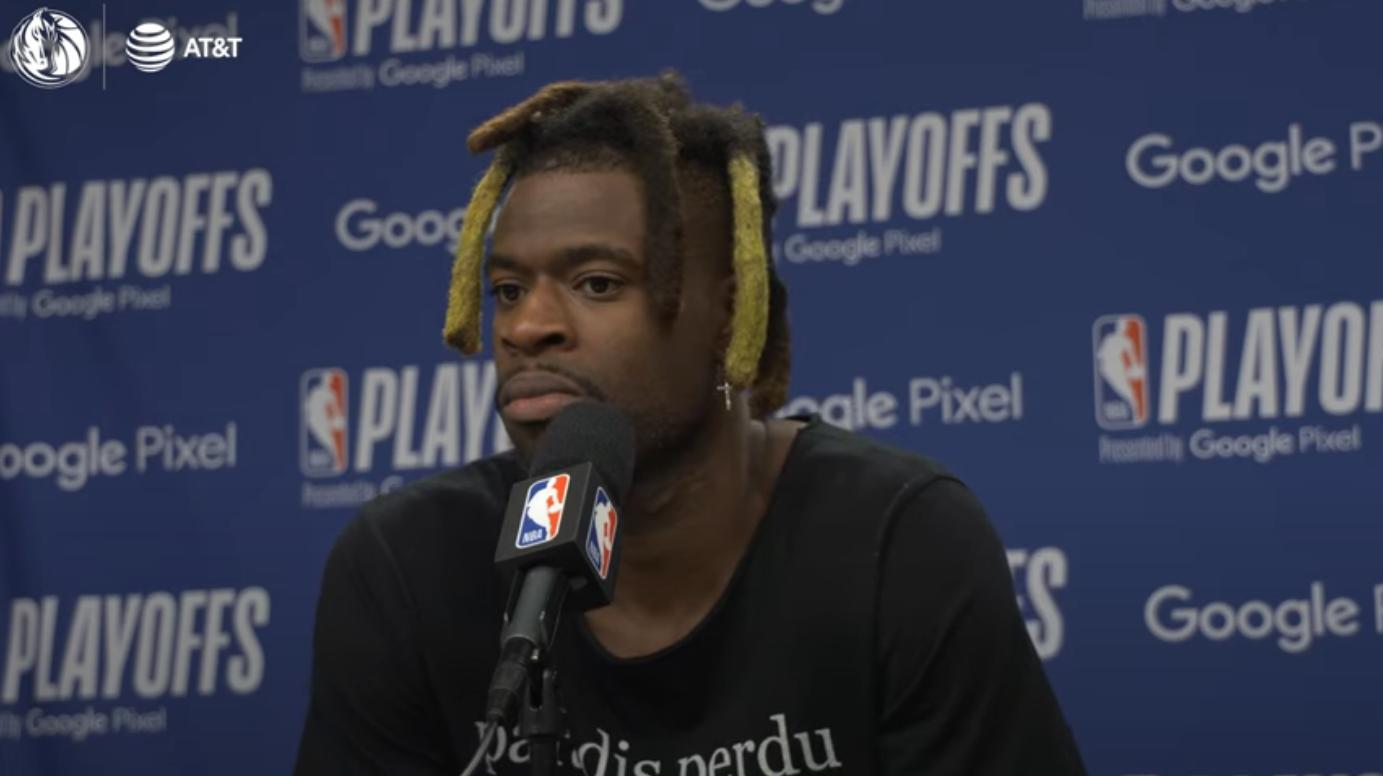 DALLAS – While San Francisco is celebrating the Golden State Warriors' huge Wednesday night Game 1 victory over the Mavericks in the NBA Western Conference Finals, LGBTQ groups in Dallas are cheering on Dallas's Reggie Bullock for his work off the court. 
The NBA announced this week the guard-forward is one of the finalists for its 2022 Kareem Abdul-Jabbar Social Justice Champion Award, which honors players who have made strides in fighting for social justice and advocating for equality.
The NBA today announced Dallas' Reggie Bullock, Milwaukee's Jrue Holiday, Memphis' Jaren Jackson Jr., Minnesota's Karl-Anthony Towns and Toronto's Fred VanVleet as the five finalists for the 2022 Kareem Abdul-Jabbar Social Justice Champion award.

More ➡️ https://t.co/pozsDeMk2P pic.twitter.com/yELJ5x7wdI

— NBA Communications (@NBAPR) May 16, 2022
Other finalists include the Milwaukee Bucks's Jrue Holiday, the Memphis Grizzlies's Jaren Jackson Jr., the Minnesota Timberwolves's Karl-Anthony Towns and the Toronto Raptors's Fred VanVleet.
The NBA said Bullock's push for LGBTQ equity stems from the 2014 murder of his sister, Mia Henderson, a transgender woman.
"Bullock has focused on acceptance of all people by working to create truly inclusive communities through neighborhood engagement and national efforts around the LGBTQ movement, including participating in the NYC Pride March, the GLAAD Media Awards, and NBA events for LGBTQ youth and allies," according to an NBA news release. "Most recently, as part of the Mavs Take ACTION! initiative, Bullock participated in a courageous conversation as part of the HUDDLE series to uplift the trans community, amplify community organizations who are working to support and protect LGBTQ individuals, and create opportunities for allyship."
Since joining the Mavs a year ago, Bullock, 31, has teamed-up with groups that include Abounding Prosperity, Dallas Southern Pride, House of Rebirth, The Black-Tie Dinner, the Resource Center, as well as the Muhlaysia Booker Foundation. That organization was founded in memory of a trans woman murdered in Dallas.
On this year's International Day of Trans Visibility, March 31, Bullock joined the founder of the Muhlashia Booker Foundation, Stephanie Houston, and Leslie McMurray, Transgender Education & Advocacy Associate for a session titled, Voices Unheard, Uplifting Trans Perspectives.
He shared memories of his sister Mia and how her murder motivated him to use his platform as an NBA player to fight for equal rights and visibility for the LGBTQ+ community.
Bullock has also started his own charitable organization, RemarkaBULL, which provides housing and support to members of the LGBTQ+ community in need. Through RemarkaBULL, Bullock wrote an open letter to the NCAA protesting Idaho's anti-trans student-athlete House Bill 500, which was signed into law by Gov. Brad Little in March of 2020. The law is on hold pending a review by a federal court.
The winner of the Social Justice Award will be announced during the Western Conference Finals, now underway. The winner receives $100,000 donated to the charity of their choice, and the other finalists receive $25,000 donations for their organizations. Bullock's charity of choice is Kinston Teens, which empowers young people to engage in activism and community development.
In Wednesday night's Western Conference Final game 1, Bullock scored 12 points, shooting 3/10 3-pt and 3 rebounds in the Mavericks' 87-112 loss to the Golden State Warriors. Game 2 is set to tip off Friday at 9 p.m. ET, Golden State leads 1-0.
Blackpool's Jake Daniels- First Out UK pro soccer player in 30 years
The Blackpool FC forward joins with Justinus Soni "Justin" Fashanu as the only two footballers to declare themselves openly Out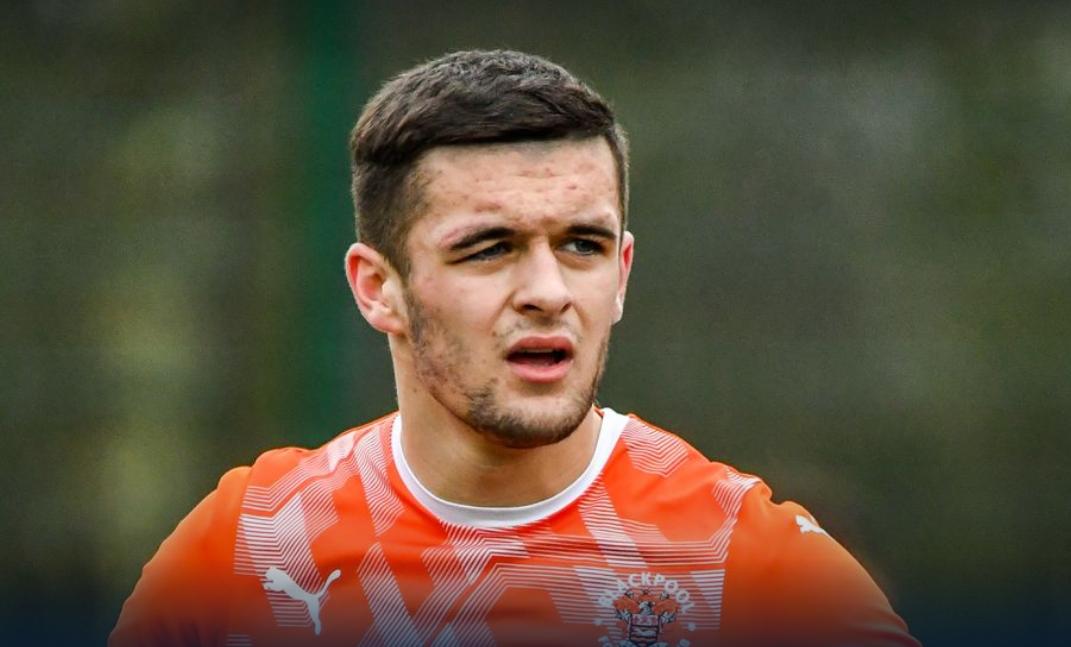 BLACKPOOL, Lancashire, England – A seventeen-year-old professional soccer player has made history as only the second person in the past 30 years to acknowledge their sexual orientation publicly in the sport in the United Kingdom.
Blackpool FC forward Jake Daniels joins with Justinus Soni "Justin" Fashanu as the only two footballers to declare themselves openly Out. Fashanu had come out in an exclusive with The Sun tabloid newspaper on October 22, 1990 and later retired in 1997. He later passed away in London in May 1998.
Daniels made his announcement via a statement released by the team on its webpage:
"This season has been a fantastic one for me on the pitch. I've made my first-team debut, scored 30 goals for the youth team, signed my first professional contract and shared success with my team-mates, going on a great run in the FA Youth Cup and lifting the Lancashire FA Pro-Youth Cup.
But off the pitch I've been hiding the real me and who I really am. I've known my whole life that I'm gay, and I now feel that I'm ready to come out and be myself.
It's a step into the unknown being one of the first footballers in this country to reveal my sexuality, but I've been inspired by Josh Cavallo, Matt Morton and athletes from other sports, like Tom Daley, to have the courage and determination to drive change.
In reaching this point, I've had some of the best support and advice from my family, my Club, my agent and Stonewall, who have all been incredibly pro-active in putting my interests and welfare first. I have also confided in my team-mates in the youth team here at Blackpool, and they too have embraced the news and supported my decision to open up and tell people.
I've hated lying my whole life and feeling the need to change to fit in. I want to be a role model myself by doing this.
There are people out there in the same space as me that may not feel comfortable revealing their sexuality. I just want to tell them that you don't have to change who you are, or how you should be, just to fit in.
You being you, and being happy, is what matters most.
Jake"
The team itself also noted:
"Blackpool Football Club has worked closely with Stonewall and the relevant footballing organisations to support Jake and is incredibly proud that he has reached a stage where he is empowered to express himself both on-and-off the pitch.
It is vital that we all promote an environment where people feel comfortable to be themselves, and that football leads the way in removing any form of discrimination and prejudice."
The largest LGBTQ+ advocacy organisation in the UK, Stonewall tweeted:
We are proud that Jake has felt able to share his truth with the world. To come out publicly as the first openly gay player in men's professional football in the UK in the last 30 years takes courage. We're honoured to be supporting him! 🏳️‍🌈⚽ https://t.co/4q1j9PSNxD

— Stonewall (@stonewalluk) May 16, 2022
Blackpool Football Club is a professional association football club based in seaside resort of Blackpool on the Irish Sea coast of England.
LA Dodgers to wear special Pride caps in 2 games next month
A matchup with the Giants will be the first time 2 Major League Baseball teams wear the rainbow logo on the field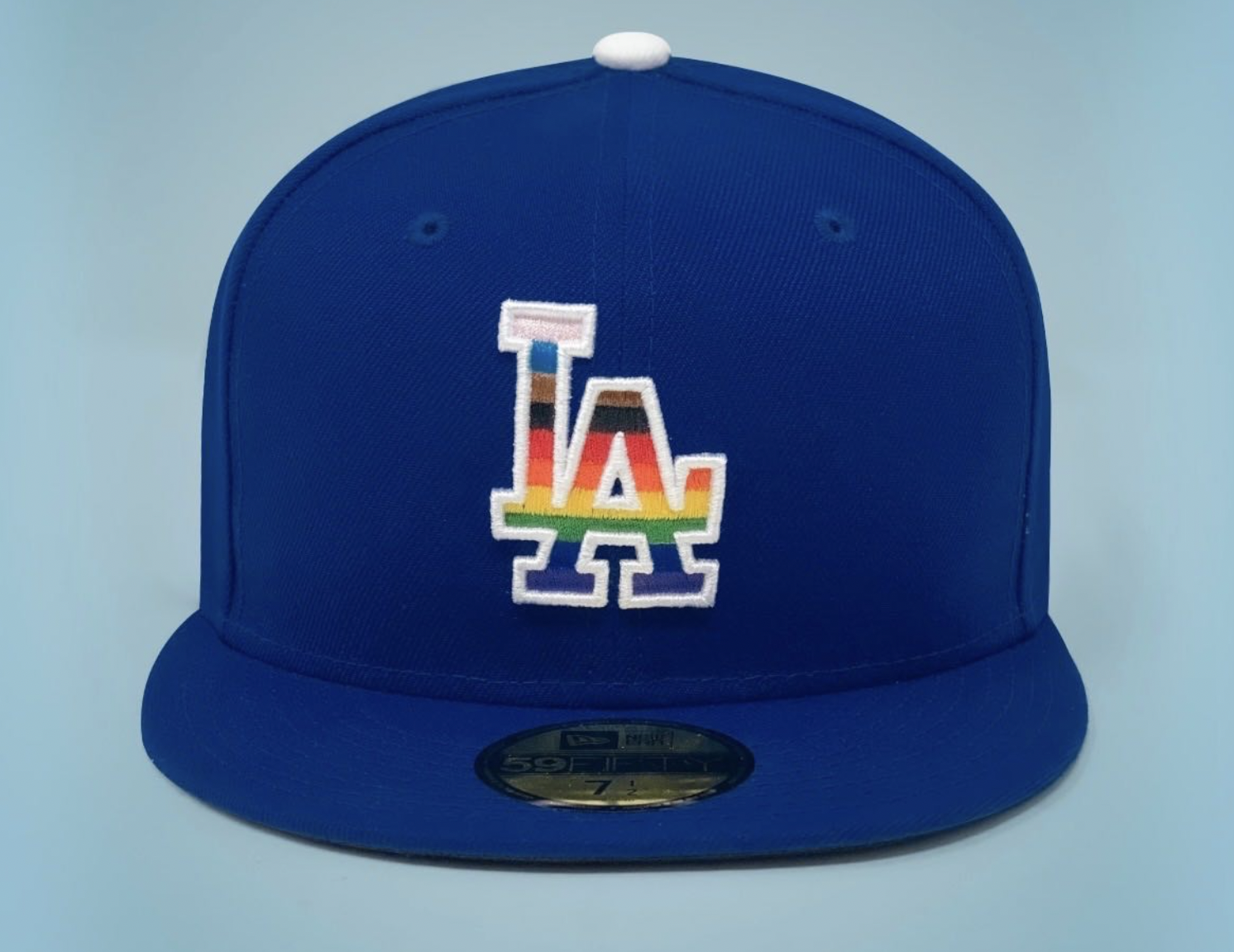 LOS ANGELES – For this year's LGBTQ+ Night, the players wearing Dodger Blue will also have the colors of Pride on their caps. The Dodgers announced Monday that on the night of June 3, when the team hosts the New York Mets, the players will wear custom caps that infuse the famous L.A. logo with the colors of the Progress Pride flag. 
And that's not all. When the Dodgers visit San Francisco's Oracle Park for the Giants' Pride Day game, the two teams will make LGBTQ sports history: On June 11, both the Dodgers and Giants will wear caps with their custom rainbow logo on the field, the first time two MLB teams will take to the diamond in Pride gear.
"I am incredibly proud to share this news," said Dodgers senior VP of marketing, communication and broadcasting, Erik Braverman, the out gay baseball executive who wed his husband at Dodger Stadium in January. He shared the news with Instagram followers Monday. "We have been working hard behind the scenes to make this happen and this is the year it will take place. The Dodgers and Giants are true leaders when it comes to equality and inclusion! 🏳️‍🌈 "
"The Los Angeles Dodgers are proud to stand with and recognize the LGBTQ+ community in Los Angeles and globally," said Dodgers president and CEO, Stan Kasten, in a statement. "The Dodgers have a history of breaking barriers and we're proud to be a part of another chapter in MLB history as the Dodgers and Giants each wear their team's pride caps on June 11. While our organizations have a long-storied rivalry on the field, we stand together when it comes to equality for all."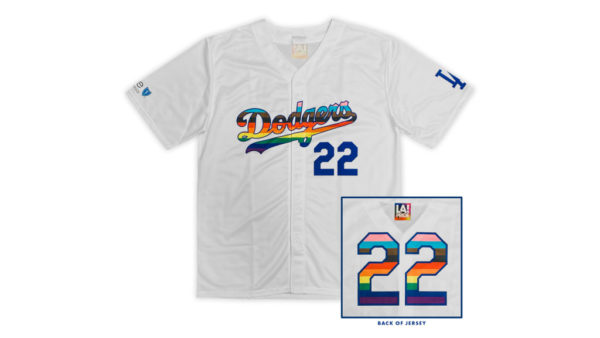 By purchasing a special ticket package to the June 3 game at Dodger Stadium, fans will receive an exclusive commemorative Dodger LGBTQ+ game jersey featuring the team logo emblazoned in the traditional Pride flag colors.
All fans will be treated to appearances by special guests including MMA trailblazer Fallon Fox, retired out gay umpire Dale Scott and MLB senior VP of diversity, equity and inclusion, Billy Bean, the commissioner's special assistant. Other Pride activities will take place during and prior to its ninth annual LGBTQ+ Night game. That includes drink specials in the pavilion bars, a special recognition of frontline workers from Los Angeles' LGBTQ+ community and Friday Night Fireworks, set to music mixed by DJ Bowie Jane, a Dodgers LGBTQ+ Night regular. The Singapore-born Wils is slated to sing the National Anthem.
"The Dodgers annual Pride Night has become one of the most anticipated nights of the season," Braverman added. "I am incredibly proud to have the added element of the on-field caps this year. I look forward to sharing these historic games with members of the LGBTQ+ community and allies."
The Los Angeles Dodgers Foundation promises to donate 50% of the proceeds of a 50/50 raffle to The Los Angeles LGBT Center, the world's largest provider of programs and services for LGBT individuals.
Last year, as the L.A. Blade reported, the Giants made MLB history as the first baseball team to wear Pride colors in a game, with a custom rainbow logo patch on their uniforms.
Giants manager Gabe Kaplan spoke to Outsports about the new history his team and the Dodgers will be making on June 11.
"It is an honor to be a part of this moment," Kapler said. "I hope everyone watching the game on June 11 sees the clear statement being made — we stand for equality and respect of all people, regardless of sexual orientation. Wearing the Pride logo is both a reminder of the discrimination the LGBTQ+ community faces and the importance of supporting and creating a more inclusive environment."