Intersex civil rights legislation killed after fails to advance
These irreversible genital reconstruction surgeries usually performed when intersex children are infants have lifelong consequences
SACRAMENTO – Senator Scott Wiener (D-San Francisco) announced Tuesday that he will not be moving forward with Senate Bill 225: the Intersex Bodily Autonomy, Dignity and Choice Act. This civil rights legislation would ban medically unnecessary, irreversible genital surgeries on intersex infants and other young children.
Wiener has pursued this civil rights legislation that would provide children and their families with a chance to make informed decisions about major, life-altering genital reconstruction surgeries for three consecutive years.
He has been unable to pass the bill out of its first policy committee, the Senate Business & Professions Committee, due to lack of sufficient votes in the committee. SB 225 was co-sponsored by Equality California, interACT: Advocates for Intersex Youth, the National Center for Lesbian Rights, and the ACLU of California.
"SB 225 was a basic civil rights law, standing for the important principle that people should be able to make decisions about their own lives, as opposed to having other people make those decisions for them. These irreversible genital reconstruction surgeries – usually performed when a child with variations in their genitalia are infants – have lifelong consequences. These consequences can include chronic pain, scarring, loss of sexual sensation, and more," the Senator said in a media statement.
"SB 225 is vitally important civil rights legislation for intersex people and the larger LGBTQ community, and I'm disappointed and saddened that it does not appear to have a viable path forward at this time. For three years, we've worked to advance the legislation, and it's become apparent that we continue to lack the votes to pass a meaningful bill — one that actually protects intersex people — through committee, he added.
"Pausing medically unnecessary genital surgeries until a child is old enough to participate in the decision isn't a radical idea. Rather, it's about basic human dignity. In countries like Germany, Colombia, and Malta, these infant surgeries are banned. The United Nations and three former U.S. Surgeons General have called for these surgeries on babies to be banned. I'm fully committed to protecting the rights of everyone with variations in their genitialia, including intersex people. I'm not giving up, and I stand in solidarity with the intersex community in its fight for bodily autonomy, dignity and, choice," Wiener said.
The California Medical Association, the politically influential professional organization representing nearly 50,000 physicians in the state of California, was opposed to the legislation and actively lobbied against it.
"We're proud to stand with Senator Wiener and the intersex community in this important fight to safeguard the human rights of all Californians and are immensely grateful for his leadership on SB 225," said Equality California Legislative Director Tami Martin. "We're disappointed that there is not enough support to pass this bill out of committee this year, but our fight will continue until the work is done."
One to two percent of people are born with variations in their genitalia and sex anatomy, some of whom identify as intersex. Parents of children with these variations are often offered medically unnecessary surgical interventions – such as major surgeries to cut a clitoris, create a vagina for penetrative sex, remove hormone-making organs, or move a working urinary opening – which are typically performed on children under two years old and often without a complete discussion of the various risks.
These surgeries may result in extreme scarring, chronic pain, chronic incontinence, loss of sexual sensation, post-traumatic stress disorder, incorrect gender assignment, and the need for additional surgeries to treat complications from the original surgery. SB 225 would allow parents to make a decision, in consultation with their child and medical professionals, once a person is old enough to participate in decision-making about whether or not a surgery to change sex anatomy is right for them.
"While this particular bill did not become law, we are deeply grateful to our allies and proud of getting one step closer to protecting intersex bodily autonomy in California," Alesdair Ittelson, Director of Law & Policy and Interim Executive Director of interACT said. "interACT will continue to demand self-determination instead of pathologization for intersex people and we are not deterred by the paternalistic approach of a rapidly shrinking number of individuals who stand in the way of protecting intersex human rights. Intersex people will prevail in their fight for control over their own bodies and we applaud all of those who supported SB 225."
Becca Cramer-Mowder, Legislative Coordinator and Advocate with ACLU California Action, noted: "We are disappointed that California is not yet ready to lead on this important civil rights issue, and we will continue to work with intersex individuals and advocates to move the state forward towards recognizing the bodily autonomy of intersex Californians."
Thousands gather for 'Bans Off Our Bodies Rally' in DTLA
Angelenos joined the hundreds of thousands of Americans- women, men, kids- Black, Latino Asian, LGBTQ+ marching across the nation Saturday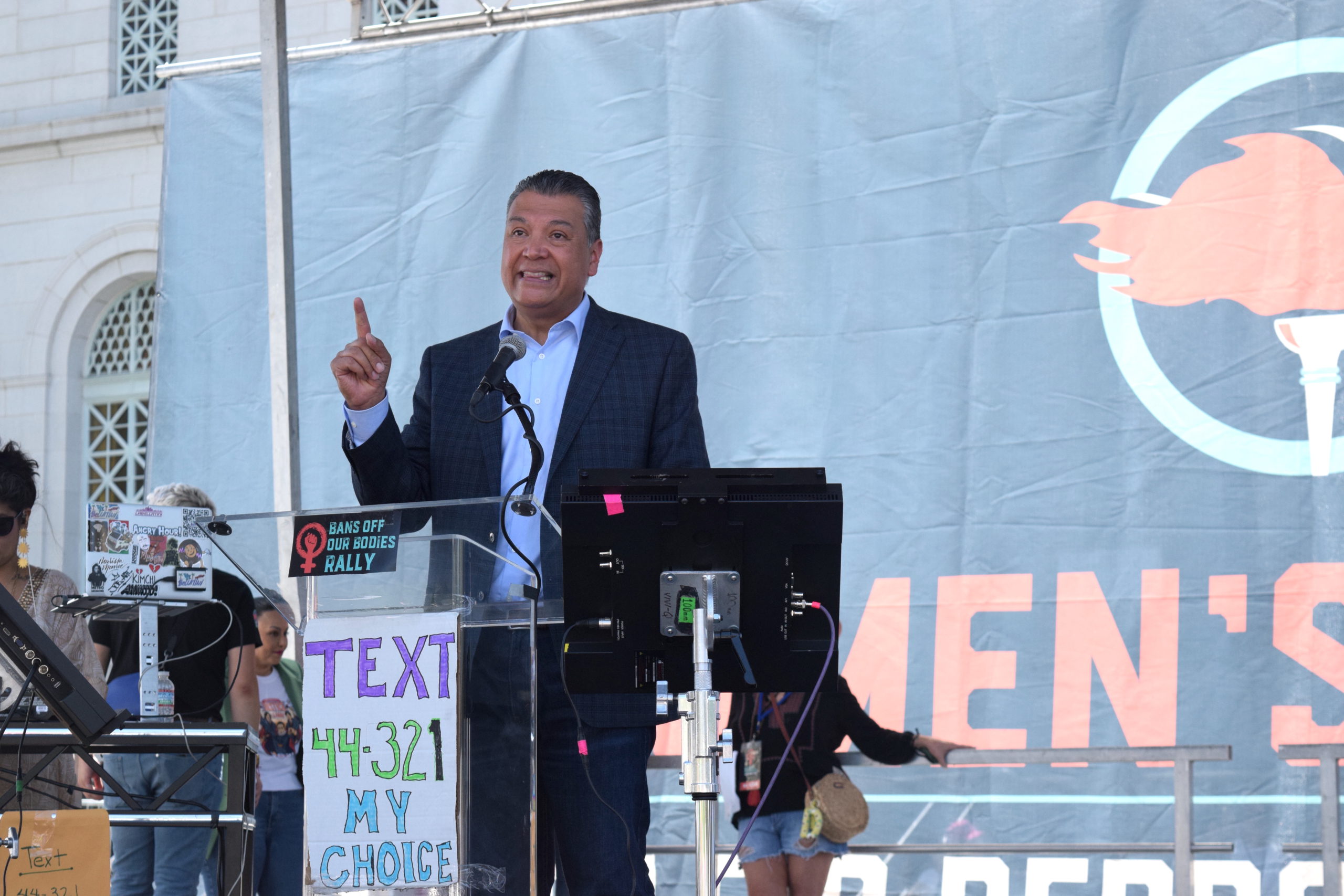 LOS ANGELES – Several thousand Angelenos joined the hundreds of thousands of Americans including women, men, kids- Black, Latino Asian, LGBTQ+ marching across the nation Saturday to protest the potential overturn of the landmark Roe v. Wade decision after the leak of the U.S. Supreme Court's draft opinion.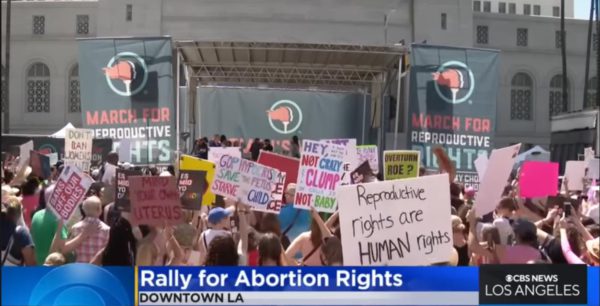 The crowds were joined by politicians and dignitaries including U.S. Senator Alex Padilla (D-Calif.), a member of the Senate Judiciary Committee, who gave a speech to the rally, LA Mayoral candidate Congresswoman Karen Bass, (D-37), California Insurance Commissioner Ricardo Lara, the First Partner and wife to California Governor Gavin Newsom, Jennifer Siebel Newsom, Tony Hoang, the Executive Director of Equality California and the President of the Planned Parenthood Federation of America Alexis McGill Johnson.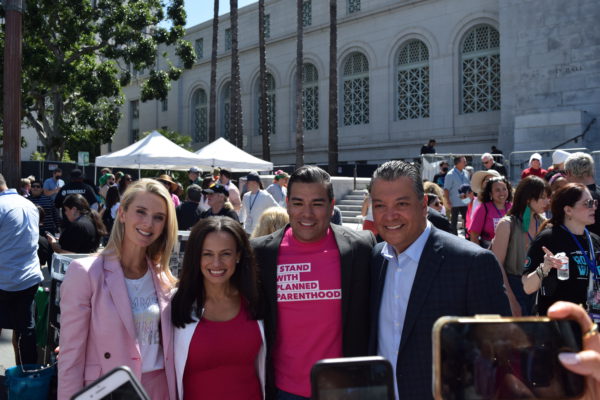 In his speech Padilla delivered remarks on the importance of defending access to safe, legal abortion at the federal level.
The "Bans Off Our Bodies" was a daylong event organized by groups including Women's March, Planned Parenthood Action Fund, UltraViolet, MoveOn, the American Civil Liberties Union and the National Abortion Rights Action League.
From Pittsburgh to Pasadena, California, and Nashville, Tennessee, to Lubbock, Texas, tens of thousands participated in "Bans off our Bodies" events. Organizers expected that among the hundreds of events, the largest would take place in Chicago, New York, Los Angeles and other big cities, the Associated Press reported.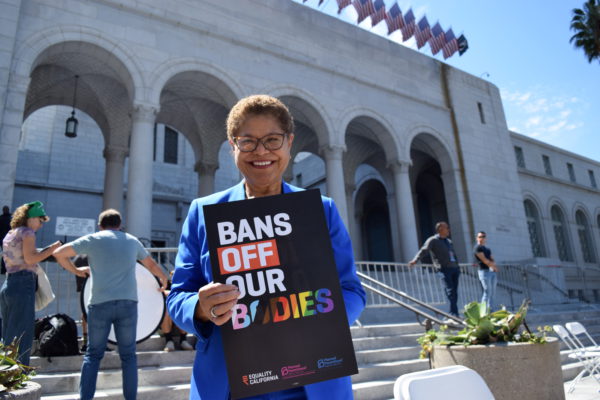 "If it's a fight they want, it's a fight they'll get," Rachel Carmona, executive director of the Women's March, said before the march.
Saturday's rallies come three days after the Senate failed to muster enough votes to codify Roe v. Wade. Sponsors included the Women's March, Move On, Planned Parenthood, UltraViolet, MoveOn, SEIU and other organizations.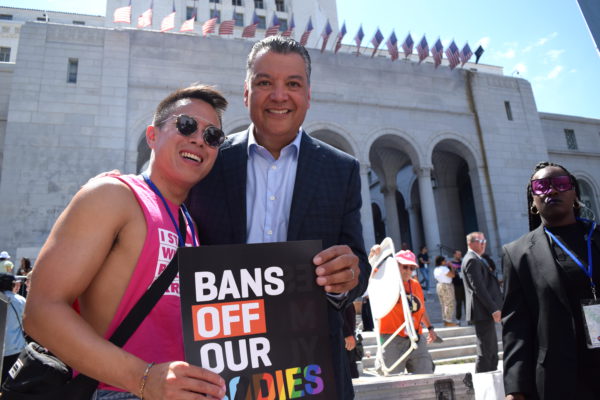 At the Chicago rally, speaker after speaker told the crowd that if abortion is banned that the rights of immigrants, minorities and others will also be "gutted," as Amy Eshleman, wife of Out Chicago Mayor Lori Lightfoot put it, the Associated Press noted.
"This has never been just about abortion. It's about control," Eshleman told the crowd of thousands. "My marriage is on the menu and we cannot and will not let that happen," she added.
Thousands gather in DTLA to protest potential overturn of Roe v. Wade:
KTLA event report:
Newsom's May budget revision on spending record California surplus
Newsom's proposal provides relief from inflation, ensure public safety, address homelessness & combat climate change
SACRAMENTO – As global inflation and war in Europe drive up costs across the country, California Governor Gavin Newsom is proposing a $300.7 billion budget to provide relief from rising inflation, ensure public safety, address homelessness, transform public education, and combat climate change.
The Governor's proposal includes an $18.1 billion inflation relief package to get money back into the pockets of Californians and bring down costs for families.
Led by GDP growth of 7.8 percent, the Blueprint includes a $97.5 billion surplus. The Governor's proposal ensures that this year's spending will not hamstring future budgets, calling for $37.1 billion in reserves including $23.3 billion for the state's Rainy Day Fund, and spends 94 percent of surplus revenues on one-time expenditures.
Newsom intends to funnel some of the money to address pressing issues such as abortion rights, climate, education, inflation and crime. His plan spans both long-term investments and immediate rebates, largely made possible by the $97.5-billion tax surplus through next summer.
"Backed by a robust surplus and grounded in our unshakable values, we're paving the California Way forward to prosperity and progress for all. With historic investments, we're doubling down on our formula for success and making sure no one is left behind – supporting working families and businesses, tackling climate change, expanding health care access, making our communities safer, and more," said Newsom. "While gridlock persists in Congress and right-wing fanatics turn statehouses across the country into laboratories of hate and oppression, here in California, we're putting in the work to grow our economy and implement real, inclusive policy change to create a brighter future for all."
$18.1 Billion Inflation Relief in direct payments to help address inflation, help people pay their utility bills and rent, and reduce costs like health care and child care.
$47.1 billion climate commitment – an increase of $32 billion this year – to tackle pollution, build climate resilient water supplies, reduce the risk of catastrophic wildfires, ensure grid reliability and accelerate clean energy solutions, and protect communities from extreme heat.
$660 million to ensure public safety with funding for new officers and mental health support for law enforcement, support for victims of sex trafficking, cracking down on internet crimes against children, and tackling the opioid crisis.
$14.7 million to confront homelessness and the mental health crisiswith investments to help get people off our streets and into the services and care they need, focusing particularly on Californians who suffer from mental health and substance use disorders.
$37 billion to rebuild Californiawith money for infrastructure including broadband and new housing, as well as a historic investment of $128.3 billion to transform public education.
Billions of dollars to invest in Californians and the Governor's pro-life agenda, including funding to:

Improve our education systems with universal preschool, after school and school meals; and expanded, more affordable child care
Make health care more accessible and affordable through Medi-Cal expansion and subsidies, increased reproductive health care access, home visiting, and support for black infant health, youth mental health and suicide prevention, and addressing adverse childhood experiences.
Clean up our environment by tackling pollution, particularly in disadvantaged communities that bear the brunt of its impacts.
Ensure our communities are safe with violence prevention programs, expansive gun buyback programs and getting fentanyl and other opioids off our streets.
As previously announced, the governor is proposing spending $11.5 billion for tax refunds in the form of $400 checks sent to every eligible registered vehicle owner.
Californians who have more than one vehicle registered to their name would get $800. That's because the payments are capped at two vehicles per person, officials announced previously.
Legislative leaders have announced different plans to help Californians with cash rebates that puts Democrats in the California Senate at odds with Newsom. They will need to reach a compromise.
In response to the Governor's May budget revision, Out Senator Scott Wiener, (D-SF) noted;
"While the Governor's budget proposal has an awful lot to like — for example, rent and utility relief, expanded childcare subsidies, and important infrastructure investments — the proposal to send $400 per car is short-sighted. It will undermine our ability to make transformational investments with long-term benefits, as opposed to a short-term sugar high.
"Instead of sending money to car owners who may or may not be struggling, let's provide targeted relief to those most in need while deeply investing in our deteriorated schools, water systems, and transportation systems and massively investing in the housing we so desperately need.
"With this temporary, massive budget surplus, we have a unique opportunity to deeply invest in California's future in a way that makes people's lives better for generations to come. Let's not lose that opportunity."
Equality California, the nation's largest statewide LGBTQ+ civil rights organization, released the following statement from Executive Director, Tony Hoang:
"At a time when far-right extremists like Ron DeSantis and Greg Abbott are attacking our LGBTQ+ students and transgender youth and their families, we are grateful to Governor Newsom for continuing to stand with our community, support our kids and invest in the fight for full, lived LGBTQ+ equality.
"The governor's revised budget will help to build an inclusive, safe and empowering future for all and serves as an example for other states to work to prioritize the needs of the most vulnerable members of our communities in this critical inflection point for the nation."
Planned Parenthood, LGBTQ+ & Latino groups buy ads for Ricardo Lara
"Voters deserve to know that Lara has been a champion for consumers, the environment, LGBTQ+ civil rights and access to quality healthcare"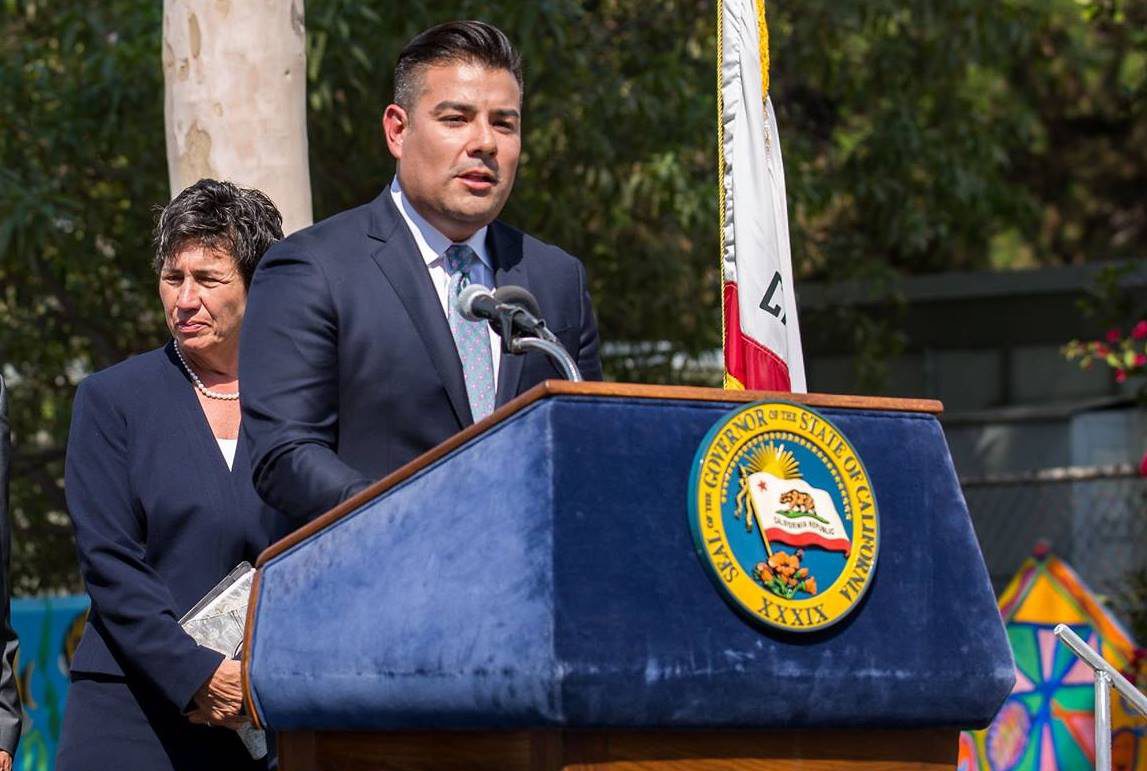 LOS ANGELES — Nearly a dozen progressive political groups in California announced Friday they had launched an initial six-figure advertising buy on Friday in support of California Insurance Commissioner Ricardo Lara, who is running for re-election.
The ad, which will air on digital and Connected TV across the state, is the largest independent expenditure paid media effort in support of Lara in advance of the June 7th primary election. 
Lara made history in 2018 as the first openly LGBTQ+ statewide elected official in California and the only openly LGBTQ+ person elected to statewide office in the nation.
Raised in East Los Angeles by immigrant parents, Ricardo Lara's humble beginnings have guided his work in public service. Lara was elected as California's Insurance Commissioner in 2018, following an eight year career in the California legislature.
As a State Senator, he authored legislation that would have created a universal health care system for California and wrote the Health4All Kids Act – guaranteeing health care coverage for all California children. Lara is the first openly LGBTQ+ person elected to statewide office in California and the only openly LGBTQ+ person elected statewide in the country.
The campaign is being funded by Californians Supporting Ricardo Lara for Insurance Commissioner 2022, an independent expenditure committee supported by Planned Parenthood Affiliates of California, the California Teachers Association and California Federation of Teachers, SEIU California State Council, California Association of Realtors, Equality California, LGBT Caucus Leadership Fund, California Professional Firefighters, Latino Victory Fund and California Latino PAC.on.
"Ricardo Lara has worked to combat continued attacks on abortion access and reproductive freedom," said Planned Parenthood Affiliates of California Vice President of Communications & Campaigns Jennifer Wonnacott. "While the Supreme Court considers overturning Roe v. Wade, Ricardo Lara is working to enforce a new law that expands access to abortion by prohibiting health plans and insurers from charging a co-pay, deductible, or other cost- sharing requirement for abortion care. That's why Ricardo Lara is the only candidate for Insurance Commissioner endorsed by Planned Parenthood." 
"California voters deserve to know that Ricardo Lara has been a champion for consumers, the environment, LGBTQ+ civil rights and access to quality healthcare as our Insurance Commissioner," said Equality California Managing Director of External Affairs Samuel Garrett-Pate. "Since taking office, Lara has taken on tough fights and won for working families — holding the insurance industry accountable while fighting for health care for all, helping California consumers during the COVID-19 pandemic, assisting California wildfire victims in rebuilding their lives and safeguarding access to abortion. We are proud to join so many civil rights and labor organizations in support of Insurance Commissioner Lara's re-election."
View the ad: