Chasten Buttigieg calls out homophobic commenter who gets fired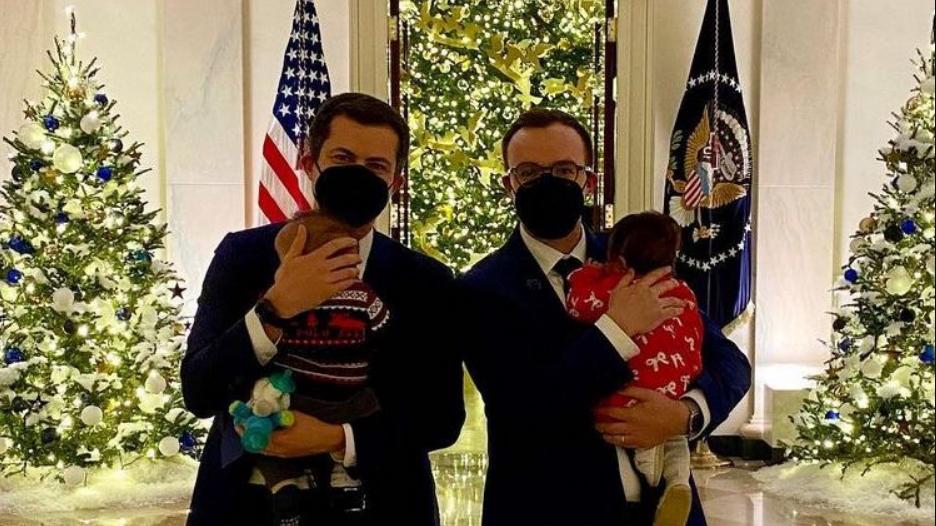 WASHINGTON – Chasten Buttigieg, the husband of Transportation Secretary Pete Buttigieg, took to Instagram to call out a user who left a homophobic comment on Buttigieg's New Year's photos.
Over the weekend, Buttigieg posted a family photo with his husband and their two children, Joseph August and Penelope Rose.
"2021 brought with it many challenges, but it also gave us a lot to be grateful for," Buttigieg wrote. "#HappyNewYear, friends. Here's to a peaceful and joyful 2022!"
Though most of the comments the post received were positive, one commenter, identified as Andre Kravchenko, said: "Someone gave these [censored] kids??? Holy [censored.]" 
Buttigieg, who censored some of Kravchenko's words, decided to respond to the comment by posting it on his Instagram story.
"In the year 2022, you'd think these people would be wise enough to post their homophobia from an alt account, not one easily connected to their job," he wrote. "Rather embarrassing for @AmericanHomes4Rent, a company that claims to be an equal housing provider and one that's 'building a culture of inclusion and belonging.' I worry for your tenants."
Kravchenko is a former employee of the real estate company American Homes 4 Rent.
The company took to Instagram, saying: "We were saddened to learn that a former employee—or someone using their account—recently posted an offensive comment aimed at @ chasten.buttigieg and @pete.buttigieg."
"We want to clarify that, despite this individual's outdated LinkedIn account information, they have not been employed by our company for 5+ years, and further do not represent our beliefs and policies," the statement added." We do not approve of nor do we condone discriminatory language or behavior."
Buttigieg made a second post to his story with a screenshot of a comment from Skyline Properties in Seattle, Washington, where Kravchenko was an independent contractor. 
"To all who are posting," Skyline Properties wrote. "Skyline could not possibly know what 1,200 of our independent contractors could be doing at any given moment. There is no way on gods green earth that you, me air anyone else could know in advance what someone might think or post. Now that I am aware of the post I will have a conversation with the broker. Thank our for letting me know. Scott Hotes. Skyline."
Buttigieg responded: "This defensive response tells us exactly how that 'conversation' is going to go."
Skyline Properties updated Instagram followers Tuesday with a post announcing that they fired Kravchenko after having a conversation with him regarding the comment.
"After spending time to properly review the comments made by this individual, we have found that this was not some fluke, mistake, or hacking situation, and have promptly FIRED him from Skyline Properties," the company said.
They added: "That being said, we would like to sincerely apologize to the Buttigieg family and the LGBTQ+ community for any harm that came from the bigotry of this individual. We do not tolerate ANY hate speech of any kind, nor do we have a place for ANY brokers who participate in such hateful behaviors. We must be as clear as possible when we say we have zero tolerance towards this behavior."
Autistic poet's work layered with 'multiple levels of awareness'
Leslie McIntosh on coming out and learning he is neurodiverse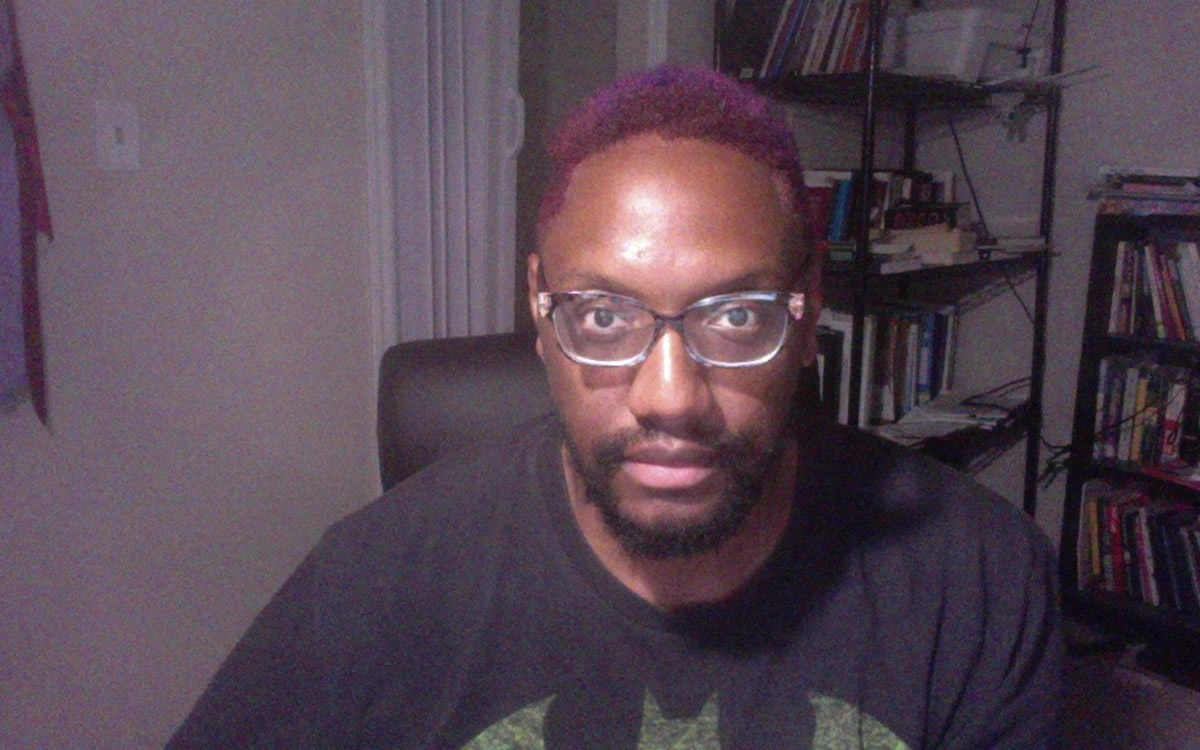 (Editor's Note: One in four people in America has a disability, according to the Center for Disease Control and Prevention. Queer and disabled people have long been a vital part of the LGBTQ community. Take two of the many queer history icons who were disabled: Michelangelo is believed to have been autistic. Marsha P. Johnson, who played a heroic role in the Stonewall Uprising, had physical and psychiatric disabilities. Today, Deaf/Blind fantasy writer Elsa Sjunneson, actor and bilateral amputee Eric Graise and Kathy Martinez, a blind, Latinx lesbian, Assistant Secretary of Labor for Disability Employment Policy for the Obama administration, are only a few of the numerous queer and disabled people in the LGBTQ community. Yet, the stories of this vital segment of the queer community have rarely been told. In its series "Queer, Crip and Here," the Blade will tell some of these long un-heard stories.)
Before he could even read, Leslie McIntosh knew he wanted to be a writer. "My Dad got me this little desk with a drawer in it," McIntosh, 38, who is Black, male presenting, male attracted and autistic, said in a telephone interview. "I was learning the alphabet when I was two."
McIntosh, who was born in Newark, N.J. and grew up in Atlantic City, had a precocious ability to decode words. "I would scribble in this notebook until I learned how to write and form words," he said.
This scribbling – this desire to be a writer – wasn't just a childhood thing for McIntosh. The writing bug stuck to him. Today, McIntosh is a poet and "fictionist" whose work has received national recognition. He has been awarded residencies and fellowships from Breadloaf, Callaloo, Millay Arts, The Watering Hole, Zoeglossia and other programs.
His poetry has appeared in "Beloit Poetry Journal," "Foglifter," "Obsidian," the forthcoming anthology "In the Tempered Dark: Contemporary Poets Transcending Elegy" and other publications. He is an assistant poetry editor at Newfound.
McIntosh, who earned a bachelor's degree in psychology from Montclair State University in 2006 and a Psy.D. from the Philadelphia College of Osteopathic Medicine in 2019, is also a psychologist with a private practice. He lives, he wrote in an email to the Blade, "on the stolen land of the Munsee Lenape, currently known as Hudson County, NJ, USA."
This reporter read with McIntosh (and Avra Wing) last fall at the Geraldine R. Dodge Poetry Festival. McIntosh is a vibrant performer with a mesmerizing presence. (The reading was an event held by Zoeglossia, a fellowship program for disabled poets.)
In a wide-ranging conversation, McIntosh talked with the Blade about coming out, learning he was autistic, poetry and Bayard Rustin.
Growing up was complicated for McIntosh. "People would read — understand — that I was queer and on the [autism] spectrum," he said, "before I even knew what that meant."
There was a lot of repression in the early part of his life. "A lot of what you think about coming out didn't happen to me," McIntosh said.
McIntosh wasn't diagnosed as autistic until five years ago. But, looking back, he reflected that he was different from neurotypical people.
"I would invent these alternative realities in my brain," McIntosh said, "I would give these people sexual adventures and things like that."
McIntosh would compartmentalize. "I wouldn't attribute what was happening to me," he said. "It was a lot of world building about what having a boyfriend would look like."
College was a new start for McIntosh. There, his universe expanded. He met people, who he said, were "separate from the toxicity of high school."
The characters in the alternative realities in his brain couldn't keep up with the intensity and speed of the people he was interacting with in real life. "I had to experience things in real time," McIntosh said, "It had to be me. That's when my coming out began."
Being queer in the early 2000s wasn't easy for McIntosh. He didn't feel quite at home in Southern New Jersey. "It's hard being gay anywhere," he said, "especially, where I come from."
Even a college campus in the aughts wasn't perfectly safe for a Black male. How do I frame myself? Who do I tell? When do I tell them, McIntosh wondered.
McIntosh went into psychology because he wanted to be of service. "Here's a secret," he said, "what's helped me to be successful wasn't the degrees I've earned."
"What's helped me clinically and humanly," McIntosh said, "to relate as one person to another are things I learned outside [of his degrees]."
McIntosh can evaluate and diagnose his patients. "I can quote unquote treat them and bill insurance companies," he said, "but that isn't a lot of my practice."McIntosh works with patients to help them conceptualize their lives and what their needs are. "I feel like a lot of therapists being directive discourages patients from relying on their own wisdom," he said.
McIntosh was going through his training in psychology when he began to think he might be autistic. He felt a bit shameful about this because of the way the behavior of autistic people is often pathologized.
"They treat the behavior of autistic people – such as stimming – as needing treatment," McIntosh said, "they create a behavior plan to make them stop doing it."
Being diagnosed as autistic was freeing for McIntosh. It gave him a feeling of control. "I can advocate for myself," he said. "I can say I have this condition. This is unfair. We need to have a conversation."
Race has always been at the intersection of his life as a Black, queer, autistic man, McIntosh said. While he was earning his Psy.D, the one Black faculty member in the program left it. "After that it was all white hetero cisgender people," he said.
Thankfully, his family has always been supportive of him. "I've been out to them forever," McIntosh said.
McIntosh got into poetry when he was preparing to go away to his first year of college. He became entranced by "Def Poetry Jam." "I saw myself in it," he said, "looking at that screen, I knew I was a part of it."
Poetry makes his neurodivergence livable for McIntosh. "It gives me a place where it isn't something I have to navigate around or over," he said, "It gets center stage. Without poetry, it would be a burden."
Every creative person has a quirk about them, he added.
"Leslie McIntosh's poems mean a great deal to me because of the original and even visceral way they navigate the personal and the historical," Sheila Black, a poet and Zoeglossia co-founder, emailed the Blade. "Making abundant use of historical fact and context but always shaping this toward a personal lyrical vision."
"The world of Leslie's poems is layered with multiple levels of awareness – the double and even triple consciousness of race, sexuality, disability," Black added. "His poetry is always animated by an acute sense of human vulnerability and the longing for a better, brighter more just world."
When he was just out of college, McIntosh learned about Bayard Rustin, the queer, Black civil rights icon. "His existence blew my mind and my heart," he said. "Here is this unsung civil rights hero – a mentor of Martin Luther King, Jr. Virtually unknown because he was Black and openly gay in the 1950s."McIntosh wanted to know how this could be. Being a poet, he imagined a story.
McIntosh wrote poems in the form of letters — "epistles" — from Bayard Rustin. For these poems, he created Imal, an imaginary character. "I didn't want to be part of the story," he said. "It was easier to imagine the story without me in it."
Later, McIntosh thought leaving himself out of the story was due in part to his neurodivergence. "I was using Imal to create a version of myself that deserved to be loved," he said, "and who cared back."
"I had rooms of people fight for my coat, letters from Martin Luther King with my name on them," McIntosh writes in the voice of Bayard Rustin in his poem "Epistle: The Verisimilitude of Ruin," "But that didn't matter — I wanted a forgotten alley or a dim phone booth … Make believe you haven't drowned at the drag of a man's thinly carpeted thigh, the gravity of the smell."
McIntosh isn't interested in reading the poems he might have written if he'd been neurotypical. He's proud to be neurodiverse. "I like the poet that I am," he said, "I don't think any other iteration of myself could have written these poems."