History-making Trans 'Jeopardy!' contestant robbed at gunpoint
Schneider has racked up 25 wins and has earned $918,000 for her efforts, which is also the most money a woman has ever won on the show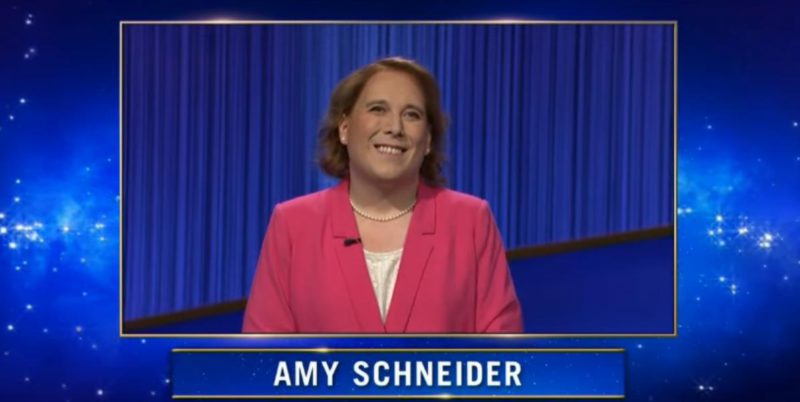 OAKLAND – "Jeopardy!" champion Amy Schneider, who became the first trans contestant to qualify for the Tournament of Champions in November, was robbed at gunpoint over the New Year's weekend in her home city of Oakland.
Schneider, the show's highest-earning woman, took to Twitter on Monday to tell her over 55,000 followers that she was OK after being robbed.
"Hi all! So, first off: I'm fine. But I got robbed yesterday, lost my ID, credit cards, and phone," she said. "I then couldn't really sleep last night, and have been dragging myself around all day trying to replace everything."
According to the Associated Press, Oakland police said they are investigating the armed robbery that occurred on Sunday afternoon. No arrests have been made.
The robbery took place just days after Schneider won her 21st consecutive game, surpassing Julia Collins as the most winning woman in the show's history.
To date, Schneider has racked up 25 wins and has earned $918,000 for her efforts, which is also the most money a woman has ever won on the show.
In an email statement to NBC News, a "Jeopardy!" spokesperson said, "We were deeply saddened to hear about this incident, and we reached out to Amy privately to offer our help in any capacity."
Schneider, an engineering manager from Oakland, has been an inspiration to many during her historic run on the show.
"Seeing trans people anywhere in society that you haven't seen them before is so valuable for the kids right now that are seeing it," she told ABC affiliate KGO-TV in November, adding: "I'm so grateful that I am giving some nerdy little trans kid somewhere the realization that this is something they could do, too."

California's rent relief programs distribute over $5 billion
Governor Newsom has proposed an additional $2.7 billion in emergency rental assistance in the California Blueprint May Revision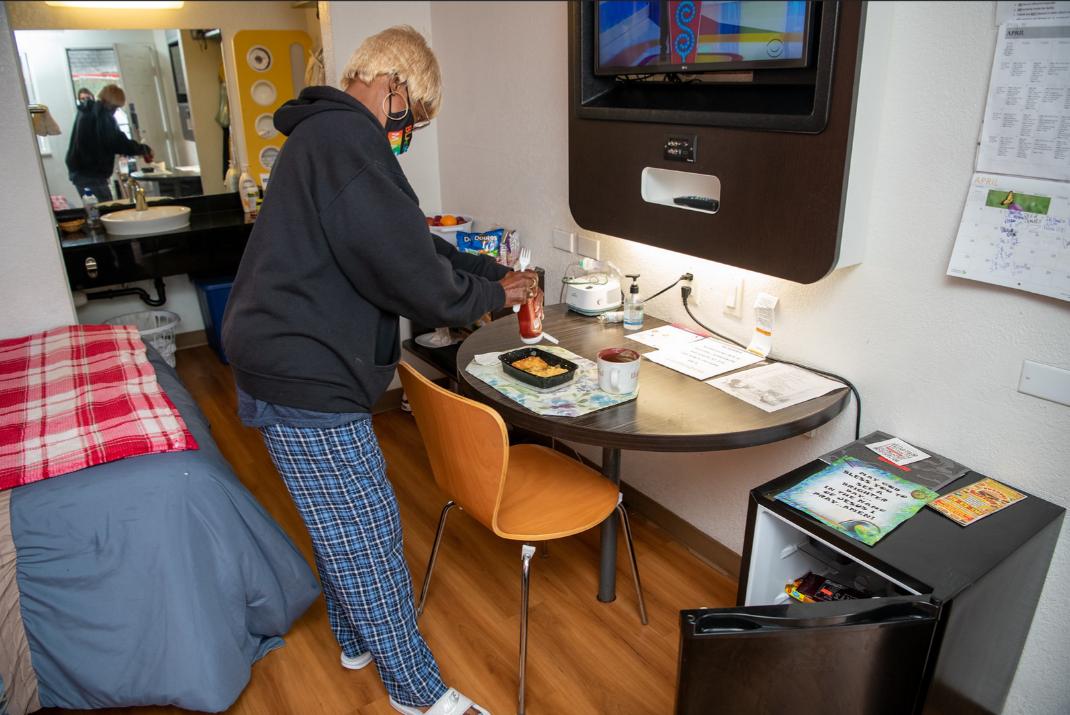 SACRAMENTO – Governor Gavin Newsom announced Thursday that California's state and local rent relief programs have hit a major milestone with over $5 billion having been distributed to help more than 1.2 million Californians impacted by the COVID-19 pandemic stay stably housed.
The Governor's California Blueprint May Revision proposes an additional $2.7 billion in emergency rental assistance for eligible applicants who applied through March 31, creating a total $8.1 billion investment.
"With the largest rent relief program of any state in the nation, we've ensured more than one million Californians remain housed, and we're advancing funding to help more families get back on their feet through this historic effort," said Newsom. "As California's recovery progresses, the state is committed to continuing our work to ensure the hardest-hit communities have the support and resources they need to thrive."
Throughout the pandemic, California has had the most robust eviction protections, for the longest period of time, in the country. Statewide eviction protections remain in place through June 30, 2022, for eligible applicants who applied through March 31, with additional local protections in place throughout the state.
The state program has helped those hardest hit by the pandemic, with more than 85 percent of households that have received rental assistance at or below 50 percent of Area Median Income.
"Keeping people stably housed has been a critical component of California's emergency response to the COVID-19 pandemic," said Business, Consumer Services and Housing Agency Secretary Lourdes Castro Ramírez. "In partnership with our federal and local partners, we have responded quickly and compassionately to address housing insecurity as a health emergency and stabilize over a million vulnerable Californians."
As of this week, the state program has provided rental assistance to more than 309,000 households, with an average payment of more than $11,000. With an average of 2.33 individuals per household assisted, the state program has kept more than 720,000 adults, children and seniors in their homes. And with the hard work of local jurisdictions that are running their own rent relief programs, an additional 233,000 households have been served, assisting a total of more than 500,000 residents.
In all, the number of people kept stably housed exceeds 1.2 million.  
"Since the beginning of the COVID-19 pandemic, California has answered the call of the U.S. Treasury to work with urgency to get rental assistance dollars into the hands of families in need so they could remain housed during the emergency," said Gustavo Velasquez, the Director of the California Department of Housing and Community Development. "To reach more than one million residents in just over a year is incredible. It is critical that applicants act as quickly as possible to reply to any requested action or response so they can receive the funding they requested."
The milestone comes as the state program announced that case managers have reviewed all applications submitted by March 31, 2022, and continue working with applicants, both landlords and renters, as the state program reviews the remaining applications and distributes relief funds to eligible Californians in need. All eligible applicants who submitted complete applications by March 31, 2022 will receive assistance, covering a total of up to 18 months for the period beginning April 1, 2020 and ending March 31, 2022.
State program dollars have been distributed throughout California, with residents of the City of Los Angeles receiving the largest share of California's COVID-19 Rent Relief program funds totaling over $1 billion to nearly 86,000 households. The counties of Los Angeles, Orange, Contra Costa, and the city and county of San Francisco round out the top five jurisdictions with tenants assisted to date.
Martha, an Orange County resident, was assisted by the state program and Local Partner Network organization, Helpline Youth Counseling. The pandemic brought hardship to her life, and she struggled with health issues. "I have not been able to work and was behind on rent for several months," she said. "I am so happy programs like these exist. Completing this application has given me hope that I thought I lost since COVID-19."
Adam, a resident of Los Angeles County, had the following to say about the state's rental assistance program: "This program has been extremely helpful during these tough times. I've had personal difficulties throughout and am blessed to have received this assistance. It has helped keep me from being placed in a homeless shelter."
Individual support for applicants needing assistance with outstanding tasks, appeals, or other help with their application is still available. Applicants are encouraged to call 833-687-0967 to schedule an appointment in their preferred language.
In addition, legal aid resources are available to support tenants navigating available protections. Low-or no-cost legal help is available through www.lawhelpca.org and/or the Tenant Resources page on HousingIsKey.com.
Newsom urges more aggressive response to ongoing drought
Governor warned if there's not significant reduction in water use this summer, the state could be forced to enact mandatory restrictions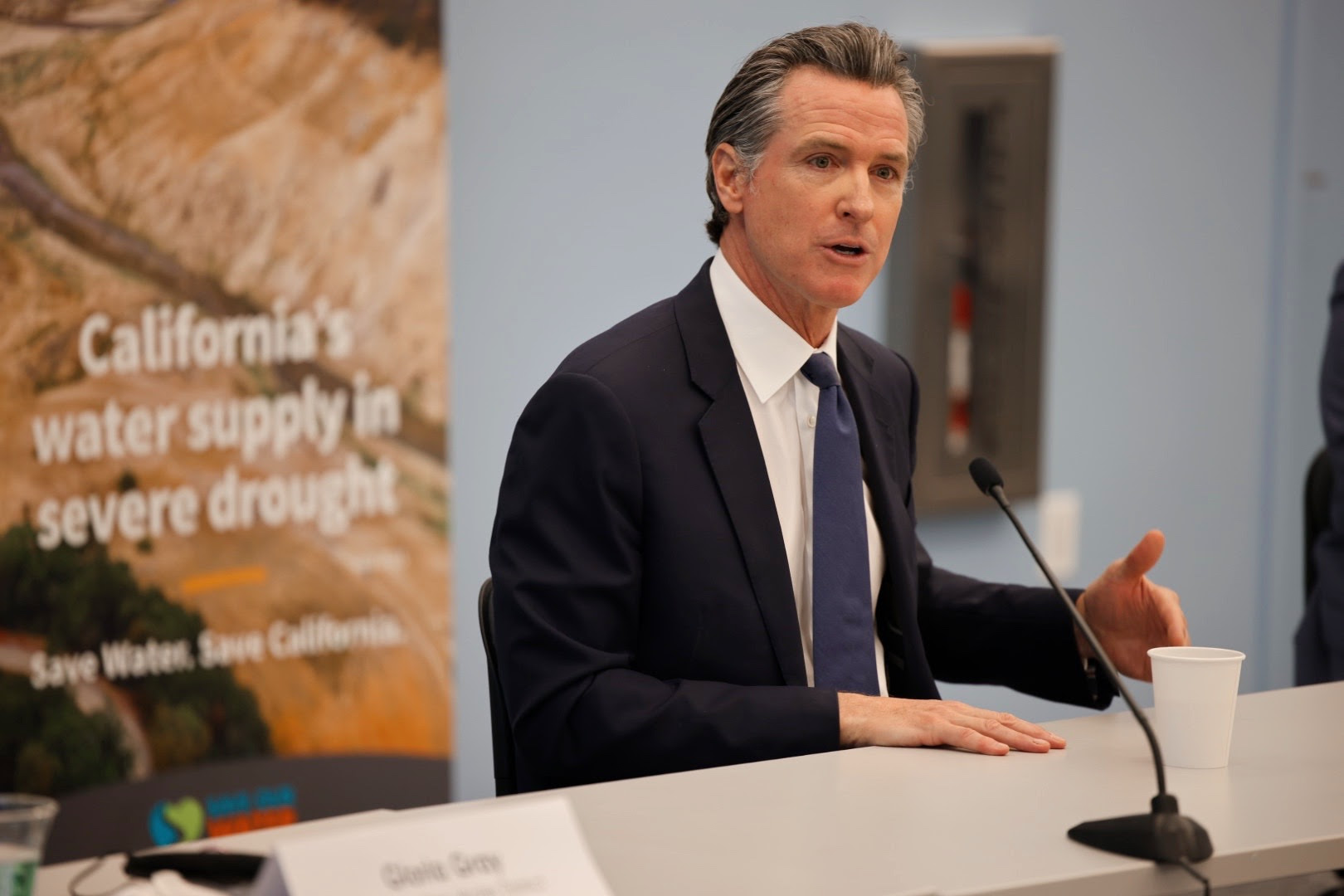 SACRAMENTO – Governor Gavin Newsom convened leaders from the state's largest urban water suppliers on Monday, which cover two thirds of Californians, and water associations imploring them to take more aggressive actions to combat drought and better engage their customers to ensure all Californians are doing their part to save water. 
After the last drought, local water agencies pushed for greater flexibility on water conservation and drought response based on regional needs and water supplies, arguing that tailored local approaches would be more effective than statewide mandates. Governor Newsom has embraced this localized approach, but voiced concerns today given recent conservation levels around the state, and called on water agencies to step up efforts to reduce water use amid extreme drought conditions.
Governor Newsom warned that if this localized approach to conservation does not result in a significant reduction in water use statewide this summer, the state could be forced to enact mandatory restrictions.
The Governor will reconvene these same agencies in the next two months to provide an update on their progress.
"Every water agency across the state needs to take more aggressive actions to communicate about the drought emergency and implement conservation measures," said Governor Gavin Newsom. "Californians made significant changes since the last drought but we have seen an uptick in water use, especially as we enter the summer months. We all have to be more thoughtful about how to make every drop count."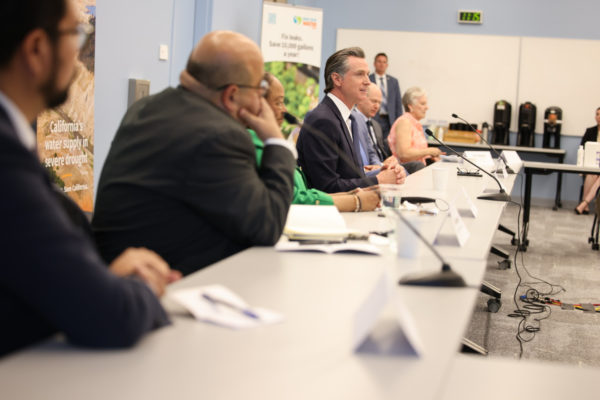 The Governor also called upon local water agencies to submit water use data more frequently and increase transparency in order to more accurately measure whether California is meeting water conservation goals. In addition, the Governor called on local water agencies to increase education and outreach efforts to Californians on the urgency of the crisis.
In July 2021, Governor Newsom called on Californians to voluntarily reduce their water use by 15%. At the end of March 2022 after the state failed to meet its 15% goal, the Governor issued an Executive Order calling on local water agencies to escalate their response to the ongoing drought. Tomorrow, at the Governor's direction, the State Water Resources Control Board will vote on a statewide ban on watering of non-functional turf in the commercial, industrial and institutional sectors as well as regulations requiring local agencies to implement water use restrictions amid the possibility that water supplies may be up to 20% lower due to extreme weather. Currently, local water agencies have implemented restrictions on about half of California's population. If the Board's regulations are approved, every urban area of California will be covered by a local plan to reduce water use.
Banning watering of decorative lawns would save between 156,000 acre-feet and 260,000 acre-feet per year, the equivalent of water used by 780,000 households in a year.
The climate crisis has resulted in the western United States experiencing one of the most extensive and intense droughts on record. January through March were the driest first three months in the state's recorded history, the state's largest reservoirs are currently at half of their historical averages, and the state's snowpack is just 14 percent of average.
The Governor's California Blueprint proposed this year would invest an additional $2 billion for drought response, which includes $100 million in addition to a previous investment of $16 million this fiscal year for a statewide education and communications effort on drought. These investments build on the previous $5.2 billion three-year investment in the state's drought response and water resilience through the California Comeback Plan (2021).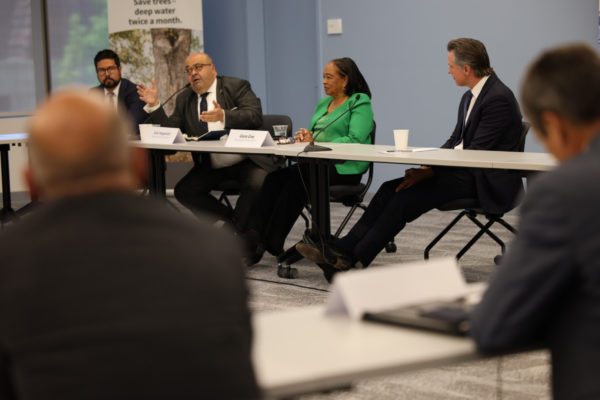 California's master water plan, the Water Resilience Portfolio, is a comprehensive vision to build water resilience containing more than 142 separate detailed actions to be taken by state agencies to ensure that California's water systems can cope with rising temperatures, shrinking snowpacks, rising sea levels and more intense and frequent periods of drought. In March 2021, the Administration released the 2012-2016 Drought Report, which contains lessons learned by state agencies during the last drought.
The state is calling on Californians to take immediate action to avoid a crisis, including:
Limiting outdoor watering – cutting back by even just one day a week can save you up to 20% more water.
Taking shorter showers. Going to a 5 minute shower to save up to 12.5 gallons per shower when using a water-efficient shower head.
Taking showers instead of baths – a bath uses up to 2.5 times the amount of water as a shower.
Using a broom instead of a hose to clean outdoor areas to save 6 gallons of water every minute.
Washing full loads of clothes to save 15-45 gallons of water per load.
More water saving tips can be found at www.saveourwater.com. For the latest on drought, please visit drought.ca.gov.
California readies 3,000 miles of network infrastructure
Newsom announced that California is one step closer to delivering affordable high-speed internet service to communities throughout the state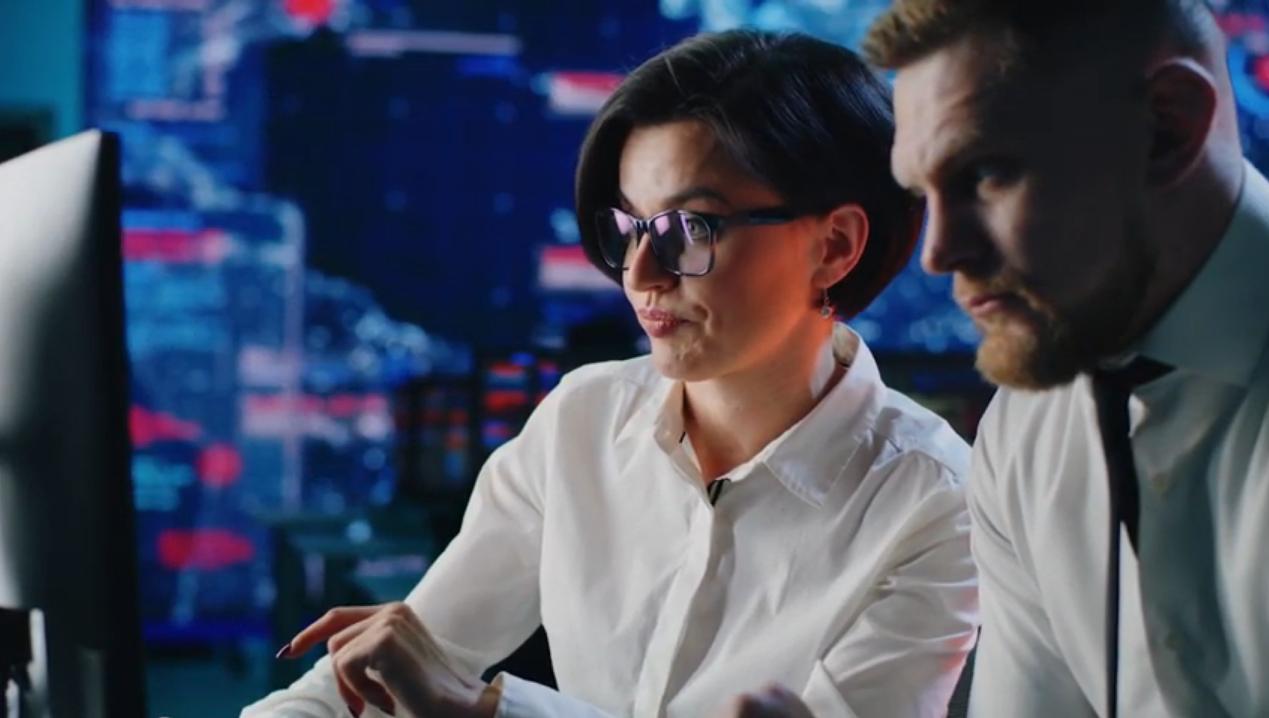 SACRAMENTO – Governor Gavin Newsom announced that California is one step closer to delivering affordable high-speed internet service to communities throughout the state on Friday, awarding new contracts that will supply the materials necessary for building 3,000 miles of broadband infrastructure.
The California Department of Technology, as part of the state's Middle-Mile Broadband Initiative, awarded contracts to two vendors totaling nearly $225 million that will allow the state to purchase enough optical fiber and materials to construct 3,000 miles of the network.
"Delivering broadband to all is essential to California's success," said Governor Newsom. "Access to high speed internet can mean the difference between launching a successful career and being without work. Once constructed, this network will be the largest in the world – and our action today will make the promise of broadband for all a reality."
California is strengthening broadband connections to improve access to education, health services and employment opportunities throughout the state. The Middle-Mile Broadband Initiative is the first step to creating an open-access, middle-mile network that will build infrastructure to bring high-speed broadband service to unserved and underserved communities, regardless of technology used, on equal economic and service terms.
675,000 underserved Californians would gain access to high-speed internet across the state with new broadband network

The action today is one part of a comprehensive and long-term approach to tackling the broadband infrastructure deficiencies still impacting rural and low-income communities, bringing the state closer to achieving affordable, high-speed broadband internet service for all communities. Construction on the middle-mile network is expected to be completed by December 2026.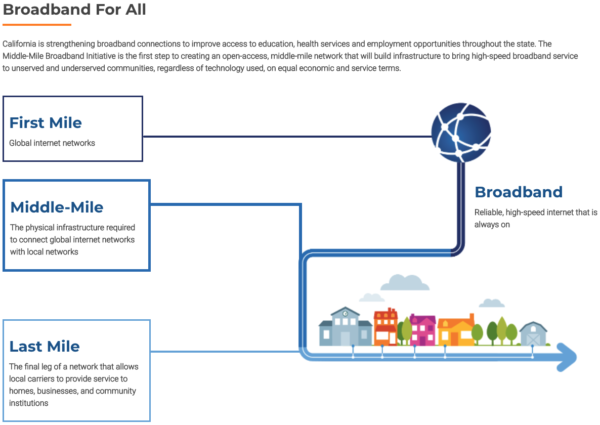 Middle-mile network refers to high-capacity fiber lines that carry large amounts of data at higher speeds over longer distances between local networks. It is the physical infrastructure required to connect global internet networks with local networks and is an essential component of the state's Broadband for All efforts.

Supply chain issues and nationwide broadband projects have created competition to secure necessary materials. The state's Invitation For Bid (IFB) was a proactive step to ensure supplies will be available at a pre-negotiated price when they are needed. The state has the ability to add an indefinite amount of materials as needed to complete construction over the next four years.

As a result of the competitive process, the state is guaranteed to have conduit, vaults, optical fiber and construction hardware readily available for the next four years as construction begins in earnest.

Government Operations Secretary Amy Tong said purchasing the material for the network is a critical first step to make sure California has the supplies it needs for construction of the middle-mile network in the coming years.

"This fiber will be the backbone of the middle-mile network, which will bring access to unserved and underserved Californians so they can participate equally in digital society," Tong said.

Russ Nichols, acting director of the California Department of Technology and chair of the Middle Mile Advisory Committee, said the projects will begin soon.

"With this milestone in place, we can continue our planning with Caltrans to begin installing the fiber as soon as possible," Nichols said.

Last year, the Governor signed historic legislation allocating $6 billion for achieving Broadband for All, including $3.25 billion for the middle-mile network and this year's revised budget proposes an additional $1.1 billion to support the project as it moves into construction.

The 2021 legislation included:
$3.25 billion to build, operate and maintain an open access, state-owned middle-mile network.
$2 billion to set up last-mile broadband connections that will connect homes and businesses with local networks. The legislation expedites project deployment and enables Tribes and local governments to access this funding.
$750 million for a loan loss reserve fund to bolster the ability of local governments and nonprofits to secure financing for broadband infrastructure.
Creation of a broadband czar position at the California Department of Technology, and a broadband advisory committee with representatives from across state government and members appointed by the Legislature.
In 2020, the state mobilized companies, business leaders and philanthropists through public-private partnerships to facilitate distance learning at school districts in need across the state. The effort helped connect students lacking high-speed internet or an appropriate computing device at home with donated mobile hotspots, laptops, Chromebooks, tablets and other devices.