Reflections on the 'unthinkable,' the U.S. Capitol insurrection a year later
"I'm not sure anyone could have predicted how terrible that day would turn out to be"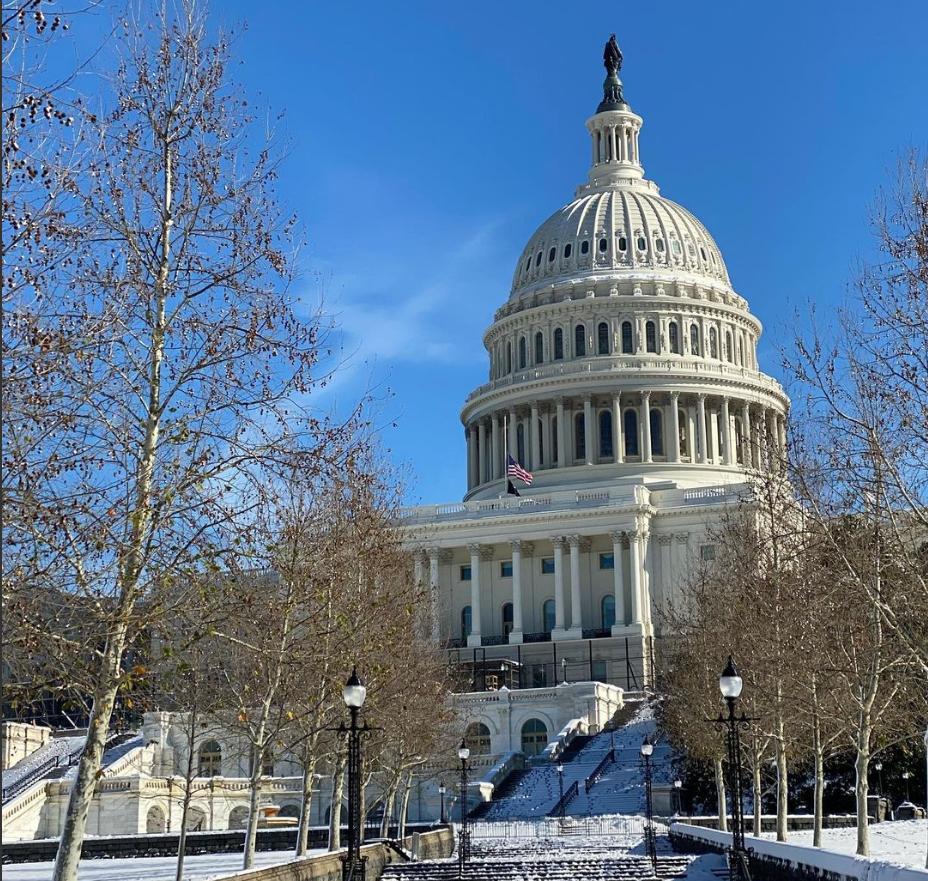 WASHINGTON – Early Thursday morning, the presidential motorcade quietly slipped out the East entrance security area of the White House, opposite the Eclipse, and headed towards the U.S. Capitol two and one half miles down Pennsylvania Avenue.
Ahead shining in the bright sunlight the dome of the Capitol gleamed as if almost a welcome greeting to the in-bound Chief Executive, as the procession of black vehicles with lights flashing and sirens blaring sped down the empty avenue previously cleared of all other traffic by the Metropolitan Police and the U.S. Secret Service.
With crisp winter temperatures and lying under a blanket of freshly fallen snow in the bright morning sunlight, Washington's streets and the grounds of the Capitol building seemed decades apart from the cold, dreary grey cloud filled skies of just twelve months ago.
This date to the year marked the anniversary of one of the most unthinkable events in American history, a day where an American president would foment by his words and actions an attempted coup to subvert not only a time-honored political process of the U.S. government, but the rule of law itself.
In their book 'Peril,' detailing what has now entered the lexicon of American society describing the Capitol insurrection, journalists Bob Woodward and Robert Costa quoted then presidential candidate Joe Biden describing the now former President Donald Trump:
"Trump represents fundamentally different and wrong about politics," Biden said to Ron Klain, his future White House chief of staff, in March of 2019. "This guy just isn't really an American president."
Sitting in his presidential vehicle making its way to 'The Hill,' nearly three years later after making that comment, Biden was set to give remarks that would condemn Trump for that January day when the very heart of American democracy was under siege, and by its own citizens.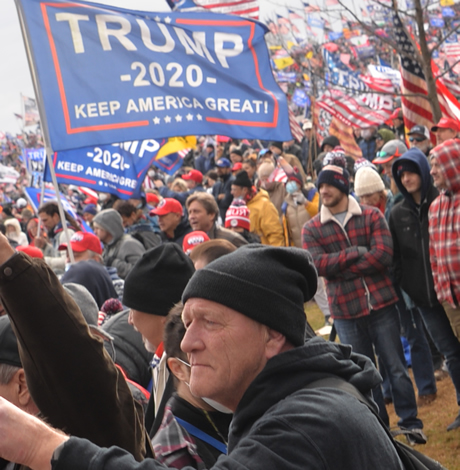 Walking into National Statuary Hall, Biden, accompanied by Vice-President Kamala Harris, faced the cameras to address a country that is still divided since the January 6th deadly assault on the U.S. Capitol that cost the lives of five Americans and has left virtually hundreds traumatized.
Speaking first, the Vice-President noted in her opening remarks: "Certain dates echo throughout history, including dates that instantly remind all who have lived through them — where they were and what they were doing when our democracy came under assault. Dates that occupy not only a place on our calendars, but a place in our collective memory. December 7th, 1941. September 11th, 2001. And January 6th, 2021," Harris said.
Reflecting on the scenes being literally broadcast live to the nation in real-time she continued; "What the extremists who roamed these halls targeted was not only the lives of elected leaders. What they sought to degrade and destroy was not only a building, hallowed as it is. What they were assaulting were the institutions, the values, the ideals that generations of Americans have marched, picketed, and shed blood to establish and defend.
"On January 6th, we all saw what our nation would look like if the forces who seek to dismantle our democracy are successful. The lawlessness, the violence, the chaos. What was at stake then, and now, is the right to have our future decided the way the Constitution prescribes it: by we, the people — all the people," the Vice-President said.
"Jan. 6 was one the darkest days in American history. It was an assault on democracy that a defeated (now former) president with a bruised ego encouraged. It was an assault against the city in which I live. It was an assault against decency. Anyone who played any role in the events of Jan. 6 must be held accountable to ensure that it never happens again."

Washington blade international editor michael k. lavers
The president then stepped to the podium and immediately called out the bravery of the law enforcement agencies tasked with protecting the building and Congress who were overwhelmed by the sheer numbers of insurgents.
"Outnumbered and in the face of a brutal attack, the Capitol Police, the D.C. Metropolitan Police Department, the National Guard, and other brave law enforcement officials saved the rule of law. Our democracy held. We the people endured. And we the people prevailed," Biden said. Then for the first time publicly, firmly and resolutely, he blamed Trump for the events that took place.

"For the first time in our history, a president had not just lost an election, he tried to prevent the peaceful transfer of power as a violent mob breached the Capitol. But they failed. They failed. And on this day of remembrance, we must make sure that such an attack never, never happens again," Biden told the American people watching.
Biden then laid out the chronicling of January 6, 2021:
"Well, here is the God's truth [about January 6th, 2021] Close your eyes. Go back to that day. What do you see? Rioters rampaging, waving for the first time inside this Capitol a Confederate flag that symbolized the cause to destroy America, to rip us apart.

Even during the Civil War, that never, ever happened. But it happened here in 2021.

What else do you see? A mob breaking windows, kicking in doors, breaching the Capitol. American flags on poles being used as weapons, as spears. Fire extinguishers being thrown at the heads of police officers. A crowd that professes their love for law enforcement assaulted those police officers, dragged them, sprayed them, stomped on them.

Over 140 police officers were injured. We've all heard the police officers who were there that day testify to what happened. One officer called it, quote, a med- — "medieval" battle, and that he was more afraid that day than he was fighting the war in Iraq.

They've repeatedly asked since that day: How dare anyone — anyone — diminish, belittle, or deny the hell they were put through? We saw it with our own eyes. Rioters menaced these halls, threatening the life of the Speaker of the House, literally erecting gallows to hang the Vice President of the United States of America.

But what did we not see? We didn't see a former president, who had just rallied the mob to attack — sitting in the private dining room off the Oval Office in the White House, watching it all on television and doing nothing for hours as police were assaulted, lives at risk, and the nation's capital under siege.

This wasn't a group of tourists. This was an armed insurrection," the president said.
Visibly angered, Biden attacked the very premise that had led to the Capitol insurrection, to what most journalists have labeled, 'The Big Lie."
"And here is the truth: The former president of the United States of America has created and spread a web of lies about the 2020 election. He's done so because he values power over principle, because he sees his own interests as more important than his country's interests and America's interests, and because his bruised ego matters more to him than our democracy or our Constitution.
He can't accept he lost, even though that's what 93 United States senators, his own Attorney General, his own Vice President, governors and state officials in every battleground state have all said: He lost."
Biden then turned his focus onto the insurrectionists themselves: "You can't love your country only when you win. You can't obey the law only when it's convenient. You can't be patriotic when you embrace and enable lies.
Those who stormed this Capitol and those who instigated and incited and those who called on them to do so held a dagger at the throat of America — at American democracy. They didn't come here out of patriotism or principle. They came here in rage — not in service of America, but rather in service of one man," the president said.
He finished by saying; "I believe the power of the presidency and the purpose is to unite this nation, not divide it; to lift us up, not tear us apart; to be about us — about us, not about "me."

Deep in the heart of America burns a flame lit almost 250 years ago — of liberty, freedom, and equality. This is not a land of kings or dictators or autocrats. We're a nation of laws; of order, not chaos; of peace, not violence. Here in America, the people rule through the ballot, and their will prevails. So, let us remember: Together, we're one nation, under God, indivisible; that today, tomorrow, and forever, at our best, we are the United States of America."
The impact on the American political landscape has ben significant, but more so has been the impact on those people who were in Washington that day, in particular those who were on 'The Hill' and experienced first hand what has become a seminal moment in American history.
Out Representative David Cicilline (D-R.I.), told the media outlet the Hill; [Rep. Ted Lieu (D-Calif.)] "came into my office because he had been evacuated from his office building, and asked whether he could stay in our office, and we of course said yes. And as we were watching the events unfold [on TV] … and as the day went on and there were reports of injuries and a death, it was very clear to me that there was no way that we could just sort of say, 'Well, OK, [Trump] is about to leave, just let it go.' And I think Congressman Lieu felt the same way, and we began to work with my staff and start writing what the article of impeachment would actually look like. And that's when we developed the idea of incitement of insurrection. …
"We've seen this back-sliding of democracy and attempted coups in places all over the world, but never imagined it could ever happen in the United States of America. And we were watching it unfold before our very eyes. So it was really clear to me from that very first moment that we had to do something to hold the president at the time accountable for his incitement of this violence," said Cicilline.
In addition to lawmakers and their staffs, congressional committee staffs and the staff that supports the Congress including the building complex, grounds and offices, journalists whose beat is Capitol Hill were caught up in the melee- some of whom found themselves at risk and very much under threat by the Trump supporters who comprised the mob of insurgents committed to violence.
The Washington Blade, the city's premiere LGBTQ+ media news outlet had two staffers who found themselves caught up in the events of the insurrection. Blade photojournalist and Digital Editor Michael Key along with Blade International Editor Michael K. Lavers lend their narrative to the chronology of that day.
Key witnessed the prelude:
"I was assigned to cover the Trump-led rally and protest on January 6 as a photojournalist for the Washington Blade and the National LGBTQ Media Association (NGMA). The rally started off much as others I had covered in the past. A few weeks before, there had been a "Stop the Steal" rally filled with Proud Boys and other right wing activists marching to the U.S. Capitol. At first, this rally appeared to be no different.
Thousands gathered near the White House and Washington Monument waving U.S., Trump and Gadsden flags and chanting slogans. Participants became ever more energetic as the march made its way to the Capitol. I received a call on my cell phone from my mother who warned me that there had been a bomb threat. I left the area to make my way to the Blade office before full-scale violence ensued," he said.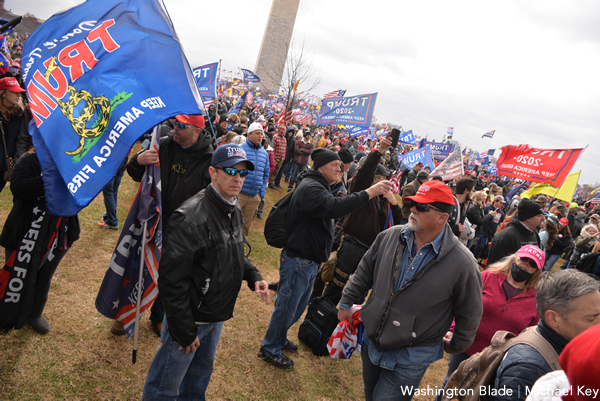 Lavers fills in with his recollection;
"I left my apartment in Dupont Circle shortly after 1 p.m. on Jan. 6 after then-President Trump encouraged his supporters who listened to him at the Ellipse to march to the Capitol. My husband and I watched his speech live on TV. I believe Michael Key was on the Ellipse for the rally- Kaela Roeder, a former intern, was at the rally and made their way to the Capitol.
I rented a DC Bike Share near my apartment and rode it down to Pennsylvania Avenue where I saw Trump supporters walking down Pennsylvania Avenue. I began to do a Facebook Live video as I followed them. The crowd was animated, but peaceful. The atmosphere was far more ominous by the time I reached the intersection of Pennsylvania Avenue and Third Street, N.W. I saw folks had climbed the scaffolding that had been set up on the West Front of the Capitol.
Emergency vehicles and police officers began to descend upon the area.
Cell phone signals were poor, so I couldn't access social media to figure out what was actually going on. My mother in New Hampshire and my aunt in Florida were texting me with information they had seen on television, but I still did not fully understand what was happening. Kaela by that point was on the East Side of the Capitol. She called me and asked if she could leave because she was not feeling safe.
At that very moment emergency vehicles with blaring sirens sped past me on Constitution Avenue. I told her "to get the hell out of there." I rode my bike towards the East Side of the Capitol. I arrived and I saw hundreds of people on the steps of the Capitol. I also saw people inside the building through the windows.
I still did not fully comprehend the severity of the situation. I heard someone in the crowd say that someone had been shot inside the building. I actually didn't take the comment seriously because I thought it may have been based on a rumor. A few minutes later I received a text message from D.C. officials that said a curfew was going into effect at 6 p.m. That's when I decided to leave the Capitol and return home.
I arrived back at my apartment slowly after 4 p.m., and it was only when I turned on MSNBC did I realize how serious the situation was. Jan. 6 was a Wednesday, which was the Washington Blade's deadline day. The insurrection story became our cover story, and I sent pictures of the Capitol that I took with my iPhone — one of them became that week's issue's cover photo. I filed an initial story by 5 p.m.
I have reported from countries that have suffered through coups, political unrest, dictatorships that do not value human rights, etc. One of the most surreal parts of that day was contacts in some of these countries reaching out to me to make sure that I was safe.
D.C. Mayor Muriel Bowser and other D.C. officials in the days leading up to Jan. 6 advised folks to avoid downtown Washington. There was a sense here in D.C. that something could have happened on Jan. 6, but I'm not sure anyone could have predicted how terrible that day would turn out to be."
Instagram is allowing accounts to spew hate at LGBTQ+ people
Insta claims it has policies against hate speech, bullying & harassment & publicly promotes its platforms as a safe space for LGBTQ users


By Camden Carter & Kayla Gogarty | WASHINGTON – Instagram is allowing accounts with tens of thousands of followers to target the LGBTQ community, even though the platform claims it has policies against hate speech as well as bullying and harassment, and its parent company Meta has been publicly promoting its platforms as a safe space for LGBTQ users. 
Instagram's guidelines claim the platform wants "to foster a positive, diverse community," while also noting that it removes content that contains "credible threats or hate speech, content that targets private individuals to degrade or shame them." During Pride Month, Meta announced it was "celebrating pride" by launching Pride-themed stickers and avatars, a Global LGBTQ+ Cultural Guide, and an LGBTQ+ Safety Hub.
Despite Meta's newly announced resources, Instagram has allowed its users to spread propaganda against the LGBTQ community — and even against the same individuals it's publicly celebrating. In several cases, these are accounts dedicated to targeting LGBTQ people, while in others, these are accounts of right-wing media outlets and personalities who also push anti-LGBTQ rhetoric. Many of these posts seem to violate Meta's policies.
Recently, right wing media have been ramping up their rhetoric against the LGBTQ community, especially trans people. This increase in anti-LGBTQ hate has coincided with a wave of new legislation aimed at limiting the rights of LGBTQ people. The false narratives right-wing figures are spinning to support these bills are being projected through online platforms and news outlets and have already led to real-world harm.
Here are some examples of accounts who push anti-LGBTQ content on Instagram:
One account which goes by the handle Garbage Human has multiple backup accounts, with a total of over 180,000 total followers across all accounts. On its main account, it frequently posts content intended to incite mocking and hateful comments about its subjects, who are often LGBTQ people. Media Matters has reported on this account and other similar accounts in the past, showing that the way they operate allows them to strategically avoid Instagram's content moderation, while creating a space for the accumulation of hate speech. One of the accounts earned over 1.5 million interactions on 225 posts in the month of June alone — according to data from CrowdTangle.
Notorious for targeting schools, Pride events, and individuals on Twitter, Libs of TikTok has also gained a large following of nearly 200,000 on Instagram, where it posts much of the same content and plays a large role in driving the false "groomer" narrative. During Pride Month, Libs of TikTok posted 91 times, earning close to 700,000 interactions on Instagram.
Gays Against Groomers is a new account that has accumulated over 57,000 followers since it was created on June 6 and has earned just over 140,000 interactions on its 33 Instagram posts in June. This account claims to represent "a coalition of gays against the sexualization and indoctrination of children," thus far using its platform to post content that demonizes trans people and push far-right narratives.
The creator of Gays Against Groomers, Jaimee Michell, has ties to Arsenal Media — a media group that helps conservative politicians "go viral." She has also built a significant Instagram following of her own by branding herself as an outspoken right-wing lesbian and pushing anti-trans rhetoric. While Michell's main account has recently gone private, preventing Media Matters from determining her total interactions for June, it appears that she posted at least 24 times.
David Leatherwood, who also has ties to Arsenal Media, has also used Instagram to attack transgender people, calling them "groomers." During Pride Month, Leatherwood posted 16 times and earned over 32,000 interactions. In one of the examples below, Leatherwood uses a photo of a cisgender woman at a burlesque show to reinforce this false narrative. LGBTQ Nation has previously reported on the misinformation around the photo and its use by conservatives to fearmonger about drag shows.
Conservative commentator Allie Beth Stuckey and The Daily Wire's Ben Shapiro and Matt Walsh (who used the platform to promote his anti-trans film What is a Woman?), with over 5 million followers between them, have been permitted to post content containing hate-fueled lies about the LGBTQ community, driving attention and engagement through their often-extreme rhetoric.
Conservative outlets and organizations such as The Babylon Bee — which was suspended from Twitter for intentionally misgendering U.S. Assistant Secretary for Health Rachel Levine — have been allowed to remain on the platform. The Bee's CEO Seth Dillion also remains on Instagram despite frequent anti-trans posts. Similarly, PragerU, a right-wing propaganda network that also has a history of using social media to spread misinformation about transgender people, uses Instagram to share its anti-LGBTQ content.
While some queer users are profitable for Instagram, especially during the month of June, its ongoing failure to address accounts actively spreading harmful rhetoric against the LGBTQ community make the platform's "Happy Pride" messaging hollow. Once again, Meta is showing that it will prioritize the engagement that these high-profile right-wing accounts generated through hateful, lie-filled content, even when it leads to real-world harm and the degradation of LGBTQ rights and safety.
*******************

Camden Carter is a researcher at Media Matters.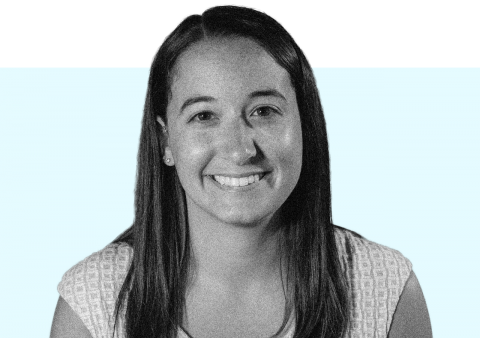 Kayla is an associate research director at Media Matters, where she has worked since September 2018. She holds a master's degree in chemistry research from Stony Brook University and has a background in LGBTQ media and advocacy. She previously worked as an LGBTQ opposition researcher at Media Matters and prior to that interned at the Human Rights Campaign
********************
The preceding article was first published by Media Matters for America and is republished with permission.
New study on resilience & mental health among LGBTQ youth
LGBTQ youth with high resilience had 59% lower odds of reporting a suicide attempt- 69% lower odds of considering suicide in the past year
NEW YORK – The Trevor Project observing the 53rd anniversary of the riots at the Stonewall Inn that sparked a greater movement for LGBTQ+ rights and equality this week, released new data that examines resilience and mental health among LGBTQ youth.
"As we celebrate Pride Month and commemorate the Stonewall Riots, there is often discussion of the 'resilience' of the LGBTQ community and the ways in which members are able to bounce back in the face of adversity. These data highlight the fact that resilience is not just an admirable quality – but one that can be associated with improved mental health among LGBTQ youth," said Dr. Jonah DeChants, Research Scientist at The Trevor Project.
"Higher resilience in our sample was consistently associated with better mental health outcomes including decreased risk for anxiety, depression, and suicide attempts in the past year among LGBTQ youth. Moving forward, we should invest further research into understanding how LGBTQ youth can successfully develop high resilience. Additionally, we should work to dismantle systems of oppression and implement LGBTQ-inclusive anti-discrimination protections  so that LGBTQ youth are not required to possess resilience to excel and thrive." 
Key Findings:
LGBTQ youth with high resilience had 59% lower odds of reporting a suicide attempt, and 69% lower odds of considering suicide in the past year, compared to LGBTQ youth with low resilience.
LGBTQ youth with high resilience reported 81% lower odds of anxiety symptoms, compared to LGBTQ youth with low resilience.
LGBTQ youth with high resilience reported 79% lower odds of recent depression, compared to LGBTQ youth with low resilience.
LGBTQ youth who have supportive families and are in supportive environments have higher resilience.
LGBTQ youth ages 18 to 24 reported significantly higher resilience than LGBTQ youth ages 13 to 17.
Read the report:
150 people on Tennessee's sex offender registry for HIV-related conviction
Nearly one-half of HIV registrants on the SOR were women and over three-quarters of HIV registrants were Black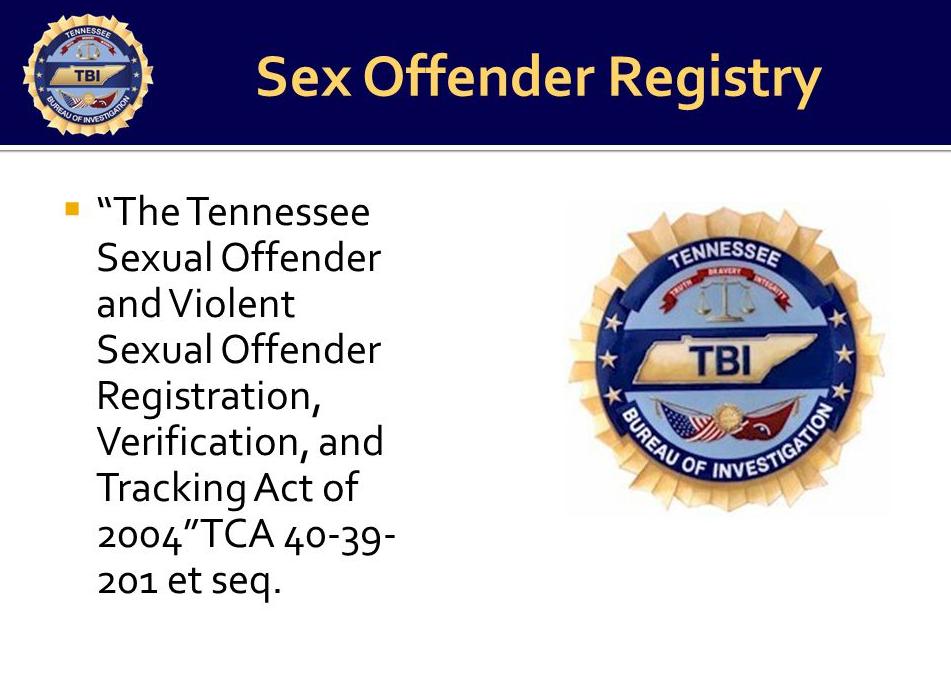 LOS ANGELES – At least 154 people have been placed on Tennessee's sex offender registry (SOR) for an HIV-related conviction since 1993, according to a new report by the Williams Institute at UCLA School of Law.
Enforcement of HIV crimes in Tennessee disproportionately affects women and Black people. Nearly one-half of HIV registrants on the SOR were women and over three-quarters of HIV registrants were Black.

Tennessee's two primary HIV criminalization laws—aggravated prostitution and criminal exposure—make it a felony for people living with HIV to engage in sex work or other activities, such as intimate contact, blood donation, or needle exchange, without disclosing their status. Both are considered a "violent sexual offense" and require a person convicted to register as a sex offender for life.

Examining Tennessee's sex offender registry, researchers found that Shelby County, home to Memphis, accounts for most of the state's HIV convictions. Shelby County makes up only 13% of Tennessee's population and 37% of the population of people living with HIV in the state, but 64% of HIV registrants on the SOR. Moreover, while Black Tennesseans were only 17% of the state's population and 56% of people living with HIV in the state, 75% of all HIV registrants were Black.

In Shelby County, 91% of aggravated prostitution convictions resulted from police sting operations in which no physical contact ever occurred. In addition, the case files showed that 75% of those convicted were Black women. When it came to criminal exposure case files, all of those convicted except one person were Black men.

"Tennessee's HIV criminal laws were enacted at a time when little was known about HIV and before modern medical advances were available to treat and prevent HIV," said lead author Nathan Cisneros, HIV Criminalization Analyst at the Williams Institute. "Tennessee's outdated laws do not require actual transmission or the intent to transmit HIV. Moreover, the laws ignore whether the person living with HIV is in treatment and virally suppressed and therefore cannot transmit HIV."

KEY FINDINGS
Incarcerating people for HIV-related offenses has cost Tennessee at least $3.8 million.
Of the 154 people who have been placed on Tennessee's SOR for an HIV-related conviction, 51% were convicted of aggravated prostitution, 46% were convicted of criminal exposure, and 3% were convicted of both.
Women account for 26% of people living with HIV in Tennessee and 4% of people on the SOR, but 46% of the SOR's HIV registrants.
Black people account for 17% of people living in Tennessee, 56% of those living with HIV, 27% of people on the SOR, but 75% of the SOR's HIV registrants.
Black women were the majority of aggravated prostitution registrants (57%), while Black men were the majority of criminal exposure registrants (64%).
People with an HIV-related offense are more economically vulnerable when compared to others on the state's SOR.

One in five (19%) HIV registrants were homeless compared to 9% of all SOR registrants.
28% of HIV registrants reported an employer address compared to about half (49%) of all SOR registrants.

Shelby County has one aggravated prostitution conviction for every 115 people living with HIV in the county, and Black people were 90% of all people convicted for aggravated prostitution.

Over 90% of aggravated prostitution convictions in Shelby County were the result of police sting operations.
Only 3% of aggravated prostitution convictions in Shelby County alleged any intimate contact.
Nearly all (95%) people arrested in Shelby County for criminal exposure were Black men, compared to 64% of people statewide.
The Williams Institute has conducted research on HIV criminalization in numerous U.S. states.