Polish House passes bill echoing Russian "gay propaganda" law
"There's no doubt, that LGBT+ ideology grew out of… the same root as Germany's Hitlerian National Socialism […]"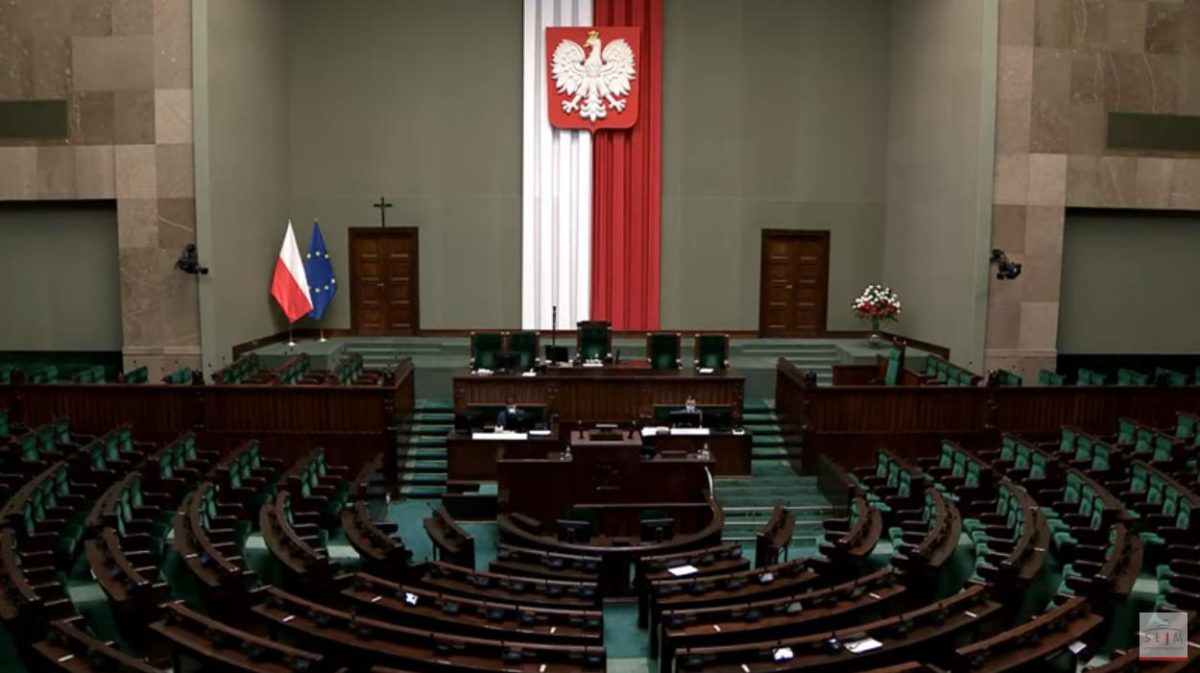 WARSZAWA – A measure that would give school administrators and superintendents the power to remove books, lessons, and ban student participation in events or clubs that are LGBTQ+ affirming passed the lower house of Poland's parliament, known as the Sejm, this past Thursday, January 13, in a 227-214 vote.
The measure, dubbed "Lex Czarnek," or "Czarnek's Law," after minister of education Przemysław Czarnek,  who has been vehemently opposed to the LGBTQ+ rights and the country's equality movement, now moves on to the upper house, the Senate where it faces opposition and likely will be rejected Polish broadcast media outlet RMF 24 reported.
According to RMF24, "The Sejm adopted the amendment to the Educational Law, prepared by the Ministry of Education and Science. The project is commonly known as "lex Czarnek". The role of school superintendents will be strengthened, and the rules governing the functioning of non-governmental organizations in schools and educational institutions will be changed."
Opposition to LGBTQ+ rights has an ally in the Education Minister whose role would determine the outcome of implementation of the measure:
"Pursuant to the amendment, the headmaster of the school or facility will be required – no later than two months before the commencement of classes conducted by associations or organizations – to obtain detailed information about the action plan in the school, the outline of classes and materials used in the offered classes, as well as obtain a positive the opinion of the education superintendent for the activities of such an organization at school or in an institution. The curator has 30 days to issue an opinion."
The law also contains a stipulation that "if the head of the school or educational institution fails to comply with the recommendations issued by the school superintendent, he will be able to summon him to explain why he did not do so . If the principal still does not follow the recommendations, the probation officer may apply to the governing body of the school or facility with a request to dismiss the principal during the school year, without notice."
A member of the Sejm, Agnieszka Dziemianowicz-Bąk, a progressive leftist politician who in addition to protesting against abortion laws, has also been active in protests for LGBTQ+ rights, tweeted her outrage; "The voice of the curator Nowak, as if it were not stupid and dangerous to health and life, is more important for PiS deputies than the voice of students, parents and teachers."
#LexCzarnek przepchnięty przez Sejm 😡

Głos kurator Nowak, jakby nie był durny i groźny dla zdrowia i życia, jest dla posłów PiS ważniejszy niż głos uczniów, rodziców, nauczycieli. pic.twitter.com/mWkxoQk1oi

— A. Dziemianowicz-Bąk (@AgaBak) January 13, 2022
The MP and Education Minister Czarnek, target of Dziemianowicz-Bąk's anger, has staked out several public vitriolic anti-LGBTQ+ positions that has included an attack on the LGBTQ+ community in West Hollywood.
Speaking with a reporter on Serwis Info Poranek with the national state-run TVP Info (TVP3 Polska) last June, the newly appointed Education Minister said- (translated from Polish):
"Let's end the discussion about these LGBT abominations, homosexuality, bisexuality, parades of equality. Let us defend the family, because failure to defend the family leads to what you see.
As he spoke these words, he was holding a phone in his hand, on the display of which he showed a picture of several people. – These are the Los Angeles guys in downtown last June. I was on a delegation there, I was passing through, there was a so-called gay pride parade there – he added. – We are at an earlier stage, there are no such things with us yet, but such chaps shamelessly (shamelessly – ed.) Walk the streets of the western city of Los Angeles – he added.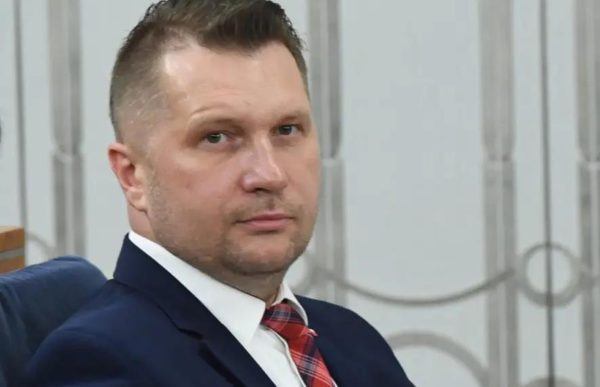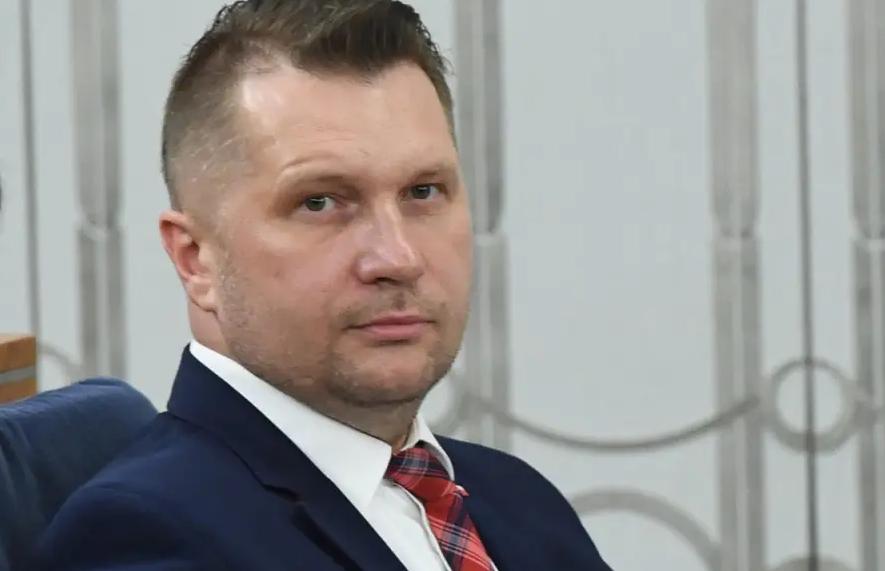 Serwis Info Poranek also noted that according to MP Czarnek, "Europe is also heading for this, Poland is heading for this- […] These people are not equal to normal people, let's end this discussion."
During the ongoing battles over the so-called LGBTQ+ 'Free Zones' with the European Commission Czarnek weighed in comparing the LGBTQ+ community to the Nazi's.
"There's no doubt, that LGBT+ ideology grew out of… the same root as Germany's Hitlerian National Socialism, which was responsible for all the evil of World War II," Czarnek said PinkNewsUK reported.
Renew Europe, the liberal, pro-European political group of the European Parliament tweeted its outrage over the actions by the Sejm:
#WolnaSzkoła: The new polish law will restrict free education & in particular make it de facto impossible to teach about sexuality in a LGBTIQ-inclusive way.

This effort to eliminate freedoms & liberal values from public life is tragic. pic.twitter.com/lib7MSNYOv

— Renew Europe (@RenewEurope) January 13, 2022
#WolnaSzkoła: "Children need education, not indoctrination. The education reform in Poland threatens to force the illiberal views of the Polish government on the young generation", says @moritzkoerner. pic.twitter.com/Y4Hxsfx0qK

— Renew Europe (@RenewEurope) January 13, 2022
Observers think that the law will be rejected by the senate although under the Polish constitution there is still a possibility it could be signed off on by the anti-LGBTQ+ Polish President Andzej Duda.
"Although it seems that Lex Czarnek is on track to becoming law, Rémy Bonny, executive director of pan-EU LGBT+ rights organisation Forbidden Colours, insists that all is not lost.
With pressure from politicians both in the EU and around the world, Poland could be forced to backtrack.
He told PinkNewsUK: "In September, after threats by the European Commission to take away funding, four out five provinces that declared themselves 'LGBT+ free zones' withdrew their anti-LGBT+ resolutions… International pressure on Poland works."
Gay Lithuanian MP sharply criticizes Russia
Tomas Vytautas Raskevičius elected to Seimas in 2020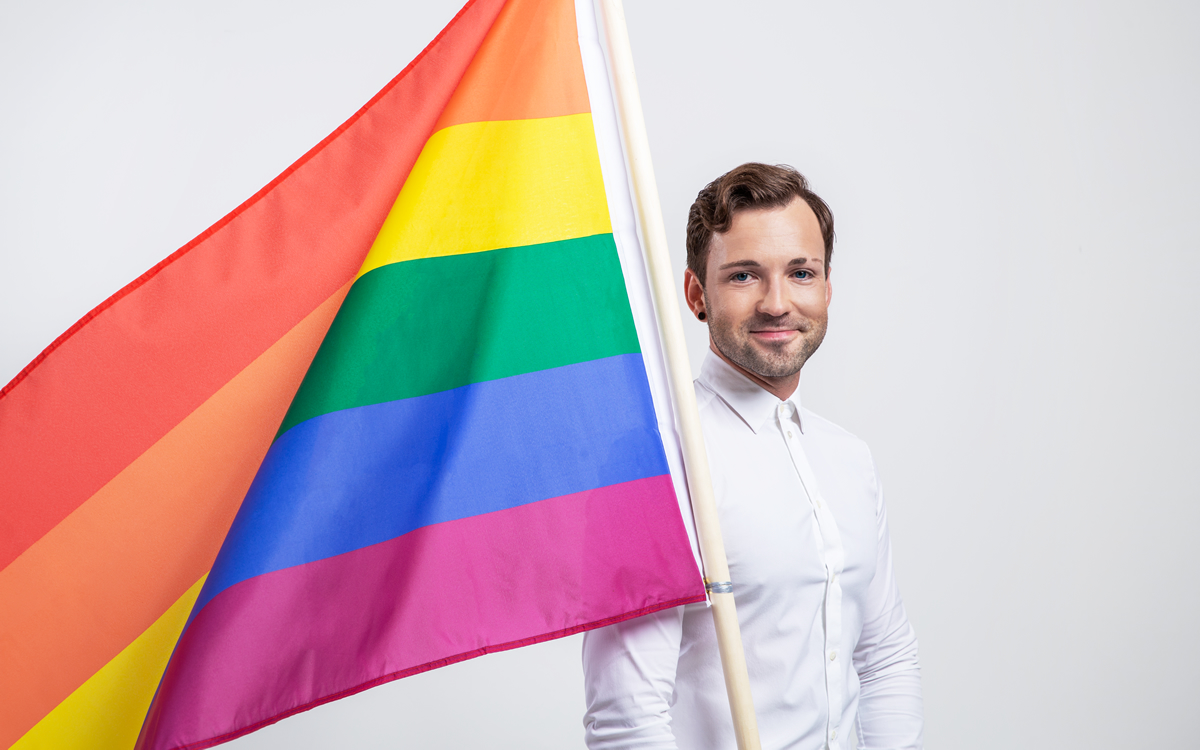 VILNIUS, Lithuania — A gay man who is a member of the Lithuanian Parliament last week said his country could be Russia's next target.
"Historically after independence in the early 90s, Lithuania was very critical and fearful of its attitudes towards its neighbors," MP Tomas Vytautas Raskevičius told the Washington Blade on April 28 during a telephone interview from Vilnius, the country's capital, in reference to Russia. "The current events in Ukraine simply prove that we were right."
"We have to understand very clearly that Russia is using not only military force, not only its gas and oil, but it is also using its soft powers," added Raskevičius. "These soft powers are certain, specific world views which Russia tries to impose to its neighboring countries and those ideas are usually anti-human rights and anti-liberal democracy, so they are portraying human rights and liberal democracy as a threat, rather as a benefit to the society."
Raskevičius further stressed that LGBTQ+ rights are "part of this Russia propaganda campaign."
"They're portraying the West as being rotten, plagued with abominations," he said.
Lithuania borders the Russian enclave of Kaliningrad, Latvia, Belarus, Poland and the Baltic Sea. The country declared its independence from the Soviet Union in 1990, a year before it dissolved.
Raskevičius, 33, is a member of the liberal Freedom Party.
He worked for what is now called the Brooklyn Community Pride Center in New York and the Lithuanian Gay League, among other NGOs, before his election to the Vilnius City Council in 2019. Raskevičius in 2020 won a seat in the Lithuanian Parliament, which is known as the Seimas.
Raskevičius noted he is the second openly gay person elected to the Seimas, but the "first one" with a "pro-LGBT human rights agenda." Raskevičius currently chairs the Seimas' Human Rights Committee.
Russian, Belarusian LGBTQ+ groups relocate to Lithuania
Raskevičius said more than 50,000 Ukrainians have sought refuge in Lithuania since Russia invaded their country in February.
He told the Blade he knows of "isolated incidents" of LGBTQ+ Ukrainians in the country, noting that "LGBT people went to more open or progressive places than Lithuania." Raskevičius said LGBTQ+ organizations are among the NGOs from Russia and Belarus that have relocated to Lithuania after their governments cracked down on them.
"Our local community demonstrates quite a high level of solidarity," he said. "This is what the struggle for freedom is all about. It's not only about physical security, but also security from Russian propaganda or soft power."
Raskevičius also called for continued military cooperation and more economic sanctions against Russia.
"What is really important is not to get used to the war," he said. "It has already been more than 60 days and you know people are getting used to seeing the terrible things on their TV and it becomes routine … we should be very mindful that we push harder because if Ukraine doesn't win, we become the next one in the line."
Raskevičius added Lithuania places "a lot of trust in our security partners, including the United States and NATO."
"I wouldn't say there is panic or any kind of that stuff, but it's very close," he said. "(Ukraine is) less than 1,000 km (621 miles) away and we have quite a nasty history with the Soviet Union and Russia, so we know what it's all about it."
Raskevičius sponsor of civil partnerships bill
Lithuania bans discrimination based on sexual orientation
The country on Sunday officially lifted restrictions for male blood donors who have sex with men, but opposition to LGBTQ+ rights remains strong. Raskevičius noted Lithuania is one of only six European Union member states that do not legally recognize same-sex couples.
He has introduced a bill that would allow same-sex couples to enter into civil partnerships.
LGBTQ rights opponents who Raskevičius said have "documented ties" to Russia in 2021 launched a petition to remove him as chair of the Seimas' Human Rights Committee "because apparently a person who is gay cannot chair the committee who is in charge of all human rights." Recall supporters claimed more than 300,000 people signed the petition, but Raskevičius noted journalists discovered the vast majority of them were fake.
Raskevičius told the Blade that opposition to the civil partnership bill was the "pretext" behind the petition. He acknowledged the ongoing debate over whether lawmakers should consider the measure "with war in our neighborhood," but he stressed "it's the best time to do so."
"We have to choose whether we want to belong to the sphere of influence coming from the East, or we want to move into the West," said Raskevičius.
Raskevičius' son is 2 1/2. He told the Blade that fatherhood has shaped his work in support of LGBTQ+ rights and human rights.
"For a very long time LGBT people were not visible in Lithuania," said Raskevičius. "LGBT parents was another level of invisibility. These people exist, but they don't publicly share their experiences because they are concerned about the well-being of their kids."
"Me and other parents involved in my child's upbringing made the conscious decision to talk about our experiences publicly," he added. "We want to encourage people they are not alone."
The European Court of Human Rights last month heard a challenge to Lithuania's so-called "gay propaganda law" that specifically bans the distribution of information to minors that "expresses contempt for family values, encourages the concept of entry into a marriage and creation of a family other than stipulated in the Constitution of the republic of Lithuania and the Civil Code of the republic of Lithuania."
Author Neringa Dangvydė Macatė in 2019 filed a lawsuit against the law after Lithuanian authorities censured her children's book that featured two same-sex couples. Bob Gilchrist, the openly gay U.S. ambassador to Lithuania, is among those who have publicly criticized the statute.
"Our law is also framed in terms of protecting minors from the detrimental kinds of public information and defines information about LGBT relationships as potentially detrimental," noted Raskevičius. "Based on that legislation, public authorities could censor public information."
Raskevičius during the interview also praised the U.S. Embassy and Gilchrist himself for their support of LGBTQ+ rights in Lithuania.
"The current ambassador demonstrates not only the embassy's leadership, but he's demonstrating personal leadership," said Raskevičius. "He's very open about who he is and he's not afraid to speak his mind."
Raskevičius noted Gilchrist attends public events and speaks about LGBTQ+ rights on Lithuanian television.
"It's a very powerful message because we see the United States as a strategic ally," said Raskevičius. "They would not only defend our territory, but also defend the same values and regarding that, anti homophobic sentiments should have no place."
Amb. Gilchrist: Proud to speak at today's conference at Lithuania's Ministry of Justice with @LGLLithuania and stand up for LGBTQI+ rights. Equal treatment and dignity are American values. pic.twitter.com/SggA2leSOb

— U.S. Embassy Vilnius (@USEmbVilnius) September 29, 2021
🏳️🌈Happy Kaunas Pride!🏳️🌈 We stand w/ 🇱🇹 LGBTQI+ community. All people, no matter who they are/whom they love, deserve = treatment, a life free of fear + recognition of their inherent dignity. Thx to organizers + police for today!#KaunasPride #KaunasPride2021 #USinLT #LoveIsLove pic.twitter.com/RI0uhfg1Ls

— U.S. Embassy Vilnius (@USEmbVilnius) September 4, 2021
Amb. Gilchrist was happy to meet the representatives of Lithuania's Diversity Charter for a lunch discussion on how to promote diversity, equity, and inclusion in the public and private sector in Lithuania and how the Embassy could help support such initiatives. pic.twitter.com/4RxpkoeDIG

— U.S. Embassy Vilnius (@USEmbVilnius) June 23, 2021
Ukraine LGBTQ+ group chair attacked
Man approached Olena Shevchenko in Lviv on Thursday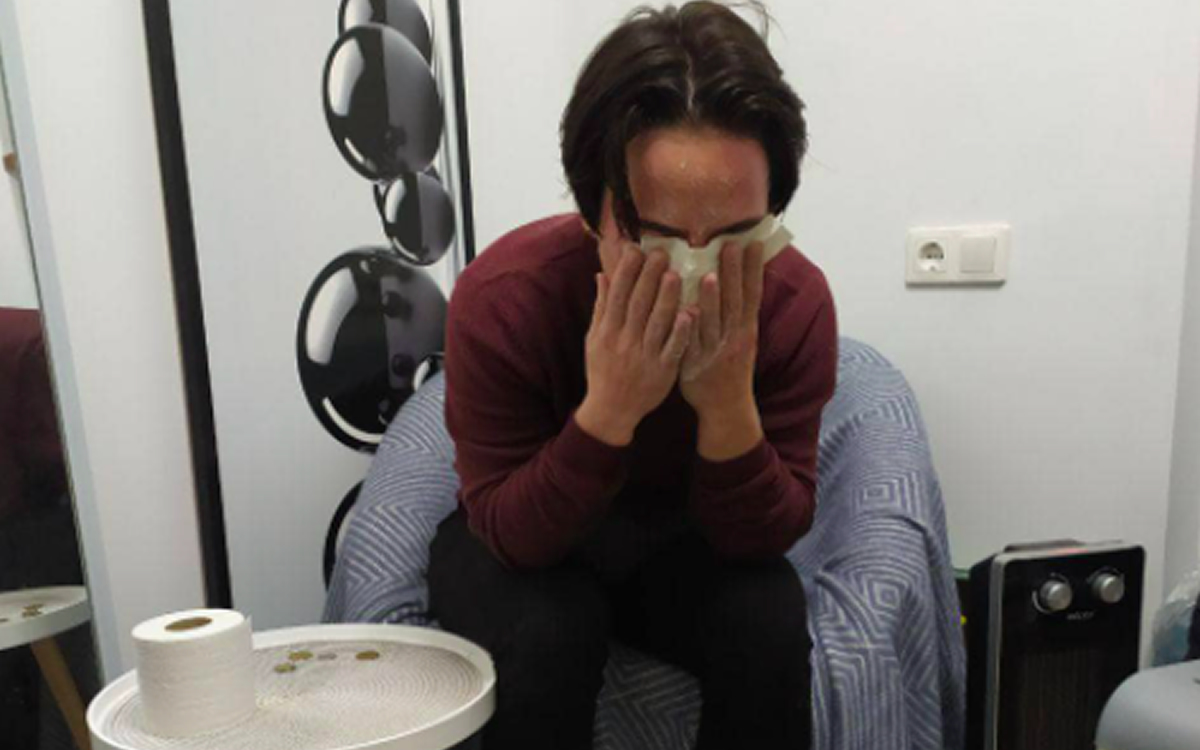 LVIV, Ukraine — A man on Thursday attacked the chair of an LGBTQ+ rights group in Ukraine with pepper spray.
Insight Chair Olena Shevchenko in a Facebook post said the man attacked her in Lviv, a city in western Ukraine that is close to the country's border with Poland, after she and her colleagues had loaded "humanitarian aid for women and children" onto a bus.
Shevchenko said "a guy in dark clothes" approached her on the street while she was talking on her cell phone and asked her a question. Shevchenko wrote the man attacked her with a balloon full of tear gas when she turned around to speak with him.
"I called (the) police and emergency (services)," wrote Shevchenko. "I have chemical injuries to my face and eyes, hands."
Shevchenko posted pictures to her Facebook page that show her washing the tear gas out of her eyes. Shevchenko also wrote hospital personnel "gave me all the assistance I needed in this case."
Shevchenko told the Washington Blade the man who attacked her "recognized me." Shevchenko also said he was Ukrainian.
"I think it was planned," said Shevchenko.
Shevchenko in her Facebook page wrote she hopes "the police identify him."
"I am angry and very disappointed," Shevchenko told the Blade.
Shevchenko on March 10 left her home in Kyiv, the Ukrainian capital, and evacuated to Lviv where she and her colleagues continue to support LGBTQ+ Ukrainians and others whose Russia's invasion of the country has displaced.
A Russian airstrike on March 1 killed Elvira Schemur, an activist who volunteered with Kharkiv Pride and Kyiv Pride, in Kharkiv, the country's second-largest city that is less than 30 miles from the Russian border in the eastern part of the country. A group of "bandits" on the same day broke into the Kyiv offices of Nash Mir, an LGBTQ+ rights group, and attacked four activists who were inside.
Helen Globa, co-founder of Tergo, a support group for parents and friends of LGBTQ+ Ukrainians, on March 2 used her bicycle to flee the Kyiv suburb of Bucha. Her son, Bogdan Globa, and his husband, Harmilee Cousin, brought her to New York a few days later.
The U.S. is among the countries that have condemned Russia over the atrocities its soldiers committed in Bucha while they occupied it. President Biden this week described the war as genocide.
Anti-LGBTQ+ autocratic Orban declares victory in Hungarian elections
Besides parliamentary elections there was a referendum on LGBTQ+ issues about sex ed & availability of info on sex reassignment to kids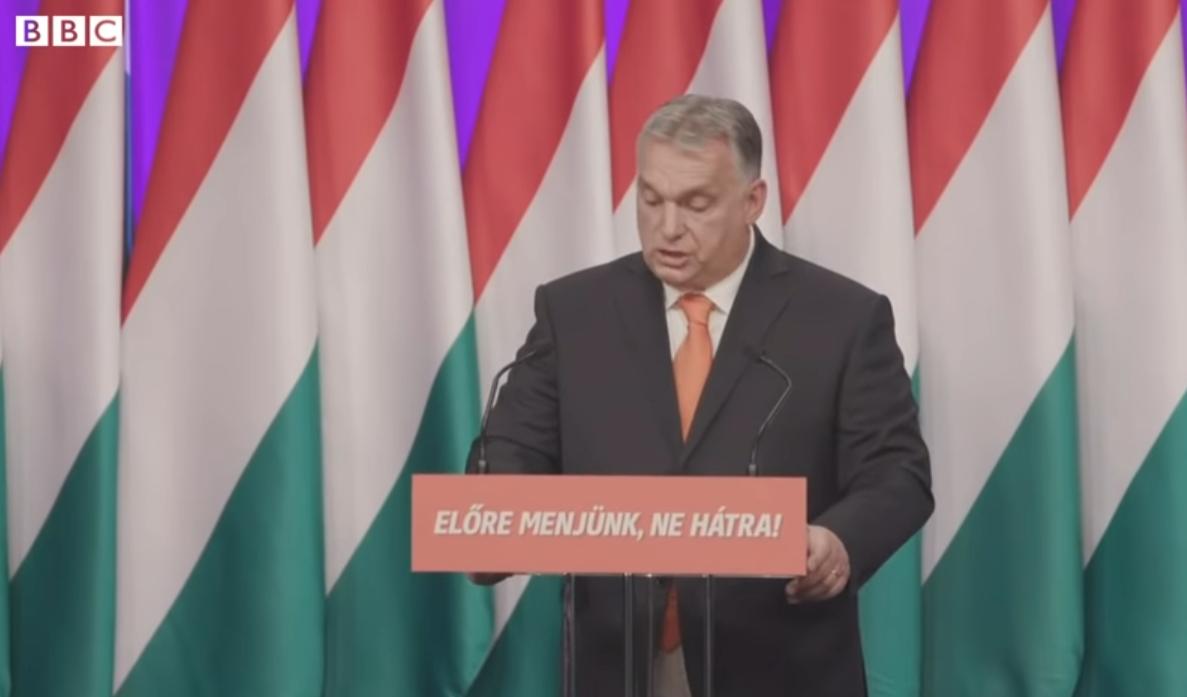 BUDAPEST – Declaring himself the winner with 91% of the votes counted in the national parliamentary elections Sunday evening, Hungarian Prime Minister Viktor Orban addressed supporters and members of his Fidesz Party telling the enthusiastic crowd it was a "huge victory."
"We won a victory so big that you can see it from the moon, and you can certainly see it from Brussels," Orban said referring to his ongoing battles with the European Union.
Orbán's Fidesz party has a good chance of being reelected.
"The whole world has seen tonight in Budapest that Christian democratic politics, conservative civic politics and patriotic politics have won. We are telling Europe that this is not the past, this is the future," he added.
Once the results are confirmed and Orban settles in for his fourth consecutive term as prime minster, it is almost certain that recent tensions between him and the leadership of the European Union, especially over the question of LGBTQ+ civil rights, will continue to escalate.
Further adding tension has been Orban's longtime close relationship with Russian President Vladimir Putin. The prime minister has insisted that Hungary remain neutral in the Russian leader's war on neighboring Ukraine, although Hungary has maintained close economic ties with Moscow, including continuing to import Russian gas and oil on favorable terms.
Orban, although he had previously condemned the Russian invasion, has refused to participate in assisting Ukraine or allowing EU and NATO members to ship much needed supplies, including weapons, across Hungarian borders to Ukraine.
At his final campaign rally Friday, the Associated Press reported that Orban claimed that supplying Ukraine with weapons — something that Hungary, alone among Ukraine's EU neighbors, has refused to do — would make the country a military target, and that sanctioning Russian energy imports would cripple Hungary's own economy.
"This isn't our war, we have to stay out of it," Orban said.
The president of Ukraine, Volodymyr Zelenskyy, told western media representatives on Saturday that Orban is out of touch with the rest of Europe, which has united to support sanctions against Russia and sent aid including weapons assisting Ukraine in its fight against Russian aggression.
"He is virtually the only one in Europe to openly support Mr. Putin," Zelenskyy said.
Peter Marki-Zay, the man who challenged Orban in national elections on April 3 on behalf of a united opposition, warned of worsening isolation under Orban's "illiberal" model and likened him to a "traitor" putting Hungarians at risk. Marki-Zay in an interview with RFE/RL's Hungarian Service said; "Let's for once be on the right side of history, for once on the winning side." 
Critics have charged that there will be further erosion of civil rights and democratic norms, especially for Hungary's LGBTQ+ community which has been under relentless attack from the Orban government and the Fidesz Party over the past nearly three years.
"We have heard a lot of nonsense recently about whether there is democracy in Hungary," Orban's state secretary Zoltan Kovacs told reporters in recent interviews. "Hungarian democracy in the last 12 years has not weakened, but been strengthened."
Lawmakers in December of 2020 approved proposals that would effectively ban same-sex couples from adopting children and define marriage as between a man and a woman. That same year parliamentarians from the the Fidesz Party approved a bill that would prevent transgender and intersex people in the country from legally changing their gender.
Then in 2021, a law that bans the promotion of homosexuality and sex-reassignment surgery to minors in Hungary took effect.
"The homophobic and transphobic amendments to the law, which came into force on July 8, 2021, stigmatize LGBTQI people, deprive LGBTQI youth of information that is vital to them, and illegally restrict freedom of speech and the right to education," said the Háttér Society, a Hungarian LGBTQ rights group.
On August 6, Orban's government issued a decree that restricts the sale of children's books with LGBTQ-specific themes.
Orban has garnered the admiration of right-wing nationalists across Europe and North America including Fox News' Tucker Carlson who traveled to Budapest. Carlson at the opening of his show described Orbán as "an elected leader who publicly identifies as a Western-style conservative."
Carlson referred to transgender athletes and critics of President Biden's policies as he introduced his interview with Orbán. The Hungarian prime minister, for his part, defended his record.
"The Western liberals cannot accept that inside the Western civilization there's a conservative national alternative, which is more successful at everyday life and the level of it than the liberal ones," he added. "That's the reason why they criticize us. They are fighting for themselves, not against us. But we are an example that somebody, or a country which is based on traditional values, on national identity, based on a tradition of Christianity, could be successful or sometimes even more successful than a leftist liberal government."
The European Commission last year announced it would take legal action against Hungary after a law that bans the promotion of homosexuality and sex-reassignment surgery to minors took effect. "I'm treated like the black sheep of the European Union," Orbán told Carlson.
Along with the election to parliament, a referendum on LGBTQ issues was being held Sunday. The questions pertained to sex education programs in schools and the availability to children of information about sex reassignment.
"Orbán's policy in the last 12 years has always been to pick a target and then start to shoot," Anna Szlavi, co-founder of the Qlit network, an organization and website for gay women in Hungary, told The Daily Beast in a March 29, 2022 interview. "In 2021 the so-called 'pedophile law' was introduced, which basically kind of conflated the LGBT+ [community] with pedophiles," Szlavi says. "Orbán repeatedly upholds this idea that [being] LGBT is an abnormal thing and it's OK to equate them with pedophiles."