Polish House passes bill echoing Russian "gay propaganda" law
"There's no doubt, that LGBT+ ideology grew out of… the same root as Germany's Hitlerian National Socialism […]"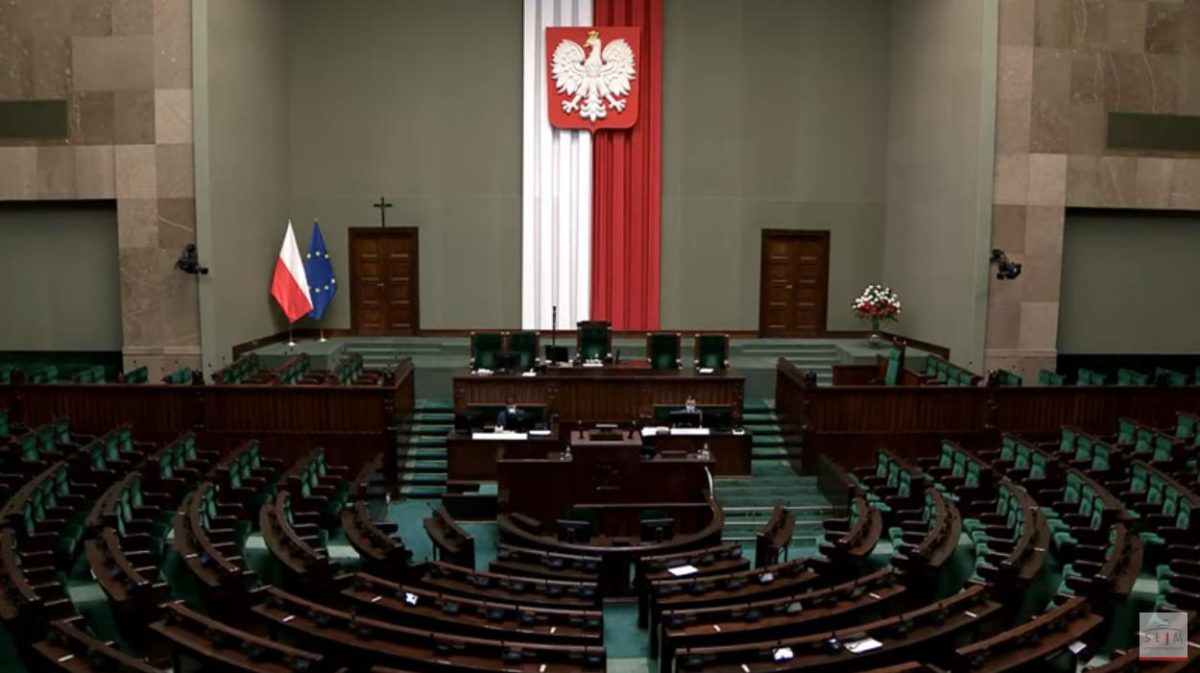 WARSZAWA – A measure that would give school administrators and superintendents the power to remove books, lessons, and ban student participation in events or clubs that are LGBTQ+ affirming passed the lower house of Poland's parliament, known as the Sejm, this past Thursday, January 13, in a 227-214 vote.
The measure, dubbed "Lex Czarnek," or "Czarnek's Law," after minister of education Przemysław Czarnek,  who has been vehemently opposed to the LGBTQ+ rights and the country's equality movement, now moves on to the upper house, the Senate where it faces opposition and likely will be rejected Polish broadcast media outlet RMF 24 reported.
According to RMF24, "The Sejm adopted the amendment to the Educational Law, prepared by the Ministry of Education and Science. The project is commonly known as "lex Czarnek". The role of school superintendents will be strengthened, and the rules governing the functioning of non-governmental organizations in schools and educational institutions will be changed."
Opposition to LGBTQ+ rights has an ally in the Education Minister whose role would determine the outcome of implementation of the measure:
"Pursuant to the amendment, the headmaster of the school or facility will be required – no later than two months before the commencement of classes conducted by associations or organizations – to obtain detailed information about the action plan in the school, the outline of classes and materials used in the offered classes, as well as obtain a positive the opinion of the education superintendent for the activities of such an organization at school or in an institution. The curator has 30 days to issue an opinion."
The law also contains a stipulation that "if the head of the school or educational institution fails to comply with the recommendations issued by the school superintendent, he will be able to summon him to explain why he did not do so . If the principal still does not follow the recommendations, the probation officer may apply to the governing body of the school or facility with a request to dismiss the principal during the school year, without notice."
A member of the Sejm, Agnieszka Dziemianowicz-Bąk, a progressive leftist politician who in addition to protesting against abortion laws, has also been active in protests for LGBTQ+ rights, tweeted her outrage; "The voice of the curator Nowak, as if it were not stupid and dangerous to health and life, is more important for PiS deputies than the voice of students, parents and teachers."
#LexCzarnek przepchnięty przez Sejm 😡

Głos kurator Nowak, jakby nie był durny i groźny dla zdrowia i życia, jest dla posłów PiS ważniejszy niż głos uczniów, rodziców, nauczycieli. pic.twitter.com/mWkxoQk1oi

— A. Dziemianowicz-Bąk (@AgaBak) January 13, 2022
The MP and Education Minister Czarnek, target of Dziemianowicz-Bąk's anger, has staked out several public vitriolic anti-LGBTQ+ positions that has included an attack on the LGBTQ+ community in West Hollywood.
Speaking with a reporter on Serwis Info Poranek with the national state-run TVP Info (TVP3 Polska) last June, the newly appointed Education Minister said- (translated from Polish):
"Let's end the discussion about these LGBT abominations, homosexuality, bisexuality, parades of equality. Let us defend the family, because failure to defend the family leads to what you see.
As he spoke these words, he was holding a phone in his hand, on the display of which he showed a picture of several people. – These are the Los Angeles guys in downtown last June. I was on a delegation there, I was passing through, there was a so-called gay pride parade there – he added. – We are at an earlier stage, there are no such things with us yet, but such chaps shamelessly (shamelessly – ed.) Walk the streets of the western city of Los Angeles – he added.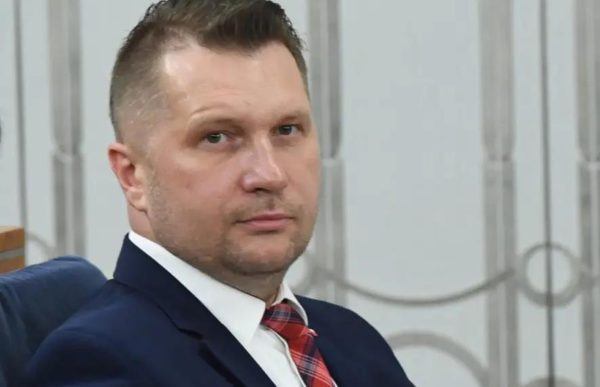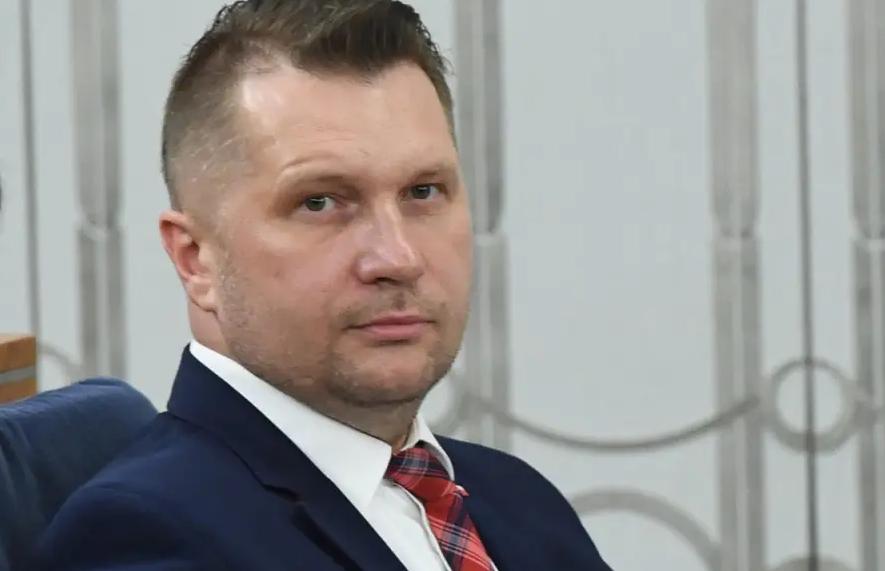 Serwis Info Poranek also noted that according to MP Czarnek, "Europe is also heading for this, Poland is heading for this- […] These people are not equal to normal people, let's end this discussion."
During the ongoing battles over the so-called LGBTQ+ 'Free Zones' with the European Commission Czarnek weighed in comparing the LGBTQ+ community to the Nazi's.
"There's no doubt, that LGBT+ ideology grew out of… the same root as Germany's Hitlerian National Socialism, which was responsible for all the evil of World War II," Czarnek said PinkNewsUK reported.
Renew Europe, the liberal, pro-European political group of the European Parliament tweeted its outrage over the actions by the Sejm:
#WolnaSzkoła: The new polish law will restrict free education & in particular make it de facto impossible to teach about sexuality in a LGBTIQ-inclusive way.

This effort to eliminate freedoms & liberal values from public life is tragic. pic.twitter.com/lib7MSNYOv

— Renew Europe (@RenewEurope) January 13, 2022
#WolnaSzkoła: "Children need education, not indoctrination. The education reform in Poland threatens to force the illiberal views of the Polish government on the young generation", says @moritzkoerner. pic.twitter.com/Y4Hxsfx0qK

— Renew Europe (@RenewEurope) January 13, 2022
Observers think that the law will be rejected by the senate although under the Polish constitution there is still a possibility it could be signed off on by the anti-LGBTQ+ Polish President Andzej Duda.
"Although it seems that Lex Czarnek is on track to becoming law, Rémy Bonny, executive director of pan-EU LGBT+ rights organisation Forbidden Colours, insists that all is not lost.
With pressure from politicians both in the EU and around the world, Poland could be forced to backtrack.
He told PinkNewsUK: "In September, after threats by the European Commission to take away funding, four out five provinces that declared themselves 'LGBT+ free zones' withdrew their anti-LGBT+ resolutions… International pressure on Poland works."
ELLE magazine thumbs its nose at an anti-LGBTQ government
On the cover of Elle Hungary, a gay couple with a small child is presented to highlight the simple truth: love knows no limits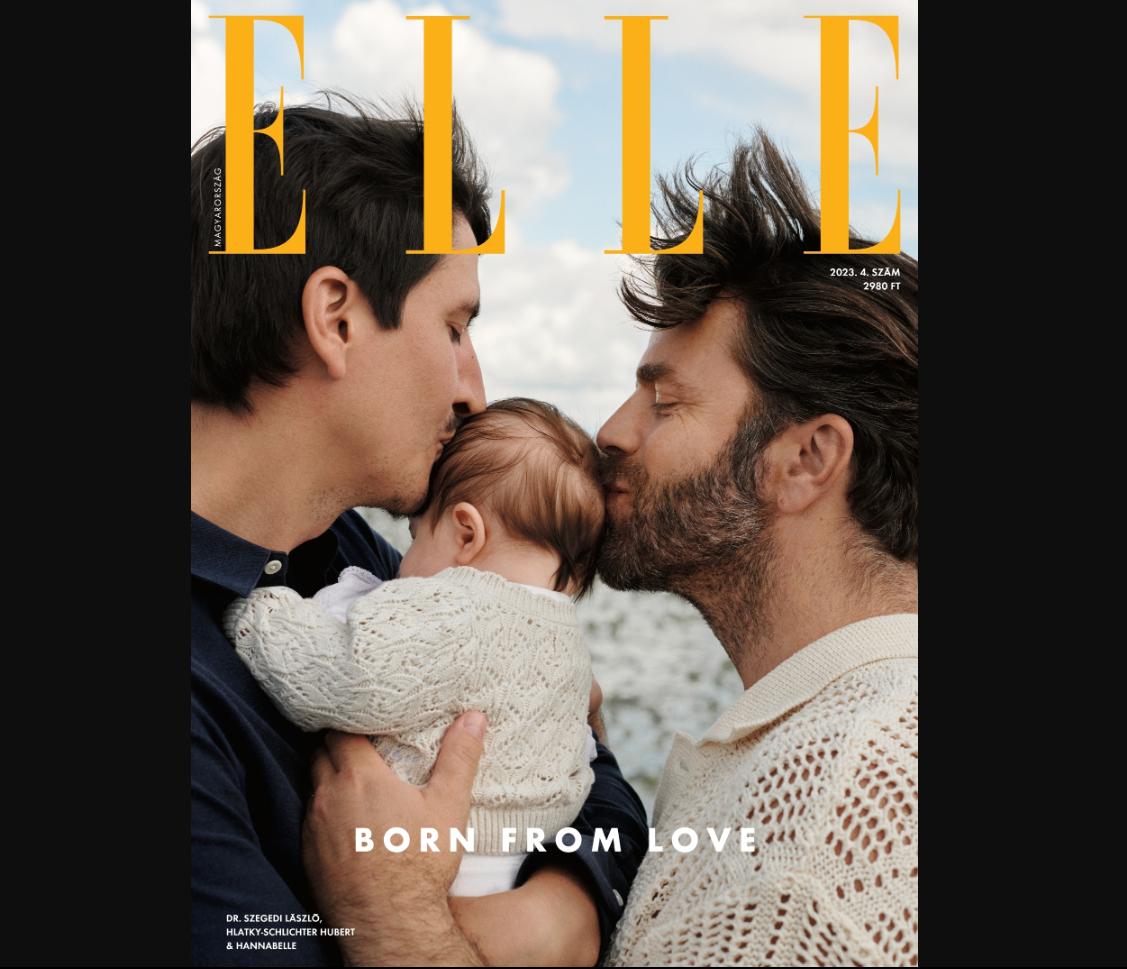 BUDAPEST, Hungary – The September issue of fashion and culture magazine Elle Hungary features a prominent married gay couple with their infant child on the cover.
While seemingly innocuous, the photograph of Hungarian restaurateur Hubert Hlatky Schlichter and his neurosurgeon husband Laszlo Szegedi kissing their daughter Hannabel is in open defiance of the homophobic government of Prime Minister Viktor Mihály Orbán.
On June 15, 2021, a Hungarian Law purportedly aiming at taking stricter action against pedophile offenders and amending certain laws to protect children was adopted. Some of the new provisions target and limit the access of minors to content and advertisements that "promotes or portrays" the so-called "divergence from self-identity corresponding to sex at birth, sex change or homosexuality."
Prime Minister Orbán has been criticised by international human rights groups as discriminating against LGBTQ+ people with this law which European Commission President Ursula von der Leyen called a "disgrace."
Orbán, who has publicly proclaimed that he is a "defender of traditional family Catholic values," has been criticized by international human rights groups as discriminating against LGBTQ+ people.
Publishing the cover on its Instagram account Monday, Elle Hungary stated that the magazine's intention was to "contribute to the acceptance of rainbow families" and help the publication to "campaign all over the country for love and all forms of family."
(Translated from Hungarian):
Every child deserves to grow up in a safe, caring and supportive environment, and no one can prevent that because of their parents' gender identity or sexual orientation.
On the cover of our latest issue, we present a Hungarian rainbow family: we can get to know the story of their becoming a family, their honest and loving everyday life with their little girl, Hannabell. Hubert Hlatky-Schlichter and Dr. László Szegedi confess honestly about the difficulties and prejudices they had to face as a gay couple at home and how fate-changing the arrival of their daughter was for them. With their story, we want to send a message to everyone who has felt that they or their loved ones have been attacked more recently: you are not alone, and there is a positive scenario!
We hope that with our current issue, even if on a small scale, we contribute to the acceptance of rainbow families, and manage to give inspiration, encouragement and support to the many thousands of readers who share the same values with us. The slogan of our cover page sums up our message beautifully: Born From Love, because families, regardless of their structure, are rooted in deep, unconditional love. Join the conversation by using the hashtag #BornFromLove to campaign for all forms of love and family across the country!
In the featured article written by Elle Hungary editor-in-chief Vivien Mádai that accompanies the cover, the couple discussed the division of parental roles, and candidly about discrimination they've faced in Hungary, particularly as they welcomed their infant daughter into the world.
PinkNewsUK noted that while a same-sex couple featured on a British or US-based magazine would seem innocuous, in Hungary, it marks a landmark step for positive queer representation in the media.
On Instagram, the magazine's comment section has been flooded with people celebrating the cover.
This past April, Hungary's President Katalin Novak vetoed a legislation that included a provision for citizens to anonymously report on same-sex couples who are raising children. In a rare departure from the policies of Orbán whom she generally supports, Novak returned the bill to the parliament telling lawmakers to strike that provision.
The country's constitution states that the institution of marriage is ""between one man and one woman," and notes that "the mother is a woman, the father a man."
This law's passage and Novak's veto came after the country's Constitutional Court issued a ruling in February that will continue to block new applications from transgender people for legal gender recognition. The judgment effectively creates two categories of trans people in Hungary: those who applied early enough to pursue gender recognition and those who did not.
A spokesperson for the German government told the media earlier this year that Germany and France joined with other EU member states in the European Commission lawsuit over a Hungarian law which discriminates against people on the basis of their sexual orientation and gender identity.
The move by Elle to feature the gay couple on its cover follows a July incident where Hungary's second-largest bookstore chain was fined for violating the nation's 2021 law that limits the access of minors to books, media content and advertisements that "promotes or portrays" the so-called "divergence from self-identity corresponding to sex at birth, sex change or homosexuality."
The chain was fined for selling copies of British author Alice Oseman's LGBTQ+ graphic novel series 'Heartstopper,' a global phenomena due to the runaway hit Netflix show based on her books in the series.
The Budapest Metropolitan Government Office, (BMGO) fined Lira Konyv bookstore chain for placing the book series in its youth literature section, and for failing to place it in wrapped plastic packaging as required by the 2021 law.
The bookstore chain was fined 12 million forints ($35,930 Euros)
French daily afternoon newspaper Le Monde reported that as a result, bookshops have decided that books deemed "sensitive" must be wrapped in plastic or moved them to the adult section, if they have not decided to refrain from selling them altogether.