Where's the LGBTQ+ outrage over Sen. Kyrsten Sinema?
LGBTQ people are still official second-class citizens without full equal rights & figured out long ago that there is no "both sides" fairness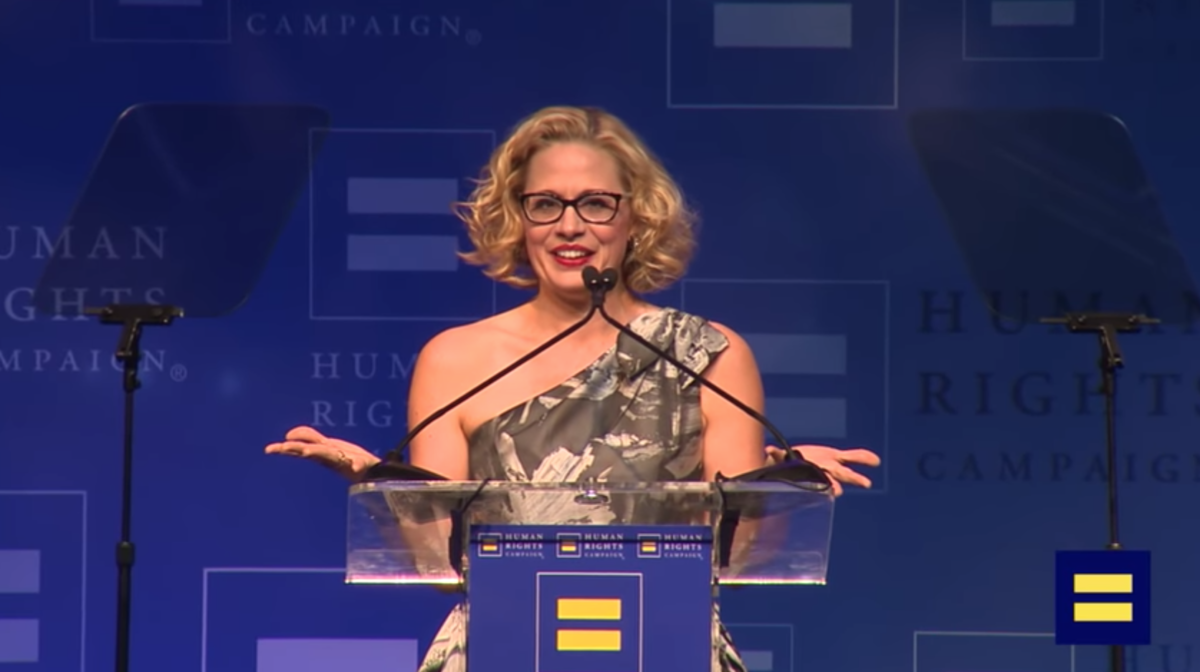 By Karen Ocamb | WEST HOLLYWOOD – I've been waiting and waiting but nothing. What the hell, Human Rights Campaign? Are we really OK with letting this hyper-flirty, bisexual nouveau conservative Democrat from Arizona continue to say she's representing us while holding hands with Sen. Joe Manchin in crushing democracy?
Last October, when Arizona Democratic U.S. Senator Krysten Sinema found super infamy by fighting President Biden's infrastructure spending bill and much of her Democratic Party's call to end the procedural Senate filibuster, The Advocate cited criticism from Black gay New York Rep. Ritchie Torres.
"There is a sense in which we no longer live in a democracy; we live under the tyranny of Kyrsten Sinema," Torres told CNN. "I welcome the ideological diversity of the party. I can live with dissent. My colleagues and I have trouble living with what we perceive to be erraticism. The perception of erraticism is brought on by a lack of communication and clarity for where she stands."
Last Thursday, Sinema gave a soap opera-choked up speech saying she would not vote to change the filibuster because "eliminating the 60-vote threshold will simply guarantee that we lose a critical tool that we need to safeguard our democracy from threats in the years to come." First of all, the threat is here and now and the fact that she doesn't get that makes her inept and craven. The ramifications are huge: without democracy, there is no access to justice.
Secondly, as House Majority Whip James Clyburn told CNN on Sunday, Democrats are seeking a carveout to the filibuster to enable a simple majority to vote on fundamental principles like voting rights.
"When it comes to the Constitution of the United States of America, no one person sitting downtown in a spa ought to be able to pick up the telephone and say you are going to put a hold on my ability to vote. And that's what's going on here," Clyburn told Jake Tapper. "So I would wish they would stop that foolishness because if we do not protect the vote with everything that we've got, we will not have a country to protect going forward."
After Thursday's speech – which she insultingly delivered as Biden was on his way to talk to lawmakers about the critical need to pass the Freedom to Vote Act and the John Lewis Voting Rights Advancement Act – MSNBC's Joy Reid noted that Sinema's rationale for defending the filibuster "is as inconsistent as it is immoral." Sinema supported bypassing the filibuster just over a month ago "in order to raise the debt ceiling on a party-line vote. She doesn't think Republicans should be allowed to damage America's credit, but she thinks allowing them to damage American democracy is a virtue."
Reid noted that Sen. Raphael Warnock called out the contradiction last month after the debt limit vote.
"Be very clear, last week we changed the rules of the Senate to address another important issue, the economy. This is a step, a change in the Senate rules we haven't been willing to take to save our broken democracy, but one that a bipartisan majority of this chamber thought was necessary in order to keep our economy strong. We changed the rules to protect the full faith and credit of the United States government. We've decided we must do it for the economy, but not for the democracy," Warnock said.
Audacity, thy name is Sinema: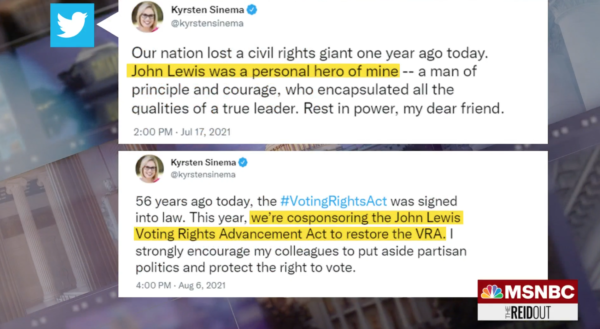 With Sinema's obstinate obstructionism flaring up days before Martin Luther King Day and before a Senate vote on the John Lewis Act – named for the late civil rights icon she claims to have loved – more and more critics are noting how the filibuster was created to further lynching and racist Jim Crow laws. "There's nothing partisan about saying the filibuster has mostly been used for racist reasons, I think everybody would agree that that's true," Harvard Law professor Michael Klarman told the Associated Press.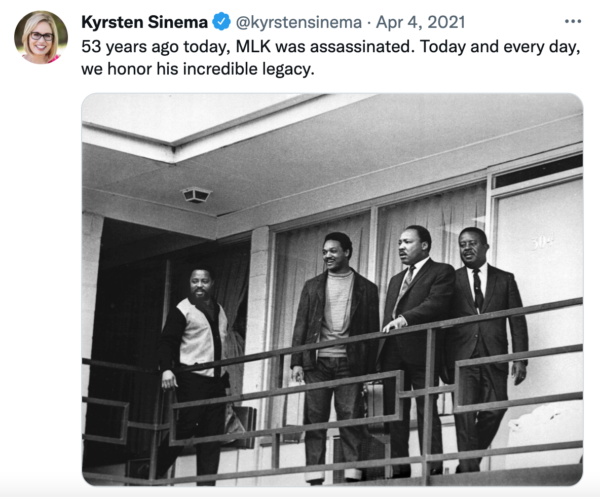 On Saturday, MSNBC's Tiffany Cross said the subtext out loud. "Sinema is a Democrat, but she is in many ways upholding white supremacy," Cross said on "The Cross Connection" after showing a clip of Sinema's Thursday speech. "I don't think I can roll my eyes hard enough and you kind of just want to say, 'Girl, bye.'"
It's not like we didn't notice that Sinema – who used her story of childhood poverty to get elected – has courted infamy. In March 2021, Christine Linnell made an important point in an Advocate commentary.
"Arizona's Sen. Kyrsten Sinema may have taught us a valuable lesson in the past week: when it comes to politics, visibility and representation will only take you so far," she wrote. "Sinema, the first openly bisexual person to be elected to Congress, went viral for the wrong reasons on Friday when she voted against a provision in the coronavirus relief package that would have increased the minimum wage to $15 an hour. And she didn't just vote against it, but went out of her way to get Minority Leader Mitch McConnell's attention before giving a sassy thumbs-down on the floor of the Senate."
Linnell cited journalist Ryan Grim's March 5, 2021 tweet, re-tweeting a C-Span video clip: "Here's @SenatorSinema walking on to the floor, patting Mitch McConnell on the back, looking back to make sure he sees her, then giving the thumbs down to a $15 minimum wage."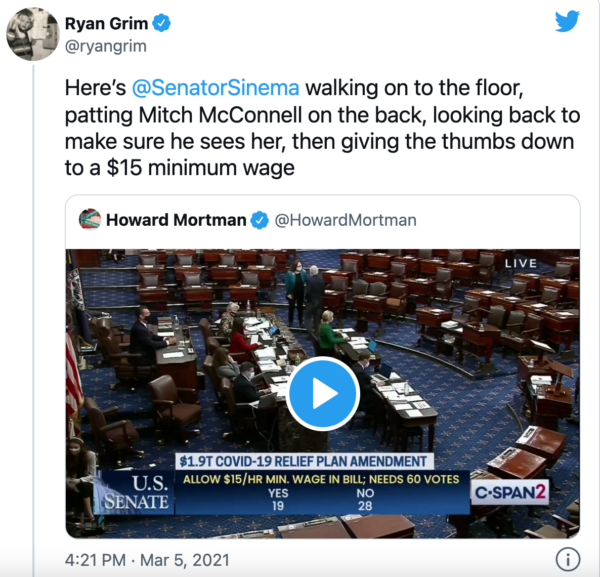 But Sinema is no John McCain and then, like now, it's hard to see what principle she was upholding.
I interviewed Sinema in 2018 for the Los Angeles Blade when she was running for the Senate and noted a tracking report from Nate Silver's FiveThirtyEight indicating that Sinema voted in line with Trump's position 54.7% of the time.
"This isn't a matter of one party being right and the other being wrong," Sinema said. "If we allow our basic values to become just another political football, we'll all lose. If President Trump is willing to work together to stand up for Arizonans, I'll work with him….I learned early on that you get more things done when you're willing to work together…The problem with Washington is that people don't listen to those who have different points of view so they never find the common ground needed to really solve problems. When you actually talk with people and work across the aisle, it's amazing how much you can accomplish."
The problem is that Trump's Republican Party is subsumed by white supremacists for whom lying and treachery is a convenient, amoral means to an authoritarian end. There is no negotiating in good faith here. There is no bipartisanship when one partisan side is angling for white straight male supremacy.
And the thing is, we LGBTQ people — who are still official second-class citizens without our full equal rights – figured out long ago that there is no "both sides" fairness when you're talking about the far right. Ask Joan Garry of GLAAD. CNN used to pit Joan against some religious right nut until finally she (standing in for all of us) said we would not acknowledge the religious right or white supremacists as the equivalent of our movement for equality and social justice.
Yet here we are as Sinema – who claims to represent LGBTQ people – acts as if Trump's white supremacy is equivalent to Biden/Pelosi/Schumer and GLAAD ' agenda to restore Constitutional voting rights.
But where are WE? Do we not remember Silence = Death?
"At consequential moments in history, they present a choice," Biden said in his speech from Atlanta on Jan. 11. "Do you want to be the side of Dr. King or George Wallace? Do you want to be on the side of John Lewis or Bull Connor? Do you want to be on the side of Abraham Lincoln or Jefferson Davis?"
What side do you want to stand on, LGBTQ people?
Ironically, Sinema foreshadowed this moment in her speech before the Human Rights Campaign on March 10, 2018. "It's up to us now to make certain that being gay, lesbian, bisexual or transgender will never again be an impediment to success. These battles will take place on many fronts. Under our new President, that's unfortunately meant returning to some of the fights we thought were behind us," she said, noting that she was running for the Senate "to stand up for the values that unite us as Americans," including "the right to define our own destinies. The belief that no one should be different in the eyes of the law, the freedom to reach for every opportunity and fulfill our greatest potential. We here, we together, we have a moral obligation to continue this work. And standing together, I know we can win."
Standing together? From Jan. 1, 2021, Krysten Sinema tweeted about LGBTQ people/issues only FIVE (5) times – three of which were during June Pride Month.
I reject any assertion that Krysten Sinema represents me as an LGBTQ person. What about you?
Arizona Representative Kyrsten Sinema Speaks at HRC Los Angeles Dinner:
********************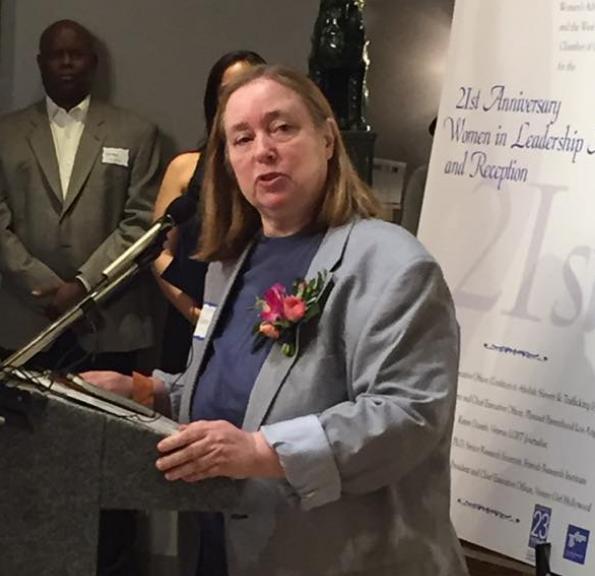 Karen Ocamb an award winning veteran journalist and former editor of the Los Angeles Blade has chronicled the lives of LGBTQ+ people in Southern California for over 30 plus years.
She lives in West Hollywood with her two beloved furry 'kids' and writes occasional commentary on issues of concern for the greater LGBTQ+ community.
In her own words: Somali singer IDMAN on queerness & family
Musical artist, IDMAN, creates a sonic tableau of hybrid R&B that explores the highs and lows of navigating relationships & life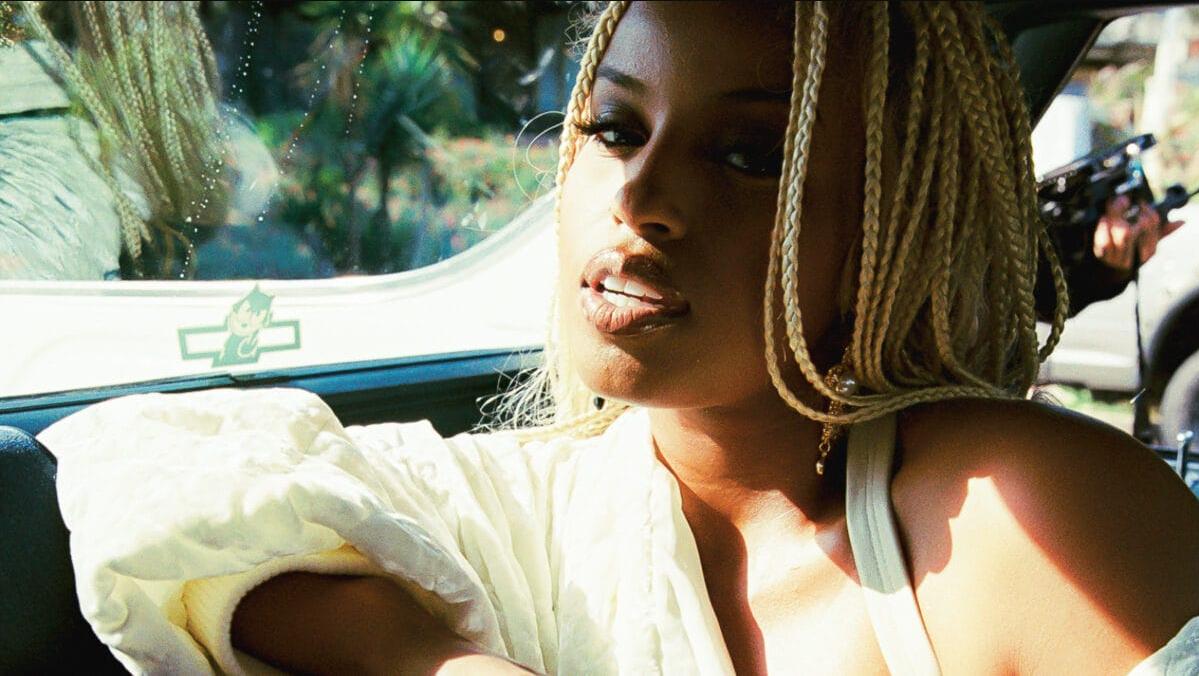 Toronto native and musical artist, IDMAN, creates a sonic tableau of hybrid R&B that explores the highs and lows of navigating relationships and life. Shaped by her Somali heritage and a deep interest in social activism, IDMAN is a burgeoning singer/songwriter who began honing her skill set in childhood, immersing herself in American pop culture, learning English as a result. Her signature sound is credited to blending both North-American and Somali culture and music, alongside the support of her music collective, Golly Geng, Now, in a personal essay IDMAN is sharing a different kind of tune: her truth.
LOS ANGELES – Imagine that I was a stranger who knocked on your door on a random afternoon and asked: "Who are you when no one's watching?"
What would you say?
Would I even deserve an answer?
This question will make sense by the end of this letter, but first, I want to tell you a story.
In 2015, I went on a road trip to Miami for the National LGBTQ Task Force's Trans Justice Miami Power Summit with some close friends and organizer homies. Two of us were hijabis who'd signed up to support our queer/trans family as allies (Talk Valentina).
A few years before, I was involved in activism where I made some friends while volunteering for a couple of marriage campaigns that ultimately won Mainers the right to same-sex marriage.
Only a select few people knew what I was working on, a family member of mine, her friends, and her father.
It was then that my eyes were opened.
Her father was really supportive and truly understood MLK's words: "Injustice anywhere is a threat to justice everywhere." Her father saw me and I respected him dearly for it. He will never know how the nuance and compassion he showed me every time we spoke did so much to counter the narratives I'd been taught about who was or could be tolerant.
The first queer person in my life was my mom's cousin.
I called her Auntie Guruhbadan, which means beautiful (it was a name I gave her not only to protect her identity but because I couldn't pronounce her actual name as a five-year-old). I mention her because she made flyers for her wedding and it was the first instance where my father and I had explicitly talked about queerness.
It was awkward and a bit clumsy but I understood two things: my father was trying to come from a place of respect and was talking from his heart.
A good sign.
The second queer person I knew and loved was my cousin, a trans woman.
She lived in the same building as my grandparents and would come over for meals. She presented as femme and wore traditional Somali dresses, hair coverings, and people honored TF outta her pronouns.
They rationalized the use of her pronouns and transition as the result of a head injury from an accident that would make her fight you if you didn't use the right pronouns.
Yeah…mmmkay. She had them spooked and it was marvelous.
It never felt confusing or out of the ordinary.
They were some of the only adults I truly felt safe around as a kid. It went against everything I'd heard in the West about back home with issues around queerness and gender.
Later that year, I attended my first Pride as an ally.
It was during a speech when a close friend of mine, a Black Muslim woman, came out and referenced Surah Ar Rahman. She related it to our friendship and our presence there together. And it was at that moment that I truly felt the power of the queer community and the importance of family.
"Queer community and family is something different. It is a favor from God that I cannot deny," she said.
To my friends Rana, Edric, Benn, Del Mar, and Samaa, I thank you for being the exact right people at the right time, with open hearts enough to care and say something.
Their presence in my life has allowed me to embrace my true self without reservation – a great gift that I came to know. It's led me to a life full of so much pride and honor that has revealed a rich history and legacy.
Growing up I'd been led to believe that hiding your true self from people not equipped to hold or honor you, meant you were ashamed or embarrassed.
Out-culture has always been something I've felt like I've had to contend with.
I know there are folks out there who feel that silent, personal protest (the rainbow flag in their bag/under their bed) is sometimes the only safe way to feel connected or affirmed.
I feel as though out-culture has set up a dynamic that pressures young people to choose between access to resources like housing, food, security, and feeling valid or authentic to their identity. I hate the parts of out-culture that tugs at the integrity of those already at the bottom of the totem pole. It has always felt wack to me honestly.
I believe that everyone has the right to choose how and when to disclose their personal identity.
No one should feel pressured to explain their desires or preferences. It's essential to nurture a culture of respect and care, focusing on things that truly matter, such as providing resources, safety, and community support. I wish we told queer and trans youth more often that there is no standard within which to measure the authenticity of one's identity, and that they're valid whether they decide to come out or not. That the world's reactions to their truths are not their fault, and that they are no less valid in their identities for deciding to withhold it from those they believe cannot honor them.
Statistics show that LGBTQ+ youth, especially those of color, are disproportionately affected by homelessness.
Out-culture has often perpetuated anti-black, xenophobic, and Islamophobic attitudes. It's crucial to challenge the idea that queer and trans people owe intimate details of their lives to others.
Ultimately, it's up to individuals to decide whom they trust with their identities. It's okay if someone doesn't get to know all aspects of who we are. We must prioritize personal boundaries and respect for one another.
I believe in the agency to decide who we share what with, and my circles feel warm and they see me wholly. They get the benefit and gift of getting to experience all of me unabashedly and fully disarmed in some cases because they have demonstrated the ability to see and accept my agency.
It's a shame, it's a stain and it should be the regret of a lifetime for someone to deny themselves the love of a queer or trans person because they can't see beyond their own projection.
What a flop.
It is always their loss.
I promise.
I wrote this letter today not out of a need to validate who I am.
I'm not more legit in my queerness for writing this letter.
I'm here to say that you are no less valid for choosing not to deal with all that may come with these choices.
It is just that: a choice.
I've been me, and I've been galavanting in my truth for years.
It's just always been with and around those who could honor that much.
And if this letter is vague, I'm sorry that I couldn't be more unapologetic. I hope everyone who hears me loud and clear knows this much: I love you, I love us.
There are no comments, no DMs, no culturally enforced shame, and nothing that could deter me from being able to say that much.
I wrote this because I could, and I felt safe enough to..
My folks understood me and I believe in my family enough to love them enough to give them the gift and honor of learning to love me as I am in this lifetime.
I think they got it.
And I know I've got the necessary after-care in place if they don't. I've got a community of support to lean on, a career that offers the financial independence to be okay without the support of family and pathways to medical resources to support mental health help and gender affirming care. Because of this access, not only do I feel safer in coming out, I also feel a responsibility to amplify our voices and affirm the many of us who can't or might not be able to. It feels that much more important to affirm the validity of those who have been made to feel otherwise. Because I know queerness is universal (it should go without saying) and I know our liberation is bound together. From Palestine to Ferguson, Tigray to Toronto we exist as we always have and our freedom is tied together.
Truthfully, this all started with a friend, a pronoun, and the first line of a song, and it felt necessary to tell the story I want to tell artistically with the proper context. By the time my work is done, it'll all be there. I hope it makes sense to you then.
I hope you understand that I'll probably never address questions about what I like, who I like, or why I like whatever it is that I do like.
Personally, I don't know you like that and it's rude, tuh. I think the world would be a better place if we cared less about surveillance and policing one another and more about the things that matter – if folks are eating, if they feel safe, if they've got a roof over their head or solid community and real friendship around them.
Imagine.
So again, when it's the middle of the night and someone randomly comes knocking at the doors of your boundaries with questions, remember you actually don't have to answer them and that this is your house!!!
May our hearts remain inaccessible to the untrained or unopened heart, I love you 🤍
******************************************************************************************
The preceding essay was previously published by GLAAD and is republished with permission. The essay was edited by Black queer filmmaker and screenwriter, Sabaah Folayan.
IDMAN's current singles "Down For It", "Good Life", "Look At What I'm Doing To You" and "Hate" have garnered coverage from outlets such as COMPLEX, The Fader, V Magazine, PAPER, Ladygunn, and have generated over 7 million streams.
Recently crowned one of Amazon's Breakthrough Artists in 2023 and coming off support slots for both Sampa The Great and Ella Mai, IDMAN's debut EP Risk arrived this summer. Subsequently, a deluxe version, Risk: Reloaded, was released in August and anchored by a remix of Hate featuring Lojay and Highlyy.