'Fiona and Jane' an enticing look at lifelong friendship
Two women bicker, fall distant – then meet again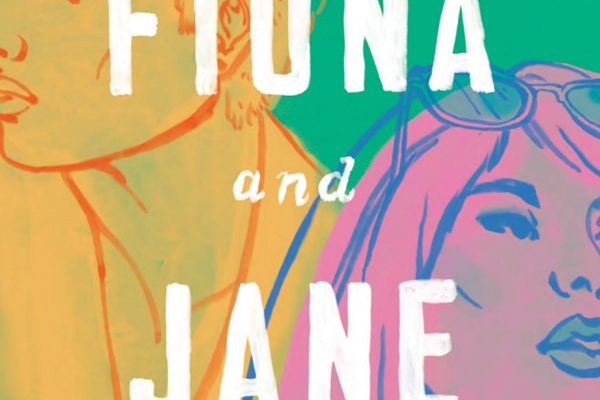 'Fiona and Jane'
By Jean Chen Ho
c. 2022, Viking
$26/275 pages
"Fiona and Jane," a new short story collection by Jean Chen Ho is an enticing New Year's present. The captivating volume features secrets, family conflict, queerness, astute cultural observations, and above all, friendship.
We long to fall in love. So we lose our hearts to our lovers and go to pieces when our relationships break up.
Yet, especially, if we're women and/or queer, we want a best friend as much, maybe more, than we do a lover.
Fiona and Jane, Asian Americans, grew up in Los Angeles. They've been best friends since they met in LA in second grade. Jane's family emigrated to Los Angeles from Taiwan. Fiona, with her mother, came to LA from Taiwan when she was a young child.
In "Fiona and Jane," Ho's debut collection, the two friends over 30 years grow from second-graders to 30-somethings. Ho's linked stories draw us into Fiona and Jane's friendship as they become, at different times, incredibly close, then distant (both geographically and emotionally) from each other.
Ho, 41, has more writing chops than you can imagine. She is a doctoral candidate in creative writing and literature at the University of Southern California where she is a Dornsife Fellow in fiction. Ho has an MFA from the University of Nevada, Las Vegas. Her writing has been published in The Georgia Review, GQ, Harper's Bazaar, McSweeney's, and other publications.
Ho was born in Taiwan, grew up in Southern California and lives in Los Angeles. But, "none of the things that happen to Fiona and Jane are autobiographical," she said on the podcast "All of It with Alison Stewart," "I didn't mine my particular life experiences and put them in the book out of respect to my oldest and dearest friends."
Fiona is hetero, smart and attractive. As a teen, she earns enough money to buy a secondhand car (named Shamu, Ho writes, "after the Sea World killer whale because of the corroding white patches all over the black paint.").
While Fiona's mother isn't religious, Jane's Mom is devoutly Christian. Jane is bisexual. When she and Fiona are teens, they kiss "to practice" – what kissing's like. Though she doesn't tell her Mom, Jane, when a teenager, has a romantic relationship with her female piano teacher.
When she's young, Jane often does what Fiona does. Because Jane's tall, she's often thought of as "Fiona's bodyguard." As she grows older, Jane begins to rely more on herself.
Fiona is eager to leave LA. She goes to college, then moves to New York City with her first boyfriend. She enters law school, then drops out.
Jane stays in Los Angeles. She opts to take a gap year between high school and college. The gap year morphs into a couple of years. Jane has relationships with women as well as with Julian, a vet who has PTSD.
Though Fiona and Jane are quite different from one another, they keep circling back to each other. Despite their differences, they have one thing in common: they both have lost their fathers.
In one of the collection's most moving stories, "The Night Market," Jane speaks of her visit before she graduated high school to Taiwan where she has come to see her Dad. Her Dad has gone from LA to Taiwan for a temporary job. Jane learns that he's going to stay in Taiwan because he's fallen in love with a man there. Her Dad asks her to keep this a secret. But, in her pain at his revelation, she outs him. Jane blames herself for his suicide.
Fiona discovers as a child that she's never known her father. Her mother raises her on her own.
Over the years, Fiona and Jane bicker, fall distant – then meet again. As teens, they help each other get fake IDs so they can drink. As adults, they help each other through moving apartments, love affairs and mourning.
"Sixteen years since my father died, and I was still alive," Jane thinks, "I got up, every morning. I lived, day by day. I had my best friend, Fiona Lin."
Check out "Fiona and Jane." Then, text your best friend.
R.K. Russell's life, sport & bisexual awakening 
This Black queer former NFL player says he's fighting "for us all to be seen, whether it be in the pages or on the screen"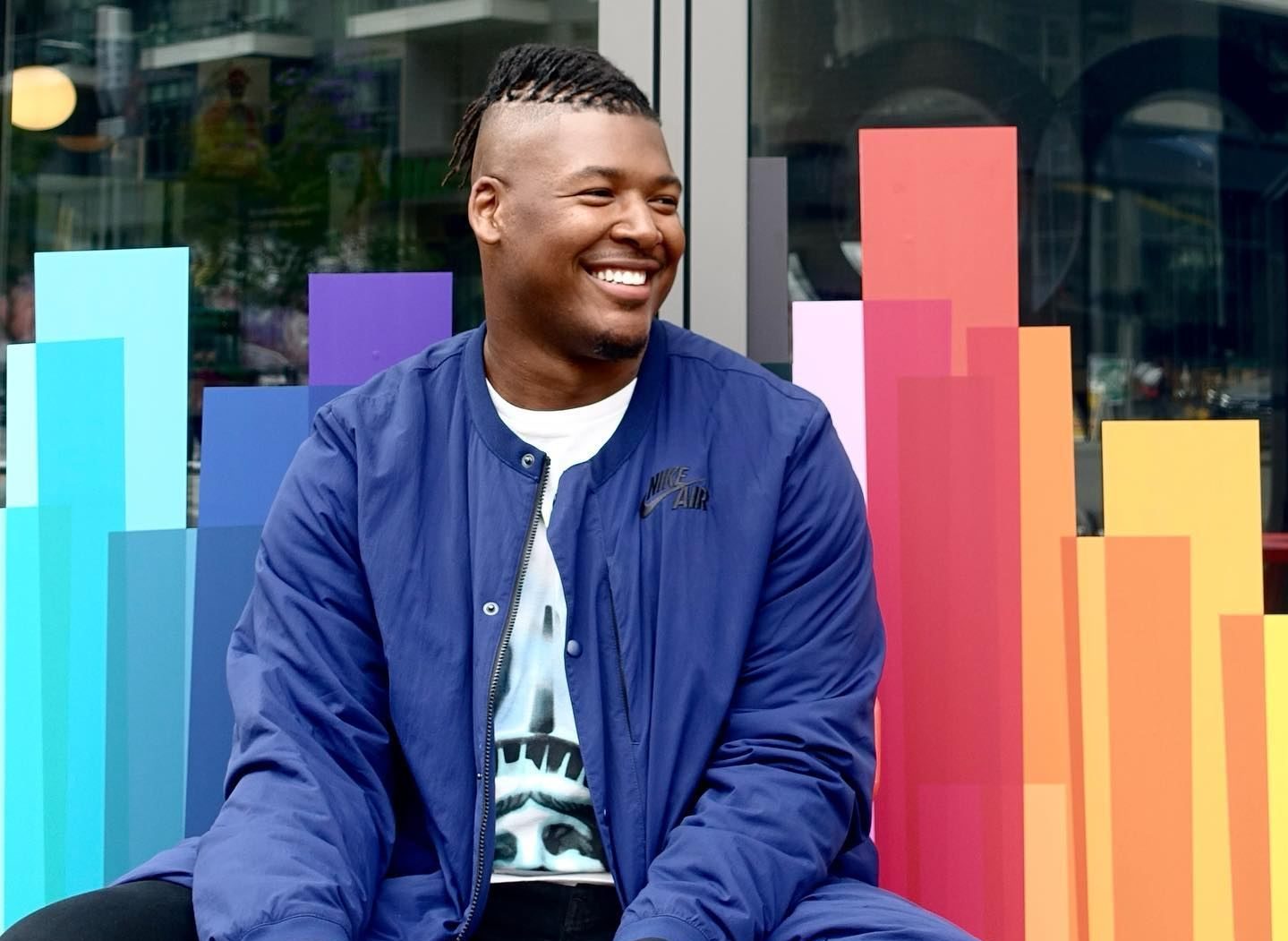 WEST HARTFORD, Conn. – He's tackled opponents on the gridiron, paved a path for out LGBTQ+ athletes and shared his unique voice in words and prose. Now R.K. Russell is celebrating the release of his long-awaited memoir, The Yards Between Us, as well as a Hollywood deal to bring his story to television viewers. 
It's something Russell told the Los Angeles Blade he never dreamed would be possible, even as a child.
"Grown me could barely imagine the book, let alone, little me," Russell said. "It is something I have not seen before, and something that doesn't really exist. Something that is so shocking even to me, this being my life. I think the reason that I continue to take these opportunities that come to use my platform and my voice and my talents, my gift, to not just tell these stories, but to hopefully champion other people in their story. To just fight for us all to be seen, whether it be in the pages or on the screen, everywhere people exist. We exist."
As the Blade reported in August 2019, Russell came out as bisexual in a feature for ESPN. The NFL defensive end was drafted by the Dallas Cowboys in 2015 and played a few seasons for the Tampa Bay Buccaneers and Buffalo Bills. After coming out as a free agent, Russell wasn't able to fulfill one of his dreams — to play professional football as an out and proud bisexual man. But at that time, he said all he was focused on was living his truth.
"It was a powerful time in my life," Russell told the Blade. "It was the first time I really felt that I was taking all this control and I wasn't just at the mercy of the NFL or waiting for that phone call, or at the mercy of friends, family, lovers. It was my decision and my moment and my truth. And I got to express it in a form that felt very genuine to me."
The Buffalo native called the experience "freeing."
"I didn't think I'd realize how much I had been proverbially holding my breath until that moment. And then it just felt like such an exhale. It's such a freeing thing, and the weight of the burden of that secret, of that shroud, or that shame," he said. "I just realized how heavy what I had been carrying for so long. So, definitely a powerful and freeing moment."
Having already told part of his story to ESPN, The New York Times and other news outlets over the years, there was a reason Russell felt it was important to write the rest of his story.
"That was just a very specific part of my life, and it showed me that maybe by sharing my whole story, my life and my journey and my truth and other parts could be just as impactful, if not more impactful," he said. As he set out to write the memoir, he said he first experienced imposter syndrome, until he came to a realization.
"The point that got me through was, 'What would little R.K. read that would have helped him? What was a book that didn't exist when he was young, and that he could have picked up and seen himself, or that people like him can pick up and see themselves? Or even people unlike him, to get a human connection to someone that does not look like them or doesn't play sports?' So, I think the huge, final push was, 'What would I have liked to have read as a child?' And hopefully that will help other people."
The Yards Between Us traces not only Russell's football career and his love for the game, for both men and for women, but also what it was like for him to keep his bisexuality secret and the tension between his private and public lives. As his weighs upon him, he's dealt a devastating loss, an event that leads to an all-enveloping darkness, until finally he recognizes, it's time to make a change.
Since coming out, he's found love with his boyfriend, Corey, grown closer to his mother and this September he'll mark four years sober.
Russell's memoir has won him accolades from LGBTQ+ readers, but not just them.
"I've also gotten a lot of support from people who aren't LGBTQ+ who see the value in the story, but also see the value in the intersections of it all. Because I don't just talk about being a bisexual, I talk about being a Black man. I talk about being a football player, defining masculinity and redefining masculinity. There's a lot of intersections that my story crosses. And I think for people to see all of these layers also coexisting in one person, that's important to see the bridges between these communities that at times can be put against each other, or it can be divided, to see them all exist within one person."
While all that sounds very serious, Sony Pictures Television sees comedy gold in exploring Russell's intersectionality of sports, race, sexuality and masculinity. His memoir is being adapted into a half-hour comedy series, as Deadline reported. Russell is co-writing and executive producing a half hour comedy series with Saeed Crumpler of "Flatbush Misdemeanors," alongside Gabrielle Union, who is a producer in her own right as well as wife to Dwyane Wade and stepmother to their 15-year-old trans daughter, Zaya Wade. As the Blade reported last month, the Wades left Florida because of its anti-trans policies and laws.
"She's fantastic. Amazing," said Russell. "If anyone wants to know what allyship looks like, Gabrielle Union and Dwyane Wade and their whole family, they're so amazing. "
Union, he said, recognizes the importance of representation. "It's important to have genuine representation, whether it be during Pride Month with companies and campaigns or in shows and books that our stories are coming from, that there are Black queer writers writing Black queer stories hopefully also in part started or acted by Black queer artists."
Long before he wrote a word of his memoir, Russell has been publishing his own poems, which he told the Blade was his "way to express life with words." He said he started writing poetry following the death of his stepfather.
"It was a way for me to kind of name grief, without naming it. I didn't have that vocabulary, that word at that time, but I was feeling it so intensely," he said.
One of Russell's poems, Tributes, was an effort at explaining bisexuality and his experiences. "'Bisexuality,' the word, means something slightly different to you, to me, or to someone else. I can talk about the experience in a way that is so varied and so broad and to me, so true and genuine." Below, an excerpt from that poem:
Love is freedom
and the freedom to love is a birthright,
or at least it should be.
These years fill my canvas
and I know too much of life to expect
only one color to leave its strokes across my heart.
Paint is intended to mix no matter the artist. —Tributes, by R.K. Russell