Florida Senate Committee advances bill empowering anti-LGBTQ+ parents
"As a gay man, to sit here in committee, to hear that, there was no book that I read that brought me to who I am"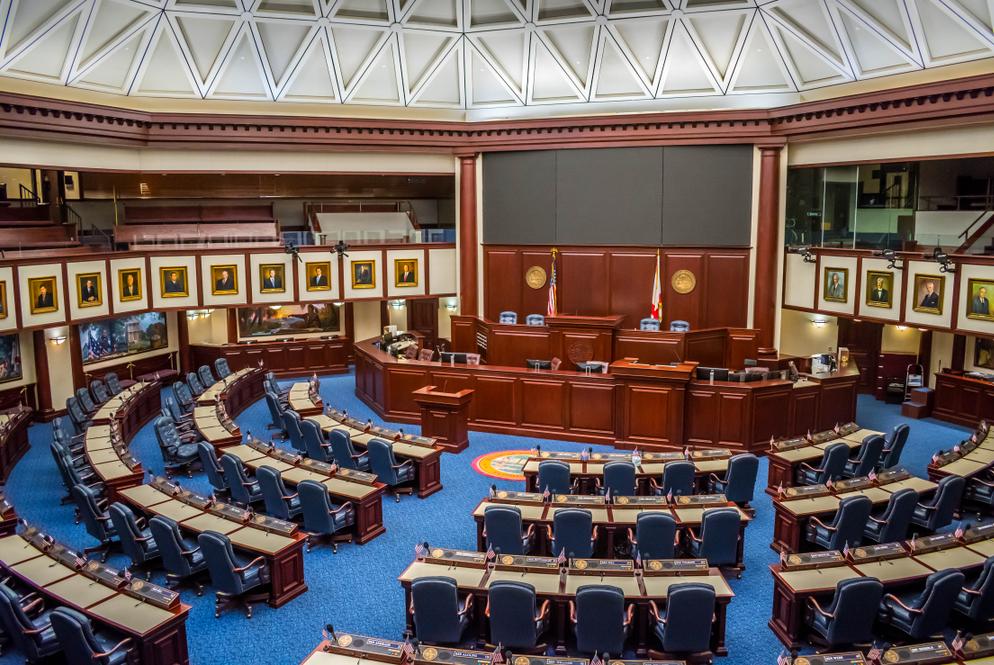 TALLAHASSEE – After a tense session Tuesday, Florida's Senate Education Committee advanced a measure that critics charge would simply empower homophobic parents to challenge reading materials that contain affirming LGBTQ+ characters or content.
The text of Senate Bill 1300 reads in part:
Each district school board must adopt a policy regarding
  121  an objection by a parent or a resident of the county to the use
  122  of a specific instructional material, which clearly describes a
  123  process to handle all objections and provides for resolution.
  124  The process must provide the parent or resident the opportunity
  125  to proffer evidence to the district school board that:
  126         a. An instructional material does not meet the criteria of
  127  s. 1006.31(2) or s. 1006.40(3)(d) if it was selected for use in
  128  a course or otherwise made available to students in the school
  129  district but was not subject to the public notice, review,
  130  comment, and hearing procedures under s. 1006.283(2)(b)8., 9.,
  131  and 11.
  132         b. Any material used in a classroom, made available in a
  133  school library, or included on a reading list contains content
  134  that is pornographic or prohibited under s. 847.012, is not
  135  suited to student needs and their ability to comprehend the
  136  material presented, or is inappropriate for the grade level and
  137  age group for which the material is used.
Numerous persons that were testifying in favor of the proposed law alleged that students exposed to LGBTQ+ affirming books and materials "would feel forced to turn queer" based on the content.
A representative of the right-wing group BEST SOS, Karen Moran, told senators; "We have porn, we have critical race [theory], we have gender confusion and other objectionable materials in our schools," Moran said, before reading aloud from a book called "It Feels Good To Be Yourself," which explains gender identity to children.
Moran added that allegedy there were 112 copies of the book in Palm Beach County Libraries. 
Out state Senator Shevrin D. "Shev" Jones, who represents parts of Southern Broward and Northern Miami-Dade after sitting through anti-LGBTQ+ testimony presented to the committee and visibly exasperated after Moran's attacks, told those in the hearing room; "As a gay man, to sit here in committee, to hear that, there was no book that I read that brought me to who I am," he said. "And even your children. I don't care what you may try to do to think that you are protecting them. The one thing you are obligated to do, like my mother and my father did, is to love them for who they are."
He then noted that students would be more damaged from the accusations and ugly insults they would have heard during the committee hearing than anything they could possibly read in a book.
"I'm not going to speak about the politics of this because all of that is going to go out the window eventually. My ask is that as you all speak, just realize that there are individuals who hear you and might be in the shoe of someone who your words are hurtful towards," he said. "It's not me. I'm fine, I'm a grown man and can take care of myself."
Brandon J. Wolf, the Press Secretary for Equality Florida, told the Los Angeles Blade Wednesday in an email;
"The authoritarian march toward DeSantis' Surveillance State of Florida continues as GOP leaders hijack an unrelated bill to try and force costly book banning onto Floridians. We should be using state funding to fill our public schools' bookshelves with resources to expand the knowledge and wonder of our youth, not emptying them out through government censorship. Processes already exist for parents to weigh in on learning materials via school boards and those processes work. The Florida legislature should focus its energies on solving for the needs of Floridians, not turning our education system into the next political battleground in their culture wars."
Brenda Harmer Fam, a Fort Lauderdale attorney testified about a boy who allegedly watched a film in school with gay men and came home crying, fearful he would be forced to marry a man when he grew up. "The teacher said it's the law," Fam claimed. "This little boy has been traumatized."
That prompted pushback from several of the committee's Democratic Senators including Sen. Tina Polsky who represents an area of Southern Palm Beach County. Polsky took aim at testifiers who asserted the state's public schools were teaching classes on oral sex or requiring students to describe foreplay in sex education tests.
"There are no books on sex acts," said Polsky. "Don't mistake health with pornography."
"You have a choice. If you don't like what you see in the schools… then don't go. Then homeschool your kid," Polsky added. "If you want them insulated so much that they shouldn't learn about the outside world, you can homeschool or you can send them to a religious private school with voucher money. We have made that immensely available."
Florida NPR station WMFE reported that SB 1300 was originally a proposal by Republican Sen. Joe Gruters aimed at knocking school board salaries following two years of battles over school closures, quarantines and mask-wearing.
Gruters's proposal tries to counter a House plan that would strip local school board members of their salaries—instead, Gruters wants to place a cap on those salaries so they don't exceed what state lawmakers make.
He also amended his bill to include lengthy language around instructional materials—and how they are approved and vetted. The plan requires school boards to post those materials online, have a process for approval and removal, and give parents a bigger say in what stays and what goes. Review committees would have to include parents with children in public schools.
Where Gruters sees an effort to increase transparency, others see censorship NPR noted.
"You're having other people make choices for other peoples' children. I don't think you should ban books because someone is bothered. Because the reality is there are transgender kids…it's the biology of sexual orientation. We're not all heterosexuals. And most people with a loving heart, I would hope, are not offended by that," said a person who identified themself as Susan Etker.
Last week, a Republican majority Florida House Education & Employment Committee passed HB 1557, the Parental Rights in Education bill, colloquially referred to as the "Don't Say Gay" bill advancing the measure to the full House.
Florida gulf coast high schooler Outs himself proudly at graduation
'You can't really acknowledge your achievements if you're not acknowledging your true self," Harless said about coming Out.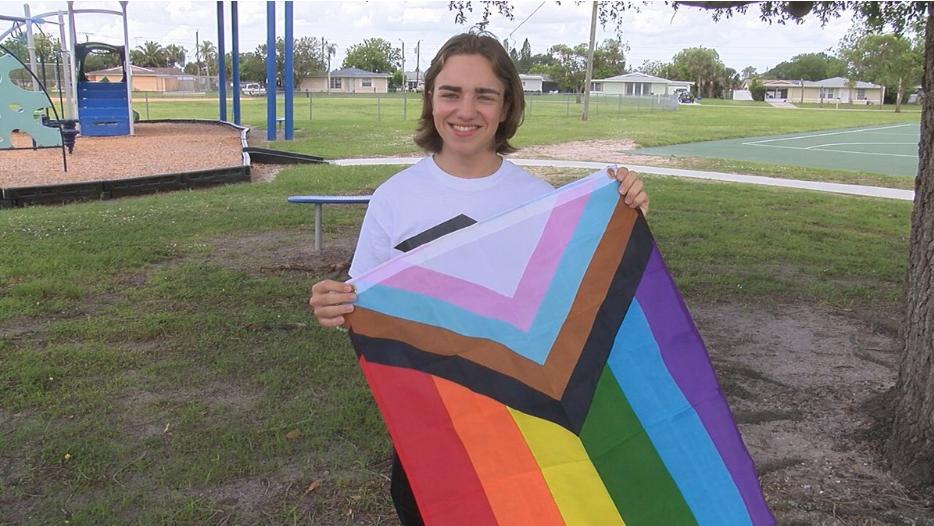 VENICE, Fl. – In an era of YouTube coming out, Instagram posts, or even dramatic Tik-Tok reels, one graduating senior at Venice High School found a dramatic way to Out himself to the world as gay in a novel way.
William Harless walked across the stage this past week to receive his diploma and as he crossed, he carried an unfurled Progress Pride Flag.
In an interview with Sarasota television station WWSB ABC7, Harless says this is something he was looking to do since his seventh grade days in West Virginia. Five years later he says this felt like it was the right moment.
"The reason I chose graduation to come out is because I really wanted to stay true to myself, because graduation is all about your achievements," said Harless. "And you can't really acknowledge your achievements if you're not acknowledging your true self."
"It feels amazing, like a weight has been taken off my shoulders," said Harless. "I have really been able to stay true to myself because I no longer feel like I don't need to hide a part of myself. I feel genuinely free."
Referencing another graduating Florida high school senior who had his graduation address censored by school authorities; "With all the issues and topics of coming out, I don't want people who are in the LGBTQ+ community to feel they are censored," said Harless.
He told WWSB that his family and friends have been very supportive.
Florida middle schoolers post racist photo using N-word to social media
School district officials confirmed the photo was authentic. They said it was taken by students at Hidden Oaks Middle School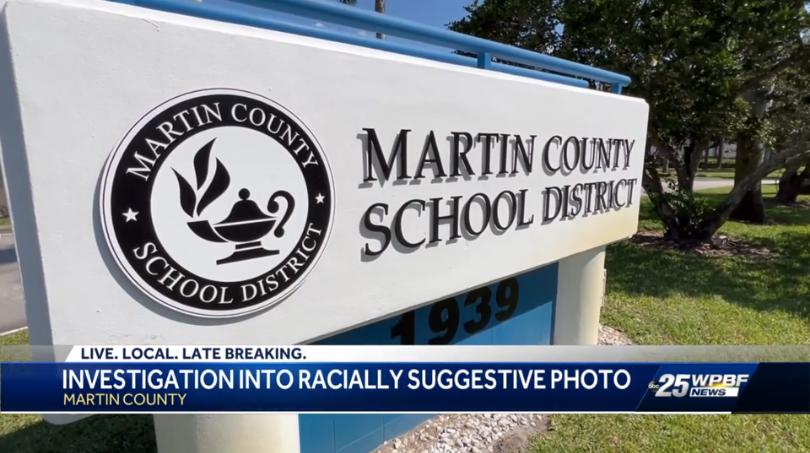 STUART, FL. – A picture of six Martin County School District middle school students, each holding up at letter that spells out the highly offensive epithet N-word is circulating on social media and has prompted an investigation by officials.
Dr. John D. Millay, Superintendent of Schools for the Martin County School District in Florida notified the district's community Tuesday evening after a board meeting regarding actions officials are taking in a statement:
"Last night, the Martin County School District launched a comprehensive investigation into the origin and authenticity of an inappropriate and disturbing photo circulating on social media. We are moving with all deliberate speed to interview all those who may have been involved in this shameful incident, and, unfortunately, can confirm that the photo is authentic. We expect to have our investigation finalized within the next 48 hours," Millay wrote.
(Editor's note; WARNING: The following image is graphic and is offensive in nature, racial slur.)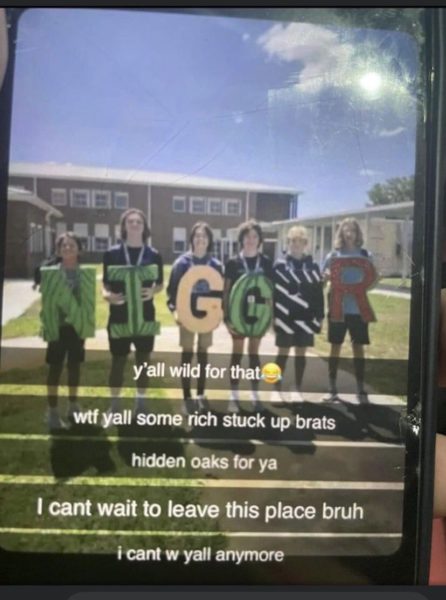 "Students who were involved in this disgraceful incident will be provided the due process afforded under federal and state law, and our investigation will not compromise those rights.
"The District is, however, appalled, and saddened by this incident which is contrary to our values, and the ideals that are instilled in our students.
"Upon the completion of its investigation, the District will mete out appropriate disciplinary consequences to any students who participated in this behavior, pursuant to the District's Code of Student Conduct. Federal law precludes us from identifying specific students and the specific disciplinary actions taken.
"The Martin County School District reaffirms, without reservation, to all our students, our families, our employees and this community that the Martin County School District is committed to promoting and maintaining a learning environment free of hateful, racist and discriminatory actions or conduct. We will not condone or allow any conduct that may harass any student or class of students, has the effect of substantially interfering with any student's educational performance, or has the effect of substantially disrupting the orderly operation of any school.
"We have and will continue to enforce a zero-tolerance policy in this regard. I will work towards partnering with the leaders in our community to reinforce our values in this regard and will continue to strive towards fostering a learning environment free of bigotry and racism," Millay said.
WPBF ABC News 25 reported Tuesday afternoon, school district officials confirmed the photo was authentic. They said it was taken by students at Hidden Oaks Middle School in Palm City.
Officials said the students made the letters in an art class.
"It's disgusting," said district spokesperson Jennifer Deshazo. "And it's against everything that the Martin County School District stands for."
The president of the Martin County chapter of the NAACP, Jimmy Smith, told 25 News it's about so much more than just a photo.
"I was very heartbroken," said Smith. "We all have made mistakes," Smith said. "But when you get to that degree and that depth to come up with an idea like that, there's something else going on."
The incident with the Hidden Oaks Middle School students comes on the heels of racially motivated violence in Buffalo, New York after a gunman radicalized by online hate groups opened fire in a predominately Black Buffalo neighborhood Tops Supermarket killing 10 people.
"Don't Say Gay" student walk-out leader is barred from student government
Jack Petocz organized a state-wide student protest against Florida's "Don't Say Gay" bill & annoyed administrators suspended him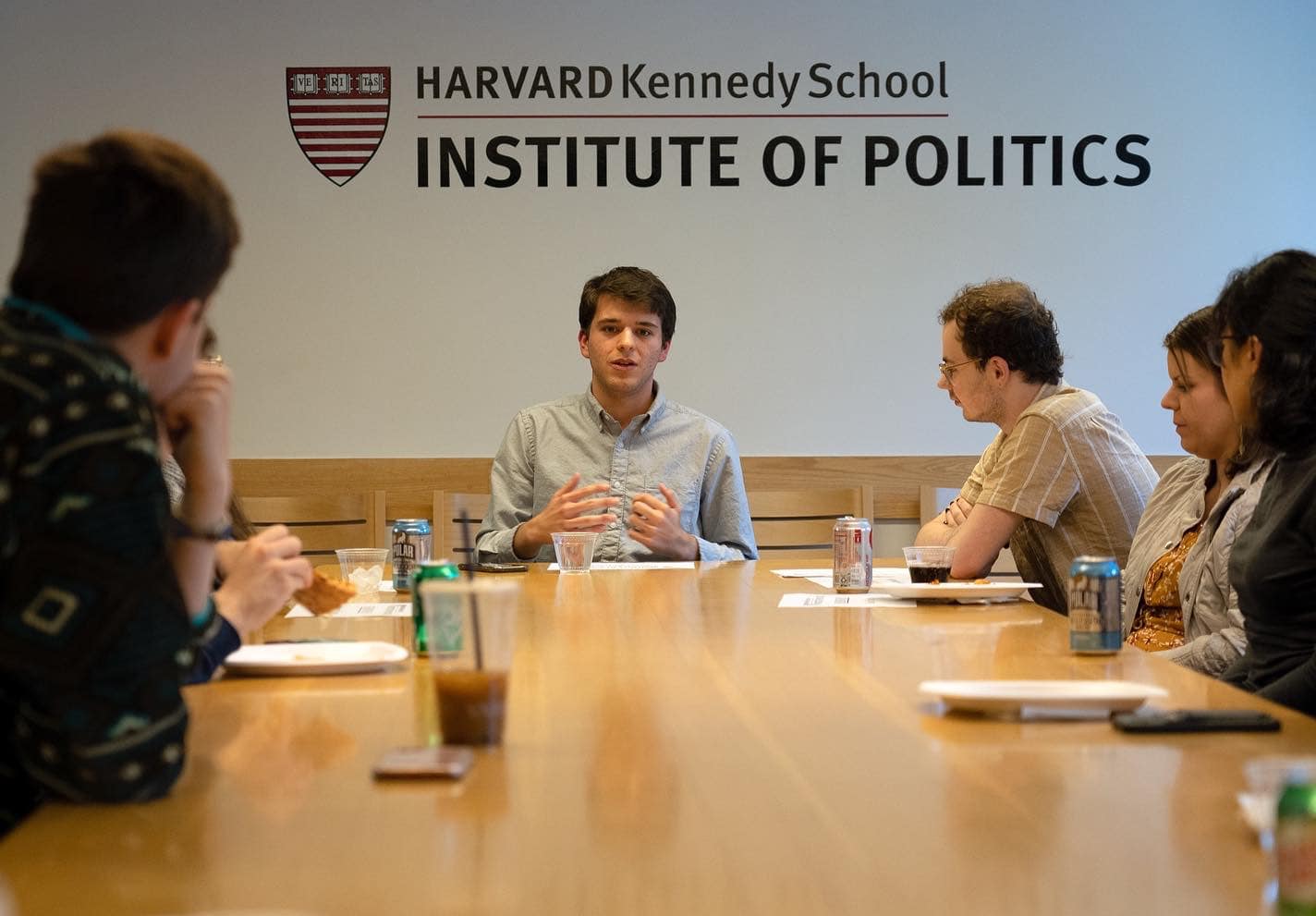 PALM COAST, Fl. – Jack Petocz, a Flagler Palm Coast High School junior, organized a state-wide student protest against Florida's "Don't Say Gay" bill this past March, and at his school, annoyed administrators suspended him.
On Tuesday, Petocz said that the school's disciplinary action is now preventing him from running for senior class president.
"When I returned, the administration assured me that no further disciplinary action would be taken. A month later, they broke this verbal agreement and placed a level 3 referral on my record. Now, due to this high level of discipline, I am being prevented from running for senior class president. I am continuing to be punished for standing up for my identity and against widespread hatred."
The suspension over the student walkout became a viral moment that propelled the 17-year-old into the national spotlight and into the national discourse over a spate of harsh laws targeting the LGBTQ+ community.
17-year-old Cameron Driggers, a student LGBTQ+ activist-organizer of the group Recall Flagler County School Board and co-leader of the walk-out, his friend's suspension inspired him to create a petition on Change.org to pressure Flagler Palm Coast High School Principal Greg Schwartz to rescind his seemingly arbitrary decision to suspend Petocz.
One protest at the school over its suspension of Petocz brought together a grizzled and proud Out gay U.S. Marine Corps veteran accompanied by his fellow vets, who alongside with Driggers and the other young adolescent activists protested in a rally in front of the school at the same time Petocz and his father were inside meeting with Flagler Palm Coast High School Principal Greg Schwartz, hoping to get him to rescind his seemingly arbitrary decision to suspend Petocz.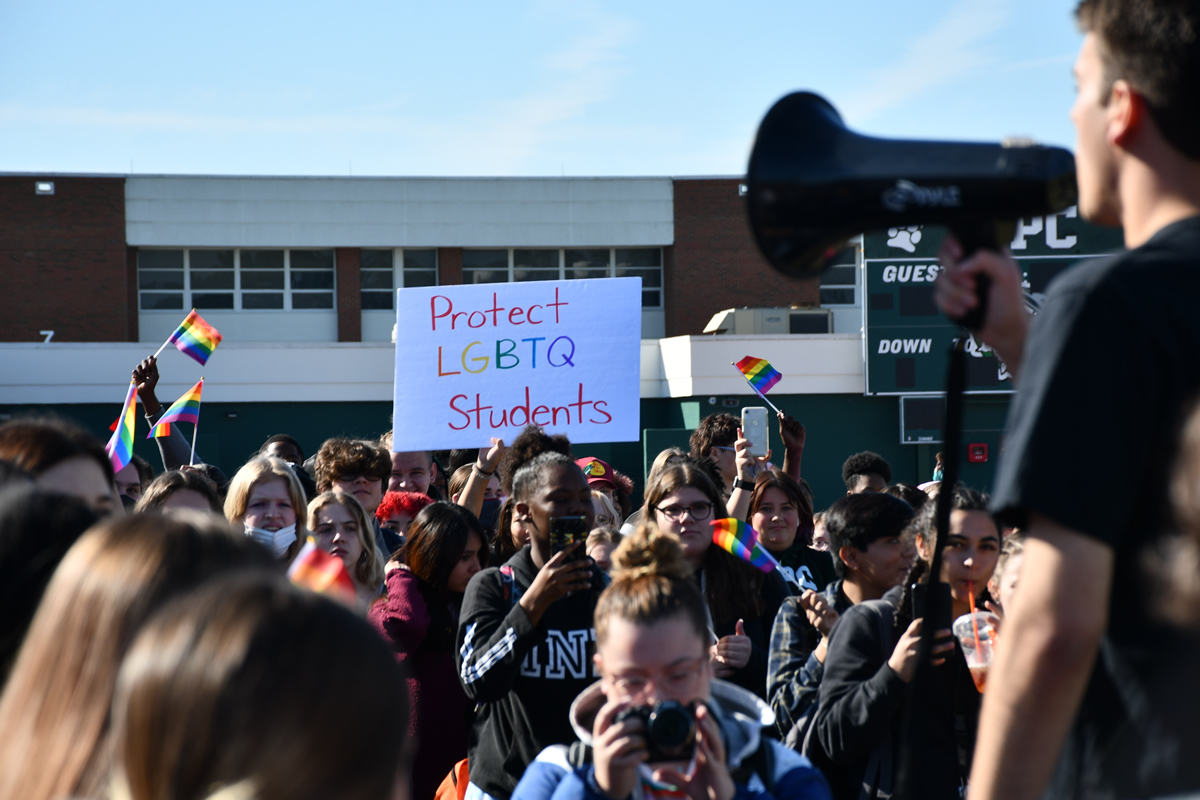 Later on during the day Driggers posted to the Change.org petition the news that Principal Schwartz had backed off.
"Recall FCSB is pleased to announce that Jack's suspension has ended and he is back on-campus. We are grateful for the thousands of people around the globe that shared, tweeted and protested in support of Jack, the organizer behind the state-wide Don't Say Gay Walkout. Over 7500 signatures were collected on a condemnation of Principal Greg Schwartz' conduct last Thursday. With Jack back on campus, Recall FCSB will continue to empower student leaders in and out of school," Driggers wrote.
Principal Schwartz also committed to removing the 'disciplinary action' from Petocz's school record.
On Tuesday, Petocz announced that Principal Schwartz and other school officials are barring him from running for an elected student office.
My name is Jack Petocz. I am the high school junior who led walkouts in opposition to the "Don't Say Gay" bill and was suspended for passing out pride flags. Now, I'm being prevented from running for senior class president. No matter what, I won't stop fighting for my community. pic.twitter.com/5lG6EYIXo2

— Jack Petocz (@Jack_Petocz) May 17, 2022
In response to the news, PEN America issued the following statement from Jonathan Friedman, director of the Free Expression and Education program:
"By going back on their word and imposing a red mark on Jack Petocz's disciplinary record, the Flagler Palm Coast High School administration appears bent on retaliating against him for organizing the walkout against the 'Don't Say Gay' bill. This is unconscionable. Jack exercised his right to protest as a citizen, and he led the walkout with the school's approval. No student ought to be intimidated or punished by school authorities for their political speech, and the school already told him he would not be disciplined. This is especially troubling alongside news of other efforts to censor or intimidate students raising their voices for LGBTQ+ rights across Florida. The leaders of Flagler Palm Coast High School should remove this infraction from his record so that he can run for class president just like any other student."
On Twitter, Petocz urged people to contact his school to get officials to reverse this latest decision.
If you want to help me fight, click the link below to send an email to administrators and the superintendent of my district. It's ridiculous queer kids have to be punished while fighting for our rights. https://t.co/oBOKZDLavb

— Jack Petocz (@Jack_Petocz) May 17, 2022