Georgia school official says gay art is same as Nazi flag
There are ongoing complaints that this current administration has been discriminatory against women, LGBTQ people & English language learners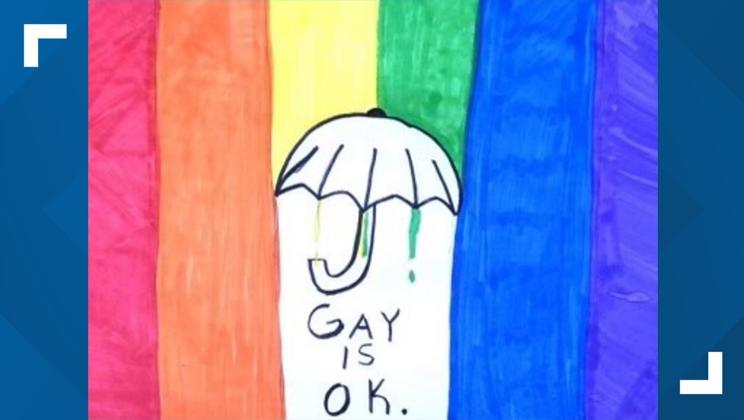 ATHENS, Ga. – A display of student artwork at Oglethorpe Avenue Elementary School in Athens this past week created a controversy, when a poster that was hung in the collection by a faculty member for a student that had rainbow colors and the words; "Gay is OK," was taken down by a school administrator who labeled it comparable to exhibition of a Nazi flag.
Atlanta's NBC affiliate WXIA-TV 11 reported that some parents whose children attend Oglethorpe said they are concerned about how this situation and others have been handled.
"There are ongoing complaints about this current administration has been discriminatory against women, being discriminatory against LGBTQ people, being discriminatory against English language learners or emerging bilinguals, emerging multilingual and Spanish speakers. So we have seen a pattern of inequity at our school and we have been asking for support at this point for years," said Jemelleh Coes, a parent and professor at the University of Georgia.
WXIA-TV 11 heard from staff and faculty at the school expressed their disagreement with the characterization of Oglethorpe. A current teacher, who wished to remain anonymous, told the station:
On behalf of a majority of the staff at Oglethorpe Avenue Elementary School, we are disheartened that these words and actions have happened in our school building during this time. This does not represent why we chose this profession, and it does not represent the feelings, beliefs, values, and attributes our amazing school family has within these four walls. We are disheartened that there has been no action taken by CCSD or our building administration to rectify the divide that has been caused. We will continue to seek resolution and promote a community of love, acceptance, and tolerance within our building and community.
Parents want action.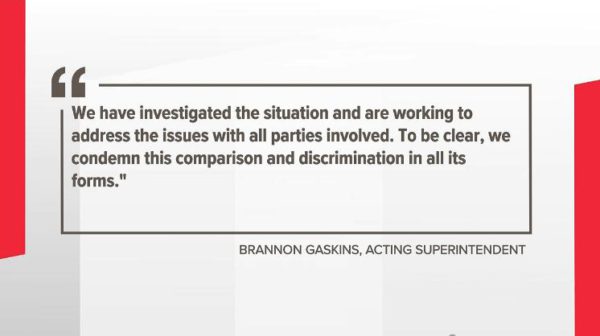 The Clarke County School District released a statement this week:
January 25, 2022
Dear Oglethorpe Avenue Elementary Community,
I write this letter to acknowledge a situation at Oglethorpe Avenue Elementary that has caused a great deal of anger and frustration in our community.
It has been alleged that a piece of student artwork was compared to Nazi symbolism. We have investigated the situation and are working to address the issues with all parties involved. To be clear, we condemn this comparison and discrimination in all its forms.
The Clarke County School District embraces diversity and inclusion for all students and staff. We stand with our LGBTQIA+ community and are dedicated to proving our commitment to diversity and inclusion.
To that end, we will continue having sensitive and appropriate conversations with our school communities.
Sincerely,
Brannon Gaskins
Acting Superintendent
Athens Pride weighed in on their social media accounts raising awareness on the issue and then asking people to donate to help LGBTQ people in need.
Athens Pride is appalled to hear of the actions that transpired at a local elementary school. Our organization is committed to providing resources and support to LGBTQ+ students, parents, and community members- especially now. We are in contact with all parties involved, who at this time request privacy. We will keep the community updated on further information as it becomes available. We are reminded today that our school, city, and people have a lot of work to do to create true safe spaces for our children. Homophobia, Anti-semitism, and all forms of hate have should have no home here in Athens – especially in our public schools."
Teacher fired for reading "considers gender beyond binary" book
A teacher in Cobb County, GA. was fired after a contentious 4-3 vote for reading a children's book deemed to "consider gender beyond binary"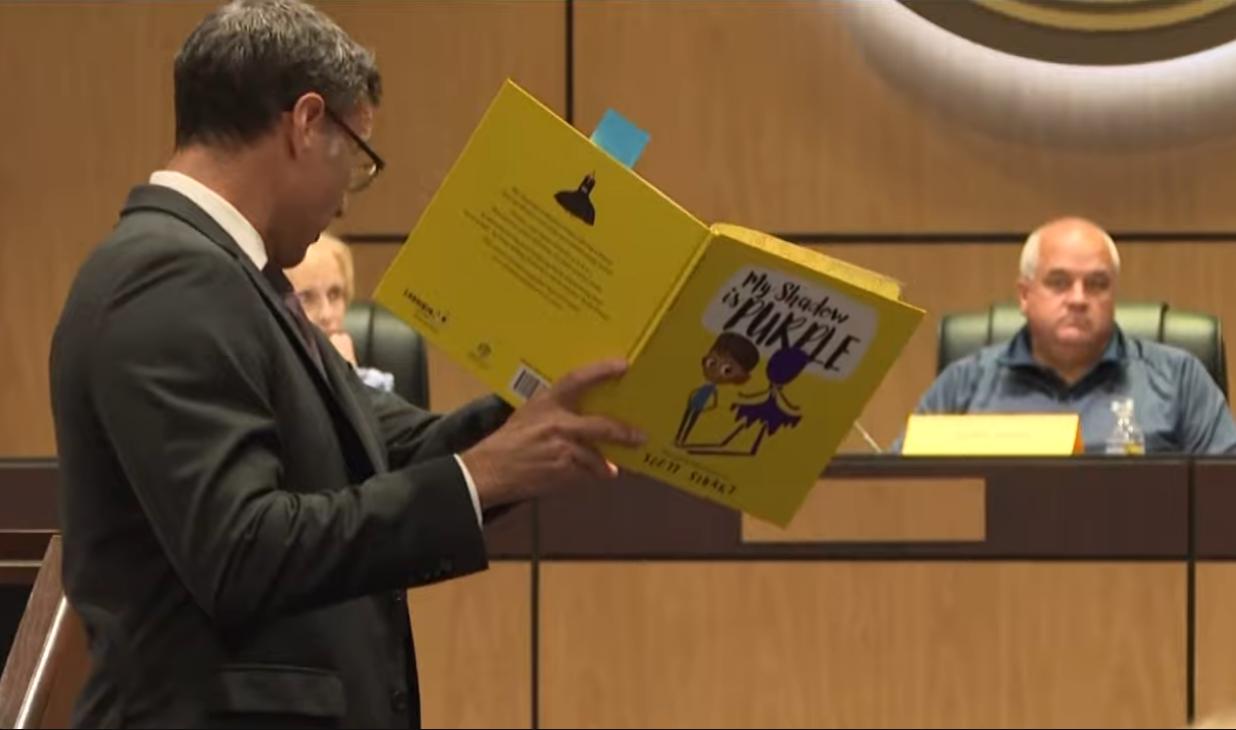 By Erin Reed | ATLANTA, GA. – In suburban Atlanta on Thursday, the Cobb County School District voted 4-3 to dismiss Katie Rinderle, a fifth-grade teacher, for reading the Scholastic-approved book "My Shadow Is Purple." 
This decision contrasts with a prior ruling by a district tribunal, which cleared Rinderle and recommended against her termination. Georgia and several other states have enacted laws this year restricting youth access to LGBTQ+ materials, including books, art, and other forms of expression.
In Rinderle's case, her firing was attributed in part to the district's finding that the book "considers gender beyond binary."
The book is a Scholastic-approved book recommended for lower primary schools. The book is authored by Scott Stuart, who describes the book as "celebrating authentic identity, whether your true to yourself journey is about gender or just being brave enough to step out of other people's expectations." Because of new state laws and local district policies, however, teachers are restricted from teaching "divisive concepts," which Rinderle has called "intentionally vague."
Upon discovering Rinderle's decision to read the book to her class, the school district convened a tribunal. Attorneys representing both the district and Rinderle examined the book closely, concluding that it "considers gender beyond binary," due to the "use of they/them pronouns." However, they did not advocate for her dismissal. The ultimate decision regarding her employment rested with the full board, which voted 4-3 along party lines to let Rinderle go.
See this page from the findings of the tribunal:
Teachers have increasingly been targeted over anti-LGBTQ+ laws and their jobs, threatened. Earlier this year, a Florida teacher was fired for indicating that she was LGBTQ+ to her students in response to an open discussion. Another Florida teacher was forced to resign after screening a Disney movie that has a gay character in it. A South Carolina teacher was fired over reading an article that discussed gay people.
This comes on the heels of many states passing laws that allow for the challenging of books in schools and libraries. Eleven states explicitly censor LGBTQ+ topics in the classroom. According to PEN America, a free speech advocacy orgnaization, 1,477 books have been challenged this year over "sensitive material," often related to sexual orientation or gender identity. Though the majority of these bans happened in just five states (Florida, Missouri, South Carolina, Texas, and Utah), school districts in at least 32 states have banned books.
Exposure of youth to LGBTQ+ themes is increasingly under siege. Earlier this year, lawmakers in West Virginia attempted to pass a law aimed at banning "transgender exposure" to youth, but it did not gain traction. In Montana, there was a push to amend a bill to ban "acts of transgenderism" online for youth, that likewise failed to pass. Florida's controversial expansion of the "Don't Say Gay" policy led to a memo that states teachers will be fired if they use pronouns or honorifics different from their birth-assigned sex. These moves collectively amount to an attempt to push LGBTQ+ people out of public life.
Rinderle's battle appears far from concluded. She retains the option to appeal to the State Board of Education and is said to be "weighing her next steps." Her dismissal, however, is poised to cast a shadow over educators throughout Georgia, likely discouraging the discussion of LGBTQ+ topics in classrooms. While the Georgia law hasn't faced legal scrutiny yet, situations like Rinderle's could certainly pave the way for such challenges. In the interim, teachers grapple with an ambiguous law and the looming possibility of job loss for addressing LGBTQ+ subjects in their lessons.
Related:
***************************************************************************
Erin Reed is a transgender woman (she/her pronouns) and researcher who tracks anti-LGBTQ+ legislation around the world and helps people become better advocates for their queer family, friends, colleagues, and community. Reed also is a social media consultant and public speaker.
Follow her on Twitter (Link)
Website here: https://www.erininthemorning.com/
******************************************************************************************
The preceding article was first published at Erin In The Morning and is republished with permission.