Suburban Hyattsville, Maryland Out mayor dies by self-inflicted gunshot
"Mayor Ward was a valued and trusted leader and a fierce advocate- We are heartbroken… & extend our deepest sympathy to the mayor's family"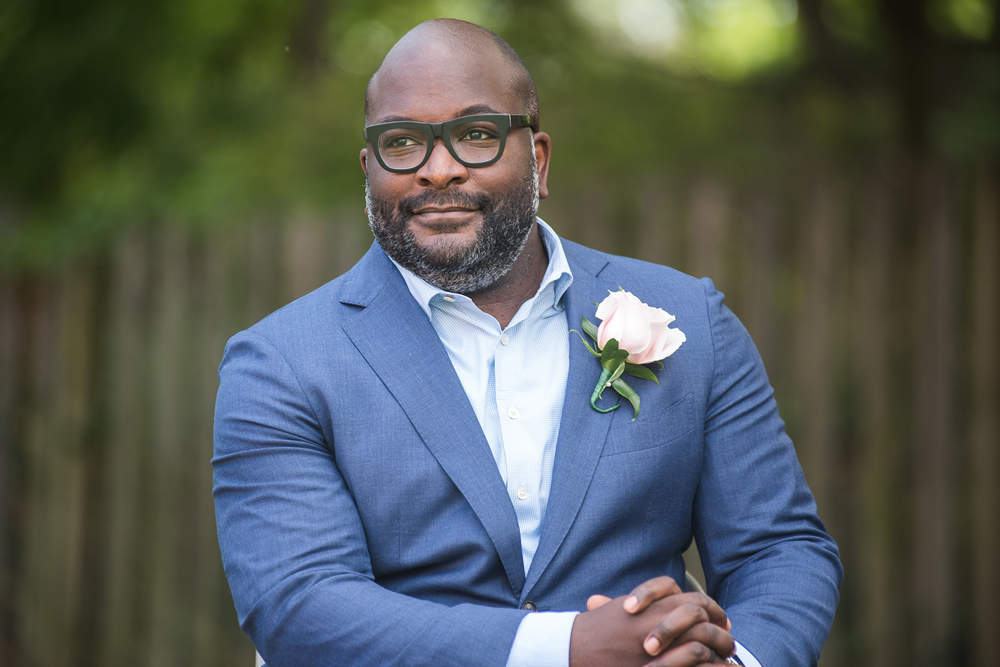 HYATTSVILLE – The city of Hyattsville, Maryland released a statement on Wednesday afternoon announcing that their city's openly gay Mayor Kevin Ward had died one day earlier by an apparent suicide.
"The city of Hyattsville reports with great sadness that our beloved Mayor Kevin Ward passed away yesterday, Jan. 25, from an apparent self-inflicted gunshot wound," the statement says.
"Mayor Ward was a valued and trusted leader and a fierce advocate for all the people of Hyattsville," the statement continues. "We are heartbroken at this loss and extend our deepest sympathy to the mayor's family," it says.
"No further information is available at this time," the statement adds. "Details about services and remembrances will be shared when they are available."
The Washington Post reported that U.S. Park Police disclosed that Ward was found deceased in Fort Marcy Park in McLean, Va., with a "self-inflicted gunshot wound."
Ward, 44, became acting mayor of Hyattsville on Jan. 1, 2021, following the resignation of former Mayor Candace Hollingsworth. He was next in line to become mayor under the city's political system in his then-position as president of the Hyattsville City Council.
He won election to complete the remainder of Hollingsworth's term through 2023 in a May 11, 2021, special election, receiving 57.8 percent of the vote in a three candidate race, according to the Hyattsville election board. His closest opponent, Joseph Solomon, received 31.7 percent of the vote.
Nearby fellow gay mayors — Patrick Wojahn of College Park and Jeffrey Slavin of Somerset — said they got to know Ward through Maryland political circles and thought very highly of him.
"He was insightful, smart and dedicated," Wojahn said. "He always seemed very confident and together as a person. And he had a great sense of humor."
Slavin said he shared that remembrance of Ward, adding that he found Ward to be a "very nice person" dedicated to the people he served both as mayor and during his two terms on the Hyattsville City Council.
"There was noting in his public life that would have predicted this," said Slavin in referring to Ward's sudden passing.
The Washington Blade first reported on Ward in 2012 in a feature story on Ward and his then-domestic partner Chad Copeland when the two attended a ceremony at the D.C. Superior Court to complete the process of adopting their then-5-year-old son Norman. Ward and Copeland were among several gay couples who had their adoption papers signed by a judge at the ceremony.
On the website for his mayoral election campaign last year Ward said he and his family made Hyattsville their home in 2014 after he and his husband adopted their two sons.
"I am a pretty straightforward person," he said in message to voters on his campaign website. "I believe in listening more than talking. But when I talk, I am not one to mince words or tell people what they want to hear," he said. "I believe in doing the work. I believe that if I can help someone, then I can change her or his life," he continued.
"This is why I dedicated my career to providing the best technology to education and to human services, to help as many people as I can," he said.
Ward was referring to his career in the field of educational and human services technology.
Maryland lesbian couple hope law requires Christian school to enroll son
"She also said that she learned that the Grace Academy has admitted students with same-sex parents in the recent past"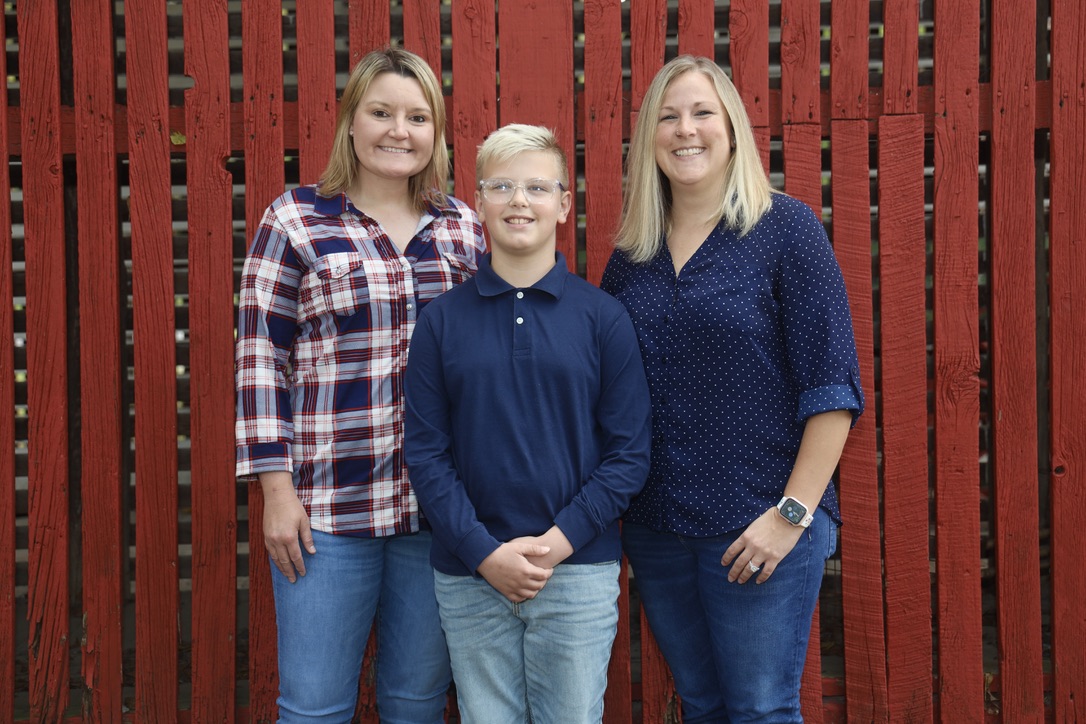 WASHINGTON COUNTY, Md. – A lesbian couple is hopeful that Maryland's nondiscrimination laws will require the Grace Academy, a private non-denominational Christian school in Hagerstown, Md., to reverse its decision earlier this month to deny admission to their 11-year-old son Brayden.
Jennifer Dane and her partner and fiancé Megan Stratton point to a May 8 letter from the academy's upper school principal saying, "We regret to inform you that, due to a lifestyle counter to the Biblical worldview we teach, we have decided to deny enrollment to Grace Academy" for Brayden.
The two women say the letter followed an interview they had with the principal in question, Mark Koontz, Jr., in which he initially expressed support for Brayden's enrollment but quickly changed his tune when the women asked him about the school's anti-bullying policy. According to a report by the Advocate, Koontz said he couldn't control Grace Academy's community reaction to a student with two moms and he would have to consult with the school's director about admitting Brayden.
When school officials received word that Dane and Stratton might file a discrimination complaint against the school, Grace Academy director Greg Whitley sent an email to the couple saying their sexual orientation wasn't the reason for the school's denial of admission for Brayden.
According to the Advocate, Whitley claimed that a lack of regular church attendance, prayers, and family devotions conflicted with the school's "worldview" and that this was the "lifestyle" issue referred to in the earlier letter.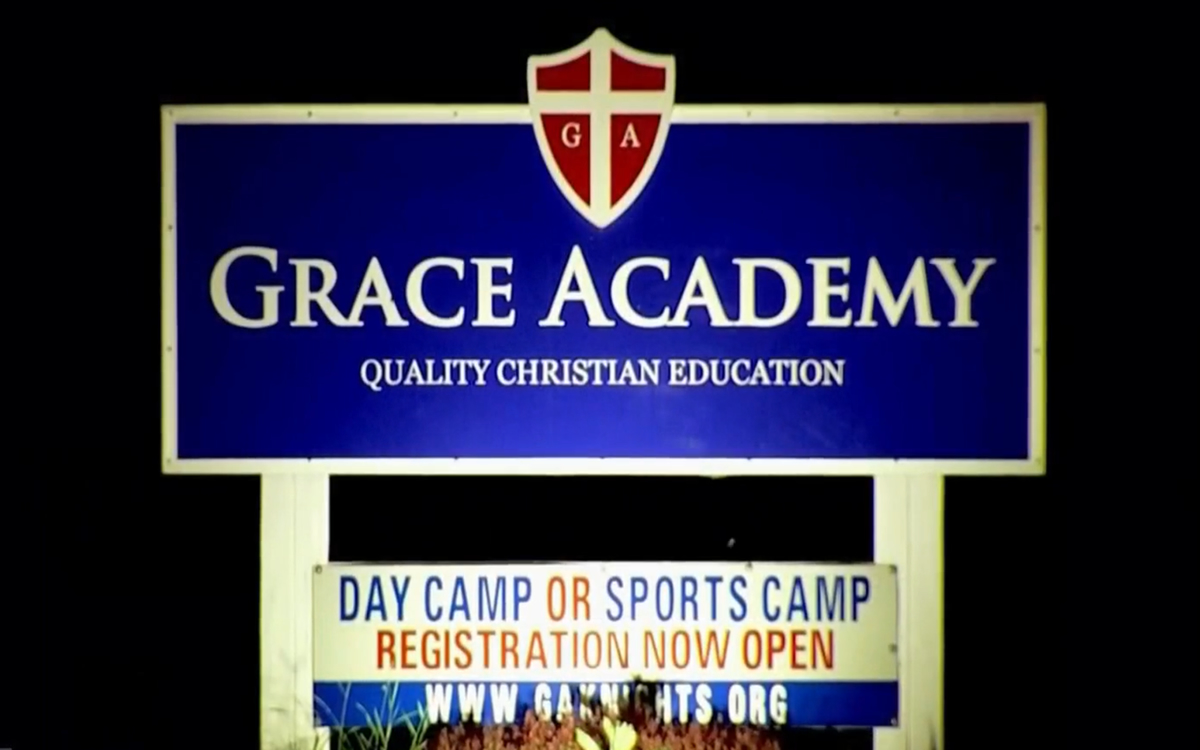 Dane told the Washington Blade this week that she and Stratton strongly dispute the school's denial that it refused admission to Brayden for reasons other than his parents' sexual orientation based on what he told them during their interview. Dane said the couple told Koontz in the interview that Brayden is a practicing Christian who prays and reads the Bible and that he attended another Christian school before the family moved to a different part of Hagerstown resulting in his enrollment in a public school, which he currently attends.
The couple has since learned that Grace Academy has received federal and state school funding in the past and may have lost its state funding under a specific program for not complying with certain requirements. Dane said she also learned that the school in the recent past has admitted students with same-sex parents.
The Advocate reports that a spokesperson for U.S. Rep. David Trone (D-Md.), whose district includes Hagerstown, said Trone strongly objects to Grace Academy's decision to deny admission to Brayden and that Trone's staff is investigating the matter.
Dane said she heard that the state Department of Education may also be investigating whether the school is currently receiving state education funds and whether receiving such funds requires the school to comply with the state law barring discrimination based on sexual orientation.
The Blade, meanwhile, has been unable to immediately reach spokespersons for the Maryland State Board of Education and the State of Maryland Commission on Civil Rights, to determine whether a religious school like the Grace Academy is bound by the state's nondiscrimination laws that prohibit discrimination based on sexual orientation and gender identity. The federal nondiscrimination law and some state laws include an exemption for religious institutions.
"That's what we're trying to figure out," said Dane, who said she and Stratton were waiting to hear back from attorneys they have called to find out if they have grounds to file a discrimination complaint under state or county law.
Dane said the two have learned that Grace Academy has received federal and state education funds under various programs, which could require that it comply with state nondiscrimination laws as a condition for receiving state funds.
A spokesperson for the school couldn't immediately be reached early this week for comment.
A message by school officials sent out Monday night to parents, which was provided to the Blade, detailed the school's position on the controversy:
Dear Grace Families,
In lieu of a recent situation regarding a denied enrollment, Grace Academy has found itself to be in opposition with the individuals who sought admission. Since having been denied, the individuals involved have taken further action, including going to the media. The Board of Directors and the Administration Team are aware of the circumstances and are taking the necessary steps to conclude this matter in a way that will be honorable to God while upholding the Christian Values that we hold dear. At this moment, we would ask that you hold the Board and the Administration in prayer, that they would be led by God's wisdom throughout this process.
We thank you all for your continued support and belief that Grace Academy is the institution that will both educate your children, but also aide in their ability to stand for Christ.
If you have need to seek further information, please contact Mr. Whitley, our Head of School.
God Bless,
Grace Academy Board of Directors and Administration
University of Maryland's LGBTQ+ students march for LGBTQ+ rights
Legislation aimed at erasing discussions about gender and sexual identity in schools has been on the rise across the country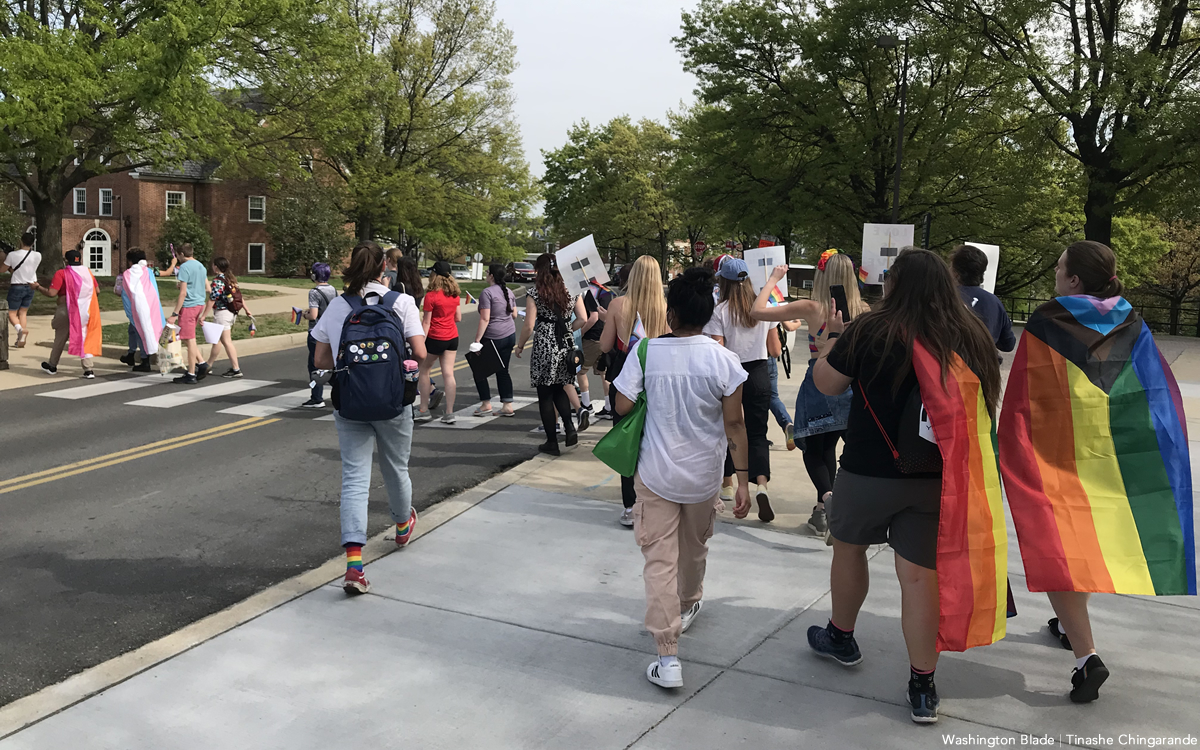 COLLEGE PARK, Md. – LGBTQ students at the University of Maryland marched across campus Saturday in response to legislation passed in many states that bars the discussion of gender identity and sexual orientation in schools.
As this happened, families from across the state were gathered all over campus to celebrate the university's annual community outreach event, "Maryland Day." 
The "Let's Say Gay Parade" began in the Adele H. Stamp Student Union, trekked through McKeldin Mall—where many Maryland Day attractions were situated—and ended in the student union. Students, parents and members of the campus community were in attendance.
"For the people who aren't at this event today, call [and email] your local representatives," said Veena Aruldhas.
Aruldhas, 23, is a senior studying information science at the university. They are also vice president of the school's Pride Alliance and also work on the Pride month committee within Multicultural Involvement Community Advocacy, a campus inclusion group.
"Show up for the people who can't speak for themselves because their rights have been infringed upon," said Aruldhas.
Legislation aimed at erasing discussions about gender and sexual identity in schools has been on the rise across the country.
Republican Florida Gov. Ron DeSantis signed the controversial "Don't Say Gay" bill in late March that bans public school teachers from providing instruction about sexual orientation and gender identity in classrooms. The bill also allows parents to sue schools that violate its prescriptions.
Ohio lawmakers also proposed a similar bill in early April that, in addition, limits education about other "divisive concepts" such as the 1619 Project, critical race theory and "any other concept that the state board of education defines as divisive or inherently racist."
While Maryland legislators this year haven't launched attacks on classroom instruction like the other two states, recent efforts to provide health equity for transgender individuals through the Trans Health Equity Act were stalled in this year's General Assembly 90-day legislative session.
Therefore, graduate student Joey Haavik, 26, believes the rise of homophobic legislation around the country escalates the need for Marylanders to review local legislation.
"This didn't get as much attention," they said in reference to the Trans Health Equity Act. Haavik is studying international education and policy and works as an advisor to campus LGBTQ organizations. "So, even though people experience many differing levels of hatred, there's many ways to advocate for our community."
State Sen. Mary Washington (D-Baltimore City), who attended the event and also gave a keynote speech, spoke on the bill's failure.
"Events like these empower us to mobilize against attacks on marginalized people in our communities," she said. "We must be relentless in the fight for a fair and just world."
House of Delegates candidate Ashanti Martinez also spoke about the bill at the event.
Martinez is a Democrat campaigning for the District 22 seat, and if elected will be the first openly gay Afro-Latino man from Prince George's County to represent the jurisdiction in the chamber.
"The [bill] vanished … [and] we want to know why," he said. "This erasure of LGBTQ folks is intentional."
Maryland school board bans 'political' LGBTQ+ flag calling it a 'gateway'
"Any youth in this county who's LGBTQ who commits suicide, that is on you," she warned. The board was unmoved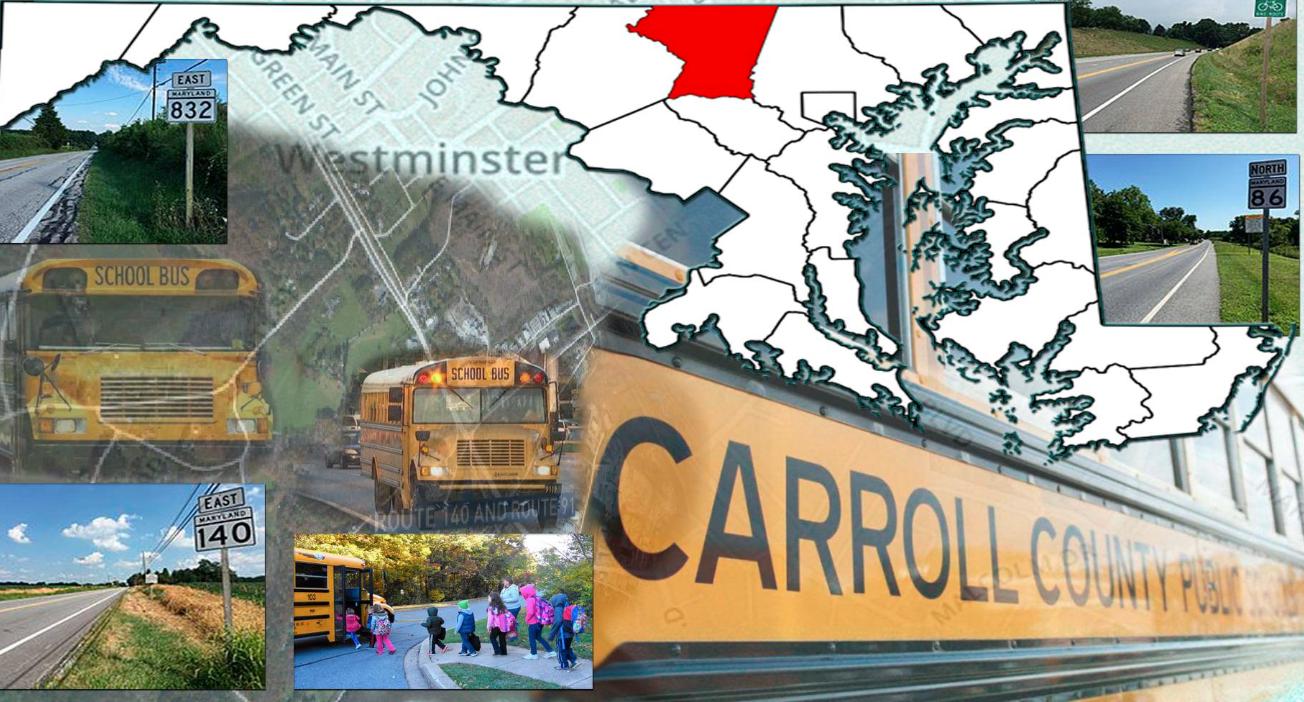 By David Badash | WESTMINSTER, Md. – A Maryland school board has banned the LGBTQ pride flag by falsely claiming it is "political," a "gateway for other flags," and even claiming ones provided by PFLAG for free to those who wanted them were "shoved down teachers' throats."
The move came in response to a local chapter of PFLAG donated "a collection of small rainbow Pride flags" to the Carroll County Public Schools district. Fox News reports "schools staff members were encouraged to display them as support for the LGBTQ community."
"These flags were shoved down teachers' throats to put on their desk – that's not inclusive," school board President Kenneth Kiler said. "That's not the way it ought to be."
School board member Tara Battaglia said, "What this does is open up a gateway for other flags to come into our schools that other people will not like."
"We've already banned the Confederate flag, and that was done a couple of years ago. … The premise behind the Pride flag was social advocacy … which is political."
Parent Caitlin Edmondson told Fox News the pride flags are "very concerning" and "being forced upon teachers. They "do not solely represent the gay community. They also represent gender identity and transgender ideology."
("Gender identity" and "transgender" are not ideologies.)
"As a parent of a 6-year-old in CCPS, it is very concerning that anyone would think it is OK to push these agendas on our youngest and most vulnerable," Edmondson added.
Fox News reports the schools superintendent made clear the flags were not "forced" on any teacher, and did not report any teacher complaining they were.
School board member Donna Sivigny during last week's meeting suggested the LGBTQ pride flag is part of a political agenda that students need "protecting" from. She also suggested the flags created a hostile work environment,
"I also respect the rights of teachers to work in a non-hostile work environment, deliver an effective lesson and support all kids in the best way that they can, but we require that they do it in a politically neutral way that creates a safe space for every student in our schools," said Sivigny, who opposed masks in schools last fall, asking, "Where's the emergency?"
She claimed, "many teachers have reached out to me saying that they've been pressured or bullied to put flags in their classroom, and that's a problem that needs to be addressed."
The right-wing local group Concerned Parents of Carroll County supported the move to ban the pride flags. They say they are working with another right-wing group, Moms for Liberty, to provide American flags for classrooms in the district.
Numerous parents spoke at last week's meeting, with several warning that LGBTQ students are at risk, including for suicide. One parent (video below) made clear board members are creating a hostile environment.
"Any youth in this county who's LGBTQ who commits suicide, that is on you," she warned. The board was unmoved.
CCPS Board of Education Meeting April 13, 2022:
********************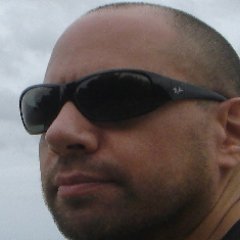 David Badash (@davidbadash) is the founder and editor of The New Civil Rights Movement, an award-winning news & opinion site.
********************
The preceding article was previously published by The New Civil Rights Movement and is republished with permission.