Long-time LGBTQ activist running for Maryland's House of Delegates
His LGBTQ advocacy work also includes senior policy counsel for the National LGBTQ Task Force and organizer for Pride at Work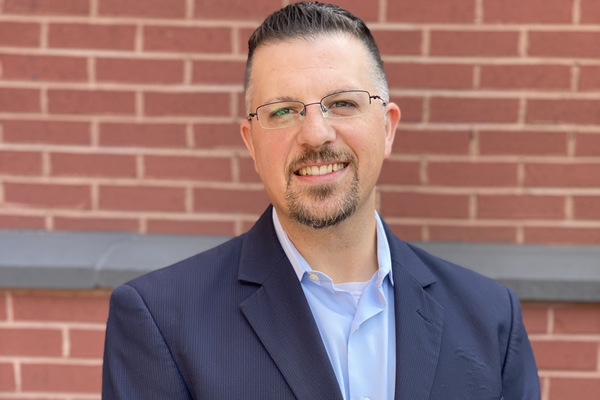 HYATTSVILLE, Md. – Former FreeState Justice Executive Director Patrick Paschall last week announced via social media that he is running for the Maryland House of Delegates.
"As a proud parent of two kids in Prince George's County public schools, former Hyattsville City Council member, and lifelong civil rights advocate and policy analyst, I've spent my life and career working for equity, community and sustainability for my family," Paschall said in a statement posted to Facebook on Nov. 23.
Paschall, who currently is the American Rescue Plan Program Manager for the city of Hyattsville, previously served as executive director for FreeState Justice from 2015 to 2017.
His LGBTQ advocacy work also includes serving as senior policy counsel for the National LGBTQ Task Force, as an organizer for Pride at Work and as a policy fellow for the National Center for Transgender Equality.
He also worked for Family Equality Council, an organization advocating for the rights of same-sex couples and their children.
"One of the things I'm running on is being a parent," Paschall told the Washington Blade. "We can provide more opportunities for families to succeed in our communities."
Paschall is running to represent District 22, which includes Hyattsville, where he has lived for over 10 years with his two children, who currently attend Hyattsville Elementary School, and his wife, who identifies as pansexual.
He told the Blade he views his family as a "rainbow family," but pointed out he and his wife did not have to endure the same difficulties as his friends who are married same-sex couples when they wanted to adopt children.
"When I became a parent, no one stopped by my house to make sure it was an adequate living situation for my child, no one checked to make sure I had a room dedicated to the child and for no other purpose," he said. "But my friends Jamie and Sean went through all of that when they tried to adopt a kid."
Paschall explained that even though he and his wife didn't go through these experiences, there was still room for Maryland to improve in the areas of adoptions and civil rights.
"It strikes me how much privilege I have because the state doesn't design to make it hard for me like it does for so many same-sex couples," he explained.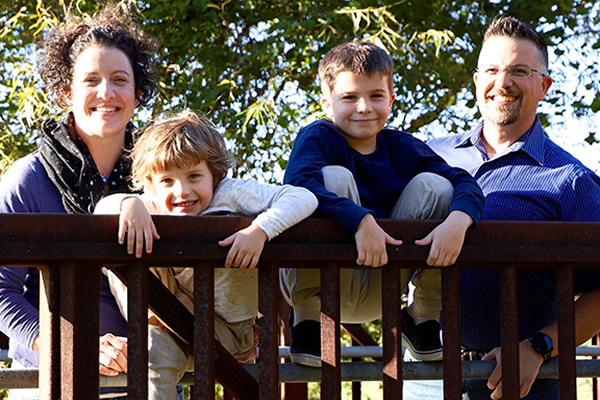 Much like with the recent elections in neighboring Virginia, Paschall said helping parents is an important issue for him — one he wants to carry to Annapolis — if elected "because my district deserves better schools for our kids, more child care options and family support like paid family leave."
"I think that District 22 needs a voice in Annapolis to represent progressive parents and to exercise policy expertise in achieving the values of our community," he added. "And I have the experience to get it done."
Trans Zimbabwean woman in Md. wins asylum case
Mattie Tux Horton arrived in U.S. in 2016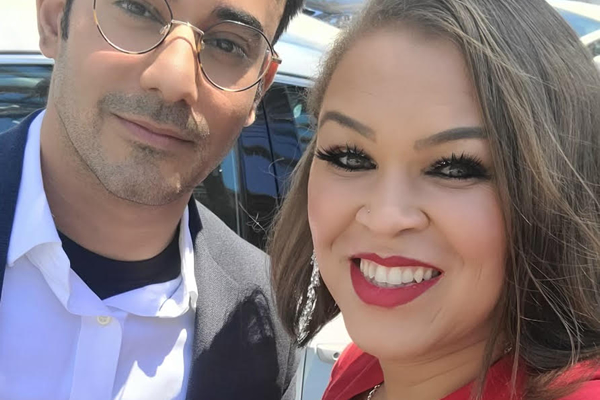 ROCKVILLE, Md. — A transgender woman from Zimbabwe who lives in Rockville won her asylum case in late October after living in the U.S. for the past five years. 
Mattie Tux Horton was represented by Ankush Dhupar from the Los Angeles law firm Paul Hastings LLP.
"I feel at ease," said Horton. "Although a lot is going on in the [United States], it's [significantly] different compared to where I'm coming from."
Horton said that she now considers the U.S. to be her home.
Although she has been living in Maryland for a while now, receiving asylum stripped away the anxiety associated with returning to Zimbabwe had the U.S. Citizenship and Immigration Services agency denied her request.
With protection from the U.S. government, Horton gets to live in a safe environment and without the vile treatment she encountered in Zimbabwe because of her transness.
In her hometown of Bulawayo, Horton faced constant public humiliation and was once fired from her job as a graphic artist because of her dress presentation, according to an interview she did with Medium.
She was attacked by a violent group of men in 2014, and was outed later that year following a holiday trip to South Africa, according to the interview.
This incident garnered media attention and The Sunday News, a Zimbabwean newspaper, published an article in which it misgendered Horton throughout the entire piece.
This prompted Horton to apply for a U.S. visa so she could attend an LGBTQ leadership conference in D.C. and remove herself from the cacophony in her town.
The Sunday News later ran a story about Horton's departure in which they misgendered her again and referred to her as a "transgender man" and "alleged gay."
Horton arrived in D.C. in December 2016 and began her asylum process there.
While visiting a friend in Los Angeles, she connected with the city's Human Rights First chapter that referred her to Dhupar, who represented her pro bono.
Dhupar is a labor and employment law attorney at Paul Hastings LLC and he volunteered to work on Horton's case as part of his firm's partnership with Human Rights First to do pro bono LGBTQ advocacy work.
Horton's asylum was his first ever immigration case.
While the legal underpinnings of immigration were new to him, Dhupar did not struggle to situate his modus operandi because of how compelling Horton's case was.
"I always referred to the facts of the case because the law is geared towards helping situations like [Horton's] where someone fears for their life in their home country," said Dhupar.
Dhupar also added that Horton's case was a prime example of why the asylum process exists.
Horton submitted a psychological evaluation in February 2021 that would expedite her asylum case and grant her an interview notice sooner than usual.
At that point she had lived in the U.S. for more than four years, but she still had to wait a couple more months before she was called for an interview. This caused Horton to feel trepid about whether her case was strong enough.
"I went through depression and had psychological breakdowns," said Horton. "I have friends who were called in for an interview months after moving here and didn't have to wait five years [like I did]."
This hurdle, however, gave Horton and Dhupar adequate time to build an indisputable case. The two built a personal relationship that kept them vigilant despite the abounding uncertainty.
"She was a perfect advocate for herself and took the initiative to make sure the case did not fall on the backburner," said Dhupar.
Now that she has won her case, Horton is taking time to relish on her recent success.
"I'm going to take a breather," she said.
She also plans to secure full-time employment in 2022 and build a makeup brand. Horton currently works part time as a steering committee member — a role she says is fulfilling — at the Black LGBTQIA+ Migrant Project- Transgender Law Center.
There, she links Black trans and gender nonconforming individuals to education, employment, legal and healthcare resources.
Maryland LGBTQ+ groups protest treatment at Baltimore jail
The 2015 U.S. Transgender Survey found trans people were 10 times as likely to be sexually assaulted by their fellow inmates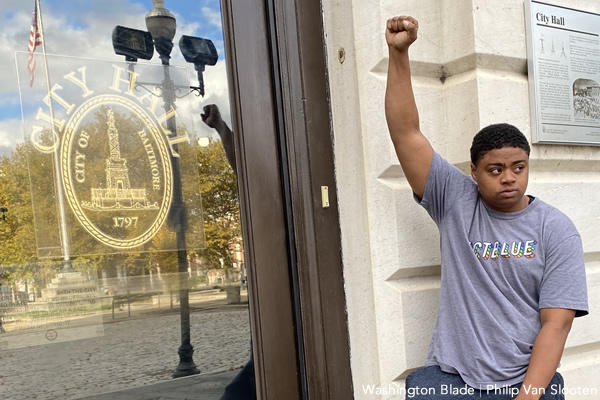 BALTIMORE – Maryland LGBTQ rights groups, most of them led by Black transgender youth, rallied in front of Baltimore City Hall on Saturday to protest trans inmates' complaints of harassment and violence at a state-run correctional facility in Baltimore.
BMORE BLXCK, a Black LGBTQ organization, hosted the event, which was co-organized by FreeState Justice and supported by members of Baltimore Safe Haven. The groups rallied in response to trans detainees' complaints about harassment and unsafe housing assignments in the Baltimore Central Booking and Intake Center.
"We are here today because we need Baltimore officials to listen to us and hear the fact that we're dying," said BMORE BLXCK Co-founder and Executive Director Legacy Forte, who identifies as Black trans woman.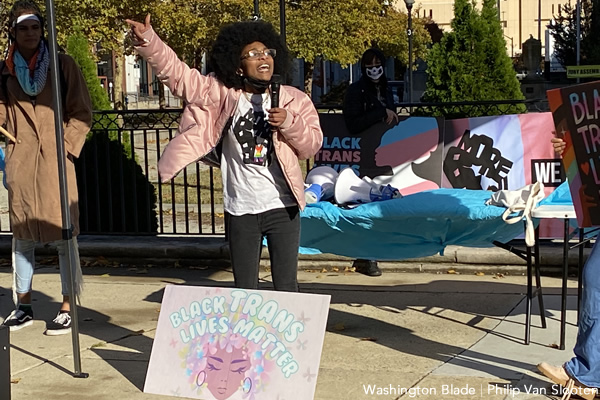 Activists at Saturday's rally also chanted the name of Kim Wirtz, a 43-year-old trans woman who died after being found unconscious in the Baltimore facility in February.
The Human Rights Campaign says 2021 has been the deadliest year for the trans community since it began tracking in 2013. The National Center for Transgender Equality also found prisons are particularly dangerous for trans women, who often aren't housed according to their gender identity.
"When a trans individual is detained, they need to be put into the facility that they identify as," Forte said. "If a trans woman is incarcerated, she needs to be placed into the woman's facility for her safety."
Maryland Department of Public Safety and Correctional Services spokesperson Mark Vernarelli told the Baltimore Sun in October after Kazzy Davis, an 18-year-old trans person, complained about the Baltimore intake facility, that the agency "takes very seriously the preservation of each detainee and inmate's dignity" and safety. Former inmates with recent experiences at the facility, however, told the Washington Blade that serious problems persist.

Nicole Wells, a trans woman who identifies as both white and Latina, is a case manager with Baltimore Safe Haven. Despite having an identification with her current name and gender marker, she was housed in a male unit, an experience that she still finds traumatic.
"It was terrible," Wells said. "The staff misgendered me and placed me with the males. They did not put me in protective custody and I was assaulted by one of the inmates."
Others spoke of similar experiences, including Devine Bey, a Black trans woman who was housed in the male unit, and Josiah Damore, a Black trans man who was housed in the women's unit. Both reported that the staff misgendered them, as well as difficulties receiving their hormone treatments and other forms of abuse.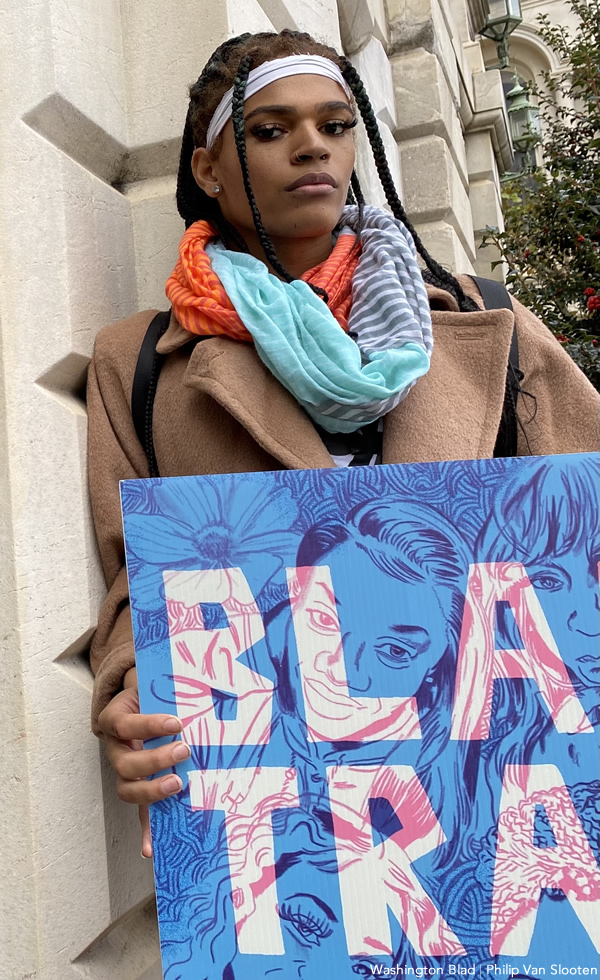 The Blade reached out to the Maryland Department of Public Safety and Correctional Services for comment, but did not receive a response prior to publication.

It's Medical Evaluations Manual states correctional facilities will provide medical services, including hormones, for trans detainees. The manual details the medical intake process itself, which includes a review of documents as well as a physical examination of the inmate.

The manual also notes trans women being at "greater risk of sexual violence by other male inmates if they are not placed in protective custody," but surgical transitioning is used as a basis for gender-affirming housing assignments.
"Incomplete surgical gender reassignment require that the patient be classified according to his or her birth sex for purposes of prison housing, regardless of how long they have lived their life as a member of the opposite gender," the medical intake policy states.
"These patients are usually offered protective custody," it adds, but former inmates who spoke with the Blade said this is not always the case despite their safety concerns.
Unfortunately, these incidents in Baltimore are not isolated.
The 2015 U.S. Transgender Survey found trans people were 10 times as likely to be sexually assaulted by their fellow inmates and five times as likely to be sexually assaulted by staff compared to other inmates. Trans prisoners also reported other challenges including denial of medical care and lengthy stays in solitary confinement.

National Center for Transgender Equality Executive Director Rodrigo Heng-Lehtinen told the Blade that U.S. correctional facilities are dangerous for anyone but being trans makes individuals "particularly vulnerable to attack."

"Just like with policing, the jail and prison system needs sweeping reforms before trans people can be safe," Heng-Lehtinen said. "At a minimum they need to be housed how they identify. Often they are placed in a facility based on a strip search in a disrespectful attempt to determine gender and place the person in a facility based on anatomical judgements."

FreeState Justice Executive Director Jeremy LaMaster told the Blade his organization became involved with complaints surrounding the Baltimore booking center after Baltimore Safe Haven came to them with concerns about the facility.
He said FreeState Justice is looking into the complaints, but is also working with legislators to address a much needed policy update.
"We're looking into adding a reporting requirement and a timeline for reporting incidents, so families are aware of what is going on," he said. "We're also looking at the creation of some type of liaison position or community advisory board to ensure there is conversation about the unique needs of people who are trans or in the LGBTQ community while incarcerated."
State Sen. Clarence Lam (D-Baltimore County), who chairs the Maryland Senate's Joint Committee on Fair Practices and State Personnel Oversight, told the Blade he was not aware of issues at the state-run facility, but felt there should be "proper oversight and safeguards in place to make sure the safety and rights of all individuals at the facility are protected and appropriate procedures are followed."
He added the Maryland Division of Corrections first needs an opportunity to address the issue and ensure they are properly following the policies they have in place for trans detainees before the state gets involved.
Sgt. Kevin Bailey, the LGBTQ Liaison for the Baltimore Police Department, said although he couldn't speak about how a state-run facility, which is managed separate from the city, operates, he did say there are benefits to having help from the community navigate these stressful interactions.
Speaking from his experience in the Baltimore Police Department, he said community and bias training can help each side understand the history and biases underlying and straining interactions.
"So, as a police department we deal with legal documents," he explained. "So sometimes having an interaction with a person who is transgender, their legal documents may not line up with who they are as a person. Understanding that helps officers understand the person they are dealing with is not being deceitful. When they give you their name, use that name, and understand their struggle."
He said while police officers still have to use a person's legal name in the report, they can use the name the person gives them verbally when interacting with them. This can help the officer understand the community better and deescalate a situation.
While he felt the same training could be useful in correctional facilities, or in any organization that interacts with the LGBTQ community, Heng-Lehtinen pointed out this has to be the first step, not the last.
"The best policy would be for when someone is being booked," he said. "And that policy should not be an assignment based on genitalia, it should be based on where the person would be the most safe."
Out former delegate raises $1 million in race against anti-LGBTQ lawmaker
No candidate in #MD01 of either party, incumbent or challenger, has ever hit the $1M milestone this early in the election cycle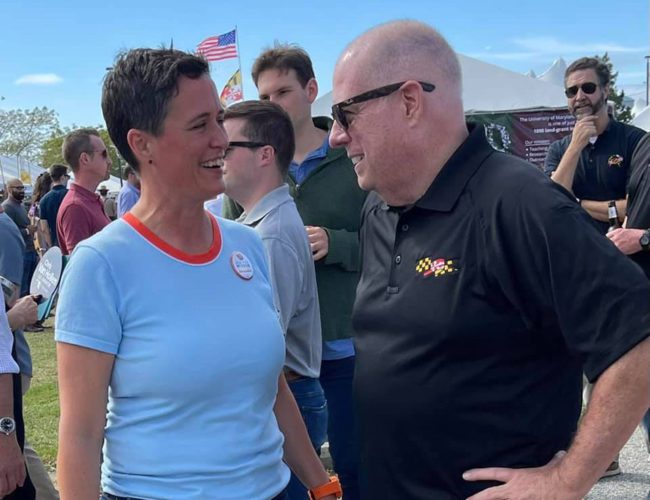 SALISBURY, Md. – Heather Mizeur has raised more than $1 million in her campaign against anti-LGBTQ Republican Congressman Andy Harris in Maryland's 1st Congressional District.

"No candidate in #MD01 of either party, incumbent or challenger, has ever hit the $1M milestone this early in the election cycle," Mizeur tweeted on Oct. 6.
NEWS: Today, we're announcing our campaign has raised more than $1 MILLION in our bid to unseat far-right Congressman Andy Harris. No candidate in #MD01 of either party, incumbent or challenger, has ever hit the $1 million milestone this early in the election cycle. pic.twitter.com/o57kEx8AFy

— Heather Mizeur (@heathermizeur) October 6, 2021


The Victory Fund in an Oct. 8 press release said 80 percent of this $1 million came from Maryland-based donors, "a sign the district is ready for new representation." And Mizeur continues to outpace Harris, according to campaign finance reports filed with the Federal Election Commission that say she raised $717,445 for the cycle ending June 30, while Harris raised $425,288.

"Andy Harris has taken every opportunity to attack and vilify trans individuals, trying to score political points with his base at the expense of the safety of some of his constituents," Mizeur told the Washington Blade.

In 2014 Harris made the Human Rights Campaign's "Hall of Shame" for proactively working "to undermine existing legal protections and promote anti-LGBT discrimination."

"In contrast, the LGBTQ community knows me for my record," Mizeur said. "And knows I'll always lead with compassion and stand up for civil and human rights. I think the 1st District will respond to my message of respect and understanding."

Mizeur, who now lives on the Eastern Shore with her wife, served on the Takoma Park City Council. Mizeur was a member of the Maryland House of Delegates for eight years.

In 2014, she launched a long-shot, grassroots campaign for governor where she finished a strong third in the Democratic primary, despite being outraised by better-known opponents.

But Mizeur also said she is aware of the challenges her team faces in taking on a well-entrenched Republican in a solidly conservative district.

The Cook Partisan Voter Index in 2017 rated the district as R +14, meaning the previous two presidential election results in the district skewed 14 percentage points more Republican than the national average.

"We have over $760,000 in the bank, and we've outraised him during our time in the race," Mizeur said. "We're raising the money we need to go toe-to-toe with Andy Harris next year."

The Baltimore Sun in February reported Harris was "flush with campaign cash" mostly due to a 2010 redistricting that "packed" the area with Republican voters to increase Democrats' chances in other district races.

"Yes, Andy Harris has over $1 million in the bank, stockpiled over a decade in office," Mizeur said. "But in the short time I've been in the race, we've cut significantly into his cash on hand advantage."

Harris has represented the 1st Congressional District—which includes Maryland's Eastern Shore and parts of Baltimore, Carroll and Harford Counties—since 2011 and easily fended off most challenges with at least 60 percent of the vote. These challengers include Mia Mason, a transgender military veteran, who ran against him in 2020.
The 2010 redistricting made Harris' seat safe enough not only to donate nearly a third of his war chest to conservative groups and candidates, such as U.S. Reps. Lauren Boebert (R-Colo.) and Marjorie Taylor Greene (R-Ga.), but to openly court controversy himself.
Harris last year openly defended then-President Trump's discredited efforts to overturn the 2020 election. And in December he signed onto an amicus brief supporting a failed lawsuit contesting the presidential election results.
This year he downplayed the violence of the Jan. 6 insurrection in which numerous police officers were attacked, members of Congress were threatened, and the U.S. Capitol was vandalized.
Mizeur told the Blade that while Harris' actions regarding the Jan. 6 insurrection were the catalyst for her challenging his seat, she feels the district is changing and he no longer represents their interests.
"Our supporters know he's been embarrassing Maryland in Congress for far too long, and that some of his actions have shown he's completely unfit to serve in public office, regardless of ideological views," Mizeur said. "They want someone who will bring compassionate leadership and innovative thinking back to the first district. And that's appealing to people across party lines."
Maryland's primary election is June 28, 2022, and its general election follows on Nov. 8.
The annual Tawes Crab & Clam Bake in Crisfield is always a great time for hot crabs, cold beer, and lots of good politics. Our volunteers were incredible; our supporters enthusiastic; and our colleagues generous with their love and friendship. My heart is very full. pic.twitter.com/R35kfzgdeQ

— Heather Mizeur (@heathermizeur) October 13, 2021