yahoo!/YouGov: 83% of GOP 'no vote' for any who say Biden won legit
The data shows that Trump's oft repeated false claims that Biden cheated his way into the White House has taken hold of the Republican party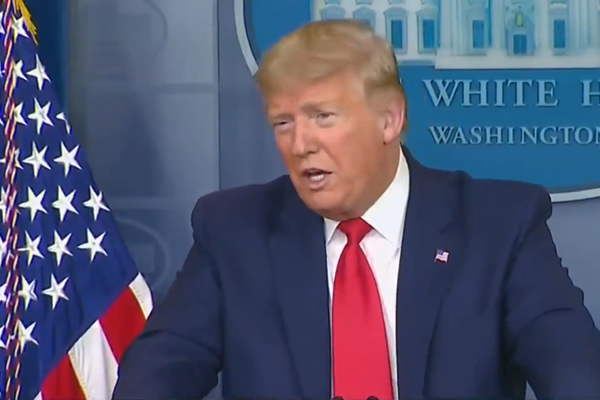 LOS ANGELES – A new poll released this past week by yahoo!news conducted by YouGov found that nearly 6 in 10 Republicans and Republican-leaning independents will not vote for any candidate who admits that President Joe Biden won "fair and square" in the 2020 election.
The data shows that former President Donald Trump's oft repeated false claims that Biden cheated his way into the White House has taken hold of the Republican party beyond Trump supporters. This belief says yahoo!news/YouGov shows that the "Big Lie" has become a litmus test for the entire GOP, crowding out other issues and strengthening Trump's grip on the party ahead of the 2022 midterms.
According to the polling, only 17 percent of Republicans say they would consider voting for a candidate who accurately characterizes Biden's victory as legitimate.
The poll also noted that the voters who backed Trump and his policies, and especially candidates requesting the former president's endorsement tend to fall into the categories of Evangelicals or devoted consumers of Fox News.
Inside Edition Chief Correspondent Jim Moret, an attorney and legal analyst noted on Twitter referencing the yahoo!news/YouGov poll, "We have yet to see the full impact of this subversion of truth. And that is frightening. "
We have yet to see the full impact of this subversion of truth. And that is frightening. – 17% of Republicans Would Vote for Someone Who Says Biden Won https://t.co/2n7HEjjjpM

— Jim Moret (@Jimmoret) January 29, 2022
As the mid-term races heat up for the 2022 elections cycle, the survey of 1,568 U.S. adults, which was conducted from Jan. 20 to 24, found that when asked which issue they want future candidates to focus on the most, the share of Republicans and Republican-leaning independents who say "stopping Democrats from rigging and stealing elections" (17 percent) — something that Democrats are not doing — is statistically equivalent to the share who say "bringing down inflation" (19 percent).
The poll also did reveal that the former president while maintaining a solid grip on the party has a less than certain chance of winning back the White House in 2024. less than half of Republicans and GOP-aligned independents (46 percent) currently say they would vote for Trump in the 2024 GOP primaries.
yahoo!news/YouGov noted: "Still, it's worth noting how close that number is to the 45 percent of the popular vote that Trump won across all Republican primaries in 2016 — enough to secure him the nomination and ultimately propel him to the White House."
Obama rallies for Warnock as Walker goes transphobic in latest ad
"Tomorrow is the last day for early voting and then we need to get people out to the polls on Tuesday, which means we still got work to do"
ATLANTA – Former President Barack Obama held a rally with Sen. Raphael Warnock (D-GA) tonight in Atlanta as the Georgia election runoff for the U.S. Senate seat currently held by Warnock enters its final week.
Speaking to the enthusiastic crowd in the historic Pullman Yard, Obama urged supporters to continue pressing to secure Warnock's chances as early voting ends Friday ahead of next Tuesday's election.
"Now I know a lot of folks have been voting early over the last few days, that is a good thing. That is an encouraging thing. But — you knew there was a but —plenty of folks haven't voted yet. Tomorrow is the last day for early voting and then we need to get people out to the polls on Tuesday, which means we still got work to do," Obama said.
A spokesperson for the the Georgia secretary of state's office told the Blade that more than 1.1 million votes have been cast so far.
Warnock's Republican challenger meanwhile focused on his opposition to transgender rights. In a recent campaign ad, Herschel Walker is featured alongside cisgender former University of Kentucky swimmer Riley Gaines, who tied with University of Pennsylvania trans female swimmer Lia Thomas.
In the ad Gaines says she "worked so hard" at competitive swimming but she was "forced to compete against a biological male."  The ad also goes on to attack Warnock in the Chyron onscreen stating: "Raphael Warnock voted to allow biological men to compete in women's sports." That particular charge by Walker's campaign is factually incorrect as the U.S. Senate has not held any votes on the subject of transgender women in sports.
Politico's National political reporter Natalie Allison tweeted:
Herschel Walker is up with a new runoff ad about transgender athletes, featuring a swimmer who tied with Lia Thomas.

"My senior year, I was forced to compete against a biological male," Riley Gaines says in the ad for Walker's Senate campaign. pic.twitter.com/MlVxnJwkgB

— Natalie Allison (@natalie_allison) November 21, 2022
During the rally in Atlanta this evening Politico reported Warnock received roaring applause when he poked fun at Walker, something Obama also did, referencing a series of outlandish comments the retired football star has made over the course of his candidacy.
"We all know some folks in our lives who, we don't wish them ill will, they say crazy stuff … but you don't give them serious responsibility," Obama said.
"He was an amazing running back," Warnock said of Walker. "And come next Tuesday, we're going to send him running back to Texas."
Walker, who was raised in the Peach State and was a star player at the University of Georgia, lived the majority of his adult life in Texas before returning to run for Senate in 2021.
Politico also noted that Warnock, the pastor of the Atlanta church that Martin Luther King Jr. attended, tied the election to the long struggle of African Americans for equal rights, noting the crowd had gathered on the 67th anniversary of Rosa Parks refusing to get up from a bus seat in Montgomery, Alabama. Walker is also African American.