Petition to repeal LA City proof of vaccination approved
The proposed ordinance would repeal existing rules in the City of Los Angeles requiring proof of vaccination with a COVID-19 vaccine to enter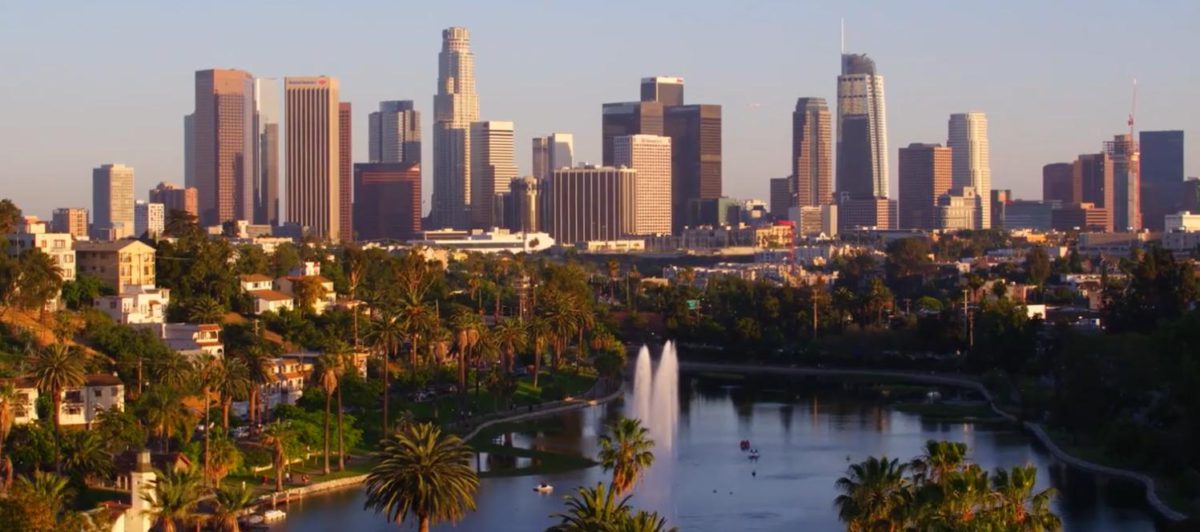 LOS ANGELES – Los Angeles City Clerk Holly L. Wolcott announced that a petition draft for an Initiative Ordinance submitted on February 1, 2022, was approved by her office Thursday that would ask the Los Angeles City Council to repeal its proof of COVID-19 vaccination requirement.
The proposed ordinance would repeal existing rules in the City of Los Angeles requiring proof of vaccination with a COVID-19 vaccine to enter the indoor portions of certain locations, outdoor large events, and city facilities.
If the proposed ordinance is adopted, individuals will no longer be required to provide proof of vaccination to enter the indoor portions of establishments where food or beverages are served, gym and fitness venues, entertainment and recreation venues, personal care establishments, and city facilities.
Individuals also would not be required to provide proof of vaccination or a negative COVID-19 test to enter outdoor large events with between 5,000 and 9,999 attendees.
KTLA noted that Wolcott 's office said the initiative to try to repeal the city's vaccine mandate is the first of its kind. Those behind the effort plan to start collecting signatures Monday, and they need about 65,000 signatures to get it on the ballot for voters to make the call or for City Council to decide whether to repeal it themselves.
Project Angel Food Thanksgiving, a remarkable group of volunteers
Project Angel Food provides daily meals to 2,500 critically ill individuals & 1.5 mil medically tailored meals annually across Los Angeles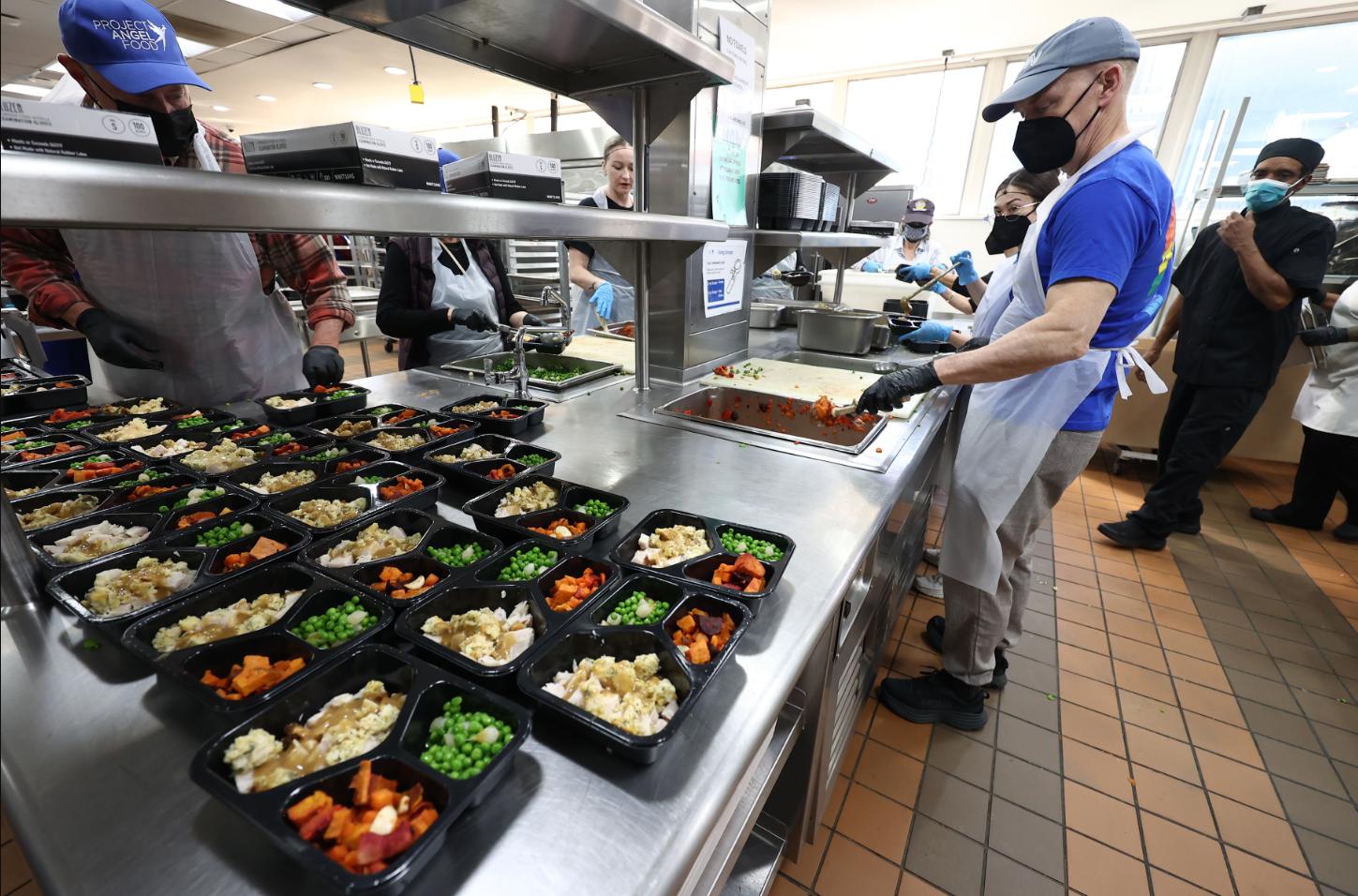 LOS ANGELES — Project Angel Food saw a remarkable gathering of celebrities and 200 dedicated volunteers coming together to prepare and deliver 2,000 traditional turkey meals to critically ill clients on Thanksgiving Day, Thursday, Nov. 23, 2023. The initiative culminated in a total of more than 5,000 meals prepared and delivered throughout Thanksgiving week.
Thanksgiving Day at Project Angel Food was not just about distributing meals but also about the spirit of giving back while cherishing moments with family and friends.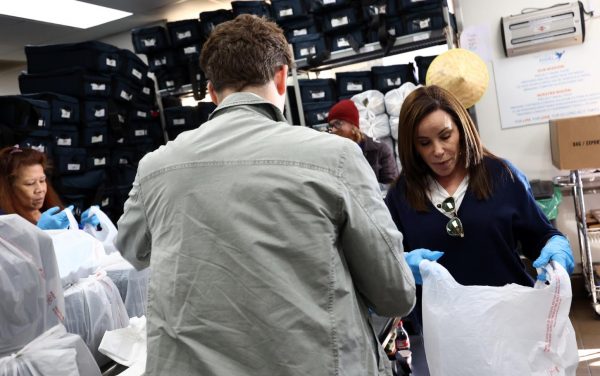 Melissa Rivers, who recently got engaged to lawyer Steve Mitchel on Oct. 13, made a notable appearance — showcasing her stunning 5.6 carat, emerald-cut engagement ring as she volunteered alongside adult son Cooper Endicott. She shared, "Sometime maybe in 2025. It would be my second marriage and his second marriage so if anything, we'll have a party, and a ceremony might break out. But nobody's in any rush."
Amanda Kloots, host of "The Talk", expressed her deep affection for Project Angel Food, stating that she fell in love with the cause while filming a segment for the hit CBS talk show. She returned with Zach Braff and her four-year-old son Elvis, emphasizing, "I think it is so important to show our kids how blessed we are and how we can help one another."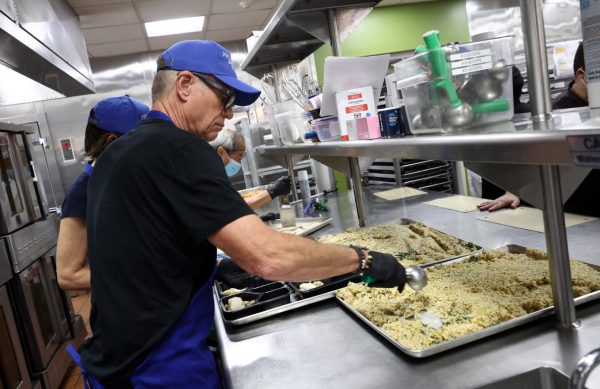 Joining the ranks, Lisa Rinna and her husband Harry Hamlin continued their annual tradition of giving back at Project Angel Food on Thanksgiving. Harry offered, "It goes without saying the people of L.A. need to be fed, and we're here to do it, especially on Thanksgiving." Lisa added, "It makes you feel good to give back, always, and we need to do it more."
Actor and model Sam Asghari, marking his first Thanksgiving after his divorce from Britney Spears, refrained from discussing the split but reflected "I think it is important when you have a platform and a voice, and you have the ability to help others it is important to do."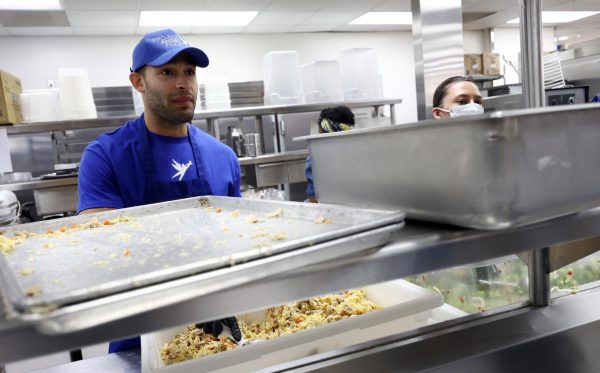 Unlikely friends Charo and Kat Von D were among the initial celebrity arrivals. Von D explained their unique bond, stating, "We're Yin and Yang and complement each other. Since she had heard of Project Angel Food through Charo, she wanted to join." Charo expressed her enthusiasm for volunteering, exclaiming, "I love people. This is my passion!"
The event saw the participation of other notable celebrity volunteers, including Amy Yasbeck, singer Em Beihold, Eve Mauro, Jai Rodriguez, Supervisor Kathryn Barger, Laura Pierson, Lauren Tom, Lawrence Zarian, Lisa Foxx, Loni Love, Mary-Margaret Humes, Michael Hitchcock, Peter Porte, Rachel Lindsay, Sandra Lee, Tamara Brown, and Tim Bagley.
Project Angel Food CEO Richard Ayoub expressed heartfelt gratitude stating, "Every day is like Thanksgiving at Project Angel Food. But on this day, we are especially grateful to our celebrity friends and hundreds of volunteers committed to bringing a little light to the thousands of critically ill men, women and children we serve."
The meals were provided through "drive-by" pick-up for volunteers who then delivered them to Project Angel Food clients. The traditional Thanksgiving dinners included roasted turkey, root vegetables, stuffing, gravy, cranberry sauce, and a slice of pumpkin cheesecake. Additionally, vegetarian meals were also provided. The Thanksgiving Day meals were sponsored by The Stanley & Joyce Black Family Foundation, with additional support from Joybird, which furnished the Joybird VIP Love Lounge, allowing volunteers to take a break during the morning of service.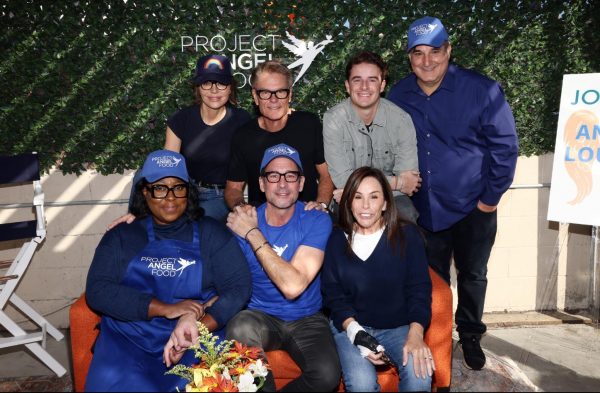 Beyond serving meals to 2,000 critically ill individuals, Project Angel Food extended its support by providing Thanksgiving Day meals for 500 people at PATH. PATH works tirelessly to end homelessness by building affordable housing and offering supportive services. Furthermore, actress and director Joely Fisher sponsored Project Angel Food meals, hosting a SAG/AFTRA "Friendsgiving" at Hollywood United Methodist Church for 200+ union members affected by the 118-day SAG/AFTRA strike on Wednesday, Nov. 22, 2023.
Project Angel Food remains dedicated to providing daily meals to 2,500 critically ill individuals and delivering more than 1.5 million medically tailored meals annually across Los Angeles. Their clients often grapple with serious illnesses compounded by challenges such as poverty, aging, and isolation. Established in 1989 by Marianne Williamson, the organization has prepared and delivered more than 17 million meals in its 34-year history.
Related:
Project Angel Food serves up Thanksgiving meals for Angelenos: