For first Black, nonbinary GLSEN leader, intersectionality is key
She's experienced both the "superpower of invisibility" & the "superpower of being deeply connected to those who are marginalized"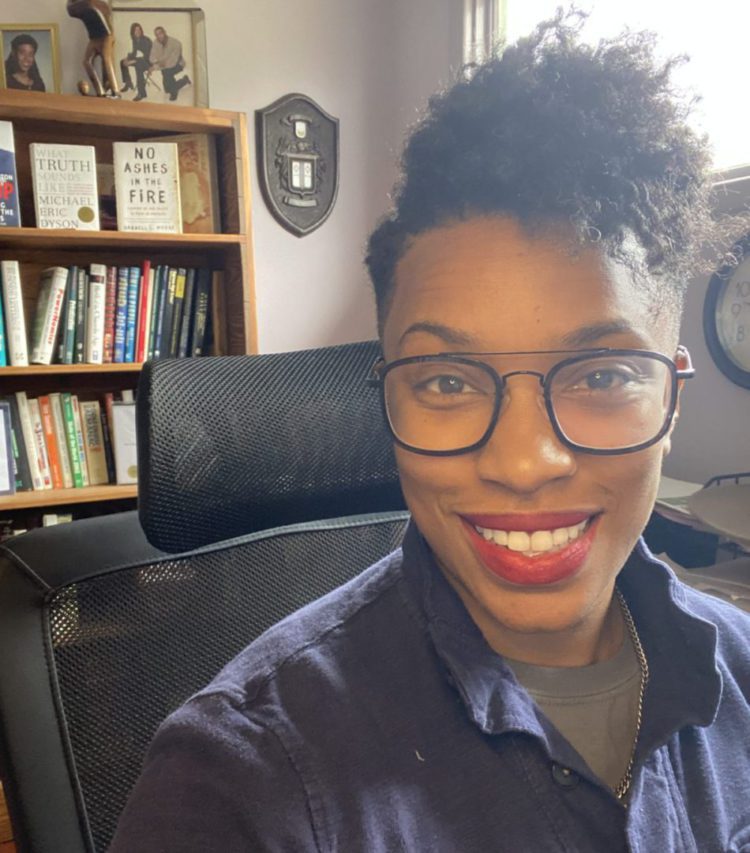 NEW YORK – It's 1986 in the rust belt city of Cincinnati, Ohio. Two kids, Melanie and David, are at their aunt's house being cared for while both of their single mothers are away – Melanie's mom is traveling for work and David's caught in "street life" and medicating her heartbreak.
A few years later, Melanie and David are in the fourth grade and starting to have trouble academically and behaviorally. Melanie's mom jumps in to ask questions and take action. Meanwhile, David's mom doesn't have the energy or know-how to advocate for him, and his teachers assume that he's not trying.
By sixth grade, Melanie had gotten tested to get to the bottom of her learning challenges, and, though things were still hard, she had the support of her mom. David had never gotten the support he needed for his learning difficulties, labeled as "behavioral problems." He's receiving punishment instead of help. Before the year is out, he's dropped out of school for good.
Now, Melanie Willingham-Jaggers, fresh off being named the first Black and nonbinary executive director of national LGBTQ+ advocacy group GLSEN, tells the Los Angeles Blade that story while her cousin, David, has spent the time they spent in school studying in and out of incarceration.
"It really is because of the opportunity, and that window of opportunity being missed for him," Melanie Willingham-Jaggers told the Blade in an interview.
This story is the main motivator for the new leader of GLSEN. "I'm not different, and I'm not special," said Willingham-Jaggers. "I do this work in service of those people because I know that given what I've been given – access to the support and opportunity that I have – it's my job to make the most of it."
After serving as the group's interim executive director last year, GLSEN named Willingham-Jaggers as its new executive director last week – a historic pick hailed by LGBTQ+ advocates across the nation.
"I think I'm the right pick; I think I'm the right leader for GLSEN; I think this is the right moment for a leader like me to act," they said.
Willingham-Jaggers takes the helm of GLSEN – which advocates for making K-12 schools safer, more affirming and inclusive environments for LGBTQ youth – at point in the United States when schools have become a battleground for political debate over Trans inclusion in sports and LGBTQ-themed books some consider "inappropriate," or even "pornographic."
According to the Movement Advancement Project, 10 states already have laws in place that bar trans students from participating in sports consistent with their gender identity.
In 2022, so far, 22 bills seeking to ban Trans youth from sports have been introduced in state legislatures across the country, according to Freedom for All Americans. On Thursday, South Dakota Republican Gov. Kristi Noem signed the first anti-trans bill of 2022 into law, effectively keeping Trans students, especially Trans women and girls, from playing on women's and girl's sports teams.
In addition, conservatives have started a nationwide effort to keep books dealing with racism and LGBTQ+ issues off the shelves of school libraries.
Last December, the American Library Association (ALA) announced that it had documented 155 separate incidents of efforts to remove or ban books by or about LGBTQ+ and Black people since June 2021. Officials in one Virginia district went as far as to say they want to see books "burn."
"It's pretty shitty out there," said Willingham-Jaggers, adding: "It is hard to put into words how terrible it is right now for queer kids."
According to Willingham-Jaggers, even legislative efforts that don't directly affect LGBTQ+ kids, like anti-Critical Race Theory (CRT) bans, end up hurting queer children and kids as a whole. "There is a move by political extremists to prevent our young people from learning the truth," they said.
Bans of CRT – a college-level examination of the intersection of race and law that has become a hot button issue for Republicans – have also swept the nation in recent months.
The politicians introducing and passing this legislation are proud to highlight the bills. Texas Republican Gov. Greg Abbott stated, "Now Texas has the toughest anti-CRT protections in the nation," celebrating the state's CRT ban.
But opponents to such bans call attacks on CRT "gross exaggerations of the theoretical framework."
"Rather than run from the issue of racism in America, we should confront it head on," Rayshawn Ray wrote for the Brookings Institution, a progressive nonprofit public policy organization.
According to an interactive map from Education Week, 14 states have enacted CRT bans, while another 23 states have at least considered such bans.
Intersectionality, how aspects of a person's social and political identities combine to create different levels of discrimination and privilege, is a big part of Willingham-Jaggers' focus moving forward. "No one's out here with only a queer identity, right?" they said.
National LGBTQ+ organizations have been criticized at points in the past by some who think that their advocacy has focused too much on white, cisgender, LGB people – largely leaving people of color and Trans people out of the conversation. In fact, a 2017 report from the Building Movement Project, which provides research and training tools to help nonprofits better connect with the communities they serve, found that LGBTQ+ people of color face more challenges compared to white people or straight people of color, even in LGBTQ-focused organizations.
Though many LGBTQ+ advocacy groups have made strides to become more inclusive, including speaking out against police brutality during widespread Black Lives Matter protests in 2020, some continue to call them out.
On Thursday, Alphonso David – the former president of the Human Rights Campaign (HRC) who was terminated by the board after reports that he was involved in the New York Gov. Andrew Cuomo scandal – filed a lawsuit against the group, arguing he was fired as a result of racial discrimination.
The lawsuit said the HRC's workplace was one where "non-white staffers were marginalized, tokenized, and denied advancement to high-level positions." David was the group's first Black president.
However, Joni Madison, interim president of the HRC, said David's lawsuit was "riddled with untruths."
In a 2020 press release following the U.S. Supreme Court's decision to extend Civil Rights Act protections to LGBTQ+ in employment, GLSEN's former Executive Director Eliza Byard referenced an "internal process of transformation" to "center the leadership of Black and other POC leaders on the Board, staff, and across the network, and to become an anti-racist organization."
"Because of the work we did not do in the past, and because of the pace of our current efforts, we have caused harm. I apologize," she said.
Willingham-Jaggers stepped in as interim executive director following Byard's resignation in 2021.
"Melanie's expertise as an organizer and deep connections across movements are invaluable for the next chapter of GLSEN's work," said Byard of Willingham-Jaggers. "The world of K-12 schools has been turned completely upside-down over the past few years, and Melanie's vision and experience will provide the essential ingredients of new strategies for a new time."
Willingham-Jaggers knows that their work is cut out for them but believes they are exactly the type of leader that GLSEN needs right now.
"I don't do the work that I do, because of my identities," they said. "But my identity has formed the work that I do."
As a Black woman and nonbinary, gender expansive queer person, Willingham-Jaggers said she has experienced both the "superpower of invisibility" and the "superpower of being deeply connected to those who are marginalized."
"The leader that I am is really informed by and led by those margins," they said.
Willingham-Jaggers didn't want to be "too specific" about their plans to address anti-LGBTQ+ legislation and other rules aimed at schools. But they did say that "affirmation" is an essential part of their work as an advocate for LGBTQ+ kids.
"People grow in the light of love," they said.
LGBTQ+ activists alarmed over concurring opinion in abortion ruling
Thomas called for the high court to "reconsider" previous decisions overturning state sodomy laws and legalizing same-sex marriage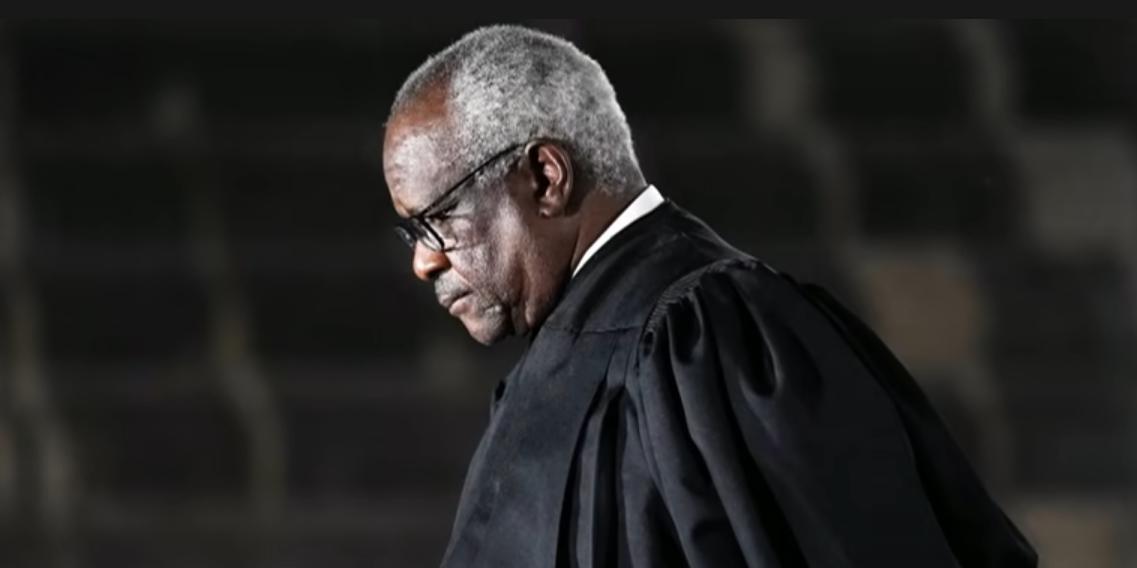 WASHINGTON – LGBTQ+ activists have expressed alarm over a concurring opinion issued on Friday by U.S. Supreme Court Justice Clarence Thomas calling for the high court to "reconsider" previous decisions overturning state sodomy laws and legalizing same-sex marriage as a follow-up to the court's controversial ruling on Friday to overturn the Roe v. Wade decision on abortion rights.
In an action that drew expressions of outrage from abortion rights advocates and strong support by right-to-life advocates, the Supreme Court handed down a 6-3 ruling on Friday overturning the fundamental right to an abortion that the court established nearly 50 years ago in its landmark decision known as Roe v. Wade.
In his concurring opinion, Thomas said he supports the high court's majority opinion overturning Roe v. Wade. He states that he agrees with the ruling that nothing in the majority opinion "should be understood to cast doubt on precedents that do not concern abortion."
But he also states that in potential future cases, "we should reconsider all of this Court's substantive due process precedents, including Griswold, Lawrence, and Obergefell."
He was referring to the past Supreme Court Griswold ruling that overturned state laws banning or restricting birth control such as contraceptives; the high court's 2003 Lawrence v. Texas ruling that overturned state laws banning sodomy between consenting adults; and the 2015 Obergefell ruling that legalized same-sex marriage nationwide.
"Justice Thomas's concurring opinion is obviously concerning, but it is important to note that not one other justice agreed with him," said Sarah Warbelow, Legal Director of the Human Rights Campaign, the nation's largest LGBTQ rights advocacy group. "In fact, the majority took pains to disagree with him and clarify that this opinion relates only to abortion. Justice Thomas stands alone," Warbelow told the Washington Blade in a statement.
"With that said, we know that if the Court was willing to overturn 50 years of precedent with this case, that all of our constitutional rights are on the line," Warbelow said. "Lawmakers will be further emboldened to come after our progress. So, we must be vigilant in protecting our hard-won rights – we're ready."
Paul Kawata, executive director of the National Minority AIDS Council (NMAC), said the Supreme Court ruling overturning Roe v. Wade would have a "disastrous effect" on healthcare for women, especially women of color. He said the ruling could also lead to future rulings that adversely impact LGBTQ people and other minorities.
"We have no doubt that the conservative supermajority on the court will not stop with Roe," Kawata said in a statement. "Justice Thomas's chilling concurring opinion makes it very clear that the court could target other rights provided by the Court – marriage equality, contraception access, and LGBTQ+ intimacy in private to name a few," he said.
LGBTQ+ groups commemorate Juneteenth
Emancipation Proclamation reached Galveston, Texas, on June 19, 1865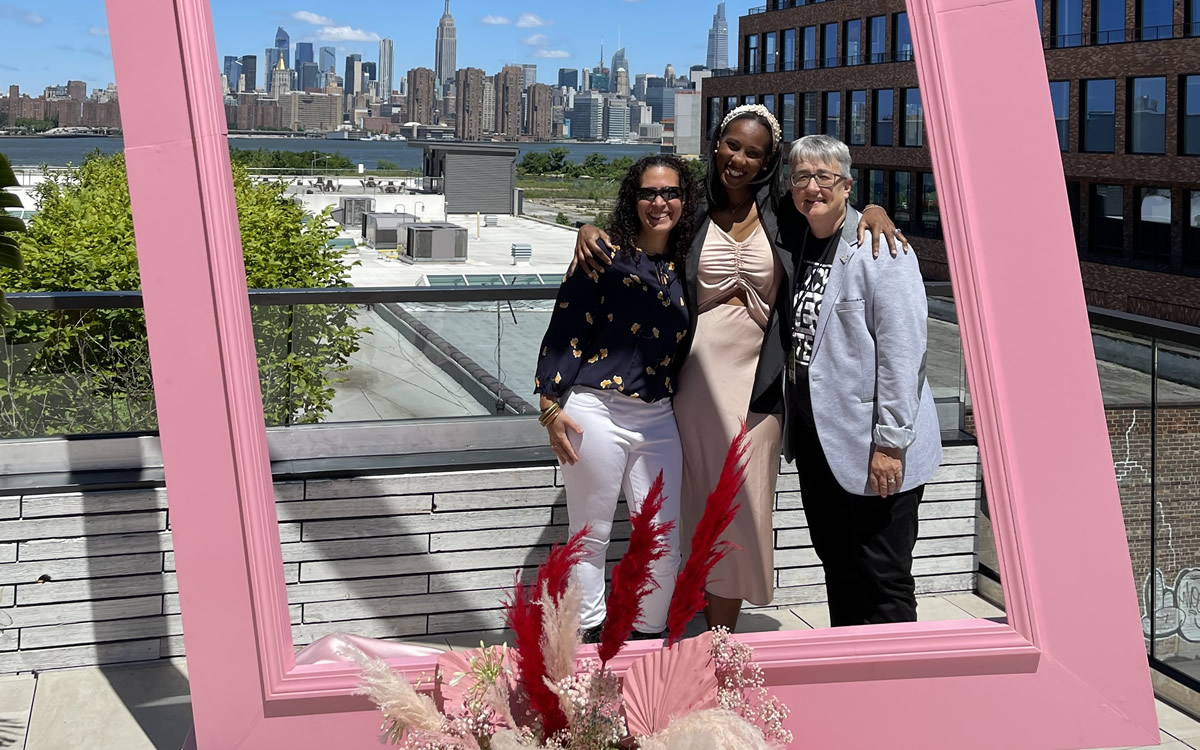 WASHINGTON — President Biden last year signed the "Juneteenth National Independence Day Act" into law, officially designating June 19 as a federal holiday. This legislation was passed after years of advocacy — spearheaded by 95-year-old Opal Lee — pushing for federal recognition of the day in 1865 when the news of the Emancipation Proclamation was delivered to Galveston, Texas, freeing the last remaining enslaved people.
The Juneteenth holiday has been recognized in Texas since 1980, but it made its way to the federal level in 2021 in the wake of Black Lives Matter movement and a national reckoning over police violence, slavery's legacy and the ongoing toll of racism.
Although June was designated as LGBTQ+ Pride Month long after the events of Juneteenth in 1865, the two holidays are more than just coincidentally related.
The Stonewall riots — which kickstarted the gay rights movement just over 100 years after Juneteenth — involved mainly Black and brown patrons of the Stonewall Inn. Drag performer and gay rights activist Stormé DeLarverie is even rumored to have thrown the first punch. In the days of protests that followed, queer Black women like Marsha P. Johnson and Miss Major Griffin Gracey became crucial leaders in the movement for LGBTQ+ rights.
To honor this intersectional history, LGBTQ+ around the country are observing the country's newest federal holiday with a mix of festivity and on-the-ground activism.
In celebration of Juneteenth, New York City Pride kicked off the weekend with a brunch highlighting the stories and culinary expertise of six Black LGBTQ+ chefs. The event highlighted queer Black folks making waves in the business sector and is part of a larger slate of events being hosted as part of New York City Pride.
Cathy Renna, communications director for New York City Pride, said that the organization does its best work using an intersectional approach that lasts far beyond the month of June.
"We look at our work through the intersectional lens of, gender, sexual identity, gender identity, race, class, ability. All of those are things we take into account, and if you look at the work that we do you can see it — not just during the month of Pride," Renna said. "Whether it's looking at what could be potentially happening with the Roe v. Wade decision since the leaked draft came out a little over a month ago, we have been trying to help people in the community understand how this could be so impactful for trans and queer folks and for Black and brown communities. We did a joint partnership project with TransLash, which told the stories of Trans people of color whose lives were impacted because of either access or lack of access to reproductive healthcare. So, [intersectionality] is always a top priority."
At the National Black Justice Coalition, intersectionality is also part of their DNA: The organization seeks to empower the Black LGBTQ+ community through "coalition building, federal policy change, research, and education."
National Black Justice Coalition Deputy Executive Director Victoria Kirby York highlighted several ways that NBJC is commemorating Juneteenth with activism and grassroots organizing.
"We've been celebrating Juneteenth through our policy agenda, which includes passing HR 40 or getting an executive order signed from President Biden to establish a commission on reparations. [On June 16] we joined other civil and human rights organizations to install flowers that look like the Pan-African flag right in front of the White House, to call on President Biden to sign an executive order that would help do this," York said. "A commission on reparations would help to really detail the federal government's roles and others' roles in the institution of slavery and the many anti-Black policies that followed the emancipation of those who were enslaved."
As Biden said in a statement marking the one-year anniversary of Juneteenth's designation as a federal holiday, Juneteenth is as much a promise of continual improvement as it is a recognition of past emancipation.
In his statement, Biden wrote "it's not enough to just commemorate Juneteenth. Emancipation marked the beginning, not the end, of America's work to deliver on the promise of equality. To honor the true meaning of Juneteenth, we must not rest until we deliver the promise of America for all Americans."
For York, one way that LGBTQ+ groups can help to deliver on this promise is by throwing their support behind the black community and returning the favor of intersectional allyship.
"There are organizations that are partnering with existing Juneteenth events, so instead of LGBTQ groups creating their own activities for Juneteenth, using it as an opportunity to support and send your members to existing Juneteenth events, some of which have been going on for decades," York said. "There are still a number of Black community members who feel like our community as a whole was pushed to be supportive and to stand up for the LGBTQ community around marriage and a whole host of other things, and [the LGBTQ] community doesn't always return the favor very well. So, in some ways the best thing to do is to show up — to show up at that community Juneteenth festival that is being held to mark the holiday."
"Go ahead and show that we are visible at Juneteenth events in the same way that we want the black community to be welcomed at Pride events," added York.
AIDS/LifeCycle Cyclists concluding a 7-Day journey from SF to LA June 11
This year's participants raised more than $17.8 million—the highest fundraising amount in the event's history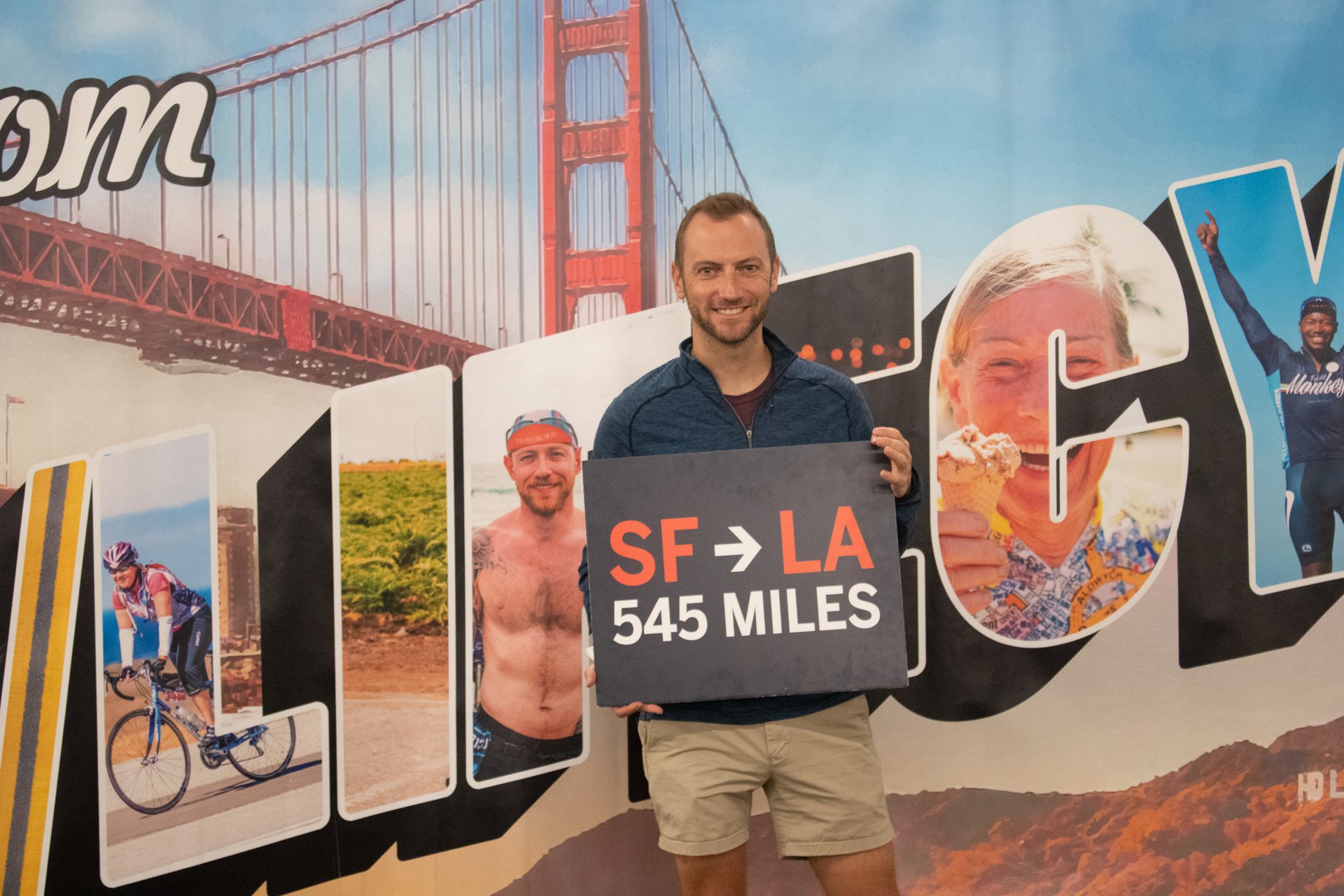 WEST HOLLYWOOD – The City of West Hollywood is a proud co-sponsor of AIDS/LifeCycle, an annual 7-day fundraising bicycle ride from San Francisco to Los Angeles benefitting the San Francisco AIDS Foundation and the Los Angeles LGBT Center.
This year's participants, who departed from San Francisco on Sunday, raised more than $17.8 million—the highest fundraising amount in the event's history—to support San Francisco AIDS Foundation and the HIV-related services of the Los Angeles LGBT Center. Participants are HIV-positive and HIV-negative, LGBTQ+ and allies, ages 18 to 81, and from nearly every state and 14 countries.
Saturday, June 11 on Day 7  Beginning in Ventura and ending at Fairfax High School in Los Angeles, more than 2,400 AIDS/LifeCycle cyclists and 600 volunteer "roadies" will cross the finish line to culminate their 7-day, 545-mile journey.
6–8 a.m. Route opens at San Buenaventura State Beach
901 San Pedro St., Ventura
9:30 a.m.–2:30 p.m. Lunch Stop: Will Rogers State Beach
17000 Pacific Coast Hwy, Malibu
11 a.m.–6 p.m. Finish Line at Fairfax High School
7850 Melrose Ave., Los Angeles

NOTE: Most cyclists will cross the finish line between 2–4 p.m.
Riders will enter the City of West Hollywood at N. Doheny Drive traveling eastbound on Santa Monica Boulevard in the number-two lane and parking lane until Ogden Drive. At Ogden Drive, riders will turn south and continue southbound to Melrose Avenue. The eastbound number-two lane of Santa Monica Boulevard is expected to be closed from 8 a.m. through 5 p.m. on Saturday, June 11, 2022. Parking will also be restricted on both the eastbound side of Santa Monica Boulevard and the west side of Ogden Drive from 7 a.m. to 5 p.m.
While the AIDS/LifeCycle does not require any full street closures, it is anticipated there will be traffic impacts due to the reduction of one eastbound traffic lane on Santa Monica Boulevard. Cyclists are expected to adhere to all traffic laws as directed by California Vehicle Code. West Hollywood community members and visitors are encouraged to take part in a tradition of cheering on cyclists as they complete their final miles of this long-distance fundraiser.
On Saturday, June 11, from 8 a.m. to 5 p.m.: Santa Monica Boulevard, Eastbound Number-Two Lane will be Closed to Automobile Traffic to Accommodate Cyclists; and Ogden Drive Parking on West Side of Street will be Unavailable from Santa Monica Boulevard to Willoughby Avenue
HIV and AIDS have had a significant impact in West Hollywood. The disease's elevated infection rate among gay men caused a devastatingly high number of deaths in the City. The City of West Hollywood was one of the first government entities to provide social services grants to local AIDS and HIV organizations.
The City of West Hollywood sponsored one of the first AIDS awareness campaigns in the country in October 1985 and the City's response to the AIDS crisis has been recognized as a model for other cities, nationally and globally.
Support for AIDS/LifeCycle is consistent with the City's core values and with ongoing City programs meant to commemorate the lives of those who were lost, such as World AIDS Day, the AIDS Memorial Walk, and the AIDS Monument which is currently in development.
The City actively participates supporting education and advocacy in the development of programs that can bring awareness about the HIV/AIDS epidemic and services to people living with HIV/AIDS.
The City is currently implementing its HIV Zero Initiative Strategic Plan with vision to become an 'HIV Zero' city. A culminating goal of the HIV Zero plan is to build an inclusive community that supports underserved groups and honors the contributions made by people living with HIV.
For more information about the AIDS/LifeCycle event, please visit www.aidslifecycle.org.
For people who are Deaf or hard of hearing, please call TTY (323) 848-6496.