LA City Council oks renaming Boyle Heights street for Vicente Fernandez
Fernández received three Grammy Awards, nine Latin Grammy Awards, fourteen Lo Nuestro Awards, and a star on the Hollywood Walk of Fame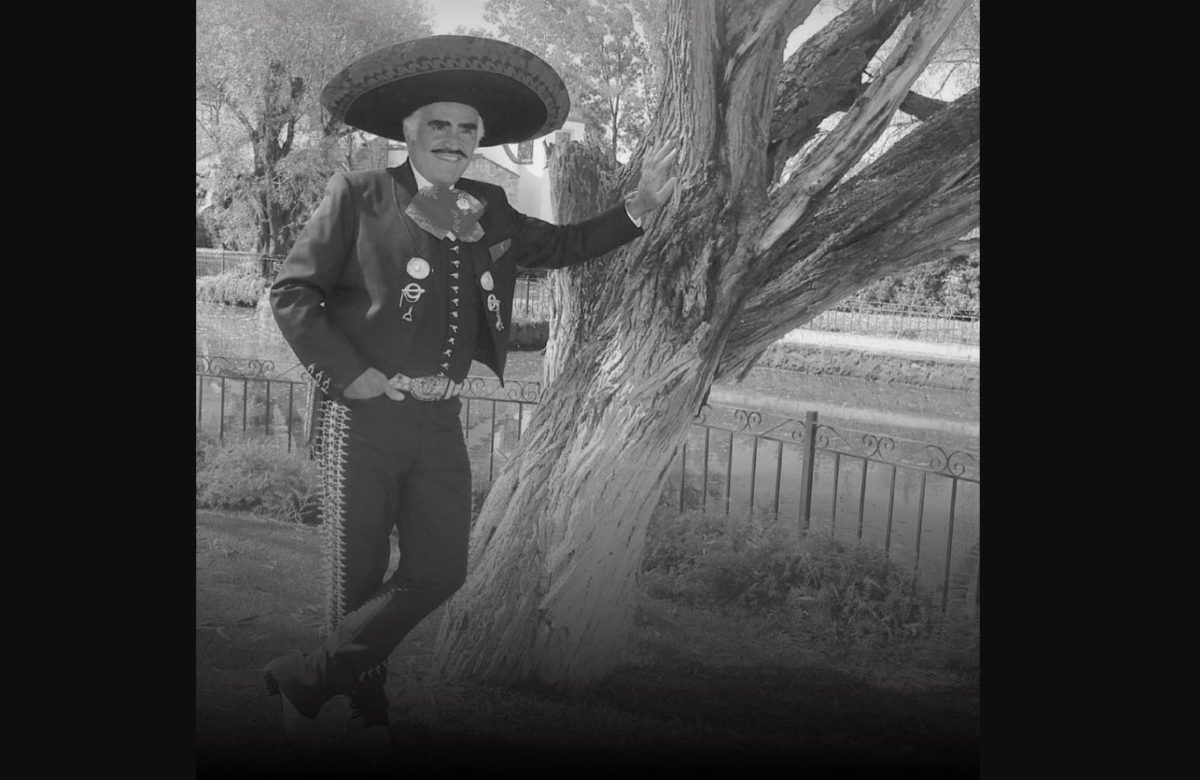 LOS ANGELES –  The Los Angeles City Council unanimously approved a proposal Tuesday to rename a portion of Bailey Street in Boyle Heights after the renowned mariachi and one of the great icons of ranchera music, the late Vicente Fernandez.
The measure, backed by Councilmember Kevin de León, had gotten the backing of the areas residents including the musicians who gather to play in Mariachi Plaza, which is considered ground zero for the mariachi-ranchera music in the greater Los Angeles region.
"The legacy of Vicente Fernandez continues to resonate and inspire people worldwide, making us proud to call ourselves Latino," said de León. "Today, our city council took the rare action to recognize "Chente" for his cultural contributions by memorializing him at one of our city's most cherished venues, Mariachi Plaza. Through his music, he has etched his place in history and on the hearts of fans who will forever cherish him."
The renamed block, "Vicente Fernandez Street," will be located along what is currently Bailey Street, between First Street and Pennsylvania Avenue which runs adjacent to the Mariachi Plaza (see map below). The community outpouring for the renaming was significant and noted as especially fitting that El Rey de la Música Ranchera (The King of Ranchera Music) be named where fans of mariachi music gather to hear performances.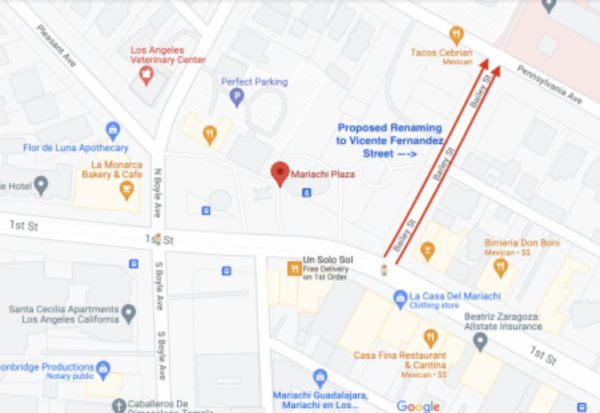 There was opposition to the renaming of the street by The Boyle Heights Neighborhood Council and others over aspects of the singer's history that were claimed had homophobic and misogynist conduct that disqualified him from receiving the honor.
Fernández known as the "El Rey de la Música Ranchera" (The King of Ranchera Music) to his millions of fans, led a life that arguably was filled with success, tragedy, and scandal.
In an unauthorized biography, El Último Rey, (The Last King), released just prior to the singer's death at 81 this past December after four months of being admitted to a hospital in Guadalajara due to a fall that injured his spine, Argentine journalist Olga Wornat details the singer's more than five decades-long career. Wornat writes that family tragedy, "a life absent as a father" and infidelities to his wife María del Refugio Abarca, "Cuquita," plagued the musical maestro.
In an email to the Blade last month, David A. Silvas, Vice President and Chair of the Planning and Land Use for the Boyle Heights Neighborhood Council noted; "[…] feedback that has come to my attention about singer Vicente Fernández's past history of sexual allegations as well as his views on not wanting to receive any organ transplant from an "addict or "homosexual" […] the Planning and Land Use Committee came out with a Community Impact Statement opposing Councilmember Kevin de Leon's proposed motions."
"The community impact statement letter has had mixed reactions – many support it – but there has already been homophobic remarks on social media about how "the gays need to get over this – they are just a minority." That sort of rhetoric cannot be tolerated."
Fernández in an interview with Spanish language media outlet El Universal in May of 2019 told the paper that while he was a patient in Houston to undergo a liver surgery, he decided to reject a transplant because he did not "want to sleep with his wife while having the liver of another man, who could have been a homosexual or a drug user."
Accusations of womanizing also had plagued Fernández. In January of 2021 a photograph of a 2017 'meet & greet" with fans went viral as in the photo Fernández appears to be cupping a female fan's breast. According to media accounts a few days later, Fernández issued an apology to the woman's family, stating that "I admit that I was wrong, I don't know if I was joking, maybe it was a joke […] I don't know. I do not remember, there were many people (with whom I took photos), sincerely I offer an apology."
A month later the news broke that Fernández was accused of sexual assault by a singer named Lupita Castro nearly forty years previously when she was still a minor at age 17. That case ultimately went away as Castro refused to take Fernández to court.
The problem, as one source told the Blade, is that the very culture and the times of his career in some ways gave Fernández cover with many in the public especially Latinos. The source insisted this did not excuse the behavior, adding that also the inflection of the still highly prevalent 'machismo,' the strong or aggressive masculine pride- exaggerated masculinity, is still very much a component of Mexican culture.
"When one considers the place "Chente" occupies in Mexican culture and among Latinos- his music is the background to virtually their entire daily lives, it is not surprising that especially the older generations will give him a pass," the source told the Blade.
Generations of Latinos grew up listening to "Chente's" music. Carlos Montes, a member of the neighborhood council, who spoke for residents in support of the name change in an interview with LA Fox affiliate KTTV;
"I'm just saying his career, what he has contributed culturally and emotionally to millions of people outweigh these allegations," Montes stated.
Fernández received countless awards and accolades, including three Grammy Awards, nine Latin Grammy Awards, fourteen Lo Nuestro Awards, and a star on the Hollywood Walk of Fame.
With more than 50 million recordings sold worldwide, and 51 albums listed on the Recording Industry Association of America (RIAA) for gold, platinum, and multi-platinum-selling records, he is one of the best-selling Mexican artists of all time.
Trans remembrance vigil held at LA LGBT Center
"We refuse to let violence rob us of the possibility to gather, to love each other, and to dream together in solidarity"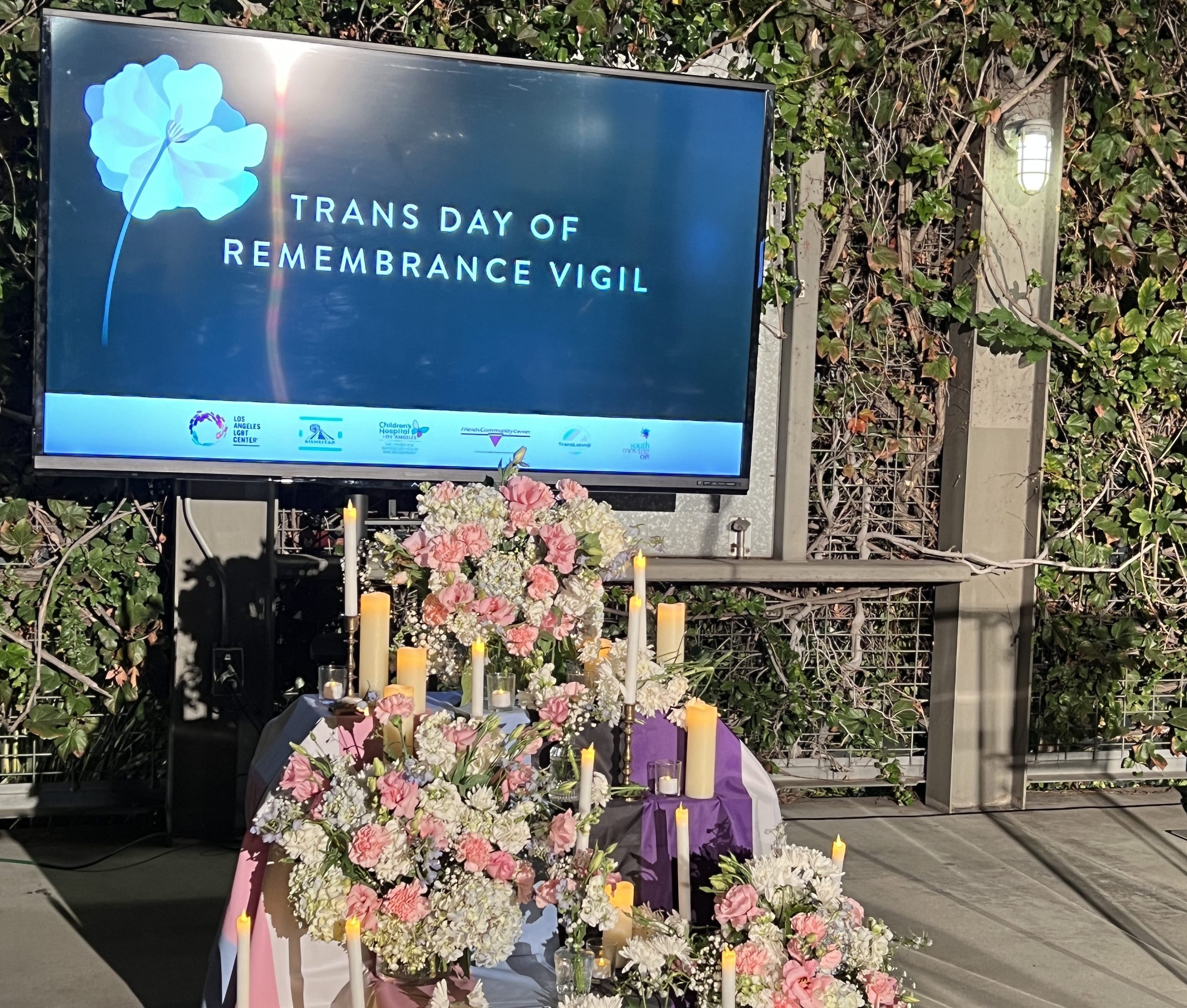 HOLLYWOOD – A Trans Remembrance Vigil was held at the Los Angeles LGBT Center on Monday, November 21st.
Candles and white, pink, and lavender flowers mounted on tiers draped by a trans flag adorned the center stage. A large monitor served as the focal point of the evening above the memorial display.
The Trans Chorus of Los Angeles started the ceremony with an acapella performance. Following the song of hope and redemption, opening remarks were given at the pulpit by the Anti-violence project manager for the LGBT center, Mariana Morroquin, and representatives from the Trans Wellness Center, Bienstar Human Services, Children's Hospital of Los Angeles, Friends Community Center, APAIT, and [email protected]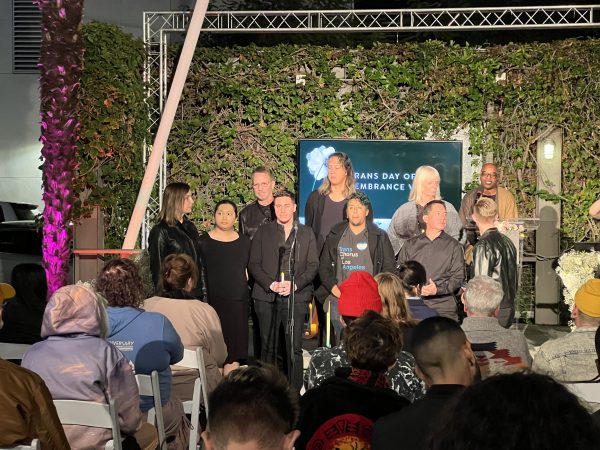 "I think it is very important to acknowledge our partners," said Morroquin, somberly addressing the seated audience of about one hundred and fifty. "We know that hate is real. A lot of us have seen hate pretty close. We are very grateful to have you. We open our arms to receive your love and your support. The way we support each other is by providing jobs, providing spaces for us, and providing opportunities. Because hate is out there. We need this space. We need to welcome everyone. I want you to keep that in your heart. And tomorrow, when we get back to work, let us open our hearts and our minds. Don't make decisions for us. Invite us to those tables. We know what we need. We've been doing this forever. We are going to keep fighting because this is what we do." 
She then added, "We refuse to let violence rob us of the possibility to gather, to love each other, and to dream together in solidarity. We gather because we must remember what is worth fighting for. For now, we commemorate. We tell the stories of the ones we lost. For tonight, that will be enough." 
One by one, members of the audience approached the pulpit to read the names and stories of a multitude of trans people whose deaths were the tragic result of hate crimes. The photos, names, and ages of the victims were displayed on the center-stage monitor.
"My name is Nikai David," said one speaker, the photo of a pale, curly-haired young lady displayed behind them. "I am a model and social media influencer who aspired one day to own my own clothing boutique. I had just celebrated my birthday a week before I was shot in Oakland California, on December 4th, 202. I was thirty-three years old."
Stories of these deaths included shootings by assailants, police, and family members, brutal beatings, and stabbings. The bodies of these victims were found in their homes, in garbage cans, and on streets where they were left, still dying, among other locations.
The final name read was Daniel David Aston, who died in the recent Club Q mass shooting.  This year, TDOR came on the heels of the senseless massacre in Colorado Springs that left five members of the LGBTQ+ community dead and 25 injured. 
Reverend Valerie Spencer gave an impassioned closing speech, first inviting the audience to take several deep breaths in unison.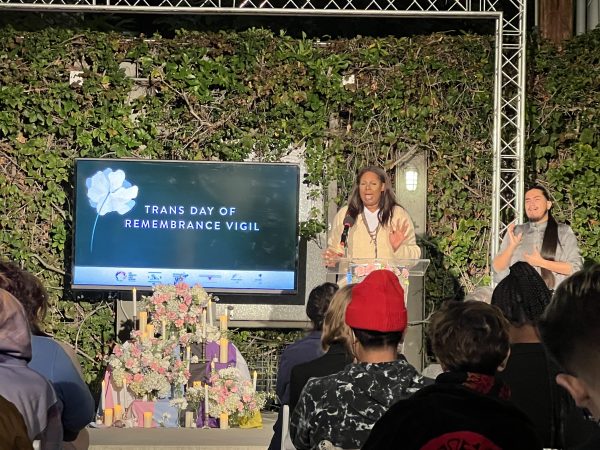 "We will mourn our family, our siblings," said Reverend Spencer, "but we are not having our primary focus on the violent conclusion of their life. We are choosing to see them and know them and celebrate them in the full context of their living. For they were fierce and powerful people."