"Our flag is Blue & Yellow;" LGBTQ+ Ukrainians on Russian aggression
Several Ukrainian LGBTQ+ activists characterized the crisis bluntly as 'hashtag Biden's War' and they will defend their homeland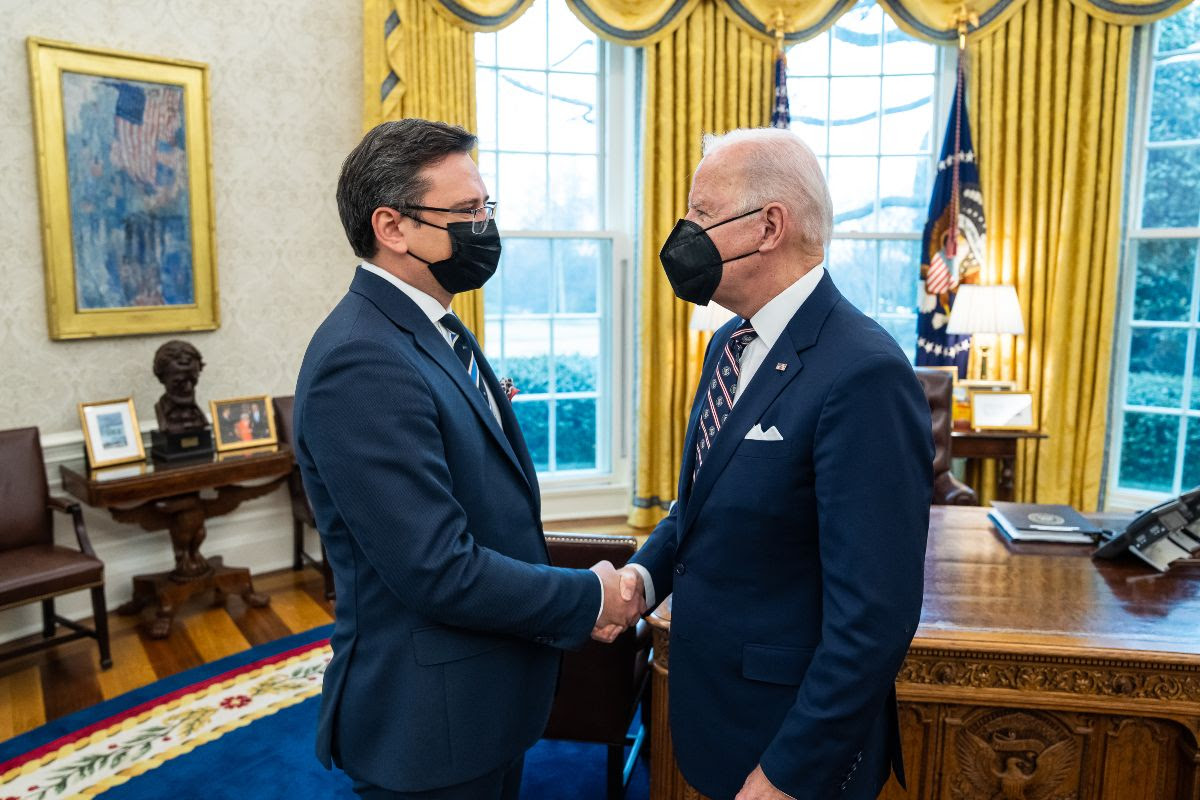 KYIV – As Western efforts to defuse the crisis in Ukraine over the naked aggressive military moves taken by Russian President Vladimir Putin intensify, Ukrainian President Volodymyr Zelensky announced Tuesday night that he was calling up the country's military reservists after the Russian Parliament signed off on approving Putin's decision to send combat troops into Eastern Ukraine.
Western media and governments, particularly the United States and its NATO partners, have painted a grim picture of the state of affairs along Ukraine's borders with President Joe Biden declaring in a White House East Room press conference Tuesday that the U.S. would impose immediate sanctions after Putin ordered Russian troops deployed across the frontier.
Speaking with reporters afterwards, a senior administration official said; "Russia's long-previewed invasion of Ukraine has now begun, and our response has also begun. Today, we responded swiftly and in a united fashion with our Allies and partners. The speed and coordination of the response was historic. We announced our first tranche of sanctions in less than a day with Allies and partners from the European Union, from the United Kingdom, Canada, Japan, and Australia."
The official added, "And let me be totally clear: No Russian financial institution is safe if this invasion proceeds. We are ready to press a button to take further action on the very largest Russian financial institutions, including Sperbank and VTB, which collectively hold almost $750 billion in assets — or more than half the total in Russia as a whole.
Third, together with our Allies, we've also cut off the Russian government, the Russian Central Bank, and its sovereign wealth funds from U.S. financing. Europe has taken a very similar measure. That means the Kremlin can no longer raise money from the U.S. and Europe, and its new debt can no longer trade in U.S. or European markets."
A spokesperson for Ukraine's National Security and Defense Council said that in addition to calling up reservists, Ukrainian President Zelensky will also enact a 30-day state of emergency which would impose curfews and restrict mass gatherings in certain regions and cities to include the second largest city in the country, Kharkiv, which lies 42 km (26 miles) from the Russian border in Eastern Ukraine, "if necessary."
Human rights activists and Western governments are also alarmed at the prospects of a Russian invasion. In a letter sent this week to the United Nations Office of the High Commissioner for Human Rights in Geneva, Switzerland, Ambassador Bathsheba Nell Crocker, the U.S. Representative to the Office of the United Nations and Other International Organizations in Geneva wrote, in part:
"I would like to bring to your attention disturbing information recently obtained by the United States that indicates that human rights violations and abuses in the aftermath of a further invasion are being planned.
"These acts, which in past Russian operations have included targeted killings, kidnappings/forced disappearances, unjust detentions, and the use of torture, would likely target those who oppose Russian actions, including Russian and Belarusian dissidents in exile in Ukraine, journalists and anti-corruption activists, and vulnerable populations such as religious and ethnic minorities and LGBTQI+ persons."
Americans officials have stated that the Russian governmental security and intelligence agencies have come up with "kill lists" of Ukrainians to be killed or detained as indicated in Ambassador Crocker's letter.
A spokesperson for the office of the Director of Information and Press Department of Ministry of Foreign Affairs of the Russian Federation, Maria Vladimirovna Zakharova, denied these claims in a phone call with the Blade, labeling it propaganda Tuesday.
The majority of Ukrainians seem nonplussed at Western reaction to what they are terming "Biden's war." However, many of the LGBTQ+ activists are not phased by the claims alleged in the Ambassador's letter and are prepared to defend their homeland, some of them also disputing that they would be facing arrest and 'mortal danger.'
Taras Karasiichuk, a leader of the Ukrainian LGBTQ community in Kyiv, spoke with the Blade by phone Monday. Karasiichuk, in 2012 had been viciously attacked by anti-LGBTQ+ Ukrainians opposed to his efforts as an activist for LGBTQ rights organization Gay Alliance Ukraine and also as the head of the Kiev Pride 2012 organizing committee. He had granted an interview to the Daily Beast in 2015 after unrelenting attacks and death threats caused him to flee to the United States seeking asylum.
"Right now I don't see any possibility to come back because of security—all the threats we get because of our international campaign," he said. "We get threats sent to our LGBT rights website, promises to punish us with Kalashnikovs. It's difficult to say if they are really serious about the threats but after all the times I've been attacked I can't really be sure.
"I also get threats on social networks. My colleagues and I at the rights organization will even get threats sent to our personal cell phone. And on June 19 there was an attempt to attack me on my way home from the office—it was around 7 pm and I had to call a taxi and leave quickly," Karasiichuk said to the Daily Beast at the time.
He later returned to Ukraine after spending a few years in the U.S., returning to an active role in LGBTQ+ advocacy to push for greater equity and rights for his fellow LGBTQ+ citizens.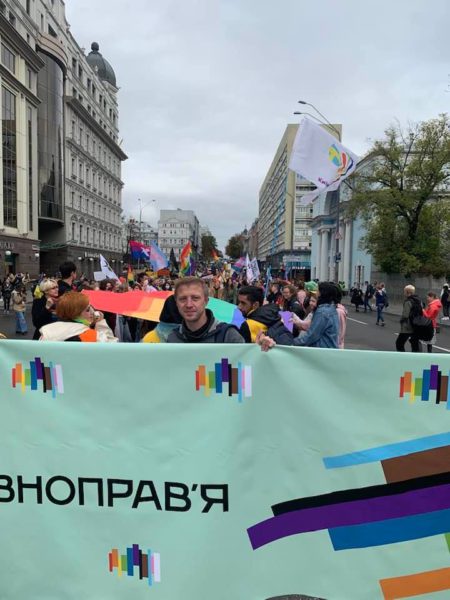 In Monday's phone call with the Blade, Karasiichuk strongly emphasized that there was no fear among the LGBTQ+ community in fact far from that. He said that he and every other LGBTQ+ Ukrainian would defend their homeland, their cities, and that they would support the armed forces.
Like many of his fellow citizens that the Blade spoke with, he execrated the Western response to the Russian actions, characterizing it as hyperbolic interference without merit. Several other Ukrainian LGBTQ+ activists put it more bluntly as 'hashtag Biden's War.' Karasiichuk said that Western people were not well informed as to the reality of life in Ukraine and especially in regards to the LGBTQ+ community in the country "should not impose their ideas of values."
Another LGBTQ+ activist living in Poltava, a city in central Ukraine- which is also the capital city of the Poltava Oblast (province), who asked that he and his partner only be identified by their first names, told the Blade over this past weekend that the strength of his culture and country would defend against any Russian aggression.
Sergeii told the Blade that he and his partner Mykhailo felt safe and would defend their home, their city and their fellow Ukrainians. "Our flag is Blue and Yellow- not divided into many colors in this example," he said. "We are all united in this effort. If we need fight then we will fight."
His partner Mykhailo said that one only needed to see the progress LGBTQ+ people are making in Ukraine. "We showed strength as in September, over 6,000 people gathered to Kyiv for the March for Equality. This is our message."
"This is made-up crisis- Biden's and Putin's wanting to finish the situation in Donbas," Sergeii said referring to the ongoing war in Eastern Ukraine by Russian-backed separatists. "Everyone needs peace, to be peaceful in this manner and not provoke more fear- but still be willing to defend our homes," he added.
Russian separatist forces of Donbas are the military formations affiliated with the pro-Russian breakaway regions in Ukraine called the Donetsk People's Republic and Luhansk People's Republic which Putin has now officially recognized. Those forces are designated as terrorist groups by the government of Ukrainian President Zelensky.
Mykhailo pointed out that a vast majority of Ukrainian families were made of both Russian and Ukrainian parents or heritage but that above all was loyalty to Ukraine.
While there is a sense of anxiety among the Ukrainian LGBTQ+ community there is also quiet unified determination to defend the nation. Almost all also expressed hope that the NATO partners and others would find a peaceful solution to the crisis but without a continuing sense of exaggerated claims and allegations that would further inflame tensions.
Late Wednesday, the Kyiv Post reported that President of Ukraine Volodymyr Zelensky, President of Poland Andrzej Duda, and President of Lithuania Gitanas Nausėda have signed a joint statement calling upon the international community to take resolute and far-reaching steps in response to yet another act of aggression committed by Russia against the sovereignty and territorial integrity of Ukraine.
"The Presidents of Lithuania and Poland stand by Ukraine and fully commend and support its efforts to solve Russian-Ukrainian conflict by diplomatic and peaceful means. Ukraine deserves our strongest support of its European and Euro-Atlantic aspirations, which goes in line with the free will and choice of the Ukrainian nation," reads the statement.
Huge show of support for Slovak LGBTQ+ people after murders
"Certain people are responsible for this tragedy. They are intensively & increasingly inciting spreading hatred towards the LGBTI community"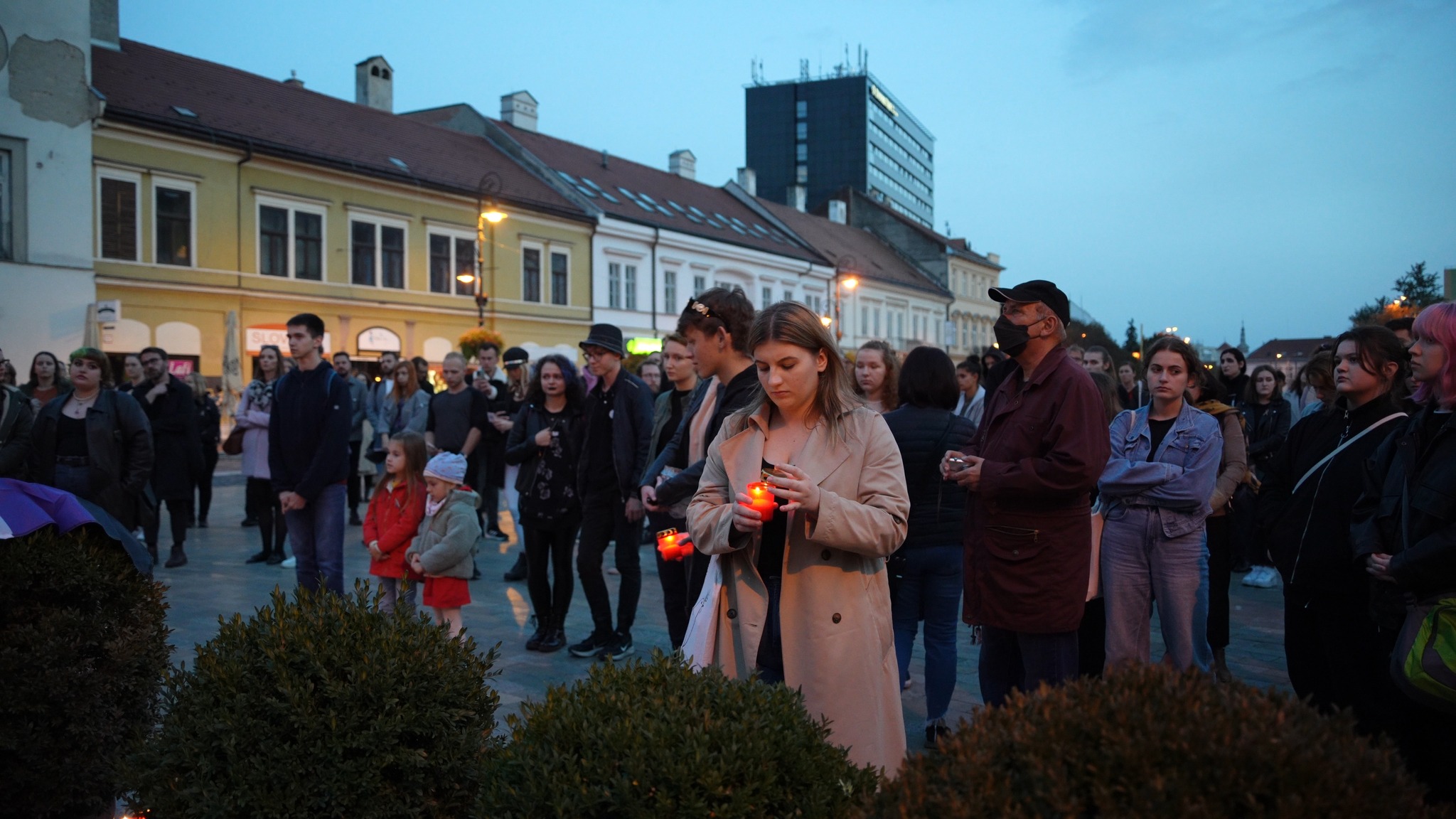 BRATISLAVA, Slovakia – A vigil held Friday evening in the Slovakian capital city to honor the two victims killed and a third who was badly wounded in a Wednesday night shooting outside of the Tepláreň bar, a popular LGBTQ+ establishment in the old city, was also attended by the nation's president and the European Parliament's Vice-President.
Organized by the Initiative Inakosť (Iniciatíva Inakosť), a LGBTQ+ non-governmental agency, there were an estimated 20,000 plus people gathered according to officials. The murders shook the tight-knit Slovakian LGBTQ+ community and its allies. Slovakia is a fairly conservative European Union member country where same-sex marriage is not legal.
A spokesperson for the Polícia Slovenskej republiky, the country's national police force, said that his agency has classified the shootings as premeditated murder, motivated by hatred of a sexual minority.
19-year-old Juraj Krajcik, the son of a prominent member of the far-right extremist Vlast party, a radicalised student from Bratislava, had left social media posts filled with anti-Semitic and anti-LGBTQ+ messages including a so called 'manifesto' which the gunman had posted prior to the rampage.
Krajcik, who had an online history of hate-filled rhetoric had posted a picture of himself outside the Tepláreň bar this past August along with other writings and posts that led Polícia Slovenskej republiky investigators to conclude that the crime was planned.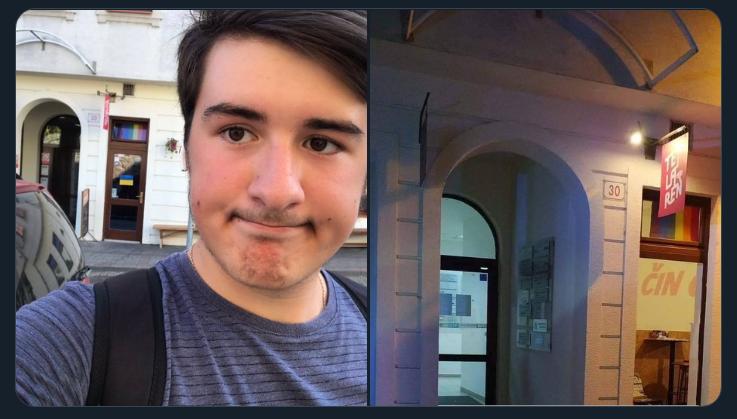 According to Polícia Slovenskej republiky, the gunman was outside of the bar for nearly an hour before opening fire at around 7 p.m. local time. Investigators said multiple rounds were fired but did not disclose the number nor the weapon used. Police say he was found dead from a self-inflicted gunshot.
During the vigil for the shooting victims, Slovak President Zuzana Caputova told the crowd, "I'm sorry that our society was not able to protect your loved ones," adding, "You belong here, you are valuable for our society."
BBC Europe reported that European Parliament Vice-President Michal Simecka was also at Friday's event. Simecka expressed his determination to have the European legislature discuss the murders during a session next week.
"To express our sympathy, but also to call on the Slovak authorities to take clear steps to put an end to the language of hatred towards LGBTI people," he said.
In addition to political leadership at Friday evening's vigil, Elena Martinčoková (Eleny Martinčokovej) the president of the Association of Parents and Friends of LGBTI+ people spoke expressing her grief and anger towards the environment in the country that fostered far-right hate.
In a Facebook post published by Košice PRIDE, she told the crowd;
"I'm going through a lot of pain. Since I heard about this tragedy, I'm in spirit with the parents of the murdered children. They were adults, but they were mainly children, grandchildren, cousins, friends, colleagues who will be greatly missed and the wound and pain the survivors will feel will never heal.
Many tragedies affect us in life, some of them cannot be prevented. Yes to some of them. And this is exactly the one that could have been prevented. Long-term and intensively spreading and inciting hatred towards LGBT+ people in our public space. It is hatred that blinds people, prevents them from thinking sober.
Certain people are responsible for this tragedy. They are the ones who are intensively and increasingly inciting and spreading hatred towards the LGBTI community. They are all over the place. In the National Council of Slovakia, in government, among many church representatives, in extremist groups, among disinformation spreaders and those who do not have credible information, or when they have it, they do not understand them or do not want to understand. I hope this tragedy will not leave the public indifferent. We must act, we must act now. We will not be quiet. We are not going to be intimidated."
Video via România liberă, a Romanian daily newspaper founded in 1943 and currently based in Bucharest: