Russian president says military commenced operations in Ukraine
The Ukrainian Interior Ministry alerted reporters that missile strikes have been launched against command and control centers
KYIV – Explosions were heard in the Ukrainian capital city of Kyiv early Thursday morning after Russian President Vladimir Putin announced on Russian state television and media outlets that he has ordered his military to commence operations in Eastern Ukraine.
In his address, Putin warned other countries to stay out of the conflict or risk "consequences they have never seen." In the apparent warning directed to the United States and NATO, the Russian president said; "A couple of words for those who would be tempted to intervene. Russia will respond immediately and you will have consequences that you never have had before in your history."
Journalists from multiple media outlets reported that the Ukrainian Interior Ministry alerted them that missile strikes had been launched against command and control centers that are located in the Ukrainian capital.
A Ukrainian government spokesperson confirmed that "cruise and ballistic missile strikes are underway at the control centers" in Kyiv.
Reuters reported that in comments reported by Russian media, Putin said he had authorised a special military operation in breakaway areas of eastern Ukraine and clashes between Russian and Ukrainian forces were only a matter of time.
Hours after pro-Russian separatists issued a plea to Moscow for help to stop alleged Ukrainian aggression – claims the United States dismissed as Russian propaganda – Putin said he had ordered Russian forces to protect the people and demanded Ukrainian forces lay down their arms.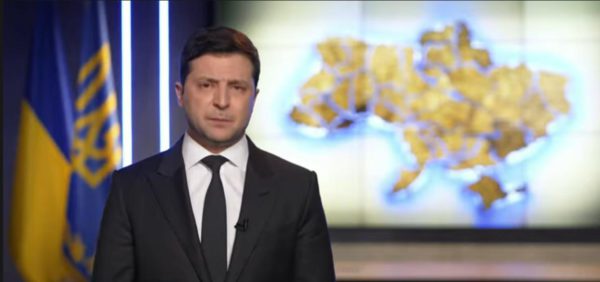 "Circumstances require us to take decisive and immediate action," Putin said, according to a RIA-Novosti transcript. "The People's Republics of Donbas turned to Russia with a request for help. In this regard, in accordance with Article 51, part 7 of the UN Charter, with the sanction of the Federation Council and in pursuance of the friendship treaties ratified by the Federal Assembly and mutual assistance with the DPR and LPR, I have decided to conduct a special military operation," the Russian President said.
Ukrainian President Zelensky is convening his security council to announce martial law nationwide as the missile strikes continue to hit targets across the nation.
In New York, the United Nations Security Council met in a late-night emergency session to address the Russian military action.
"We are here tonight because we believe, along with Ukraine, that a full-scale, further invasion into Ukraine by Russia is imminent," U.S. Ambassador to the United Nations, Linda Thomas-Greenfield, told the emergency meeting.
"Tonight we're seeing the Russians close airspace, move troops into Donbas, and move forces into combat-ready positions. This is a perilous moment," she added.
From the White House, President Joe Biden tweeted his support of the Ukrainian nation and warned that Russia will be held accountable.
Russia alone is responsible for the death and destruction this attack will bring, and the United States and its Allies and partners will respond in a united and decisive way.

The world will hold Russia accountable.

— President Biden (@POTUS) February 24, 2022
The prayers of the world are with the people of Ukraine tonight as they suffer an unprovoked and unjustified attack by Russian military forces. President Putin has chosen a premeditated war that will bring a catastrophic loss of life and human suffering. https://t.co/Q7eUJ0CG3k

— President Biden (@POTUS) February 24, 2022
A White House official told reporters late Wednesday, "As the President's statement said, tomorrow in the early afternoon, President Biden will deliver remarks announcing the further consequences the United States and our Allies and partners will impose on Russia for its unprovoked and unjustified attack on Ukraine."
The White House also issued a statement by President Joe Biden on his phone call with President Volodymyr Zelenskyy of Ukraine early Thursday morning:
"President Zelenskyy reached out to me tonight and we just finished speaking. I condemned this unprovoked and unjustified attack by Russian military forces. I briefed him on the steps we are taking to rally international condemnation, including tonight at the United Nations Security Council. He asked me to call on the leaders of the world to speak out clearly against President Putin's flagrant aggression, and to stand with the people of Ukraine. Tomorrow, I will be meeting with the Leaders of the G7, and the United States and our Allies and partners will be imposing severe sanctions on Russia. We will continue to provide support and assistance to Ukraine and the Ukrainian people."
@POTUS was briefed on a secure call this evening by Secretary Blinken, Secretary Austin, Chairman Milley and National Security Advisor Jake Sullivan about the ongoing attack on Ukraine by Russian military forces.

— Jen Psaki (@PressSec) February 24, 2022
In New York the spokesperson for the United Nations tweeted:
.@antonioguterres tells journalists: today is the saddest moment in my tenure as Secretary-General of the United Nations.#Ukraine pic.twitter.com/9yEzIuB9rq

— UN Spokesperson (@UN_Spokesperson) February 24, 2022
The Prime Minister of the United Kingdom tweeted his support:
I am appalled by the horrific events in Ukraine and I have spoken to President Zelenskyy to discuss next steps.

President Putin has chosen a path of bloodshed and destruction by launching this unprovoked attack on Ukraine.

The UK and our allies will respond decisively.

— Boris Johnson (@BorisJohnson) February 24, 2022
The head of the EU also weighed in:
We strongly condemn Russia´s unjustified attack on Ukraine.

In these dark hours, our thoughts are with Ukraine and the innocent women, men and children as they face this unprovoked attack and fear for their lives.

We will hold the Kremlin accountable.

— Ursula von der Leyen (@vonderleyen) February 24, 2022
Ukraine president backs civil partnerships law
Volodymyr Zelenskky responded to Kyiv Pride petition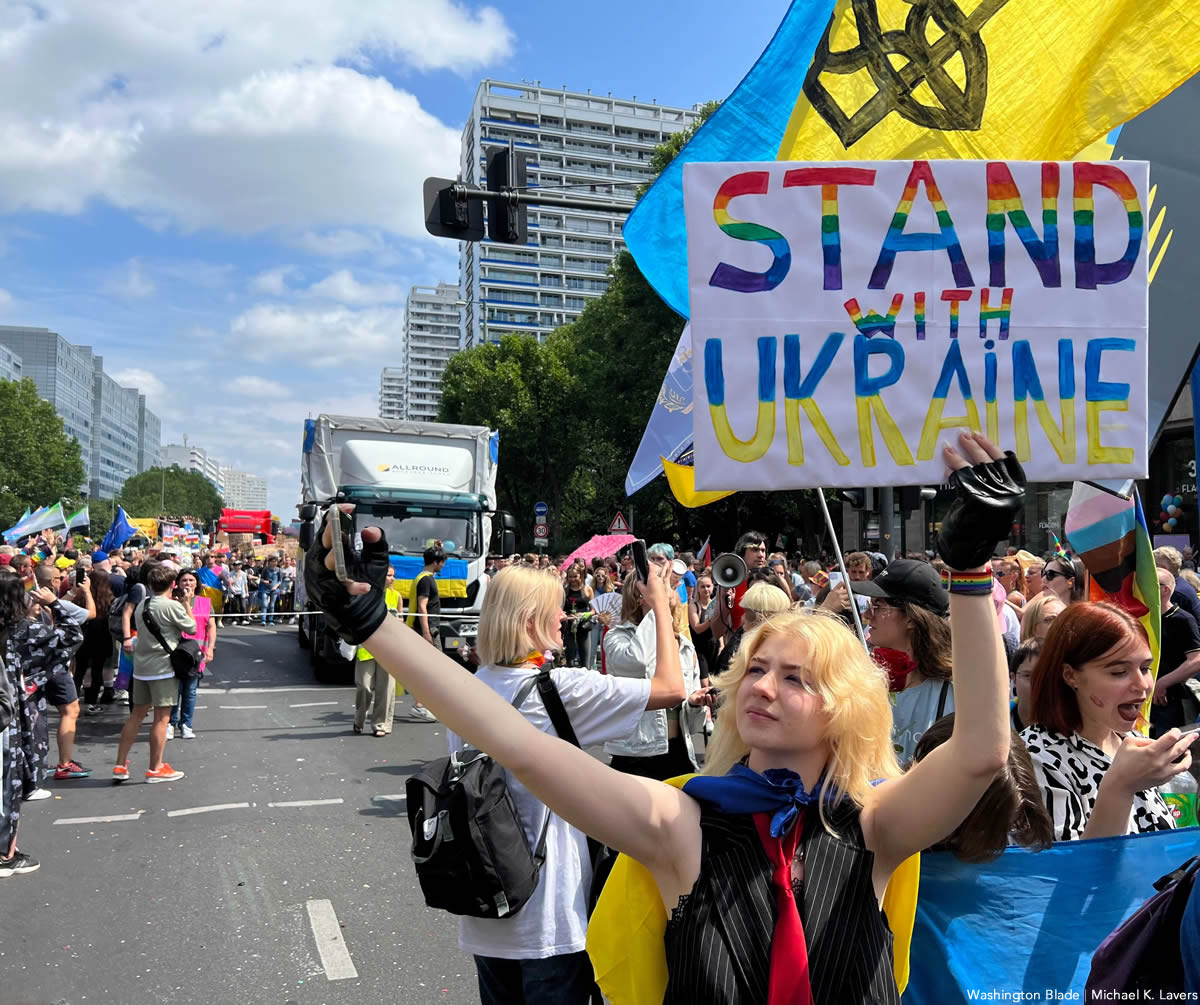 KYIV, Ukraine — Ukrainian President Volodymyr Zelenskky on Tuesday said he supports a civil partnership law for same-sex couples.
Kyiv Pride backed a marriage equality petition that was submitted to Volodymyr Zelenskky on July 12 with more than 28,000 signatures, which is higher than the legal threshold that requires him to consider it. 
Zelenskky in his response to the petition notes his support for marriage equality, but acknowledges the Ukrainian constitution defines marriage as between a man and a woman and it cannot be amended while the country is under martial law. Zelenskky on Tuesday nevertheless directed his government to submit a report on whether same-sex couples can enter into civil partnerships through the country's existing legal framework or a bill that would go through Parliament.
"I appealed to the prime minister of Ukraine with a request to consider the issue raised in the electronic petition and report about the relevant results," said Zelenskky.
Zelenskyy last year pledged his country would continue to fight discrimination based on sexual orientation and gender identity after he met with President Joe Biden at the White House.
Anastasiia Baraniuk and Yulia Mulyukina, a lesbian couple who once lived in the Ukrainian city of Dniper, are among the millions of people who have fled the country since Russia began its war on Feb. 24. Baraniuk and Mulyukina last month told the Washington Blade in Berlin the fact that they are unable to legally prove they are in a relationship has prevented them from asking for asylum in the U.S. and Canada because the countries' immigration systems are based on whether they are married or "common-law partners" respectively.
"Right now we are looking for a way to get the proof that we are a couple," said Baraniuk. "We don't want to stay in Berlin."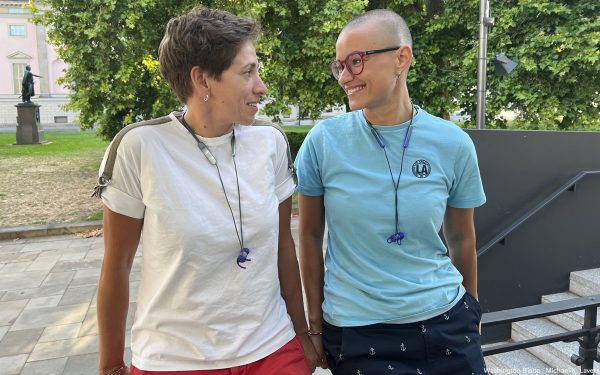 Kyiv Pride on Tuesday welcomed Zelenskyy's announcement.
"Congratulations to the community, the Pride movement," tweeted Kyiv Pride. "Thank you to the authorities."
ОДНОСТАТЕВИМ ПАРТНЕРСТВАМ В УКРАЇНІ – ТАК! Zelenskyy said yes to same-sex partnerships!

Офіс Президента відповів на петицію: планується розробити законопроєкт щодо реєстрових партнерств для ЛГБТ+ пар в Україні!

Вітаємо спільноту, прайд-рух та дякуємо владі! 🌈 pic.twitter.com/cZEmmSsIUU

— KyivPride (@KyivPride) August 2, 2022
Maksym Eristavi, who chairs Kyiv Pride's board of directors, desribed Zelenskyy's announcement as "historic."
in a historic move president zelenskyy has just promised queer ukrainians to put forward a civil partnerships law with an open road to marriage equality after the martial law ends

— maksym.eristavi 🇺🇦🏳️🌈 (@maksymeristavi) August 2, 2022
LGBTQ+ pride parade in Bucharest draws ten thousand plus people
Dancing & waving rainbow, trans, and progress flags, participants protested proposed legislation that would ban future Pride gatherings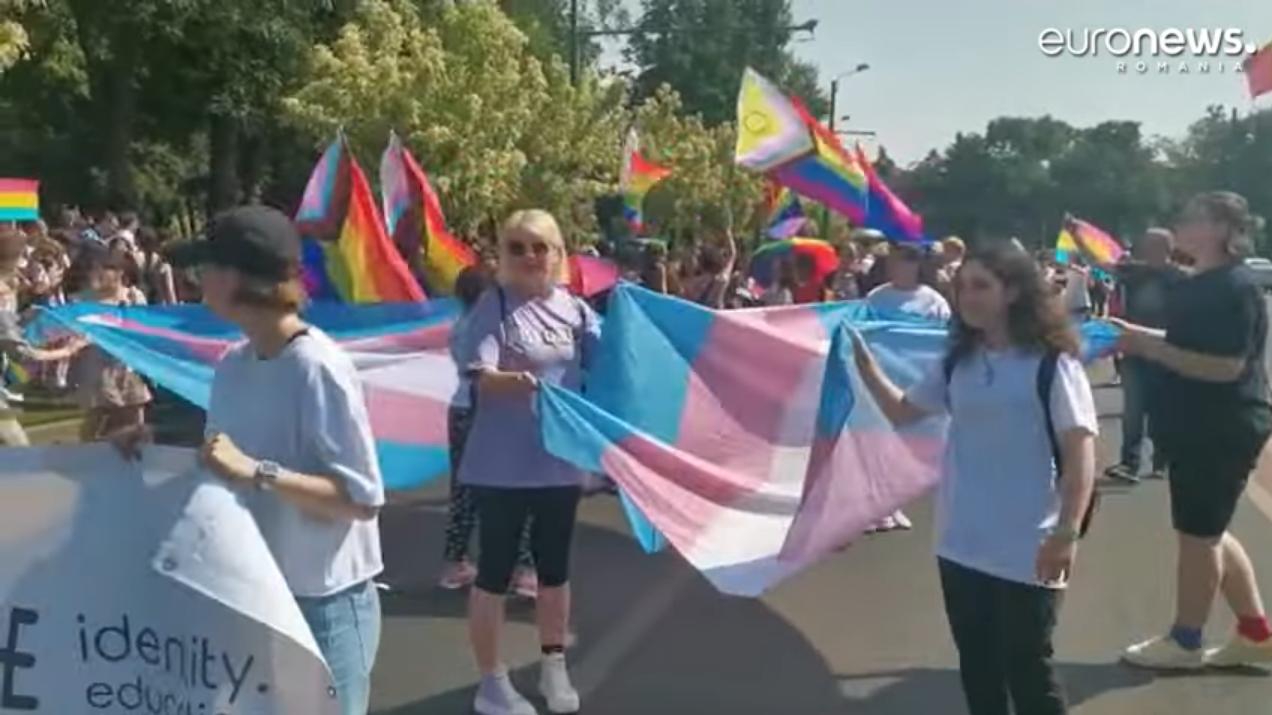 BUCHAREST, Romania – Supporters and activists of the LGBTQ+ movement numbering an estimated ten thousand people took part in Bucharest Pride 2022, marching along Calea Victoriei to Izvor Park in the city's center Saturday afternoon into evening.
Pride was organised by ACCEPT, the non-governmental human rights organization in Romania that defends and promotes LGBTQ+ rights.
Dancing and waving rainbow, trans, and LGBTQ+ progress flags, participants protested proposed legislation in the Parliament of Romania that could potentially endanger future LGBTQ+ Pride parades and foster further anti-LGBTQ+ discrimination.
A bill already approved by one body of lawmakers in Parliament would bans so-called "gay propaganda" in schools, mirroring similar legislation in Hungary and Russia.
EURONEWS Romania: Bucureștiul, scena a două marșuri, Bucharest Pride și "Marșul pentru normalitate":
Gay Lithuanian MP sharply criticizes Russia
Tomas Vytautas Raskevičius elected to Seimas in 2020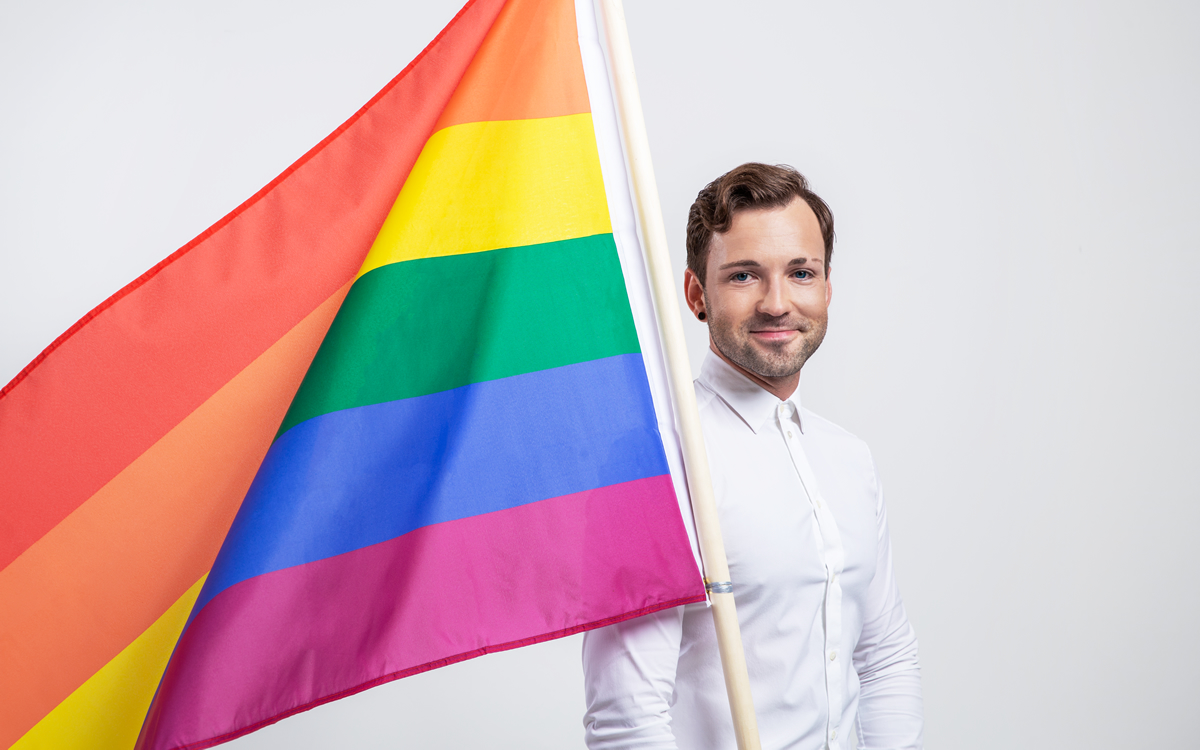 VILNIUS, Lithuania — A gay man who is a member of the Lithuanian Parliament last week said his country could be Russia's next target.
"Historically after independence in the early 90s, Lithuania was very critical and fearful of its attitudes towards its neighbors," MP Tomas Vytautas Raskevičius told the Washington Blade on April 28 during a telephone interview from Vilnius, the country's capital, in reference to Russia. "The current events in Ukraine simply prove that we were right."
"We have to understand very clearly that Russia is using not only military force, not only its gas and oil, but it is also using its soft powers," added Raskevičius. "These soft powers are certain, specific world views which Russia tries to impose to its neighboring countries and those ideas are usually anti-human rights and anti-liberal democracy, so they are portraying human rights and liberal democracy as a threat, rather as a benefit to the society."
Raskevičius further stressed that LGBTQ+ rights are "part of this Russia propaganda campaign."
"They're portraying the West as being rotten, plagued with abominations," he said.
Lithuania borders the Russian enclave of Kaliningrad, Latvia, Belarus, Poland and the Baltic Sea. The country declared its independence from the Soviet Union in 1990, a year before it dissolved.
Raskevičius, 33, is a member of the liberal Freedom Party.
He worked for what is now called the Brooklyn Community Pride Center in New York and the Lithuanian Gay League, among other NGOs, before his election to the Vilnius City Council in 2019. Raskevičius in 2020 won a seat in the Lithuanian Parliament, which is known as the Seimas.
Raskevičius noted he is the second openly gay person elected to the Seimas, but the "first one" with a "pro-LGBT human rights agenda." Raskevičius currently chairs the Seimas' Human Rights Committee.
Russian, Belarusian LGBTQ+ groups relocate to Lithuania
Raskevičius said more than 50,000 Ukrainians have sought refuge in Lithuania since Russia invaded their country in February.
He told the Blade he knows of "isolated incidents" of LGBTQ+ Ukrainians in the country, noting that "LGBT people went to more open or progressive places than Lithuania." Raskevičius said LGBTQ+ organizations are among the NGOs from Russia and Belarus that have relocated to Lithuania after their governments cracked down on them.
"Our local community demonstrates quite a high level of solidarity," he said. "This is what the struggle for freedom is all about. It's not only about physical security, but also security from Russian propaganda or soft power."
Raskevičius also called for continued military cooperation and more economic sanctions against Russia.
"What is really important is not to get used to the war," he said. "It has already been more than 60 days and you know people are getting used to seeing the terrible things on their TV and it becomes routine … we should be very mindful that we push harder because if Ukraine doesn't win, we become the next one in the line."
Raskevičius added Lithuania places "a lot of trust in our security partners, including the United States and NATO."
"I wouldn't say there is panic or any kind of that stuff, but it's very close," he said. "(Ukraine is) less than 1,000 km (621 miles) away and we have quite a nasty history with the Soviet Union and Russia, so we know what it's all about it."
Raskevičius sponsor of civil partnerships bill
Lithuania bans discrimination based on sexual orientation
The country on Sunday officially lifted restrictions for male blood donors who have sex with men, but opposition to LGBTQ+ rights remains strong. Raskevičius noted Lithuania is one of only six European Union member states that do not legally recognize same-sex couples.
He has introduced a bill that would allow same-sex couples to enter into civil partnerships.
LGBTQ rights opponents who Raskevičius said have "documented ties" to Russia in 2021 launched a petition to remove him as chair of the Seimas' Human Rights Committee "because apparently a person who is gay cannot chair the committee who is in charge of all human rights." Recall supporters claimed more than 300,000 people signed the petition, but Raskevičius noted journalists discovered the vast majority of them were fake.
Raskevičius told the Blade that opposition to the civil partnership bill was the "pretext" behind the petition. He acknowledged the ongoing debate over whether lawmakers should consider the measure "with war in our neighborhood," but he stressed "it's the best time to do so."
"We have to choose whether we want to belong to the sphere of influence coming from the East, or we want to move into the West," said Raskevičius.
Raskevičius' son is 2 1/2. He told the Blade that fatherhood has shaped his work in support of LGBTQ+ rights and human rights.
"For a very long time LGBT people were not visible in Lithuania," said Raskevičius. "LGBT parents was another level of invisibility. These people exist, but they don't publicly share their experiences because they are concerned about the well-being of their kids."
"Me and other parents involved in my child's upbringing made the conscious decision to talk about our experiences publicly," he added. "We want to encourage people they are not alone."
The European Court of Human Rights last month heard a challenge to Lithuania's so-called "gay propaganda law" that specifically bans the distribution of information to minors that "expresses contempt for family values, encourages the concept of entry into a marriage and creation of a family other than stipulated in the Constitution of the republic of Lithuania and the Civil Code of the republic of Lithuania."
Author Neringa Dangvydė Macatė in 2019 filed a lawsuit against the law after Lithuanian authorities censured her children's book that featured two same-sex couples. Bob Gilchrist, the openly gay U.S. ambassador to Lithuania, is among those who have publicly criticized the statute.
"Our law is also framed in terms of protecting minors from the detrimental kinds of public information and defines information about LGBT relationships as potentially detrimental," noted Raskevičius. "Based on that legislation, public authorities could censor public information."
Raskevičius during the interview also praised the U.S. Embassy and Gilchrist himself for their support of LGBTQ+ rights in Lithuania.
"The current ambassador demonstrates not only the embassy's leadership, but he's demonstrating personal leadership," said Raskevičius. "He's very open about who he is and he's not afraid to speak his mind."
Raskevičius noted Gilchrist attends public events and speaks about LGBTQ+ rights on Lithuanian television.
"It's a very powerful message because we see the United States as a strategic ally," said Raskevičius. "They would not only defend our territory, but also defend the same values and regarding that, anti homophobic sentiments should have no place."
Amb. Gilchrist: Proud to speak at today's conference at Lithuania's Ministry of Justice with @LGLLithuania and stand up for LGBTQI+ rights. Equal treatment and dignity are American values. pic.twitter.com/SggA2leSOb

— U.S. Embassy Vilnius (@USEmbVilnius) September 29, 2021
🏳️🌈Happy Kaunas Pride!🏳️🌈 We stand w/ 🇱🇹 LGBTQI+ community. All people, no matter who they are/whom they love, deserve = treatment, a life free of fear + recognition of their inherent dignity. Thx to organizers + police for today!#KaunasPride #KaunasPride2021 #USinLT #LoveIsLove pic.twitter.com/RI0uhfg1Ls

— U.S. Embassy Vilnius (@USEmbVilnius) September 4, 2021
Amb. Gilchrist was happy to meet the representatives of Lithuania's Diversity Charter for a lunch discussion on how to promote diversity, equity, and inclusion in the public and private sector in Lithuania and how the Embassy could help support such initiatives. pic.twitter.com/4RxpkoeDIG

— U.S. Embassy Vilnius (@USEmbVilnius) June 23, 2021