'Don't Say Gay' bill passes Florida House
"If signed into law, these bills will have disastrous impacts on classrooms and workplaces-They will turn Florida into a surveillance state"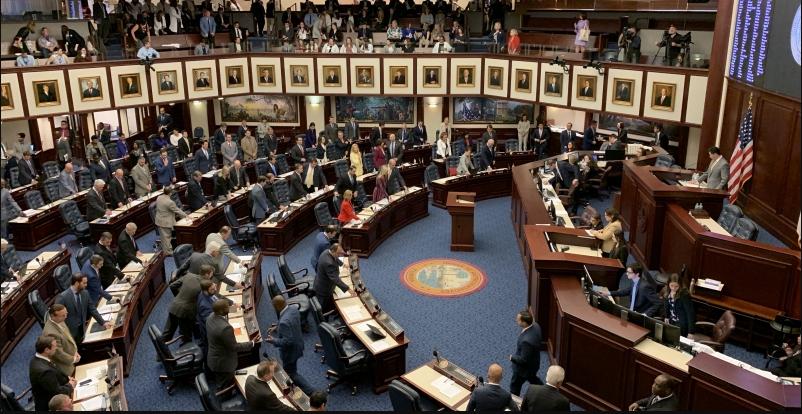 TALLAHASSEE, Fl. – The Republican-controlled Florida House Of Representatives Thursday passed a piece of legislation colloquially referred to as the "Don't Say Gay" bill, which would ban classroom discussions of LGBTQ+ issues.
H.B. 1557, titled Parental Rights in Education bill, now heads to the GOP-controlled Senate, where it is expected to pass. After the Senate, it would head to the desk of Florida Republican Gov. Ron DeSantis, who has signaled support for the bill.
The House voted 69-47 in favor of the "Don't Say Gay" bill, with seven Republicans breaking from their party to vote against the legislation. One Democrat, state Rep. James Bush III, voted in favor of the bill. Bush did not immediately respond to the Blade's request for comment.
"This bill is so extreme that it inspired a rare rebellion within House GOP ranks as seven Republican lawmakers broke with leadership and opposed passage," said Nadine Smith, executive director of statewide LGBTQ+ group Equality Florida.
The measure, which has garnered national media attention and condemnation from the White House, would ban classroom discussions about sexual orientation and gender identity that are not "age-appropriate" in schools – though it is not clear what is considered "age-appropriate."
An earlier version of the legislation included an amendment that would effectively "out" LGBTQ+ students to their parents was abruptly withdrawn last week. The bill's author and chief sponsor, Rep. Joe Harding (R-22), called the "exaggeration and misrepresentation" in reporting about the amendment a "distraction."
Speaking to fellow lawmakers on the House floor Thursday, Harding said the bill is about "empowering parents" and improving the lives of children in the state.
"Creating boundaries at an early age of what is appropriate in our schools, when we are funding our schools, is not hate," he said. "It's actually providing boundaries, and it's fair to our teachers and our school districts to know what we expect."
Opponents also took to the floor in a final effort to convince lawmakers to vote "nay." Out Rep. Carlos Guillermo Smith told his colleagues that he symbolically wore a rainbow Pride ribbon upside down "as a symbol that LGBTQ community in Florida is in distress."
"We are in distress because this bill is yet another attack on our community," he said. "This bill goes way beyond the text on its page. It sends a terrible message to our youth that there is something so wrong, so inappropriate, so dangerous about this topic that we have to censor it from classroom instruction."
In addition to the "Don't Say Gay" bill, the Florida House also passed the "Stop WOKE Act" (H.B. 7), which would limit how race, color, sex and national origin can be discussed in schools and workplaces. Opponents warn it could "sensor" discussions about systemic racism and sexism.
The House's passage of both measures drew widespread condemnation from LGBTQ+ advocates and Democrats across the country.
"If signed into law, these bills will have disastrous impacts on classrooms and workplaces," Equality Florida said in a statement. "They will turn Florida into a surveillance state and give the government broad license to censor conversations about American history, the origins of racism and injustice, and the existence of LGBTQ people."
The Human Rights Campaign (HRC), the nation's largest LGBTQ+ organization, also criticized the "Don't Say Gay" bill's passage, saying it "further stigmatizing LGBTQ+ people and isolating LGBTQ+ kids."
"LGBTQ+ people proudly exist across Florida, whether politicians approve or not — and we are part of America's past, present and future. Refusing to acknowledge our existence doesn't change any of that," said Cathryn M. Oakley, state legislative director and senior counsel at the HRC, in a press release. "The 'Don't Say Gay or Trans' bill is a politically motivated, shameful effort to attack and endanger LGBTQ+ students. The Florida Senate must vote this discriminatory piece of legislation down."
Polling from the Public Opinion Research Lab (PORL) at the University of North Florida found 49% of Floridians oppose the legislation while 40% approve.
Two young House pages just approached me on the floor and discreetly thanked me for defending LGBTQ youth. One student told me they were in tears during my debate.

To all LGBTQ youth- we see you, you're loved and your lives are worth fighting for! #SayGay #PROTECTTRANSYOUTH 🏳️‍🌈🏳️‍⚧️ pic.twitter.com/SVoejYtvpp

— Rep. Carlos G Smith (@CarlosGSmith) February 24, 2022
Largest school district in Florida rejects LGBTQ+ history month
School security had to intervene when the crowd got rowdy after Mendez, 17, said she supported the recognition of LGBTQ History Month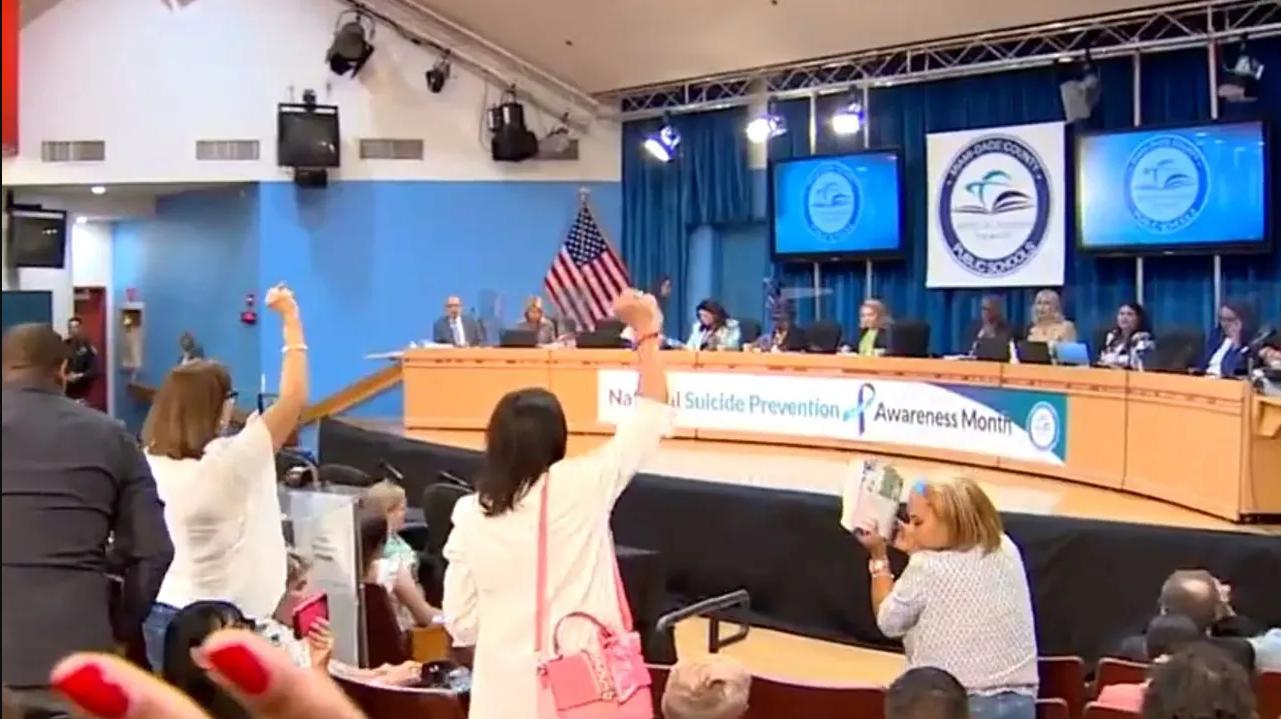 MIAMI – DADE COUNTY – The Miami Dade School Board rejected, by an 8-1 vote, a proclamation recognizing October as LGBTQ History Month in the district. This proclamation mirrored a nearly identical proclamation approved by the board with a 7-1 vote last year.
The board's lone non-voting student advisor Andrea S. Pita Mendez, told Miami ABC News affiliate WPLG that she was very scared during the meeting. School security had to intervene when the crowd got rowdy after Mendez, 17, said she supported the recognition of LGBTQ History Month after talking to her peers.
"Our students want this to pass," said Mendez.
School Board member Luisa Santos, who represents District 9, told WPLG ABC 10 News she was outraged by the way the adults who were in the room disrespected Mendez. Some of the adults booed the high school student who was attending the second meeting of her term.
The measure, introduced by Board Member Lucia Baez Geller, would have symbolically declared October LGBTQ History Month in Miami Dade County Public Schools and included a request to district staff to explore ways to support 12th grade civics teachers interested in including landmark Supreme Court cases on marriage equality and nondiscrimination in their course work.
During the public comments, many of the statements made were decidedly homophobic and transphobic with emphasis on religious freedoms and parental rights. Amid the mention of religion WPLG noted that MaryBeth Loretta, a clinician at The Alliance for LGBTQ+ Youth, asked the members to support the recognition "like Christ would do."
The Miami-Dade School Board's majority during the debate made statements that indicated that the vote to reject was due to seeing the proclamation being in conflict with the state's Parental Rights in Education bill, also known as the 'Don't Say Gay' law.
Eulalia Maria Jimenez, the chair of Moms for Liberty Miami-Dade, asked the school board members to vote against the recognition and said it equated to "indoctrination."
"Tonight's vote is one more proof point of the sweeping chilling effect of Florida's discriminatory Don't Say LGBTQ law and the toxic anti-LGBTQ environment being fostered by Governor DeSantis," said Equality Florida Senior Political Director Joe Saunders.
"The Don't Say LGBTQ law is rooted in the same dangerous tropes about LGBTQ people and baseless attacks on teachers that were on full display in public comments at last night's hearing. We are shocked and alarmed to see this reversal from the Miami Dade School Board. This is a horrible signal to send to the thousands of LGBTQ youth in Miami-Dade County public schools. Voting down this simple recognition of our LGBTQ community makes our schools less safe."
In a statement released Thursday, Equality Florida, the largest statewide LGBTQ equality rights advocacy non-profit thanked School Board Member Lucia Baez-Geller, who brought the LGBTQ History Proclamation [and] "stood strong in the face of unprecedented vitriol from extremists last night."
"Nearly every board member opposing the resolution voiced their belief that the proclamation violated the Don't Say LGBTQ Law, further evidence of the sweeping censorship of this law. Across the state, the law has fueled bans on books and "safe space" stickers and has led to dangerous policies targeting transgender students. Miami Dade County Public Schools have a long history of leading on common sense policies that include, recognize, and protect LGBTQ youth. Last night, board members abandoned that mission in service to anti-LGBTQ fear, misinformation, and a governor obsessed with a future presidential run," the statement added.
Christian school asks LGBTQ children 'to leave immediately'
"One's biological sex must be affirmed- no attempts should be made to physically change, alter, or disagree with one's biological gender"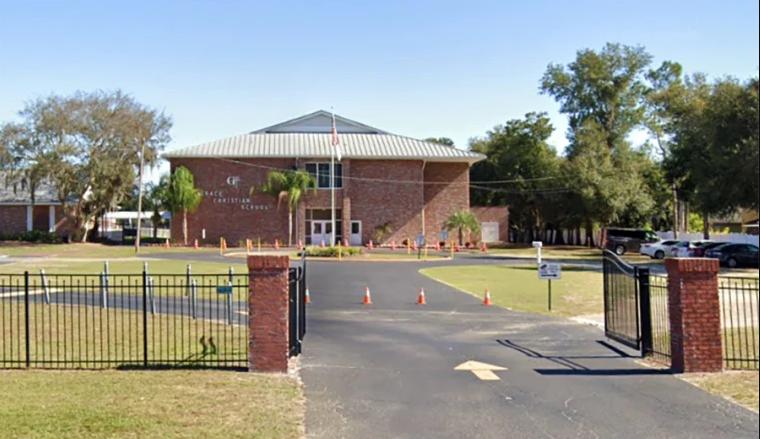 VALRICO, Fla. — A private, religious school in Florida told parents LGBTQ children "will be asked to leave the school immediately" and called queer people "sinful" in a June email.
In the June 6 email obtained by NBC News, Grace Christian School administrator Barry McKeen said LGBTQ people are "sinful in the sight of God and the church," and "students who are found participating in these lifestyles will be asked to leave the school immediately."
He also likened LGBTQ "lifestyles" to "bestiality, incest, fornication, adultery and pornography" while citing Bible verses.
In addition, the email said the school — located in Valrico, Fla., 20 miles east of Tampa — would only refer to students by the "gender on their birth certificates."
"We believe that God created mankind in His image: male (man) and female (woman), sexually different but with equal dignity," McKeen wrote in the email, according to NBC News.
He added: "Therefore, one's biological sex must be affirmed and no attempts should be made to physically change, alter, or disagree with one's biological gender — including, but not limited to, elective sex reassignment, transvestite, transgender, or non-binary gender fluid acts of conduct (Genesis 1:26-28)."
The Los Angeles Blade could not independently confirm the contents of the email but attempted to contact Grace Christian representatives. The school did not return the request.
McKeen responded to the NBC News article on Facebook, confirming Grace Christian does not allow students who are "homosexual or transgender" because it is "rooted in scriptures."
"God has spoken on those issues, explicitly, aggressively, and we have had these policies in our school since day number one in the early 1970s," said McKeen. "This is not new."
McKeen also said the policy would stay.
"We are not a hateful group of people, he said. "We don't hate students who are of a particular persuasion."
NBC News also reported the email played a role in one 16-year-old student, who is gay, transferring to a more accepting religious school. The outlet did not name the student or her mother, citing fear of harassment,
"It's not like my daughter goes around wearing rainbow flags or anything like that," the teenager's mother said. "But I'm not going to have her feel ashamed of herself for any reason."
The student said she feels "normal" at the new school.
NBC News's reporting comes as state leaders are pushing for and passing laws aimed at limiting the rights of LGBTQ youth. Florida's so-called "Don't Say Gay" bill took effect on June 30, prompting confusion as teachers cautiously wait to see how the law will be interpreted and enforced. Attorneys general in 16 states have filed a lawsuit against the law.
It is also at least the second time this month a religious school has been accused of shunning the LGBTQ community, according to NBC News. In Louisiana, a Christian school asked a same-sex couple to find a new school for their child because of "lifestyle choices."
Florida's Duval County Public Schools censors LGBTQ visibility
Duval County Public Schools slammed for removing 'Safe Space' stickers by Equality Florida as schools across state return to classes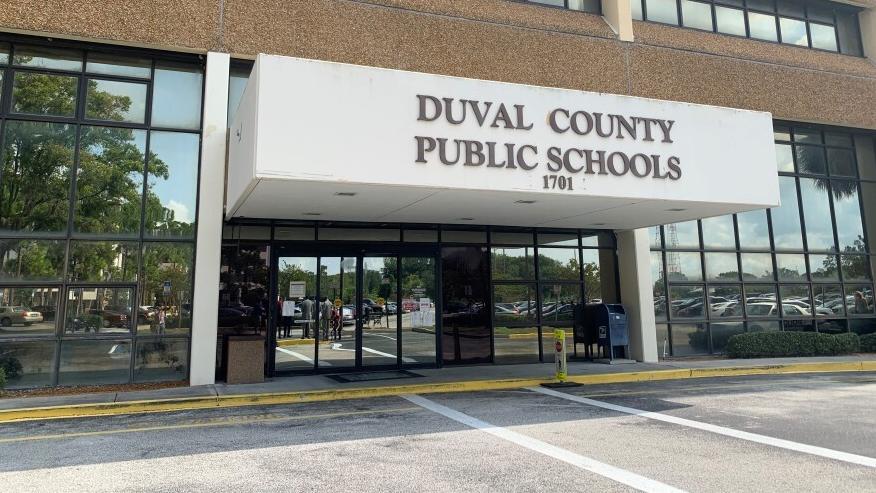 JACKSONVILLE – As Duval County Public School's K-12 students begin their first day of school Monday, they are returning to classrooms that have been stripped bare of visible support for LGBTQ students.
Last week, Duval County Public School's leadership held an emergency meeting with all of the school district's principals in which they were directed to remove all posters, wall decorations, and stickers that support and affirm LGBTQ students, the latest in a wave of what LGBTQ+ advocates say are censorship efforts in the wake of the Don't Say LGBTQ Law (HB 1557) taking effect across the state.
Equality Florida — a statewide civil rights organization focused on the LGBTQ community — published a statement criticizing Duval County Public Schools officials for putting out guidance to principals that advised the removal of the rainbow signage.
"The district's censorship of LGBTQ-inclusive classroom environments sends a dangerous message to young people," said Joe Saunders, Equality Florida Senior Political Director.
"In tearing down rainbow Safe Space stickers and tossing inclusive posters into the trash, Duval County Public Schools is telling students that there is something inherently wrong with LGBTQ people — and telegraphing to LGBTQ youth that they should remain hidden. Despite false assurances from Republican proponents of the Don't Say LGBTQ Law that its scope would be narrow and its impacts limited to grades K-3, we are witnessing sweeping effects of this intentionally-vague policy across the state, with broad censorship of LGBTQ people being applied to every grade level."
The Florida Times-Union newspaper reported Duval Schools officials say the removal is one facet of a district-wide rebrand of its existing "All In For Safe Schools" campaign that will better comply with the new Parental Rights in Education Act, which became law in July. Equality Florida calls the gesture "censorship."
The move from Duval County Public Schools comes as schools across the state grapple with implementing the Don't Say LGBTQ law. Already, the law has resulted in the banning of books and stigmatizing of families in counties across the state. Exactly what advocates say they warned about since the law's inception. This decision by Duval County Public Schools to censor LGBTQ inclusion across the district has angered the community.
It also comes as LGBTQ youth, the very students now seeing their identities scrubbed from Duval classrooms, continue facing higher risks of depression, anxiety, bullying, discrimination, and suicidality than their peers.
A recent study by the Trevor Project showed a staggering majority of LGBTQ youth sharing that recent policy battles like that over HB 1557 and the subsequent impacts have had a negative impact on their mental health.
"We are in the process of rebranding the 'All In for Safe Schools' program," district spokesman Tracy Pierce told the Times-Union. "The purpose of the rebranding is to send a clear message to all students that the support available through the program is open to them and not limited to any specific student population."
"School districts are charged with doing everything in their power to mitigate the harms of HB 1557 and ensure that every student is protected in school and every family is respected. Duval County Public Schools should reverse course and recommit to cultivating an environment that is inclusive of and celebrates all students," said Equality Florida's Saunders.
In another circumstance of Florida's newly minted 'Don't Say Gay' law's negative impact, last month a 12-min training video aimed at teaching middle and high school students how to prevent bullying and support their LGBTQ+ peers in Duval County Public Schools has been removed from student access.
Jacksonville Today journalist Claire Heddles reported at the time that besides the video, the district planned to dramatically reduce a LGBTQ+ support guide.
The video is now inaccessible and, in response to questions from Jacksonville Today, Duval Schools District spokesperson Tracy Pierce said, "The materials you referenced have been removed for legal review to ensure the content complies with recent state legislation."