President Biden nominates Ketanji Brown Jackson to the Supreme Court
"It is incumbent upon senators to give her a fair and timely confirmation without obstruction, honoring their Constitutional duty"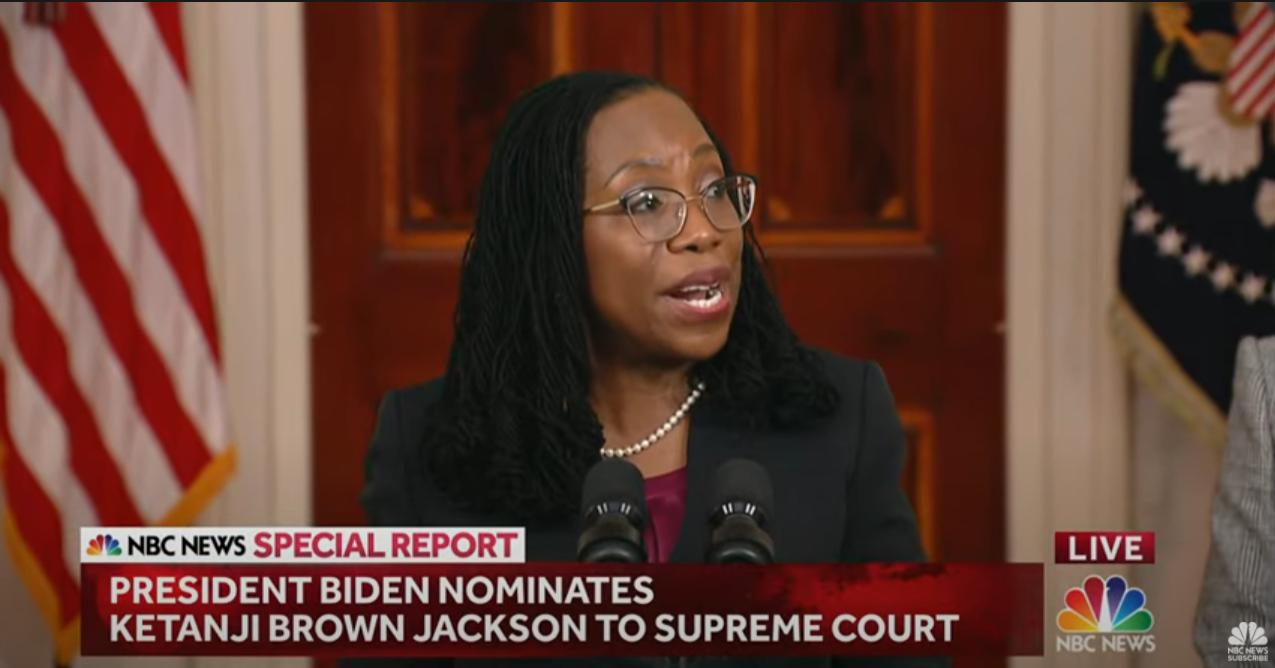 WASHINGTON – In a ceremony in the Great Cross-Hall outside of the Blue Room at the White House Friday, President Joe Biden formally announced Ketanji Brown Jackson, currently a judge on the D.C. Circuit Court of Appeals, as his choice for the U.S. Supreme Court. The president's choice of Jackson as the first Black woman to serve on the bench is historic.
Jackson, 51, is a favorite among progressives because of her background as a former public defender in D.C. and former clerk for U.S. Associate Justice Breyer, whose seat she would fill after his announced retirement this year if confirmed by the U.S. Senate.
Joni Madison, interim president for the Human Rights Campaign, hailed the choice of Jackson for her "integrity, professionalism and unwavering commitment to the Constitution."
"Her tenure on the bench provides ample evidence that she is both prepared and trustworthy of this highest privilege, and responsibility, that comes with sitting on our highest court," Madison said.
Madison declared the Human Rights Campaign supports Jackson: "After a careful review of her record, it is clear that Jackson's demonstrated fidelity to the principles of our Constitution instills confidence that she will continue Justice Breyer's legacy as a champion of equality."
In terms of LGBTQ issues, however, Jackson's record is not without its blemishes. She once worked as an adviser for a Baptist school in the Maryland suburbs that had a mission statement against LGBTQ people and abortion.
The now-defunct school, known as Montrose Christian School, had a statement on its website condemning homosexuality and abortion consistent with its religious views, as documented by the conservative Washington Examiner at the time of Jackson's confirmation process for her current seat on the D.C. Court of Appeals.
The mission statement urged students to uphold a "Christian character," which among other things in the views of the school, meant they should oppose "all forms of sexual immorality, including adultery, homosexuality, and pornography." Abortion is also implicitly condemned in the mission statement: "We should speak on behalf of the unborn and contend for the sanctity of all human life from conception to natural death."
Upon Jackson's nomination, conservatives smarting from attacks on now U.S. Associate Justice Amy Coney Barrett during her confirmation process over her ties to religious groups with anti-LGBTQ views, as well as her affiliation with the anti-LGBTQ legal group Alliance Defending Freedom, may cynically highlight Jackson's past affiliation with the school as a reason to attack her or progressives as hypocrites for not opposing her confirmation.
Jackson addressed her past work with the school during the confirmation process for her current job in response to questions from Sen. Richard Durbin (D-Ill.) , maintaining her role on the advisory board for Montrose Baptist Church was limited and she was unaware of its position statement.
"I was aware that Montrose Christian School was affiliated with Montrose Baptist Church," Jackson said. "I was not aware that the school had a public website or that any statement of beliefs was posted on the school's website at the time of my service. My service on the advisory school board primarily involved planning for school fundraising activities for the benefit of enrolled students. I did not receive any compensation for my service."
Nan Hunter, an emeritus law professor at Georgetown University who has written about LGBTQ issues, previously downplayed in an email to the Blade Jackson's affiliation with Montrose Christian School as evidence she would be hostile to LGBTQ people as a Supreme Court justice.
"Judge Jackson apparently volunteered for a year to help raise money for student services at a Christian school in the D.C. suburbs," Hunter said. "There is no indication anywhere in her professional record or personal experience that she shares anti-gay views. In my opinion, her lifelong commitment to equality more than outweighs any concern that she might be biased against LGBT rights."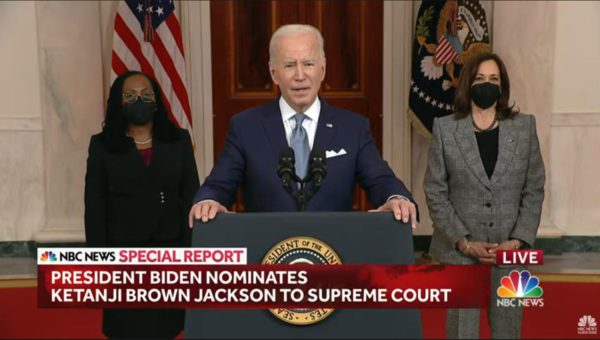 Progressive groups were undeterred by Jackson's work for Montrose Christian School in their support for her nomination.
"Equality California is proud to support President Biden's historic nomination of Judge Ketanji Brown Jackson to the United States Supreme Court. An eminently qualified Black woman committed to equal justice for all, Judge Jackson will bring a powerful perspective and a wealth of legal knowledge to the nation's highest court. Her strong record of protecting the civil rights of vulnerable communities, in particular, underscores Judge Jackson's commitment to upholding the law and working to create a world that is healthy, just and fully equal for all LGBTQ+ people — and for the diverse communities to which we belong. Equally important in these trying times, she has demonstrated a strong commitment to safeguarding our democracy from those who seek to destroy it," Tony Hoang Equality California's Executive Director said in an emailed press statement to the Blade.
"There is so much at stake at this moment in our nation's history — LGBTQ+ civil rights, racial justice, reproductive freedom, access to quality healthcare, climate change and the health of our most fundamental democratic institutions. We respectfully urge the U.S. Senate to confirm Judge Jackson without delay," Hoang added.
Fatima Goss Graves, CEO of the National Women's Law Center, said in a statement Jackson is "an eminently qualified public servant with distinguished experience as a federal judge."
"As a district court judge, she ruled on over 550 cases and is renowned for her careful, methodical approach to ensuring equal justice under the law on reproductive rights, disability rights, and workers' rights," Graves said. "It is incumbent upon senators to give her a fair and timely confirmation without obstruction, honoring their Constitutional duty to advise and consent and their moral duty to treat her with the respect and dignity she deserves."
A former clerk for Justice Breyer, Judge Jackson has broad experience across the legal profession – as a federal appellate judge, a federal district court judge, a member of the U.S. Sentencing Commission, an attorney in private practice, and as a federal public defender. Judge Jackson has been confirmed by the Senate with votes from Republicans as well as Democrats three times.
The National LGBTQ Task Force Action Fund released this statement from Kierra Johnson, Executive Director, in support of President Joe Biden's nomination of Judge Ketanji Brown Jackson to the U.S. Supreme Court: 
"The National LGBTQ Task Force Action Fund supports President Biden's nomination of D.C. Circuit Judge Ketanji Brown Jackson to serve as the next Associate Justice of the United States Supreme Court. D.C. Circuit Judge Jackson is supremely qualified, which is exactly why she received bipartisan confirmation by the Senate to the appeals court with jurisdiction over the most complex federal issues. Her 2021 confirmation reflects the third time that Judge Jackson has been confirmed with bipartisan support. 
Diversity on the bench matters. As law professor and president and director-counsel of the NAACP Legal Defense Fund Sherrilyn Ifill has written, "The lack of racial diversity on our nation's courts threatens both the quality and legitimacy of Judicial decision-making … Diversity on the bench can enrich judicial decision-making by including a variety of voices and perspectives in the deliberative process."
Our nation's highest court bench must reflect the diverse people of this country. The nomination and the confirmation of a well-qualified Black woman jurist to the Supreme Court is long overdue. Though not taught to us in schools, Black women jurists have long served with distinction on our nation's court benches. White supremacy and the intertwined biases of racism and sexism have led 45 U.S. presidents to fail to ever nominate a Black woman for the Supreme Court. Today, that changed.   
It is about time that a Black woman is in the position to help shape the legal landscape of our nation at this critical moment. Black women have been highly engaged and responsible in securing our families, advocating for healthy communities, and actively participating in our democracy while inspiring others to do the same.  Our democracy, our constitutional rights to access information, our fundamental right to vote, the right to autonomy over our own bodies, and our right to live free from discrimination are under attack. We need the most qualified and fair-minded jurists on the bench and Judge Brown Jackson is eminently qualified to help get us on the correct path of justice and equity for all. 
Because I am confident that Judge Ketanji Brown Jackson will uphold the Constitution and do justice for the people, I call on Senators to swiftly confirm her nomination to the Supreme Court." 
Judge Jackson has devoted the majority of her career to serving the public—as a U.S. Sentencing Commission lawyer and commissioner; as a federal public defender; and as a federal judge. Judge Jackson currently serves on the U.S. Court of Appeals for the D.C. Circuit. From 2013 to 2021, she served as a United States District Judge for the District of Columbia. She has been confirmed by the Senate on a bipartisan basis three times – twice as judge and once to serve on the U.S. Sentencing Commission.

Judge Jackson was born in Washington, D.C. and grew up in Miami, Florida. Her parents attended segregated primary schools in the South, then attended Historically Black Colleges and Universities. Both started their careers as public school teachers and became leaders and administrators in the Miami-Dade County Public Schools. When Judge Jackson told her high school guidance counselor she wanted to attended Harvard, the guidance counselor warned that Judge Jackson should not to set her sights "so high." That didn't stop Judge Jackson. She graduated magna cum laude from Harvard College, then attended Harvard Law School, where she graduated cum laude and was an editor of the Harvard Law Review.
After law school, Judge Jackson served in Justice Breyer's chambers as a law clerk. Judge Jackson served as a federal public defender from 2005 to 2007, representing defendants on appeal who did not have the means to pay for a lawyer. If confirmed, she would be the first former federal public defender to serve on the Supreme Court.
Prior to serving as a judge, Judge Jackson followed in the footsteps of her mentor Justice Breyer by working on the U.S. Sentencing Commission—an important body, bipartisan by design, that President Biden fought to create as a member of the U.S. Senate. Her work there focused on reducing unwarranted sentencing disparities and ensuring that federal sentences were just and proportionate.
Judge Jackson lives with her husband, Patrick, who serves as Chief of the Division of General Surgery at Georgetown University Hospital, and two daughters, in Washington, D.C.
Biden calls Supreme Court ruling on Roe v. Wade 'a sad day for court'
"Imagine, woman having to carry a child that's a consequence of incest, with no option" to terminate the pregnancy, Biden said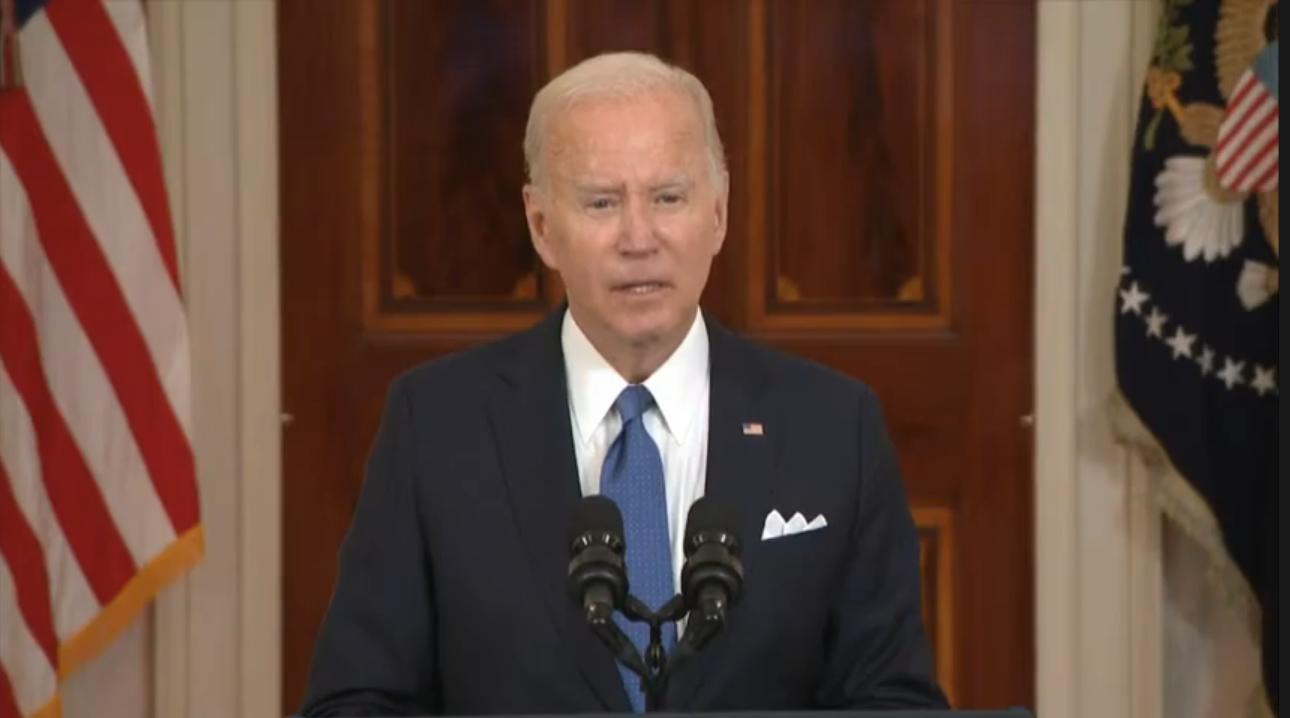 WASHINGTON – Just after the Supreme Court's conservative majority moved to overturn the constitutional right to abortion on Friday in a 6-3 ruling, President Joe Biden vowed to protect American women from prosecution for traveling to other states to terminate their pregnancies.
Thirteen states have made or will soon make abortion illegal, some without exceptions for rape and incest, following today's ruling. After a draft of that ruling was leaked in May, some state legislatures considered bills to prevent women from circumventing their restrictions on abortion.
"If any state or local official high or low tries to interfere with a woman exercising her basic right to travel, I will do everything in my power to fight that unamerican attack," Biden said.
Delivering his remarks from the Great Cross Hall of the White House, the President looked visibly upset, particularly when discussing the extreme abortion bans in some states that will now be allowed to go into effect.
"They are so extreme that women can be punished for protecting their health; that some women and girls will be forced to bear their rapists' child," Biden said. It was at this point that he appeared to go off-script to share his personal feelings on the ruling and its implications. "It just stuns me," he said. "Imagine, woman having to carry a child that's a consequence of incest, with no option" to terminate the pregnancy.
Biden called for those who share his anger and outrage – many who gathered on the steps of the Supreme Court in protest – to remain peaceful. He urged Americans to vote to give Democrats in Congress the majority that will be necessary for them to codify the constitutional right to abortion first established by the Supreme Court's 1973 ruling in Roe v. Wade and overturned today with the decision in Dobbs v. Jackson Women's Health.
Biden warned of the "dangerous path the court is taking us on," pointing to Justice Thomas's comments in the decision that "In future cases, we should reconsider all of this court's substantive due process precedents, including Griswold, Lawrence, and Obergefell."
Should the court revisit the precedents established by those cases, it could mean constitutional protections for the return of laws banning birth control, sodomy and same-sex marriage.
Biden noted Americans' constitutional right to abortion was affirmed in multiple decisions by the Supreme Court, endorsed by justices who were appointed by presidents from both parties.
"It was three justices named by one president, Donald Trump, who were the core of today's decision to upend the scales of justice and eliminate a fundamental right for women in this country," Biden said.
President Biden speaks on Supreme Court decision to overturn Roe v. Wade:
Full transcript:
REMARKS BY PRESIDENT BIDEN
ON THE SUPREME COURT DECISION
TO OVERTURN ROE V. WADE
Today is a — it's not hyperbole to suggest a very solemn moment.  Today, the Supreme Court of the United States expressly took away a constitutional right from the American people that it had already recognized.

They didn't limit it.  They simply took it away.  That's never been done to a right so important to so many Americans.

But they did it.  And it's a sad day for the Court and for the country.

Fifty years ago, Roe v. Wade was decided and has been the law of the land since then.

This landmark case protected a woman's right to choose, her right to make intensely personal decisions with her doctor, free from the inter- — from interference of politics.

It reaffirmed basic principles of equality — that women have the power to control their own destiny.  And it reinforced the fundamental right of privacy — the right of each of us to choose how to live our lives.

Now, with Roe gone, let's be very clear: The health and life of women in this nation are now at risk.

As Chairman and Ranking Member of the Senate Judiciary Committee, as Vice President and now as President of the United States, I've studied this case carefully.  I've overseen more Supreme Court confirmations than anyone today, where this case was always discussed.

I believe Roe v. Wade was the correct decision as a matter of constitutional law, an application of the fundamental right to privacy and liberty in matters of family and personal autonomy.

It was a decision on a complex matter that drew a careful balance between a woman's right to choose earlier in her pregnancy and the state's ability to regulate later in her pregnancy.  A decision with broad national consensus that most Americans of faiths and backgrounds found acceptable and that had been the law of the land for most of the lifetime of Americans today.

And it was a constitutional principle upheld by justices appointed by Democrat and Republican Presidents alike. 

Roe v. Wade was a 7 to 2 decision written by a justice appointed by a Republican President, Richard Nixon.  In the five decades that followed Roe v. Wade, justices appointed by Republican Presidents — from Eisenhower, Nixon, Reagan, George W. [H.W.] Bush — were among the justices who voted to uphold the principles set forth in Roe v. Wade.

It was three justices named by one President — Donald Trump — who were the core of today's decision to upend the scales of justice and eliminate a fundamental right for women in this country.

Make no mistake: This decision is the culmination of a deliberate effort over decades to upset the balance of our law.  It's a realization of an extreme ideology and a tragic error by the Supreme Court, in my view.

The Court has done what it has never done before: expressly take away a constitutional right that is so fundamental to so many Americans that had already been recognized.

The Court's decision to do so will have real and immediate consequences.  State laws banning abortion are automatically taking effect today, jeopardizing the health of millions of women, some without exceptions. 

So extreme that women could be punished for protecting their health.

So extreme that women and girls who are forced to bear their rapist's child — of the child of consequence. 

It's a — it just — it just stuns me. 

So extreme that doctors will be criminalized for fulfilling their duty to care.

Imagine having — a young woman having to ch- — carry the child of incest — as a consequence of incest.  No option. 

Too often the case that poor women are going to be hit the hardest.  It's cruel.

In fact, the Court laid out state laws criminalizing abortion that go back to the 1800s as rationale — the Court literally taking America back 150 years. 

This a sad day for the country, in my view, but it doesn't mean the fight is over.

Let me be very clear and unambiguous: The only way we can secure a woman's right to choose and the balance that existed is for Congress to restore the protections of Roe v. Wade as federal law.

No executive action from the President can do that.  And if Congress, as it appears, lacks the vote — votes to do that now, voters need to make their voices heard.

This fall, we must elect more senators and representatives who will codify a woman's right to choose into federal law once again, elect more state leaders to protect this right at the local level.

We need to restore the protections of Roe as law of the land.  We need to elect officials who will do that.

This fall, Roe is on the ballot.  Personal freedoms are on the ballot.  The right to privacy, liberty, equality, they're all on the ballot. 

Until then, I will do all in my power to protect a woman's right in states where they will face the consequences of today's decision.

While the Court's decision casts a dark shadow over a large swath of the land, many states in this country still recognize a woman's right to choose.

So if a woman lives in a state that restricts abortion, the Supreme Court's decision does not prevent her from traveling from her home state to the state that allows it.  It does not prevent a doctor in that state — in that state from treating her.

As the Attorney General has made clear, women must remain free to travel safely to another state to seek the care they need.  And my administration will defend that bedrock right. 

If any state or local official, high or low, tries to interfere with a woman's ex- — exercising her basic right to travel, I will do everything in my power to fight that deeply un-American attack.

My administration will also protect a woman's access to medications that are approved by the Food and Drug Administration — the FDA — like contraception, which is essential for preventative healthcare; mifepristone, which the FDA approved 20 years ago to safely end early pregnancies and is commonly used to treat miscarriages.

Some states are saying that they'll try to ban or severely restrict access to these medications. 

But extremist governors and state legislators who are looking to block the mail or search a person's medicine cabinet or control a woman's actions by tracking data on her apps she uses are wrong and extreme and out of touch with the majority of Americans.

The American Medical Association and the American College of Obstetricians and Gynecologists wrote to me and Vice President Harris stressing that these laws are not based on — are not based on evidence and asking us to act to protect access to care.  They say by limiting access to these medicines, maternal mortality will climb in America.  That's what they say.

Today, I'm directing the Department of Health and Human Services to take steps to ensure that these critical medications are available to the fullest extent possible and that politicians cannot interfere in the decisions that should be made between a woman and her doctor.  And my administration will remain vigilant as the implications of this decision play out.

I've warned about how this decision risks the broader right to privacy for everyone.  That's because Roe recognized the fundamental right to privacy that has served as the basis for so many more rights that we have come to take — we've come to take for granted that are ingrained in the fabric of this country: the right to make the best decisions for your health; the right to use birth control — a married couple — in the privacy of their bedroom, for God's sake; the right to marry the person you love. 

Now, Justice Thomas said as much today.  He explicitly called to reconsider the right of marriage equality, the right of couples to make their choices on contraception.  This is an extreme and dangerous path the Court is now taking us on. 

Let me close with two points. 

First, I call on everyone, no matter how deeply they care about this decision, to keep all protests peaceful.  Peaceful, peaceful, peaceful.  No intimidation.  Violence is never acceptable.  Threats and intimidation are not speech.  We must stand against violence in any form regardless of your rationale.

Second, I know so many of us are frustrated and disillusioned that the Court has taken something away that's so fundamental.  I know so many women are now going to face incredibly difficult situations.  I hear you.  I support you.  I stand with you. 

The consequences and the consensus of the American people — core principles of equality, liberty, dignity, and the stability of the rule of law — demand that Roe should not have been overturned.

With this decision, the conservative majority of the Supreme Court shows how extreme it is, how far removed they are from the majority of this country.  They have made the United States an outlier among developed nations in the world.  But this decision must not be the final word.

My administration will use all of its appropriate lawful powers.  But Congress must act.  And with your vote, you can act.  You can have the final word.  This is not over.

Thank you very much.  I'll have more to say on this in weeks to come.  Thank you.
Advocacy groups urge White House to do more to secure Brittney Griner release
HRC, GLAAD among letter signatories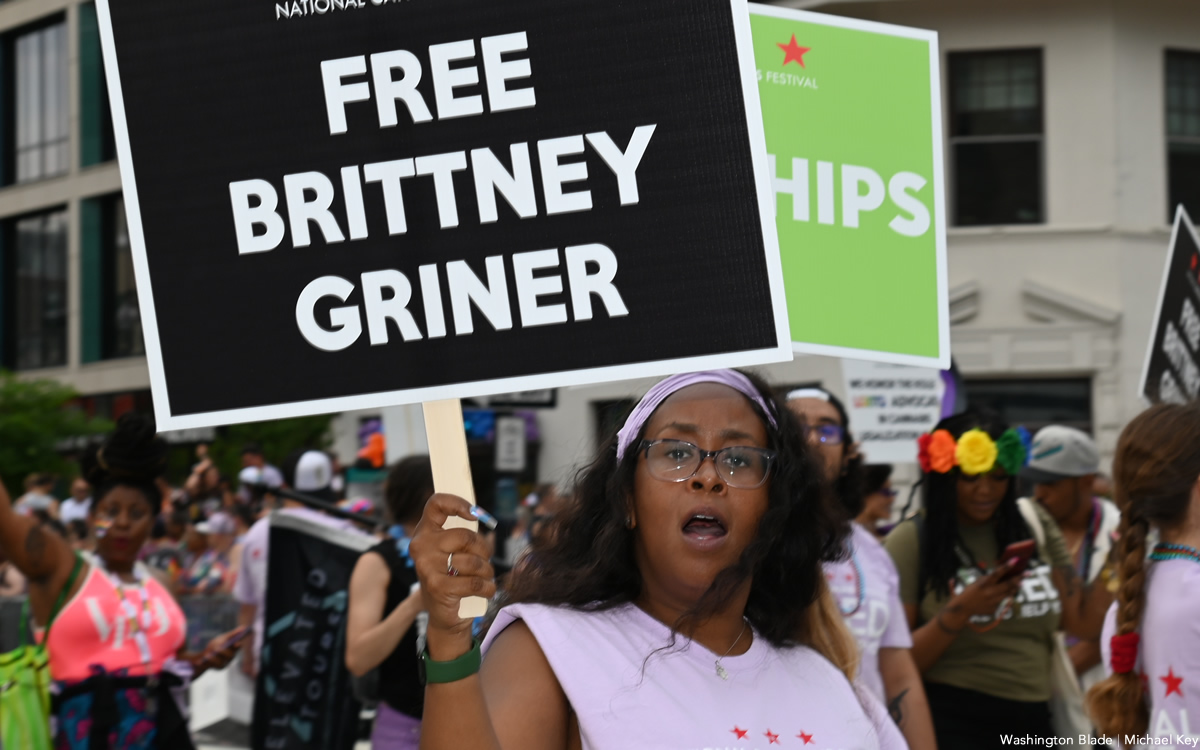 WASHINGTON — Dozens of advocacy groups on Wednesday in a letter they sent to President Joe Biden and Vice President Kamala Harris urged them to do more to secure the release of WNBA star Brittney Griner.
The Human Rights Campaign, the Council for Global Equality, Athlete Ally, GLAAD, GLBTQ Legal Advocates and Defenders, Lambda Legal, the National Black Justice Coalition, the National LGBTQ Task Force, Robert F. Kennedy Human Rights, the Billie Jean King Leadership Initiative and All Out Action Fund are among the groups that signed the letter.
Griner's agent, Lindsay Colas, coordinated the letter and worked with Democratic strategist Karen Finney, among others.
"We, the undersigned civil and human rights organizations, write to express our deep concern for Brittney Griner. We stand together in support of Brittney, now wrongfully detained in Russia for over 124 days," reads the letter. "An American hero, wife, daughter, sister, friend, teammate, anti-bullying advocate, Olympian, and WNBA superstar, Brittney continues to endure inhumane treatment, deprived of contact with her family."
"We join Brittney's family, friends, colleagues and loved ones in deep appreciation of your Administration's ongoing efforts to secure her freedom," it adds. "The U.S. government has acknowledged that Brittney is essentially a political pawn in classifying her as wrongfully detained. While these have been critically important measures, we now urge you to make a deal to get Brittney back home to America immediately and safely."
Officials at Moscow's Sheremetyevo Airport in February detained Brittney Griner — a center for the Phoenix Mercury and two-time Olympic gold medalist who is a lesbian and married to Cherelle Griner — after customs inspectors allegedly found hashish oil in her luggage. The State Department has determined that Russia "wrongfully detained" her.
Secretary of State Antony Blinken on May 14 spoke with Cherelle Griner.
Officials with the State Department's Office of the Special Presidential Envoy for Hostage Affairs and Bureau of Educational and Cultural Affairs on June 13 met with Brittney Griner's teammates to discuss her detention and efforts to secure her release. A Russian court the following day extended Brittney Griner's detention through at least July 2.
"We are determined to bring her home along with Paul (Whelan, an American citizen who is serving a 16-year prison sentence in Russia after a court convicted him of spying) and for that matter, any and every American who is being unjustly detained anywhere in the world," said Blinken on June 15 during a roundtable with this reporter and five other LGBTQ+ and intersex journalists. " "It's something that I am personally focused on, and I want to leave it at that because it is obviously an ongoing issue. But just know that this is a matter of intense focus for us."
Brittney Griner on June 18 was unable to speak with her wife on their fourth anniversary because the phone at the U.S. Embassy in Moscow that she called went unanswered. A State Department spokesperson later admitted a "logistical error" prevented Brittney Griner from speaking with Cherelle Griner.
"This month our nation honors America's diverse journey towards freedom, equality and justice for all with the observation of the Juneteenth federal holiday, the 50th anniversary of landmark Title IX legislation, and LGBTQ+ Pride. Brittney's intersectional identity embodies this celebration of America's strength and diversity," reads the letter. "As a celebrated world-class athlete, she also demonstrates the uniquely unifying power of sports. Brittney's ongoing detention threatens the sanctity of sport and the safety of all athletes traveling to compete internationally."
"President Biden and Vice President Harris, we urge you to make a deal to bring our teammate, wife, sister, hero, and friend Brittney Griner home swiftly and safely," it concludes.
Harris ceremonially swears in U.S. ambassador to Switzerland and Liechtenstein
Scott Miller is married to Tim Gill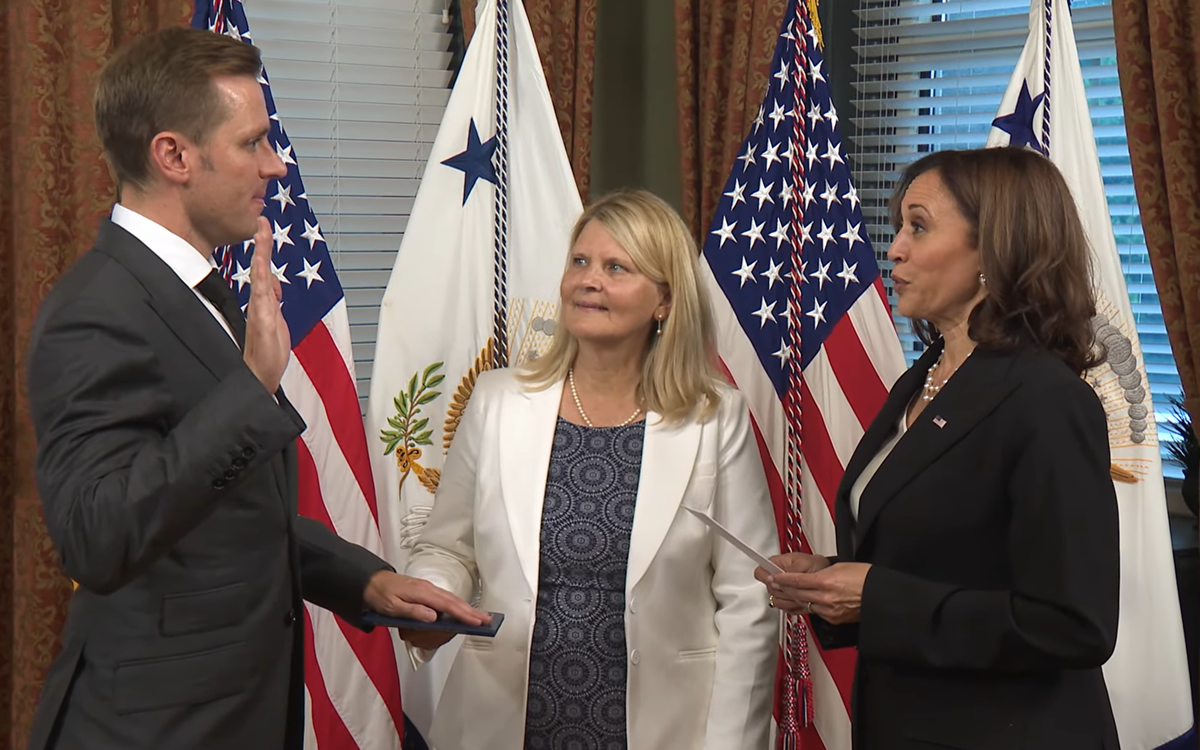 WASHINGTON — Vice President Kamala Harris on Wednesday ceremonially swore in U.S. Ambassador to Switzerland and Liechtenstein Scott Miller.
Miller is the co-chair of the Gill Foundation's board of directors along with his husband, Tim Gill.
President Biden last August nominated Miller. The U.S. Senate confirmed him on Dec. 18, 2021, and he assumed his post three days later.
Miller is among the handful of openly gay and lesbian American ambassadors.
Randy Berry, Jeff Daigle, Bob Gilchrist, Erik Ramanathan and Christopher Lamora are ambassadors to Nepal, Cabo Verde, Lithuania, Sweden and Cameroon respectively. Chantale Wong, the U.S. director of the Asian Development Bank, is the first openly lesbian and first out person of color to serve as a U.S. ambassador.
Biden on Wednesday nominated Berry — who was the first special U.S. envoy for the promotion of LGBTQ+ and intersex rights abroad — to become the next American ambassador to Namibia.