European LGBTQ+ activists stand in solidarity with Ukraine counterparts
LGBTQ activists across Europe continue to offer assistance to their counterparts in Ukraine in the wake of Russia's invasion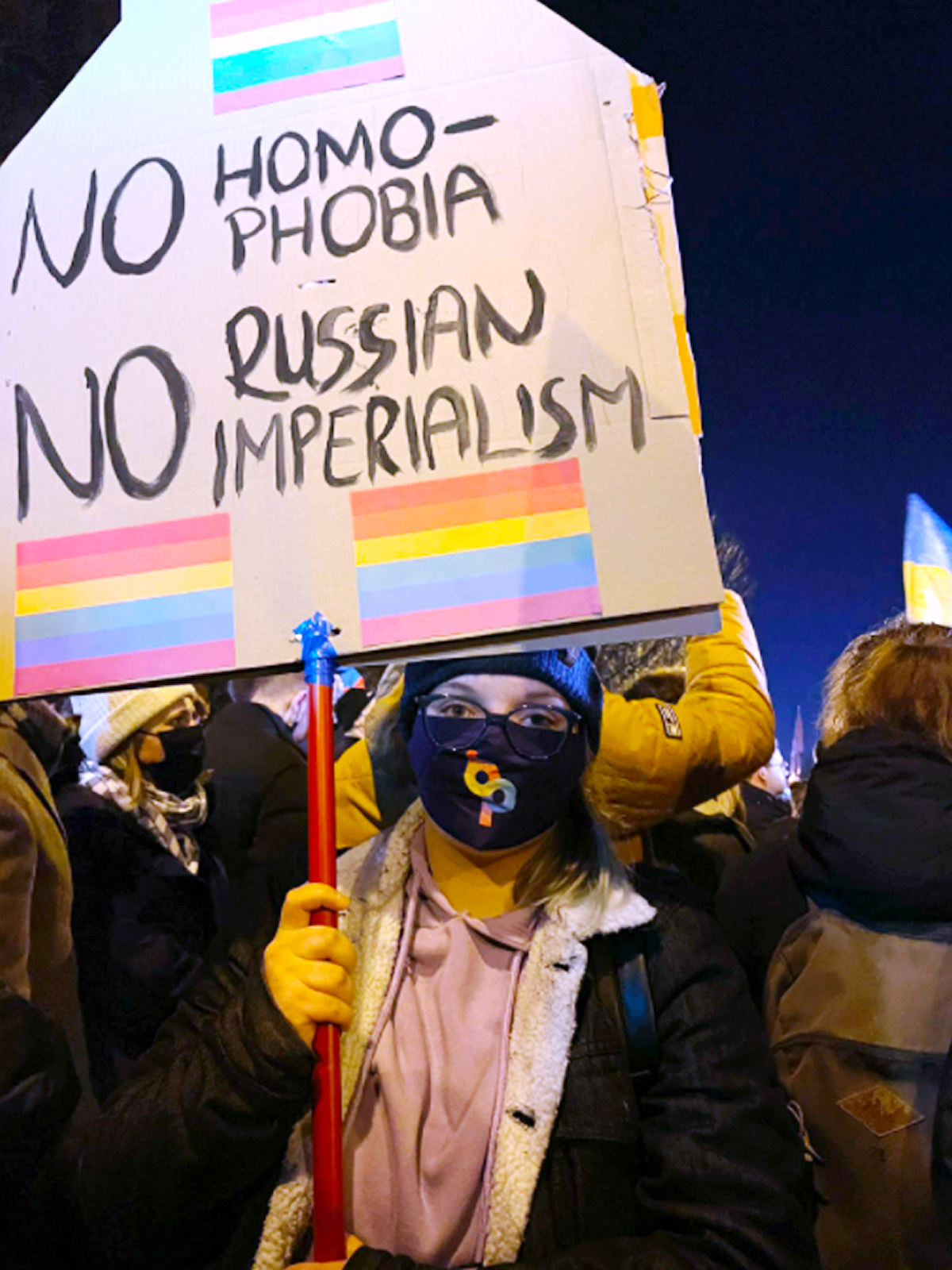 CHISINAU, Moldova — LGBTQ+ activists across Europe continue to stand in solidarity with their counterparts in Ukraine in the wake of Russia's invasion of their country.
"We are ready to host LGBT+ people from Ukraine here," said Anastasia Danilova, executive director of Genderdoc-M, an LGBTQ+ rights group in Moldova, which borders Ukraine, told the Washington Blade on Sunday. "We will provide all necessary support: Accommodation, meals, counseling and medical support."
Genderdoc-M members on Feb. 24 participated in a protest outside the Russian Embassy in Chisinau, the Moldovan capital.
Danilova described Russian President Vladimir Putin as a "crazy guy." Danilova also noted Transnistria, a pro-Russian breakaway region, is in Moldova.
"[Putin] is sick and he is unstoppable," said Danilova.
"Moldova used to be a part of the Soviet Union and we have a frozen conflict in the Transnistrian region," added Danilova. "We have Russian troops."
Mozaika, an LGBTQ+ rights group in Latvia, a Baltic country that borders Russia, on Sunday tweeted the country's LGBTQ+ community is "together with Ukraine, both in thought and deed." Mozaika through its online Diversity Shop is selling Ukraine-specific t-shirts and other clothes to raise money for the country's LGBTQ+ rights groups.

A EuroPride fundraiser has raised more than €16,000 ($17846.32) for Kyiv Pride and Kharkiv Pride in Ukraine. OutRight Action International has raised more than $105,000 for LGBTQ+ Ukrainians through a fund it created after Russia launched its invasion of the country.
"Let's give our community some sense of hope and help, by providing the funds they need to survive, and the resilience they need to thrive," said OutRight Action International in its appeal.
Kampania Przeciw Homofobii (Campaign Against Homophobia), an LGBTQ+ rights group in Poland, which borders Ukraine, has also urged their members and supporters to help LGBTQ+ Ukrainians. Kampania Przciw Homofobii, like advocacy groups in Hungary and other European countries, have also participated in protests against the invasion.
"Don't be passive: Act," proclaimed Kampania Przciw Homofobii in a Feb. 24 tweet.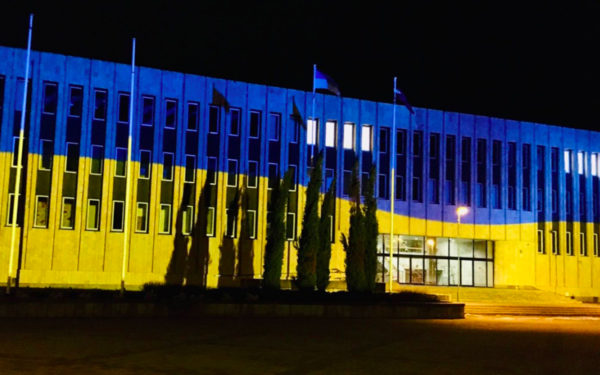 Situation for LGBTQ+ Ukrainians 'is dire'
The invasion has sparked worldwide condemnation and sweeping sanctions against Russia, Putin and members of his inner circle.
Magomed Tushayev, a Chechen warlord who played a role in the anti-LGBTQ+ crackdown in his homeland, on Saturday died during a skirmish with the Ukrainian military's elite Alpha Group outside of Kyiv, the country's capital. A White House official late last week told the Blade the Biden administration has "engaged directly" with LGBTQ+ Ukrainians and other groups that Russia may target if it gains control of their country.
"We remain (in Ukraine) to defend ourselves and our country and will continue to help people," wrote Olena Shevchenko, chair of Insight, a Ukrainian LGBTQ+ rights group, on Feb. 24 in a Blade op-ed. "Our activists from the LGBTQI+ communities are staying and keep working, providing support to the most marginalized ones. Honestly, I don't know how long we will be able to resist, but we will do our best for sure."
Anna Sharyhina co-founded the Sphere Women's Association, which is based in Kharkiv, the country's second-largest city that is less than 30 miles from the Russian border in eastern Ukraine. Sphere Women's Association, among other things, organizes Kharkiv Pride.
"The situation we, activists, human rights defenders, the LGBT+ community and the entire Ukraine, are in is dire," wrote Sharyhina on Sunday in an email to supporters. "Several times a day, for hours and hours, we hear explosions of varying intensity and receive information about new shelling and attacks by Russian troops."
"Even now, while I am composing this address, I hear shootings and explosions," added Sharyhina. "It is extremely hard to work and make even simple decisions in such conditions. Many have left, others are seeking shelter locally."
Sharyhina said the organization plans to begin to hold "daily online emergency meetings" and has begun to plan on how "to help people in the LGBT+ community because they are in a very vulnerable state."
"We have come to a conclusion that funds may be needed for housing, food, relocation from dangerous areas, hygiene products, warm blankets, mats, and so on," wrote Sharyhina, who asked supporters to make donations.
"With sincere faith in freedom, democracy and human rights in Ukraine," ends the email.
ILGA-Europe: New program for racialized LGBTQ+ communities
The new initiative will be supporting up to 15 organizations' work on socio-economic justice for racialized LGBTI communities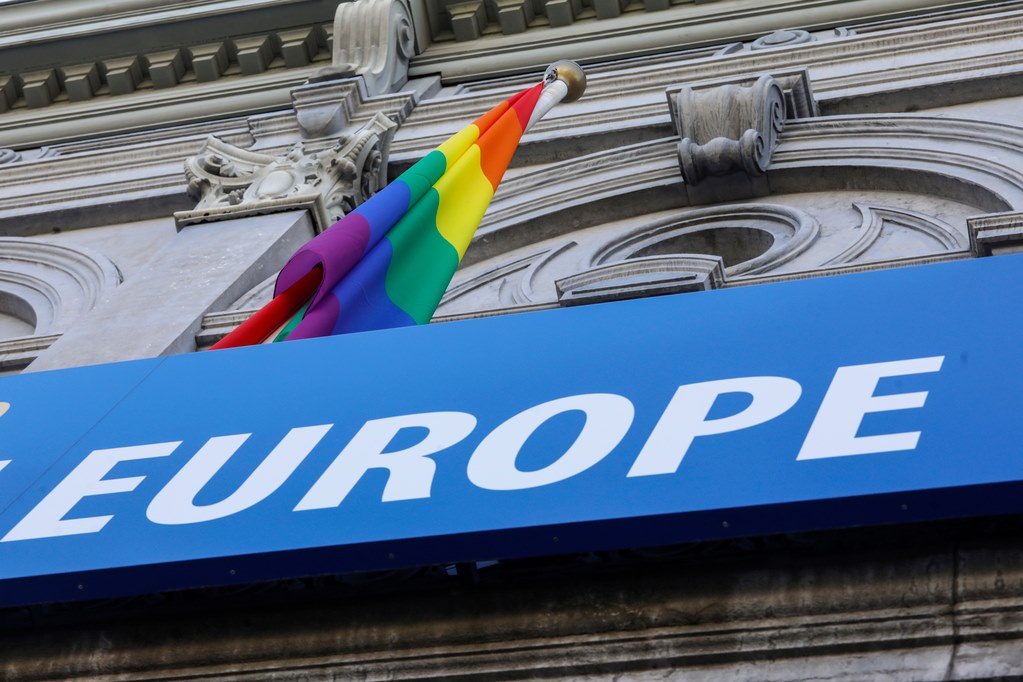 BRUSSELS, Belgium – ILGA-Europe announced a new two part 12-month program focused on the work being done by and for racialized LGBTQ+ communities across Europe this week.
According to the international LGBTQ+ advocacy non-profit, the new initiative will be supporting up to 15 organizations' work on socio-economic justice for racialized LGBTQ+ communities through a combination of grants and other resources.
The program has two interconnected components:
Financial support for the implementation of a project (up to 20.000 euro per project), AND
Learning and networking that will bring grantees together (on-line) on a regular basis to exchange learning, share challenges and solutions, build solidarity and find points for collaboration and inspiration.
The aim of this program is to:
Bring together a group of up to 15 European LGBTI organizations/groups across Europe that work on addressing the intersectional impact of socio-economic injustice, racialization, racism and supremacy and specific harms affecting the lives of racialized LGBTI communities across Europe.
Support, strengthen and advance their work on socio-economic justice for racialized LGBTI communities through a combination of grants and regular peer-learning/networking meetings.
ILGA-Europe noted that currently, the LGBTI movement across Europe operates in an increasingly hostile environment that directly affects the lives of LGBTI communities and the work of activists.
This environment is marked by anti-rights opposition, anti-democratic developments, rising unemployment, economic crises, ongoing and brewing geo-political conflicts, deepening structural inequalities, fear-mongering, mounting transphobic, and sexist and racist rhetoric and violence.
In a statement, ILGA-Europe said:
"So many organizations and groups have been doing incredible work and contributing to change, while at the same time being historically excluded from funding. By supporting these groups, we also wish to recognise and acknowledge the specialized knowledge and skills involved in addressing intersectionality. This can mean anything from exposing structural oppressions that shape harm; building and sustaining the resilience of racialized communities; developing and applying anti-racist, feminist and alternative approaches; to working through – and in spite of – institutional violence and trauma.
This programme expresses our commitment to continue our engagement with socio-economic justice and to strengthen our work on anti-racism. We see a great value for the wider movement in making the work of the organizations supported, disseminated and visible. We see an opportunity to bring the learning from this programme to the wider movement, as we believe that solutions and approaches that include a few will pave the way and point to the solutions for many."
Key information & details:
In selecting proposals, ILGA-Europe will prioritise projects that:
Demonstrate clear understanding of how the intersection of LGBTI identities, socio-economic injustice and racialisation works in their local contexts
Present a clear plan for how the envisaged change is going to come about in these contexts
Seek to establish practices/tools/solutions that can live beyond the project's lifetime
Have the potential to enhance the movement's thinking on anti-racism and working towards socio-economic justice in general and for socio-economic justice for racialised LGBTI communities in particular.
Respond to the framework, aim, objectives, and areas of work of this call
Are implemented by LGBTI-run organisations and initiative groups in Europe that have history and practice of working with and for racialised LGBTI communities
Deadline & Timeline:
Proposals should be submitted using the attached application form and budget template. The last day to submit your application (deadline) is 2 April 2023, Sunday, 23:59 CEST.
We will review applications, decide on projects to be supported and inform all applicants about the results of the review via the e-mail address provided in the application by 5 May 2023.
Contracts will be signed with organisations in May 2023. Successful applicants should be available to respond to requests during that period. The project must start on 1 June 2023.
To submit an application or if you have any questions in the preparation of your project proposal, please contact:

[email protected]
Questions?
If you have any questions in the preparation of your project proposal please submit them via e-mail to [email protected]
We will answer all of your questions via e-mail and then publish answers on a dedicated ilga-europe.org website page on 27 February and on 23 March, in order to share the information among all applicants.
Call for Applications DOWNLOAD