Equator Coffees opening its first-ever Southern California café
*10% of Equator's Ivy Station opening week sales will be donated to the
Los Angeles LGBT Center*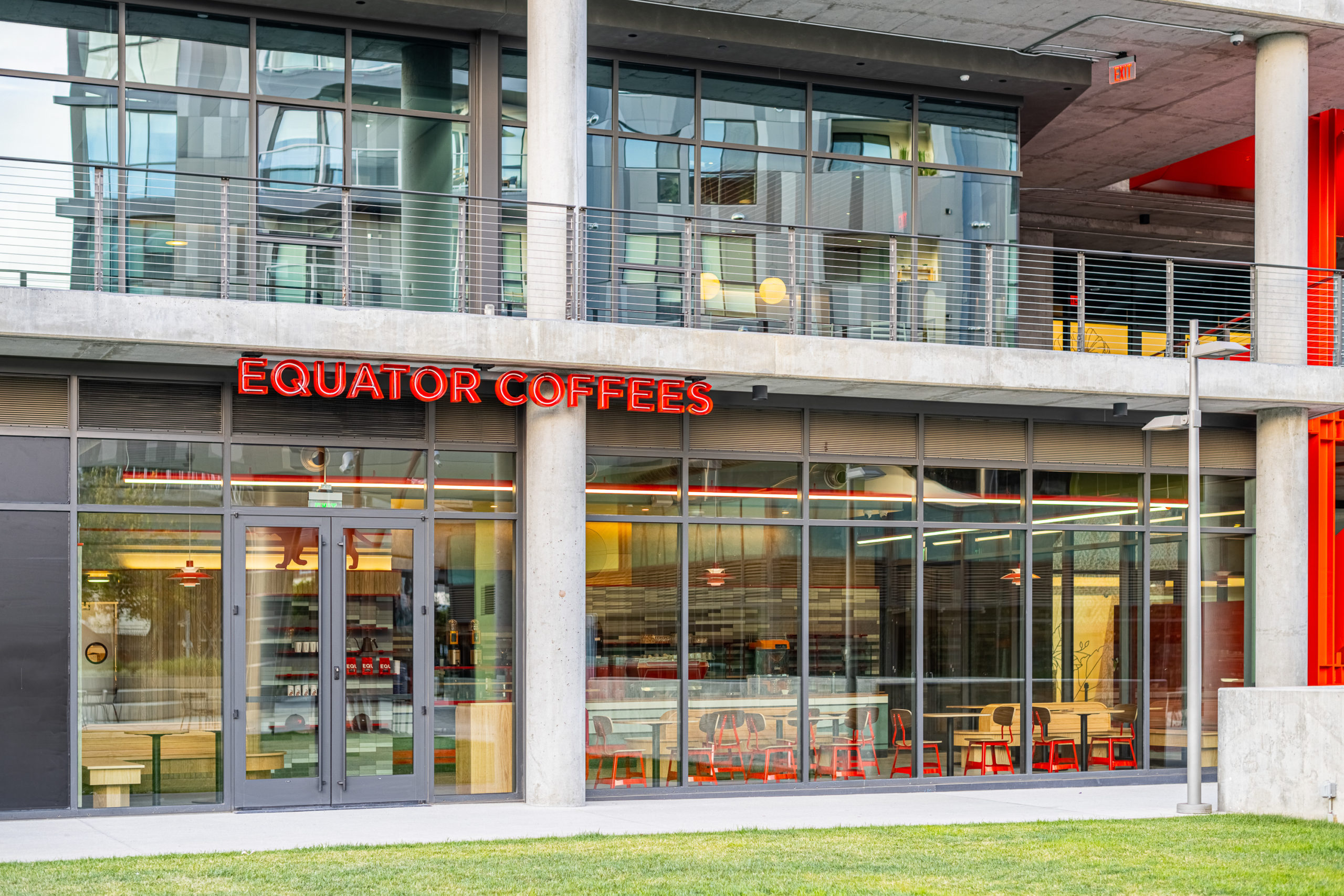 LOS ANGELES – Equator Coffees, the sustainable B Corp coffee roasting company known for boutique chef blends and Fair Trade organic coffees, is opening its first-ever Southern California cafe in Culver City at Ivy Station on March 4, 2022.
Founded by partners Helen Russell and Brooke McDonnell, the company has been craft roasting in the Bay Area for over 25 years. Equator Coffees' newest location in their collection of bustling cafes marks the company's first-ever cafe in Southern California.
The 1400 square feet, 50+ seat indoor-outdoor cafe joins Equator Coffees' ten beloved Northern California outposts. Equator Coffees' focus on quality, sustainability and social responsibility makes it poised to be a welcome addition to the Los Angeles area, and the thriving and culturally vibrant community of Culver City.
To celebrate Equator Coffees' arrival in Southern California 10% of the Ivy Station cafe's opening week sales will be donated to the Los Angeles LGBT Center, which provides health, housing, education and social services to thousands of LGBT individuals and families in Los Angeles and beyond. Additionally, February 16th – March 2nd the cafe will offer the "Finca Sophia Flight"; a two-cup flight of award-winning Panamanian Gesha coffees from Equator's own Finca Sophia Coffee Farm, available exclusively at Equator Coffees' Culver City location.
"Making people's lives better through coffee informs every connection we make, from farmer to roaster to the barista preparing your cup, and to consumers and the communities that our cafes inhabit" says Helen Russell, Co-founder of Equator Coffees. "We are excited to join the burgeoning community of Culver City, and to have the opportunity to offer families, professionals, and visitors alike, delicious coffees from around the world with distinct flavor profiles that are ethically sourced."
Equator's brewed coffee and specialty drinks are truly special, and the Culver City cafe will offer their seasonal single origin pour over program, a choice between the house Tigerwalk espresso blend and a rotating seasonal single origin espresso, a delightful menu of specialty espresso beverages such as shakeratos and the Habibi latte, as well as a full selection of whole bean coffee, including their #1 seller and devotee-favorite, the full-bodied Equator Blend, and the Washed Gesha and Natural Gesha coffees from Panama's Finca Sophia Coffee Farm.
Building upon their long standing relationship with the culinary community, Equator will partner with celebrated LA chefs Susan Feniger and Mary Sue Milliken on the Socalo Spiced Latte, a signature cafe de olla-inspired latte with piloncillo, cinnamon, and star anise, and Guava Empanadas, as well as new coffee collaboration – 'Mary Sue and Susan's SOCALO Las Rosas, Colombia' – a medium roast produced by the Las Rosas Women's Coffee Project of West Hulia, Colombia; all available at the new Culver City cafe. The all-day menu, bearing a SoCal twist, will offer pastries from Farmshop Market in Santa Monica and artisanal breads from Bub & Grandmas'.
EQUATOR COFFEES OPENS CAFE IN LOS ANGELES
Ivy Station, Culver City Outpost Is Brand's
First Southern California Location
Opening March 4, 2022
*10% of Equator's Ivy Station opening week sales will be donated to the
Los Angeles LGBT Center*
Equator Coffees collaborated with Kellie Patry Design to create a cafe inspired by the California topography and the metro line which runs parallel to the Ivy Station location and seamlessly flows into the building's adjacent public greenspace. The streamlined interior is imbued with color, futurism, and playfulness, and the design connects the interior and patio with curving white oak benches, offering a subtle homage to metro design. The cafe features details like a tile mural by Thomas Williams mimicking ocean waves, and Louis Poulsen's pendants wash light over the dining room. On designing the new cafe, Patry reflects: "Forward-thinking, Helen and Brooke's journey along the Equator is at the core of my inspiration. Equator Coffees is a tireless savvy welcoming company led by equally stirring women. I think of the cafe as Flapper Chrome morphed into Espresso Futurism, at a metro stop in Culver City."
Equator Coffees' Culver City location will feature Ground Control 'Cyclops' brewers, allowing for Equator's renowned coffees to shine. This cutting edge coffee brewer creates a layered brew via a multiple extraction, full immersion brewing process. Brewing coffee through the eyes of chemistry is a hallmark of Equator's philosophy, which is driven home by the Ivy Station cafe's addition of the La Marzocco KB90 espresso machine; a uniquely precise piece of brewing equipment that is designed to eliminate physical stress, allowing baristas an empowering working environment where they can dial in the most delectable drinks imaginable.
Equator Coffees Culver City is located at 8900 Venice Blvd #105, Los Angeles, CA 90232 and will be open from 7:30am-3:30pm daily. For more info, visit here and follow along @equatorcoffees
Queer to Stay grants announced, four LA businesses are recipients
"The Los Angeles Blade is honored to be one of these four grant recipients and we thank Showtime & HRC," said Troy Masters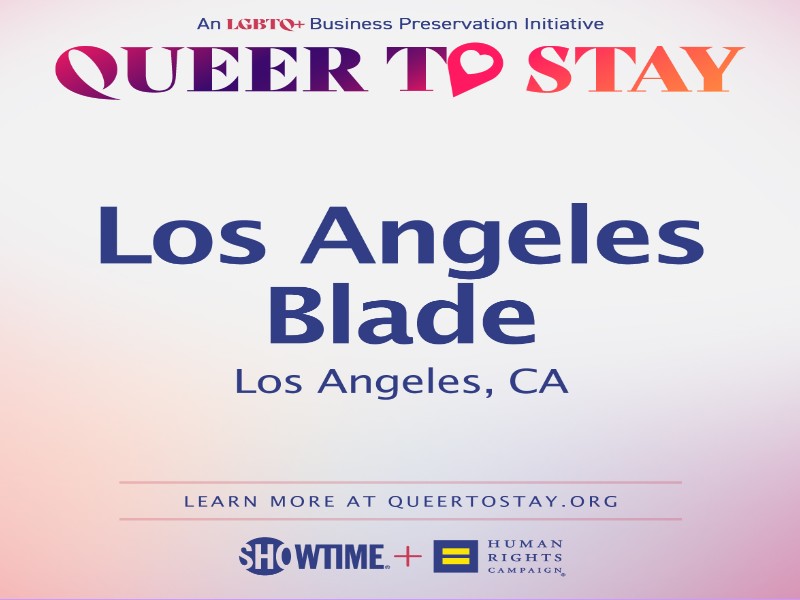 LOS ANGELES – The Human Rights Campaign (HRC), the nation's largest lesbian, gay, bisexual, transgender and queer (LGBTQ+) civil rights organization, and SHOWTIME announced Tuesday that four Los Angeles businesses, Detroit Vesey's, Los Angeles Blade, Salon Benders and Urbody, as recipients of "Queer to Stay: An LGBTQ+ Business Preservation Initiative" to support and uplift small businesses that focus on LGBTQ+ people of color, women and the transgender community who continue to be impacted by economic setbacks from the COVID-19 pandemic.
"This year, on top of economic setbacks from COVID, we've seen a disturbing rise in anti-LGBTQ+ rhetoric and attacks, including harm to some LGBTQ+ small businesses. That's why it is critical to uphold affirming, welcoming spaces and services for our LGBTQ+ communities," said Kelley Robinson, HRC President. "This initiative celebrates and supports our community by putting funds directly into the hands of multiply marginalized LGBTQ+ owned, and serving, small businesses around the country. We're excited to partner with SHOWTIME once again to ensure that LGBTQ+ patrons, employees and business owners continue to occupy spaces freely and without exception as their authentic selves."
The four Los Angeles businesses that will receive Queer to Stay grants are the following:
Detroit Vesey's – Erin Detroit Vesey is the owner and chef of Detroit Vesey's, a cafe designed with the intention of being a place for folks in LGBTQ+ and cycling communities." Erin wanted to create a "daytime space" for LGBTQ+ people that did not focus on nightlife, and was inspired by the community that they witnessed during AIDS Lifecycle, a "bike ride from San Francisco to LA that raises funds to fight HIV/AIDS and the stigma, where everyone is welcome to participate and work towards a common goal."
Los Angeles Blade – Troy Masters founded the Los Angeles Blade after realizing that LA was "a city that – despite its importance – had no LGBT newspaper." Masters had over two decades of LGBTQ+ journalism experience after founding Gay City News in New York during the height of the HIV/AIDS epidemic. Since its founding, the Los Angeles Blade has become one of the most well-respected sources for LGBTQ+ news.
Salon Benders – Jessie Santiago, co-owner and founder of Salon Benders, founded the salon to be a trauma-informed space for LGBTQ+ people after she had experienced working in a number of "toxic work environments that encouraged unhealthy habits" and took a toll on her physical and mental health. With encouragement from her partner and now co-owner of Salon Benders, Santiago created a salon "where people can come as they are and leave a better version of themselves."
Urbody – Mere Abrams and Anna Graham co-founded Urbody to be a high-quality, gender affirming underwear and activewear brand that will display "positive, humanized representations of gender diversity." Abrams and Graham wanted to create a "safe and affirming" shopping experience for all people that includes options for people across the gender spectrum, and they plan to use some of their grant money to continue designing pieces that accomplish that goal.
"The Los Angeles Blade is honored to be one of these four grant recipients and we thank Showtime & HRC," said the Blade's publisher Troy Masters.
During the height of the COVID-19 pandemic in 2020, the inaugural "Queer to Stay" initiative awarded funds to 10 LGBTQ+ businesses across the country. Since then, it's been reported that LGBTQ+ businesses were less likely to receive COVID relief funds. At the same time, some LGBTQ+ small businesses have been the target of outrageous, extremist anti-LGBTQ+ rhetoric and attacks. With many LGBTQ+ businesses continuing to struggle in the economic aftermath of the global pandemic, HRC and SHOWTIME scaled up the initiative to include 25 businesses this year – five more than in 2021 – with a funding pool of $250,000. Watch a video about Queer to Stay here.
The additional awardees of "Queer to Stay: An LGBTQ+ Business Preservation Initiative" include:
Dorothy Downstairs (Chicago, IL), Three Palms Bar & Grill (New Orleans, LA), Stag PDX (Portland, OR), Bake Me Happy (Columbus, OH), Queer Therapy Network (Houston, TX), Celebrate Therapy (Provo, UT), M-Care (Witchita, KS), Queer Kid Stuff (Portland, ME), Harana Market (Woodstock, NY), Urbody (Los Angeles, CA), Peachy Births (Kansas City, MO), PTSFeminist (Atlanta, GA), As You Are (Washington, DC), Santé Bar (Portland, OR), Coffee Mafia (Auburn, AL), Goldspot Brewing Company (Denver, CO), Queer Chocolatier (Muncie, IN), Mountainsong Expeditions (Worcester, VT), Womencrafts (Provincetown, MA), Queer Dance Project (Lakewood, CO), Euphoria (Denver, CO), and Franny Lou's Porch (Philadelphia, PA).
"I am so proud of SHOWTIME for extending its QUEER TO STAY campaign! Supporting LGBTQ+ businesses combined with all the LGBTQ+ representation in SHOWTIME programming, QUEER TO STAY has made a major impact all over the country," said actor Jamie Clayton, star of THE L WORD®: GENERATION Q. "I'm honored to star on a show that depicts a vital LGBTQ+ small business on television. Playing Tess, who manages the inclusive, queer space, Dana's Bar, on THE L WORD: GENERATION Q is such an exciting and vital thrill!"
HRC Foundation has published a research brief outlining the health and economic risks faced by the LGBTQ+ community during the COVID-19 pandemic. Key findings show that many LGBTQ+ people may lack the resources to effectively combat COVID-19; lack access to paid sick leave or live without health coverage; and are more likely to work in an industry that has been most affected by the pandemic, putting them in greater economic jeopardy or increasing their exposure to the virus. HRC Foundation research has also shown that LGBTQ+ people are more likely to be unemployed and to have lost work hours compared to the general population, with transgender people and people of color most at risk.
Season three of THE L WORD: GENERATION Q, the returning series based on the groundbreaking drama series THE L WORD®, is currently airing Friday nights on SHOWTIME. Packed with jaw-dropping surprises and guest stars, this season continues to follow the cast of characters as they struggle with secrets, old scars and new flames on their search for "The One."