Thousands protest 'Don't Say Gay,' lead organizer is indefinitely suspended
The state-wide protests had been promoted and planned based on a series of social media posts from high school junior Jack Petocz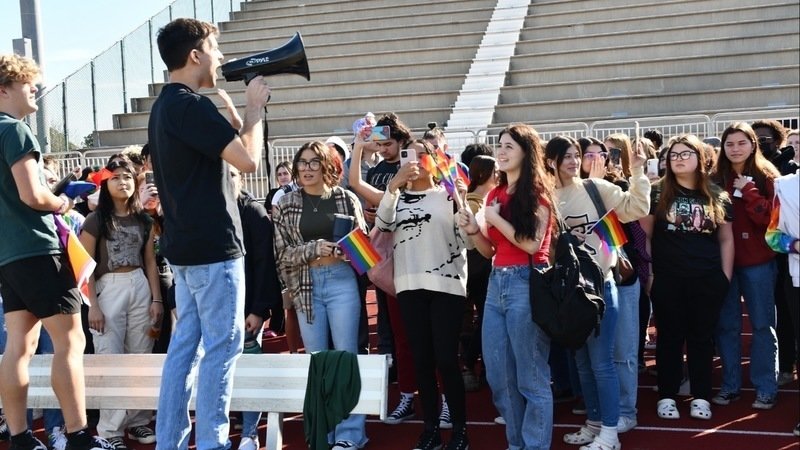 PALM COAST, Fl. – Secondary schools across the state of Florida were disrupted at around noon on Thursday as thousands of students walked-out of classes and lunch hour sessions to protest the Florida Legislature's "Don't Say Gay' bill" which passed a final vote in the state House of Representatives and is headed to the Senate.
The state-wide protests had been promoted and planned based on a series of social media posts from Flagler Palm Coast High School junior Jack Petocz in suburban Daytona Beach using the hashtag of #DSGWalkout.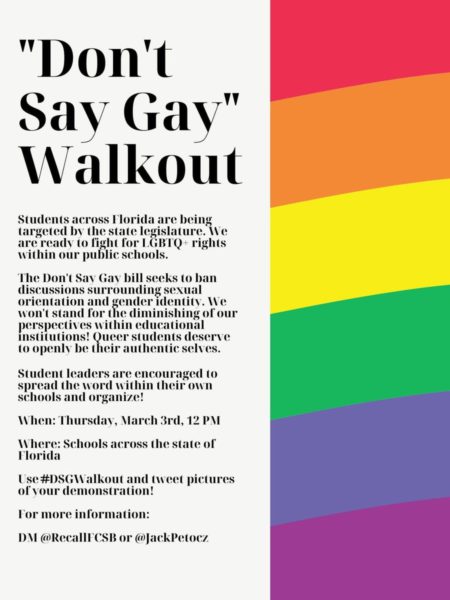 Students also gathered in the state capitol building in Tallahassee just outside the House chamber to protest and show their disgust with the legislation. H.B. 1557, titled Parental Rights in Education bill, now heads to the GOP-controlled Senate, where it is expected to pass. After the Senate, it would head to the desk of Florida Republican Gov. Ron DeSantis, who has signaled support for the bill.
High School students in Tallahassee have walked out and are here in the Capitol to stand against the #DontSayGay bill! pic.twitter.com/PelwnpXdkc

— Rep. Anna V. Eskamani 🔨 (@AnnaForFlorida) March 3, 2022
The measure, which has garnered national media attention and condemnation from the White House, would ban classroom discussions about sexual orientation and gender identity that are not "age-appropriate" in schools – though it is not clear what is considered "age-appropriate."
Brandon J. Wolf, the Press Secretary for Equality Florida told the Blade late Thursday that the reconciliation House version of the bill is headed for debate on the Senate floor Monday and is scheduled for a vote Tuesday.
Before the protest on Thursday, Petocz, had purchased 200 plus small LGBTQ+ flags for students at the Flagler Palm Coast High School gathering. He was pulled aside by Principal Greg Schwartz, who voiced his opposition to the over 200 pride flags Petocz had bought and brought to school.
"He told me I wouldn't be allowed to (distribute the flags). He went further to question the intentions of our protest, asking if pride flags were relevant to opposition to the bill," Petocz told the Daytona Beach News-Journal. "I decided to move forward and handed the flags to other student organizers for distribution at the event."
"Following the protest, I was called into the principal's office, told I was disrespectful and openly advocating against staff," Petocz said. "They suspended me from campus until further notice. I informed the principal I wasn't going to speak with him and was going to talk to a lawyer."
Lead organizer of today's #DSGWalkout @Jack_Petocz has been suspended indefinitely for distributing Pride flags.

Don't Say Gay censorship has arrived. Will you stand with Jack, @WiltonSimpson @Kathleen4SWFL @JoeGruters @JeffreyBrandes @EdEhooper1 ?https://t.co/KSSxQJTfvp

— Equality Florida (@equalityfl) March 3, 2022
Students who showed up to the stadium with flags and other pride-related merchandise were blocked by administrators attempting to confiscate them, according to Petocz.
"I pushed back on this, as I wasn't going to allow staff to minimize our reach and message," he said. "Using my megaphone, I told students to hold onto their flags and not to allow them to silence us."
Students started a petition on change.org Thursday afternoon to rescind Petocz suspension.
Jason Wheeler, spokesman for the Flagler County School district, said he couldn't release specifics about individual students' participation Thursday.
Today, those who will be most impacted — Florida students — mobilized by the thousands to walk out of class and demand a stop to the Don't Say Gay bill. Their courage and resilience is to be applauded.

Our full statement on the #DSGWalkout: https://t.co/Nz3MTLw0RO pic.twitter.com/x95Roy0xrc

— Equality Florida (@equalityfl) March 3, 2022
While the protests were ongoing both at the state capitol building and high schools across Florida, in Buena Vista, Florida, LGBTQ+ activists demonstrated near Disney World to protest the company's lack of showing support for the LGBTQ+ community.
HEY @DISNEY, DON'T DELAY. STOP SUPPORTING DON'T SAY GAY!#Repost @savelgbt
・・・
We need Florida corporations to oppose the Don't Say Gay bill publicly. Today, SAVE is at Disney World with our friends @ahfsouth pic.twitter.com/m8JL4TI0LI

— Dr. Eric Cervini (@ericcervini) March 3, 2022
I stand with @Jack_Petocz!! https://t.co/RjjDCMOTxC

— Rep. Anna V. Eskamani 🔨 (@AnnaForFlorida) March 3, 2022
#DontSayGay has not even passed the Florida Senate and students are being suspended indefinitely for handing out pride flags in protest of the bill. 🏳️‍🌈 🏳️‍⚧️ #DeSantis has truly turned Florida into an anti-gay hellhole. 😡 https://t.co/j7MDkElxgo

— Rep. Carlos G Smith (@CarlosGSmith) March 3, 2022
Florida's Duval County Public Schools censors LGBTQ visibility
Duval County Public Schools slammed for removing 'Safe Space' stickers by Equality Florida as schools across state return to classes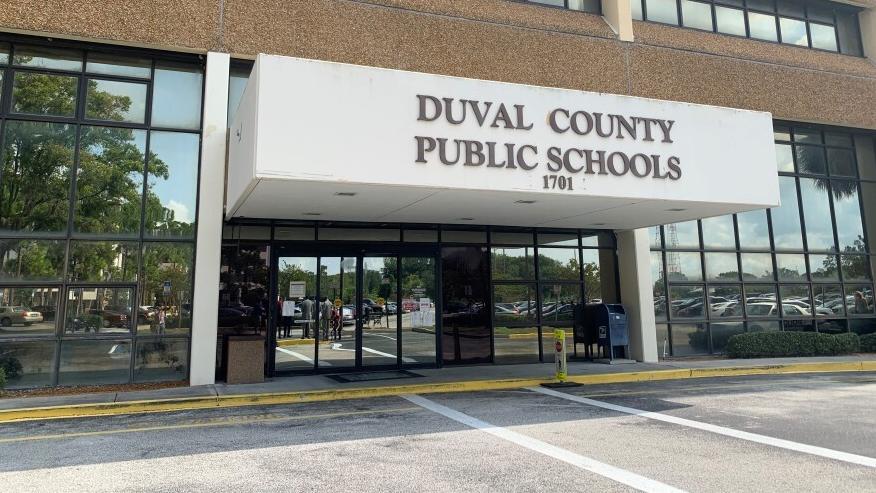 JACKSONVILLE – As Duval County Public School's K-12 students begin their first day of school Monday, they are returning to classrooms that have been stripped bare of visible support for LGBTQ students.
Last week, Duval County Public School's leadership held an emergency meeting with all of the school district's principals in which they were directed to remove all posters, wall decorations, and stickers that support and affirm LGBTQ students, the latest in a wave of what LGBTQ+ advocates say are censorship efforts in the wake of the Don't Say LGBTQ Law (HB 1557) taking effect across the state.
Equality Florida — a statewide civil rights organization focused on the LGBTQ community — published a statement criticizing Duval County Public Schools officials for putting out guidance to principals that advised the removal of the rainbow signage.
"The district's censorship of LGBTQ-inclusive classroom environments sends a dangerous message to young people," said Joe Saunders, Equality Florida Senior Political Director.
"In tearing down rainbow Safe Space stickers and tossing inclusive posters into the trash, Duval County Public Schools is telling students that there is something inherently wrong with LGBTQ people — and telegraphing to LGBTQ youth that they should remain hidden. Despite false assurances from Republican proponents of the Don't Say LGBTQ Law that its scope would be narrow and its impacts limited to grades K-3, we are witnessing sweeping effects of this intentionally-vague policy across the state, with broad censorship of LGBTQ people being applied to every grade level."
The Florida Times-Union newspaper reported Duval Schools officials say the removal is one facet of a district-wide rebrand of its existing "All In For Safe Schools" campaign that will better comply with the new Parental Rights in Education Act, which became law in July. Equality Florida calls the gesture "censorship."
The move from Duval County Public Schools comes as schools across the state grapple with implementing the Don't Say LGBTQ law. Already, the law has resulted in the banning of books and stigmatizing of families in counties across the state. Exactly what advocates say they warned about since the law's inception. This decision by Duval County Public Schools to censor LGBTQ inclusion across the district has angered the community.
It also comes as LGBTQ youth, the very students now seeing their identities scrubbed from Duval classrooms, continue facing higher risks of depression, anxiety, bullying, discrimination, and suicidality than their peers.
A recent study by the Trevor Project showed a staggering majority of LGBTQ youth sharing that recent policy battles like that over HB 1557 and the subsequent impacts have had a negative impact on their mental health.
"We are in the process of rebranding the 'All In for Safe Schools' program," district spokesman Tracy Pierce told the Times-Union. "The purpose of the rebranding is to send a clear message to all students that the support available through the program is open to them and not limited to any specific student population."
"School districts are charged with doing everything in their power to mitigate the harms of HB 1557 and ensure that every student is protected in school and every family is respected. Duval County Public Schools should reverse course and recommit to cultivating an environment that is inclusive of and celebrates all students," said Equality Florida's Saunders.
In another circumstance of Florida's newly minted 'Don't Say Gay' law's negative impact, last month a 12-min training video aimed at teaching middle and high school students how to prevent bullying and support their LGBTQ+ peers in Duval County Public Schools has been removed from student access.
Jacksonville Today journalist Claire Heddles reported at the time that besides the video, the district planned to dramatically reduce a LGBTQ+ support guide.
The video is now inaccessible and, in response to questions from Jacksonville Today, Duval Schools District spokesperson Tracy Pierce said, "The materials you referenced have been removed for legal review to ensure the content complies with recent state legislation."
Florida prohibits Medicaid reimbursement for trans healthcare
Lambda Legal tells the LA Blade its "exploring all possible avenues for challenging this discriminatory rulemaking"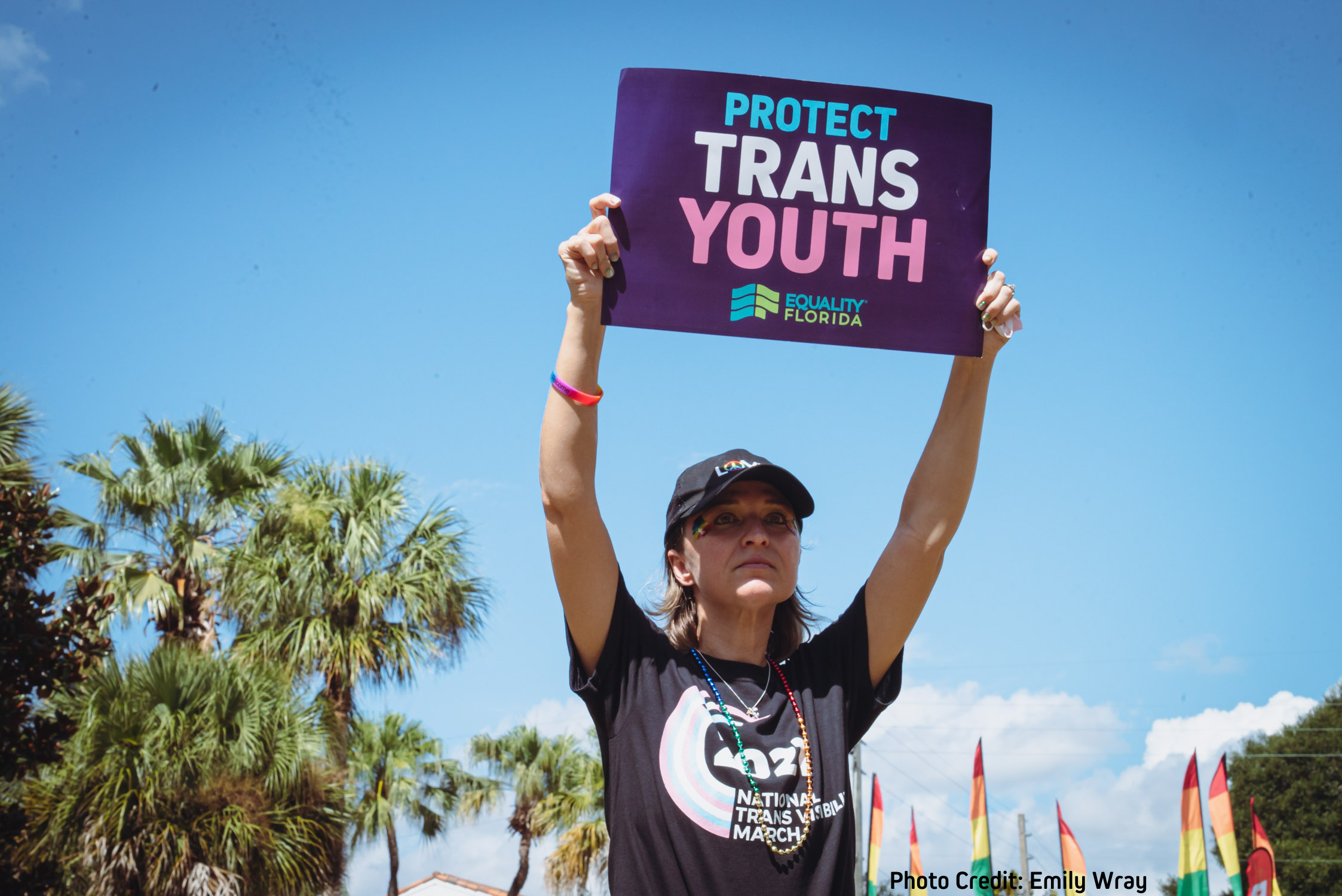 TALLAHASSEE – On Thursday, Florida officially joined the roster of conservative states whose Medicaid programs carve out coverage exemptions for transgender related healthcare, including gender-affirming therapies for young people.
Against the guidance of mainstream medical opinion, the state's Agency for Health Care Administration (AHCA) ratified new rules prohibiting taxpayer reimbursement for puberty blockers, hormone therapies, or surgical procedures to treat gender dysphoria.
"We are exploring all possible avenues for challenging this discriminatory rulemaking," wrote Carl Charles, senior attorney at Lambda Legal, in an emailed statement to The Los Angeles Blade. "Lambda Legal has secured victories on this issue in other states such as Alaska (Being v. Crum), and just this month in our case, Fain v. Crouch, in West Virginia."
The American Academy of Pediatrics (AAP) and its Florida Chapter (FCAAP) wrote in an emailed statement to The Blade that they were "disheartened" by AHCA's finalization of rules blocking Medicaid coverage for gender affirming care:
"The state's interference with the physician-patient relationship and its prohibition of this vital care will negatively impact Floridians who are trying to live their lives as their true, healthiest selves. As pediatricians, our only goal is to work with families and provide our patients with the best evidence-based care possible. When necessary and appropriate, that includes gender-affirming care. The AAP and FCAAP will continue to stand up in support of all young people, including those who are transgender."
The U.S. Centers for Medicare and Medicaid Services did not return a request for comment in time for publication. The U.S. Department of Health and Human Services did not immediately respond to a request for comment.
Also on Thursday, Florida's AHCA inaccurately accused HHS and the AAP of misleading the public about the safety of transgender related healthcare, though it was not the first time the state's health agency has butted up against its federal counterparts and associations of medical practitioners.
AHCA previously issued a bulletin in April that prompted rebukes from groups including the Endocrine Society, which accused AHCA of spreading misinformation about healthcare treatments for transgender people, including youth. The bulletin's contents also conflicted with official positions on these matters held by HHS.
A coalition of legal advocacy organizations including Lambda Legal immediately condemned the AHCA's latest move in a joint statement Thursday, writing: "Ignoring thousands of public comments and expert testimony, Florida's AHCA has finalized a rule that will deny Medicaid coverage for all medically necessary gender-affirming care for both youth and adults. This discriminatory and medically unsound rule will take effect on August 21, 2022, putting transgender people in jeopardy of losing access to critical gender-affirming health care services."
The statement also took aim at Florida Gov. Ron DeSantis: "AHCA's actions, at the behest of Governor DeSantis and his political appointees, are morally and legally wrong as well as medically and scientifically unsound. This rule represents a dangerous escalation in Governor DeSantis's political zeal to persecute LGBTQ+ people in Florida, and particularly transgender youth."
The Movement Advancement Project publishes a chart tracking state-by-state Medicaid coverage for transgender-related care, which is a patchwork of different exemptions and carveouts that generally maps onto the extent to which each leans conservative.
Much like with other public health insurance programs like state employee health plans, discriminatory state Medicaid programs have often been the subject of litigation challenging them, in lawsuits that are often successful.
Nikole Parker, Equality Florida's Director of Transgender Equality in an emailed statement said:
"Just over one week from today, Florida's Agency for Health Care Administration, at the behest of Governor DeSantis, plans to strip thousands of vulnerable Floridians of their health care. Transgender people have been accessing gender-affirming care through Medicaid for years. That care is now being shut off by a state agency that has been corrupted, weaponized, and stacked with extremists by a governor desperate to fuel his own political ambitions.
Today, more than 9,000 transgender Floridians access care through Medicaid. On August 21, the state government will put  that care on the chopping block. As further evidence for his complete disregard for the health and well being of transgender Floridians, the DeSantis Administration has done nothing to quantify or assess the terrible impact this rule would have on the thousands of transgender people who rely on Medicaid for their care. The transgender community, like all people, shouldn't have necessary, life-saving care stripped away by extremist politicians working overtime to stoke right-wing fervor. This brazen, politically-motivated attack is cruel, dangerous and puts the health of thousands at risk."
Ukrainian family accused of anti-gay hate crime: "Accusations are false"
Initially the victim told police he was drunk & fell down changing his story 6 months later when he said that he was attacked by the family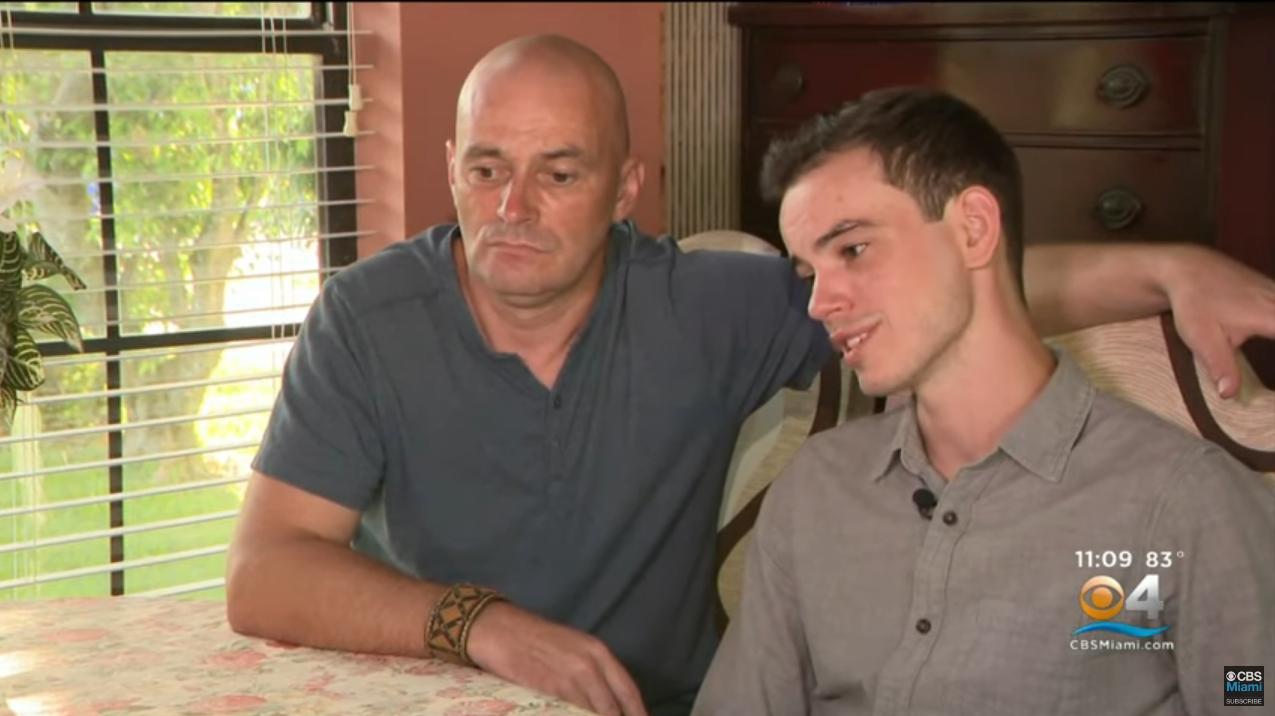 POMPANO BEACH, Fl. – A family of Ukrainian refugees accused of a vicious hate crime against a gay man have bonded out of jail and are speaking to media outlets in South Florida telling their side of the story, denying that the victim is being truthful.
Inna Makarenko, her husband Yevhen and their youngest son Oleh, who goes by Alex, were accused of a brutal hate crime by the 31-year-old victim who has invoked Marsy's Law rights and is declining to be named publicly, of attacking him in his apartment in Pompano Beach on or about August 6, 2021.
The victim says he has been left permanently blinded by the assault. The Makarenko's oldest son Vladyslav, was arrested while in Alabama when the family was taken into custody last Spring, but charges were dropped a few months later when Broward County Sheriff's Office investigators determined he was out of state at the time of the alleged assault.
CBS Miami reporter Karli Barnett spoke with the Markarenko family, first with Inna who was released from an immigration detention facility on a $10,000 bond. "We were very happy in this country," she told Barnett. "But our happiness was broken March 10." That was the date the family was arrested in the alleged assault which prosecutors added a hate crime enhancement because of the victim's sexual orientation.
According to the arrest documents, 19-year-old Oleh [Alex] Makarenko and the victim had been romantically involved for about nine months, but the victim said Alex told him his father was not accepting him as gay.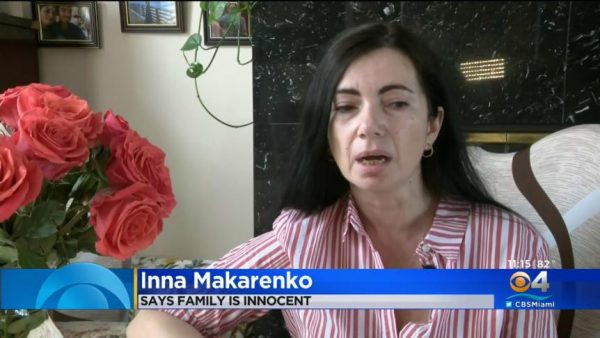 "I never heard about this person," Inna told CBS Miami. "Maybe if it was some communication, maybe it was for some reason. I don't know. I want so much to see my son to hug him and to give him some questions, because I don't understand."
Inna explained her son has a fiancée. She also said her family has no malice toward gay people.
"God loves everyone," she said. She added that they have witnesses that can vouch they were not at the alleged victim's residence the night of the alleged assault because they were celebrating her daughter's birthday party. 
"The rule is not working here. Be good, do good, and you will be fine. No," she said. "One day, someone can just point a finger on you and police can catch you, even without evidence or anything."
Barnett reported that initially the victim told police he was drunk and fell down changing his story the following February six months later when he said that he was attacked by the Markarenko family.
"He was really a victim from August until February," said Inna. "But in February, when he came to the police and said it was me and my family who beat him, he became a liar, not victim."
The Makarenko's came to the U.S. from Ukraine seeking asylum in 2016. Their next hearing was Friday, August 5th to determine their status. The outcome currently is unknown.
Accused of hate crime against gay man, Pompano Beach family claims "accusations false:"