Pennsylvania LGBTQ+ politicos abandon gay Rep.- back straight opponent
"Sims is known for traveling across the country as a public speaker and reportedly has fallen short in constituent services work"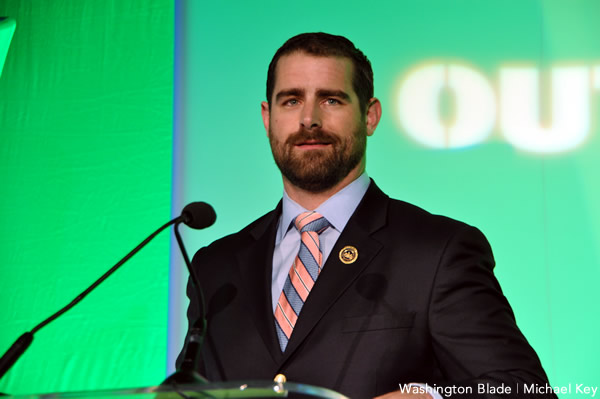 More than 40 LGBTQ leaders from across the state of Pennsylvania announced at a press conference on March 3 that they are endorsing one of two opponents of gay Pennsylvania State Rep. Brian Sims for lieutenant governor in the state's May 17 Democratic primary.
The LGBTQ leaders, who held their press conference at Philadelphia's William Way LGBT Community Center, said they were backing State Rep. Austin Davis in the lieutenant governor's race on grounds that he is a strong and committed supporter of LGBTQ rights and has the best chance of winning in the general election in November. The move is a stunning rebuke to Sims, who has previously been endorsed by national LGBTQ groups, including the Human Rights Campaign and the LGBTQ Victory Fund.
Davis is a first-term legislator from Western Pennsylvania and, according to the Philadelphia Inquirer, is relatively unknown outside of his part of the state. If elected, he would become the state's first African-American lieutenant governor.
The LGBTQ leaders also announced their endorsement of Pennsylvania Attorney General Josh Shapiro in his race for Pennsylvania governor in the Democratic primary. Shapiro announced earlier this year that he has endorsed Davis for lieutenant governor and considers Davis as his running mate in the May primary.
Both Davis and Shapiro, who is running unopposed for governor in the Democratic primary, attended the March 3 press conference. The two pledged to aggressively push for passage of a state LGBTQ rights bill and other LGBTQ supportive legislation in the Pennsylvania General Assembly.
"I am humbled and grateful to have the support of so many leaders from LGBTQ+ communities from all across our commonwealth – and I am ready to continue fighting for them as Pennsylvania's next lieutenant governor," Davis said at the press conference. "Every Pennsylvanian's rights should be protected under the law, and in Harrisburg, I have worked to protect LGBTQ+ rights and advance equality," he said.
Among the LGBTQ leaders who either spoke at the press conference or indicated their support of Davis for lieutenant governor and Shapiro for governor were Abington Township Commissioner Lori Schreiber; former Philadelphia Human Relations Commission Executive Director Rue Landau; and Schuylkill County Stonewall Democrats founder Maria Sanelli. Milford Borough Mayor Sean Strub, who did not attend the press conference, is among the LGBTQ leaders who have endorsed the Shapiro-Davis ticket. Transgender activist and former Erie County School Board President Tyler Titus spoke and endorsed Shapiro. Titus, in a later email to the Blade, clarified that they endorsed Sims for lieutenant governor.
The decision by the LGBTQ leaders to back Davis over Sims — who became the second openly LGBTQ person to serve in the Pennsylvania General Assembly — will likely come as a surprise to LGBTQ activists outside of Pennsylvania, many of whom have supported Sims for re-election to his state House of Representatives seat representing Center City Philadelphia.
None of the LGBTQ leaders who spoke at the press conference in support of Davis said anything about why they thought Sims would not also be a strong supporter of LGBTQ rights as lieutenant governor.
The Philadelphia Gay News, whose publisher, Mark Segal, expressed strong support for Davis at the March 3 press conference, has published reports and opinion columns by local activists claiming Sims has an abrasive personality that has alienated fellow lawmakers and some in the LGBTQ community.
One commentator in the Philadelphia Gay News said Sims is known for traveling across the country as a public speaker and reportedly has fallen short in constituent services work in his district. The same commentator wrote that none of Sims's legislative proposals have passed in the General Assembly during his decade in office.
Sims and his supporters have disputed these claims, saying they often come from those who disagree with him on specific issues before the legislature.
The LGBTQ Victory Fund, a national organization that raises money to help elect LGBTQ candidates across the country, has endorsed Sims in the lieutenant governor's race.
"The LGBTQ community is not a monolith," said Victory Fund spokesperson Elliot Imse. "We have varied priorities, interests and political beliefs, so it is unsurprising a handful of LGBTQ community leaders would support other candidates," Imse told the Blade.
"Yet the majority of LGBTQ voters and community leaders are excited to elect Brian Sims as the next Lieutenant Governor of the Keystone State, and his fundraising numbers are all the evidence you need," Imse said. "Pennsylvanians' enthusiasm behind Brian's historic candidacy is resounding."
In response to a request for comment, Sims sent the Blade a statement responding to the LGBTQ leaders' decision to endorse Davis rather than him in the lieutenant governor's race.
"Fighting for LGBTQ+ equality has been the work of my life," Sims said in his statement. "You don't have to look further than the legislation I've introduced and sponsored over the last decade or my career prior to office to see that," he said.
"Our community – like many other communities – is tired of being approached by allies for our votes only around election time when it's most convenient," he said. "We're more than a set of photo opportunities and press conferences, and we deserve representation that will actually fight for our causes. We need elected officials who've stood with the community before the campaign season, and will still be here after election day," he said. "That's why I'm running for Lieutenant Governor."
Obama rallies for Warnock as Walker goes transphobic in latest ad
"Tomorrow is the last day for early voting and then we need to get people out to the polls on Tuesday, which means we still got work to do"
ATLANTA – Former President Barack Obama held a rally with Sen. Raphael Warnock (D-GA) tonight in Atlanta as the Georgia election runoff for the U.S. Senate seat currently held by Warnock enters its final week.
Speaking to the enthusiastic crowd in the historic Pullman Yard, Obama urged supporters to continue pressing to secure Warnock's chances as early voting ends Friday ahead of next Tuesday's election.
"Now I know a lot of folks have been voting early over the last few days, that is a good thing. That is an encouraging thing. But — you knew there was a but —plenty of folks haven't voted yet. Tomorrow is the last day for early voting and then we need to get people out to the polls on Tuesday, which means we still got work to do," Obama said.
A spokesperson for the the Georgia secretary of state's office told the Blade that more than 1.1 million votes have been cast so far.
Warnock's Republican challenger meanwhile focused on his opposition to transgender rights. In a recent campaign ad, Herschel Walker is featured alongside cisgender former University of Kentucky swimmer Riley Gaines, who tied with University of Pennsylvania trans female swimmer Lia Thomas.
In the ad Gaines says she "worked so hard" at competitive swimming but she was "forced to compete against a biological male."  The ad also goes on to attack Warnock in the Chyron onscreen stating: "Raphael Warnock voted to allow biological men to compete in women's sports." That particular charge by Walker's campaign is factually incorrect as the U.S. Senate has not held any votes on the subject of transgender women in sports.
Politico's National political reporter Natalie Allison tweeted:
Herschel Walker is up with a new runoff ad about transgender athletes, featuring a swimmer who tied with Lia Thomas.

"My senior year, I was forced to compete against a biological male," Riley Gaines says in the ad for Walker's Senate campaign. pic.twitter.com/MlVxnJwkgB

— Natalie Allison (@natalie_allison) November 21, 2022
During the rally in Atlanta this evening Politico reported Warnock received roaring applause when he poked fun at Walker, something Obama also did, referencing a series of outlandish comments the retired football star has made over the course of his candidacy.
"We all know some folks in our lives who, we don't wish them ill will, they say crazy stuff … but you don't give them serious responsibility," Obama said.
"He was an amazing running back," Warnock said of Walker. "And come next Tuesday, we're going to send him running back to Texas."
Walker, who was raised in the Peach State and was a star player at the University of Georgia, lived the majority of his adult life in Texas before returning to run for Senate in 2021.
Politico also noted that Warnock, the pastor of the Atlanta church that Martin Luther King Jr. attended, tied the election to the long struggle of African Americans for equal rights, noting the crowd had gathered on the 67th anniversary of Rosa Parks refusing to get up from a bus seat in Montgomery, Alabama. Walker is also African American.