'Blue Hearts' beating: an interview with Bob Mould
Gay musician brings latest tour to California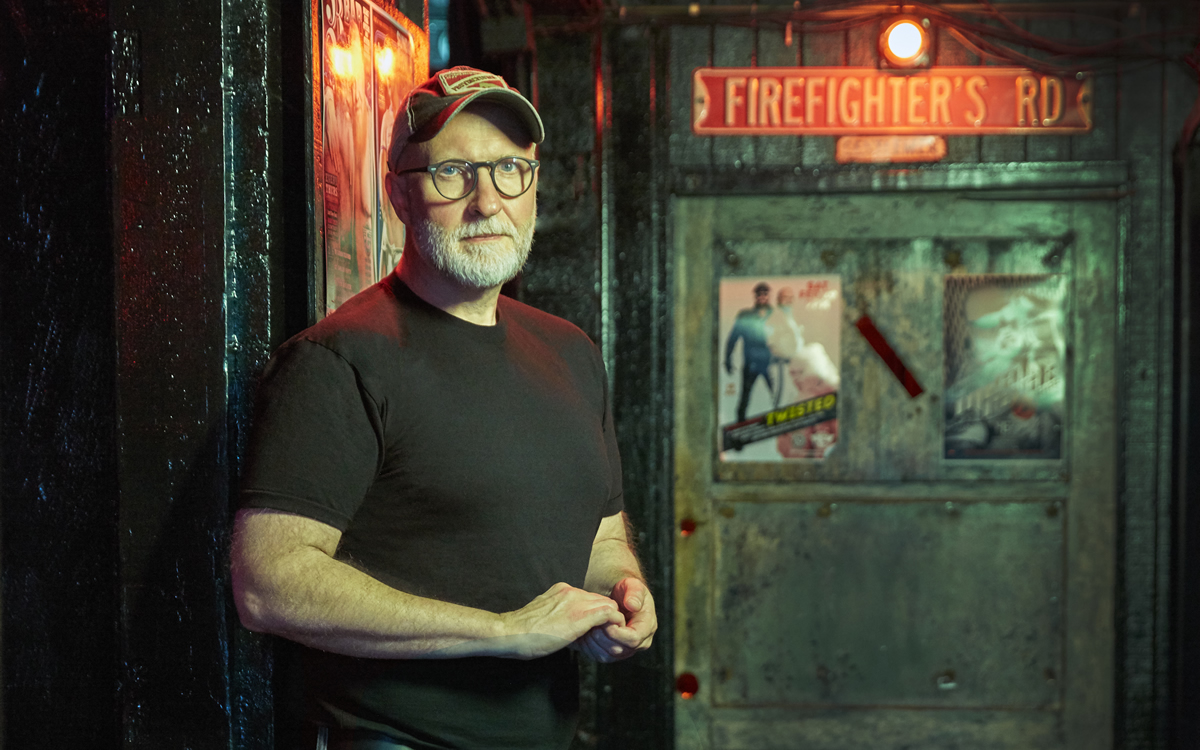 If gay modern rock legend Bob Mould isn't the hardest-working man in music, he's definitely one of them. To prove that point, he's wasted no time in following up 2019's aptly titled "Sunshine Rock" with the somewhat bluer "Blue Hearts (Merge)." The album is blue in terms of its sexual content (check out "Leather Dreams") as well as in the liberal political messaging in songs such as "American Crisis," "Next Generation" and "Heart on my Sleeve."
As always, the songs are delivered in his trademark crunchy and blazing guitar rock style, with Mould backed by longtime bandmates Jason Narducy on bass and Jon Wurster on drums. I had the pleasure of speaking with Bob about Blue Hearts and the Distortion box sets.
BLADE: Blue Hearts opens with "Heart on my Sleeve," which begins with the lines, fittingly enough for right now, "The left coast is covered in ash and flames/keep denying the winds of climate change." The song was written and recorded long before the disastrous wildfire season. How does it feel to you when you listen to or perform that song now?
BOB MOULD: You can't write this stuff [laughs]. When I started gathering ideas for this record, it was with the idea of being more of a journalist. Trying to make my thoughts known, these are the things that appeared. Specifically, on that line, we've been having years of fires out here. Now, it's just so much worse. They tried to tell people this might happen, but I guess it wasn't that important to the government to think about climate change until it was too late. So here we are.
BLADE: Has living in California heightened your awareness of the dire state of environmental issues and in what ways do you hope to make an impact?
MOULD: For the better of the last four years I was in Berlin, Germany, where we like to think that Germany and Europe is way more progressive. But even in Germany, coal is such a motivator over there, and the auto industry is so important. They've got issues with (gas pipeline) Nord Stream 2 with the Russians right now. I guess being back in California since November of 2019, I think I have a heightened awareness all the way across the board, not only how climate change is affecting the West Coast, but how the sensationalist mainstream news media, news as entertainment, has affected the psyche of the country and created such great division. For me, the juxtaposition is that in Germany, news is mainly still news. It's not exciting. There's nothing titillating about it. It's just news, which is what news should be. Being back here, I think the over amplifying of things here has created beyond an echo chamber, almost canceling out truth, which is nutty to be thinking about at eight in the morning when I can't even breathe outside.
BLADE: "Next Generation," which follows "Heart on my Sleeve," is also prescient, with the lines "Please pay attention/Take to the streets for your rights," especially in light of the Black Lives Matter movement's rise to prominence following the murder of George Floyd and others. Would you agree that the timing of the release of "Blue Hearts" is extraordinary?
MOULD: It was a little unnerving. In life and, for lack of a better term, in entertainment and the arts, timing is key to things. When I set out to write the record it was just a general impression, speaking on 59 years on this planet and seeing what we as people actually need to do. Such as turning away from sensationalist force-fed media and talking to our neighbors, getting out on the street, protesting. Being in Germany, I don't think a single week went by where I did not stumble into an organized protest that would take over the main streets of certain neighborhoods in Berlin. It was accepted behavior. To go from years of that and to come back here, writing these words was sort of a reminder to people that this is what we did in America in the `60s. This is not a bunch of radical, left extremists, who are going to loot Bergdorf Goodman. That's not the intent when people take to the streets for their rights. What I just described is actually looting, which is different [laughs].
BLADE: It's ironic, don't you think, that the some of the people who were out there protesting in the streets in the '60s, have now, in their dotage, become so conservative, even going so far as to support Trump?
MOULD: It sure feels like that could be the case. I don't have hard evidence, but I would suggest you may be right [laughs].
BLADE: It's frightening, because these are the original hippies who are upset about protests.
MOULD: I think people protest when they feel like they've lost their voice or they have no means. Means being that they don't have a large stake in the stock market, which the president speaks about when he says, "I didn't want to cause panic." Meaning panic on Wall Street. I worry, because my job is to observe the world through my oddly shaped glasses [laughs] and just report back on what I remember from being a 21, 22-year-old kid who had absolutely nothing but a band and a guitar and an amp with which to do things. Maybe these people who used to protest when they had nothing, once people get means, once people are invested, maybe they lose sight of the plight of the common person.
BLADE: When I interviewed gay writer David Leavitt about his novel "Shelter in Place," we talked about the parallels for gay men when it comes to the AIDS crisis and the COVID-19 pandemic, similarities including Republicans being in power and the undue influence of evangelicals. "American Crisis," the blistering first single from "Blue Hearts" shares a similar sentiment. Do you think gay men could teach the rest of the world how to survive a plague, both viral and extremist?
MOULD: I think David is illuminating what I think is a historical parallel, which you just can't deny. Whether America's ready to listen to older gay men beyond caricatures on network television, I don't know. If they are, there are things we can tell them. For me personally, as a young gay man in the `80s, it sort of crushed my development, but I realized that I had to protect other people so I had to do certain things for 35 years until PrEP came along. Why was it not a problem for me for all those years, yet when you ask someone why they don't wear a mask, it's because it's their liberty. What if I had been that cavalier?
BLADE: Right. It was such a simple thing for us to realize that to save our own lives, and the lives of others, you put on a condom, you relearn how to have sex. There's just no comparison to putting on a mask.
MOULD: Yes, because this is just something that everybody's doing on their face. When you're asking people to make emotional sacrifices in moments of intimacy, I think that's a little bit heavier than having a mask on your doorknob so you put it on your face when you leave your dwelling [laughs].
BLADE: The activist aspect of the album is reflected in that you donated the proceeds from the "American Crisis" single to OutFront Minnesota and Black Visions Collective when it was released a few months ago. Why were those two organizations chosen?
MOULD: That was a split choice. I chose the LGBT group in Minnesota because a lot of the record, as you have seen, speaks from an older gay male perspective. Merge Records donated its half to the Black Lives Matter related situation that was going on in Minnesota. We mutually said that this covers all the things we're trying to say.
BLADE: "Leather Dreams," which basically struts out of the speakers like a freeballing stud, manages to be both erotic and thoughtful, with its reference to "Tops and their bottoms, condoms and PrEP." It's also the sound of sexual liberation, so was it as liberating to write as it sounds?
MOULD: Yeah! I had a three-day sleepless stretch in January, right before going on the road and then right into the studio with these songs. I had the house to myself. I was writing like a madman. That one just fell out of nowhere. It was so hilarious because clearly these are the experiences of someone [laughs]. It's really riotous. I don't think I've ever been quite as out front. There were moments on Modulate, back in '02, but nothing quite as overt. I think it's outright hilarious. Who is this guy? Who has this life [laughs]?
BLADE: In addition to "Blue Hearts," there is the massive CD and LP box sets Distortion: 1989-2019 and Distortion: 1989-1995, respectively. What does it mean to you to have these expansive retrospectives available and why was now the time to release them?
MOULD: I had been talking with Demon Music Group about this project for five years on and off. A lot it was a matter of timing. Back in '16, Patch The Sky was out and I was doing a lot of touring and I kept that record alive for almost two years and then I went right into Sunshine Rock (in 2019). I thought that after Sunshine Rock wound its way down, I was going to take a longer break. Maybe I'll take a couple of years. This would be a good time to have the box set. It will be something in between Sunshine Rock and whatever's next. Then my head started burning with all this new music. Then I was faced with this interesting dilemma of having a current project and a retrospective at the same time. It's weird because the current record sounds like the music that predates the box set [laughs]. That really aggressive simplistic songwriting style. But the box set is really great. Every time I put out a record, people are like, "Is this your 14th solo album?" and I can never remember; now they're all in one place.
Riding the joy train with Amy Ray
New solo project 'If It All Goes South' focuses on healing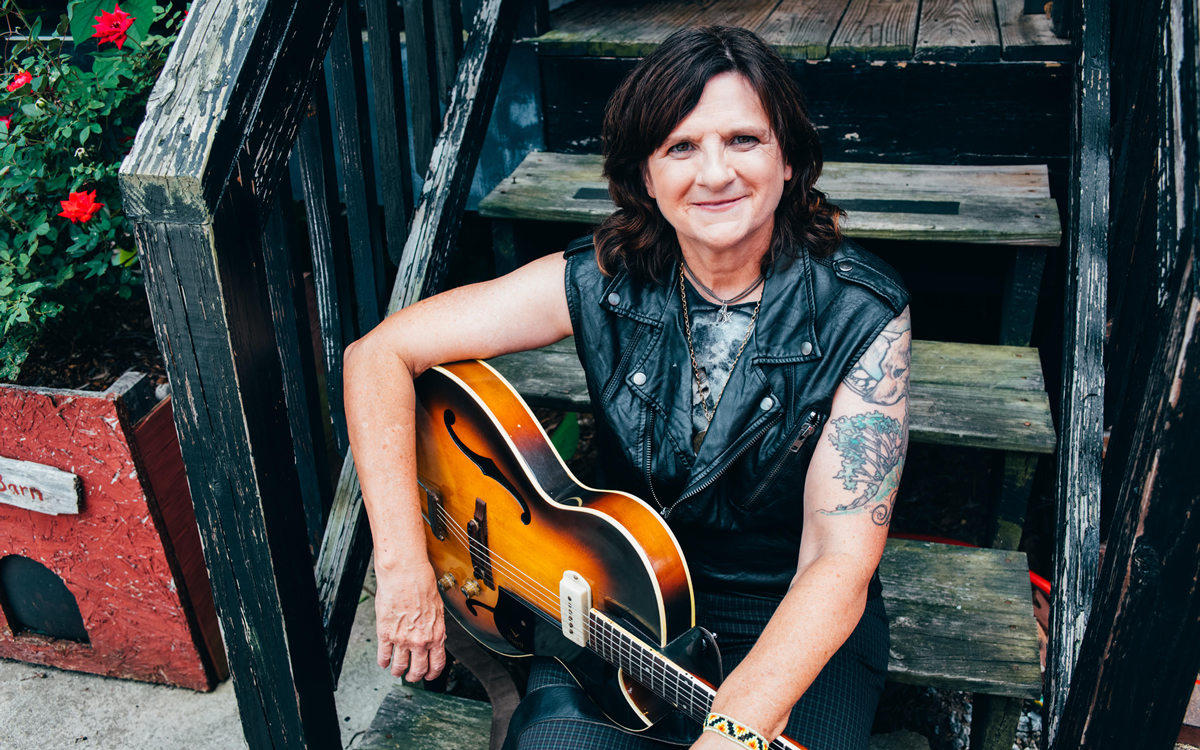 Whether out singer/songwriter Amy Ray is performing with longtime musical partner Emily Saliers as one half of the Indigo Girls, as she has since the mid-1980s, or going solo as she did with her solo debut "Stag" in 2001, you recognize her instantly. Her distinctive vocal style, which suits whatever genre she's performing – folk, punk, Americana, or gospel – has become as much her trademark as the outspokenness of her lyrics.
"If It All Goes South" (Daemon), Ray's exceptional seventh solo album is a welcome addition to her singular output, touching on themes of queerness and social issues, all performed in her warm and welcoming manner. Amy was gracious enough to make time to talk about the new album around the time of its release.
BLADE: Before we get to your new album "If It All Goes South," I wanted to go back in time a little bit. Your 2001 solo debut album "Stag" and its 2005 follow-up "Prom" are firmly rooted in a punk rock/riot grrrl aesthetic. While the Indigo Girls are more than capable of rocking out, did you feel that the songs on those albums wouldn't have been a good fit for what you do with Emily (Saliers)?
AMY RAY: Yes. I think it was because of two things. One was the collaborators. Those were people I'm a fan of, most of them are people that Daemon Records (Ray's record label) had an association with, in some way or another. It was kind of like this other camp of people that were different from the collaborators that the Indigos would typically play with. It tended to be more studio accurate, in some ways. As opposed to that punk rock ethic which is music being from a different place, and accuracy maybe being less important than technical prowess.
BLADE: A little more DIY.
RAY: Yeah! And I also think the subject matter, the songs were just a little more singular in a way that was hard to do them as the Indigo Girls and not dilute the message. As soon as you get us together, we really shift the other person's song, it becomes a duet. The subject matter to me was so specific and gender queer and punk rock edge that it didn't feel like it would work. At that time, when I wrote (the song) "Lucy Stoners," Emily wasn't interested in doing some of those songs. She wasn't down with the attitude. Now, she would say, I'm sure just knowing her, that [laughs] she'd do it now. Because her attitude has changed. I was hanging out with and influenced by people that were from that DIY movement, and there was lots of gender queer conversation. It was a different place than Emily was in as a gay person. Now, I look back on all of it and I think I was, all the time, reaching around to different collaborations because I love collaborating with different kinds of people. It always teaches me something. It's also a different itch that I get scratch.
BLADE: In terms of trajectory, to my ear, your most recent three solo albums – 2014's "Goodnight Tender," 2018's "Holler," and the new one, "If It All Goes South" (Daemon) – in addition to being alphabetically titled, feel like an Americana trilogy. Do you consider them to be linked?
RAY: Yeah. I mean I didn't say to myself, "This is the third one and then I'll stop." But "If It All Goes South" was definitely a record where there was a thread from the other ones and some things that I wanted to achieve that I didn't feel like I was able to do on the other ones. I think I didn't even know that until we started making this one. This is more successful at combining a few of my punk-abilly influences into an Americana world. Also, some of that spontaneity we were starting to get on "Holler." Now that we've played together as long as we have as a band, it was at its peak on this record. I think we just needed to make a couple of records to get to that place. I like them all, but for different reasons. They do different things for me. This one gathers up all the loose ends of "Holler" and "Goodnight Tender" musically and ties them up and puts them in a different context, and almost raises the bar. Lyrically, I wanted to have songs that were about healing, a "you're not alone" kind of vibe, because of the time period that we had just been through. It's also the same producer (Brian Speiser) on all three, and we've worked together on projects. It started off casually – "Hey, I've been wanting to do this country record with these songs. Let's do this together."
BLADE: Am I reading too much into the album's title "If It All Goes South," or is it a play on words, as in "goes south" as a direction and as deterioration?
RAY: You're not reading too much into it. There's even more you can read into it, politically. When I was writing (the song) "Chuck Will's Widow," Georgia was the epicenter of some big political movement. When Warnock got elected and Abrams declared running for governor again, I was like, "Oh man, I'm in the right place for once." But we knew it wasn't always going to be easy. My perspective in that song was a couple things. "If it all goes South, count it as a blessing, that's where you are." Yes, it's directional, and also like, if things get really shitty, try to make the best of it, of course, it's what you tell your kids all the time.
BLADE: As any Indigo Girls fan or follower of your solo output knows, you have a history of playing well with others, in addition to Emily (Saliers), "If It All Goes South" is no exception with guest vocalists including Brandi Carlile ("Subway"), H.C. McEntire ("Muscadine)," Allison Russell ("Tear It Down"), Natalie Hemby ("From This Room"), and the trio I'm With Her ("Chuck Witt's Widow"). When you begin the recording process for an album do you have a wish list of musical guests or how does that work?
RAY: I usually have a wish list when I'm writing the song. Alison Brown, she's part of the band, so I always think about her banjo playing when I'm writing. She doesn't tour with us, but she's in the band. I started writing "From This Room" a long time ago, and I started writing it as a duet. I didn't have anybody in mind at that point, but I hadn't finished it yet. When I was finishing it for the record, I had just seen Natalie Hemby with The Highwomen and had also just had met her and Emily writes with her sometimes. So, I knew her and I was thinking about her voice. When I wrote "Subway," in part, in tribute to (the late DJ) Rita Houston, who had been so crucial. She and Brandi Carlile were super close. She really helped develop Brandi's career in being such an indicator station, getting other people on board. So, I was thinking about Brandi and the chorus vocals that would be there because I was writing kind of an ambitious chorus for me [laughs]. I'm like, "I'm gonna have to have Brandi in here!" For "North Star," that kind of gospel song at the end, when I wrote it and Jeff Fielder, the guitar player, and I were demoing it, I was like, "This is not right. There's another ingredient. I don't know enough about the kind of music I'm trying to write to do it." I got Phil Cook to come in, as a co-writer really, to finish the song musically. Fill out the chords and make it the gospel song I was trying to write. The only person I wanted to do this was Phil Cook. I am just very specific. Like Sarah Jarosz, on this record in particular I wanted to get a mandolin player and I wanted Sarah to play mandolin. We're always covering the parts ourselves. Jeff's a great mandolin player, but Sarah Jarosz is a fucking prodigy [laughs]. … It's never like a wish list of, "Who's famous? Who can we get?" It's more a case of who are these songs geared towards, so that when they come into the studio, you don't tell them anything, really. They just do what they do great, and it works.
BLADE: You mentioned the late, queer, influential WFUV DJ Rita Houston, and I was wondering what you think the loss of Houston means for new artists?
RAY: It's a huge hole in the universe of people that would take a new artist and sort of help develop them, take chances at radio, and give people that space. She also was a mentor to artists. She wasn't ever judging your art by whether you were gay or not, or what color your skin was. … She was a mentor in shared musicality. Being able to trust her and understanding how that taught you about the terrain that you're in and who you can and can't trust in that way.
BLADE: "Subway" ends with the line "This Georgia girl has got it bad for New York." With that in mind, could there be an Amy Ray or Indigo Girls musical on Broadway at some point in the future?
RAY: [Big laugh] That's Emily's territory. She's working on some things. A couple of different musicals, and I'm not working on them with her. She's developing two different ones, and I think one of them has actually gotten some traction and some workshopping that's pretty important. There is a musical that a friend of mine from high school has been writing that's really interesting and it's gotten a lot of workshops. It's still in the early stages. It uses Michelle Malone's music and my solo music. Then there's a movie coming out called "Glitter and Doom" which is a movie musical that's just Indigo Girls music. It's coming out next year, I think. We're still working on the final credits song.
BLADE: After the current Indigo Girls tour wraps up, is there a possibility of an Amy Ray solo tour?
RAY: Yeah. We're booking dates in February for the South. I've tried touring in cold places in February, and it's hard [laughs]. We'll head up to the North in May.