"The Kids Are Alright," gay vets & Gen Z take on Florida's anti-LGBTQ+ law
"When we have the Legislature in the state of Florida, curtailing First Amendment rights, I'm sorry- That is wrong. Period"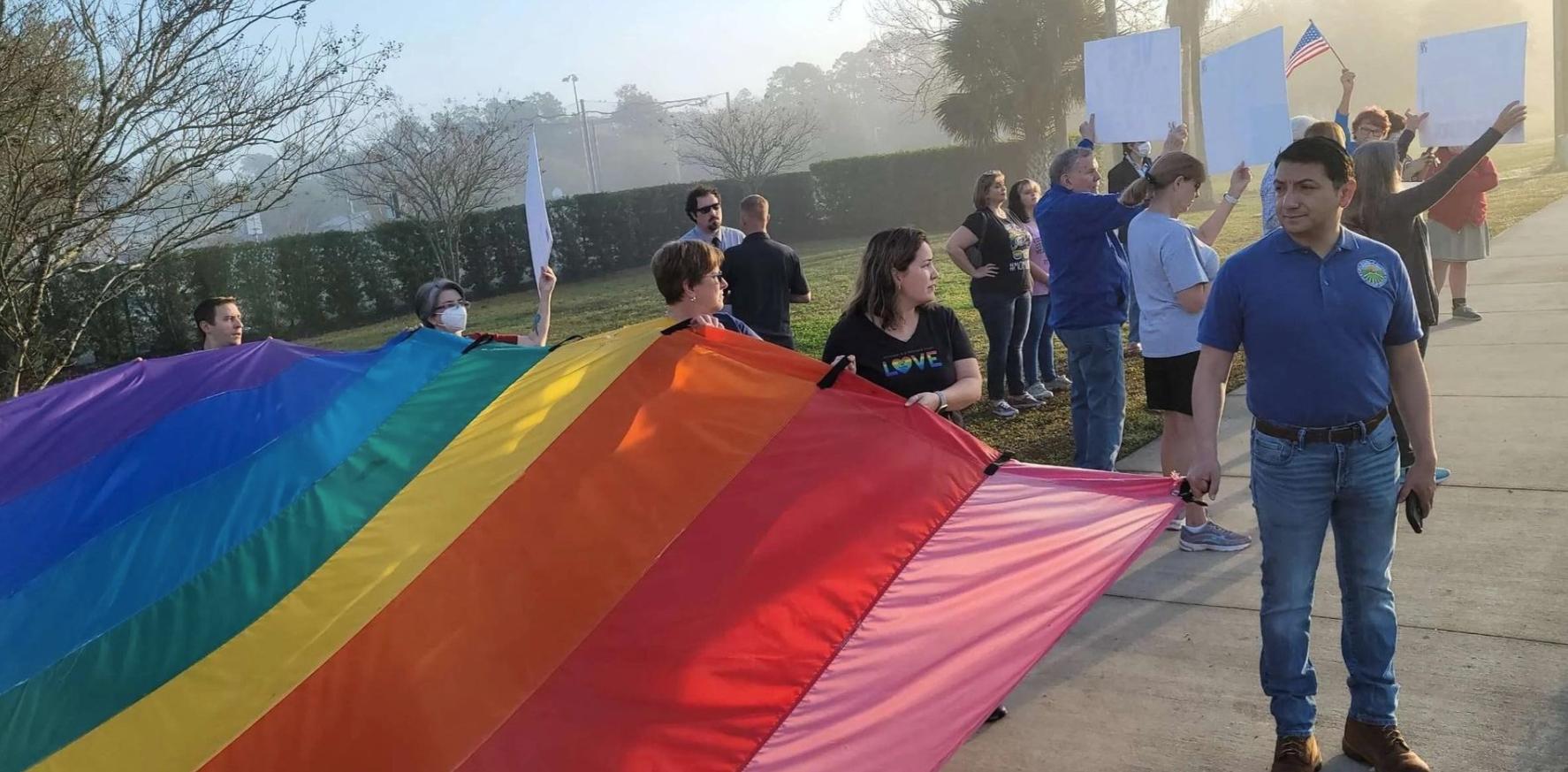 PALM COAST – It was a unique gathering in the early morning fog on the sidewalk in front of Flagler Palm Coast High School, forged by a common bond despite the decades differences in the ages of those present.
The grizzled and proud U.S. Marine Corps veteran with his fellow vets and the young adolescent activists brought together to protest an injustice brought about by the hateful spite of politicians and others who have set out to erase the existence and essence of Florida's LGBTQ+ people.
The primary motivation and reason for the rally was to demonstrate support for a Flagler student, 17-year-old junior Jack Petocz, who had been unceremoniously suspended– indefinitely for his role in organizing a state-wide and local to his school protest last week over Florida's now-infamous 'Don't Say Gay' law that was making its way through the legislature in Tallahassee.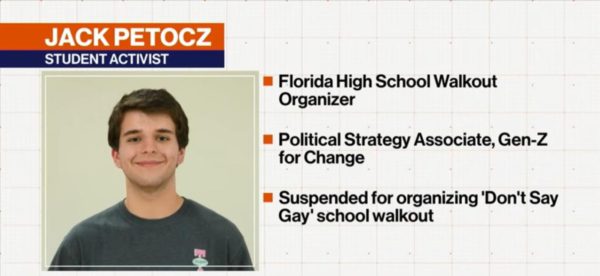 Retired U.S. Marine Corps Gunnery Sergeant Mark Ebenhoch, 63, a 23-year veteran of the Corps, joined by his fellow veterans including U.S. Navy veteran, Washington D.C. resident Eric Golnick, CEO of Forge Health, a mental health company for veterans and first responders, and others were present to express their outrage and anger at what Ebenhoch told the Blade was a "heavy handed and targeted discipline of Jack- which is unwarranted, unfair, unconstitutional and a chilling consequence to his and these students' rights guaranteed under the 1st Amendment."
After seeing the news reports about Jacks suspension, the group of Vets that organized the early morning rally for support were incensed at the targeting of the youth in Florida. "The core of their anger was the targeted restriction of the free speech rights of all involved. Whether it be the intended violators of the bill in question, or the HS students that understand this assault voicing their grievances, these Vets saw an assault on their oaths of enlistment," Ebenhoch said.
"We got incensed by the fact that these kids' First Amendment rights are trying to be curtailed. Staff, teachers, school employees are going to be throttled by this, and these kids standing up for it–and then to be disciplined for doing that, incense us very much so," Ebenhoch told local media outlet FlaglerLive.com.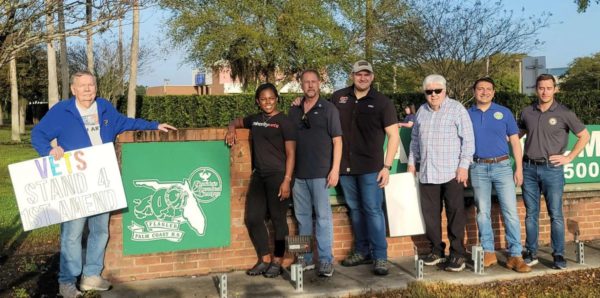 "We came at this not only from an LGBT standpoint, we came at it as a veteran standpoint. The fact that we all took an oath of enlistment to defend the constitutional rights of Americans against all foreign enemies. And the key word here is domestic enemies. When we have the Legislature in the state of Florida, curtailing First Amendment rights, I'm sorry, I don't care what kind of veteran you are or what kind of American you are. That is wrong. Period. We do not curtail speech rights. If people want to curtail speech rights, they can go move to Russia, where they can't say anything. But we have the rights in this country to do so. And so these kids are defending their rights. We're standing right here with them."
"To be perfectly frank, it pissed me off right? From the First Amendment standpoint, from a constitutional standpoint," Golnick said, "the fact that he got suspended from school for speaking his mind, in fact, they're being this heavy handed about it." He said this was a pretty unique case from what he was observing across the county. "And if we don't stand up for these kids who's gonna stand up for these kids?"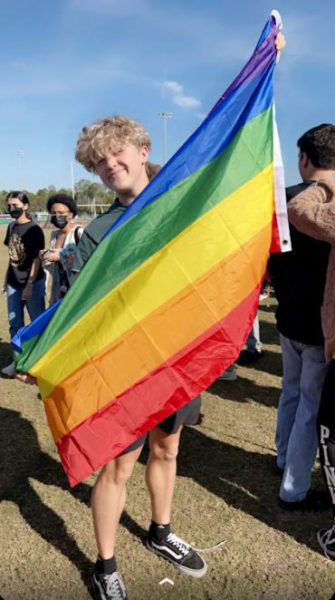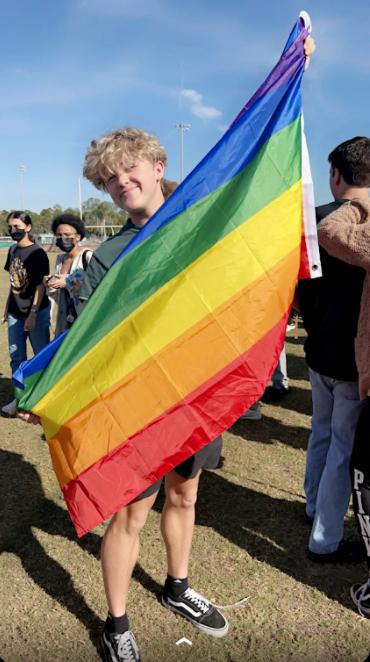 For 17-year-old Cameron Driggers, a student LGBTQ+ activist-organizer of the group Recall Flagler County School Board and co-leader of the walk-out, his friend's suspension inspired him to create a petition on Change.org to pressure Flagler Palm Coast High School Principal Greg Schwartz to rescind his seemingly arbitrary decision to suspend Petocz.
Driggers pointed out to the Blade in a phone call that Principal Schwartz had "given us his explicit permission and approval for the walkout to happen- then he abruptly shortened it and when he found out about Jack's buying the flags to handout at the rally he then suspended him."
By the time of the Tuesday gathering of Ebenhoch's cadre of LGBTQ+ military veterans, Driggers' petition had garnered over 7,000 signatures.
Ebenhoch and Golnick also brought a piece of LGBTQ+ history with them to the early-morning rally, section 93 of the Key West Sea to Sea flag (the largest LGBTQ flag ever created.)
That same Section 93 of the Pride flag has a storied history: it robed the U.S. Supreme Court steps as it heard key cases on LGBTQ+ rights, and it is unfurled every year in Orlando to commemorate the massacre of 49 people at Pulse, the gay nightclub, in 2016. The Sea to Sea flag first billowed in a 2003 Key West commemoration of the 25th anniversary of the flag itself, FlagerLive.com reported.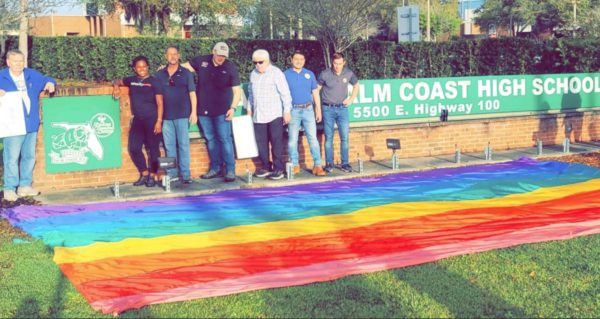 Petocz was absent at the rally as he and his father were inside the high school trying to have his suspension lifted. Later on during the day Driggers posted to the Change.org petition the news that Principal Schwartz had backed off.
"Recall FCSB is pleased to announce that Jack's suspension has ended and he is back on-campus. We are grateful for the thousands of people around the globe that shared, tweeted and protested in support of Jack, the organizer behind the state-wide Don't Say Gay Walkout. Over 7500 signatures were collected on a condemnation of Principal Greg Schwartz' conduct last Thursday. With Jack back on campus, Recall FCSB will continue to empower student leaders in and out of school," Driggers wrote.
The reason for the walkout, indeed the protests and even the suspension of Petocz however, passed the Florida Senate while the rally to support Petocz was happening and the legislation is now sitting on Florida Republican Governor Ron DeSantis' desk awaiting his signature, which he has publicly signaled he will approve.
In a phone call to the Blade after the rally in front of Flagler Palm Coast High School on his way to Tampa Tuesday afternoon, Ebenhoch reflecting on Driggers and his fellow students noted that "the kids are alright." Adults had best watch out he mused noting that Driggers, and with what he had learned about Petocz, made him very optimistic as the battle for LGBTQ+ rights in Florida rolls on. "One thing is certain, they are not about to let anyone erase them," Ebenhoch said of the GenZers he'd met.
On Wednesday, Petocz who had executed the organization of the statewide student walkouts in protest of a bill that critics say would be harmful to LGBTQ+ youth in Florida spoke with ABC News.
WATCH:
CDC: Meningococcal Disease outbreak investigation in Florida, 7 deaths
Gay & bisexual men urged to get vaccinated if living in Florida, or talk to their healthcare provider about vaccination if traveling to state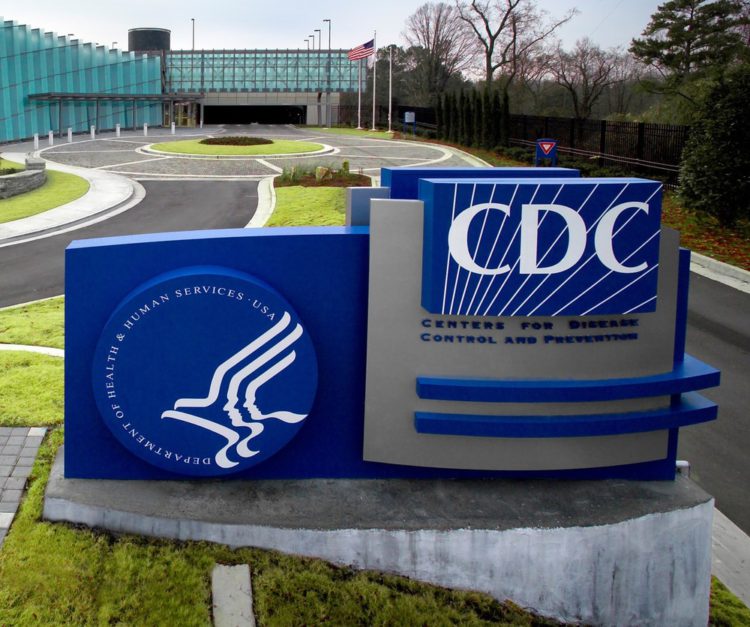 ATLANTA – The Centers for Disease Control and Prevention (CDC) said on Thursday that the agency is continuing its collaboration with the Florida Department of Health to investigate one of the worst outbreaks of meningococcal disease among gay and bisexual men in U.S. history.
At least 24 cases and 7 deaths among gay and bisexual men have been reported so far a CDC spokesperson noted.
In response to this outbreak, CDC is recommending gay, bisexual, and other men who have sex with men get a meningococcal vaccine if they live in Florida, or talk with their healthcare provider about getting vaccinated if they are traveling to Florida. CDC is also emphasizing the importance of routine vaccination for people with HIV.  
"Getting vaccinated against meningococcal disease is the best way to prevent this serious illness, which can quickly become deadly," said José R. Romero, M.D., Director, National Center for Immunization and Respiratory Diseases. "Because of the outbreak in Florida, and the number of Pride events being held across the state in coming weeks, it's important that gay and bisexual men who live in Florida get vaccinated, and those traveling to Florida talk to their healthcare provider about getting a MenACWY vaccine." 
The CDC recommended that gay and bisexual men traveling to Florida should ask their health care provider about getting the vaccine https://t.co/tNltrEbptl

— CBS News (@CBSNews) June 23, 2022
People can find a meningococcal vaccine by contacting their doctor's office, pharmacy, community health center, or local health department. Insurance providers should pay for meningococcal vaccination for those whom it is recommended for during an outbreak. In Florida, anyone can get a MenACWY vaccine at no cost at any county health department during the outbreak.
Seek medical attention right away if you have symptoms of meningococcal disease. Symptoms can appear suddenly and include high fever, headache, stiff neck, nausea/vomiting, or a dark purple rash. Symptoms can first appear as a flu-like illness, but typically worsen very quickly. People spread meningococcal bacteria to others by sharing respiratory and throat secretions (saliva or spit). Generally, it takes close or lengthy contact, such as kissing or being near someone coughing, to spread these bacteria.
Meningococcal disease can affect anyone and can be deadly and includes infections of the lining of the brain and spinal cord (meningitis) and bloodstream. Keeping up to date with recommended vaccines is the best protection against meningococcal disease.
More information about the outbreak and vaccine is available at Meningococcal Disease in Florida, 2022 | CDC.  
Florida proposes eliminating Medicaid coverage for gender affirming care
Should Florida's Health Care Administration enact the rule, approximately 9,000 trans Floridians insured with Medicaid could be impacted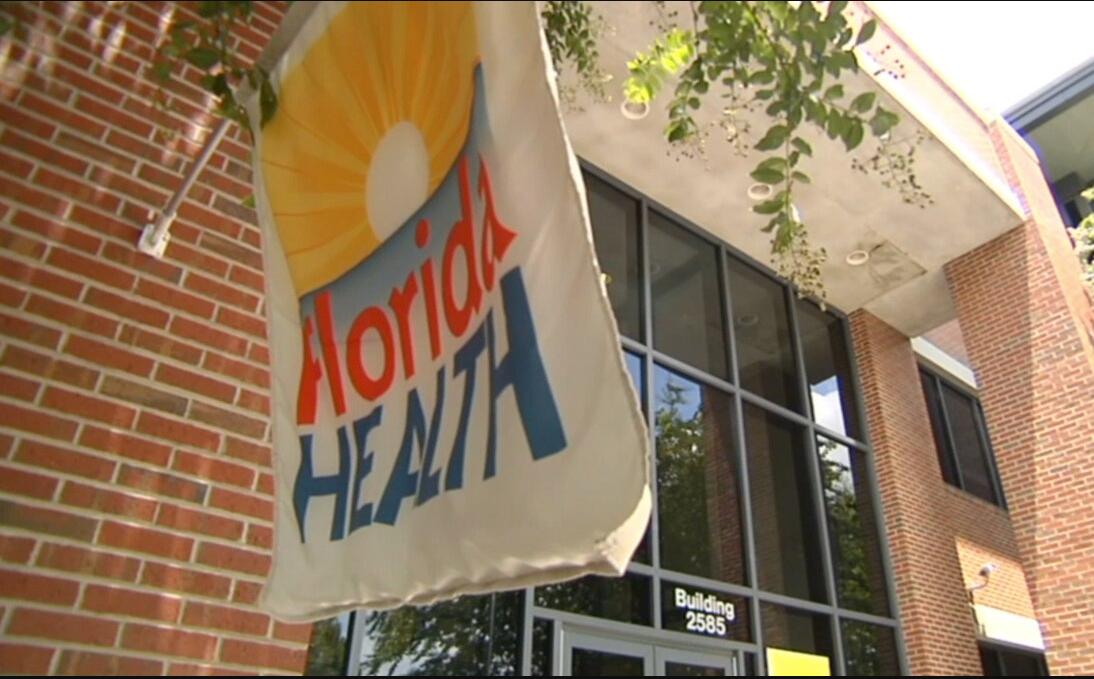 TALLAHASSEE – Florida's Agency for Health Care Administration (AHCA) released its Notice for a Proposed Rule to eliminate Medicaid coverage for gender affirming care for transgender Floridians.
AHCA's rule proposes that Florida Medicaid coverage "does not cover the following services for the treatment of gender dysphoria: puberty blockers, hormones, sex reassignment surgeries, and any other procedures that alter primary or secondary sexual characteristics." 
If enacted, approximately 9,000 transgender Floridians insured with Medicaid could be impacted.
 "Access to healthcare is a right every human being deserves," said Equality Florida Director of Transgender Equality Nikole Parker. "Transgender individuals are humans just like everyone else. Just because our experience isn't widely understood, does not mean we don't deserve respect and access to life-saving healthcare.  The country's major medical and mental health associations recognize the critical importance of gender affirming care.  Health care should be driven by scientific consensus, not political pandering or an election cycle." 
Public comment on the proposed rule is being accepted through July 8, 2022, and can be submitted at the "make comment" link on this page.
Anti-LGBTQ laws making Florida less welcoming for businesses
The state LGBTQ+ Business Climate Index is issued annually to help business leaders make equitable decisions about where to operate

TALLAHASSEE – In a new report by OUT Leadership, the global network for LGBTQ+ business leaders and companies, the state of Florida's ranking has decreased at a higher rate than most states making it less suitable for companies who value LGTBQ+ inclusion in the workplace.
The report is called the State LGBTQ+ Business Climate Index for 2022 and is issued annually to help business leaders make equitable decisions about where to operate.
"At a time when our state is recovering from the pandemic and unprecedented employment challenges, this report shows that the current decisions from the state's leadership about prioritizing culture wars over cultural diversity is harming our reputation as a welcoming and inclusive state to LGBTQ talent, and with companies who truly value equality for their workplace cultures," said Nadine Smith, Equality Florida Executive Director.
"Our coalition called Equality Means Business was developed to highlight companies in our state that walk the walk when it comes to LGBTQ protections in their places of business," said Rene Cantu, Equality Florida Business Outreach Manager. "It would be a shame if our corporate partners and their team members start considering moving out of Florida because of the current climate, but there are some who are doing so."
The report measures such factors as legal/nondiscrimination protections, youth and family support, political and religious attitudes, health access and safety, and workplace culture through the lens of the LGBTQ+ community in each state.
According to this report, Florida's score for 2022 is 53.43, a drop of 3.40 points from 2021. This score also lies 11 points below the national average of 64.61, and places Florida at a ranking of 31 out of 50. The report further states that the dramatic drop in score is a direct result of the anti-LGBTQ legislation being passed, including the "Don't Say Gay" law.
Though the law does not take effect until July 1, its chilling effects are already being felt across the state. Graduation speeches and yearbook photos have faced censorship in the law's wake while books with LGBTQ characters and Black authors are being challenged and banned, COEXIST flags and rainbow "Safe Space" stickers are being peeled from classroom windows, and teachers are considering leaving the profession for fear of the law's implications.
"The message is clear: LGBTQ kids and kids with same-sex parents are not welcome in Florida schools or our state. That reality is making it harder for pro-equality businesses to operate in the state," Equality Florida noted in a press release Thursday.