New TV season promises abundant queer content
A gay medium and 'Joe vs Carole' among highlights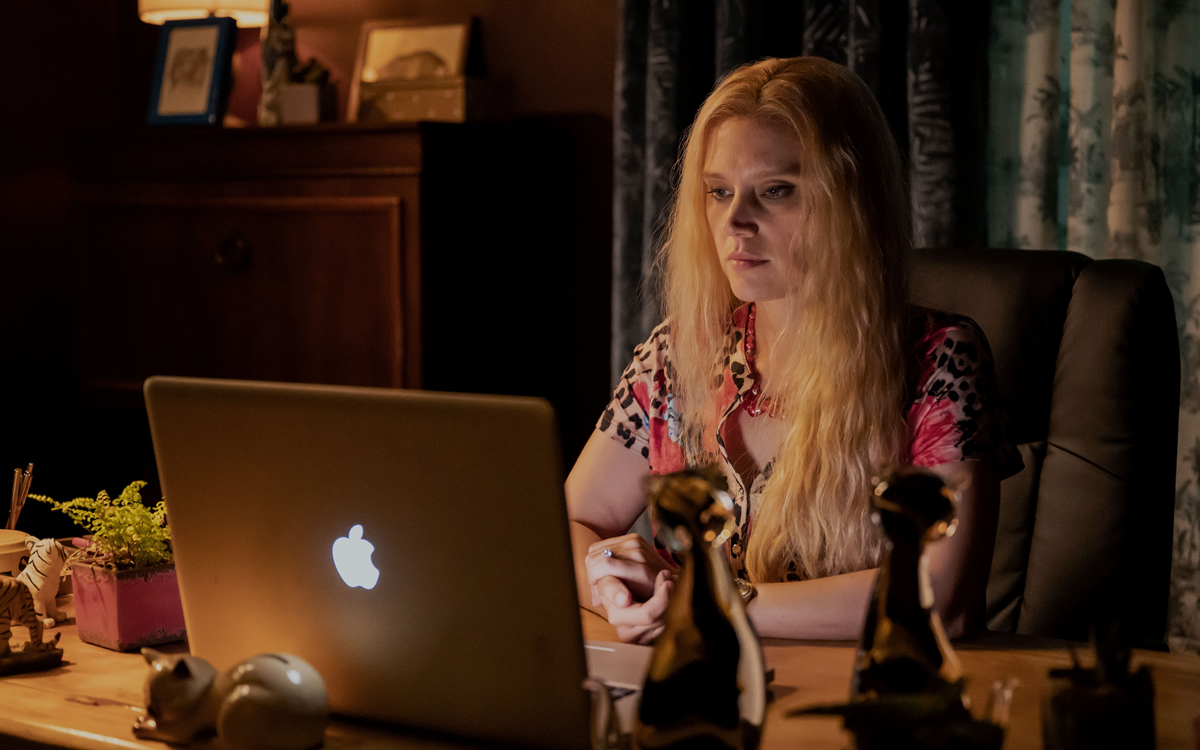 As with the movies, spring television can be a hit-or-miss affair. The Blade has put together a list of offerings that are likely to stand out in the sea of choices. With comedy, drama, romance, and even a little reality, we think you'll find something of interest among the following queer and queer-adjacent offerings.
JOE VS CAROLE (March 3, Peacock) Technically, this one is not a preview so much as a "what are you waiting for?" Even if you had enough of gay redneck/cowboy/convicted murder conspirator/big cat enthusiast Joe Exotic and his arch-nemesis "that bitch Carole Baskin" from watching the Netflix hit docuseries "Tiger King," there's every reason to tune into this six-part miniseries about their rivalry, based this time on the podcast "Joe Exotic" and starring John Cameron Mitchell and Kate McKinnon as the eccentric (to say the least) rival animal lovers. Not only is it loaded with queerness – after all, Joe goes through husbands like the Liz Taylor of the Big Cat World – but it gives us a chance to watch two of our most gifted LGBTQ actors go to town with two larger-than-life characters who are perfectly suited to their copious talents. Throw in the always criminally underrated Kyle MacLachlan as Carole's husband (the second one, not the one she may or may not have fed to her tigers), as well as a game supporting cast that includes Brian Van Holt, Sam Keeley, Nat Wolff, Marlo Kelly, William Fichtner, Dean Winters, and David Wenham, and you have no excuse not to binge watch all six hours of this one at your earliest possible convenience.
LIFE AFTER DEATH WITH TYLER HENRY (Netflix, March 11) This one may not be for everyone, but out-and-proud TV medium Tyler Henry has no shortage of fans, and this new series will surely be a must-watch for them when it drops on Netflix this spring. For those who are unfamiliar, Henry spent four seasons as the host of "Hollywood Medium" on the E! Television Network, where he exhibited his clairvoyant skills for a wide range of celebrities. Now, according to the new show's description, the "world-renowned medium" travels across the country to offer readings to as many of the [more than 300,000] people on his waiting list as he can, bringing them the hope, healing, and closure they are seeking." Promises of a "transformational and emotional series" that will provide "proof that there is more to this world than what we see and that our loved ones never really leave us" may not carry much weight with the many skeptics who accuse Henry of being a manipulative charlatan, but they weren't likely to watch, anyway – and for the many who find him irresistible, all nine episodes will surely be a treat.
WELCOME TO FLATCH (Fox, March 17) Inspired by the BAFTA-winning UK series, "This Country," this half-hour comedy series comes from writer Jenny Bicks ("Sex and the City") and director Paul Feig ("The Office") is a single-camera "mockumentary" about a small midwestern town and the many eccentric personalities who live there – particularly cousins, best friends, and town trouble-makers Kelly and Lloyd "Shrub" Mallet (out actress Holmes, billed as Chelsea Holmes, and Sam Straley). Part "Parks and Recreation," part "Waiting for Guffman," it has all the earmarks of a good TV comfort show – humor, a hip factor, and an ensemble full of lovably quirky characters, at least one of which is bisexual. The cast also includes Justin Linville, Taylor Ortega, Krystal Smith, and Seann William Scott as the town preacher.
INSOMNIA (March 18, Revry) With Neilsen reporting that fewer than 3 percent of the characters on our television screens are Asian, this queer South Asian dramedy – originally a digital series – created and written by Vishaal Reddy is a welcome addition to the lineup. Reddy stars as Nikhil Sharma, a bisexual Indian-American writer who is going through an identity crisis when a chance encounter leads him to secretly start moonlighting as a male escort in New York City. Through his often-absurd late-night adventures, he finds himself on a journey to discover love, happiness, and his true identity – while dealing with racism, sexuality, loneliness, and a lack of sleep along the way. According to Vishaal, the concept for the show was spawned by his own real-life experience, and inspired by shows like "Master of None," "Fleabag", "Louie," and "High Maintenance." Directed by Michele Cutolo, it also stars Nikki Renee Daniels, Aneesh Sheth, Cheech Manahar, Alison Barton, Verma Kuhoo, Nandita Shenoy, Jason Veasey, James Seol, and Daniel Burns.
QUEER AS FOLK (May 27, Peacock) Depending on who you ask, this one is a biggie. The groundbreaking 1999 British series already had an American adaptation in 2000, and each has its fans – many of whom have expressed their qualms (to put it mildly) over the idea of a new reboot. That hasn't stopped original writer/creator Russell T. Davies ("It's A Sin") from joining forces with new writer/creator Stephen Dunn ("Closet Monster") to executive produce one, however, this time centered on the lives of several LGBTQ characters in New Orleans – promised to be a much more diverse assortment than the group of gay men predominantly featured in the original shows. The highly anticipated return of the franchise also differs from its predecessors by using queer actors to portray all its queer roles – and the resulting cast list is an impressive lineup, which includes Ryan O'Connell ("Special"), Johnny Sibilly ("Pose"), Devin Way ("Grey's Anatomy'), Jesse James Keitel ("Alex Strangelove"), Fin Argus, Candace Grave, Benito Skinner, and Juliette Lewis, and even Kim Cattrall as a "martini-soaked, high society Southern debutante with trailer park roots." Shade from old-school fans aside, this new iteration looks poised to make some welcome improvements as it reinvents the beloved series for a new era. Tentatively scheduled for a May 27 premiere.
HEARTSTOPPER (Netflix, TBA) You might think this upcoming series adapted from Alice Oseman's YA webcomic is just another of the growing number of queer teen romances popping up every season – but as one of the few LGBTQ shows to be streamed under the banner of Neflix's "Family" division, it will be marketed to the kids for whom it's actually meant. That doesn't mean older viewers won't also be interested in the following the relationship between openly gay teen Charlie and sweet-but-seemingly-straight school rugby player Nick (Joe Locke and Kit Connor, respectively), as they explore their new friendship and navigate the feelings that blossom as in the process. With all eight episodes penned by Oseman herself, the series promises to expand on her popular webcomic by including "all the small stories of Nick and Charlie's lives that together make up something larger", and is sure to please its many fans while winning over a legion of new ones. It also stars Yasmin Finney, Sebastian Croft, William Gao, and Jenny Waiser. There's no official release date yet, but the streaming platform has previously announced it would debut the show in the Spring – so keep your eyes out!
Trans trailblazer helps queer the sci-fi genre in 'The Peripheral'
Alexandra Billings on increasing representation in Hollywood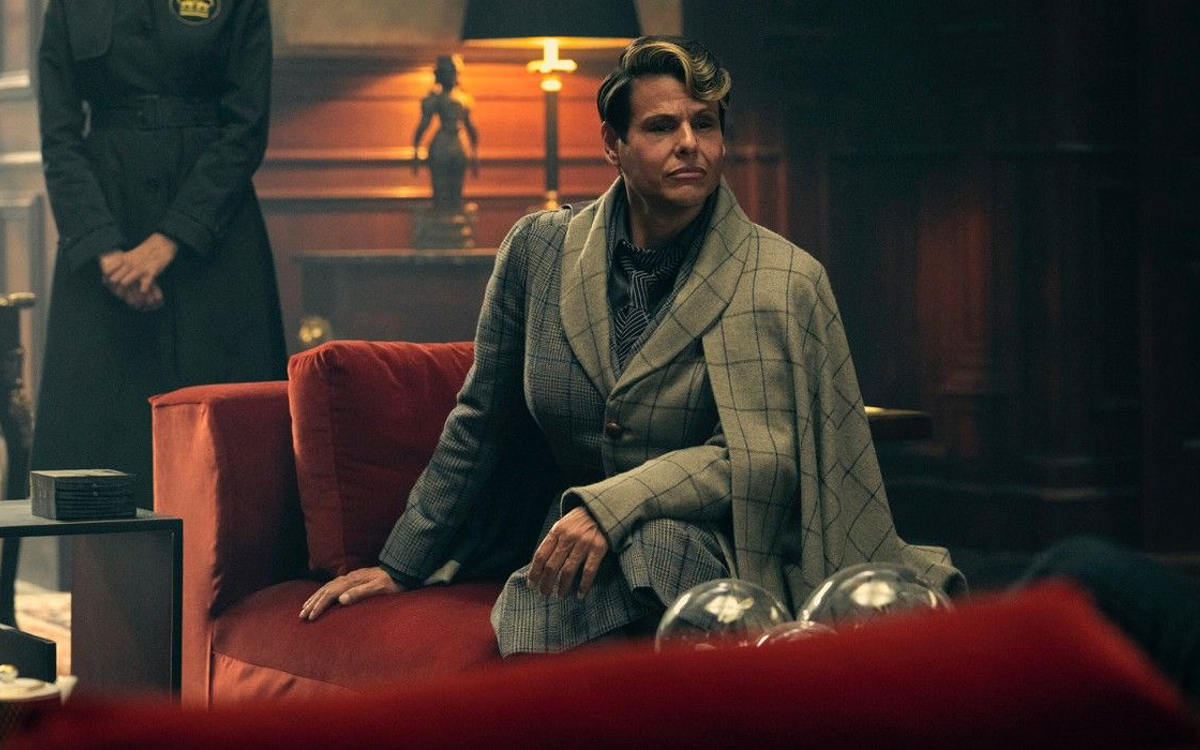 Alexandra Billings has been a pioneering trans performer several times over, but she tells us that her recurring role as Inspector Ainsley Lowbeer in "The Peripheral" – Amazon Prime's series adaptation of William Gibson's 2014 book of the same name – is a more personal first for her.
"I love science fiction! This is really my bag, and I've never done anything like it before!"
Created by Scott B. Smith, who co-executive produced the show alongside "Westworld" creators Jonathan Nolan and Lisa Joy, the show is a mystery-thriller set not just in one future but in two. Beyond the depressingly prescient dystopian one inhabited by protagonist Flynne Fisher (Chloë Grace Moretz) lies another, from which the surviving remnants of humanity employ advanced computer technology to reach back and alter the past. The stakes are high – there's an apocalypse involved — and a complicated, "Black Ops"-style secret war going on between factions struggling for control makes them even higher. Even for someone who doesn't look for these things, the allegorical comparison with our own world is impossible to miss; but then science fiction, done right, has always been a prime genre for making social, cultural, and political commentary – and author Gibson, widely credited with creating the whole "cyber-punk" sub-genre, knows how to do it right.
Billings recently spoke with the Blade about the show, among other things. Our conversation is below:
BLADE: It's refreshing to see you in something like this. We're not used to seeing such strong representation in these kinds of stories.
ALEXANDRA BILLINGS: Usually, if trans characters were in sci-fi in the past, we were plugged in – they were cisgender characters that trans people played and then they turned trans. But Lowbeer is written as a trans woman. That was extraordinary, and it was thrilling to me.
BLADE: She's a very strong presence.
BILLINGS: She's kind of a guide, and she also has great power – not mystical power, or magical, but intellectual. And that's one of the wonderful things about this show that I want to stress – it's very female-centric, very female-heavy. There's gender identity that is addressed, there are women of color that have great power and great strength and intellect. These are smart, witty, competent, capable women. No female depends on any other power except their own to be able to survive in the world of this story, and I think that matters, too.
BLADE: Did you ever imagine you would be playing a part like this in a mainstream Hollywood project?
BILLINGS: Oh no, God, no. When I first came to Hollywood, there were five of us, basically, me and Candis and Laverne and Trace Lisette, and a couple of other people, and that was it. Every time there would be an audition for a trans person – which was usually one of us in the hospital, or going to the hospital, or getting ready to go to the hospital, or something that had to do with the hospital – we would always meet each other. We finally just formed a little brunch club, we were like, 'Let's just get together after the next audition and go out. We might as well have food.'
Back then, there was just no concept of the transgender experience, because trans people were not writing any of these shows. You can't have someone who's never been through a lived experience pretend that they've lived that experience, it doesn't make any sense. Now, with more trans writers, more trans producers and showrunners in Hollywood, things are starting to change. But this was a shock. I was shocked when I heard about this character, and really shocked when I read the script. It really is brilliant.
BLADE: That's just one aspect of the show that feels forward-thinking. Don't you think the whole concept of a future world influencing our present day really strikes a chord with the rise of a younger generation that is primed and ready to take the wheel?
BILLINGS: I think what this show does is that it shines a light. It's a reflection of a human experience that is happening politically, globally, which is the takeover of righteousness, of our idea of what is helpful to the community – and what isn't.
We have a whole shift that is happening in the United States right now, which is a younger generation – the Gen Zs – saying 'I don't like the way a lot of the country talks about female empowerment, I don't like what you've done to take away autonomy for female bodies or choices, I don't like the way you talk about gender. There's a whole bunch of stuff that I don't like, so I want you out." It's why this 'blue wave' happened – because of them. There was this whole conservative movement before the midterms that was supposed to, like, take over, and it just fizzled out and died. I think this is just the tip of the iceberg.
BLADE: Let's all hope you're right. There's such a disheartening backlash in some pockets of our country over queer rights in general. We still even have fight to preserve marriage equality.
BILLINGS: We have this whole group of people out there talking about 'traditional marriage.' That means nothing. I want to tell them, 'Nothing exists inside that container – how far back do you want to go when you say 'traditional', do you still want to be able to vote? Stop being an idiot.'
BLADE: As someone on the battle lines, what would you like to see for the future of trans representation?
BILLINGS: We need to begin to have conversations that are so normalized about the transgender experience that we no longer talk about the transgender experience. We need to have an over-abundance of trans and nonbinary stories, of trans and nonbinary writers, producers, directors, creators, innovators, telling their own stories – so many of them that the cis-white-heteronormative patriarchy finally needs to step aside. That's what needs to happen.
BLADE: That seems like a hard sell to the people still holding onto the reins of power.
BILLINGS: When I say things like that, all of Hollywood takes a huge intake of breath. They think it's impossible. They can't conceive of that to be true because they think, 'What about MY stories? What about me?' As if there was a shortage of those.
Look at Candace Cameron, who quit Hallmark and just came out and said, 'I'm going to honor traditional marriage on my new channel, and those are the stories I'm going to tell.' What she's saying is, 'These two heteronormative cisgender people are the norm, that's what we're going to draw a circle around. Those are the only people that are going to be represented, that's what we're telling every single queer youth on the planet is the thing to be.' That's the message? So everybody else needs to move aside? That doesn't make you a trailblazer, it makes you a coward.
BLADE: There's another "C word" that comes to mind.
BILLINGS: (Laughing) That too.
You can watch "The Peripheral" on Amazon Prime.