'Flatch' delivers a 'welcome' dose of comfort comedy
A place where people are accepted, no matter their sexual orientation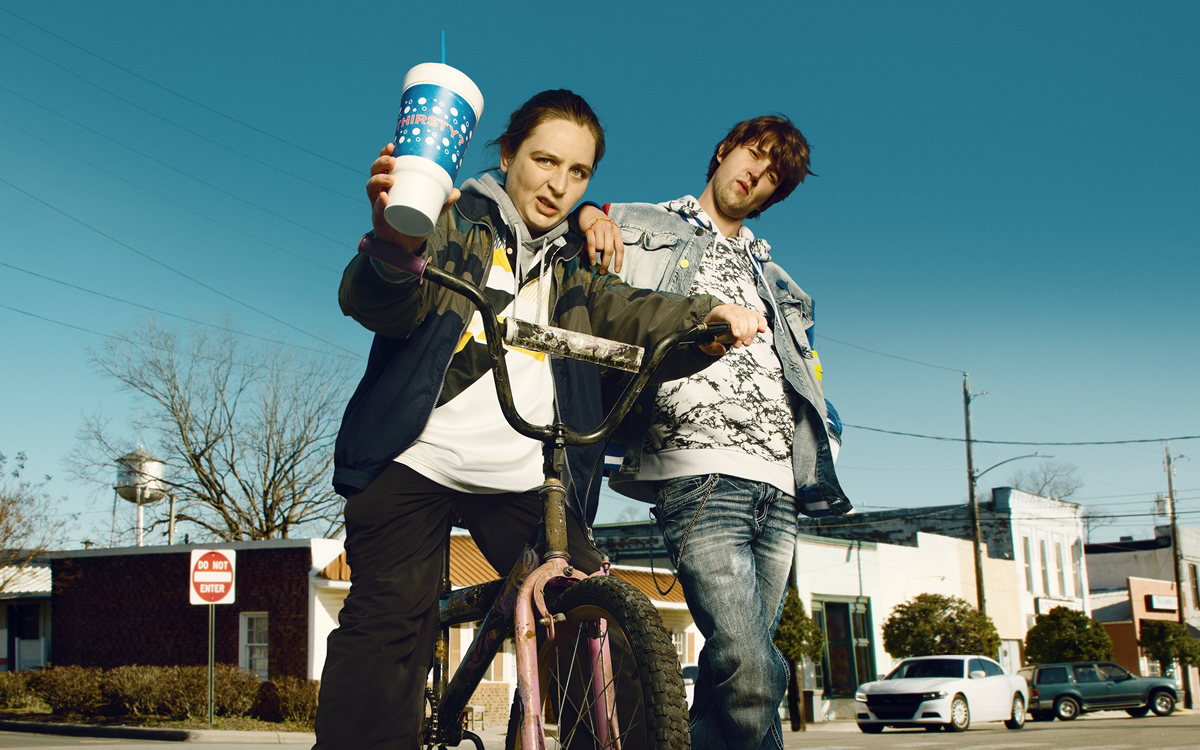 Television, a medium less than a century old, has evolved so much since it became a fixture in our households that the pioneers who first produced its content would surely be overwhelmed by what it is today. Where there was once a limited selection of mostly middle-of-the-road (i.e., bland and banal) entertainment choices designed to amuse and distract us during our after-dinner family time, there is now a seemingly infinite array of channels to choose from, loaded with enough complex, provocative, stimulating, and otherwise challenging content to keep even the most intellectual viewers busy for the rest of their lives.
And yet, with all that, sometimes you just want to shut your brain off and laugh – and that's when we are reminded that television, no matter how respectable it may have become, is still at its most essential when it gives us an outlet to do exactly that.
Take, for example, "Welcome to Flatch," a new half-hour comedy from Fox that might seem, at first glance, to be about as mindless as they come.
Adapted from a BAFTA-winning BBC series titled "This Country," "Flatch" has been brought to U.S. television by writer Jenny Bicks ("Sex and the City," "The Greatest Showman") and producer/director Paul Feig ("The Office," "Bridesmaids"), who joined forces to executive produce it. It's set in a small Midwestern town called, well, Flatch, and its unabashedly flimsy premise revolves around the idea that a documentary crew has been sent to explore small-town American life. That's more than enough to let you know exactly what to expect going into it.
The first episode introduces us to most of the townsfolk who will become our main characters, starting with a pair of young cousins and best buddies – the Mallets, Kelly and Lloyd (who goes by "Shrub") – who quickly establish themselves as our unofficial guides; they're your classic underachievers, two teens in a town where there's nothing to do except indulge in juvenile pranks and concoct get-rich-quick schemes. Played by out queer newcomer Holmes and former "The Kids are Alright" actor Sam Straley, their effortless chemistry, combined with their endearingly dim-witted blend of false bravado and insecurity, wins us over right from the start.
We next meet Flatch's local minister, "Father" Joe (Seann William Scott), whose enthusiasm for his role as the "youthful-and-hip" spiritual center of the community doesn't quite keep him from missing his former girlfriend Cheryl (Aya Cash), now the plucky and determined editor of the town newspaper, for whom he still carries decidedly worldly feelings. There's also Big Mandy (Krystal Smith), a large-and-in-charge force of nature whose confidence and street smarts make her as respected as she is incongruous in this tiny rural town; Nadine (Taylor Ortega), Kelly's rival and "frenemy," a teen socialite and mean girl who runs the Flatch historical society; and Mickey (Justin Linville), an eternally upbeat nerd who relentlessly attempts to become Shrub's best friend.
There are others, too, that we meet as the show progresses, but you get the idea. It's a cast of eccentrics – probably the number one ingredient in making a "mockumentary."
Of course, it's not enough for them just to be eccentrics. They have to be loveable, too – something that has been the hallmark of every great mockumentary since "This is Spinal Tap" more or less created the genre as we know it today. That film, and the series of comic masterpieces from Christopher Guest ("Waiting for Guffman," "Best in Show," "A Mighty Wind") that followed in its wake, all made us laugh with the absurdity of the insular communities they were sending up, but they won our hearts with characters who never let us lose sight of their humanity even in their most wacky and embarrassing moments. It's a formula that has proven to be comedy gold for TV shows from "The Office" to "Modern Family" to "What We Do in the Shadows" – not to mention "Parks and Recreation," which along with "Guffman" is closest of these examples in tone and spirit to "Flatch" – and in every case, it only works when the characters are played by a remarkably gifted cast of actors.
In this regard, "Welcome to Flatch" is off to a good start. The performers make a strong showing from the very start, and while it's hard to say this early in the series whether the character arcs they develop will be worthy of the players' talent, they earn enough credit within the first seven episodes (all available if you're a Hulu subscriber, doled out a week at a time if you're not) to keep us watching longer.
That's a good thing, because "Flatch" – perhaps unsurprisingly for a comedy about a place where nothing interesting ever happens – has some challenges if it's going to have any staying power. Early on, the episodes are geared around skewering aspects of modern life by putting them into a small-town context; in one, for instance, Kelly starts her own version of a ride-share app, while in another an elderly resident is "catfished" on a dating site while attending an adult computer education class at the church. Others rely on bemusing us with the eternal tried-but-true tropes about small-town life; there's a rivalry between Flatch and neighboring Pockton over an obscure historical dispute, and a contingent of outraged conservative women who try to close the town's combination vape-and-magic shop for Satanism. These familiar scenarios are enough to conjure smiles, maybe even chuckles, for a while – but without some more substantial fodder to drive the show's development, it won't be long before they start to wear thin.
Fortunately, the seeds for future storylines are clearly planted within the first handful of shows. Most obvious is the will-they-or-won't-they interplay between Father Joe and Cheryl, given a twist by their status as an ex-couple with second thoughts on their split, but Kelly's unrequited need to be accepted by her estranged father (Jason MacDonald) is an early recurring theme, as is Shrub's infatuation with home-schooled Beth (Erin Bowles). These and other beginnings seem promising as avenues toward opening the characters up and allowing the cast to flesh them out into the kind of people we look forward to spending time with.
Perhaps even more encouraging, the mockumentary format, rather than simply being a convention in which the actors talk to the camera, is taken a bit further in "Flatch." Though we never see the documentary crew, we are reminded of their existence frequently – characters address them off-camera, and their presence in the room becomes a factor that affects outcomes, though to go into any more detail about that would warrant a spoiler alert.
Finally, though, what makes "Welcome to Flatch" worth jumping on board for might just be its refreshing – and frankly, for the genre, unprecedented – diversity. Though our expectations of a rural Midwest community tend to lean toward a very white and very straight demographic, the series goes out of its way to defy them. Much like "Schitt's Creek," "Flatch" is a place where people are accepted, no matter their race, gender, body type, or sexual orientation – just as long as they're not from Pockton.
"Welcome to Flatch" airs on Fox on Thursday nights.
'And Just Like That' ditches preachiness to become addictive TV
Second season wraps Aug. 24 with Samantha Jones cameo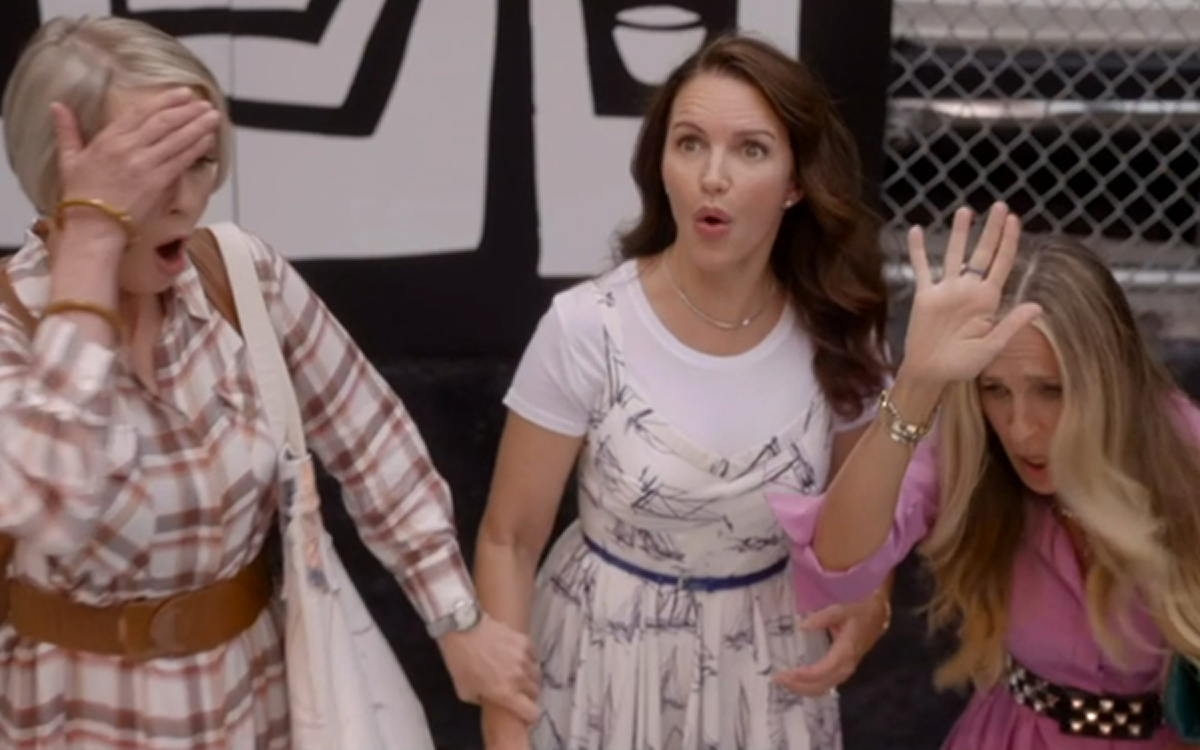 "Do you know where your children are?" New York TV station WNYW asks the parents in its audience every night.
This isn't a worry for Charlotte York Goldenblatt (Kristin Davis) or Lisa Todd Wexley (Nicole Ari Parker) two of the main characters featured on season two of "And Just Like That," (AJLT), the "Sex and the City" reboot, airing weekly on Max through Aug. 24. Their children (from elementary school kids to teens) are safely ensconced at a posh summer camp. While their off-spring are away, Charlotte, who back in the day ran an art gallery, is having sex so good it's like fireworks on the Fourth of July with her husband Harry (Evan Handler), a highly successful divorce lawyer.
Lisa, a distinguished documentarian filmmaker, and her husband Herbert (Christopher Jackson), a wealthy investment banker who's thinking about running for New York City comptroller, devote themselves to their work. And to enjoying the rare treat of having a drink at a swanky bar by themselves (sans children).
Meanwhile, corporate (turned human rights) lawyer Miranda Hobbes (Cynthia Nixon) knows all too well where her son Brady (Niall Cunningham) is. He's living with Steve (David Eigenberg), his dad, in their Brooklyn townhouse. Miranda's relationship with Che Diaz (Sara Ramirez), a nonbinary, bisexual, Mexican, Irish comedian who's making a TV sitcom pilot with Tony Danza (playing himself), has brought Miranda, Steve and Brady into therapy.
Carrie Bradshaw, writer, (Sarah Jessica Parker), Seema Patel, a hot real estate agent, (Sarita Choudhury) and Dr. Nya Wallace (Karen Pittman), a Columbia Law School professor, are so busy grieving, having exit-out-of-grief sex and mourning stolen Birken bags that they wouldn't have time for children. Nya is divorcing her musician husband Andre Rashad (LeRoy McClain) after many years of marriage because he wants kids and she doesn't.
Yes! It's summer in the city, "And Just Like That," the fab ladies are back! With less sizzle than in "Sex and the City," but still fun watch. No matter how hard the writers try, no amount of additional characters could make up for the absence of Samantha Jones, the utterly fabulous PR maven, who was an integral part of "Sex and the City." Even the highly talented Samantha Irby, a bisexual producer and writer of AJLT, couldn't create a character as captivating as Samantha, who is slated to make a cameo in the final episode.
But the sophomore season of "And Just Like That" has its share of style and juice. How can you resist a series that, in the seven episodes that have aired to date, has given us a (fictional) Met gala and a "cum slut?"
The first season of AJLT spent much time trying to make "Sex and the City" (SATC) more diverse.
It succeeded in many ways. Che, Seema, Lisa and Nya, the new featured characters of color, have intriguing stories. They have good chemistry with the original SATC characters. Yet, it sometimes felt heavy-handed and joyless.
The current season of the show, mostly, dispenses with the exposition and preachiness of season 1. In this season, sex and glam fashion are back in the city.
The episode of "AJLT," when Charlotte becomes Harry's Kegel coach to help him with his "dust balls" when he can't ejaculate and Carrie talks of "Casper, the friendly cum," is nearly as good as SATC's "funky spunk" episode.
The women on AJLT are fab. But one of the most enjoyable characters is Anthony Marantino (Mario Cantone), who runs the Hot Fellas bakery. In one hilarious scene, he turns to his BFF Charlotte when he desperately needs to find a Hot Fella to appear with him on Drew Barrymore's talk show. This being AJLT, Charlotte instantly finds a hot Italian poet who more than fits the bill. Dressed in his Hot Fellas uniform, the poet's "package" is so great, that looking at him makes Barrymore sweat.
In another scene, Lisa, wearing a dress (designed by Valentino) with a huge train that won't fit into a cab, has to walk 10 blocks to the Met Gala. "It's not crazy," she says to Herbert, who's holding her train, "It's Valentino."
"And Just Like That" isn't prestige TV. It's more important: it's addictive entertainment.