Grindr's first series is as shallow as you'd expect
Instantly forgettable, just like a typical hook-up
When Grindr announced it would be dropping its first-ever original series on April Fools' Day, many people likely assumed it was a joke.

That's perfectly forgivable; even without the seasonal timing, most people would never expect the notorious "dating" app to be jumping into the streaming entertainment market. It just seems, well, absurd. But whether or not Grindr chose the release date as a bit of self-deprecating fun, "Bridesman" – a limited comedy series consisting of six 7-10 minute webisodes and focusing on the misadventures of a gay scenester as his female BFF prepares for her wedding – is not a joke. It really exists.

Unfortunately.
The series, created by John Onieal and co-written by Onieal and Frank Spiro, debuted on Grindr for its first weekend, but is now available to stream on the app's YouTube channel. It stars Jimmy Fowlie as Terry, described in the official synopsis as an "awful gay", who is asked by his best friend Judith (Sydnee Washington) to fulfill bridesmaid duties at her upcoming nuptials. Terry, aside from his disdain for marriage as a heteronormative construct, feels betrayed that the person who once claimed to be his "forever partner" has chosen to commit herself to another man, and to make matters worse, he feels an "electric" sexual connection with Wyatt (David Mudge), her literally myopic groom-to-be. Rather than see his BFF lost to the horrors of a traditional marriage, he resolves to save her from that fate by doing his best to tank the wedding – especially since it also means sticking it to the control-obsessed Muriel (Shannon DeVido), chosen over him to be Judith's Maid-of-Honor and therefore an object of his particular disdain.
What follows is (again, according to the official synopsis) "an irreverent, fast-paced satire of modern wedding culture and the 'old fashioned trend' of monogamy," in which Terry goes on a slash-and-burn campaign to ruin his best friend's big day, doing his best to sabotage everything from the sexy bridal boudoir photo shoot to the bachelorette party, and steamrolling his way through a tangled web that involves detectives, a secret agent, a relationship counselor moonlighting as a stripper, and a demon from hell. Along the way, though, he still finds time to hook up with a sexy Uber driver (Calvin Seabrooks) whenever he feels like going for a ride.

It seems like a lot to pack into a story that, in total, runs just shy of an hour, but the show's self-description of "fast-paced" is accurate, and director Julian Buchan never allows things to drag. Indeed, the story moves so fast it doesn't even give all its jokes time to land – an approach which works well with a script that throws them out like a pitching machine on a batting range – and trusts its audience to be able to keep up. That's probably not a miscalculation, either; the target demographic here has become well-accustomed to absorbing a lot of information in a short space of time, thanks to the rise of YouTube, TikTok, and all the other digital sources of entertainment for those with a short attention span. Furthermore, since the characters on the screen belong definitively to that same generation, they have no problem sticking to a rapid pace, and they plow ahead with confidence as if they're in a race with the cameras to get to the end of the show first.
In fact, it's the cast – an admirably diverse and inclusive one, thankfully – that makes it all come together, and which provides us with most of the show's entertainment value. They embrace their exaggerated characters – most of whom are vapid, narcissistic, aggressively pretentious, or some toxic combination of the three – with glee and abandon, committing completely to the absurdities the story necessitates them to enact. It's infectious, and it almost allows "Bridesman" to live up to its aspirations of satire.
As to that, the show sets its sights not just on "modern wedding culture", as it declares in its synopsis, but on the much vaster target of modern culture in general, with its emphasis on the shallow and ephemeral and its obsession with self. It aims for a similar tone, perhaps, as "The Other Two" (the runaway comedic hit that began life on Comedy Central before being picked up by HBO for its second season), a show which deftly skewers the self-serving, attention-seeking mentality that drives our pop culture as it barrels through its never-ending cycle of "new, now, next" distractions. It's two lead characters – the older sister and gay brother of a teen YouTube star who are trying to levy their proximity to him into fame and fortune for themselves – are flat out horrible people, or at least behave like them, as are most of the characters that surround them, and watching them fail repeatedly in their efforts to manipulate their way into the fickle spotlight of "the moment" is just part of the fun provided by the series' merciless send-up of the trends, tropes, and twaddle that surround so much of what we see on our plethora of screens today.
The characters in "Bridesman," for the most part, are horrible people, too, though in some cases they might just be regular people caught up in a horrible mindset. Most horrible of all, of course, is Terry, who essentially embodies everything that gay youth culture loves to hate about itself; vain, judgmental, driven by libido, and completely unconcerned with anyone's feelings but his own, he lives to create drama yet seems to love nothing better than to stand aside from it and roll his eyes in withering disapproval. Portrayed with dead-on accuracy by Fowlie (who is, coincidentally, probably best known to viewers for a recurring role as a super-gay influencer on "The Other Two"), he embodies the kind of jaded queer socialite whose posturing and self-promotion only prove just how "basic" he really is.

Yet the reason we are really amused by "The Other Two" and other shows that successfully lampoon the foibles and pretensions of our own society is not just because they put them on display. We laugh because, hopefully, we recognize something of ourselves in the people we see on the screen; because the horribleness is contrasted with the human, or at least tempered by good intentions; because there's a flicker of something genuine underneath all the pretense reminding us that, no matter how far we allow ourselves to be carried away by our own ego, there is always a thread we can follow back to reality. Without that factor, the comedy can easily become hollow, even cruel, and amounts to ridiculing something just for the sake of ridiculing it.
"Bridesman" has no such tempering influence. Though its satire is savage and even smart, there's little self-awareness to suggest that it has any purpose except to become the "next big thing" and enjoy its 5 minutes in pop culture's center ring. Like the people who inhabit it, it might be fun to hang around with for a while, but in the end its lack of substance makes it instantly forgettable.
You know, just like a typical Grindr hook-up.
New trailer gives first glimpse into new 'Queer as Folk'
The highly-anticipated return looks poised to make some welcome improvements as it reinvents the beloved series for a new era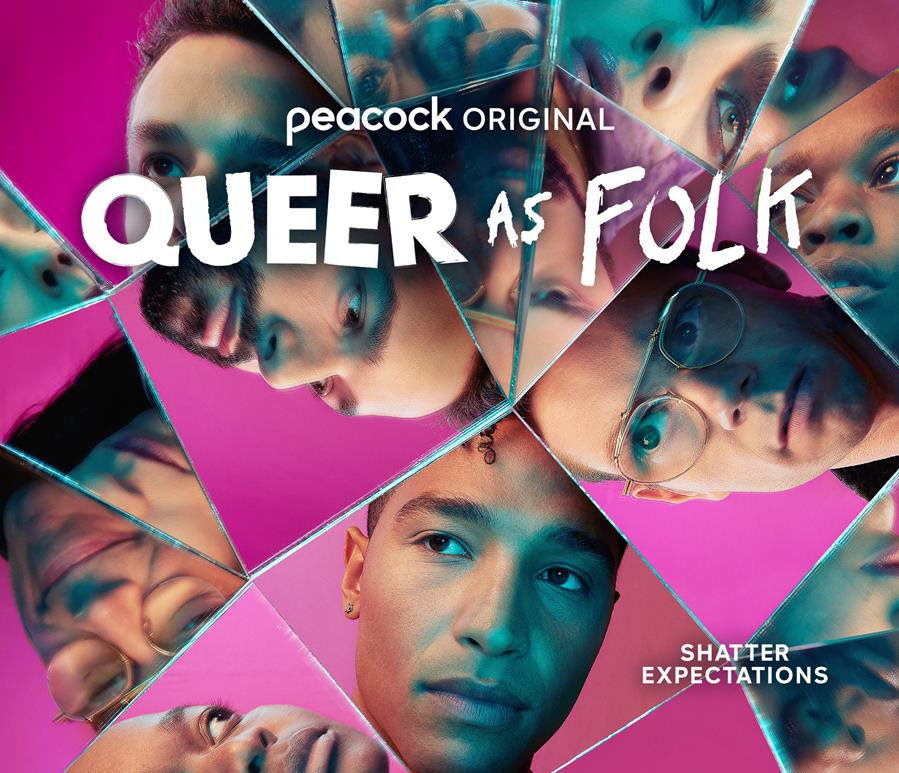 HOLLYWOOD – Depending on who you ask, the soon-to-be-dropped reimagining of "Queer as Folk" could well be the biggest LGBTQ television event – or the biggest mistake – of the year.
The groundbreaking original British version of the series, created and written by Russell T. Davies in 1999 (decades before his recent triumph with "It's A Sin" introduced him to a new generation of queer viewers), has already had an American adaptation in 2000, and each of these installments has its own legion of fans – many of whom have expressed their qualms (to put it mildly) over the entire idea of a new reboot.
That, however, hasn't stopped Davies from joining forces with writer/director/creator Stephen Dunn ("Closet Monster") to executive produce one for Peacock. 
Shade from old-school fans aside, the highly-anticipated return of the franchise looks poised to make some welcome improvements as it reinvents the beloved series for a new era. This time, the story promises to deliver a much more diverse assortment of characters than the group of predominantly white gay men featured by its predecessors, with a story centered on a group of LGBTQ friends in New Orleans as their lives are transformed in the aftermath of a recent tragedy.
The new iteration also scores points by employing queer actors to portray all its queer roles – resulting in an impressive lineup of names on its cast list including Ryan O'Connell ("Special"), Johnny Sibilly ("Pose"), Devin Way ("Grey's Anatomy'), Jesse James Keitel ("Alex Strangelove"), Fin Argus, Candace Grave, Benito Skinner, and Juliette Lewis, and even Kim Cattrall as a "martini-soaked, high society Southern debutante with trailer park roots." 
Of his reason for getting on board a new adaptation of his show, Davies says, "I'm very proud of what we achieved in 1999, but in queer years, that was a millennium ago! As a community, we've radicalized, explored, opened up, and found new worlds – with new enemies and new allies – and there was so much to be said.
Stephen pitched a brand new version of 'Queer as Folk' with so much imagination, insight, and crucially, joy, that I simply couldn't resist. I thought it was about time the title belonged to a whole new generation. The 2022 show is more diverse, more wild, more free, more angry – everything a queer show should be."
As for Dunn, he explains, "I wanted to create a new groundbreaking version of this show for this moment. Our new 'Queer as Folk' is set in New Orleans — one of the most unique queer communities in North America – and I am immensely proud that the new series is comprised of an electric ensemble of fresh characters that mirror the modern global audience.
If there's one person who is able to see 'Queer as Folk' and feel less alone, or who now feels more supported and seen, our job is done. In the true spirit of the original, our show doesn't shy away from the harsh realities of our community, but above all else, the series is about people who live vibrant, vital, unapologetically queer lives." 
Jacklyn Moore, who co-wrote the new series with Dunn and Executive Produced alongside him and Davies, adds, "I believe deeply in the power of storytelling to make people feel seen, but all too often I feel as though queer and trans representation in art is limited to extremes. We are either shown as saintly heroes bravely surviving a bigoted society or two-dimensional queer-coded villains that feel airdropped in from some previous era. With 'Queer as Folk,' we aimed to depict queer characters who live in the messy middle. People who are complicated. Who are funny and caring and flawed and sometimes selfish, but still worthy of love. Still worthy of narrative. As a trans woman, I'm excited to take steps to move past telling stories that seem to just be arguing for our basic humanity. My hope is that Queer as Folk is one such step."
We're sure we speak for the rest of the eagerly-waiting fans when we say that we all hope that, too. We can all find out together when Peacock begins streaming the new "Queer as Folk" on June 9.
Queer as Folk | Official Trailer | Peacock Original
Omar, Netflix's Elite, & Queer Palestinian representation
With valid critiques of Elite aside, the show provides a monumental step forward in combating both racism and homophobia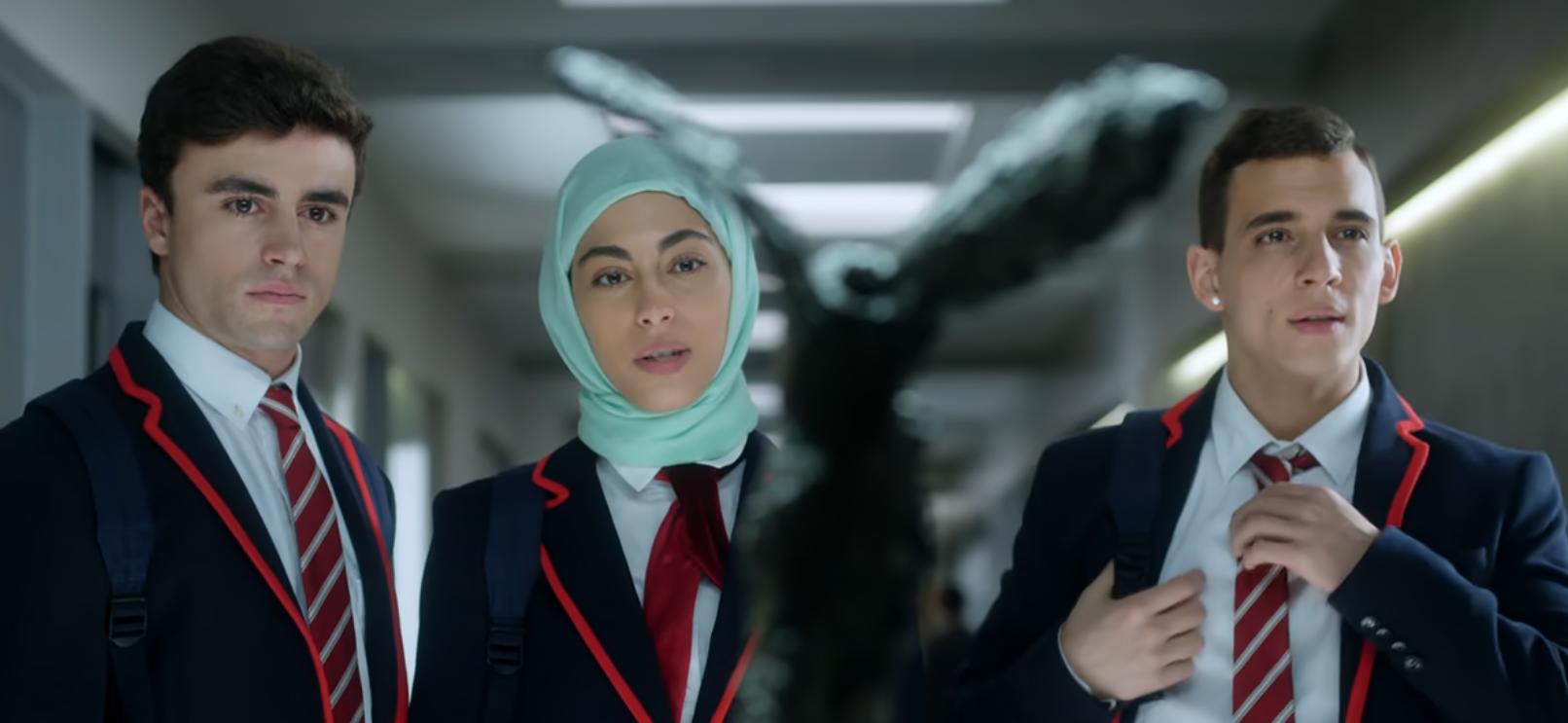 By Sa'ed Atshan | ATLANTA – Elite, the Spanish Netflix original series released in 2018, has now become a worldwide sensation. Created by Carlos Montero and Dario Madrona, Elite follows the lives of teenagers and classmates at Las Encinas, a fictional private school for wealthy children from Spain and other countries.
There are several students from lower socio-economic backgrounds on full scholarships, and the series explores their intersecting experiences in the community. Over the course of the five existing seasons, taboos are boldly displayed on screen: from racy sexuality, to rape, abortion, drugs, alcohol, crime, murder, and corruption.
While this may be too much for many viewers, the provocative themes, attractive actors, love triangles, extensive scenes of partying, compelling cinematography, and the psychological thriller aspects of the series have galvanized fans in Europe and beyond. Merely a month after its release, Netflix revealed that Elite was streamed by over 20 million accounts. It has since secured a 97% rating on Rotten Tomatoes and has become one of the most successful shows globally.
Alongside the superficial elements of this show lies a thoughtful and nuanced exploration of the central characters' inner worlds and the profound issues with which they grapple. This includes the salience of class and inequality in society, the power of education for social mobility, immigration, racism, and xenopohobia, the role of law in attaining or evading justice, feminism and the struggle for women's rights, the prevalence of internalized and external homophobia, the command of technology, social media, and surveillance on our lives, and the effects on young people of having to grow up and mature too quickly.
I was particularly captivated by the character of Omar, played by a Spanish actor with the same first name: Omar Ayuso. While many of the characters who appear in the earlier seasons do not return, Omar is present for all five seasons thus far, becoming central to the overarching narrative.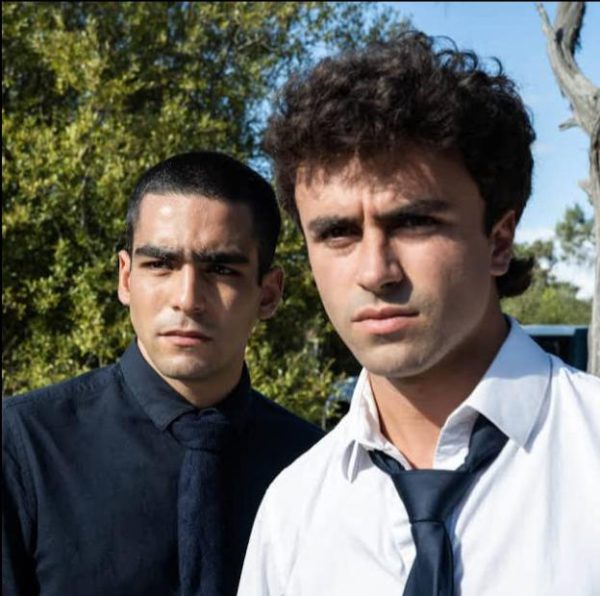 His Palestinian background is emphasized in the script and on screen and this is huge for the mainstreaming of Palestinians in Western popular media. Omar's gayness is also clearly highlighted, bringing queer Palestinian lives to the screen in a formidable manner.
While Omar Ayuso was not one of the most experienced actors and is not the most talented of the actors in this series, his character undergoes a transformation that is powerful and compels audiences. His dark features are handsome, with a signature unibrow, and his attire becomes more and more colorful and expressive, and his bodily comportment more comfortable, as he grows more secure in his own skin.
We learn that Omar comes from the Shanaa family and is the son of Palestinian Muslim immigrants to Spain who own a small grocery store outside of Madrid. One of his sisters ran away from home to escape their conservative parents and his other sister, Nadia, is also a central character in Elite.
Omar and Nadia's father is overbearing. Like their mother, Nadia wears the hijab. The mother is soft-spoken and unassuming in many ways, yet Nadia is a force to be reckoned with who aspires to balance pleasing her family with being true to herself. Nadia is brilliant and academically-driven, earning a scholarship to Las Encinas, even as Omar is distracted initially with drug-dealing and working for his family's business.
After coming out as gay to himself, his family, and the broader community, he movies out and severs ties with his parents, secures work as a bartender, and receives a scholarship to attend Las Encinas. Omar embraces his sexuality and finds a way to lead a life that feels authentic.
Elite challenges the Islamophobia of Spanish and Western societies, representing both the homophobia that Omar must endure alongside the racism that he experiences as an Arab in Europe. Spain's long history with the Moors, the Inquisition, and modern migration from North Africa has made its relationship to the Middle East and Islam quite fraught.
The show does not romanticize Omar's Palestinian immigrant family and it captures the even more dramatic delinquencies of many Spanish and European families. The audience cannot help but juxtapose how Omar's parents desperately try to preserve notions of tradition, ethics, and honor from their homeland of Palestine amidst a broader landscape of decadence and moral decay in Western contexts.
Omar disavows elements of both the former and latter, while embracing elements of each, and he emerges as a moral compass in the show. His integrity and compassion are palpable and at one point he articulates an aspiration to become a social worker in the future.
The love that Omar shares with his serious boyfriend, Ander, is beautifully portrayed as well. Though they certainly grapple with their own set of challenges, the chemistry and soulfuness between them is one of the highlights of the show.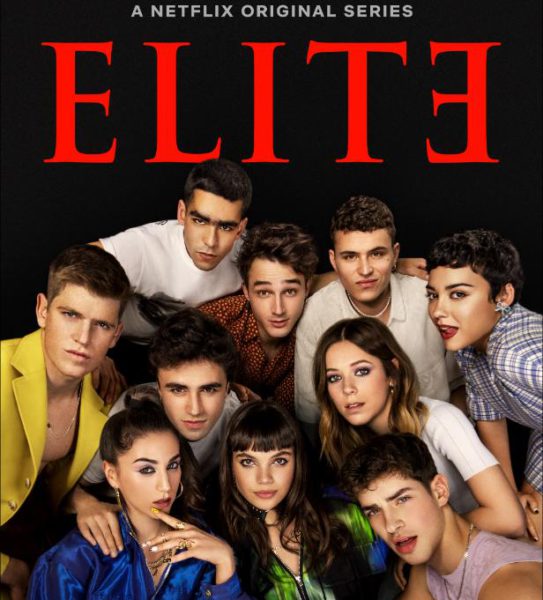 After Netflix posted a romantic photo of Omar and Ander on their Instagram page, it was met with homophobic comments, and Netflix laudably responded simply with a chain of rainbow emojis.
With valid critiques of Elite aside, the show provides a monumental step forward in combating both racism and homophobia. Netflix has done the global queer Palestinian community right by developing the character of Omar in this manner. Whether or not he appears in season six is yet to be announced, but even if not, he will have already captured countless hearts and minds.
********************************
Sa'ed Atshan is Associate Professor of Anthropology at Emory University and author of Queer Palestine and the Empire of Critique (Stanford University Press, 2020)
'LA: A Queer History' Celebrating Pride Month
Additional programming honoring the history and impact of LGBTQ+ individuals includes a new film doc and a rebroadcast from AMERICAN MASTERS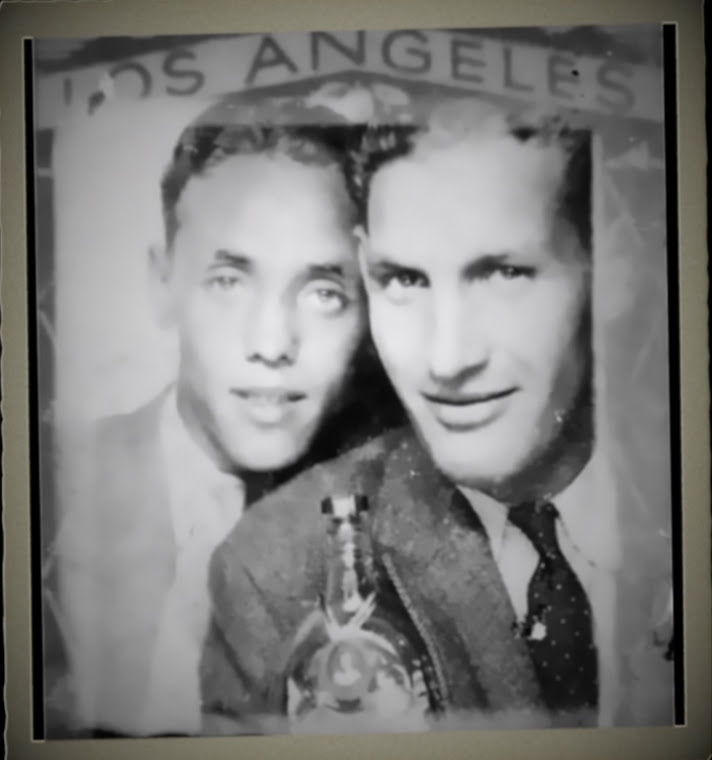 BURBANK – PBS SoCal and KCET, Southern California's flagship PBS stations, along with national independent satellite network Link TV, announced as part of Pride Month programming the broadcast world premiere of LA: A QUEER HISTORY. 
The two-part documentary film uncovers the history of how Los Angeles became the forefront of the LGBTQ+ civil rights movement as activists share their groundbreaking stories of resistance in one-on-one interviews and rare archival footage.
From artists who helped shape early Hollywood to gay and lesbian organizing and beginning a national Civil Rights Movement, LGBTQ culture and community begins to take shape in the city of Angels. Part One, titled "Culture & Criminalization," will immediately be followed by Part Two, "Protests and Parades" when the documentary premieres on Wed., June 15 at 8 p.m. on KCET and Thurs., June 16 at 8 p.m. on PBS SoCal.
Additional programming honoring the history and impact of LGBTQ+ individuals includes one new documentary and a rebroadcast from AMERICAN MASTERS that highlight the legacies of two theater legends: Joe Papp and Terrence McNally.
While Papp worked to expand public access to the arts as the founder of The Public Theater, and Free Shakespeare in the Park, four-time Tony-winning playwright McNally used the power of the arts to transform society both through his productions and his LGBTQ activism. Both programs include never-before-seen interviews.
While Stage and Screen Star Alan Cumming will join beloved British actor and fellow LGBTQ+ advocate Miriam Margolyes to uncover the country of their youth for the new travel series MIRIAM AND ALAN: LOST IN SCOTLAND as they take to the road and return to their Scottish roots and motorhome their way through Scotland's Highlands and into its wildest places.  
And moving from the theater to the concert hall, PBS programming in June offers up a music special TRUE COLORS: LGBTQ+ OUR STORIES, OUR SONGS spotlighting a lineup of musical performances from LGBTQ+ artists Indigo Girls, Billy Gilman and Morgxn hosted by Harvey Fierstein.
Additional specials bring historical context to events of injustices like THE LAVENDER SCARE which explores the unrelenting campaign carried out by the federal government to remove employees suspected of being homosexual from government and security positions.
While A MURDER IN MONTROSE: THE PAUL BROUSSARD LEGACY follows how LGBTQ+ communities came together following a fatal hate crime, shedding light on civil unrest, legislation for victim's rights and sparking political activism in the South.
There is also the new LINK VOICES documentary "Born To Be" which follows the work of Dr. Jess Ting whose work is changing the lives of transgender and gender non-binary individuals.
Rounding out the month is HIDING IN PLAIN SIGHT: YOUTH MENTAL ILLNESS, the two-part film executive produced by Ken Burns confronts issues of stigma, discrimination, awareness, and silence, to help shift public perception of mental health and LGBTQ+ issues today.
Select content slated to air on PBS SoCal, KCET and Link TV during the next month is listed as follows (*schedule subject to change):
AMERICAN MASTERS: "Terrence McNally: Every Act of Life" – Wed., June 1 at 9:30 p.m. on KCET
Explore four-time Tony-winning playwright Terrence McNally's six groundbreaking decades in theater, from Kiss of the Spider Woman, The Full Monty, Love! Valour! Compassion! and Master Class to Ragtime, The Visit and Mothers and Sons. The film also delves into McNally's pursuit of love and inspiration throughout his career, LGBTQ activism, triumph over addiction and the power of the arts to transform society.
AMERICAN MASTERS: "Joe Papp in Five Acts" – Fri., June 3 at 9 p.m. on PBS SoCal
Joe Papp, founder of The Public Theater, Free Shakespeare in the Park and producer of groundbreaking plays like Hair, A Chorus Line and for colored girls…, created a "theater of inclusion" based on the belief that great art is for everyone.
TRUE COLORS: LGBTQ+ OUR STORIES, OUR SONGS – Sun., June 5 at 10 p.m. on PBS SoCal
Harvey Fierstein hosts music from LGBTQ+ artists including Indigo Girls, Billy Gilman and Morgxn highlighting real-life stories of hope.
LINK VOICES: "Seahorse: The Dad Who Gave Birth" – Fri., June 10 at 10:30p.m. ET/PT on Link TV
Filmmaker Jeanie Finlay documents a transgender man's path to parenthood after he decides to carry his child.
LINK VOICES: "Born To Be" – Fri., June 10 at 10:30 p.m. ET/PT on Link TV
Follow the work of Dr. Jess Ting at the groundbreaking Mount Sinai Center for Transgender Medicine and Surgery. There, for the first time ever in New York City, transgender and gender non-binary people have access to quality gender-affirming care. With extraordinary access, this documentary offers an intimate look at how one doctor's work impacts the lives of his patients as well as how his journey from renowned plastic surgeon to pioneering gender-affirming specialist has led to his own transformation.
INDEPENDENT LENS: "Cured" – Sat., June 11 at 11 p.m. on KCET
When homosexuality was considered a mental illness to be "cured," renegade LGBTQ+ activists fought a powerful psychiatry establishment that had things dangerously backwards.
THE LAVENDER SCARE – Mon., June 13 at 10 p.m. on PBS SoCal
Narrated by Glenn Close and featuring the voices of Cynthia Nixon, Zachary Quinto, T. R. Knight and David Hyde Pierce, the film tells the little-known story of an unrelenting campaign by the federal government to identify and fire employees suspected of being homosexual. Based on the award-winning book by David K. Johnson.
PRIDELAND – Mon., June 13 at 11 p.m. on PBS SoCal
Follow queer actor Dyllón Burnside on a journey to discover how LGBTQ+ Americans are finding ways to live authentically and with pride in the modern-day South.
LA: A QUEER HISTORY: "Culture & Criminalization" – Wed., June 15 at 8 p.m. on KCET and Thurs., June 16 at 8 p.m. on PBS SoCal
From artists who helped shape early Hollywood to the male/female impersonators in the "pansy clubs", early Hollywood becomes a Queer destination for people wanting a new life. Early LGBTQ culture and community begins to take shape just as the post WW2 era sparks widespread criminalization.
LA: A QUEER HISTORY: "Protests & Parades" – Wed., June 15 at 9 p.m. on KCET and Thurs., June 16 at 9 p.m. on PBS SoCal
Despite adversity, gay and lesbian organizing begins. Publications, protests and uprisings spring up, leading to the country's first Pride Parade, LGBTQ Social Services, the first "Gay City" and an eventual national Civil Rights Movement.
MIRIAM AND ALAN: LOST IN SCOTLAND: "Episode One" – Thurs., June 16 at 10 p.m. on KCET
Starting in Glasgow, Miriam Margolyes and Alan Cumming visit the street where Miriam's Jewish family first lived in Scotland, then journey north into the Highlands; Alan learns about his ancestral past at Cawdor Castle.
QUEER SILICON VALLEY – Thurs., June 16 at 10 p.m. on PBS SoCal and Wed., June 29 at 10 p.m. on KCET
Filmmakers Bob Gliner (We're Still Here, Schools That Change Communities, Walk the Walk) and Ken Yeager explore the rich history of Silicon Valley and its profound impact on the LGBTQ+ movement in the
United States.
AMERICA REFRAMED: "Broken Heartland" – Fri., June 17 at 9 p.m. ET/PT on Link TV
When a gay teen kills himself, his parents are forced to reconcile their own beliefs.
A MURDER IN MONTROSE: THE PAUL BROUSSARD LEGACY – Mon., June 20 at 11:30 p.m. on PBS SoCal
In 1991, Paul Broussard, a 27-year-old gay man, was murdered on the streets of Houston. Through the documentary exposes the aftermath of this pivotal event – from civil unrest to hate crime legislation; from victim's rights to political activism, Houston and the nation would never be the same again.
AMERICAN MASTERS: "Ballerina Boys" – Wed., June 22 at 8 p.m. on KCET
Discover Les Ballets Trockadero de Monte Carlo (The Trocks), an all-male company that for 45 years has offered audiences their passion for ballet classics mixed with exuberant comedy. With every step, they poke fun at their strictly gendered art form.
MIRIAM AND ALAN: LOST IN SCOTLAND: "Episode Two" – Thurs., June 23 at 10 p.m. on KCET
Miriam Margolyes and Alan Cumming visit Ullapool and Glencoe on their love letter tour of Scotland. They meet a pagan witch, who involves them in an ancient healing ritual and Alan fulfils his dream of writing and performing a song in Gaelic.
AMERICA REFRAMED: "Little Miss Westie" – Fri., June 24 at 9 p.m. ET/PT on Link TV
Two transgender siblings and their parents navigate puberty, school and dating as the children begin living in their authentic genders.
BREAKING BIG: "Lee Daniels" – Sat., June 25 at 6 p.m. on KCET
Trace Lee Daniels' path from West Philly to the red-hot center of Hollywood. Learn how he conquered both the independent and mainstream sides of Hollywood, directing and producing critical darlings like "The Butler" and "Empire."
BREAKING BIG: "Christian Siriano" – Sat., June 25 at 6:30 p.m. on KCET
Learn how sartorial savant Siriano parlayed confidence and a singular vision into a Project Runway victory. See how he surmounted rejection from FIT and created one of the most socially conscious and successful fashion lines in the industry.
POV: "Pier Kids" – Sat., June 25 at 11:30 p.m. on KCET
Follow the Black, homeless queer and trans youth who call NY's Christopher Street Pier their home as they withstand tremendous amounts of homophobia and discrimination while working to carve out autonomy and security in their lives.
HIDING IN PLAIN SIGHT: YOUTH MENTAL ILLNESS: "The Storm" – Mon., June 27 at 9 p.m. and 11 p.m. on PBS SoCal
The first two-hour episode focuses on the lived experience of more than twenty young people with mental health challenges, along with the observations and insights of families, providers, and advocates.
HIDING IN PLAIN SIGHT: YOUTH MENTAL ILLNESS: "Resilience" – Tues., June 28 at 9 p.m. and 11 p.m. on PBS SoCal
In the second episode, our "heroes" speak about finding help, inpatient and outpatient therapy, the added stigma of racial or gender discrimination, the criminalization of mental illness and youth suicide.
GO FIGURE: THE RANDY GARDNER STORY – Wed., June 29 at 8 p.m. on KCET
An intimate documentary on the life and career of two-time Olympian Randy Gardner. Together with his Olympic partner Tai Babilonia, they formed the iconic figure skating pairs team known as "Tai and Randy." The film shares one man's quest to finally come to terms with his true identity so that he can be a light to others.
ARTBOUND: "LGBTQ Nightlife (Mustache Mondays)" – Wed., June 29 at 9 p.m. on KCET
For a generation of multicultural Queer artists, gay nightclubs were a haven for seeking communion and solidarity. This film examines the history of these spaces and how they shaped the Queer cultural fabric unique to Southern California. One particular event, "Mustache Mondays" was a weekly destination for over a decade and became a seminal event for the Queer art community in the early 2000s.
MIRIAM AND ALAN: LOST IN SCOTLAND: "Episode Three" – Thurs., June 30 at 10 p.m. on KCET
Miriam Margolyes and Alan Cumming finish their Scottish odyssey driving from Inverness to Edinburgh, and enjoy some vegan white pudding, kosher haggis, 'Zen golf' and dressing up along the way.
For a full schedule of Pride Month programming, please visit kcet.org/Pride, pbssocal.org/Pride and linktv.org/Pride.
Join the conversation on social media using #KCET, #PBSSoCal and #Pride