Scottish MP with lengthy homophobic record supports conversion therapy
John Mason, during debate to ban the practise of conversion therapy compared it to getting therapy- to saying no to eating too much chocolate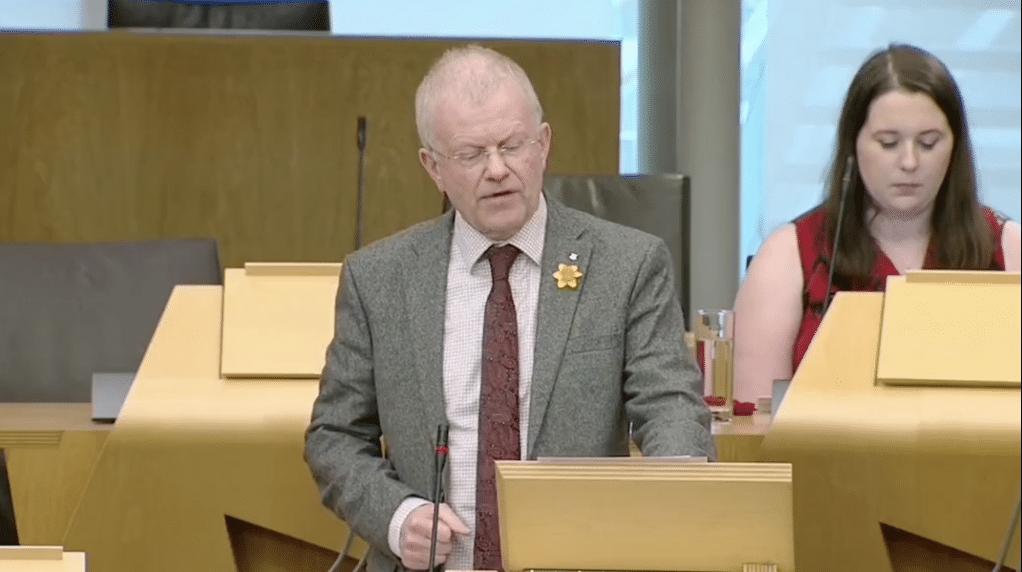 EDINBURGH, Scotland, UK – Scottish SNP Member of Parliament for Glasgow East, John Mason, during a debate Tuesday, March15 on legislation to ban the practise of conversion therapy in the Scottish parliament, compared it to getting therapy assistance for saying no to eating too much chocolate.
Speaking to his fellow parliamentarians Mason said sexual orientations must be accepted "to a large extent" but the argued that for conservative religious communities, being LGBTQ was an issue not dissimilar to "self-control and choosing not to put your thoughts or desires into action."
Mason also argued that religious groups could be described as being "above and beyond the law of the land", comparing this to bowling clubs having mandatory dress codes, and added that for those people who are religious, the word "conversion" was "good" because it meant "turning away from something bad like alcohol or drug abuse."
Mason's remarks set off a firestorm of criticism including Blair Anderson, an Out Scots human rights campaigner and a conversion therapy survivor who tweeted:
Disgusting and insulting to hear John Mason MSP compare the experiences of conversion therapy – widely seen to be a form of torture – to being in contravention of a dress code at a bowling club or eating too much chocolate

Genuinely sickening crap

— Blair Anderson 🍉🇵🇸🏳️‍🌈 (@blairanderson35) March 15, 2022
Anderson, in an interview with The Daily Record this past July, described his experience as "intimate, non-physical abuse from someone who intended to 'cure' his homosexuality." He told The Daily Record, "I lived in a strict religious household, and had grown up being told that being gay was a sin. When I came out, that was the response. I was told it wasn't an option and given an ultimatum – to be gay, or disowned.
"I was only 14, a child. I was scared, and so for the next five years I repressed my sexuality. l couldn't explore it or express it. I pretended I was straight, in relationships with girls, and couldn't tell anyone else I was gay."
He goes on to relate that his experience as a "more informal, intimate form of violence", which at times left him feeling suicidal. "I endured gas lighting, bullying, harassment and isolation," he said.
"It always took the form of a one-on-one discussion, away from the rest of the family, to talk. I was subjected to prayers in that capacity, biblical writing, teaching on an one-on-one environment. I was threatened, told that if I was to practise my homosexuality in any way, family members would die as a result – they'd be killed by God. Other controlling behaviour included being denied access to healthcare," Anderson said.
Mason's remarks also offended others including Trans Scottish Green member Beth who noted:
So I saw a lot of talk with John Mason's speech on conversion therapy in the Scottish Parliament and I had to check was it really that bad and yes it is.

Here is John saying lust is wrong, comparing gay relationships to wearing the wrong dress code or drinking or eating too much pic.twitter.com/QBRbKTDefz

— Beth 🏳️‍⚧️🍉☂💜 (@pickle_bee) March 15, 2022
The National, a Scottish newspaper reported that Ross Greer, Greens MSP for the West of Scotland, said it was "wrong" to characterise the debate as being a "conflict between LGBTQ people and people of faith." He added that most religious leaders have supported a ban on the practice.
A source in the SNP told the Blade Wednesday that Mason was oft times seen as an abomination who has only been able to keep his seat due to his longevity in the party.
"We are at a precious point in the party's history, there is a regressive wing of the party that has been permanent throughout its recent history and, by virtue of being permanent (and arguably having paid membership fees, campaigned etc), thinks it is entitled to the present," the source said.
"Ultimately there are more and more of the older generation who are having to reckon with the fact this party is no longer what it once was – socially conservative and anti-Europe/internationalist. Mason is someone who was part of the party when it was like that and hasn't yet left or died. He and those like him are merely voicing the concerns of the past but increasingly irrelevant," the source noted.
During the debate on same-sex marriage in Scotland, Mason was widely condemned for raising a motion stating that "while some in society approve of same-sex sexual relationships, others do not agree with them" and that no person or organisation should be forced to be involved or to approve of same-sex marriage.
Mason's history of inflammatory rhetoric includes most recently in June of 2018, when Glasgow Live reported he responded to an email from a constituent saying he did not agree with retrospective pardons for gay men convicted of having consensual sex before decriminalisation. He wrote, "I do not see that we can go round pardoning and apologising for everything that other people did that does not conform to modern customs. Will the Italians be apologising for the Roman occupation?"
In November 2018 he wrote a letter to The Herald newspaper to complain that transgender people "override science." Then in January of this year Mason referred to transwomen as "people whose biological sex is male" and suggested that those convicted of crimes should serve their sentences in male prisons.
British Prime Minster backs ban on trans swimming athletes
When the prime minster was asked whether women can be born with a penis, he replied: "Not without being a man"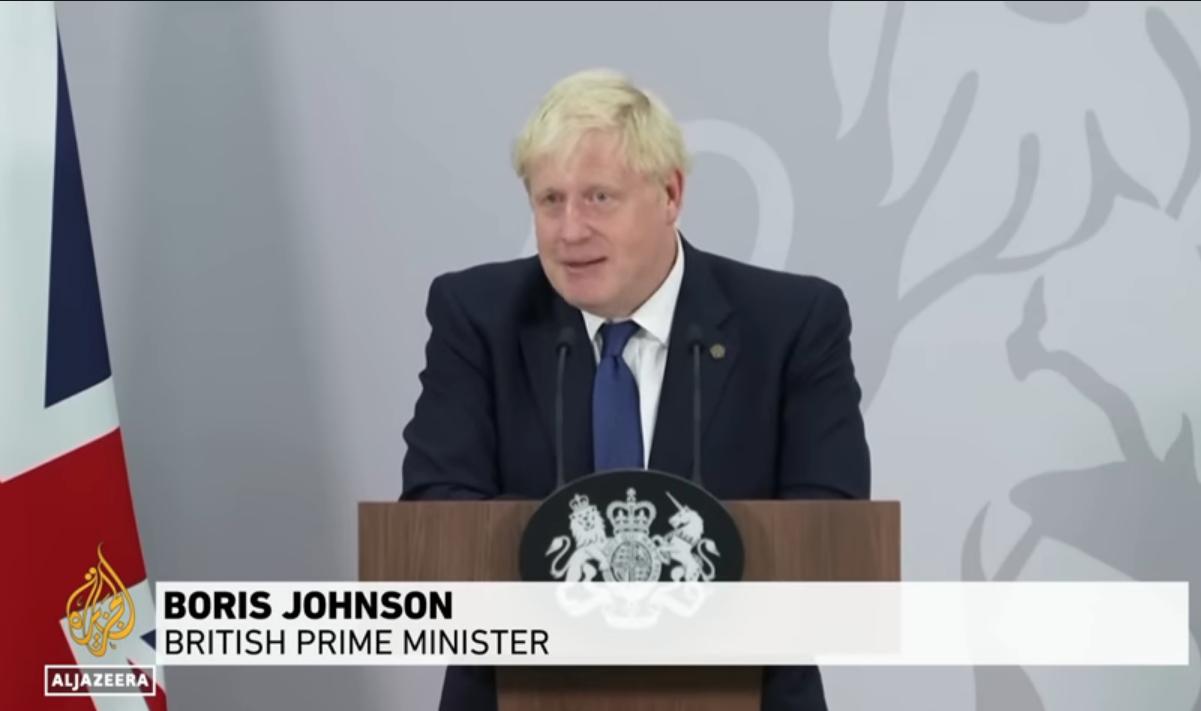 KIGALI, Rwanda – During a break in-between sessions during the first summit meeting of the Commonwealth nations since the coronavirus pandemic in the Rwandan capital this past weekend, British Prime Minister Boris Johnson was asked by a reporter about the FINA ban on trans women athletes.
The prime minster's response was that there were "particular problems" around "issues of gender."
Johnson told reporters, "Look it's very, very important that as a society we should be as understanding of everybody else as possible. I've always stood for that. When it comes to, when you start to move from issues of sexuality to issues of gender, you start to raise particular problems," he said.
In a follow-up question the prime minster was also asked whether women can be born with a penis, he replied: "Not without being a man."
"I think I've spoken of three concerns I've had in the past. They are to do with the age at which you can deem it competent to transition, the question of safe spaces for women, and the difficulties you have with sporting competitions," Johnson continued.
"These are all very difficult problems and you have to be very sensitive. But these are the areas."
Pressed on whether he backed the swimming ban, Johnson said: "I haven't studied it in detail but I see no reason to dissent. That follows from what I've previously said."
Nadine Dorries, the United Kingdom's Secretary of State for Digital, Culture, Media and Sport in a column published this past weekend by the Mail on Sunday wrote:
"I have the greatest compassion for anyone who finds themselves living in a body they don't recognise. But we can't pretend that sex doesn't matter. Sex has biological consequences. If you're born a male, and you go through puberty as a male, your body develops natural physical advantages over a woman's. That makes you stronger and faster.
"I'm setting a very clear line on this: competitive women's sport must be reserved for people born of the female sex. Not someone who was born male, took puberty blockers or has suppressed testosterone, but unequivocally and unarguably someone who was born female. I want all of our sporting governing bodies to follow that policy."
The Guardian UK noted that Dorries, said she will make it "crystal clear" to British sporting bodies that competitive women's sport must be reserved for people born of the female sex when she meets them on Tuesday to discuss their transgender policies.
Dorries will urge organisations representing football, cricket, rugby, tennis, athletics and other sports to follow the lead of Fina, the governing body of swimming, by barring from female events trans women who have "gone through male puberty."
PinkNewsUK reported Monday that since the swimming governing body FINA announced its revised trans eligibility policy, several national and international sporting administrators have followed.
The International Rugby League, FIFA and World Athletics, among others, have either temporarily banned or launched reviews into their trans inclusion policies.
British Prime Minister called out for his Pride message: 'You are a disgrace'
Johnson's Tory-led government seemingly has been more indifferent to Britain's LGBTQ+ community- Trans persons in particular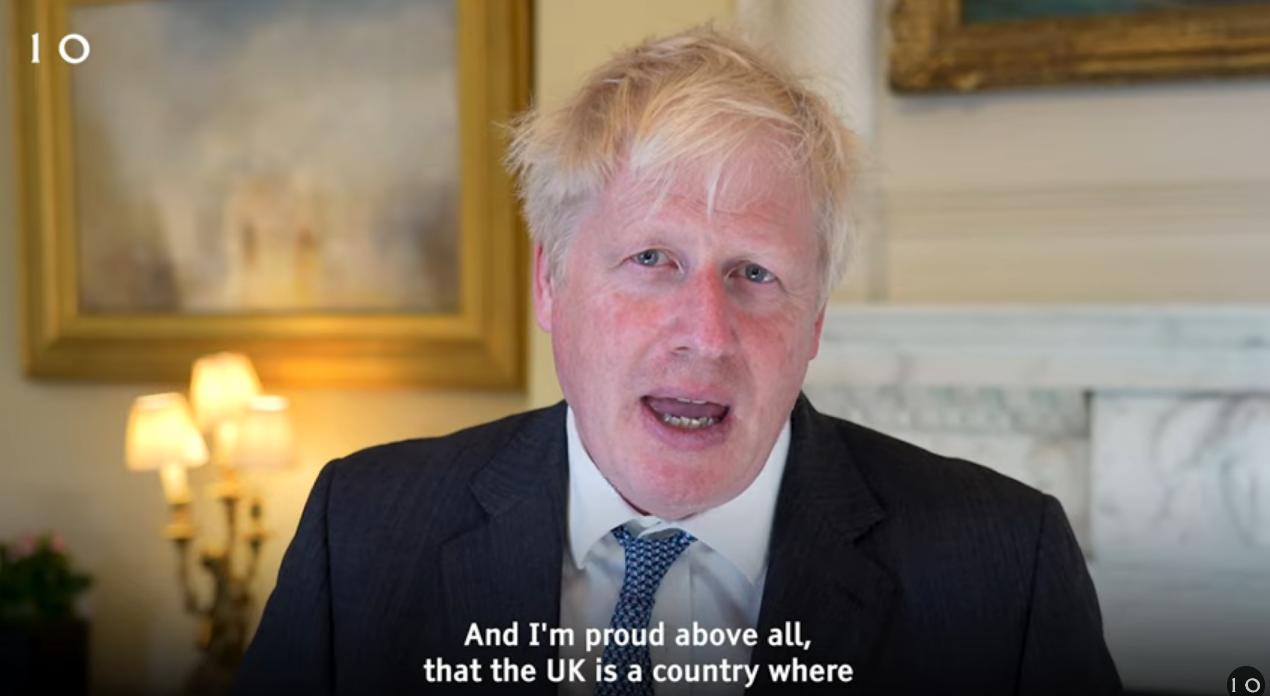 LONDON – UK Prime Minister Boris Johnson released a video message on his official Twitter and YouTube platforms celebrating Pride Month in the UK Tuesday under the social hashtag of Why #Pride Matters.
The Prime Minster said that he was "proud" at how many LGBTQ+ people have sought asylum in the UK from Afghanistan following the Taliban invasion. However, within literal minutes he was promptly criticised and in the Twitter pushback was told by one user: "You're an absolute disgrace." Another chimed in saying his remarks were hollow.
Johnson's Tory-led government seemingly has been more indifferent to Britain's LGBTQ+ community- Trans persons in particular, according to activists and the largest LGBTQ+ advocacy group, Stonewall UK.
Last Spring, in early April, Bloomberg reported more than 80 organizations pulled out of the U.K. government's international LGBTQ conference due to be held in June after Boris Johnson dropped a plan to ban so-called conversion therapy for transgender people.
One of Johnson's top ministers, Liz Truss, was accused of using LGBTQ+ rights to 'rile up her right-wing support base' PinkNewsUK reported.
As minister for women and equalities, Truss scrapped much-needed reform to the Gender Recognition Act (GRA) despite reams of evidence showing there was strong public support for changes that would make accessing legal gender recognition easier for the trans community.
She has also been criticised for her appointments to the Equalities and Human Rights Commission, and her defences of "gender critical" views.
There has also been outcry by LGBTQ+ advocacy groups and activists over the government's willingness to deport LGBTQ+ and other asylum seekers on one-way flights to Rwanda. That decision has been criticised by queer and trans advocates as "hugely concerning" and "potentially life-threatening."
Canadian LGBTQ+ news outlet Xtra reported that Queer and trans asylum seekers in the U.K. already face inhospitable conditions. Sebastian Rocca, founder of charity Micro Rainbow, which provides safe housing to LGBTQ2S+ asylum seekers and refugees in the U.K., tells Xtra in a statement: "One of the most common reasons for the Home Office to refuse asylum to LGBTQI+ people in the U.K. is because they do not believe they are LGBTQI+," adding that the policy has "potentially life-threatening consequences."
The "single young men" framing of the policy means any gay or bisexual men, transmasculine people or transfeminine people—including those seeking asylum in the U.K. for their sexual orientation or gender identity—could potentially be deported to a country with a long history of human rights violations.
In Tuesday's message the prime minister referred specifically to Afghan LGBTQ+ persons fleeing the notoriously intolerant Taliban which regained control of the country after the Biden Administration pulled the remaining armed forces out of the war-torn country last summer after nearly 21 years of conflict.
"LGBT Afghans coming to this country because we're a place that is welcoming and understands that type of intolerance is simply unacceptable in this country," Johnson said.
Why #Pride Matters. pic.twitter.com/XBj8frzPo3

— UK Prime Minister (@10DowningStreet) June 20, 2022
Johnson added: "I'm proud above all that the UK is a country where you can be however you want to be and you can love whomever you choose to love no matter who you are or where you come from or what your background is.
"So it's great to see Afghans coming to this country with that knowledge and seeing our country as a beacon of hope.
"That's why Pride Month matters so much. And I hope you have a great Pride."
Twitter was less than impressed:
Boris Johnson said gay people are 'tank top bum boys' and compared equal marriage to three men marrying a dog.

The Tory government have also deported LGBT+ people to countries where LGBT+ people are criminalised and more Tory MPs voted against same sex marriage than for it. https://t.co/cqgNBjCI87

— George Aylett (@GeorgeAylett) June 21, 2022
Hollow words from a Government who are still content with deporting LGBT+ refugees to Rwanda despite their own report stating that LGBT+ people "regularly" face "arbitrary arrest and detention by state security forces without due process." #ToriesOut https://t.co/0qB0U9irIQ

— Chris Davis 🇺🇦 (@Chris_Davis1998) June 21, 2022
You're an absolute disgrace. https://t.co/pBWcti3UbX

— Richard 🌈🏳️‍🌈 (@RJFirth) June 21, 2022
Why Pride matters | Prime Minister Boris Johnson:
Kevin Spacey formally charged with four counts of sexual assault in U.K.
The 62-year-old actor is due to make an appearance at the Westminster Magistrates' Court at 10:00 (BST) on Thursday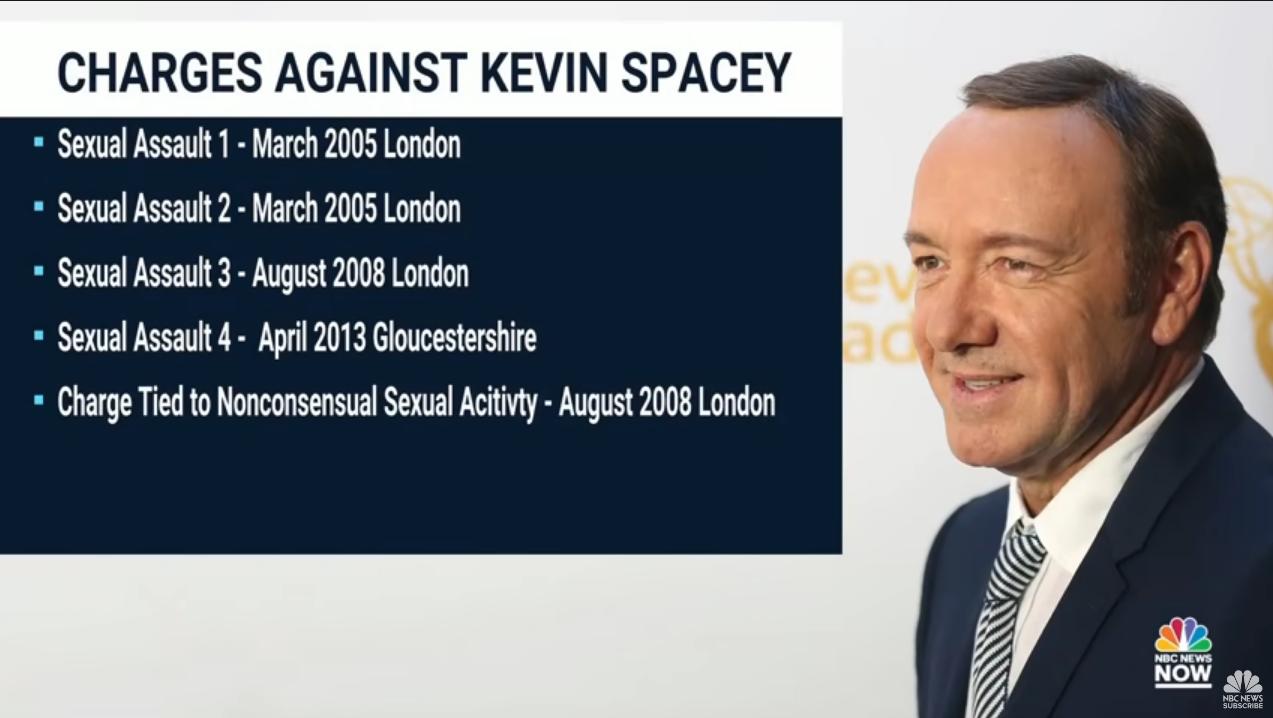 LONDON – The Metropolitan Police of London confirmed that Kevin Spacey was formally charged Monday with four counts of sexual assault against three men and additionally has also been charged with causing a person to engage in penetrative sexual activity without consent.
The 62-year-old actor is due to make an appearance at the Westminster Magistrates' Court at 10:00 (BST) on Thursday. Last month, the Crown Prosecution Service authorized charges against him.
According to the BBC the charges follow a review of evidence gathered by the Metropolitan Police. He has been charged with two counts of sexual assault on a man, now in his 40s, in London in March 2005.
He has also been charged with one count of sexual assault and one count of causing a person to engage in penetrative sexual activity without consent on a man, now in his 30s, in August 2008 in London.
Both incidents taking place when Spacey was the artistic director of The Old Vic theatre in London's West End theatre district between 2004 and 2015.
The fourth charge of sexual assault is on another man, who is also now in his 30s, in April 2013 in Gloucestershire.
The Oscar winning actor has previously stated that he would voluntarily appear before a British Court.
Allegations surfaced against Spacey in November of 2017 when The Old Vic theatre told the BBC that it had received 20 personal testimonies of alleged inappropriate behaviour by Spacey. The actor's behaviour was alleged to have ranged from making people feel uncomfortable to sexually inappropriate behaviour, an investigation by the theatre found.
The BBC reported at the time that no-one alleged rape but three people told the Old Vic they had contacted the police, while 14 of the 20 complainants were told by the investigators that they should consider going to the police.
There were 20 individual allegations and 16 were former staff, all of whom were men.
Lewis Silkin, the external law firm engaged by the theatre to conduct the investigation, said more than half the allegations were said to have taken place inside the Old Vic.
RELATED: British Prosecutors Charge Kevin Spacey With Four Counts of Sexual Assault: