Lia Thomas just proved Transgender athletes don't always win
Stanford swimmer Taylor Ruck won her first individual NCAA championship and puts her in a tie with former Stanford star Simone Manuel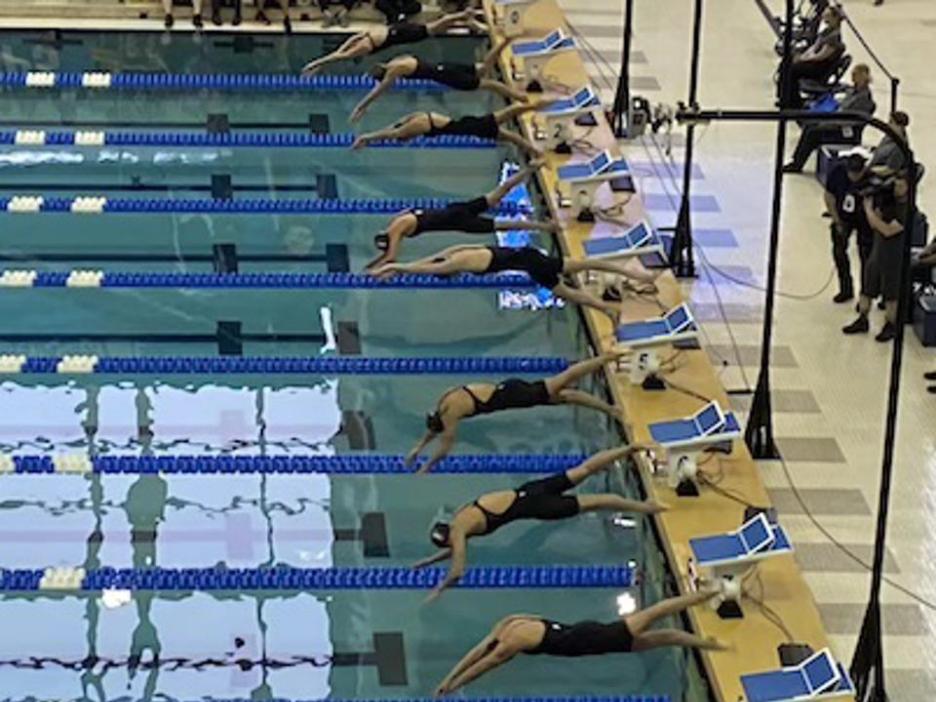 ATLANTA – Lia Thomas, the controversial college swimmer who won the NCAA DI National Champion trophy in the 500-freestyle Thursday, finished a distant fifth in the 200-yard free Friday night.
The winner, two-time Canadian Olympian Taylor Ruck of Stanford, set a pool record with her winning time of 1:41:12. In fact, California swimmers were dominant in the final.
Thomas, who won the preliminary race earlier Friday with a time of 1:42.09, finished more than two seconds behind Ruck and lagged the entire race, even from the starting blocks. She wound up in a tie with Riley Gaines of the University of Kentucky, at 1:43:40.
At the halfway point in the final, Thomas was languishing in seventh place, then managed to pass USC's Laticia Transom. In the final 50 yards, the Austin, Texas native even pulled even with Gaines, and her pattern has been to build slowly and pour it on in the last laps. Not this time; She was never able to catch Ruck and Cal swimmer Isabel Ivey, who dominated the first 150 yards of the race.
As Swimming World's David Rieder noted: "Thomas's 100-yard split of 50.34 was actually much quicker than her halfway time of 50.87 in prelims. But after Thomas split 25-mid efforts on the third and fourth 50s in prelims, she was almost a second slower on each of those splits in the final."
The result is more proof of what Outsports reported in 2019: Trans athletes do not always win.
Protesters Boo Thomas
Steady rain and thunderstorms for most of the day kept anti-trans activists, as well as inclusion advocates, from demonstrating outside the McAuley Aquatics Center. But a devoted and loud group of protesters sat in the stands across from the pool, and booed when Thomas was introduced before the race, and again when the University of Pennsylvania senior appeared on the podium as the 5th place finisher.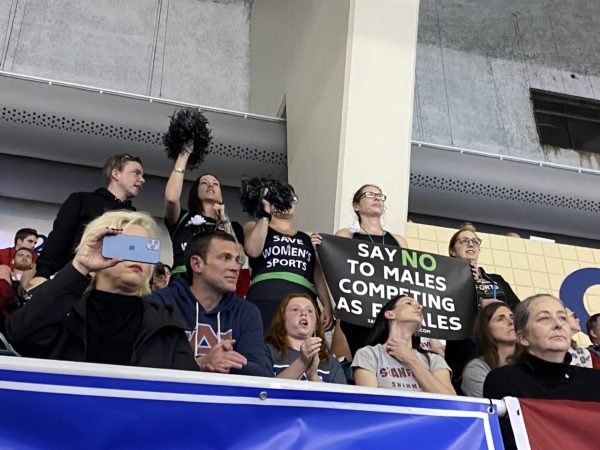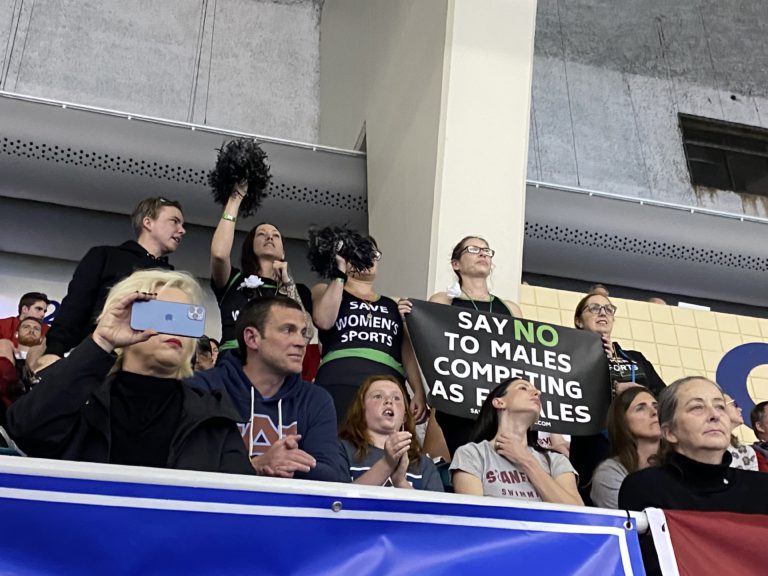 As Thomas left the pool deck, there was no mob of supporters as she walked alone across the aquatic center. Then she smiled and waved to her friend, Schuyler Bailar, the first trans athlete to compete in DI. Bailar swam for the Harvard men's team in 2015.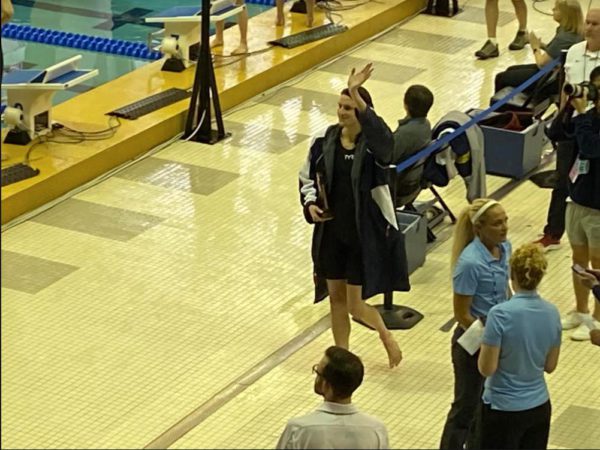 Stanford Celebrates
In contrast to their reaction to Thomas, the crowd cheered loudly for Ruck and the other cisgender women who finished behind her. A large group of Stanford teammates greeted Ruck in celebration as she climbed out of the pool. This victory puts her in a tie with former Stanford star Simone Manuel, the fourth-fastest swimmer in NCAA history.
Ruck's winning time was a fraction of a second faster than her closest competitor, Ivey, who was a close second throughout the heat. The Gainesville, Fla. native was also a close second to Thomas in Friday's prelims, just a half second behind her.
This is Ruck's first individual NCAA title. As Swimming World reported last year, Ruck has struggled with life outside the pool, battling eating disorders, a not uncommon problem plaguing student-athletes.
"It certainly has been a journey since then," Ruck told reporters at a late night news conference on Friday. "Lots of downs more than ups. But I think the past few years have just been very hard for everyone, and everybody just has their own path and journey through it. Mine happened to be with an eating disorder. I'm happy to say that I'm on the other side of that struggle and I'm hoping if anybody else is going through the same thing, it does get better."
Being back at Stanford following the pandemic has been very meaningful to Ruck, she told me, especially given that it's been her dream school since she was a girl. Not just because of the great weather, but because of the people there, and the opportunity she saw on a family road trip long ago.
"We used to drive up the coast from Arizona," she said. "I grew up in Arizona, so we used to drive up every year to where I was born, Kelowna, in Canada. We stopped at Stanford this one year, and I just remember walking past the pool in the aquatic center and seeing all the girls like practicing. I'm probably like 10, and I don't know, it's just like ingrained in me, like, that's where I wanted to go. Just the awe that I felt in that moment."
I asked Ruck her thoughts on Thomas. She said she heard "the chatter" about her, but was focused only on her own performance and apparently didn't consider it unfair for Thomas to compete. "Competition is competition," said Ruck, who added that she relished the challenge Thomas represented. "I was excited to race against someone who swims so fast."
What's Next for Thomas?
Since she didn't finish first, Thomas was under no obligation to speak to the news media Friday. Michael Mahoney, Penn's spokesperson, told me Thomas has decided to not speak to any reporters "until it's all over," which will be tomorrow here in Atlanta.
That's when she and trans man Iszac Henig compete head-to-head in the 100-freestyle, the first time in NCAA history that two out transgender student-athletes will compete in the same championship race.
*************************
Editor's Note: The preceding article was a media share between Forbes.com & the Los Angeles Blade.
Carrying a Pride flag- protester interrupts World Cup game
Qatar's laws against gay sex and treatment of LGBTQ people were flashpoints in the first World Cup to be held in the Middle East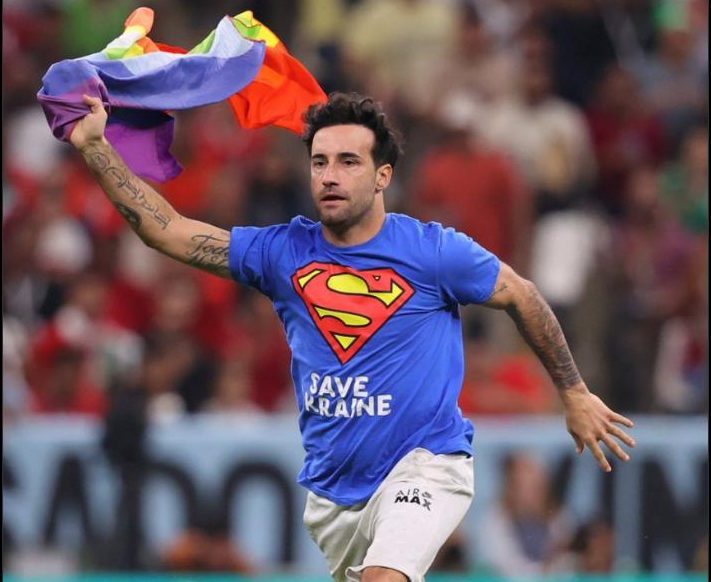 LUSAIL, Qatar – During a World Cup match between Portugal and Uruguay Monday, a lone protester ran across the field waving a LGBTQ+ Pride flag moments after the second half kickoff.
Video and still images show the man wearing a blue T-shirt emblazed with the Superman symbol and the phrase "SAVE UKRAINE" on the front and "RESPECT FOR IRANIAN WOMAN" on the back.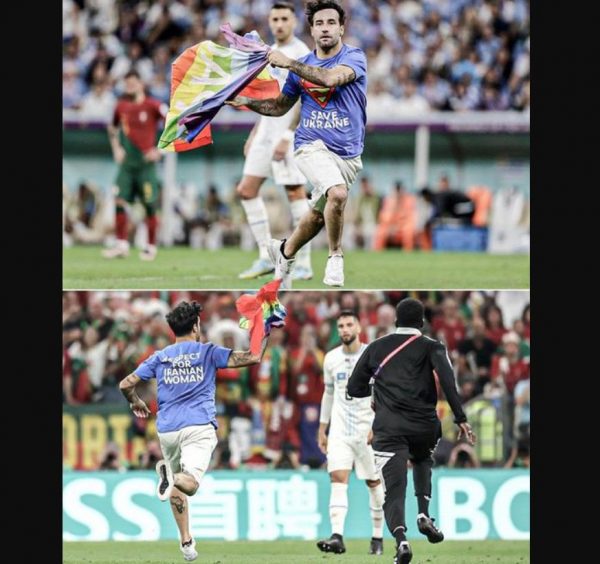 Qatari security personnel chased him down and then frog marched him off the playing field. Israeli Public Radio correspondent Amichai Stein tweeted video clips of the incident:
World Cup: A protester ran into the game holding a rainbow flag – with a 'Save Ukraine' and 'Respect For Iranian Women' shirt – @OrryLavie pic.twitter.com/s6dIcZLkQz

— Amichai Stein (@AmichaiStein1) November 28, 2022
FIFA had no immediate comment on the incident the Associated Press noted reporting that in the first week of the tournament in Qatar, seven European teams lost the battle to wear multi-colored "One Love" armbands during World Cup matches. Fans also complained they weren't allowed to bring items with rainbow colors, a symbol of LGBTQ rights, into the stadiums of the conservative Islamic emirate.
Qatar's laws against gay sex and treatment of LGBTQ people were flashpoints in the run-up to the first World Cup to be held in the Middle East. Qatar has said everyone was welcome, including LGBTQ fans, but that visitors should respect the nation's culture.