Lia Thomas just proved Transgender athletes don't always win
Stanford swimmer Taylor Ruck won her first individual NCAA championship and puts her in a tie with former Stanford star Simone Manuel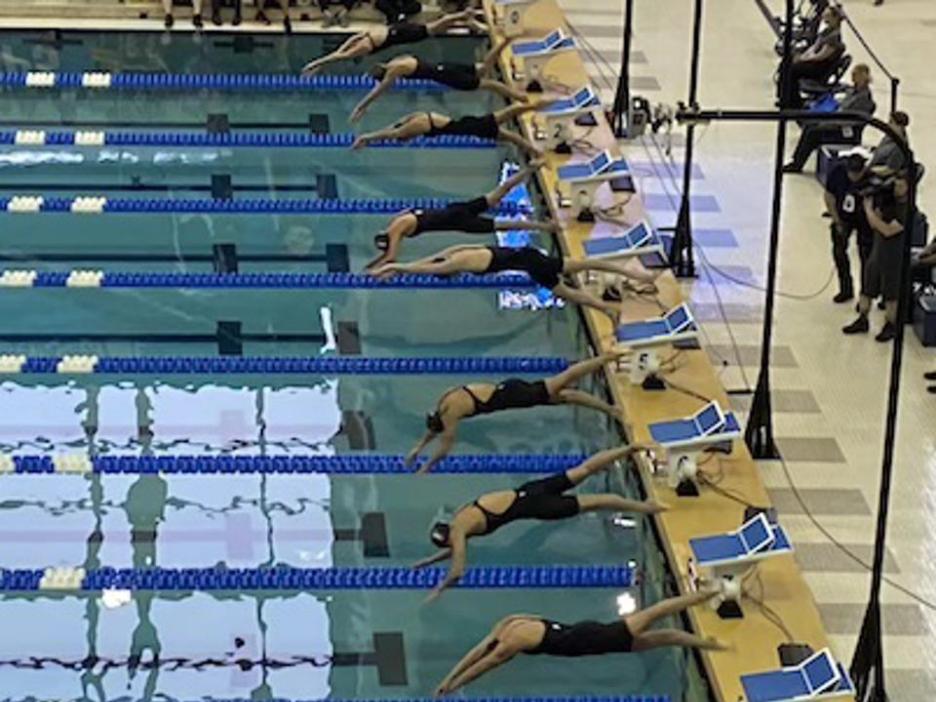 ATLANTA – Lia Thomas, the controversial college swimmer who won the NCAA DI National Champion trophy in the 500-freestyle Thursday, finished a distant fifth in the 200-yard free Friday night.
The winner, two-time Canadian Olympian Taylor Ruck of Stanford, set a pool record with her winning time of 1:41:12. In fact, California swimmers were dominant in the final.
Thomas, who won the preliminary race earlier Friday with a time of 1:42.09, finished more than two seconds behind Ruck and lagged the entire race, even from the starting blocks. She wound up in a tie with Riley Gaines of the University of Kentucky, at 1:43:40.
At the halfway point in the final, Thomas was languishing in seventh place, then managed to pass USC's Laticia Transom. In the final 50 yards, the Austin, Texas native even pulled even with Gaines, and her pattern has been to build slowly and pour it on in the last laps. Not this time; She was never able to catch Ruck and Cal swimmer Isabel Ivey, who dominated the first 150 yards of the race.
As Swimming World's David Rieder noted: "Thomas's 100-yard split of 50.34 was actually much quicker than her halfway time of 50.87 in prelims. But after Thomas split 25-mid efforts on the third and fourth 50s in prelims, she was almost a second slower on each of those splits in the final."
The result is more proof of what Outsports reported in 2019: Trans athletes do not always win.
Protesters Boo Thomas
Steady rain and thunderstorms for most of the day kept anti-trans activists, as well as inclusion advocates, from demonstrating outside the McAuley Aquatics Center. But a devoted and loud group of protesters sat in the stands across from the pool, and booed when Thomas was introduced before the race, and again when the University of Pennsylvania senior appeared on the podium as the 5th place finisher.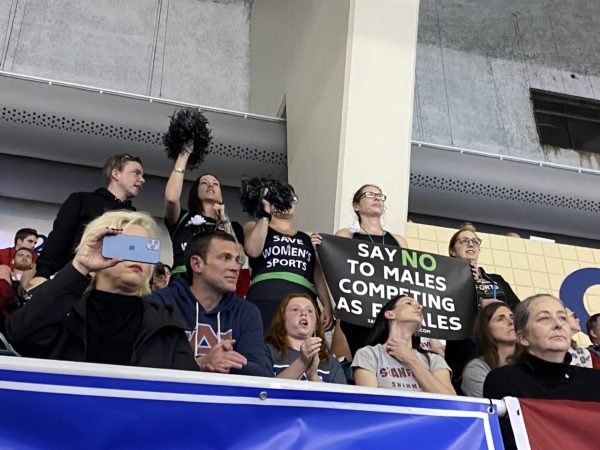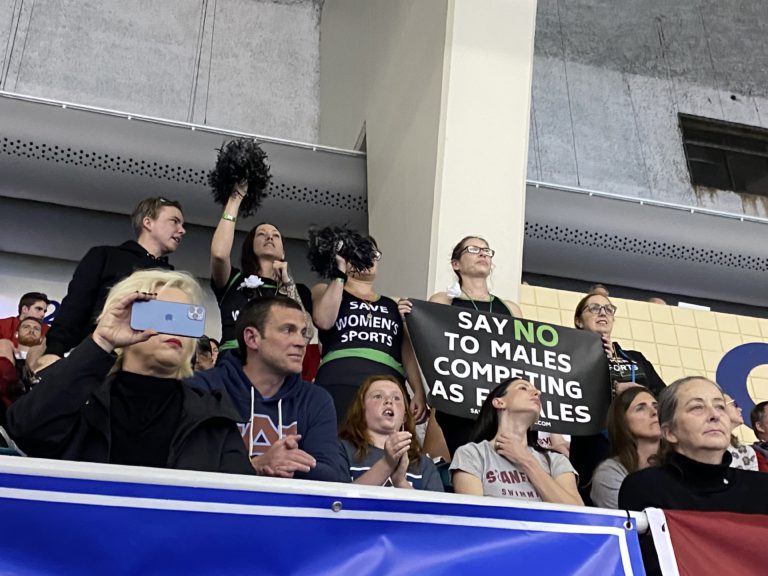 As Thomas left the pool deck, there was no mob of supporters as she walked alone across the aquatic center. Then she smiled and waved to her friend, Schuyler Bailar, the first trans athlete to compete in DI. Bailar swam for the Harvard men's team in 2015.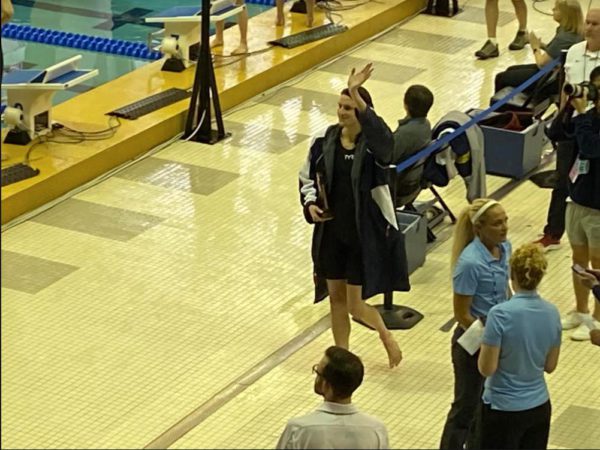 Stanford Celebrates
In contrast to their reaction to Thomas, the crowd cheered loudly for Ruck and the other cisgender women who finished behind her. A large group of Stanford teammates greeted Ruck in celebration as she climbed out of the pool. This victory puts her in a tie with former Stanford star Simone Manuel, the fourth-fastest swimmer in NCAA history.
Ruck's winning time was a fraction of a second faster than her closest competitor, Ivey, who was a close second throughout the heat. The Gainesville, Fla. native was also a close second to Thomas in Friday's prelims, just a half second behind her.
This is Ruck's first individual NCAA title. As Swimming World reported last year, Ruck has struggled with life outside the pool, battling eating disorders, a not uncommon problem plaguing student-athletes.
"It certainly has been a journey since then," Ruck told reporters at a late night news conference on Friday. "Lots of downs more than ups. But I think the past few years have just been very hard for everyone, and everybody just has their own path and journey through it. Mine happened to be with an eating disorder. I'm happy to say that I'm on the other side of that struggle and I'm hoping if anybody else is going through the same thing, it does get better."
Being back at Stanford following the pandemic has been very meaningful to Ruck, she told me, especially given that it's been her dream school since she was a girl. Not just because of the great weather, but because of the people there, and the opportunity she saw on a family road trip long ago.
"We used to drive up the coast from Arizona," she said. "I grew up in Arizona, so we used to drive up every year to where I was born, Kelowna, in Canada. We stopped at Stanford this one year, and I just remember walking past the pool in the aquatic center and seeing all the girls like practicing. I'm probably like 10, and I don't know, it's just like ingrained in me, like, that's where I wanted to go. Just the awe that I felt in that moment."
I asked Ruck her thoughts on Thomas. She said she heard "the chatter" about her, but was focused only on her own performance and apparently didn't consider it unfair for Thomas to compete. "Competition is competition," said Ruck, who added that she relished the challenge Thomas represented. "I was excited to race against someone who swims so fast."
What's Next for Thomas?
Since she didn't finish first, Thomas was under no obligation to speak to the news media Friday. Michael Mahoney, Penn's spokesperson, told me Thomas has decided to not speak to any reporters "until it's all over," which will be tomorrow here in Atlanta.
That's when she and trans man Iszac Henig compete head-to-head in the 100-freestyle, the first time in NCAA history that two out transgender student-athletes will compete in the same championship race.
*************************
Editor's Note: The preceding article was a media share between Forbes.com & the Los Angeles Blade.
Welsh Olympic distance swimmer Dan Jervis comes Out
Jervis, who placed 5th in distance swimming at the Olympics in Tokyo said he was inspired by Blackpool FC soccer player Jake Daniels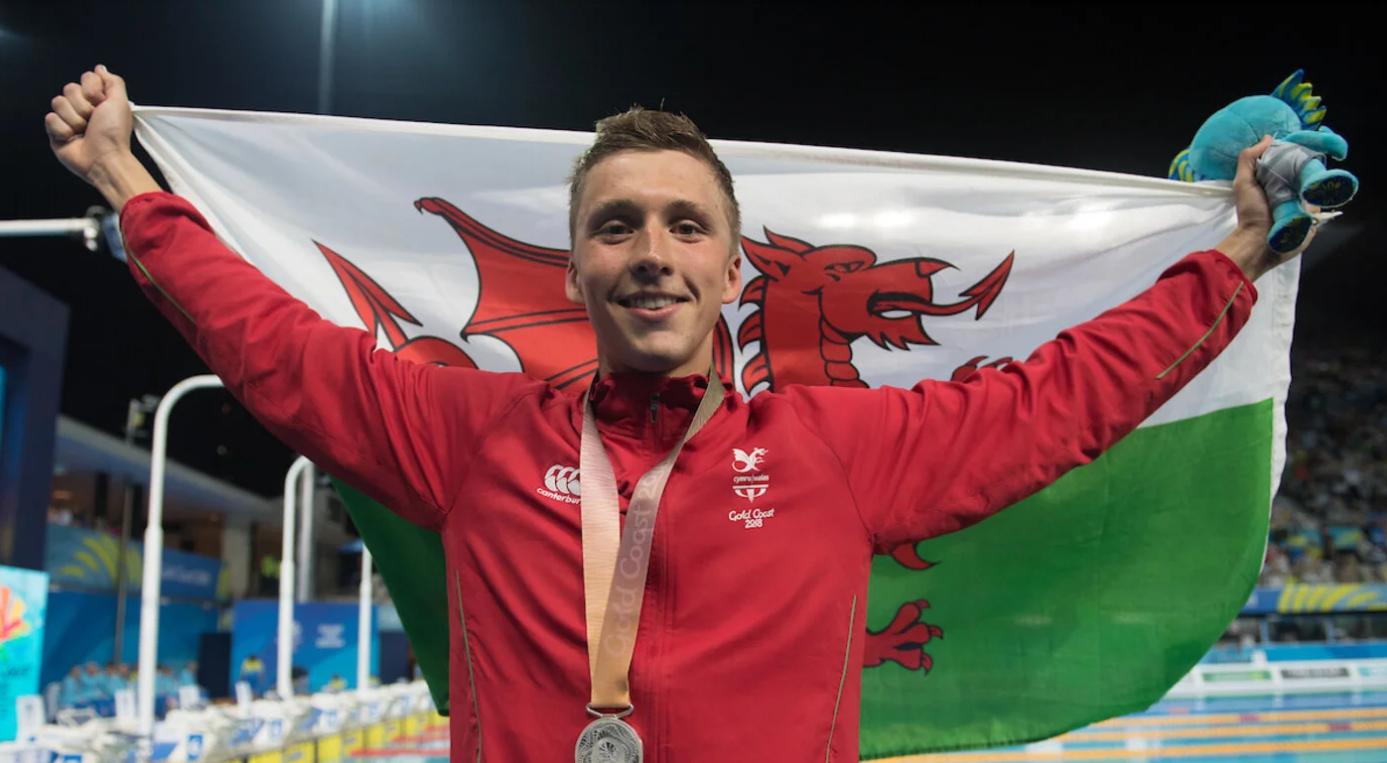 NEATH, Talbot County Borough, Wales – In a recent interview with BBC Radio Cornwall, 26-year-old British Olympian distance swimmer Dan Jervis revealed that he had given considerable thought before announcing to the world that he is gay.
Jervis told the BBC's LGBT Sport Podcast; "I was adjusting to everything else, just trying to fit in — until I thought, Just be you."
Jervis, who placed 5th in distance swimming for the British team at the Olympic games in Tokyo, Japan, told the BBC he was inspired by 17-year-old Blackpool FC forward Jake Daniels, the professional soccer player who made history as only the second person in the past 30 years to acknowledge their sexual orientation publicly in that sport in the United Kingdom.
The swimmer also told the BBC it was important to be seen as a role model as he readies to compete in the upcoming Commonwealth Games. Jervis has previously competed winning a 1500m freestyle silver and bronze at the 2014 and 2018 Games in Glasgow, Scotland and Australia's Gold Coast respectively.
"It took me 24 years to be who I am," he said and added, "You know, we're just before the Commonwealth Games and there are going to be kids and adults watching who will know that I'm like them, and that I'm proud of who I am."
The Olympian reflected on his decision to announce he was gay: "For so long, I hated who I was – and you see it all the time, people who are dying over this. They hate themselves so much that they're ending their lives.
"So if I can just be that someone people can look at and say, 'yeah, they're like me,' then that's good."
Jervis then said he revealed his sexuality to a close friend when he was 24: "At that point, I'd never said the words out loud to myself."
"I said to her: 'I think I'm gay.' I couldn't even say: 'I'm gay.' I was basically punching the words out.
"She was quite shocked but great, and it was exactly the reaction I wanted. I've had all good reactions, and the way I've described it is I'm not going to change as a person.
"Everyone's journey is different, but I think I've always known.
"It was something in the back of my mind, bugging me. I thought I was bisexual and had girlfriends that I loved – but it came to about three years ago where I knew I had to deal with this.
"It wasn't affecting my swimming, but me as a human being. It sounds quite drastic, but I wasn't enjoying my life. Yeah, I was smiling, but there was something missing to make me properly happy.
"I'm still the Dan you've always known. You just know something else about me now."
The Commonwealth Games open in Birmingham, UK on July 28.
German soccer federation: Trans players can decide their team to play on
"This new regulation on playing rights will provide an important foundation to allow players with diverse gender identities to play football"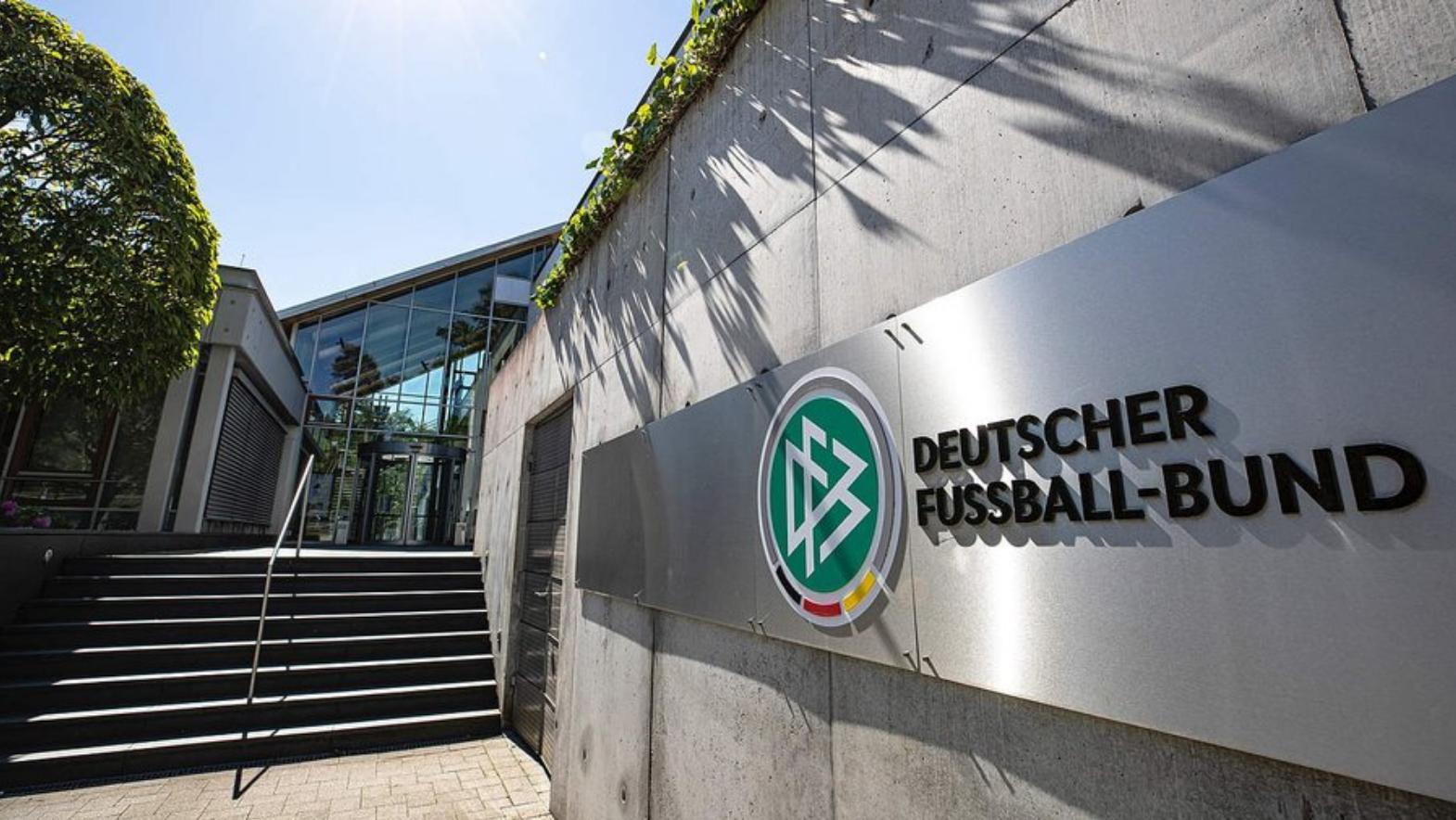 FRANKFURT – The German Football Association (Deutscher Fußball-Bund e.V.) this week issued new regulations and rules governing all transgender, intersex and non-binary players. On Thursday the governing soccer body passed a new regulation that takes effect as of the start of the upcoming 2022-23 season allowing all trans, intersex and non-binary players to decide for themselves whether to compete on men's or women's teams.
The DFB also specified that as long as the player's health is not affected by playing sports while taking medication, they can continue to participate in the sport. Under the new regulation, this would not be considered as doping.
This marks a departure from the recent trend and actions of other international sports governing associations such those taken earlier this month by the swimming's world governing body FINA, which meeting in the Hungarian capital city of Budapest, voted to restrict transgender athletes from elite women's competitions.
FINA said their action was necessary to determine eligibility criteria because of the "biological performance gap" that appears between males & females.
Thomas Hitzlsperger, the DFB's diversity ambassador, said "Football (soccer) stands for diversity, a value that the DFB also promotes. This new regulation on playing rights will provide an important foundation to allow players with diverse gender identities to play football."
Sabine Mammitzsch, the vice president for women's and girls' football (soccer) welcomes the regulation telling media outlets:
"The national and regional associations and also those responsible at grassroots level have signaled for some time that there is uncertainty around how to treat trans, intersex and non-binary players in practice. They therefore welcome the introduction of a far-reaching, nationwide regulation on the playing rights of these groups."
NBC News' Andrea Mitchell talks to Billie Jean King on impact of Title IX
The impact of Title IX on women's sports is significant. The law opened doors and removed barriers for girls and women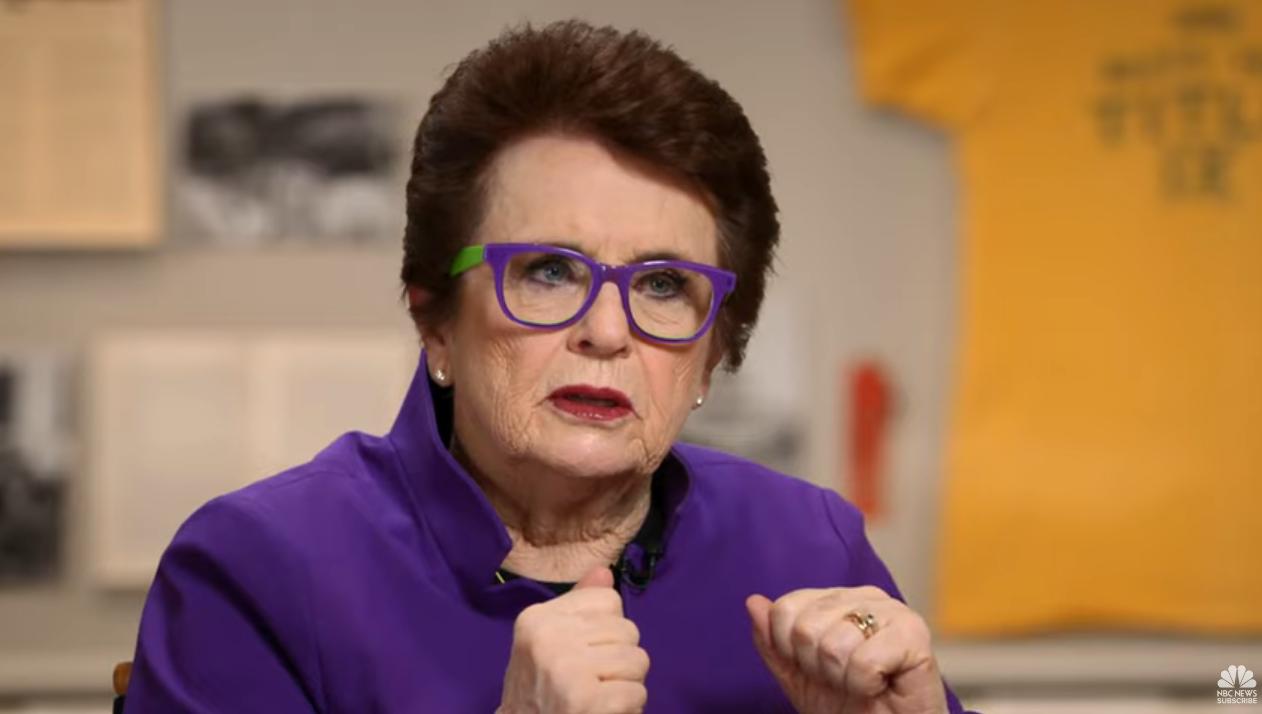 NEW YORK – This week marks the 50th anniversary of Title IX which was signed into law June 23, 1972 by then President Richard Nixon. It prohibits sex-based discrimination in any school or any other education program that receives funding from the federal government.
Title IX states: No person in the United States shall, on the basis of sex, be excluded from participation in, be denied the benefits of, or be subjected to discrimination under any education program or activity receiving Federal financial assistance.
Two years after Title IX was signed into law, King founded the Women's Sports Foundation in 1974. In 1971, before Title IX passed, only 1% of college athletic budgets went to women's sports programs. At the high school level, male athletes outnumbered female athletes 12.5 to 1.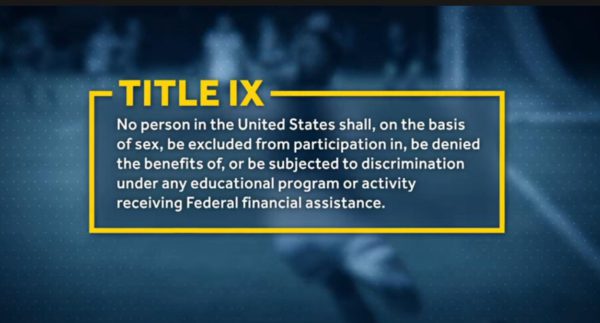 The impact of Title IX on women's sports is significant. The law opened doors and removed barriers for girls and women, and while female athletes and their sports programs still have fewer teams, fewer scholarships, and lower budgets than their male counterparts, since Title IX's passage, female participation at the high school level has grown by 1057 percent and by 614 percent at the college level.
The impact of Title IX stretches into professional sports as well. More opportunities have emerged for young women to turn their sport into their career, particularly in the WNBA. Collegiate and professional coaching opportunities have increased as well.
An openly Out lesbian, King and her longtime partner Ilana Kloss joined the Los Angeles Dodgers as co-owners in September of 2018.
NBC News reported that fifty years after Title IX was signed, the impact of the law is still being felt by women in sports across the country. Tennis legend, Billie Jean King, who has devoted her life to fighting for gender equality in sports, spoke with NBC News' Andrea Mitchell regarding Title IX. She explained that while we have come a long way there is "much more to do."
Billie Jean King Discusses Title IX Fifty Years Later: