LGBTQ Sports history: Two Trans NCAA athletes compete head-to-head
Lia Thomas' college swimming career is over, Iszac Henig said he couldn't comment on whether he'd be back with the Bulldogs next year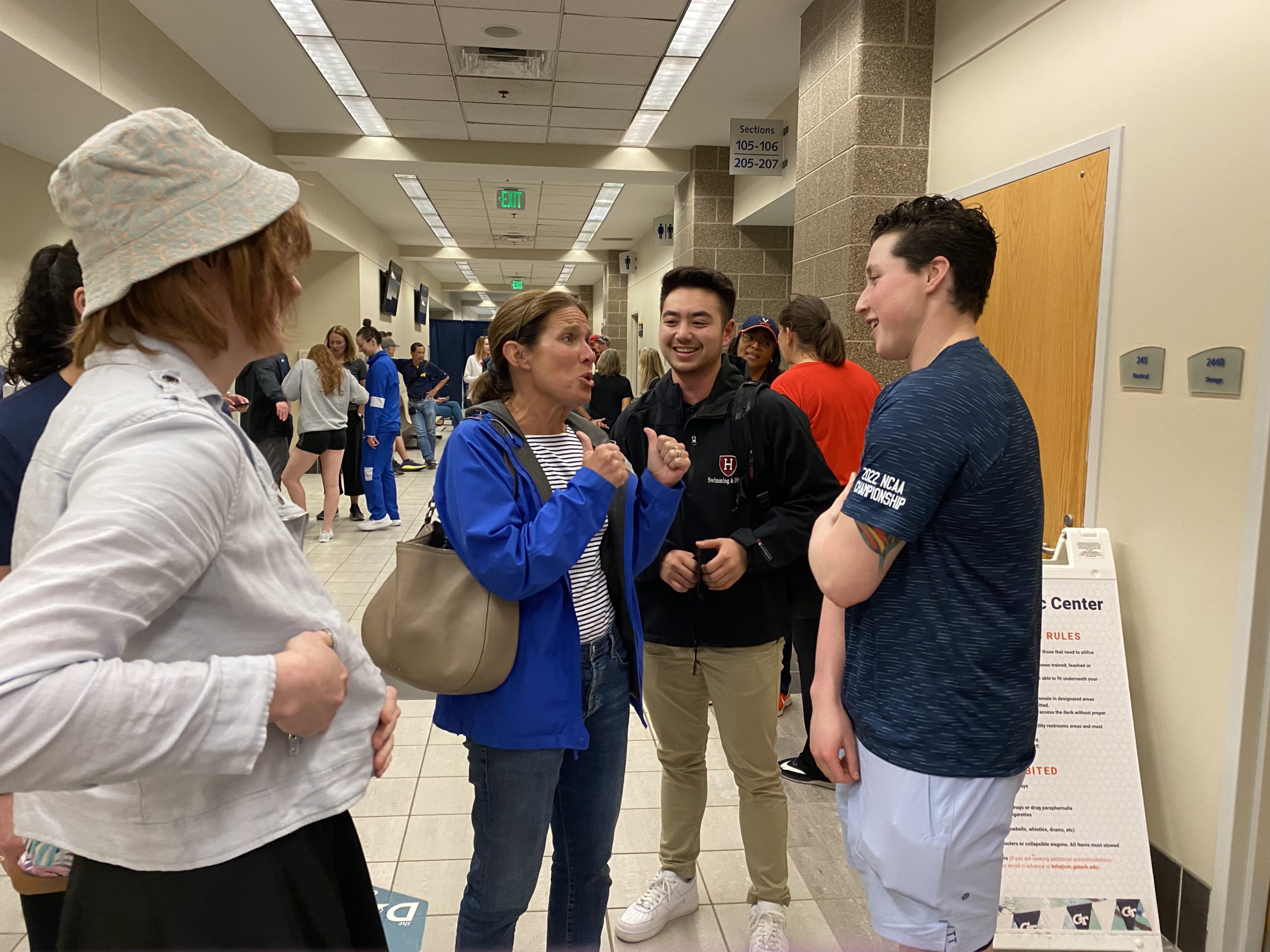 ATLANTA – History books will record Saturday, March 19, 2022, as the first time that two out NCAA transgender student-athletes competed against one another for a national championship. And it was a sharp rebuke to those activists who complain that trans women are "destroying women's sports" or dominating them.
Out trans swimmer Lia Thomas, the University of Pennsylvania 5th year senior, was almost a full second slower in the 100-yard freestyle than in Saturday morning's preliminary meet in Atlanta, Ga. She finished dead last, the eighth out of eight women, ending her college swimming career.
Thomas, 22, did not speak to reporters following Saturday night's final. Her only comments came on Thursday when the Austin, Texas native was named Division I national champion in the 500-yard freestyle. "I didn't have a whole lot of expectations for this meet," Thomas told ESPN. "I was just happy to be here, trying to race and compete as best as I could."
Trans man Iszac Henig of Menlo Park, Calif. tied for fifth with Louisville's Gabi Albiero, finishing at 47:32, a quarter of a second faster than he swam in the morning. Henig represented Yale, where he is a junior, as their sole entrant. After receiving his trophy, his parents, younger sister and other supporters congratulated Henig for his outstanding and historic performance in the pool.
"I was glad that it didn't hit me until after," he said. "I just wanted to be able to be there to race and have a good time."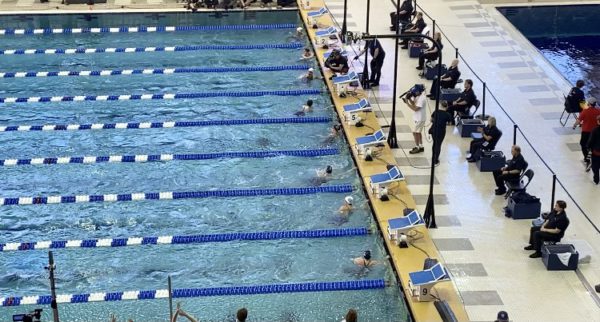 NCAA trans trailblazer Schuyler Bailar gave him a hug and posed for pictures together. They're friends, and they made plans to meet up with Thomas later in the evening to celebrate the end of finals.
"Lia and I are friends, so it's always nice to swim against your friends," Henig told me. "It was incredible. She's been great. I was really happy competing with her. I swear I couldn't have asked for it to have gone better."
Henig has a tattoo on his right arm that says "Let Trans Kids Play." He spoke to me about why he wants people to see that important message.
"There's so many bills in different states right now trying to ban trans women from sport at all different levels," Henig told me. "We're not allowed to have anything on our clothes, but they also didn't say anything about your skin. So I took that, you know, platform that I was hoping to have, to use that to say, trans athletes are like any other athlete. We just have to be able to play to build that community."
Although he had top surgery to remove his breasts, he is not on testosterone, and postponed that part of his medical transition so he can continue to compete with his women teammates. Beth Stelzer, the founder of the anti-trans inclusion group Save Womens Sports, misidentified Henig on Thursday as a woman and suggested his operation might provide him with some advantage in the pool.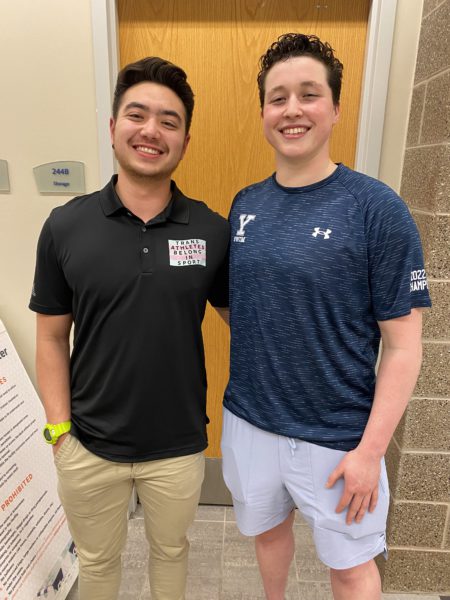 "I actually really don't know how to respond to that," said Henig. "I'm not a woman. I would love to know how they're defining 'woman' because I think that like womanhood is what you make it. And I'm not a woman. I'm not a woman." He added, "I am just a guy trying to go as fast as I can."
Henig said he couldn't comment on whether he'd be back with the Bulldogs next year or what steps he would take in his gender transition.
I asked Henig about Swimming World Magazine editor in chief John Lohn's opinion that Thomas had been, in his words, "sandbagging," or deliberately swimming at a slower speed, and about a tabloid report about an anonymous teammate of hers who accused Thomas of conspiring with Henig to prove, in her words, "Oh see, a female-to-male beat me."
"I think anyone who's been an athlete and as a competitive person knows that you don't throw races," Henig told me. "You don't conspire to do anything. You're just here to show up to your best."
Contrary to the narrative spun by opponents of transgender inclusion in sports, the winner of the 100-yard freestyle was a cisgender woman: Virginia freshman Gretchen Walsh from Nashville, Tenn. Walsh won her first individual title and set a new pool record at the McAuley Aquatic Center on the Georgia Tech campus.
"I definitely think that I never expected this to happen," Walsh told me after her victory. "Going into this, I knew I would be racing Lia. I think at that point I was just treating everyone as a fair competitor, because I came here to do the best, for me, and I was just overall really, really happy with my swim. So, I wasn't trying to think about anyone else too much, just focus on me and do my best."
"Everybody here is a competitor," added her head coach Todd DeSorbo, who was talking to reporters about UVA winning back-to-back NCAA National Championships when asked about Thomas. I asked him if, having witnessed her and Henig compete, if he would ever coach a transgender swimmer. DeSorbo said he'd decide that question if and when it ever happens. "I think that's a tough question to answer because it would have to happen," DeSorbo explained. "I would need that to happen for me to know how that would unfold."
The crowd inside cheered for Walsh, and also for Henig, but once again a scattering of boos were heard whenever the announcer said Lia Thomas's name.
The activists from Save Womens Sports, who since Thursday have been booing Thomas inside and demonstrating outside, told me they achieved what they had set out to do.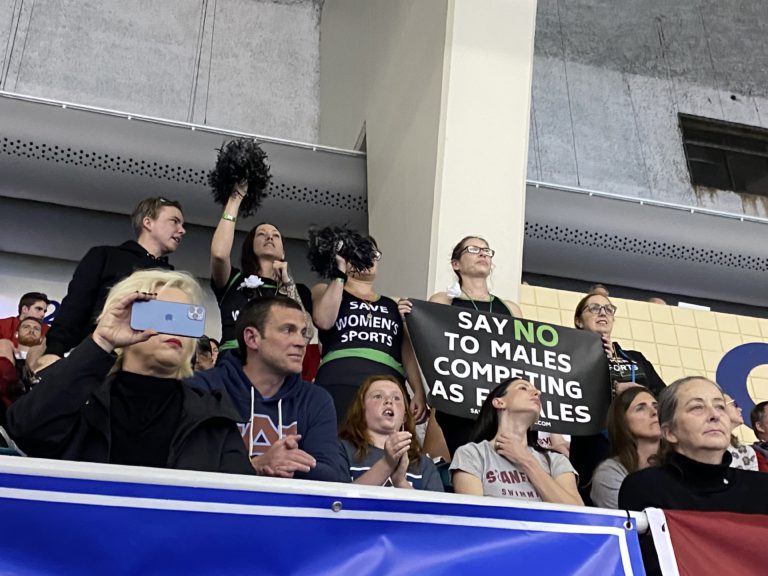 "I just feel like the mission that we came here to accomplish, we were successful, better than we could ever imagine," Jeanna Hoch of Save Womens Sports told me following finals. "The public is definitely on our side. It's overwhelming on social media, in the news and the person to person interactions with people here on campus. Everyone is really, really supportive of our fight."
Following that interview, other activists standing with Hoch surrounded this reporter and challenged me about my identity as a transgender woman and my use of the women's public bathrooms in the aquatic center. A man wearing a Cal Athletics polo shirt named Matthew joined them in asking me whether I ever menstruated. Campus security officers started to move in when I made a reference to myself as doing "the job of mom" for my three children following the death of their mother. That resulted in activists screaming at me, "How dare you!" said Stelzer, pointing her finger in my face. "You never birthed your children. You are not a mother!" Both the activists and I recorded the clash with our phones.
It was around this point that a senior campus security officer intervened and escorted the activists outside. But the commotion continued there, without me present. Members of the Save Womens Sports group reportedly splintered in what one reporter described as "a spectacle."
This last night here in Atlanta was far more emotional than any other night, and never was that more true than when the press room welcomed DI national champion Regan Smith of Lakeville, Minn., a 20-year-old Stanford freshman born in Redwood Shores, Calif.
"That was sick!" Smith said about winning the 200-back before tying for second in the 200-fly. Out nonbinary journalist Katie Barnes asked Smith for her thoughts about competing with Lia Thomas.
"She's followed the rules that have been in place for her. I'm all about being supportive of people that are here and not putting anyone down, and being a good sport about everything," she said. "I think everything that's going on has been really crazy, but I just hope that things get worked out in the future and that, you know, everyone leaves the situation in a good place."
German soccer federation: Trans players can decide their team to play on
"This new regulation on playing rights will provide an important foundation to allow players with diverse gender identities to play football"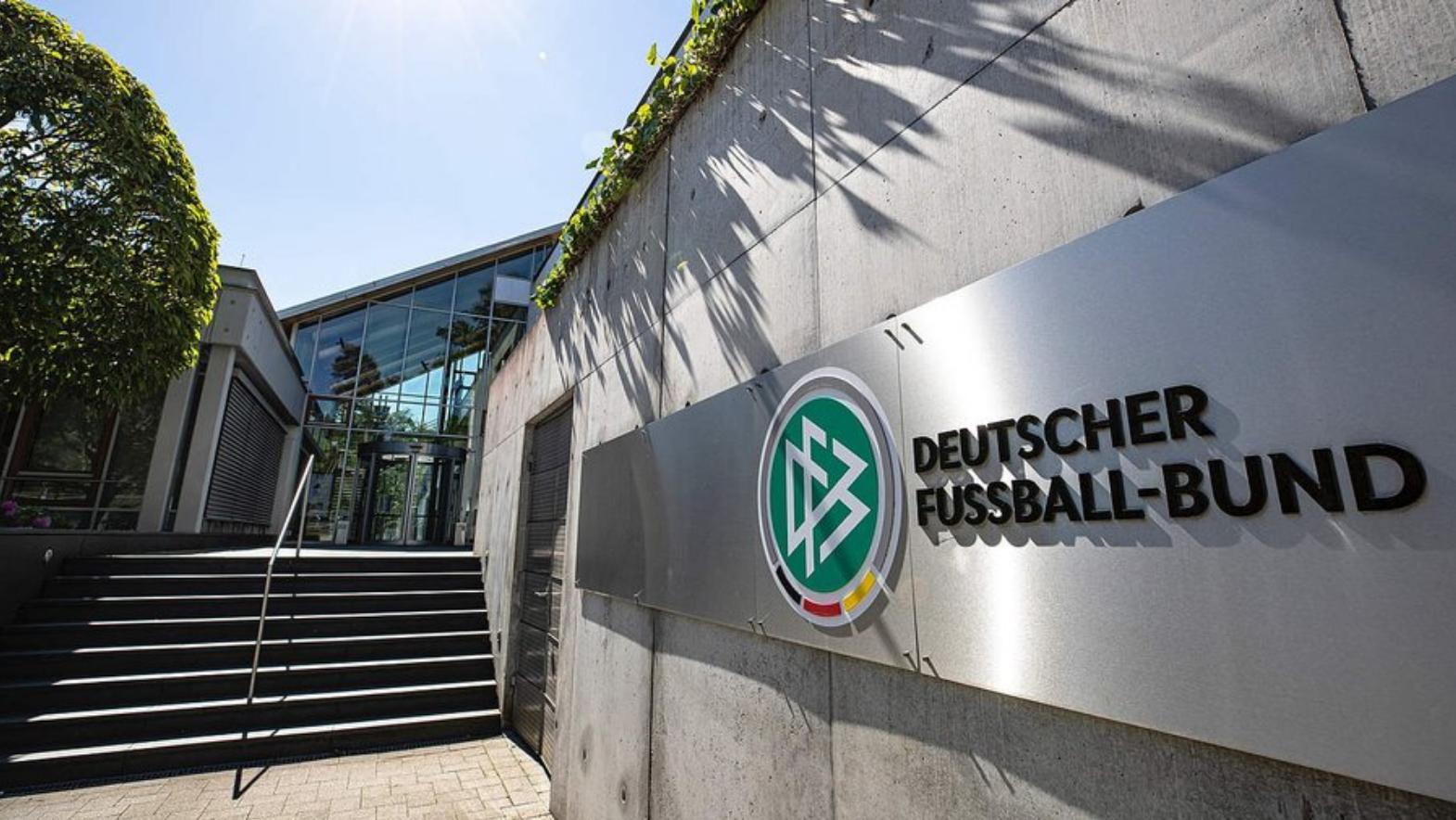 FRANKFURT – The German Football Association (Deutscher Fußball-Bund e.V.) this week issued new regulations and rules governing all transgender, intersex and non-binary players. On Thursday the governing soccer body passed a new regulation that takes effect as of the start of the upcoming 2022-23 season allowing all trans, intersex and non-binary players to decide for themselves whether to compete on men's or women's teams.
The DFB also specified that as long as the player's health is not affected by playing sports while taking medication, they can continue to participate in the sport. Under the new regulation, this would not be considered as doping.
This marks a departure from the recent trend and actions of other international sports governing associations such those taken earlier this month by the swimming's world governing body FINA, which meeting in the Hungarian capital city of Budapest, voted to restrict transgender athletes from elite women's competitions.
FINA said their action was necessary to determine eligibility criteria because of the "biological performance gap" that appears between males & females.
Thomas Hitzlsperger, the DFB's diversity ambassador, said "Football (soccer) stands for diversity, a value that the DFB also promotes. This new regulation on playing rights will provide an important foundation to allow players with diverse gender identities to play football."
Sabine Mammitzsch, the vice president for women's and girls' football (soccer) welcomes the regulation telling media outlets:
"The national and regional associations and also those responsible at grassroots level have signaled for some time that there is uncertainty around how to treat trans, intersex and non-binary players in practice. They therefore welcome the introduction of a far-reaching, nationwide regulation on the playing rights of these groups."
NBC News' Andrea Mitchell talks to Billie Jean King on impact of Title IX
The impact of Title IX on women's sports is significant. The law opened doors and removed barriers for girls and women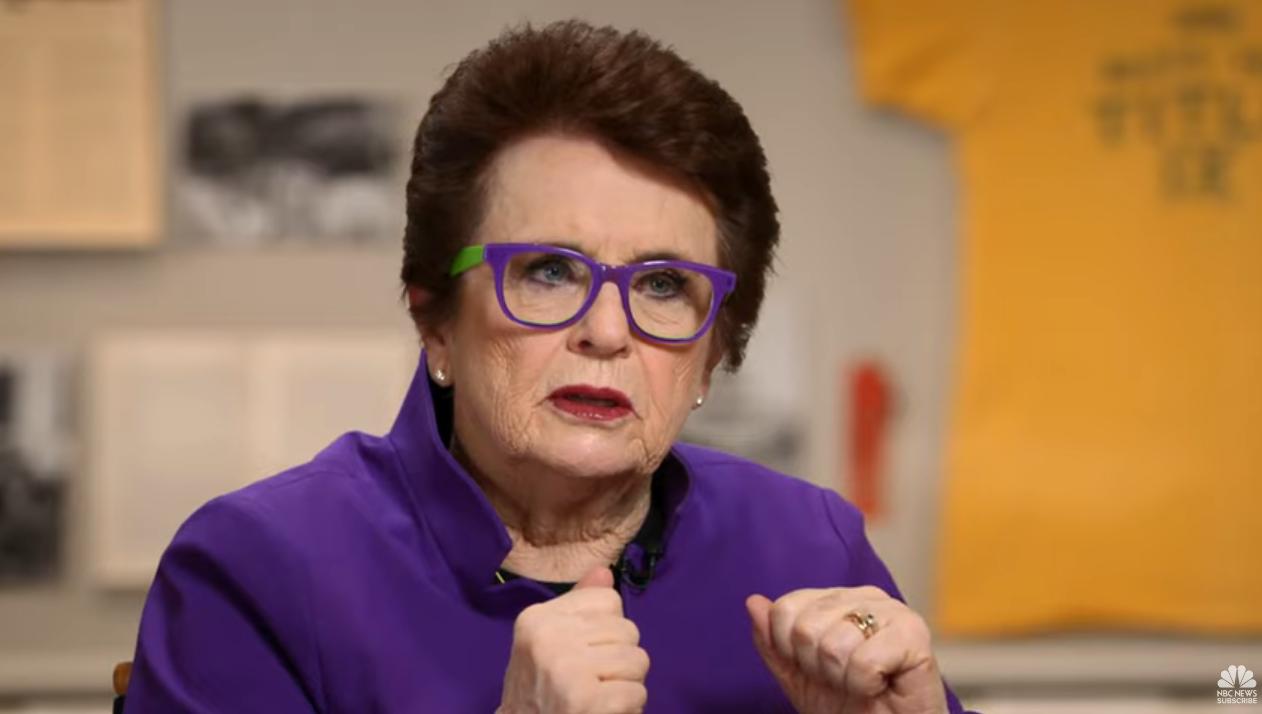 NEW YORK – This week marks the 50th anniversary of Title IX which was signed into law June 23, 1972 by then President Richard Nixon. It prohibits sex-based discrimination in any school or any other education program that receives funding from the federal government.
Title IX states: No person in the United States shall, on the basis of sex, be excluded from participation in, be denied the benefits of, or be subjected to discrimination under any education program or activity receiving Federal financial assistance.
Two years after Title IX was signed into law, King founded the Women's Sports Foundation in 1974. In 1971, before Title IX passed, only 1% of college athletic budgets went to women's sports programs. At the high school level, male athletes outnumbered female athletes 12.5 to 1.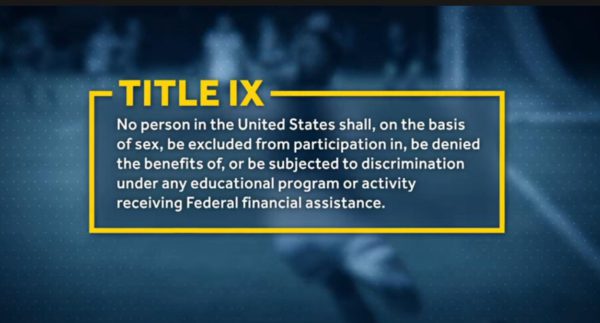 The impact of Title IX on women's sports is significant. The law opened doors and removed barriers for girls and women, and while female athletes and their sports programs still have fewer teams, fewer scholarships, and lower budgets than their male counterparts, since Title IX's passage, female participation at the high school level has grown by 1057 percent and by 614 percent at the college level.
The impact of Title IX stretches into professional sports as well. More opportunities have emerged for young women to turn their sport into their career, particularly in the WNBA. Collegiate and professional coaching opportunities have increased as well.
An openly Out lesbian, King and her longtime partner Ilana Kloss joined the Los Angeles Dodgers as co-owners in September of 2018.
NBC News reported that fifty years after Title IX was signed, the impact of the law is still being felt by women in sports across the country. Tennis legend, Billie Jean King, who has devoted her life to fighting for gender equality in sports, spoke with NBC News' Andrea Mitchell regarding Title IX. She explained that while we have come a long way there is "much more to do."
Billie Jean King Discusses Title IX Fifty Years Later:
World swimming body FINA votes to ban Trans athletes
FINA says it was necessary to determine eligibility criteria because of the "biological performance gap" that appears between males & females
BUDAPEST – The Swimming's world governing body FINA meeting in the Hungarian capital city voted to restrict transgender athletes from elite women's competitions. The final vote tally of the representatives was 71.5% approval for the new policy which requires transgender athletes show that "they have not experienced any part of male puberty beyond Tanner Stage 2 or before age 12, whichever is later."
Enactment of that requirement effectively eliminates trans women's eligibility to compete in the women's category.
Tanner Stages describe the physical changes people undergo during puberty.
"We have to protect the rights of our athletes to compete, but we also have to protect competitive fairness at our events, especially the women's category at FINA competitions," FINA's president, Husain Al-Musallam, said in a statement.
The organisation is maintaining that it was necessary to use sex and sex-linked traits to determine eligibility criteria because of the "performance gap" that appears between males and females during puberty.
"Without eligibility standards based on biological sex or sex-linked traits, we are very unlikely to see biological females in finals, on podiums, or in championship positions; and in sports and events involving collisions and projectiles, biological female athletes would be at greater risk of injury," the statement from FINA's new policy read.
Athlete Ally, which advocates for Trans athletes responded:
"FINA's new eligibility criteria for transgender athletes and athletes with intersex variations is deeply discriminatory, harmful, unscientific and not in line with the 2021 International Olympic Committee framework on Fairness, Inclusion and Non-Discrimination on the Basis of Gender Identity and Sex Variations," said Anne Lieberman, Director of Policy and Programs at Athlete Ally.
"This sudden and discriminatory decision is a blatant attack on transgender athletes who have worked to comply with longstanding policies that have allowed them to participate for years without issue," said Joni Madison, Human Rights Campaign Interim President. "This policy is an example of swimming organizations caving to the avalanche of ill-informed, prejudiced attacks targeted at one particular transgender swimmer. We urge the FINA to rethink its policy and ensure inclusion for all athletes — including transgender women – and allow them to participate in sports free from discrimination, abuse and harassment.
"To the young athletes who may be disheartened by this policy, know that we know and believe that every young person deserves to be treated with dignity and respect and that transgender kids, like their friends, deserve the same chances to learn sportsmanship, self-discipline, and teamwork, and to build a sense of belonging with their peers," Madison added.
Swimming Body FINA Votes To Segregate Trans Athletes | 10 News First:
**********************