Qatar: Police may seize Pride flags 'to protect' LGBTQ World Cup fans
"So-called 'protections' are smokescreens to cover up human rights violations" FIFA organizers previously said rainbow flags would be welcome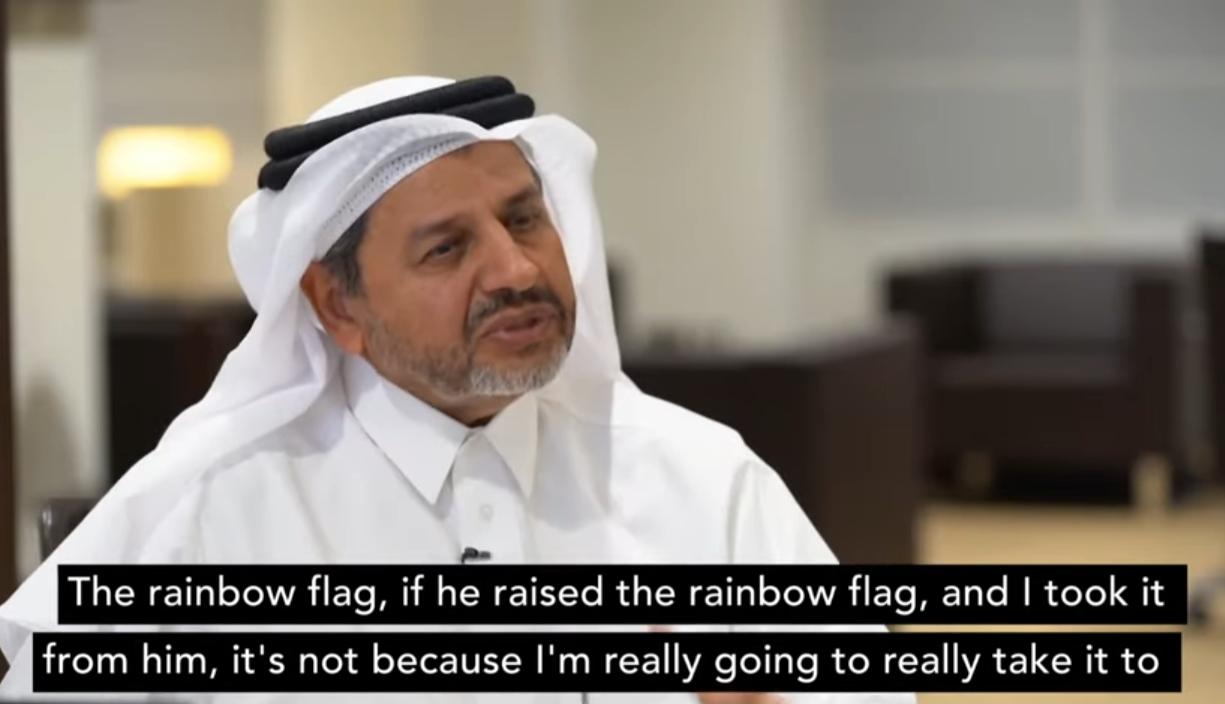 DOHA, Qatar – A senior official in Qatar, the ultra-conservative Gulf nation where being gay, lesbian, bisexual or transgender is a crime, is warning World Cup fans who are LGBTQ to leave their rainbow flags at home. 
The Associated Press reported that contrary to promises from both World Cup organizers and FIFA, Major General Abdulaziz Abdullah Al Ansari warned that rainbow flags could be seized for fans' own protection, to prevent them from being attacked for promoting LGBTQ rights.
"I cannot guarantee the behavior of the whole people," said Al Ansari, who is in charge of security at Qatar's eight stadiums hosting the Nov. 21-Dec. 18 FIFA championship matches. "Here we cannot change the laws. You cannot change the religion for 28 days of World Cup."
In a one-hour interview with the AP's Rob Harris, Al Ansari offered a hypothetical example of what would happen to a fan who dared to wave the Pride flag.
"If he raised the rainbow flag and I took it from him, it's not because I really want to, really, take it, to really insult him, but to protect him," said Al Ansari. "Because if it's not me, somebody else around him might attack (him)," Al Ansari added. "And I will tell him: 'Please, no need to really raise that flag at this point.'"
Al Ansari, who is also director of the Department of International Cooperation and chairman of the National Counterterrorism Committee at the Ministry of Interior, told the AP that LGBTQ couples will be welcomed and accepted.
"Reserve the room together, sleep together — this is something that's not in our concern," he said. "We are here to manage the tournament. Let's not go beyond, the individual personal things which might be happening between these people."
At one point, Al Ansari makes it clear that Qatar considers being LGBTQ a criminal act, and will not tolerate those who oppose its laws.
"You want to demonstrate your view about the situation, demonstrate it in a society where it will be accepted," Al Ansari said. "We realize that this man got the ticket, comes here to watch the game, not to demonstrate, a political (act) or something which is in his mind. Watch the game. That's good. But don't really come in and insult the whole society because of this."
Reactions to Al Ansari's comments to the AP were swift.
"Often, so-called 'protections' are in fact smokescreens to cover up human rights violations," Julia Ehrt of the International Lesbian, Gay, Bisexual, Trans and Intersex Association and Ronain Evain of Football Supporters Europe told the AP in a joint statement. "FIFA and Qatar must address these concerns immediately, and show the world there is a chance of carrying out a rights-respecting and safe tournament for LGBTIQ fans."
Although FIFA President Gianni Infantino, on a visit to Doha last week, had claimed that "everyone will see that everyone is welcome here in Qatar, even if we speak about LGBTQ," fan groups put out a statement contradicting Infantino: "We cannot, in good faith, tell our members, LGBT+ people, or allies that this is a #WorldCup for all."
"The idea that the flag, which is now a recognized universal symbol of diversity and equality, will be removed from people to protect them will not be considered acceptable, and will be seen as a pretext," said Piara Powar, executive director of The FARE network, which monitors soccer games for discrimination. "I have been to Qatar on numerous occasions and do not expect the local Qatari population or fans visiting for the World Cup to be attacked for wearing the rainbow flag. The bigger danger comes from state actions."
🚨🚨🚨#SRA partners @FansEurope & @ILGAWorld raise concerns about statement from Qatari security head that rainbow flags🏳️‍🌈 could be taken from fans at the 2022 Men's World Cup under a pretense of 'protection.'#WorldCupDraw #Qatar2022 #HumanRights

👉https://t.co/UarhL3arEW pic.twitter.com/fOcGeimX0u

— Sport & Rights Alliance (@Sport_Rights) April 1, 2022
2022 FIFA World Cup | LBGTQ people welcome but Rainbow Flag will be seized at Qatar 2022:
Blinken criticizes FIFA over threat to fine World Cup team captains with 'one love' armbands
Qatar criminalizes homosexuality by death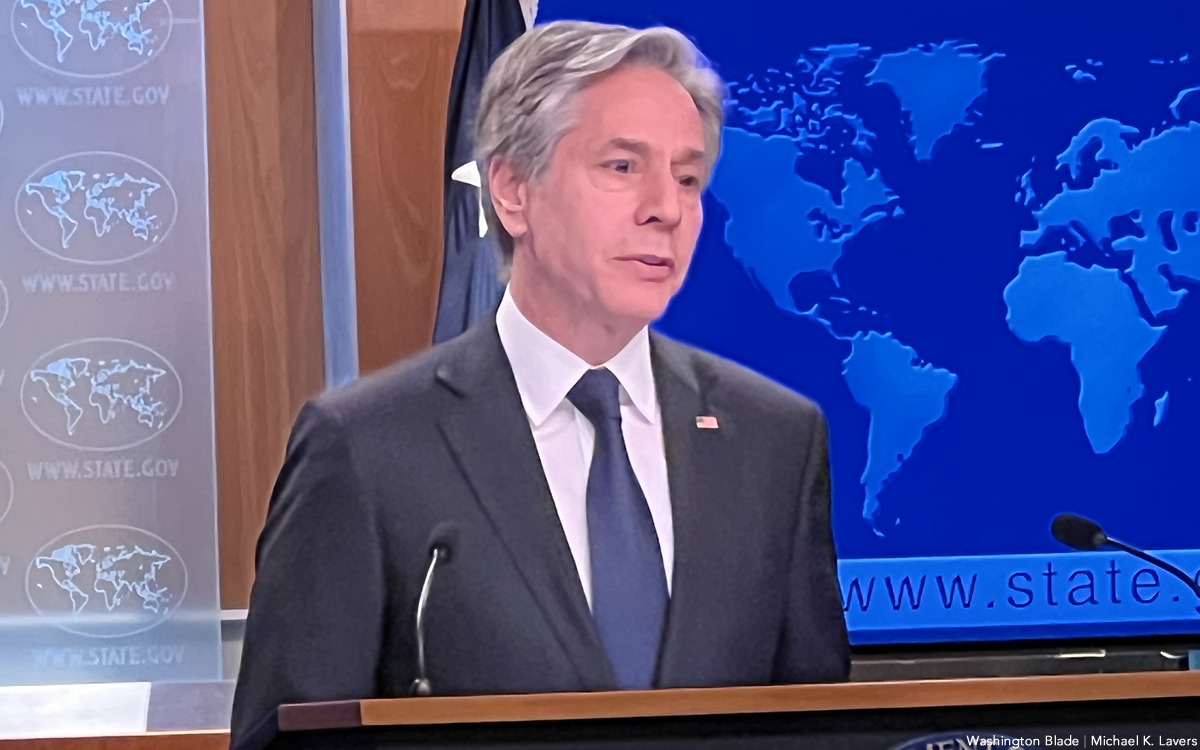 DOHA, Qatar — Secretary of State Antony Blinken on Tuesday criticized FIFA over its threat to sanction European soccer teams if their captains wore "one love" armbands during the 2022 World Cup.
"It's always concerning from my perspective when we see any restrictions on freedom of expression. It's especially so when the expression is for diversity and for inclusion," Blinken told reporters during a press conference with Qatari Foreign Minister Mohammed Bin Abdulrahman Al-Thani in Doha, the Qatari capital. "And in my judgment, at least, no one on a football pitch should be forced to choose between supporting these values and playing for their team."
Seven European soccer teams on Monday announced their captains will not wear LGBTQ+ and intersex armbands during the 2022 World Cup after FIFA threatened to sanction them.
The captains of Belgium, Denmark, England, Germany, the Netherlands, Switzerland and Wales had planned to wear the armbands in support of the LGBTQ+ and intersex community during the World Cup. The teams on Monday in a joint statement said they would not wear the armbands because FIFA had threatened to sanction them if their captains did.
The World Cup began in Qatar on Sunday.
Qatar is among the handful of countries in which consensual same-sex sexual relations remain punishable by death. A report that Human Rights Watch published last month noted several cases of "severe and repeated beatings" and "sexual harassment" of LGBTQ+ and intersex people while in police custody from 2019 and September 2022.
A State Department official last week acknowledged to the Washington Blade that the U.S. raised LGBTQ+ and intersex rights with the Qatari government ahead of the World Cup.
The U.S. men's soccer team while in Qatar will have a redesigned logo with the Pride flag in its badge. Blinken attended their match against Wales on Monday.