Qatar: Police may seize Pride flags 'to protect' LGBTQ World Cup fans
"So-called 'protections' are smokescreens to cover up human rights violations" FIFA organizers previously said rainbow flags would be welcome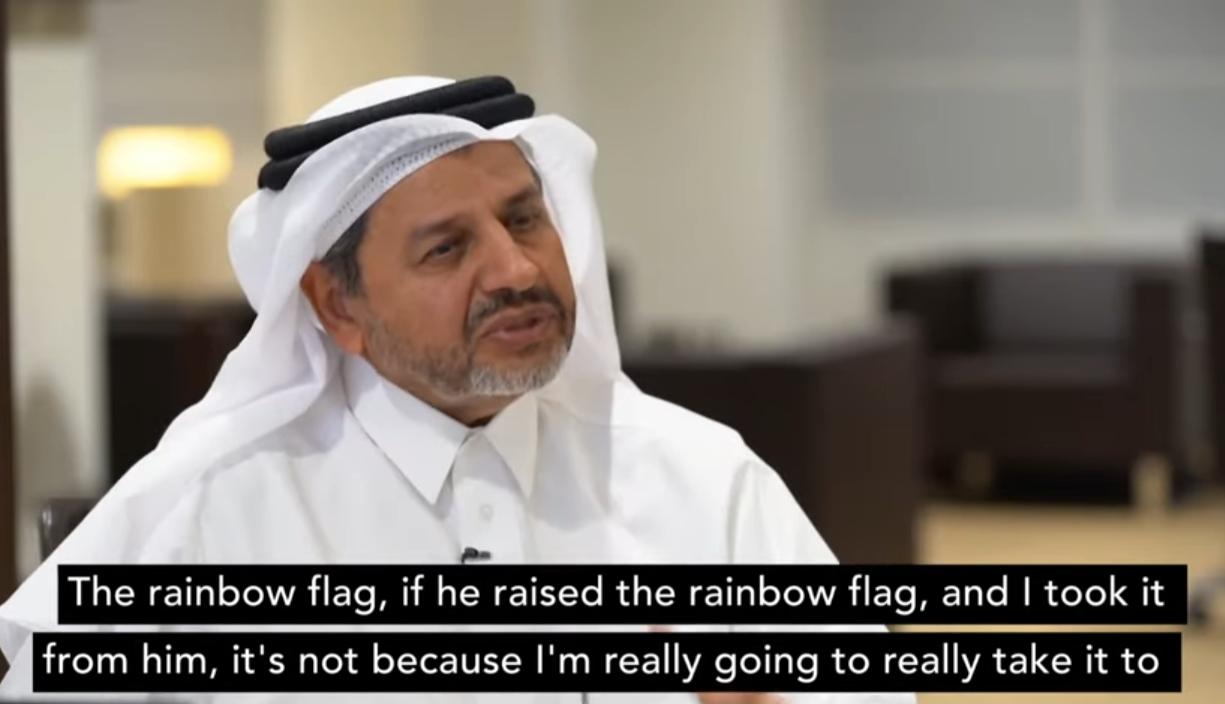 DOHA, Qatar – A senior official in Qatar, the ultra-conservative Gulf nation where being gay, lesbian, bisexual or transgender is a crime, is warning World Cup fans who are LGBTQ to leave their rainbow flags at home. 
The Associated Press reported that contrary to promises from both World Cup organizers and FIFA, Major General Abdulaziz Abdullah Al Ansari warned that rainbow flags could be seized for fans' own protection, to prevent them from being attacked for promoting LGBTQ rights.
"I cannot guarantee the behavior of the whole people," said Al Ansari, who is in charge of security at Qatar's eight stadiums hosting the Nov. 21-Dec. 18 FIFA championship matches. "Here we cannot change the laws. You cannot change the religion for 28 days of World Cup."
In a one-hour interview with the AP's Rob Harris, Al Ansari offered a hypothetical example of what would happen to a fan who dared to wave the Pride flag.
"If he raised the rainbow flag and I took it from him, it's not because I really want to, really, take it, to really insult him, but to protect him," said Al Ansari. "Because if it's not me, somebody else around him might attack (him)," Al Ansari added. "And I will tell him: 'Please, no need to really raise that flag at this point.'"
Al Ansari, who is also director of the Department of International Cooperation and chairman of the National Counterterrorism Committee at the Ministry of Interior, told the AP that LGBTQ couples will be welcomed and accepted.
"Reserve the room together, sleep together — this is something that's not in our concern," he said. "We are here to manage the tournament. Let's not go beyond, the individual personal things which might be happening between these people."
At one point, Al Ansari makes it clear that Qatar considers being LGBTQ a criminal act, and will not tolerate those who oppose its laws.
"You want to demonstrate your view about the situation, demonstrate it in a society where it will be accepted," Al Ansari said. "We realize that this man got the ticket, comes here to watch the game, not to demonstrate, a political (act) or something which is in his mind. Watch the game. That's good. But don't really come in and insult the whole society because of this."
Reactions to Al Ansari's comments to the AP were swift.
"Often, so-called 'protections' are in fact smokescreens to cover up human rights violations," Julia Ehrt of the International Lesbian, Gay, Bisexual, Trans and Intersex Association and Ronain Evain of Football Supporters Europe told the AP in a joint statement. "FIFA and Qatar must address these concerns immediately, and show the world there is a chance of carrying out a rights-respecting and safe tournament for LGBTIQ fans."
Although FIFA President Gianni Infantino, on a visit to Doha last week, had claimed that "everyone will see that everyone is welcome here in Qatar, even if we speak about LGBTQ," fan groups put out a statement contradicting Infantino: "We cannot, in good faith, tell our members, LGBT+ people, or allies that this is a #WorldCup for all."
"The idea that the flag, which is now a recognized universal symbol of diversity and equality, will be removed from people to protect them will not be considered acceptable, and will be seen as a pretext," said Piara Powar, executive director of The FARE network, which monitors soccer games for discrimination. "I have been to Qatar on numerous occasions and do not expect the local Qatari population or fans visiting for the World Cup to be attacked for wearing the rainbow flag. The bigger danger comes from state actions."
🚨🚨🚨#SRA partners @FansEurope & @ILGAWorld raise concerns about statement from Qatari security head that rainbow flags🏳️‍🌈 could be taken from fans at the 2022 Men's World Cup under a pretense of 'protection.'#WorldCupDraw #Qatar2022 #HumanRights

👉https://t.co/UarhL3arEW pic.twitter.com/fOcGeimX0u

— Sport & Rights Alliance (@Sport_Rights) April 1, 2022
2022 FIFA World Cup | LBGTQ people welcome but Rainbow Flag will be seized at Qatar 2022:
German soccer federation: Trans players can decide their team to play on
"This new regulation on playing rights will provide an important foundation to allow players with diverse gender identities to play football"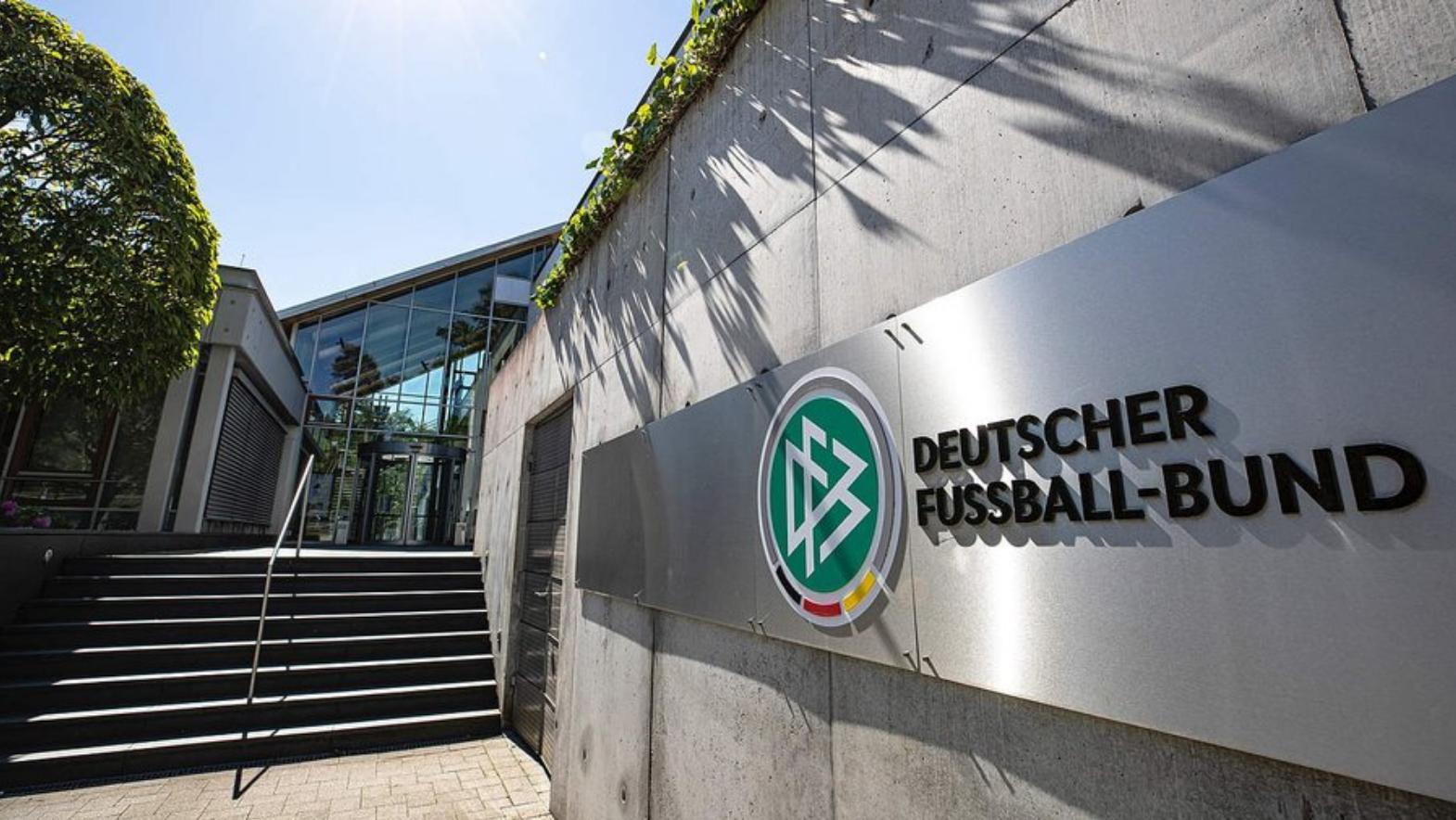 FRANKFURT – The German Football Association (Deutscher Fußball-Bund e.V.) this week issued new regulations and rules governing all transgender, intersex and non-binary players. On Thursday the governing soccer body passed a new regulation that takes effect as of the start of the upcoming 2022-23 season allowing all trans, intersex and non-binary players to decide for themselves whether to compete on men's or women's teams.
The DFB also specified that as long as the player's health is not affected by playing sports while taking medication, they can continue to participate in the sport. Under the new regulation, this would not be considered as doping.
This marks a departure from the recent trend and actions of other international sports governing associations such those taken earlier this month by the swimming's world governing body FINA, which meeting in the Hungarian capital city of Budapest, voted to restrict transgender athletes from elite women's competitions.
FINA said their action was necessary to determine eligibility criteria because of the "biological performance gap" that appears between males & females.
Thomas Hitzlsperger, the DFB's diversity ambassador, said "Football (soccer) stands for diversity, a value that the DFB also promotes. This new regulation on playing rights will provide an important foundation to allow players with diverse gender identities to play football."
Sabine Mammitzsch, the vice president for women's and girls' football (soccer) welcomes the regulation telling media outlets:
"The national and regional associations and also those responsible at grassroots level have signaled for some time that there is uncertainty around how to treat trans, intersex and non-binary players in practice. They therefore welcome the introduction of a far-reaching, nationwide regulation on the playing rights of these groups."
NBC News' Andrea Mitchell talks to Billie Jean King on impact of Title IX
The impact of Title IX on women's sports is significant. The law opened doors and removed barriers for girls and women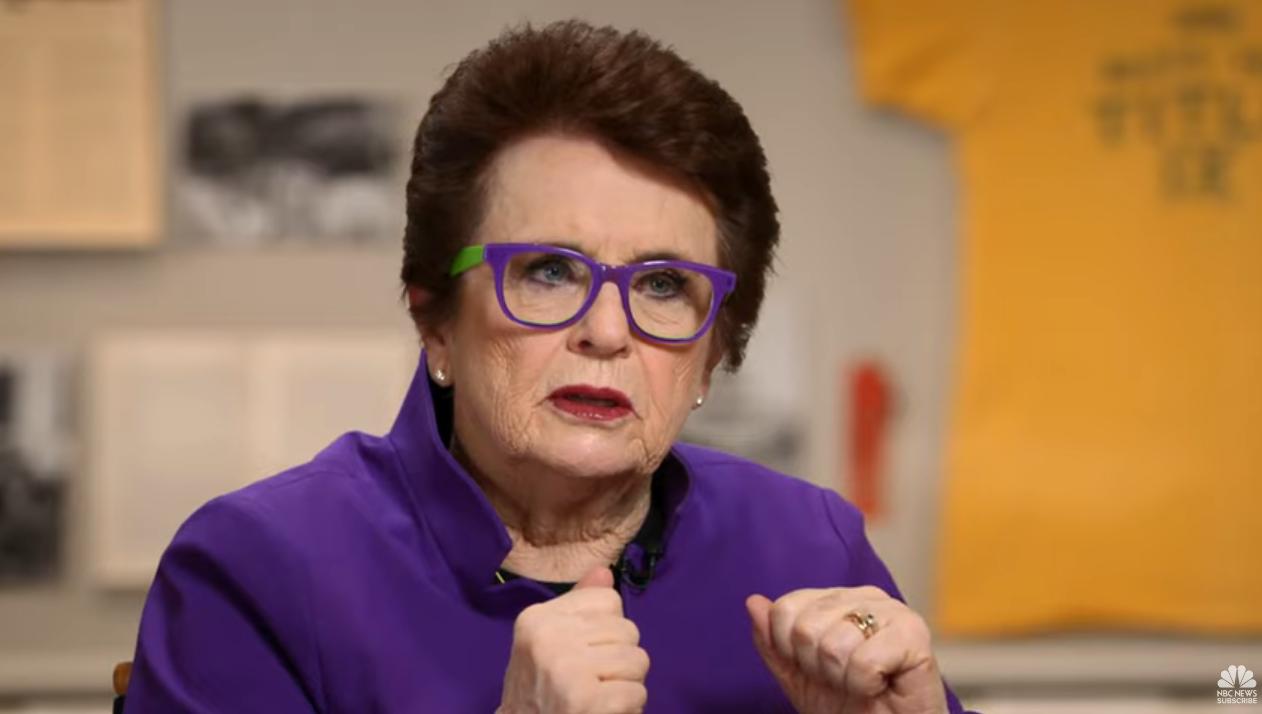 NEW YORK – This week marks the 50th anniversary of Title IX which was signed into law June 23, 1972 by then President Richard Nixon. It prohibits sex-based discrimination in any school or any other education program that receives funding from the federal government.
Title IX states: No person in the United States shall, on the basis of sex, be excluded from participation in, be denied the benefits of, or be subjected to discrimination under any education program or activity receiving Federal financial assistance.
Two years after Title IX was signed into law, King founded the Women's Sports Foundation in 1974. In 1971, before Title IX passed, only 1% of college athletic budgets went to women's sports programs. At the high school level, male athletes outnumbered female athletes 12.5 to 1.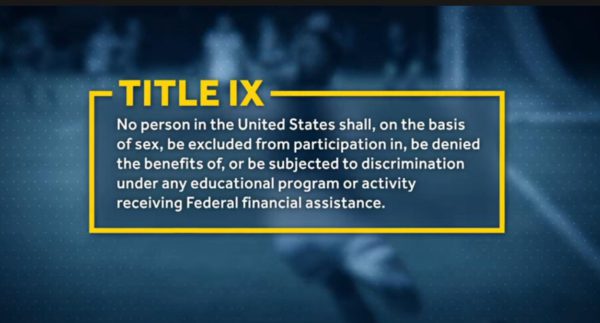 The impact of Title IX on women's sports is significant. The law opened doors and removed barriers for girls and women, and while female athletes and their sports programs still have fewer teams, fewer scholarships, and lower budgets than their male counterparts, since Title IX's passage, female participation at the high school level has grown by 1057 percent and by 614 percent at the college level.
The impact of Title IX stretches into professional sports as well. More opportunities have emerged for young women to turn their sport into their career, particularly in the WNBA. Collegiate and professional coaching opportunities have increased as well.
An openly Out lesbian, King and her longtime partner Ilana Kloss joined the Los Angeles Dodgers as co-owners in September of 2018.
NBC News reported that fifty years after Title IX was signed, the impact of the law is still being felt by women in sports across the country. Tennis legend, Billie Jean King, who has devoted her life to fighting for gender equality in sports, spoke with NBC News' Andrea Mitchell regarding Title IX. She explained that while we have come a long way there is "much more to do."
Billie Jean King Discusses Title IX Fifty Years Later:
World swimming body FINA votes to ban Trans athletes
FINA says it was necessary to determine eligibility criteria because of the "biological performance gap" that appears between males & females
BUDAPEST – The Swimming's world governing body FINA meeting in the Hungarian capital city voted to restrict transgender athletes from elite women's competitions. The final vote tally of the representatives was 71.5% approval for the new policy which requires transgender athletes show that "they have not experienced any part of male puberty beyond Tanner Stage 2 or before age 12, whichever is later."
Enactment of that requirement effectively eliminates trans women's eligibility to compete in the women's category.
Tanner Stages describe the physical changes people undergo during puberty.
"We have to protect the rights of our athletes to compete, but we also have to protect competitive fairness at our events, especially the women's category at FINA competitions," FINA's president, Husain Al-Musallam, said in a statement.
The organisation is maintaining that it was necessary to use sex and sex-linked traits to determine eligibility criteria because of the "performance gap" that appears between males and females during puberty.
"Without eligibility standards based on biological sex or sex-linked traits, we are very unlikely to see biological females in finals, on podiums, or in championship positions; and in sports and events involving collisions and projectiles, biological female athletes would be at greater risk of injury," the statement from FINA's new policy read.
Athlete Ally, which advocates for Trans athletes responded:
"FINA's new eligibility criteria for transgender athletes and athletes with intersex variations is deeply discriminatory, harmful, unscientific and not in line with the 2021 International Olympic Committee framework on Fairness, Inclusion and Non-Discrimination on the Basis of Gender Identity and Sex Variations," said Anne Lieberman, Director of Policy and Programs at Athlete Ally.
"This sudden and discriminatory decision is a blatant attack on transgender athletes who have worked to comply with longstanding policies that have allowed them to participate for years without issue," said Joni Madison, Human Rights Campaign Interim President. "This policy is an example of swimming organizations caving to the avalanche of ill-informed, prejudiced attacks targeted at one particular transgender swimmer. We urge the FINA to rethink its policy and ensure inclusion for all athletes — including transgender women – and allow them to participate in sports free from discrimination, abuse and harassment.
"To the young athletes who may be disheartened by this policy, know that we know and believe that every young person deserves to be treated with dignity and respect and that transgender kids, like their friends, deserve the same chances to learn sportsmanship, self-discipline, and teamwork, and to build a sense of belonging with their peers," Madison added.
Swimming Body FINA Votes To Segregate Trans Athletes | 10 News First:
**********************