Near-naked Ambition: 'The Comics Strip' is getting more exposure
Much of the material performed by both women draws from observations about what makes lesbian culture sex & sexuality idiosyncratic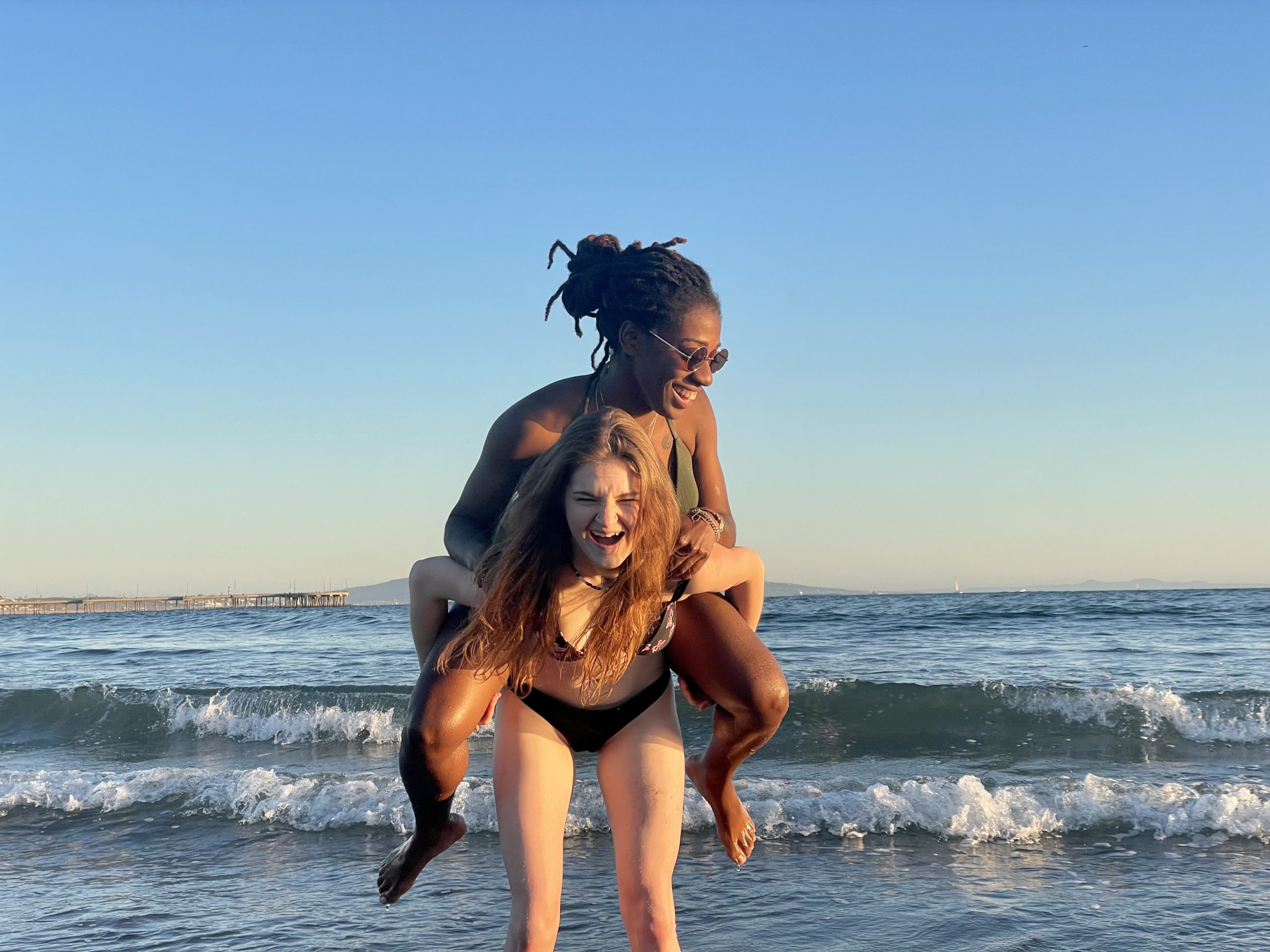 NORTH HOLLYWOOD – Nervous people who find themselves on stage fumbling at a podium or clutching a microphone for dear life are often told to picture their audience without any clothes on—the idea being that if the crowd looks as vulnerable as the person on stage feels, the prosect of getting laughs or applause won't see so daunting.
But wait: Not so fast, says veteran stand-up comedian Michael Grant, whose role reversal take on the old "picture them naked" advice is the cornerstone of what Grant believes could be the next big thing in elimination-based, reality entertainment.
"The Comics Strip" is a live stand-up show where the audience remains fully dressed, and gets to decide which comedian just told the better joke. The winner basks in the glow of their approval, while the loser must shed a piece of clothing.
This friendly competition continues until one of the performers is standing nearly naked in front of a room full of people who share an unbroken bond with their shoes, socks, shirts, skirts, and pants.
"This is the first show of its kind," notes the likably enthusiastic Grant, who wouldn't ask his hand-picked cast of comedic performers to do anything he wasn't willing to do first. In fact, Grant is the founding father of Strip-Down Comedy, having improvised the concept in 1997. As an early career stand-up comedian who often found himself preceding or following a fellow up-and-comer, Grant recalls his stand-up experience back in the day was largely about "always trying to beat Gabriel Iglesias."
One night, Grant found himself on stage, having taken off his jacket and tie "just to get comfortable." But then he continued disrobing, and it got laughs. Soon enough, he recalls, "when the shirt came off, it was like static electricity. They [the audience] went wild… and if I didn't get a laugh, I'd put a piece of clothing back on."
Eventually, recalled Grant, "I dropped the gimmick and became a better writer—and now, I'm bringing that concept back," says the man with skin in the game, who's betting that comedy club audiences will be eager to embrace something different, after spending the last two-plus years locked in lockdown routine.
Early indications seem to bare him out, so to speak: A sample reel of "The Comics Strip" concept playing out in front of a raucous live audience garnered two million hits on Tik Tok "in like, nine days," says Garner, who notes you won't find it on that platform anymore. "They didn't wanna pay," he says, "so now we're banned."
Clips from the show are still to be found on Twitter, Instagram and YouTube shorts, however, in addition to a website where new content is being added all the time—and this Monday, March 21at 8pm (at the Comedy Chateau, North Hollywood), the concept gets a fully realized stage show presentation.
That show, and a handful of others in the coming months, will be taped. From that material, a pilot will be created and shopped around as a network, syndicated, or streaming series. Franchising the concept to comedy clubs is also a possibility, as are custom-made versions of the joke-telling/voting/stripping concept such as, say, a Pride Month edition with contestants from the LGBTQAI+ community.
With June just around the bend, a lavender-leaning special edition of "The Comics Strip" seems like a no-brainer (well at least a no-blazer). The diverse cast of distinct voices Grant is still in the process of assembling already has its share of rainbow shading—and confirmed talent for the March 21 gig includes the competitive pairing of Kira Johnson and Kammie Burns.
Both women are relative newcomers to stand-up comedy—and, for that matter, the cohabitation (three months and counting) that came about as part of their recently formed romantic relationship.
Much of the material to be performed by both women draws from observations about what makes lesbian culture, community, sex, and sexuality both universal and "inside baseball" idiosychratic. Exactly who will walk away from the stage with more clothes on that the other person cannot be predicted—but both Kira and Kammie see their pairing as yielding two positive outcomes, guaranteed.
Noted Kammie of their mutually accelerated joke-writing process lately, "Our approach is, 'This is my girlfriend I'm competing against, head to head, so I'd better get to work' [and make both of us look good]."
"We're both competitive," says Kammy, "so this show gives us double the chances of winning. We are very excited to really challenge each other, to push each other to the next level."
Kira says she feels "very competitive, and I'm pretty excited to win… I don't think it will have any negative effect on our relationship." (Although if one of them shows up wearing the other's undergarment, the one that "went missing" at the laundromat a few weeks ago, all bets are off—the live-in gays know what I'm talking about.)
As for the selling point of the show itself, Grant puts forth a line of reasoning sure to appeal to the spendthrift and live entertainment consumer alike: "If you like nudity—and you like comedy," he says, "then why are you spending money at two places?"
"The Comics Strip" is performed at 8pm on Monday, March 21, at the Comedy Chateau (4615 Lankershim Blvd. North Hollywood, CA 91602).
For tickets ($20 general admission), visit https://app.showslinger.com/ticket_payment/3858/checkout_ticket.
Captivating topic, great cast, but falls short on real issue
Rogue Machine Theatre's recent run of "A Great Wilderness" is reviewed by the founder of the Conversion Therapy Dropout Network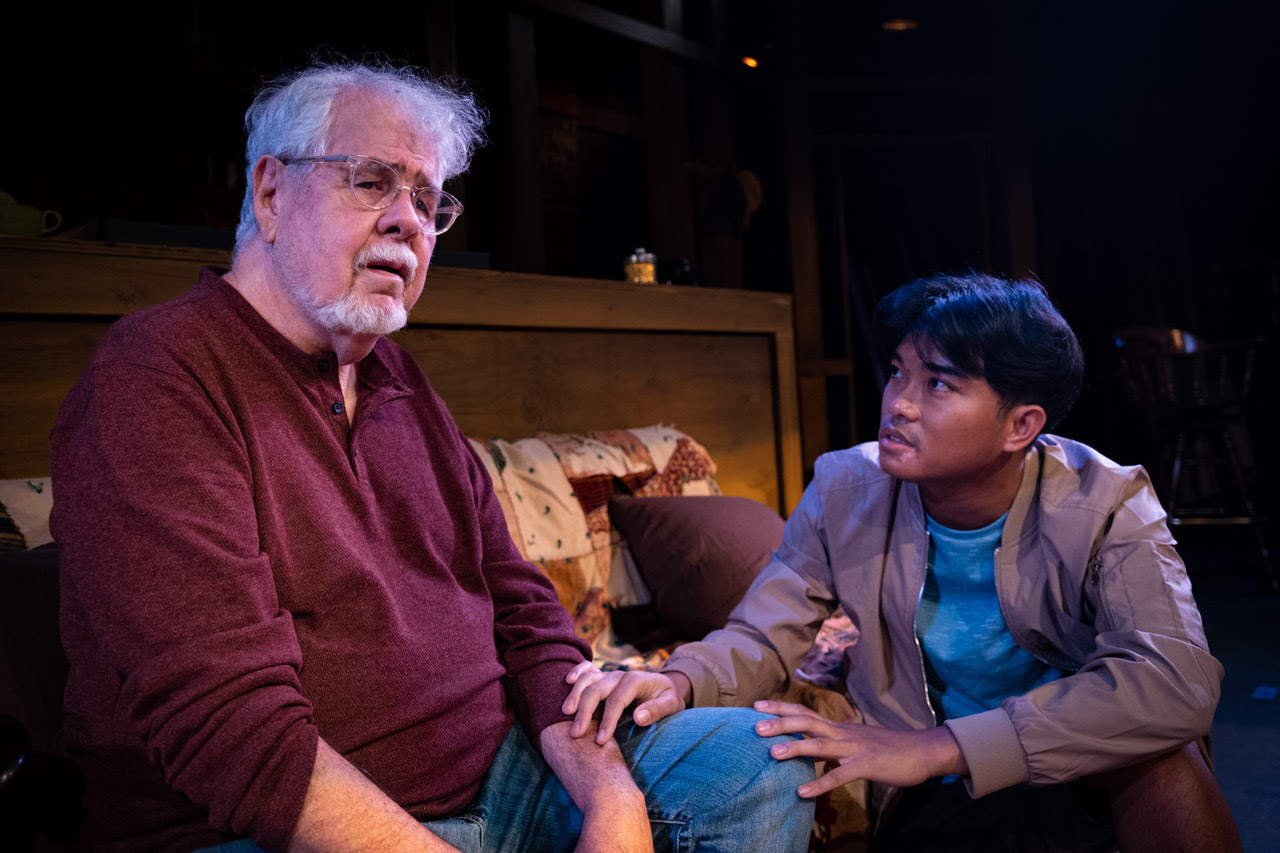 By Curtis Galloway | LOS ANGELES – Rogue Machine Theatre's recent run of "A Great Wilderness", written by Samuel D. Hunter and directed by Elina de Santos, was a harrowing story, to say the least. It explores the complex ideas behind conversion therapy or sexual orientation and gender identity change efforts.
As a conversion therapy survivor, I knew that I needed to see this production as I am always more than happy to see conversations about this topic. While the cast was excellent and the overall theatrical presentation was entertaining and very engaging, I feel that the script itself lacked direction and proper handling of the main topic, conversion therapy.
The show opens in an old cabin, which we will stay in for the duration of the story, with the two main characters, Daniel & Walt, standing off in silent opposition. Daniel, a teenager, has just been sent away to a remote cabin run by Walt, an elderly man that is about to be moved into an assisted living home. We learn quickly that Daniel was sent there by his mother after he was caught watching homosexual pornography, and Walt is known for "helping" kids change their sexual orientation through religious means. To be plain, Walt is a "conversion therapist" and has been running a conversion camp with his friend Tim and ex-wife Abby.
Over the course of two hours, Daniel goes missing in the woods, Abby and Walt reveal that their son was gay and committed suicide due to their attempts to have his sexual orientation changed, and Daniel's mother seemingly prefers her son stay missing rather than face the world that she knows is unkind to "people like him".
There is no doubt, that the show had a fantastic cast. The six characters were neatly defined as their own individuals with distinct personalities and lives of their own. Each action was meaningful and thought out, to the smallest detail. The emotion brought through each character enticed you to believe that it was actually happening before your eyes. It was everything good casting should be.
My main issue with the production sat in the script, specifically the sympathy it garnered for Walt as a conversion therapist.
From personal experience, when talking about conversion therapy and specifically the conversion therapist, we need to be careful not to create a sympathetic tone. A Great Wilderness focused too much on the life and struggles of a conversion therapist that, in his old age, is trying to come to terms with his life, the mistakes he has made, and his past attractions.
This brings feelings of sympathy and emotional connection to the character, that does not deserve sympathy. One character notes that they knew Walt through the community as a weird old man that abuses children in his cabin by trying to make them straight. They noted that as they grew to know him they realized that people will say what they want, but they knew he "never harmed those kids".
Toward the end of the show, we get the initial beginnings that Walt is starting to doubt the conversion therapy he has been providing his whole life, but we never really get to him denouncing it or talk directly about it.
At the end, we finally get to see Daniel stumble back into the cabin after being missing in the woods. He describes seeing flames (from a wildfire nearby) and having a revelation from God that he can change and that he wants to pursue what Walt initially set out to do, make Daniel straight.
For me, this left the door way too open for interpretation that, yes, conversion therapy is bad, but what this guy did really wasn't. It misses the whole point and ideology behind why conversion therapy exists in the first place. Anti-LGBTQ sentiments that something is wrong with the individual are at the heart of all of it, and no amount of feel good cabin, "I just want to help" can cover that up.
Overall, the production of "A Great Wilderness" was captivating and fantastic. The cast did an amazing job and they should all be proud, as should the theatre. I left having mixed feelings, as you have now read, but I stand by my evaluation that it casts too much sympathy on a character that has spent his life making other's lives worse and more confusing.
************************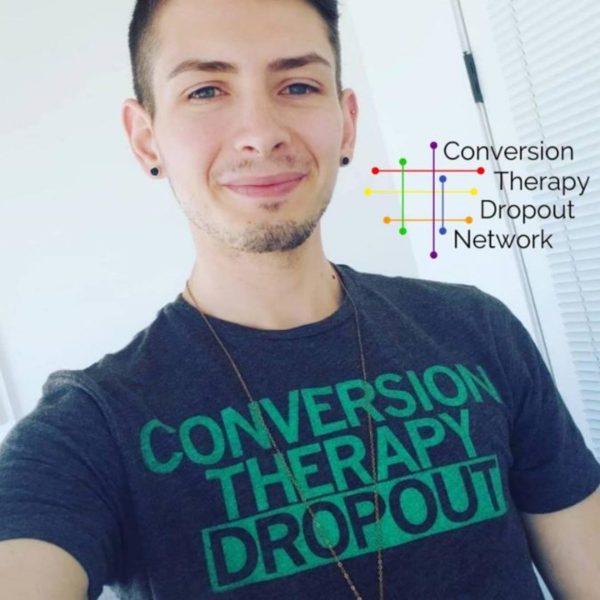 Curtis D. Galloway is the Founder & President of Conversion Therapy Dropout Network in Los Angeles, California. Curtis grew up in a small town in Southern Illinois. When he was 16 years old he was subjected to conversion therapy; an experience he was later able to use to ban conversion therapy in his home state.
Now living in L.A., Curtis has taken his activism to the next level and founded the Conversion Therapy Dropout Network to bring survivors of conversion therapy together in community and solidarity.